Stage 11 of the Walker's Haute Route is another challenging mountain climb and descent. Yet, it is a great and rewarding hike with beautiful views over the Turtmanntal valley, the glacier-capped mountains of Weisshorn and Bishorn to the south, and the Rhone Valley and Bernese Alps to the north.
This is one of the most beautiful days on the Haute Route. With jaw-dropping views of the mountains and valleys, low crowds on the trail, and a few cows along the way just to keep things interesting, this is one of our favorite days on the Walker's Haute Route.
Tonight, you will stay in Gruben, which is a small village tucked away in the Turtmanntal valley.
Walker's Haute Route Stage 11 Hiking Stats
Distance: 16.6 km (10.3 miles)
Difficulty: Strenuous
Total Ascent: 1,255 m (4,120 feet)
Total Descent: 1,090 m (3,580 feet)
Lowest Elevation: 1,700 m (5,575 feet)
Highest Elevation: 2,870 m (9,415 feet)
Elevation in Zinal: 1,700 m (5,575 feet)
Elevation in Gruben: 1,855 m (6,085 feet)
Average Time: 6 hours; Our Time: 5.5 hours (including stops)
Haute Route Stage 11 Elevation Profile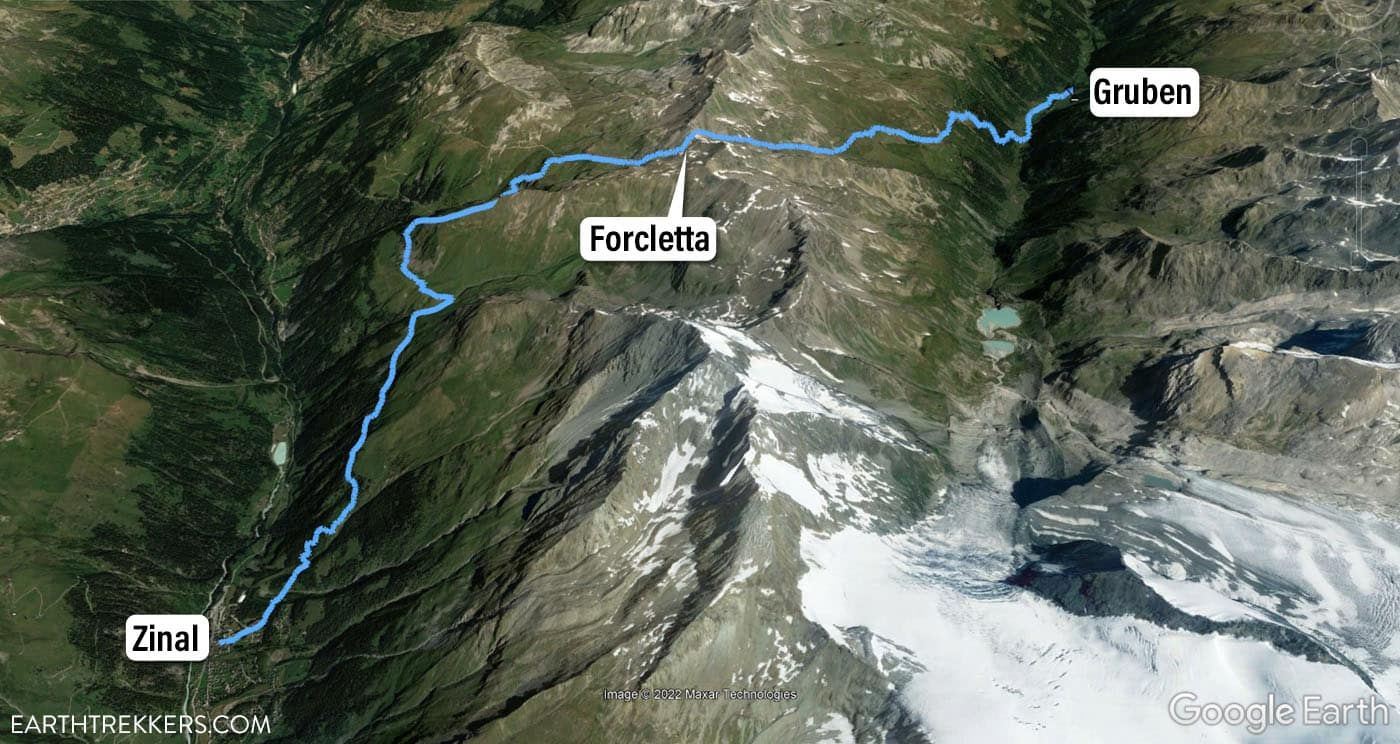 Haute Route Stage 11 Zinal to Gruben map
Please practice the seven principles of Leave No Trace: plan ahead, stay on the trail, pack out what you bring to the hiking trail, properly dispose of waste, leave areas as you found them, minimize campfire impacts, be considerate of other hikers, and do not approach or feed wildlife.
Walker's Haute Route Stage 11: Overview of the Trail
To hike the Haute Route, we highly recommend following the trail descriptions in the book Trekking Chamonix to Zermatt, The Classic Walker's Haute Route by Kev Reynolds. Below we list an overview of the day, so you know what to expect along the way. We also provide advice on where to eat and where to stay. Later in this guide, we list a few tips and trail clarifications to be used with the Trekking Chamonix to Zermatt book.
Zinal to Forcletta
From Zinal, the trail immediately starts its ascent up to Forcletta.
The trail begins with a very steep upwards climb along a wide dirt path through the forest. This lasts for about 2 kilometers, and with a 300 meter (1,000ft) ascent in this short distance, this section is one of the toughest parts of the day.
Eventually you will reach a small house at a trail split. This is the end to the first strenuous ascent of the day. From here, the trail will level out and stay at a gradual incline for the next several kilometers. This part of the hike is easy to do quickly, and yet you will still knock off a fair amount of elevation.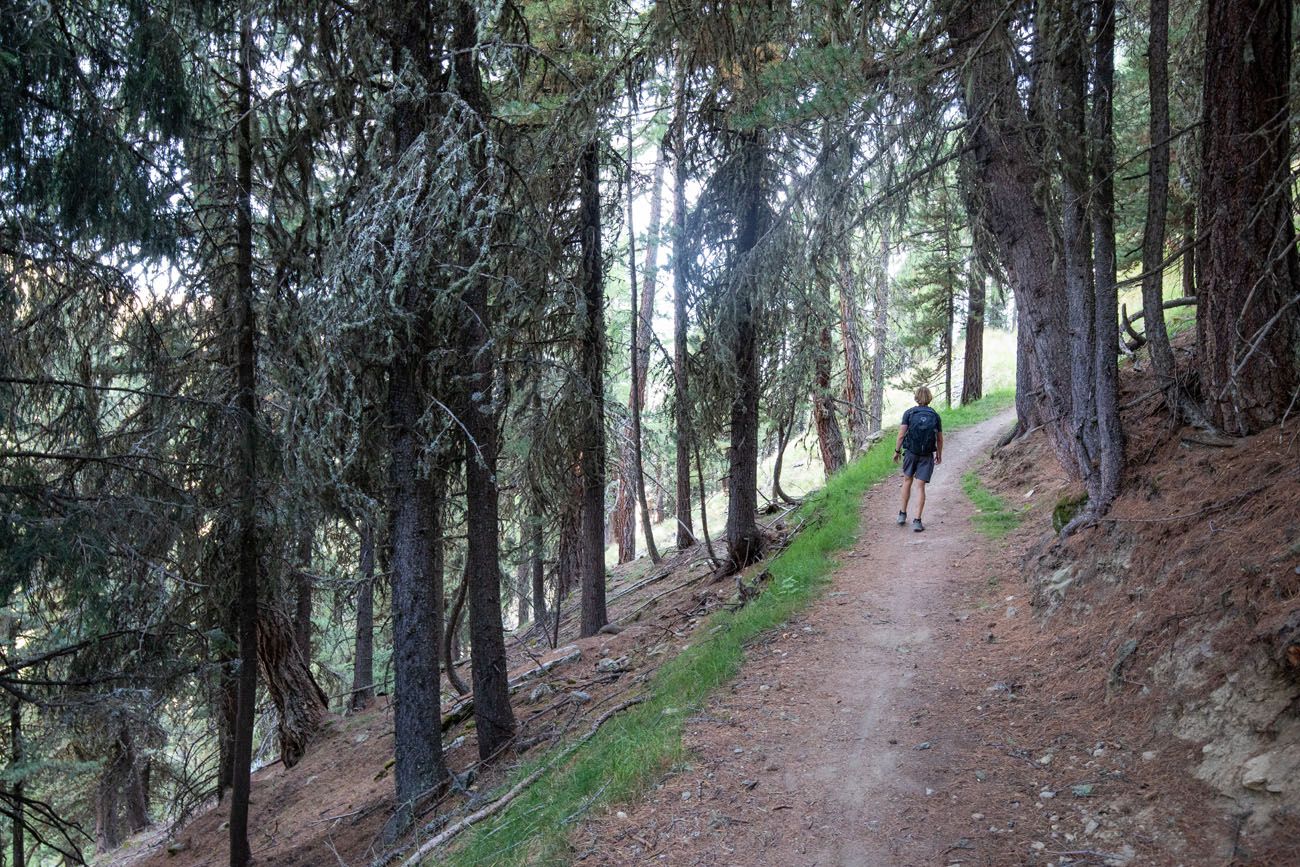 During this gradual section, you will be hiking along the side of the mountain. Behind are snow-covered mountains and ahead is the Bernese Oberland. To the left you can see the trail you descended down in Stage 10.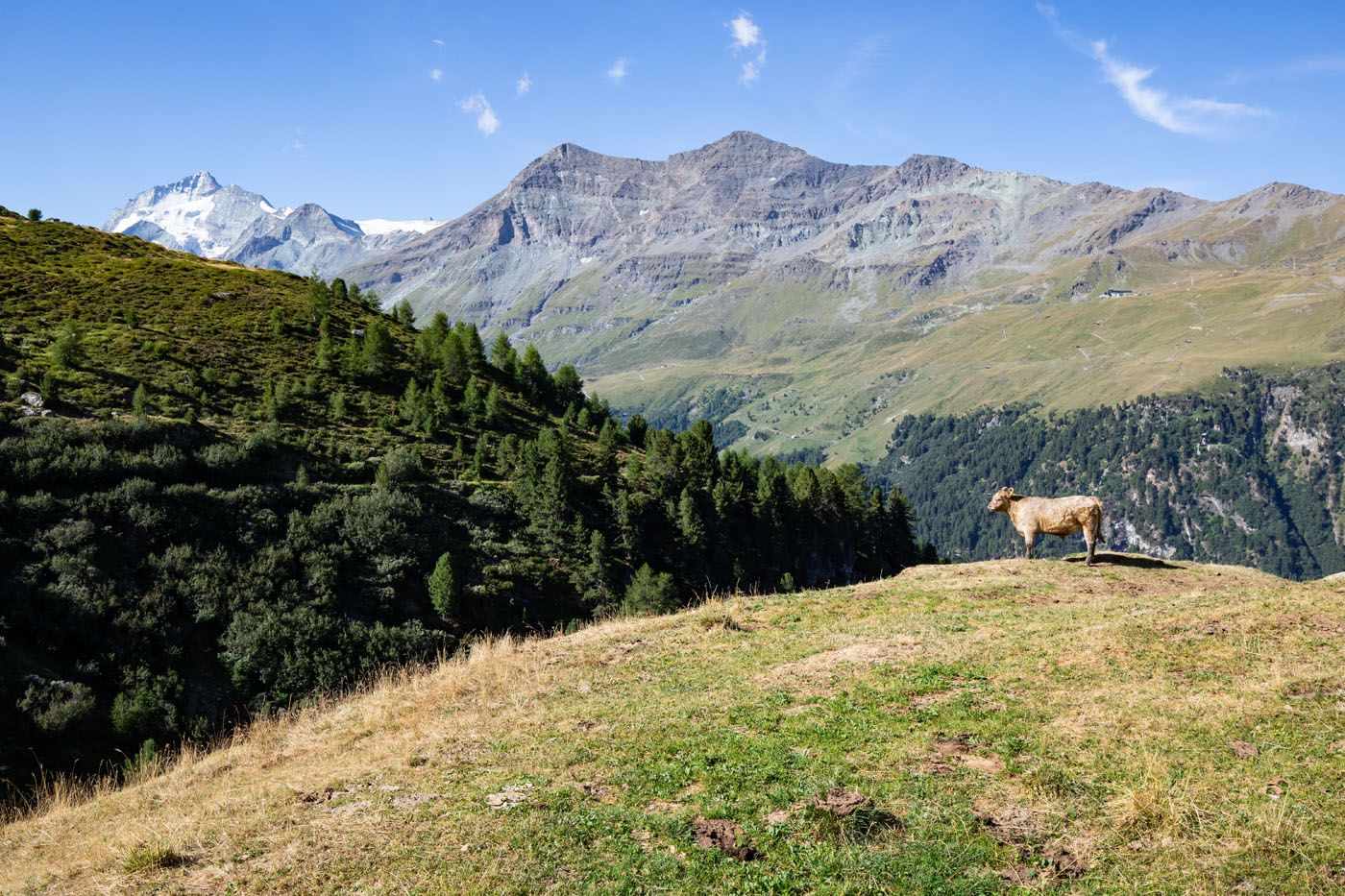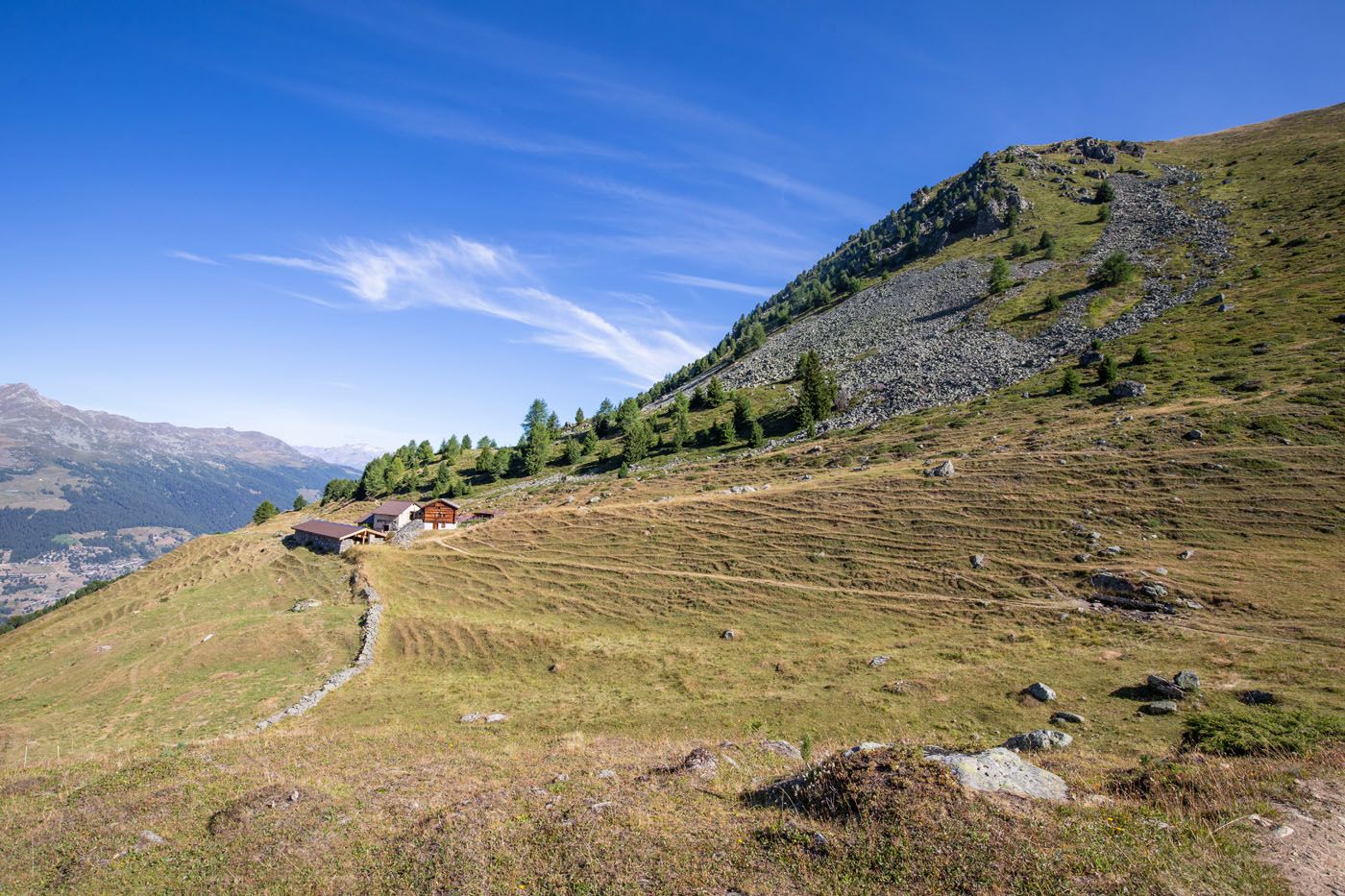 The view looking back towards Zinal.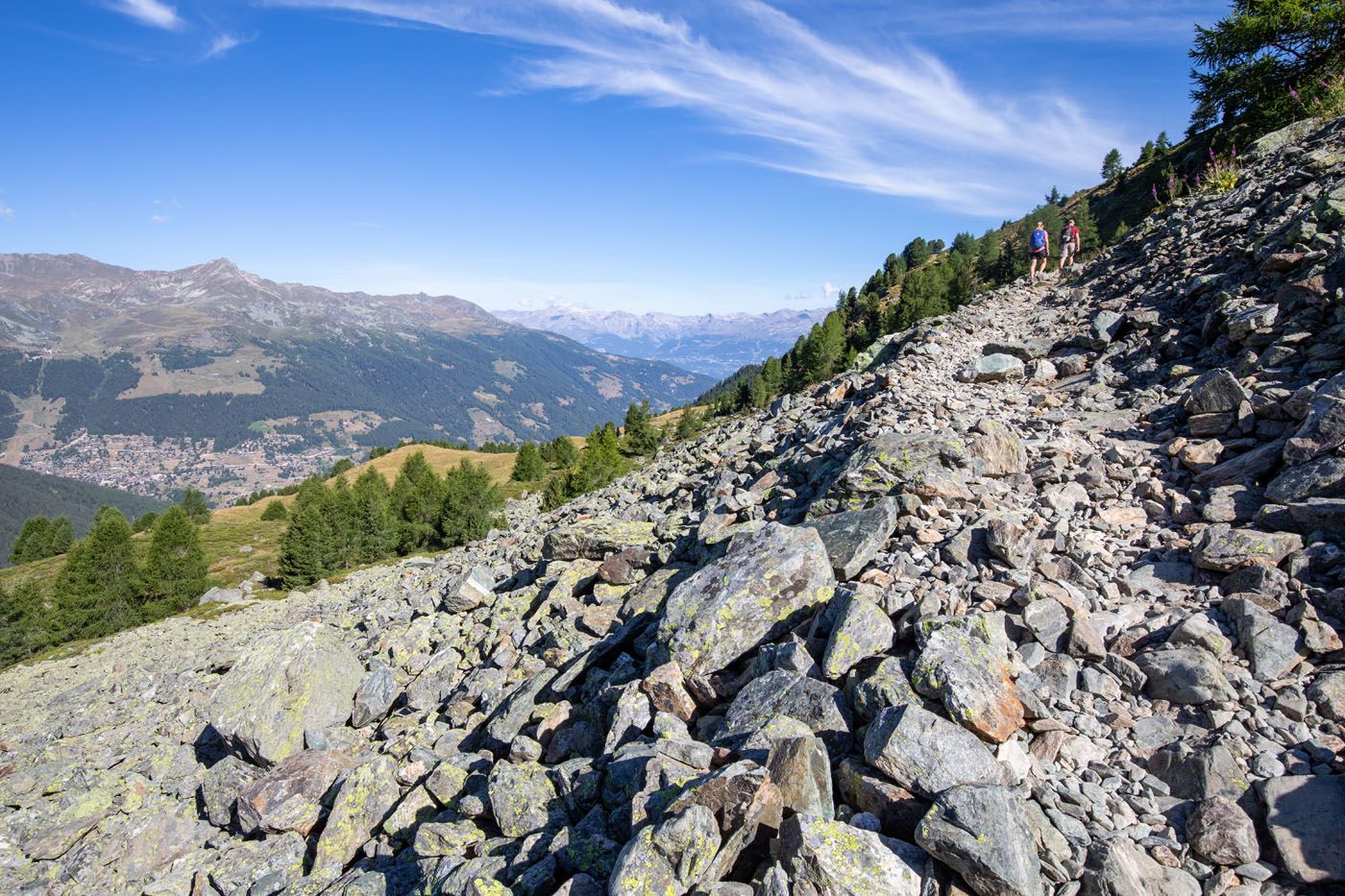 Beyond the farm, the trail gets very rocky for a little bit.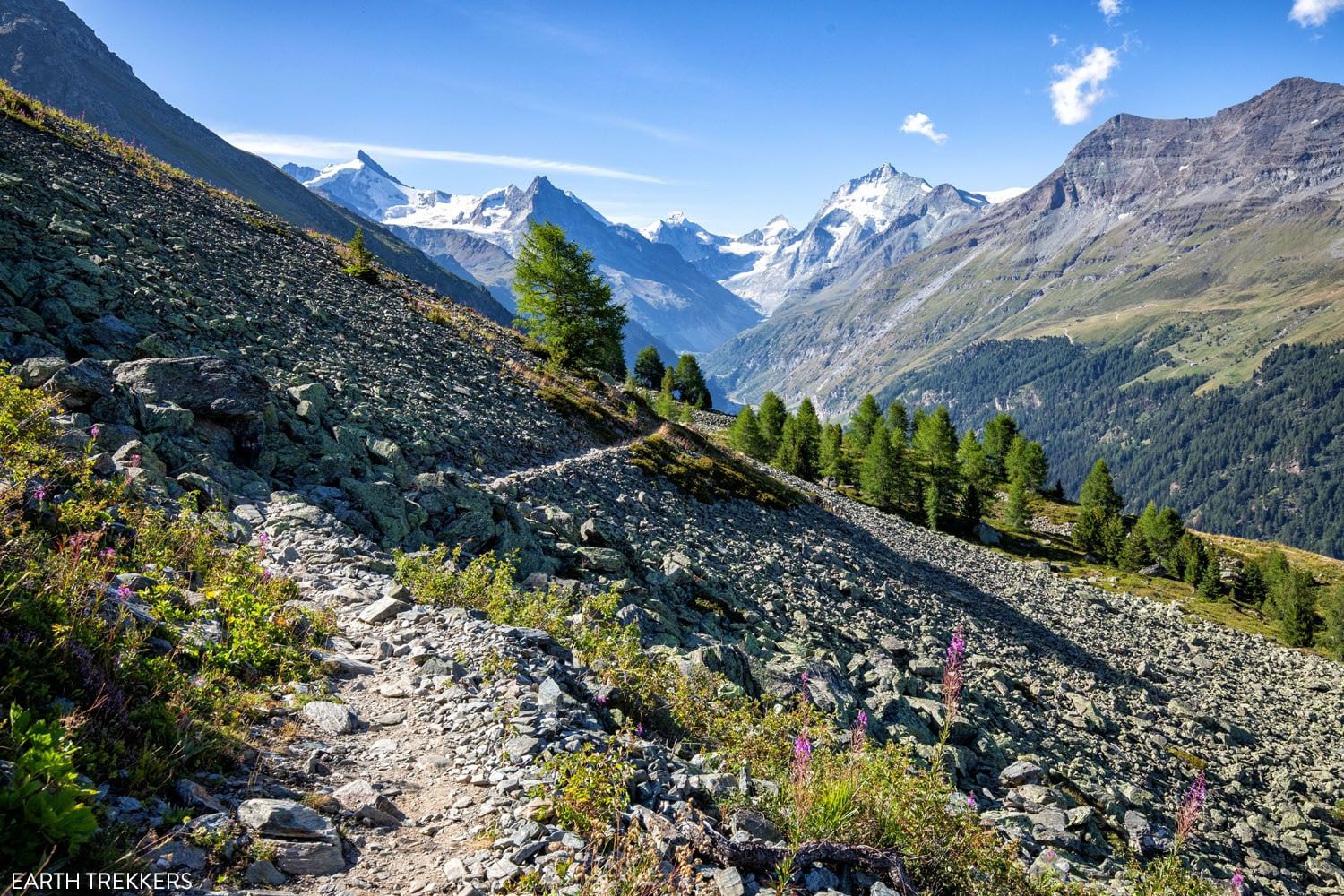 Looking back along the trail.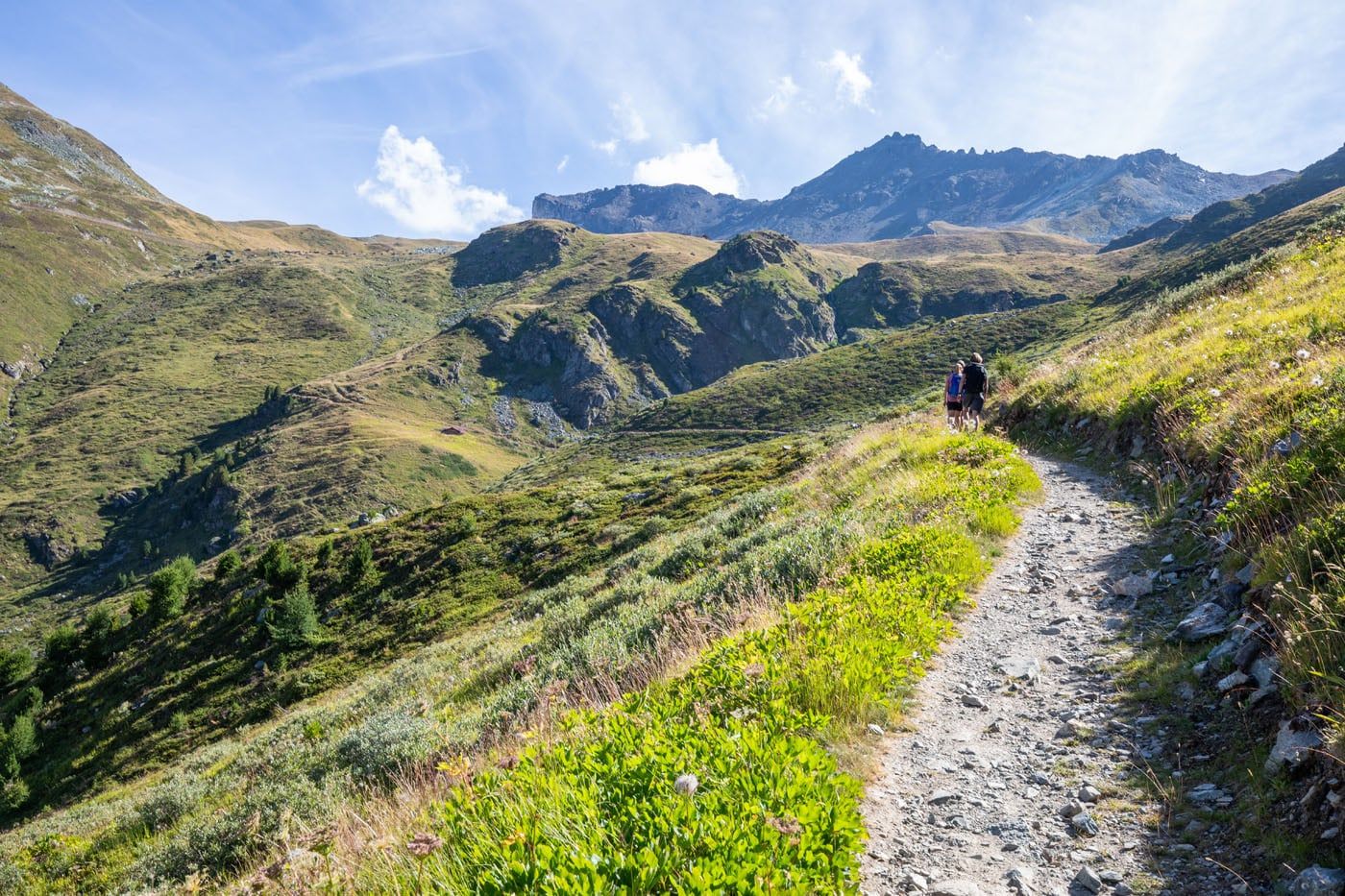 The trail rounds a bend and then the Forcletta pass comes into view.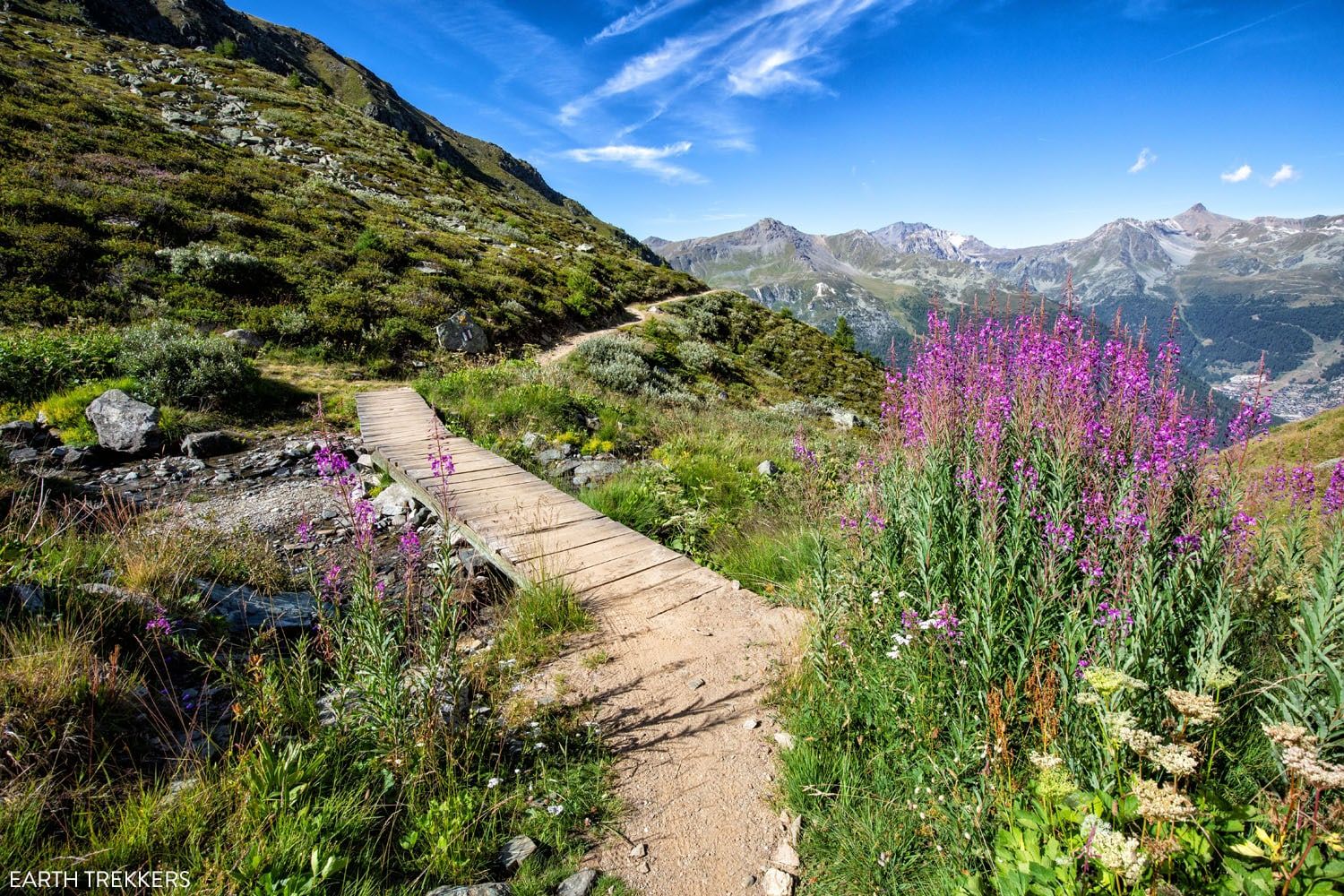 This was our picnic spot along the trail. This bridge comes just before the trail split mentioned next.
The gradual section will end at a trail split. Continue following signs to Forcletta. You are approaching the final hard ascent for the day.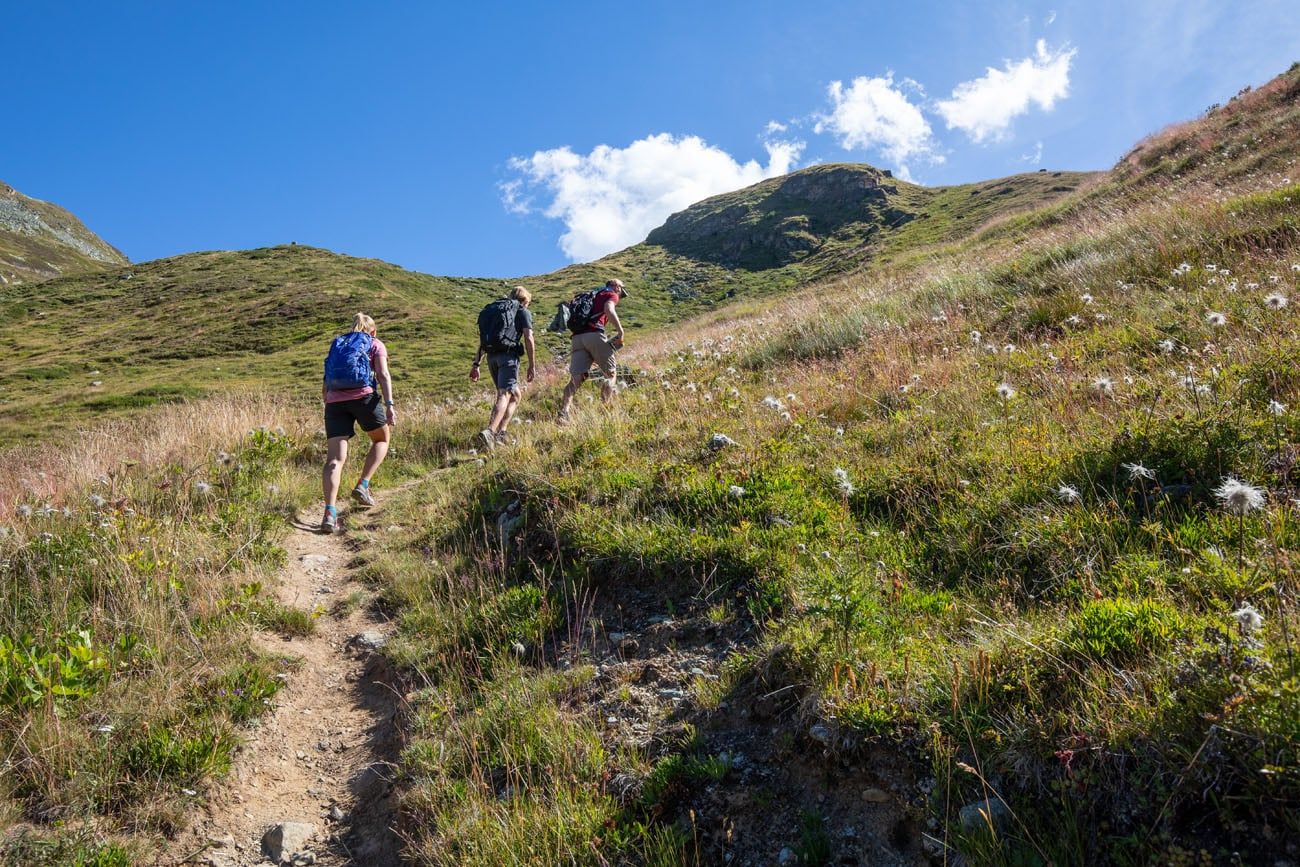 The trail gets steeper again.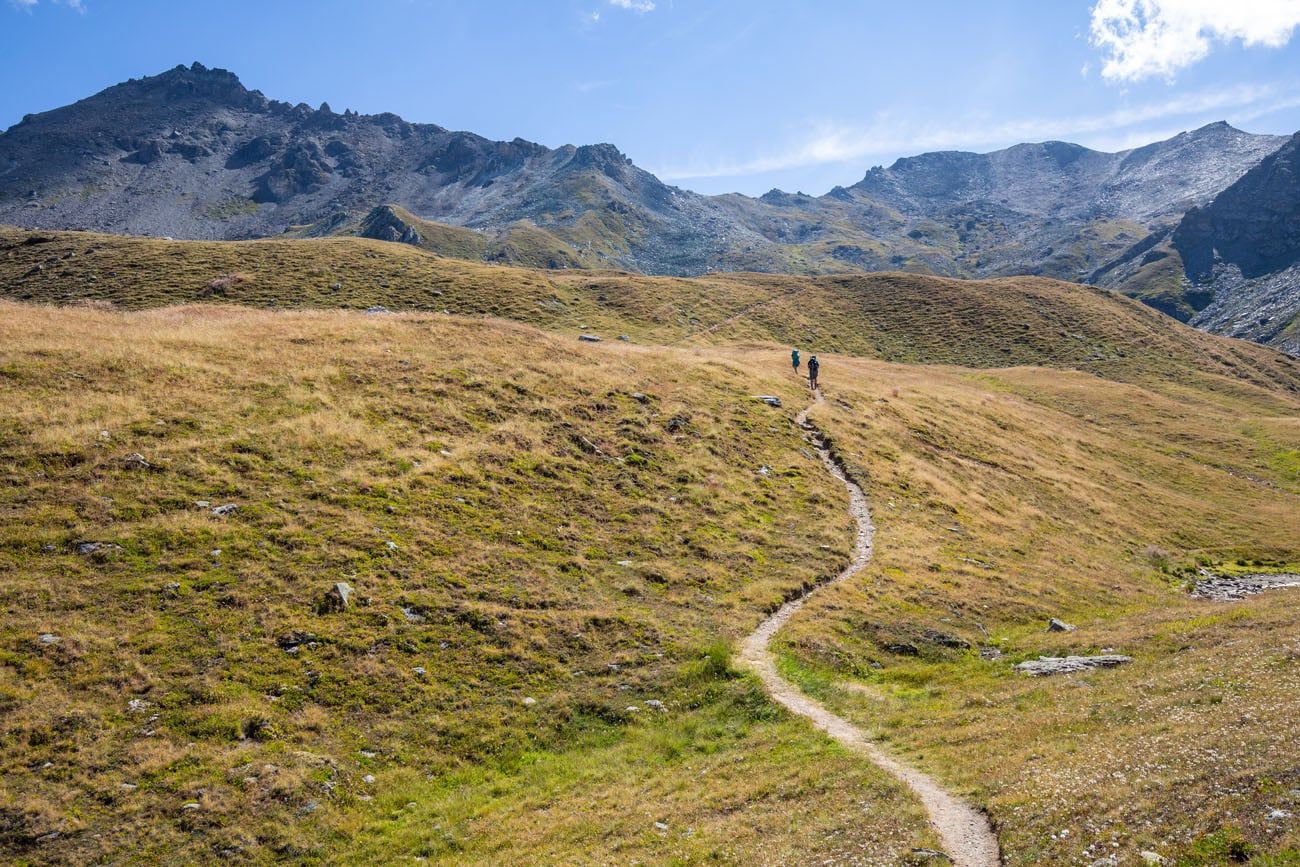 View of the trail just beyond a small farm. Forcletta is at the top of the rocky ridgeline.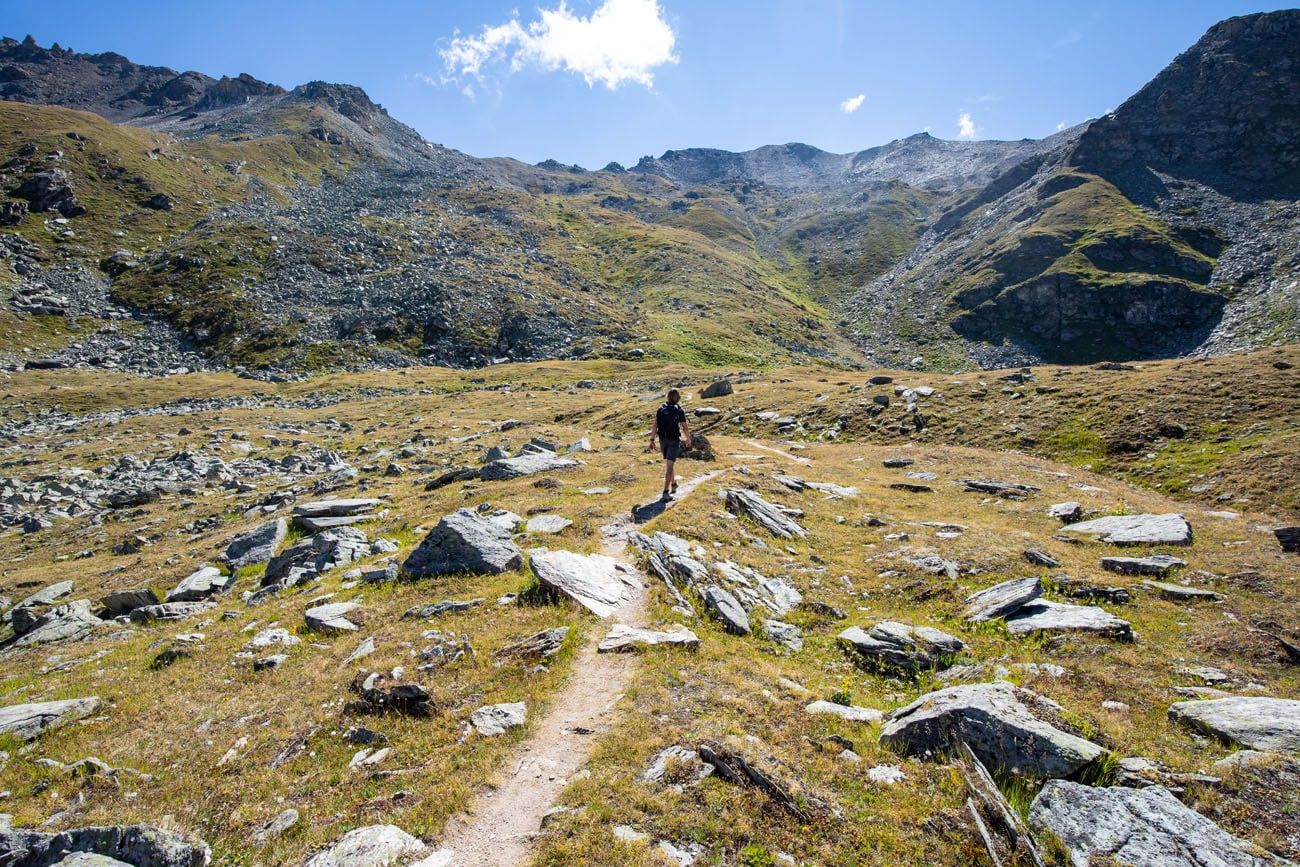 From the farm, you can see Forcletta pass far above you. The climb ahead is daunting and looks incredibly steep. And it is a challenging ascent. But if you head up at a slow and steady pace, it is not anything harder than what you have already done during the Haute Route. On the way up you will hike along switchbacks, some being steep while others are more gradual.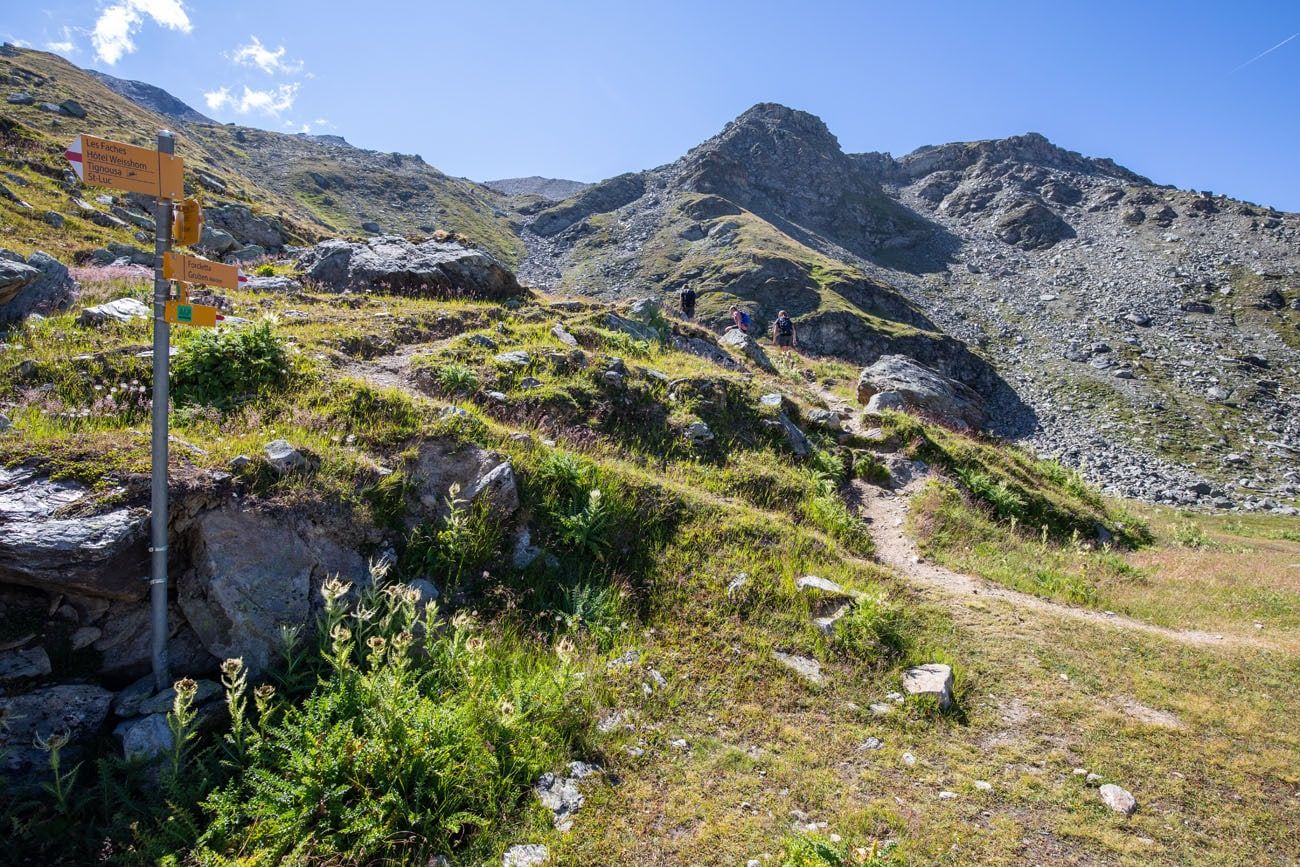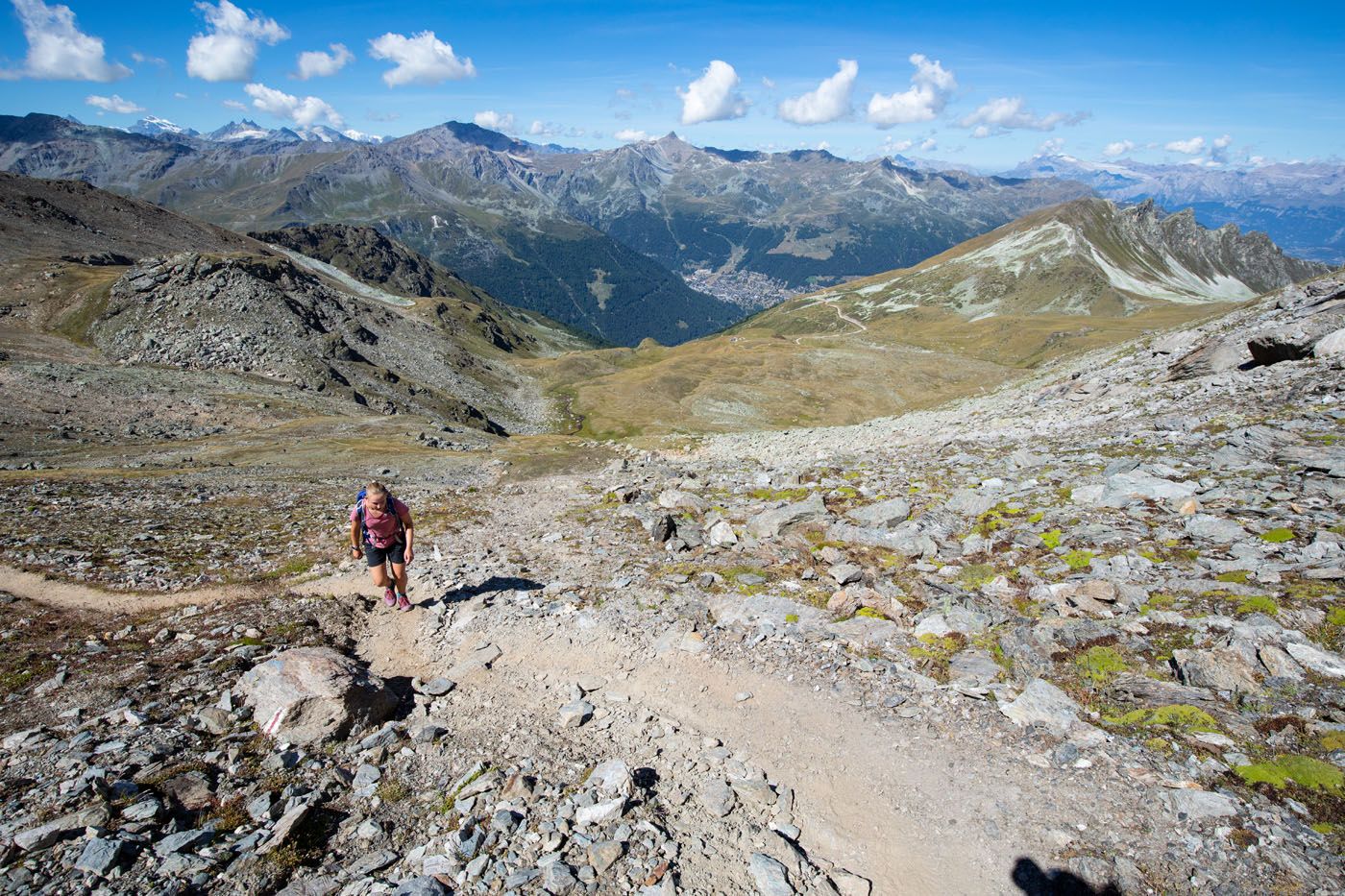 The trail just before reaching Forcletta.
The view from Forcletta is beautiful, as you are surrounded by huge mountains and green valleys. Enjoy the view and take a rest at the top of the pass.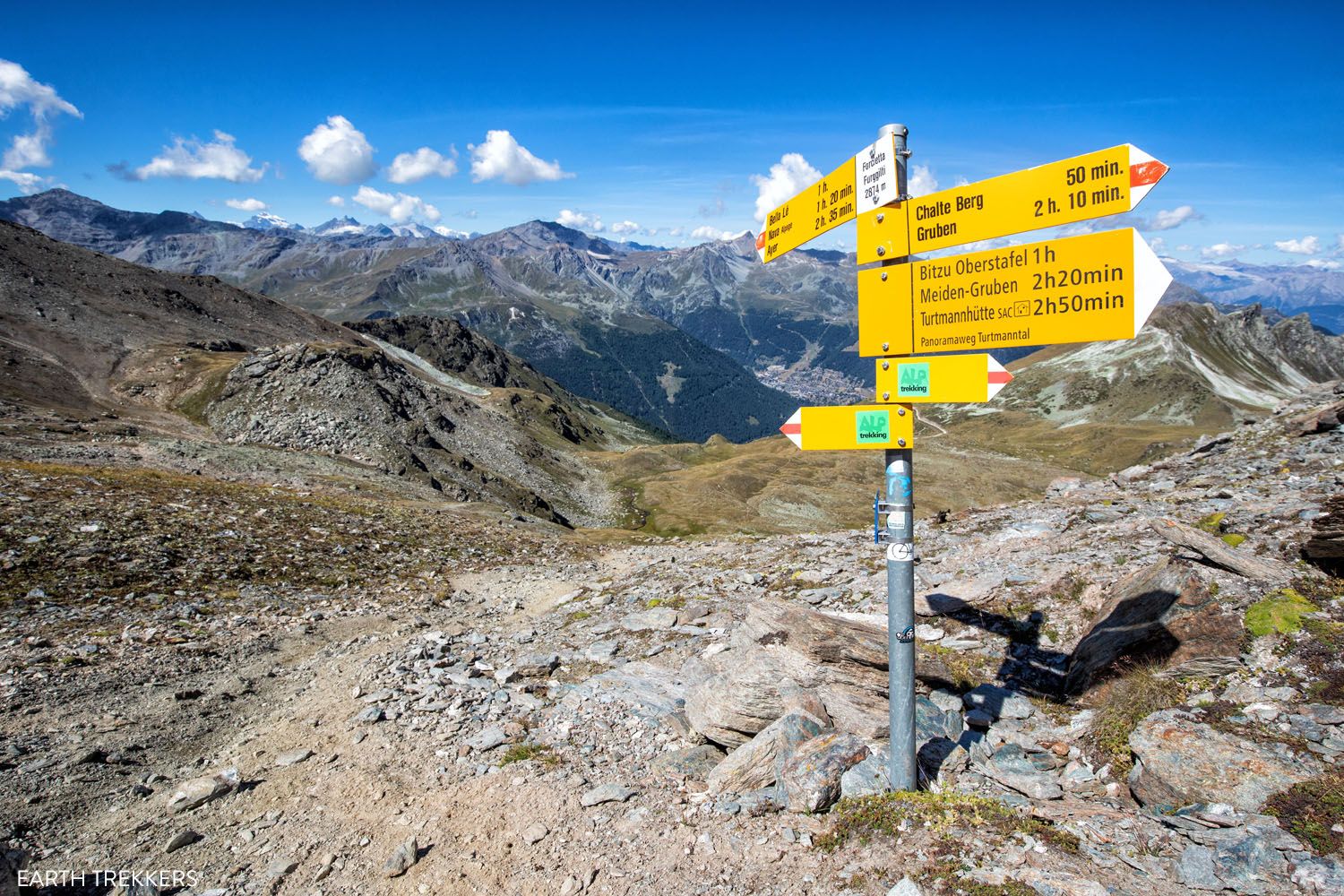 Forcletta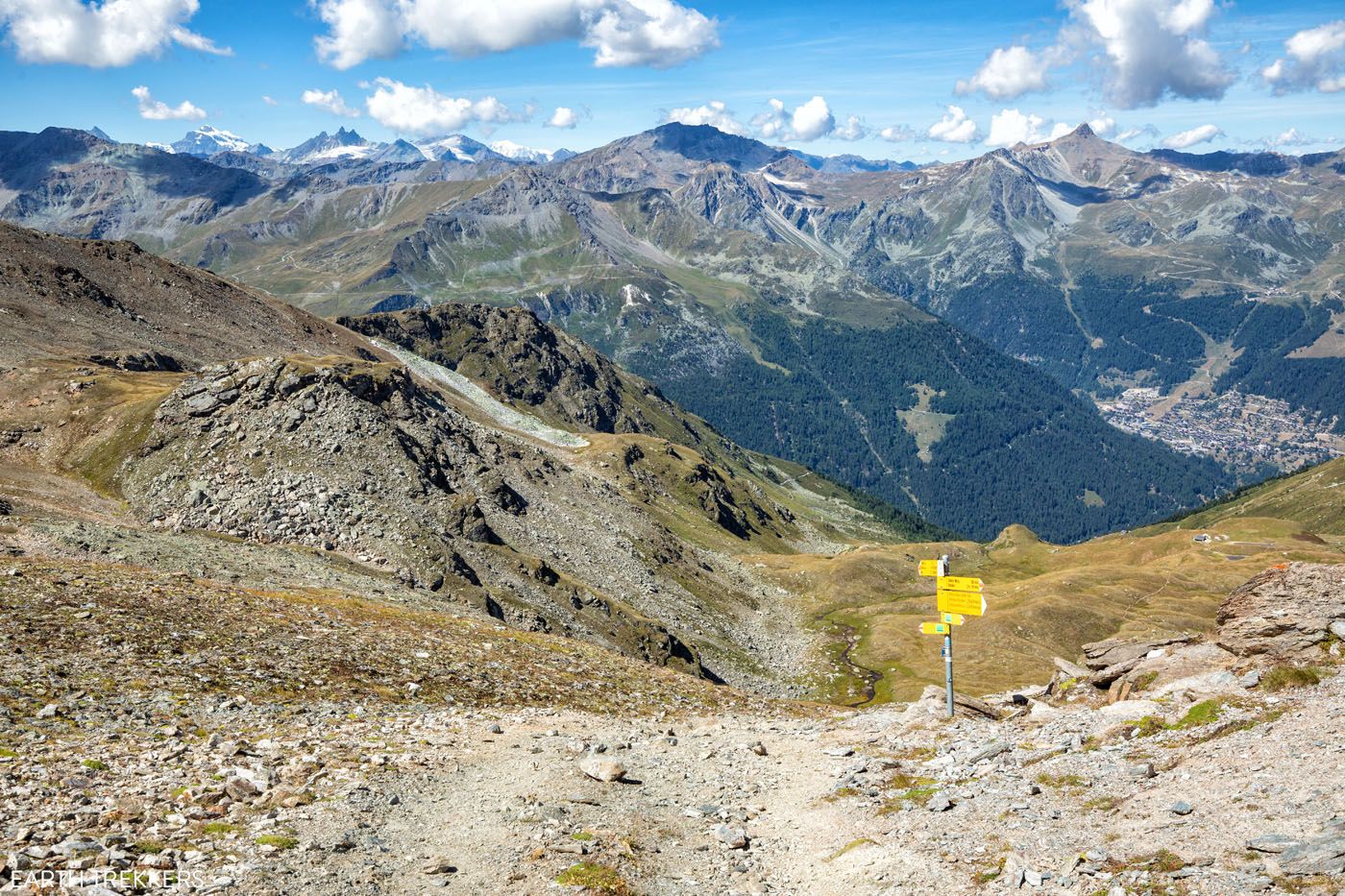 Another view from Forcletta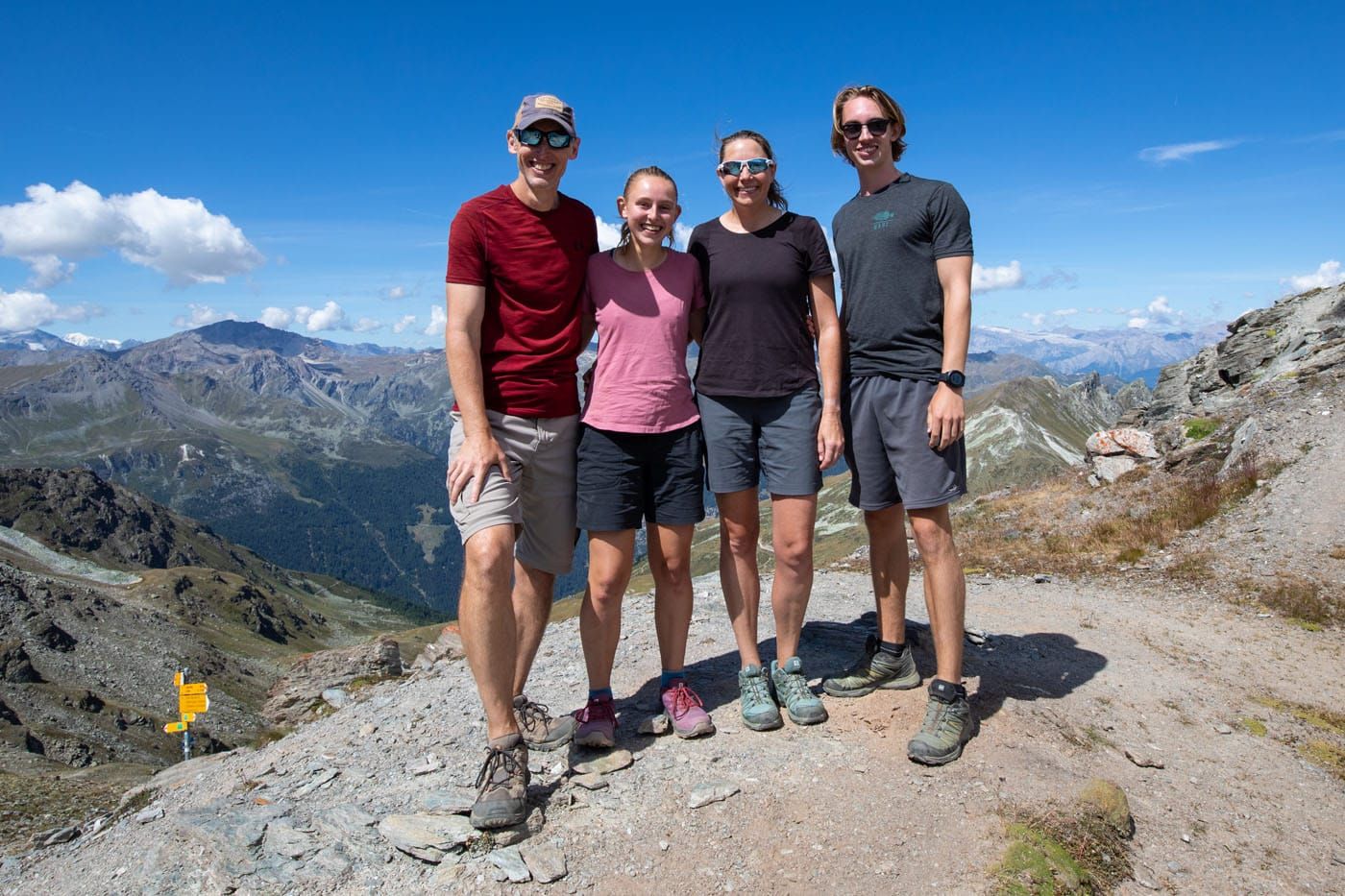 This is a great spot for a family photo.
Forcletta Pass to Gruben
Today's descent is a big one, however it is not as steep as the descent in Stage 10. To begin, you will descend between two higher mountain peaks. Look out for herds of chamois or ibex climbing the rocky slopes above you.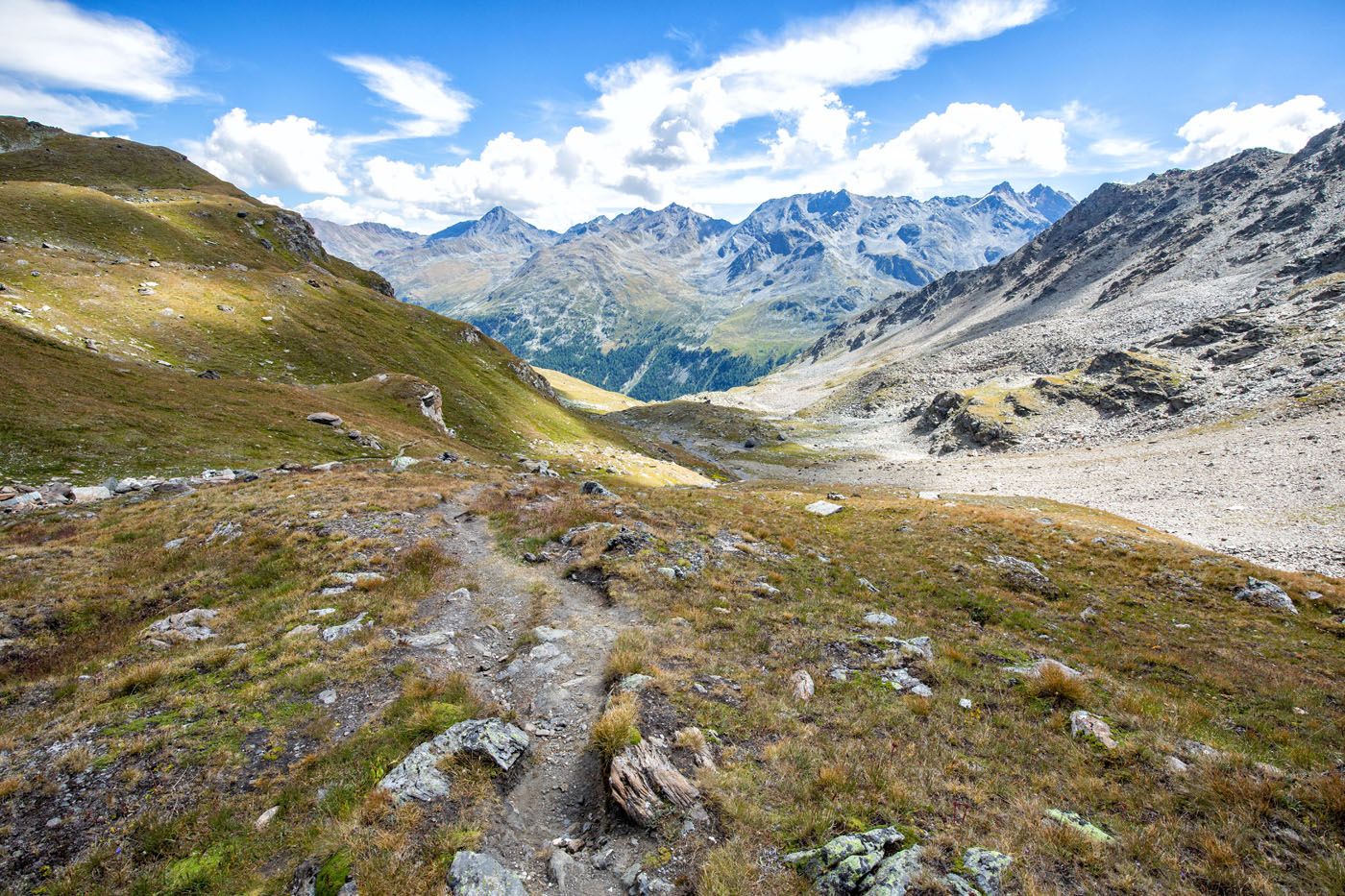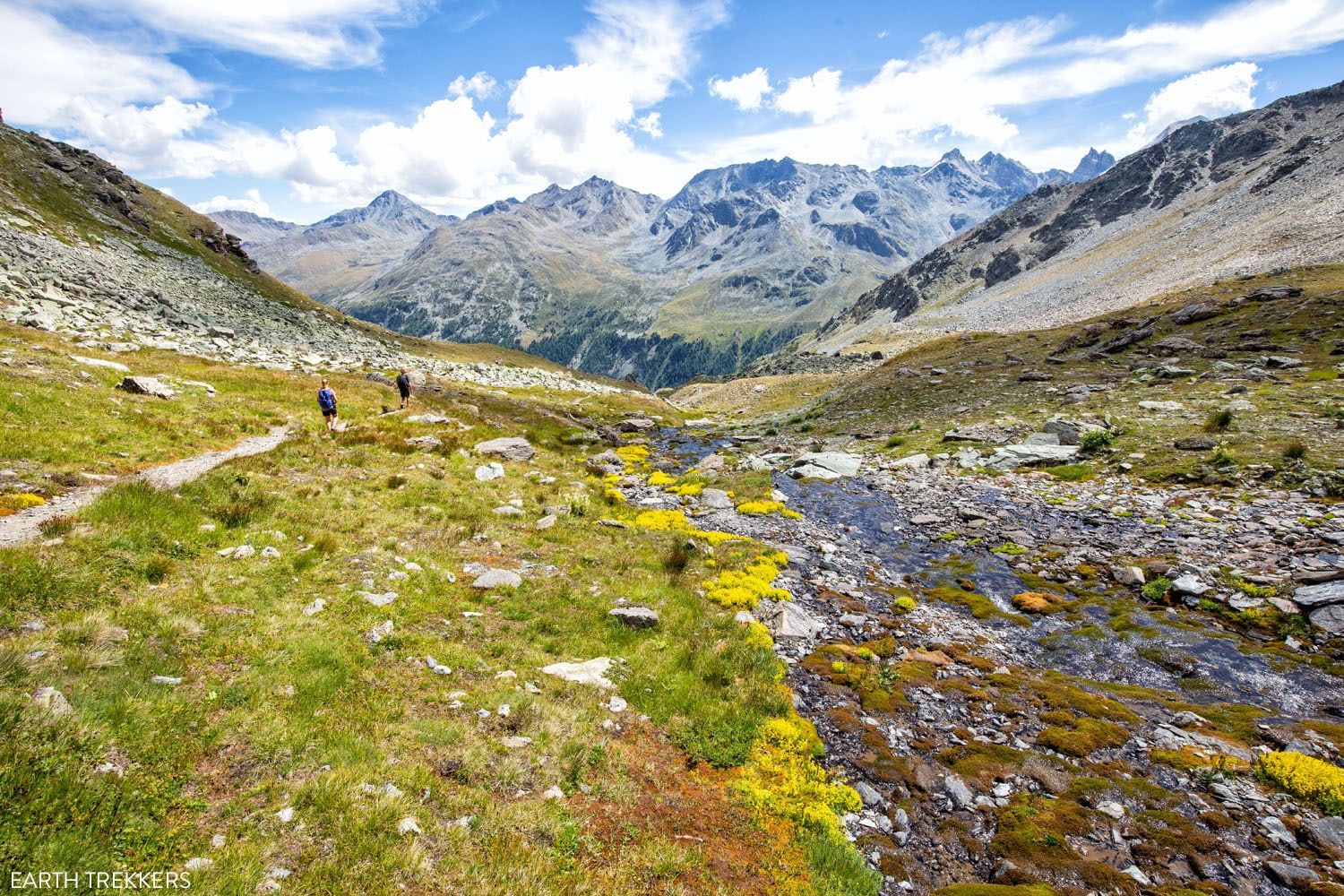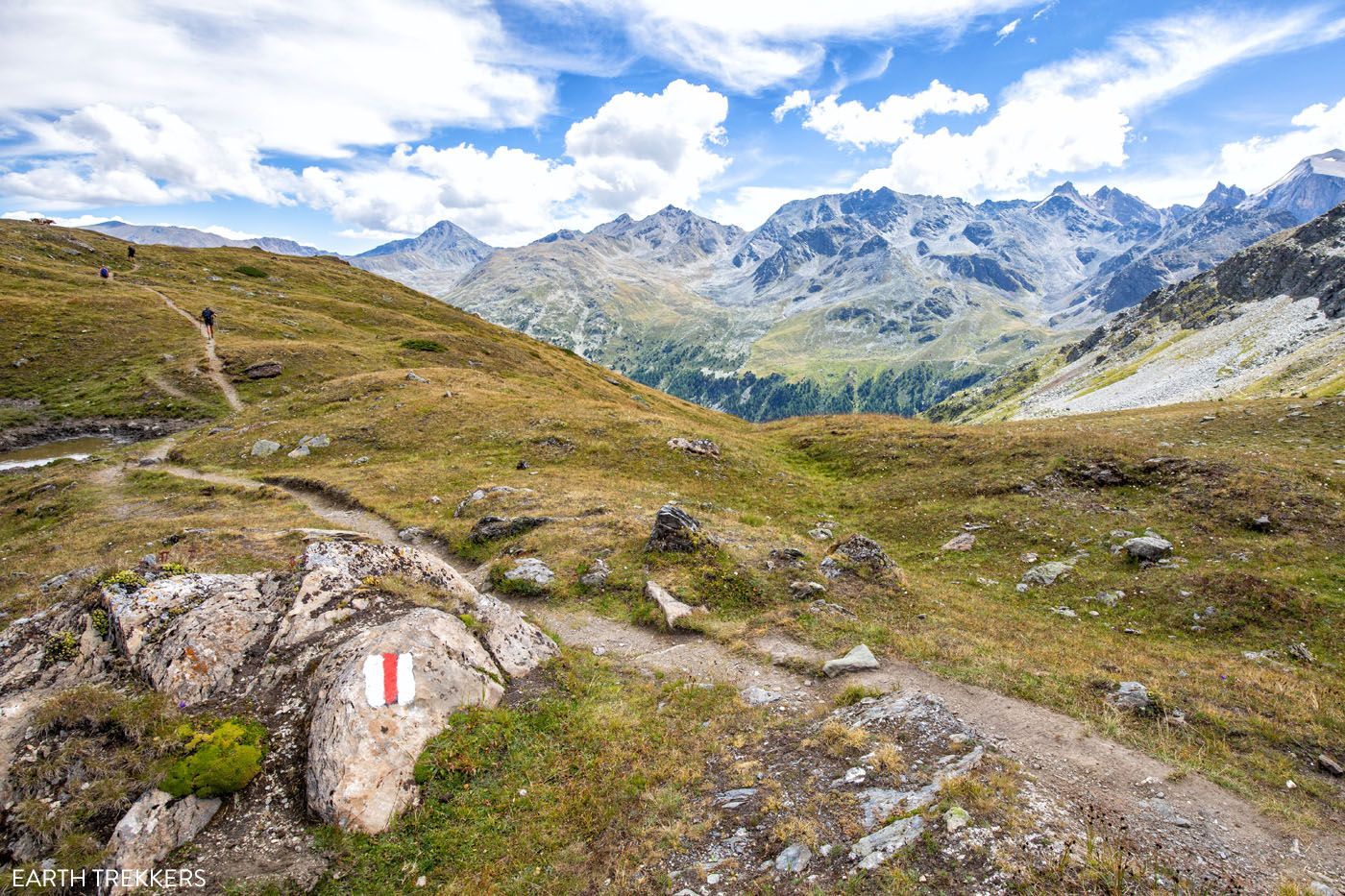 Soon you will pass through more cow pastures. At this point, Mount Bishorn will come into view.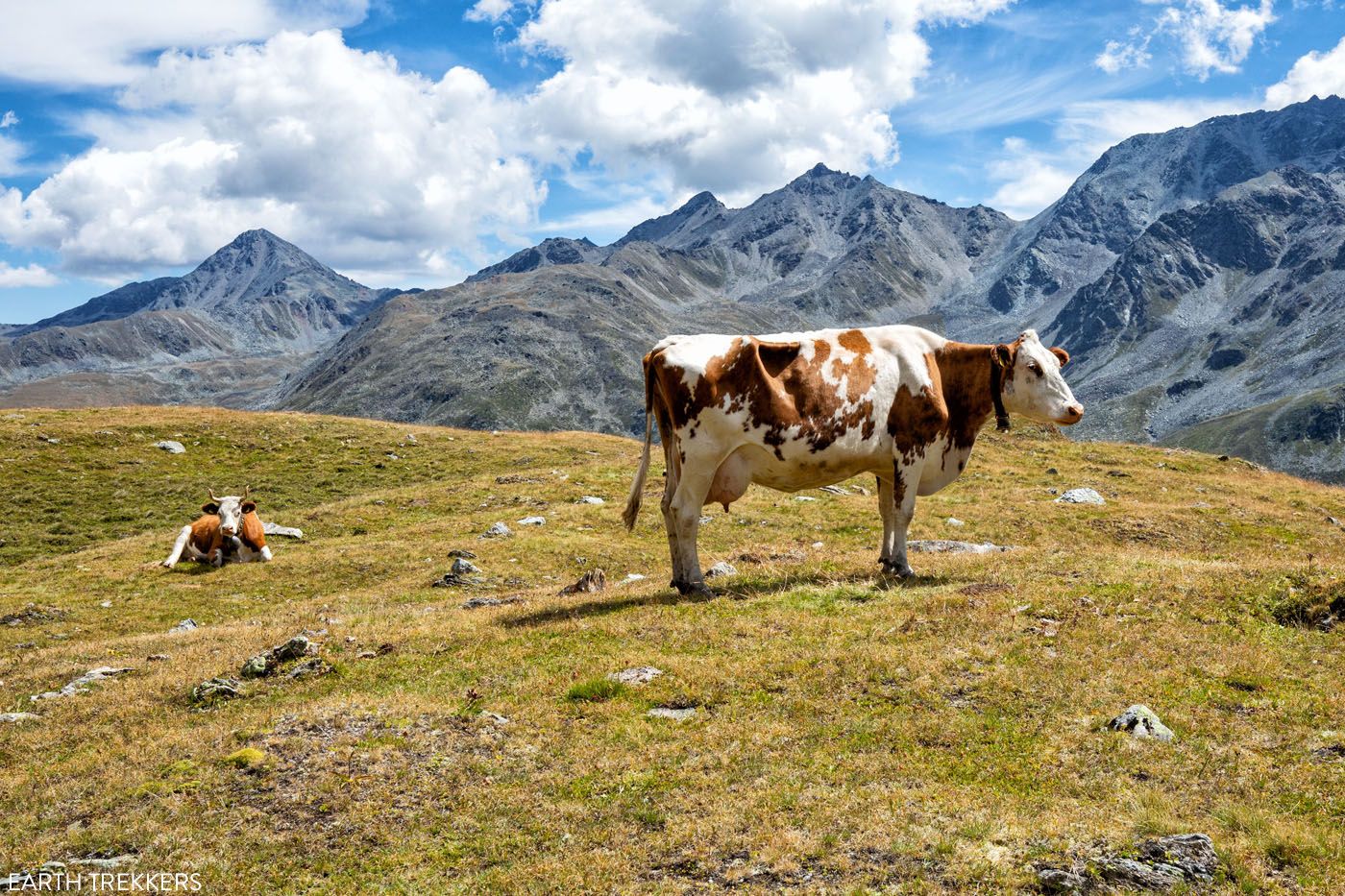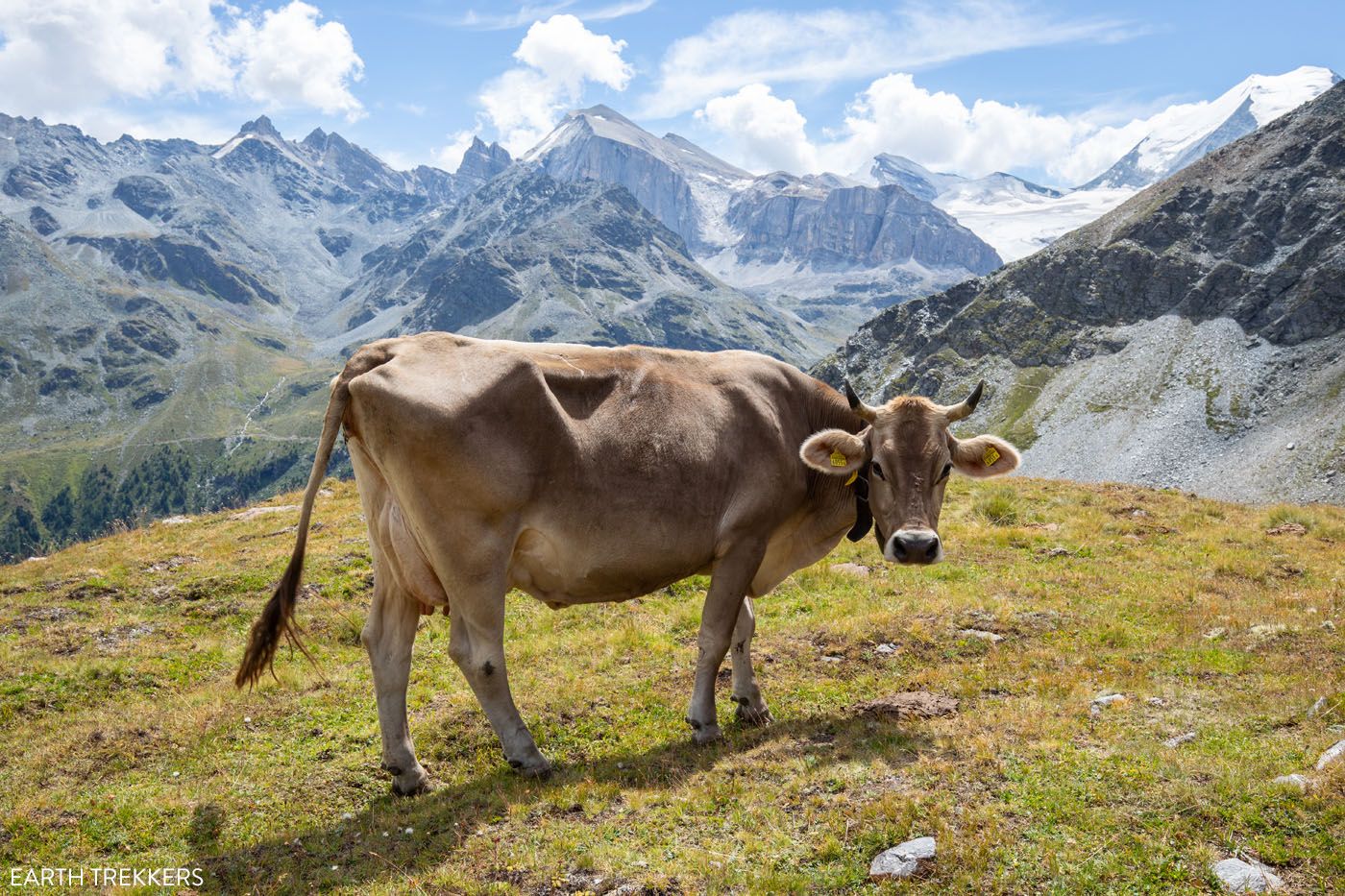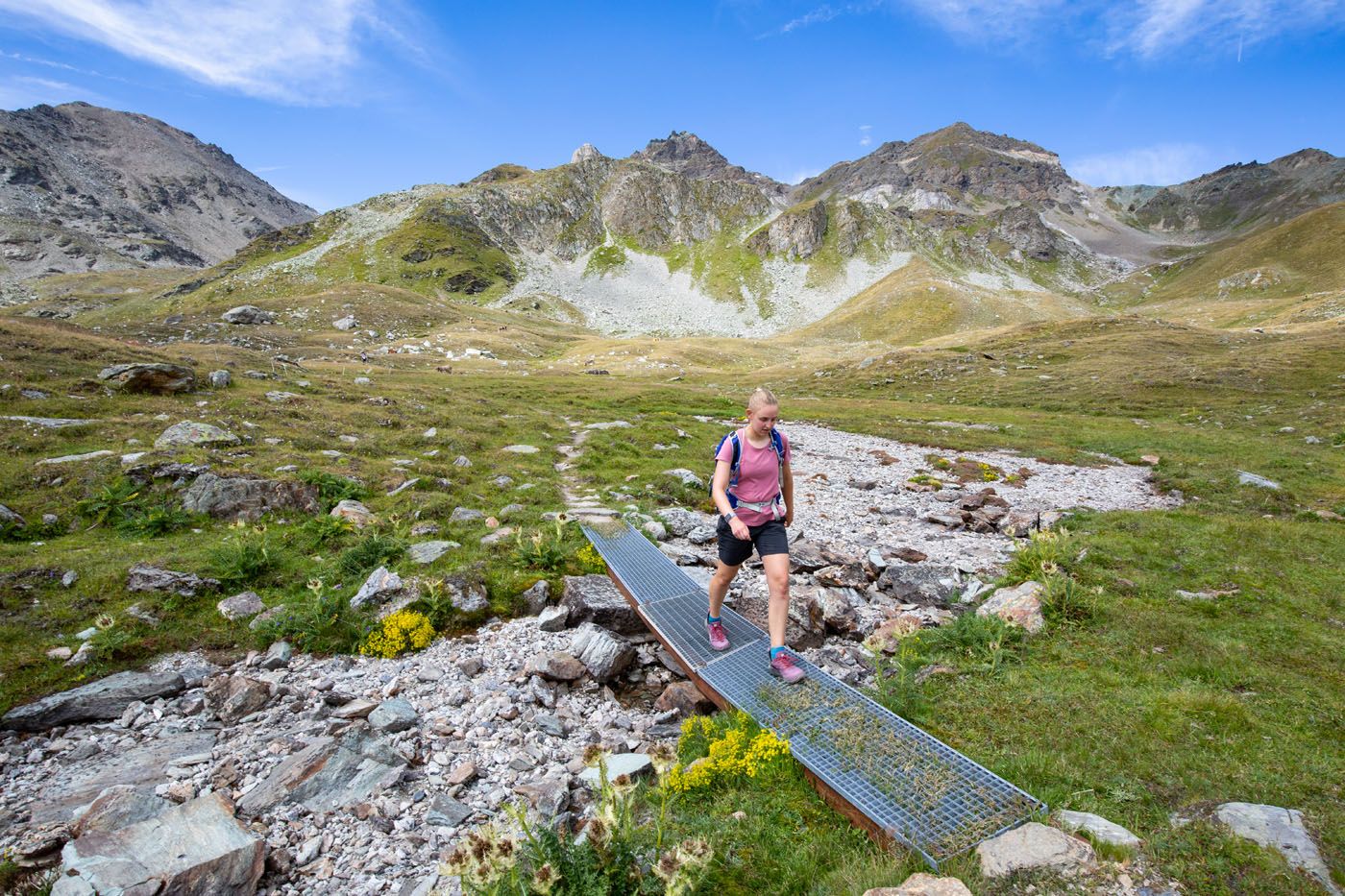 Once you pass through the cow pastures, you will pass a small cluster of homes and barns (Chalte Berg).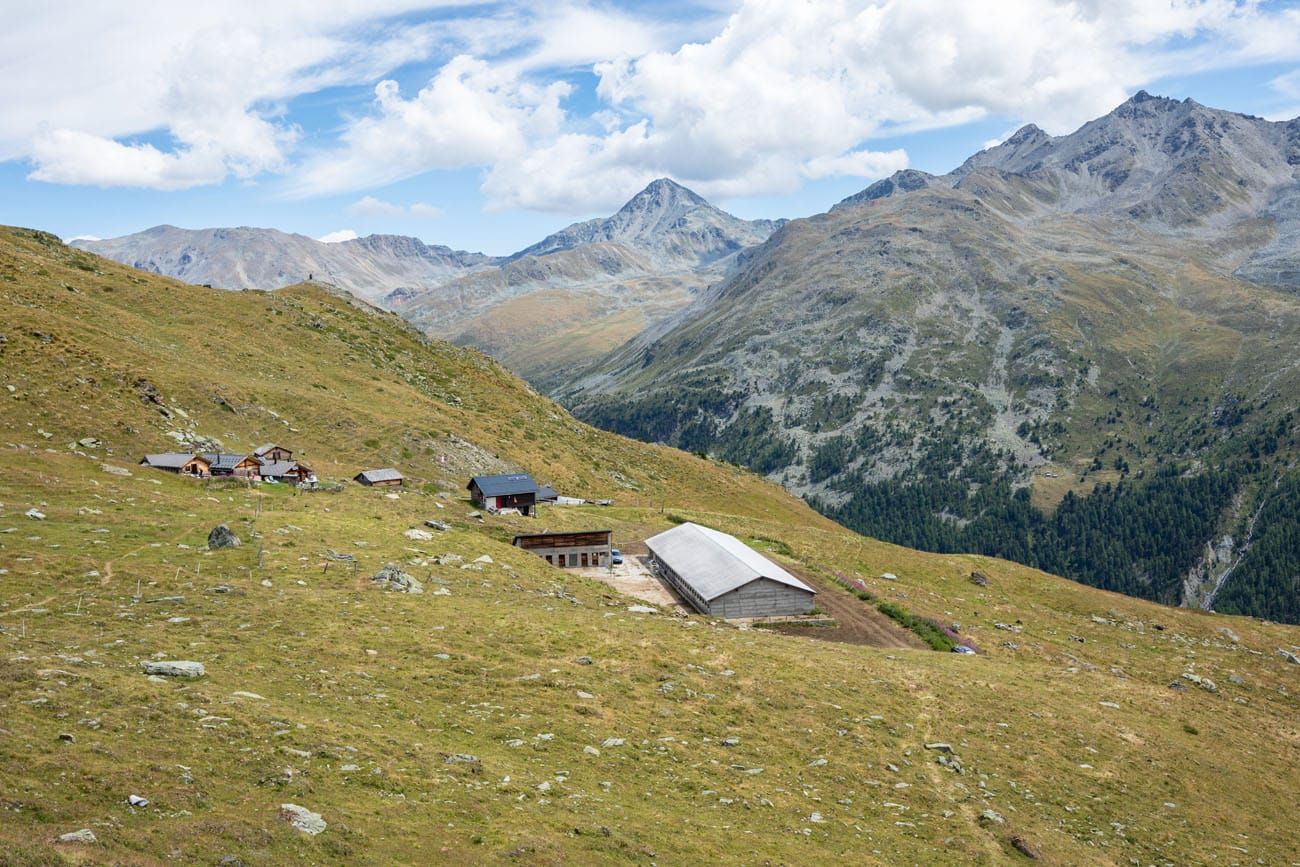 Chalte Berg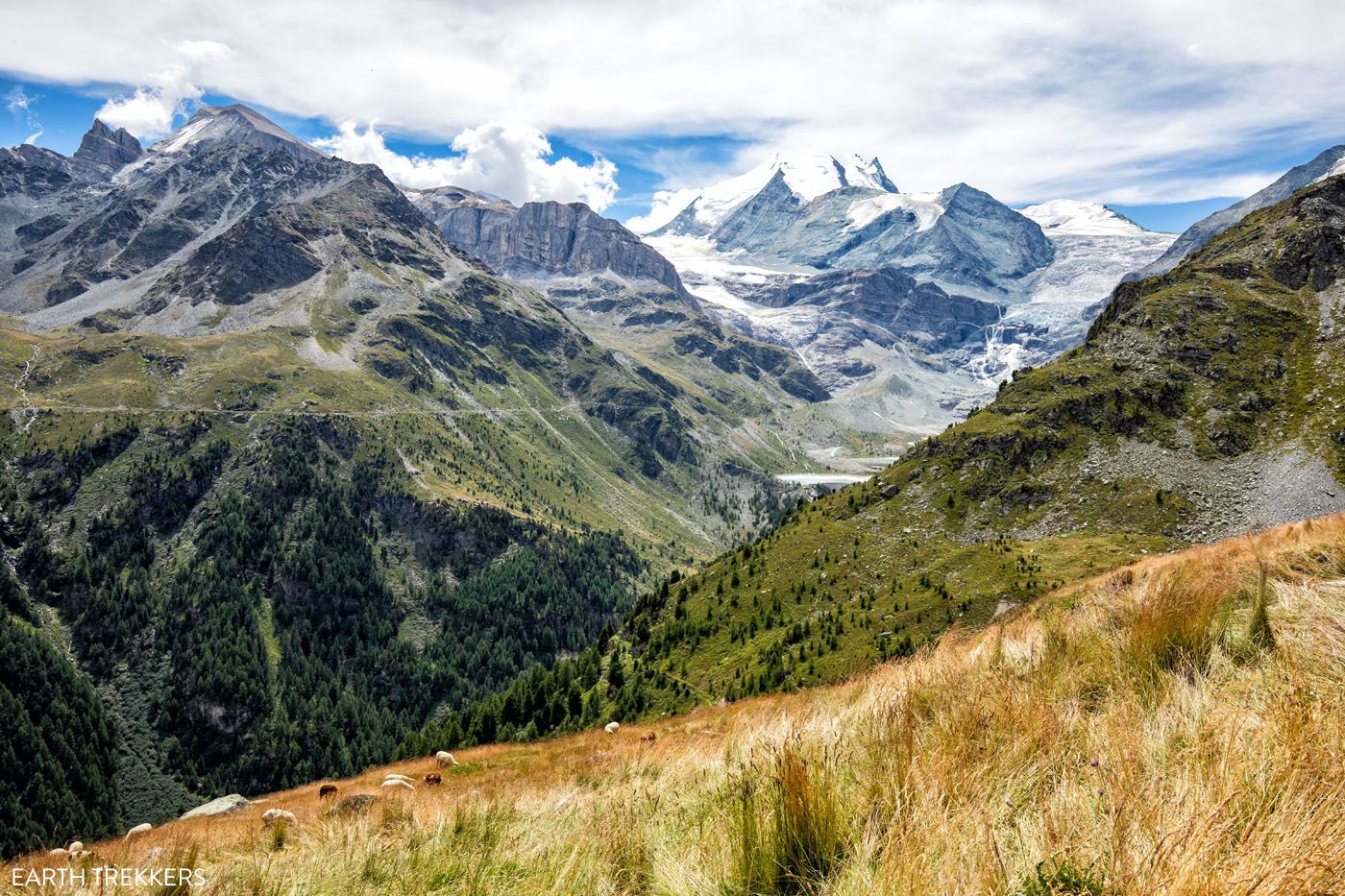 Bishorn
Shortly after this you will reach a gravel road and Gruben will come into view in the valley far below. From this point on, you will hike downhill on a combination of gravel roads and narrow trails through the forest. Look carefully for hiking signs to follow down the mountain.
Once you emerge from the forest, it is a short, easy walk through a meadow to Gruben. From here, Gruben is just over a kilometer away.
Important Note: There are no restaurants or huts between Zinal and Gruben. We recommend having your hotel in Zinal prepare a picnic lunch to eat along the hike.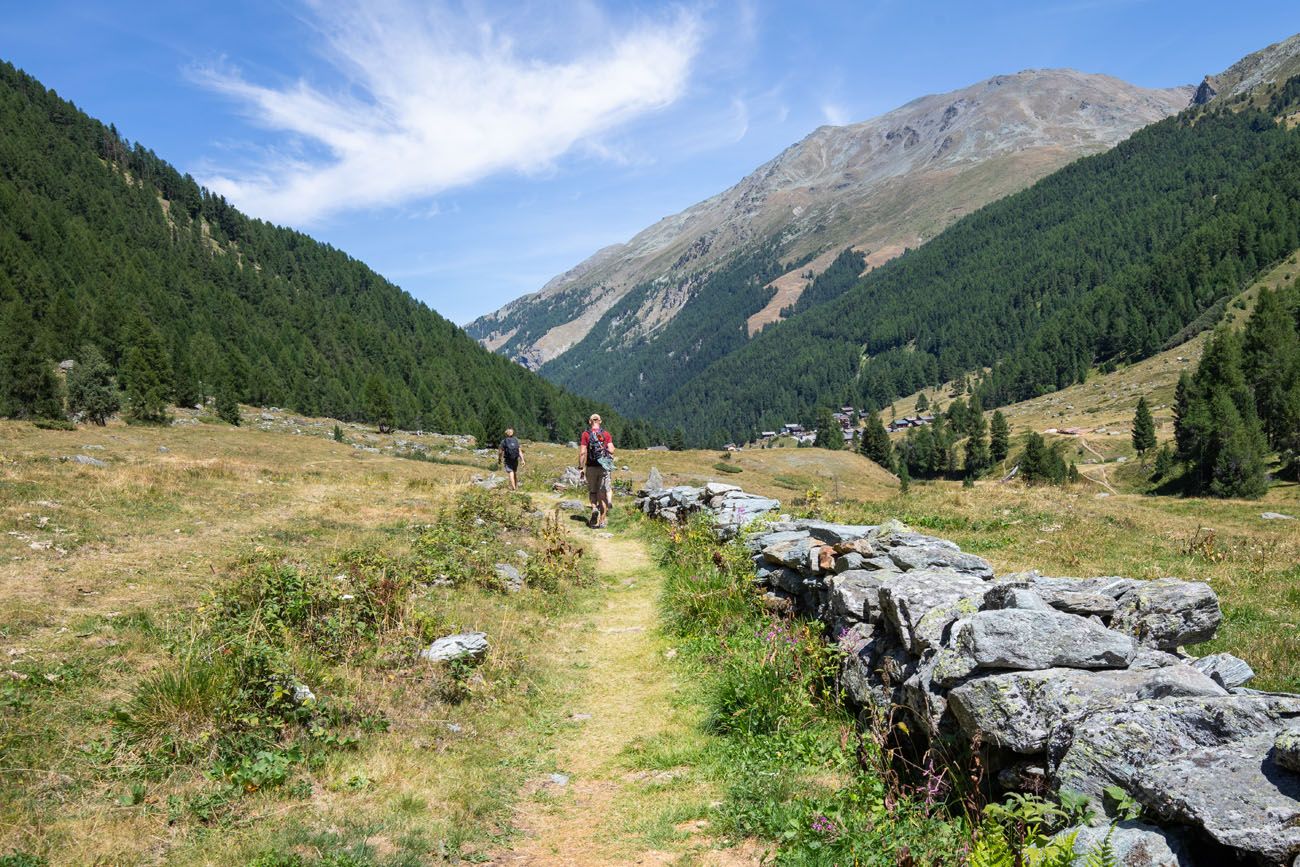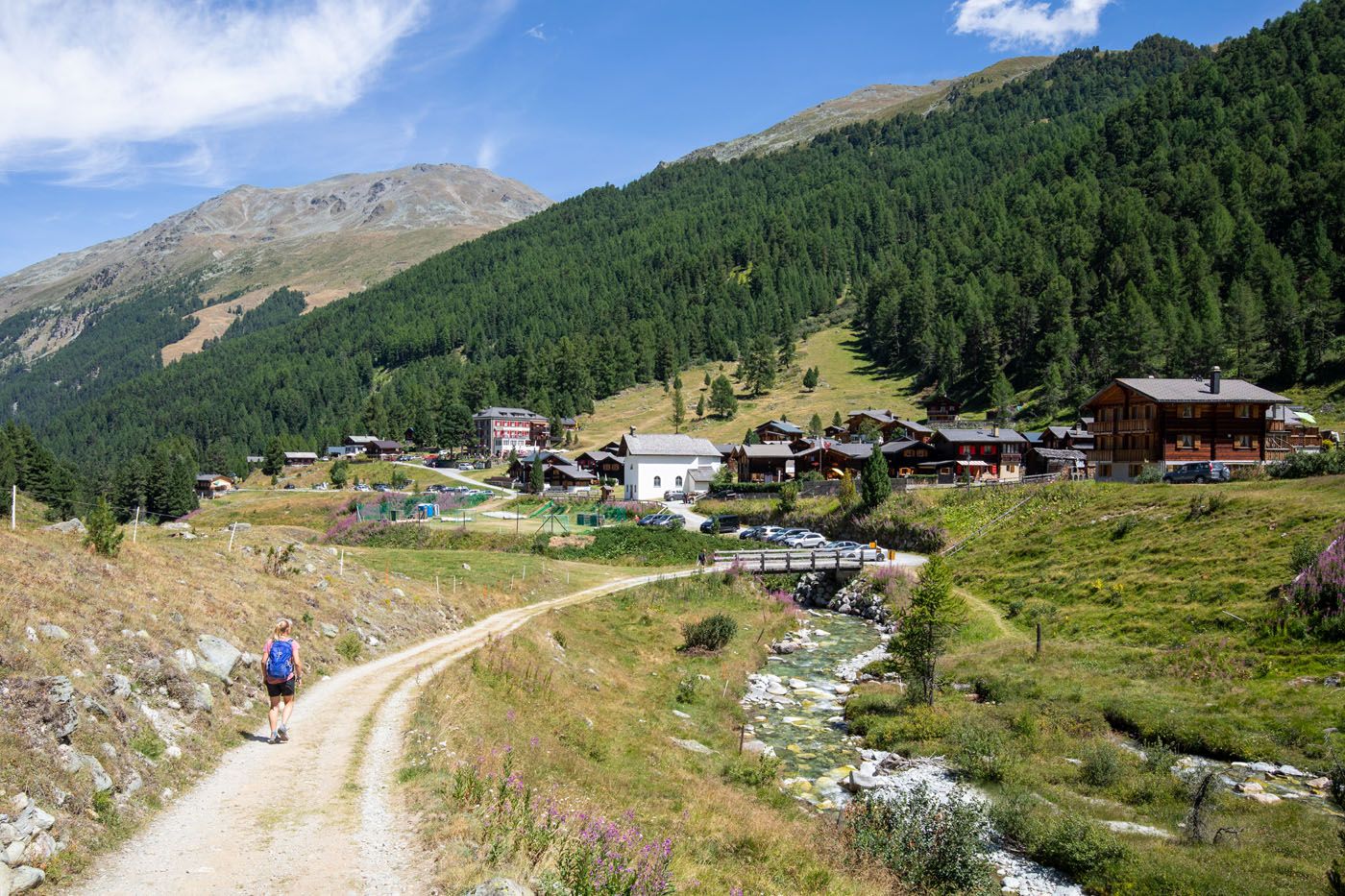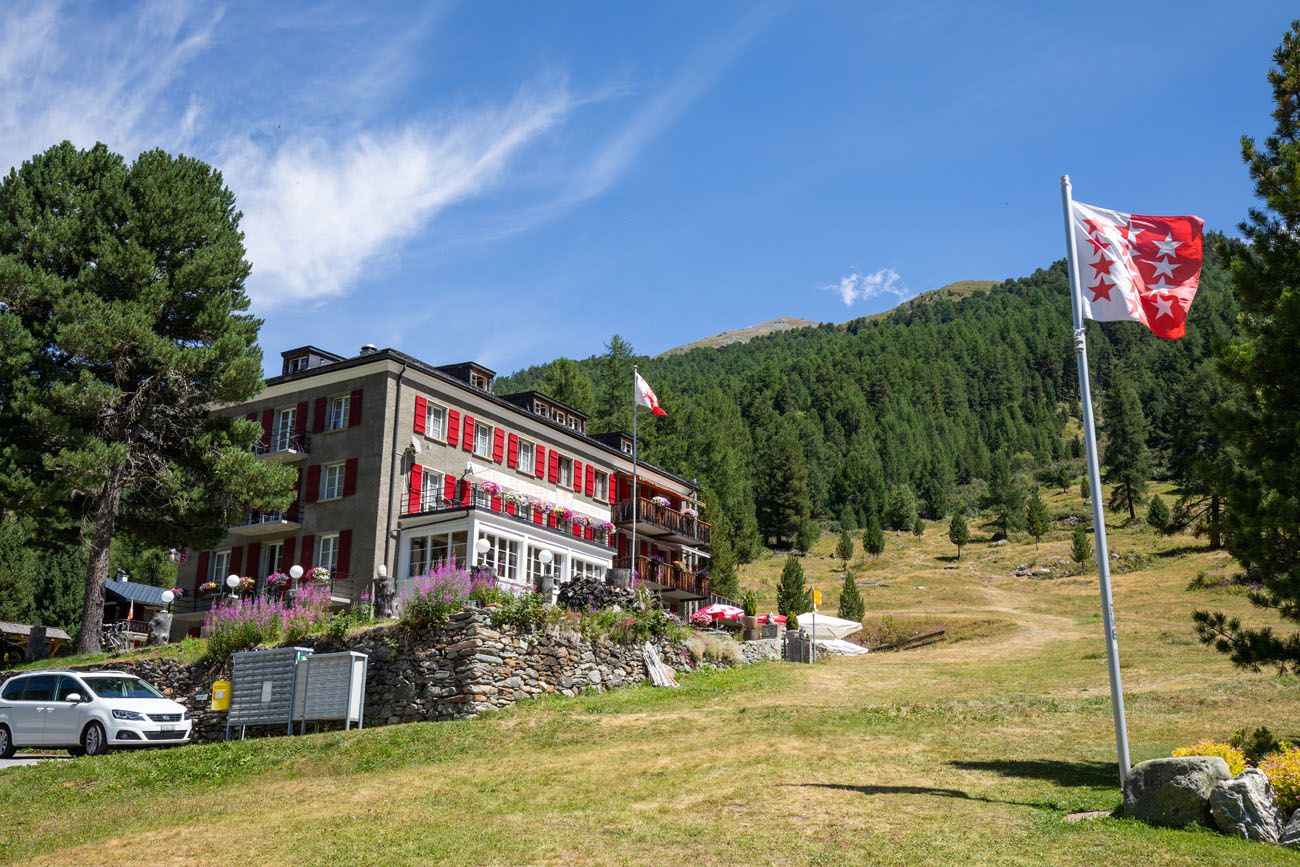 Hotel Schwarzhorn
Where We Stayed
In Gruben we stayed at Hotel Schwarzhorn, the only hotel in town. This is a nice hotel with small but comfortable rooms. There is one bathroom in each hall and it is shared between 5 rooms. The bathroom has 4 stalls, 2 of which are showers and 2 are toilets.
We had two double rooms, each with two twin beds, a desk, and a sink. Some rooms have a TV and some exit onto a balcony. There is Wi-Fi but the signal is weak. However, it was enough to check emails or send some text messages.
The hotel serves a set 4-course dinner from 6-8 pm. The hotel also has a la carte menu and you can have lunch here if you make it to Gruben early and want to grab something to eat after a long day of hiking.
Breakfast starts at 6:30 and is a typical Swiss buffet. You can also purchase a picnic lunch for an additional fee.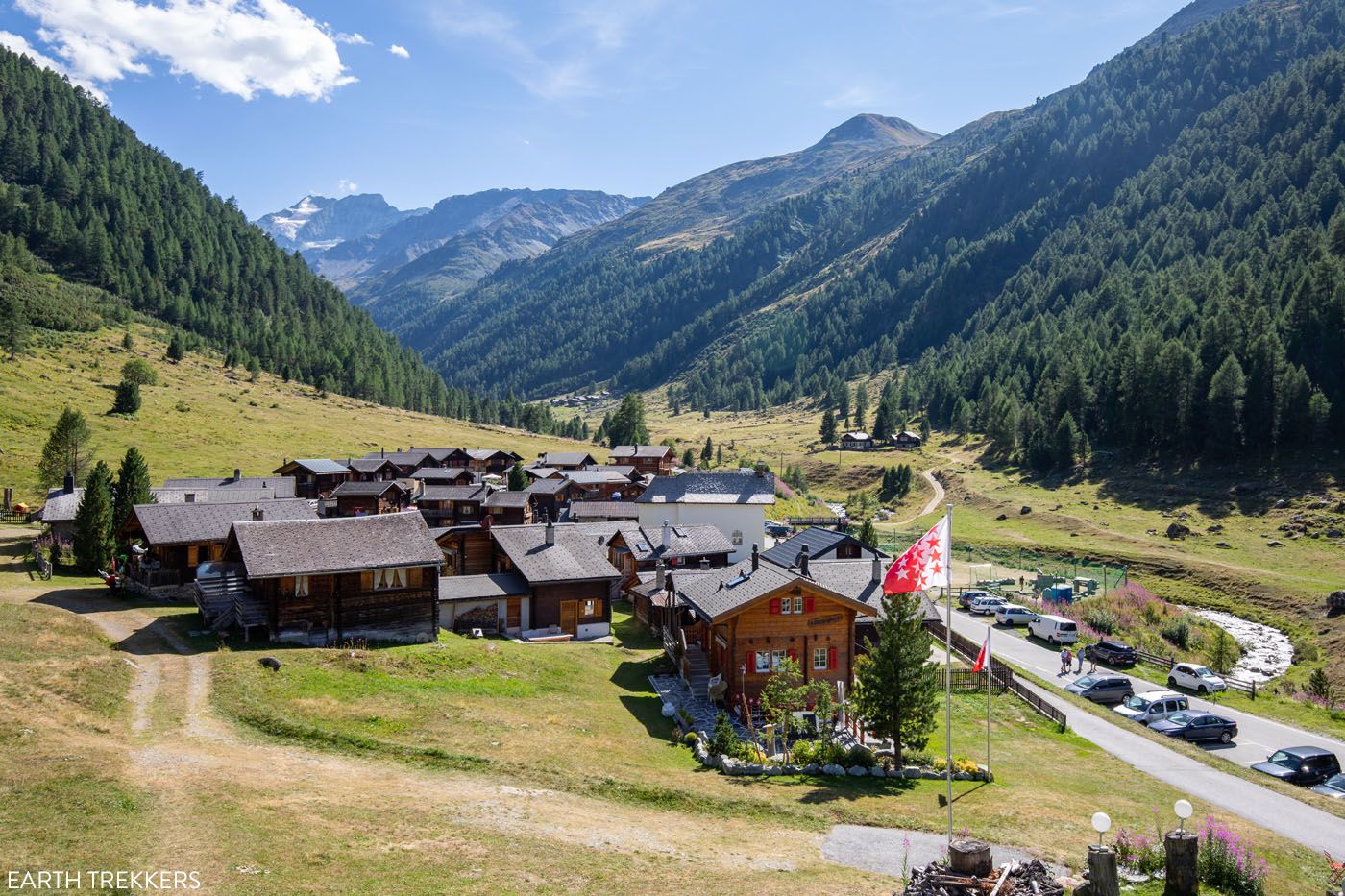 The view of Gruben from our hotel room.
Clarifications for the Walkers Haute Route Book
We were able to follow the Walker's Haute Book by Kev Reynolds (the sixth edition from 2019; there is now an updated version) without ever needing to backtrack. But there were a few times during this stage we felt a little more clarification would have helped so we are providing that clarification here based on our experience. These notes were taken related to following Stage 11; Zinal to Forcletta to Gruben.
Tunnel: Shortly after passing through the tunnel the trail joins another track coming from the right and we came out into an open area. We kept going in the direction we had been going. Then we came to a junction with a signpost, which we followed in the direction of Hotel Weisshorn. I assume one of these must have been the left branch mentioned in the book.
Low building signed to Lirec: There is a water trough here and a signpost. The "turn sharply left" mentioned in the book is in the direction of Hotel Weisshorn & Lirec, which you want to follow.
Minor path junction: The book mentions "come out of the trees to a minor path junction". There is a signpost here which you follow in the direction of Hotel Weisshorn.
Chalte Berg: Before reaching the farm buildings (they will be visible up ahead) the path will split. Both paths rejoin near the buildings where there is also a signpost. Follow this signpost in the direction of Gruben. Soon after, follow another signpost indicating "Wanderweg".
Unmade farm road: The book states that after about 150 metres along the unmade farm road bear right on a footpath. There were a few trails here but just look for a signpost and follow it in the direction of Gruben.
Gruben: There is a water trough in Gruben. We saw it after we crossed the bridge into Gruben village and walked towards Hotel Schwarzhorn.
More Information about the Haute Route
In our Walker's Haute Route Planning Guide, we have links to all of our articles about the Walker's Haute Route, including information about each stage, how to plan your trek, what to expect, and more.
For an overview of all 14 stages of the Walker's Haute Route, with overall hiking stats, map, elevation profile, and lists of the most difficult stages, easiest stages, and our personal favorites, check out our Guide to the Walker's Haute Route Stages.
Stages of the Haute Route: Below are our guides to each stage of the Haute Route.
---
If you have any questions about how to hike the Haute Route Stage 11, or if you want to share your experience, let us know in the comment section below.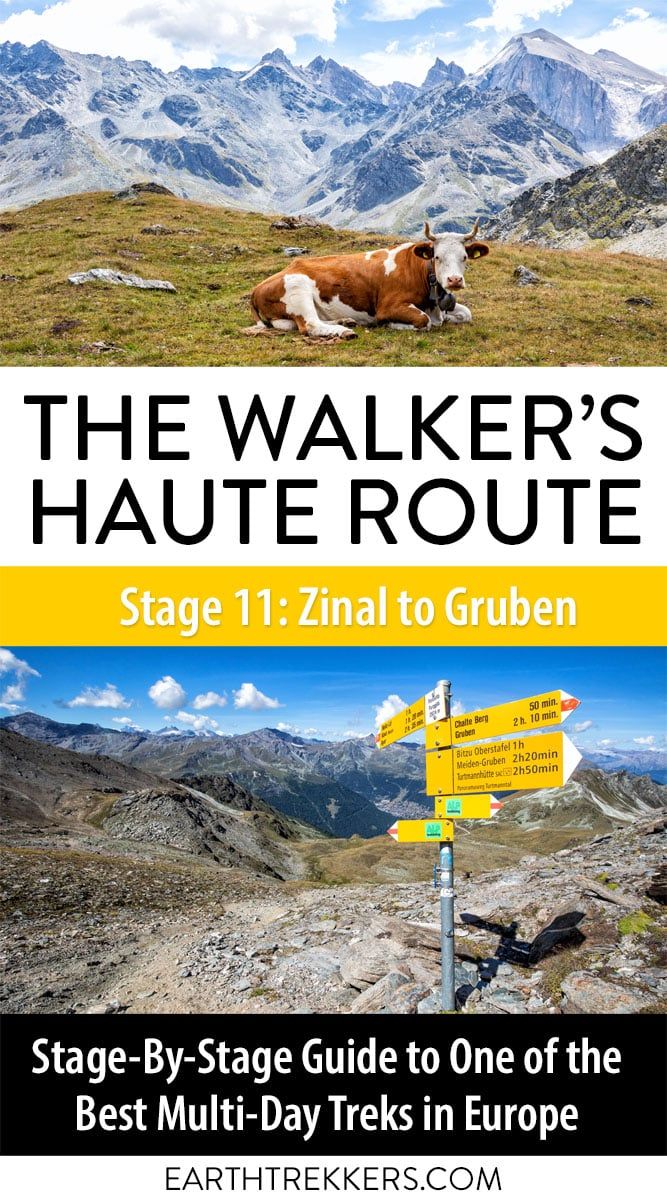 Note: This post contains affiliate links. When you make a purchase using one of these affiliate links, we get paid a small commission at no extra cost to you.
All rights reserved © Earth Trekkers. Republishing this article and/or any of its contents (text, photography, etc.), in whole or in part, is strictly prohibited.