After an easy, somewhat unexciting walk from Chamonix to Argentière, the hike gets to be a lot more interesting on this stage. It also gets a lot more challenging. Stage 2 of the Walker's Haute Route is the first time you really get to test out your legs and enjoy the alpine views for which this trek is famous for.
Walker's Haute Route Stage 2 Hiking Stats
Distance: 14.2 km (8.8 miles)
Difficulty: Moderate to strenuous
Total Ascent: 980 m (3,215 feet)
Total Descent: 940 m (3,085 feet)
Lowest Elevation (Argentière): 1,275 m (4,180 feet)
Highest Elevation (Col de Balme): 2,200 m (7,220 feet)
Elevation in Argentière: 1,275 m (4,180 feet)
Elevation in Trient: 1,325 m (4,350 feet)
Average Time: 5 hours 30 minutes; our time was 4 hours 45 minutes (including stops)

Haute Route Stage 2 Elevation Profile
Please practice the seven principles of Leave No Trace: plan ahead, stay on the trail, pack out what you bring to the hiking trail, properly dispose of waste, leave areas as you found them, minimize campfire impacts, be considerate of other hikers, and do not approach or feed wildlife.
Walker's Haute Route Stage 2 Map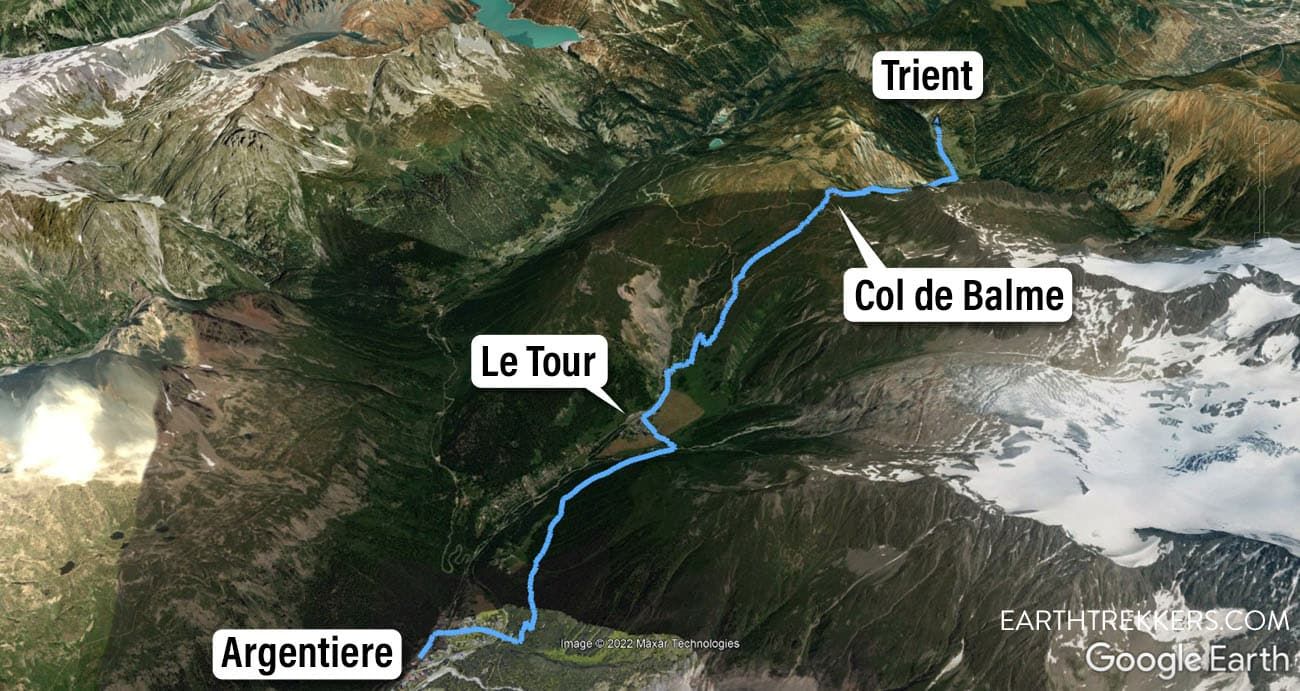 Haute Route Stage 2 Map: Argentière to Trient
Walker's Haute Route Stage 2: Overview of the Trail
To hike the Haute Route, we highly recommend following the trail descriptions in the book Trekking Chamonix to Zermatt, The Classic Walker's Haute Route by Kev Reynolds. Below we list an overview of the day, so you know what to expect along the way. We also provide advice on where to eat and where to stay. Later in this guide, we list a few tips and trail clarifications to be used with the Trekking Chamonix to Zermatt book.
Argentière to Le Tour
Argentière is a small town that sits at the base of Glacier d'Argentière. As you hike through town, look over your right shoulder to see the glacier.
The Haute Route takes you through the center of town. Near the Tourism Office, you will veer right and head through the town center. On the day we did this, a 27 km trail race was being held (the Trail des Grands Montets) and Argentière was the finish line.
Walking through Argentière
After a short, easy walk through Argentière, you get to a trail that heads into the forest. The trail is well marked with signs directing you to Le Tour. From Argentière, it takes about 45 minutes to walk to Le Tour.
Once you enter the forest, it's a steady, uphill hike.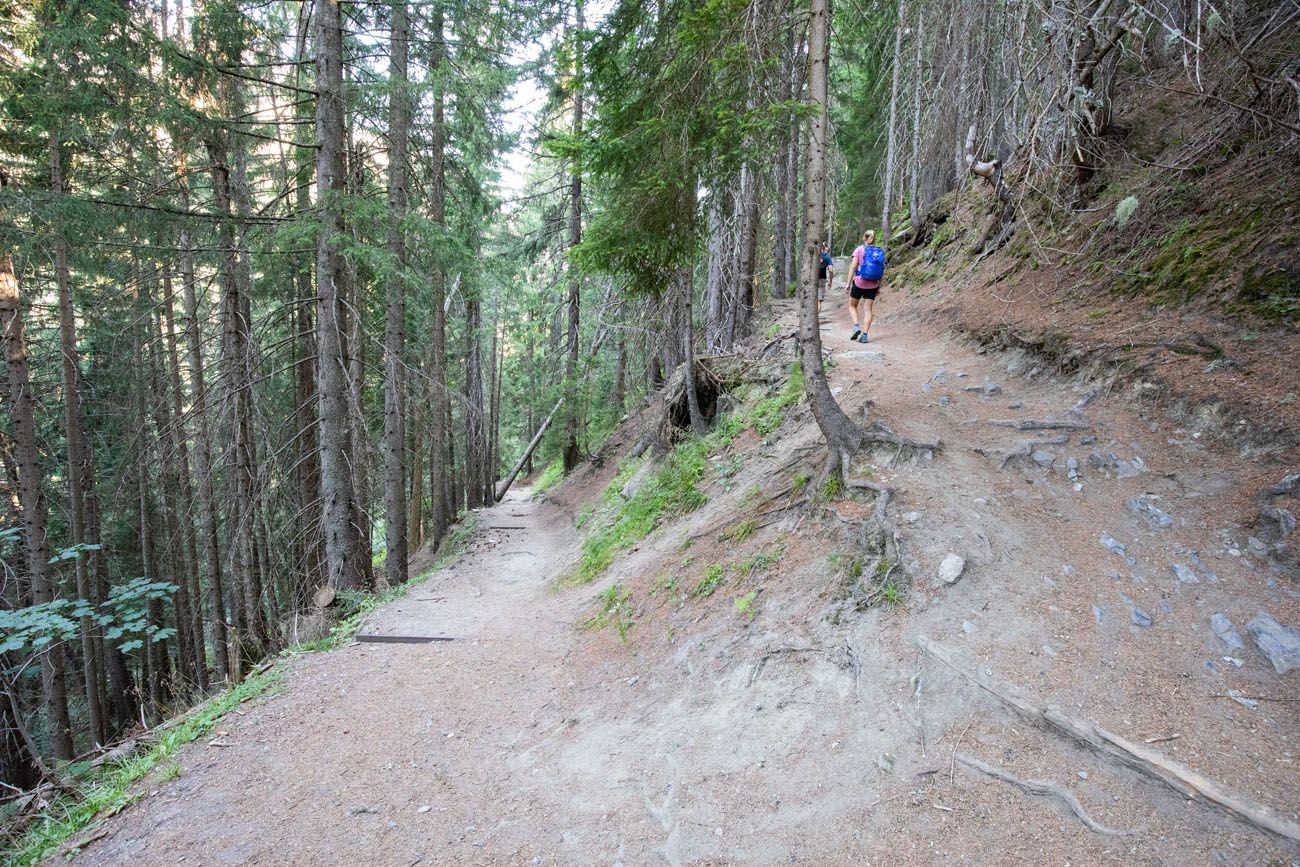 Trail through the woods between Argentière and Le Tour.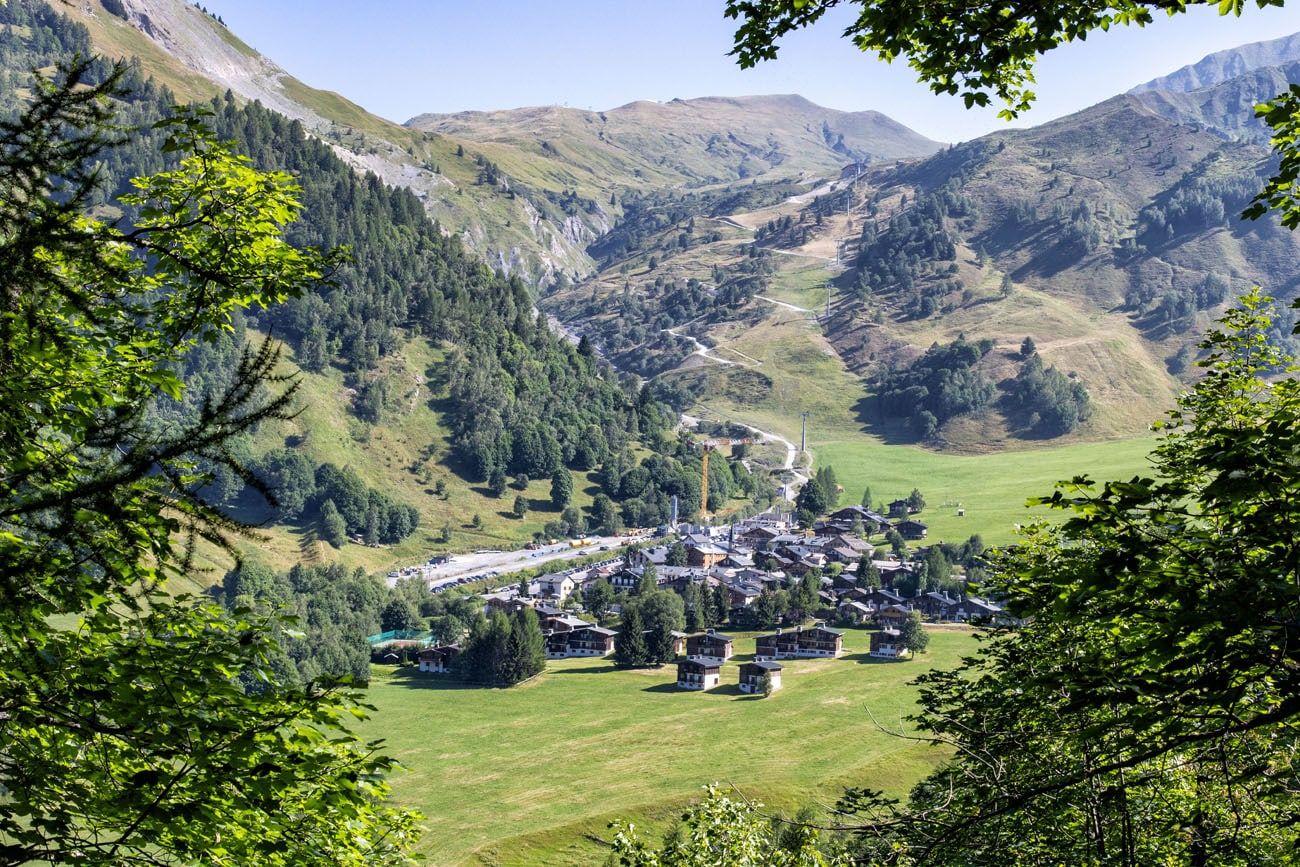 As you get close to Le Tour, you will be able to see it from breaks in the trees. The mountain behind it is your next climb. Col de Balme lies at the top of the mountain.
The trail briefly levels out before descending to Le Tour. After a short walk through a meadow, you are in the small town of Le Tour. There is a restaurant/snack bar near the gondola station. When we did this, the gondola was not running.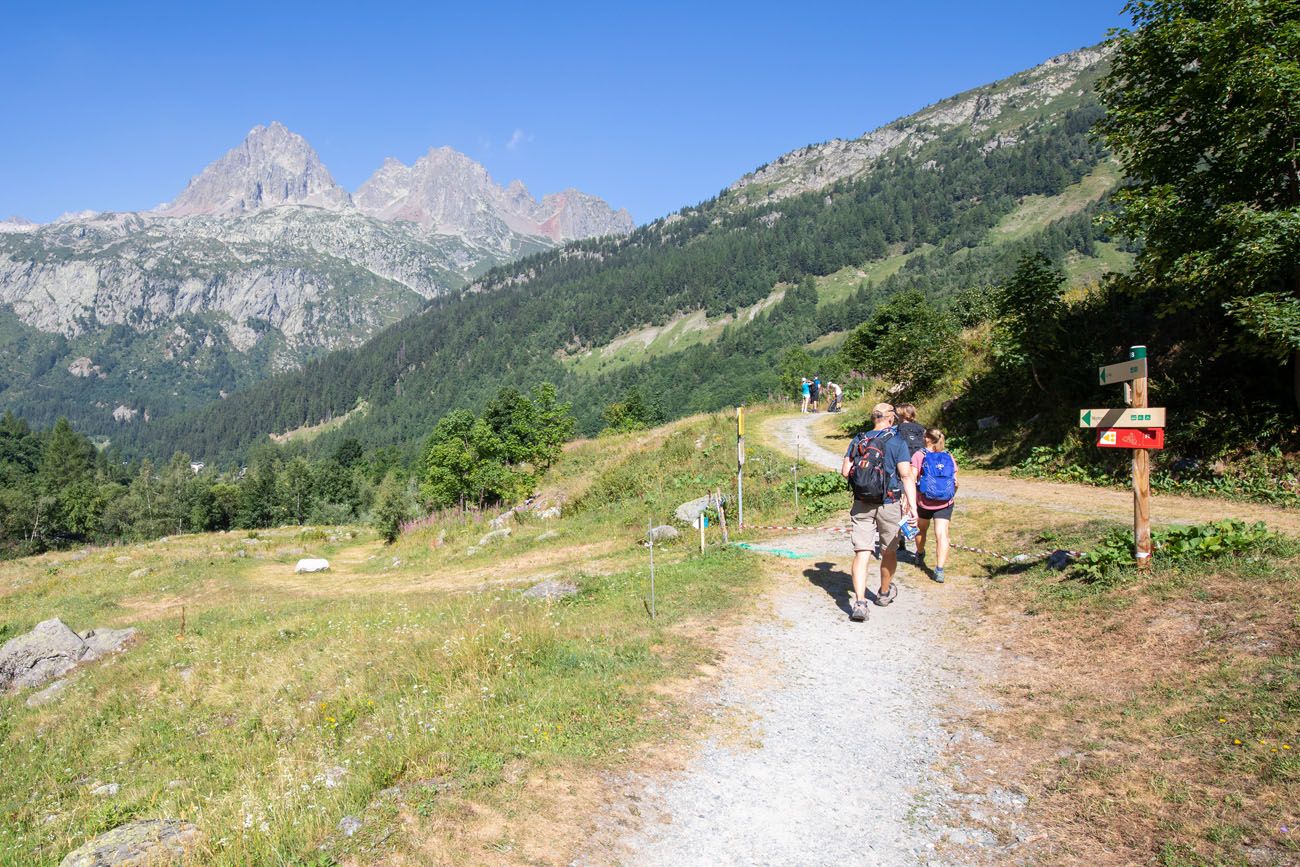 Entering Le Tour.
Le Tour to Col de Balme
This next section is the most challenging part of the day. From Le Tour, it is a strenuous uphill hike to Col de Balme. The trail switchbacks up the mountain, just off to the right of the gondola.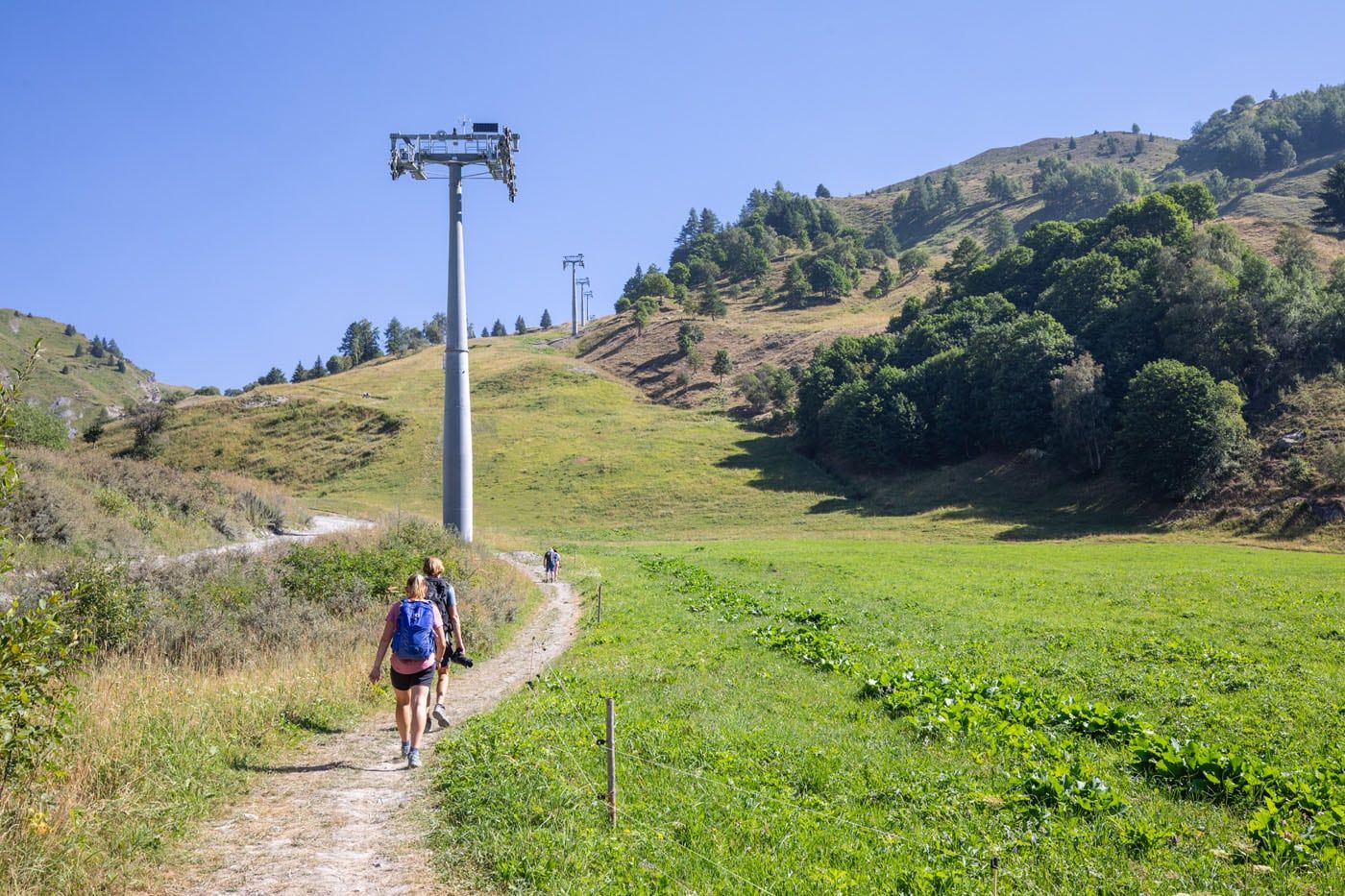 The trail from Le Tour, as it climbs next to the gondola poles.
For the most part, it is a constant hill climb, with very few flat areas. We had to pause frequently to catch our breath, as did other hikers on the trail, but that's OK…that gives you a chance to enjoy the view. And from this part of the trail the view is wonderful.
As you hike higher, the views of the valley really open up. Mont Blanc, Argentière, and the Chamonix valley can all be seen from this point.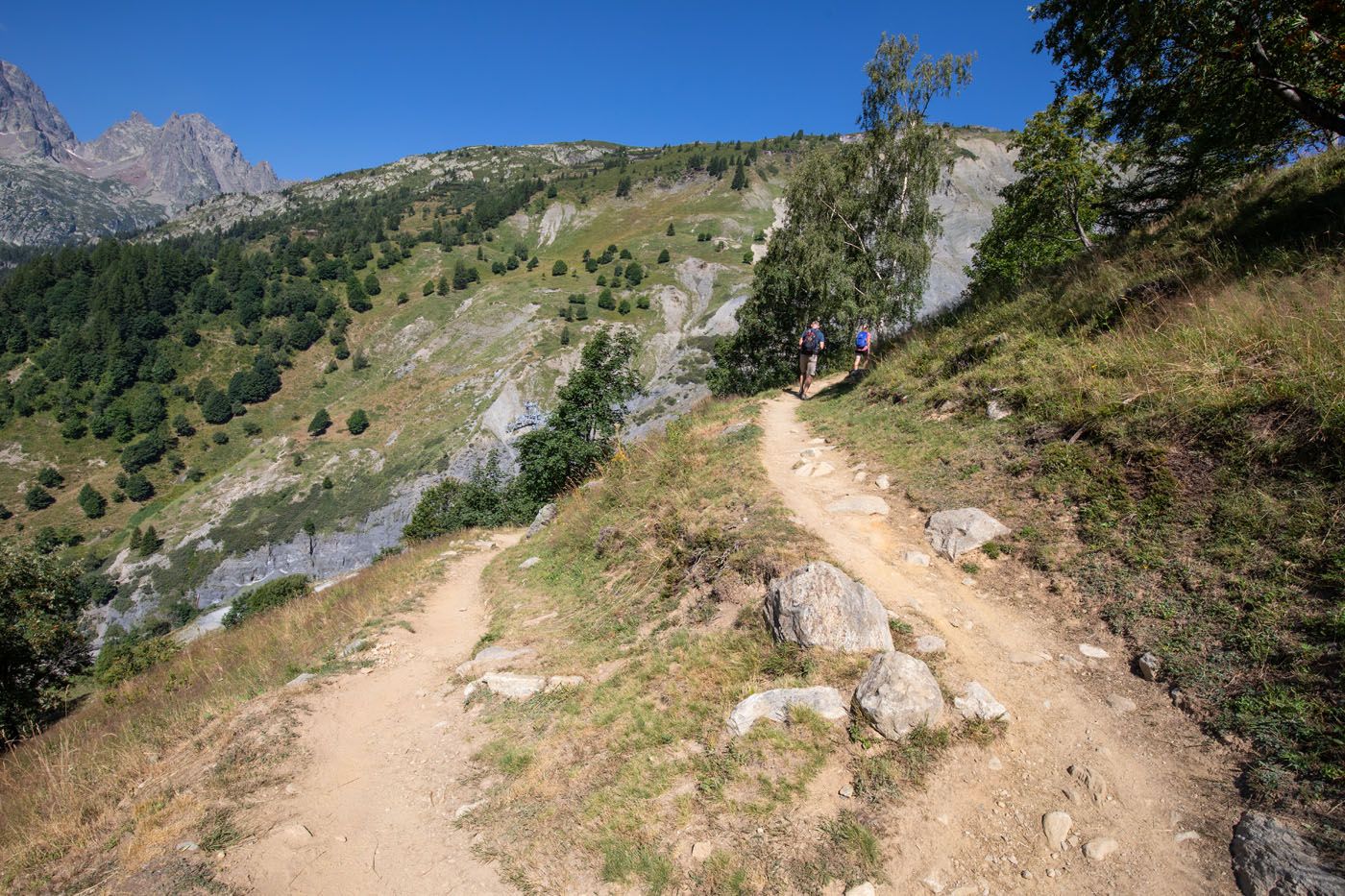 Switchbacks along the trail.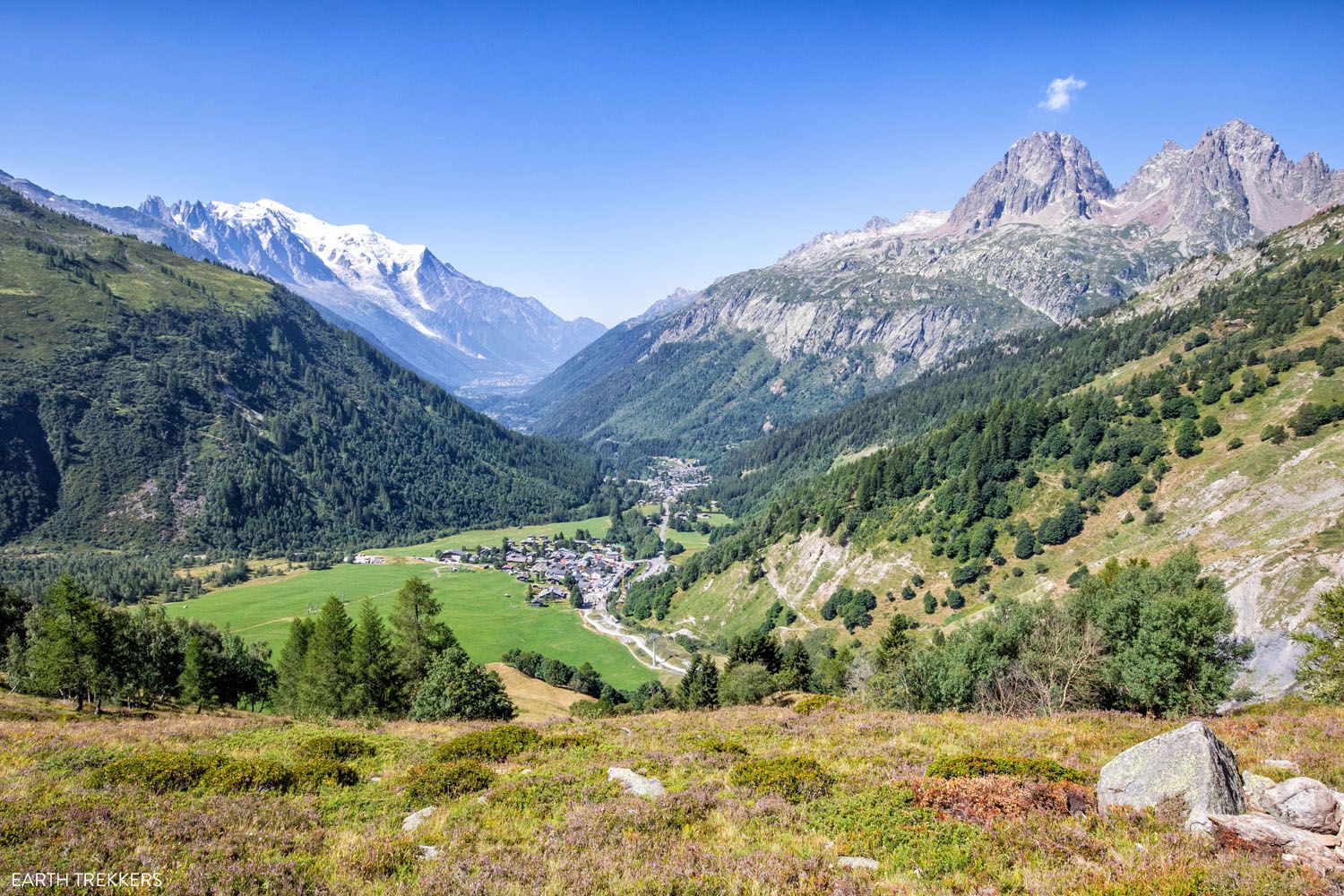 View from the trail.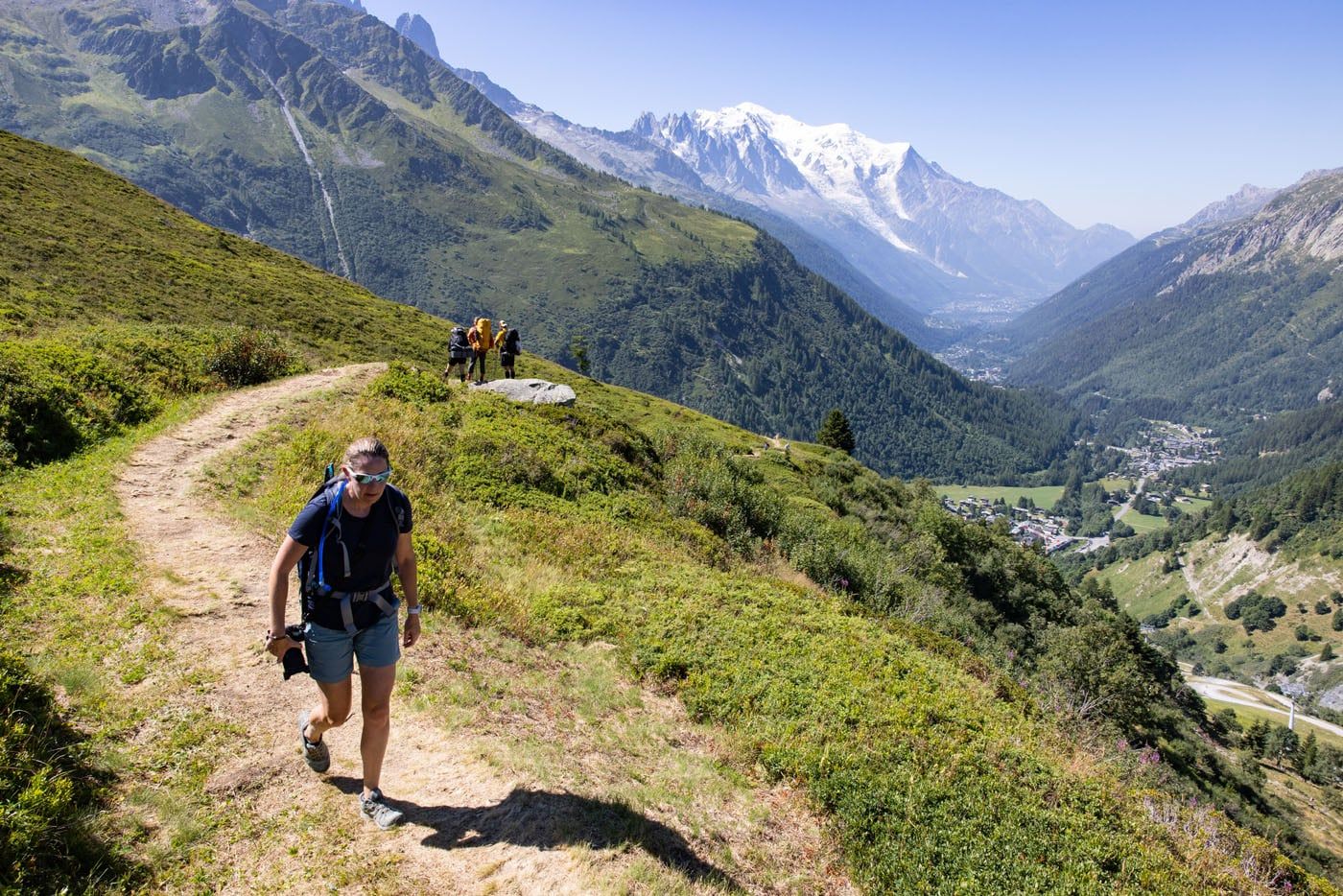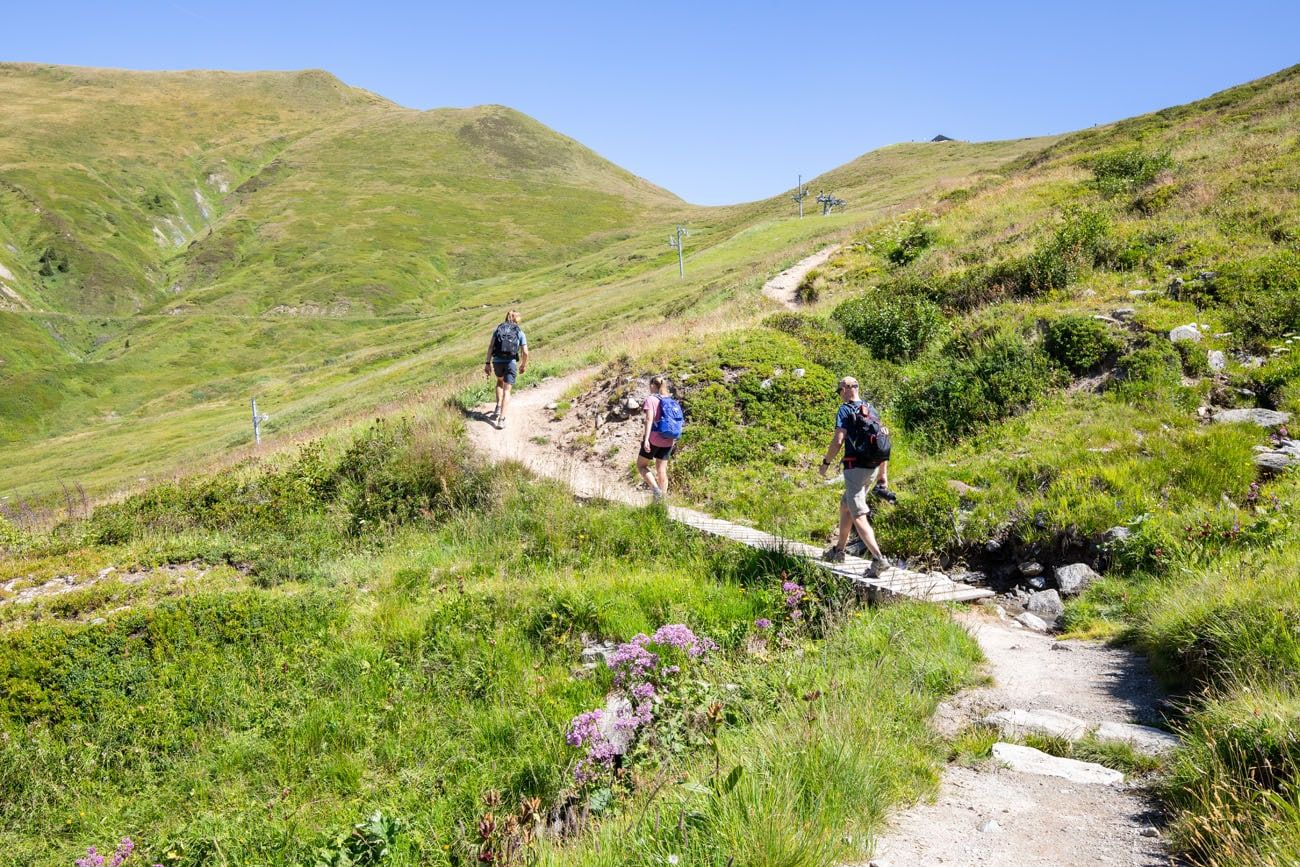 Final portion of the climb to Col de Balme. In this photo, you can just barely see the top of Refuge du Col de Balme, which sits on the col.
Once at Col de Balme, it's time to celebrate! You have made it to the highest point of Stage 2 and from here, it is all downhill to Trient.
This also marks the border between France and Switzerland. Once you start the downhill walk to Trient, you will be leaving France behind and for the remainder of the trek you will be in Switzerland.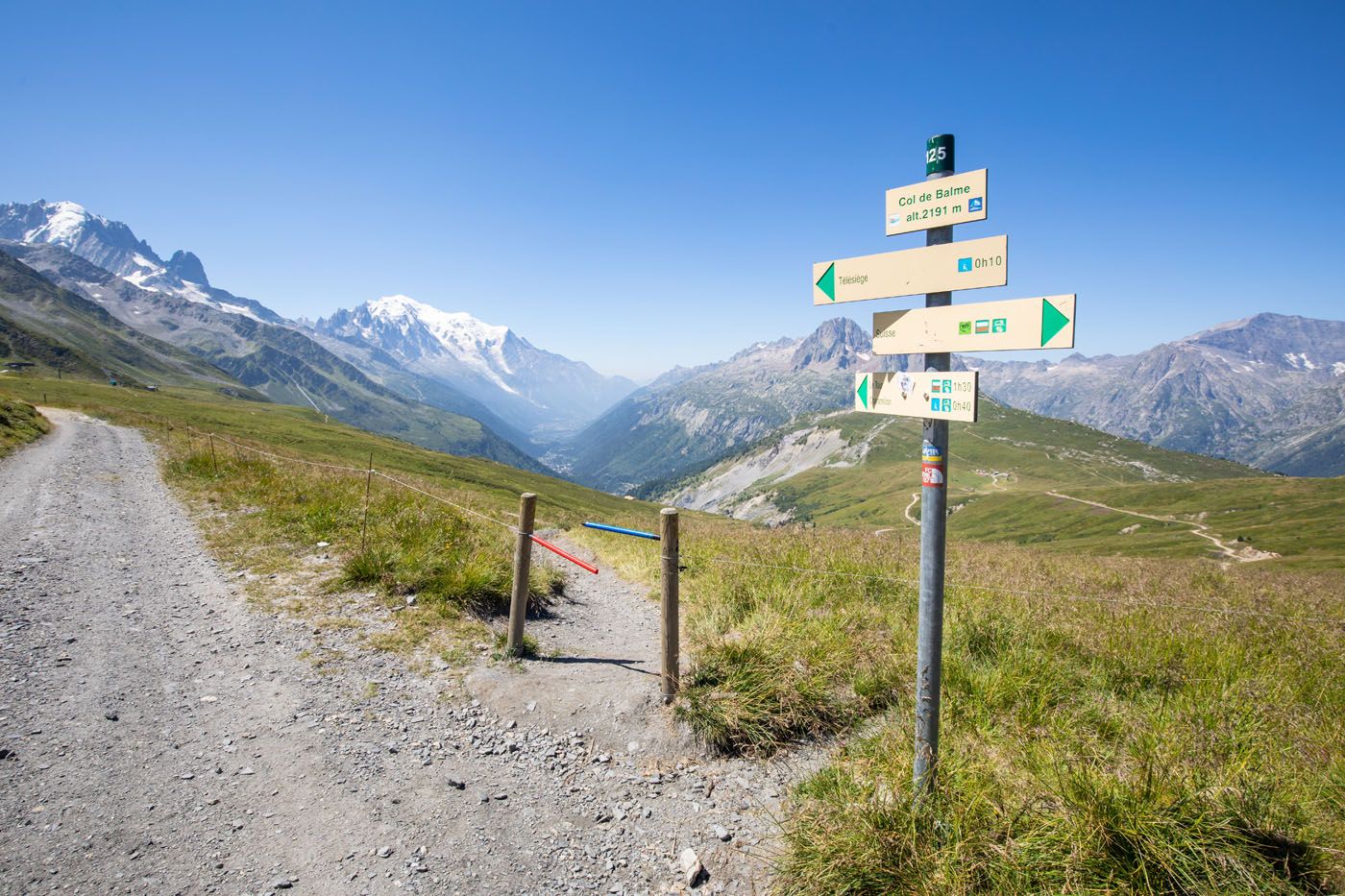 French trail signs at Col de Balme and the view back to Mont Blanc and the Chamonix Valley.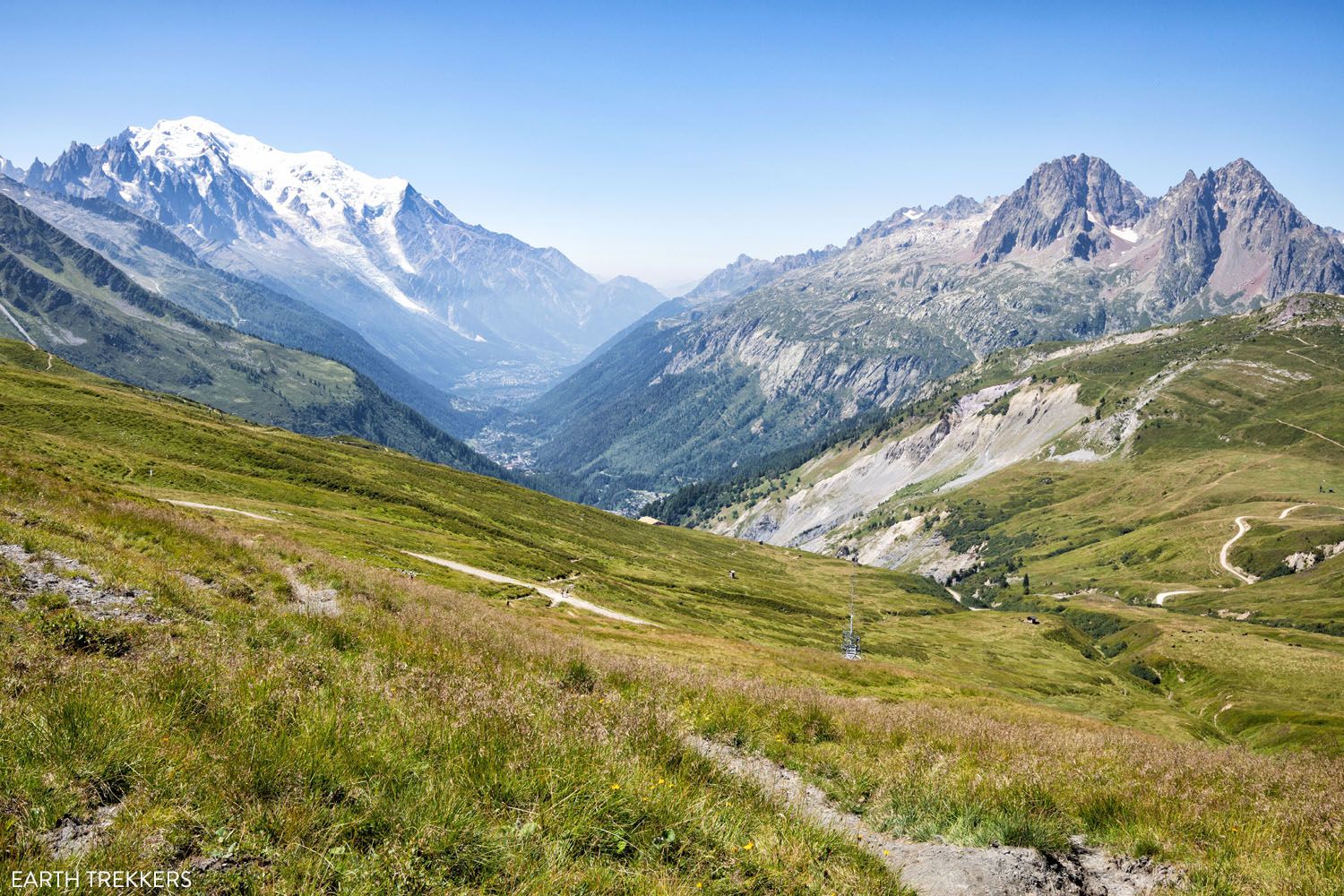 The view from Col de Balme.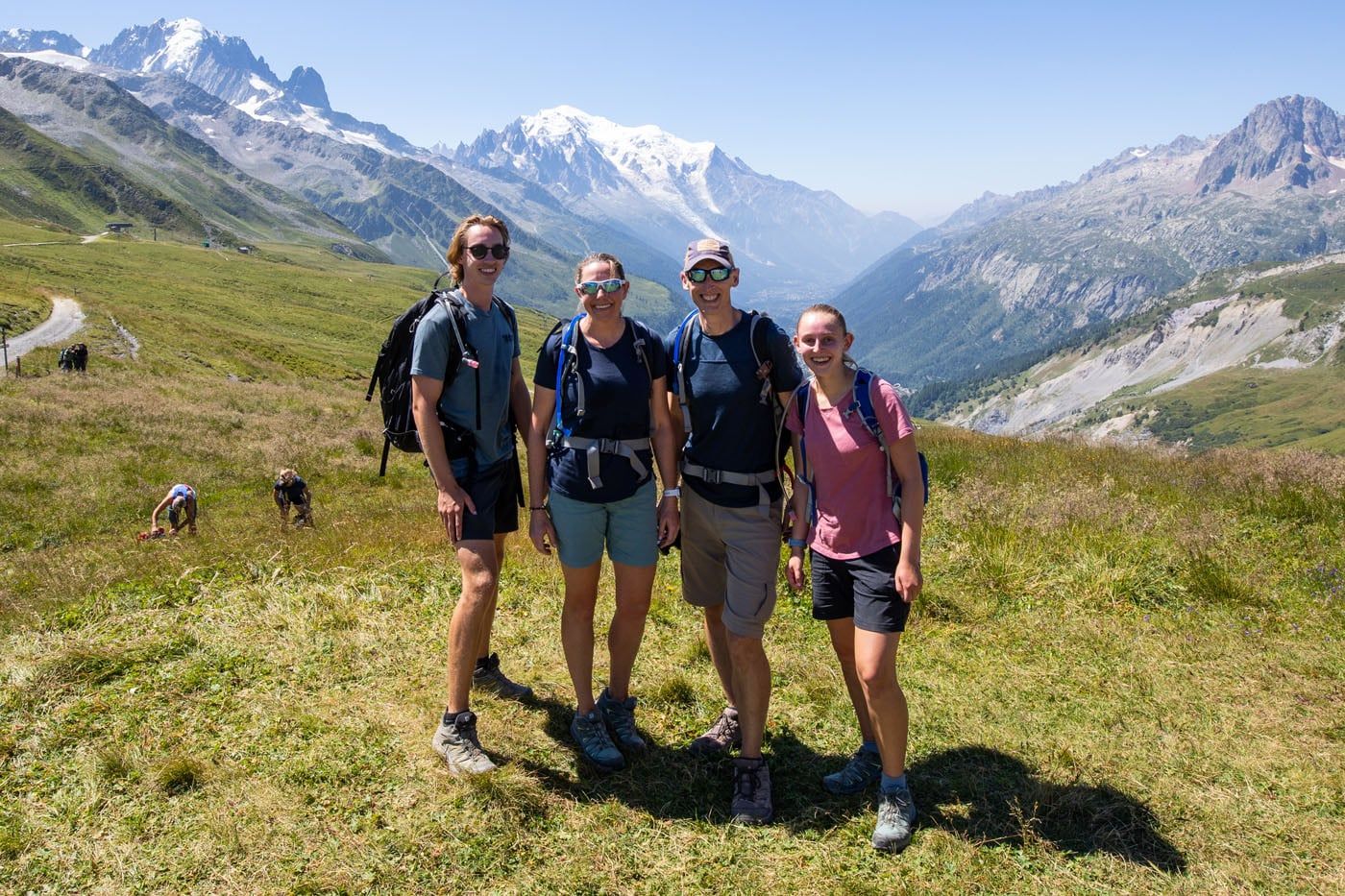 Family photo at the top.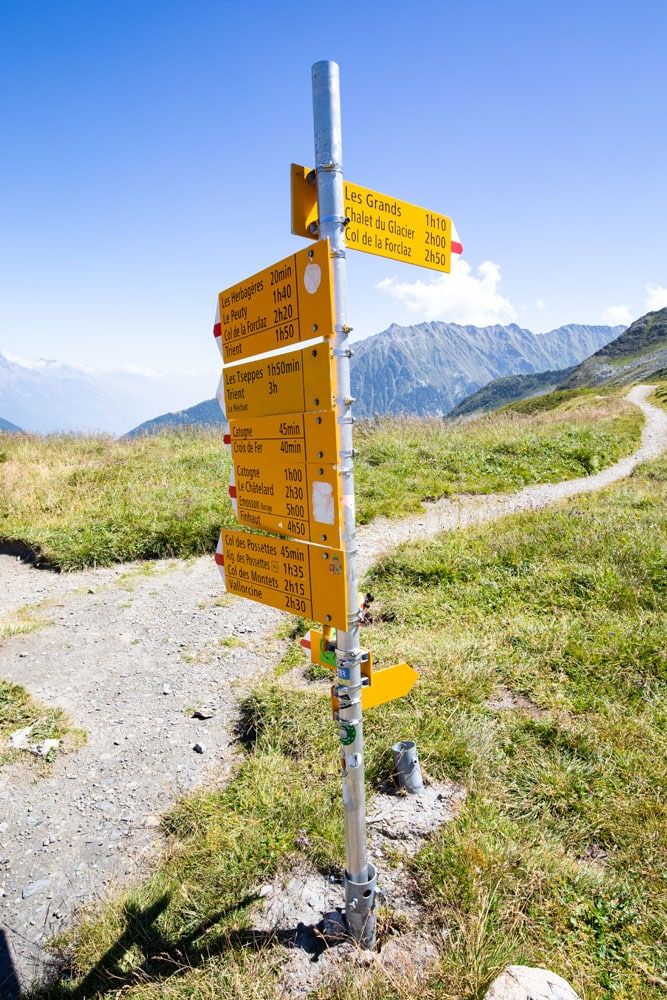 Swiss trail signs at Col de Balme.
NOTE: Col de Balme is one of the easiest mountain passes on the Haute Route. It is strenuous but if you had a hard time on this one, you may really struggle on some future stages.
Col de Balme
At Col de Balme, we had lunch. We made it here at noon and midday this is a very busy place. Those hiking the Tour du Mont Blanc are hiking in the opposite direction, from Trient towards Argentière, so this becomes a meeting point for TMB hikers, day hikers, trail runners, and those hiking the Haute Route.
From lunch, we all ate omelets with cheese, bacon, and mushrooms, served with a side salad. They also serve meat and cheese plates, soup, and salad, as well as an assortment of beer and sodas. The food came out very fast and was delicious.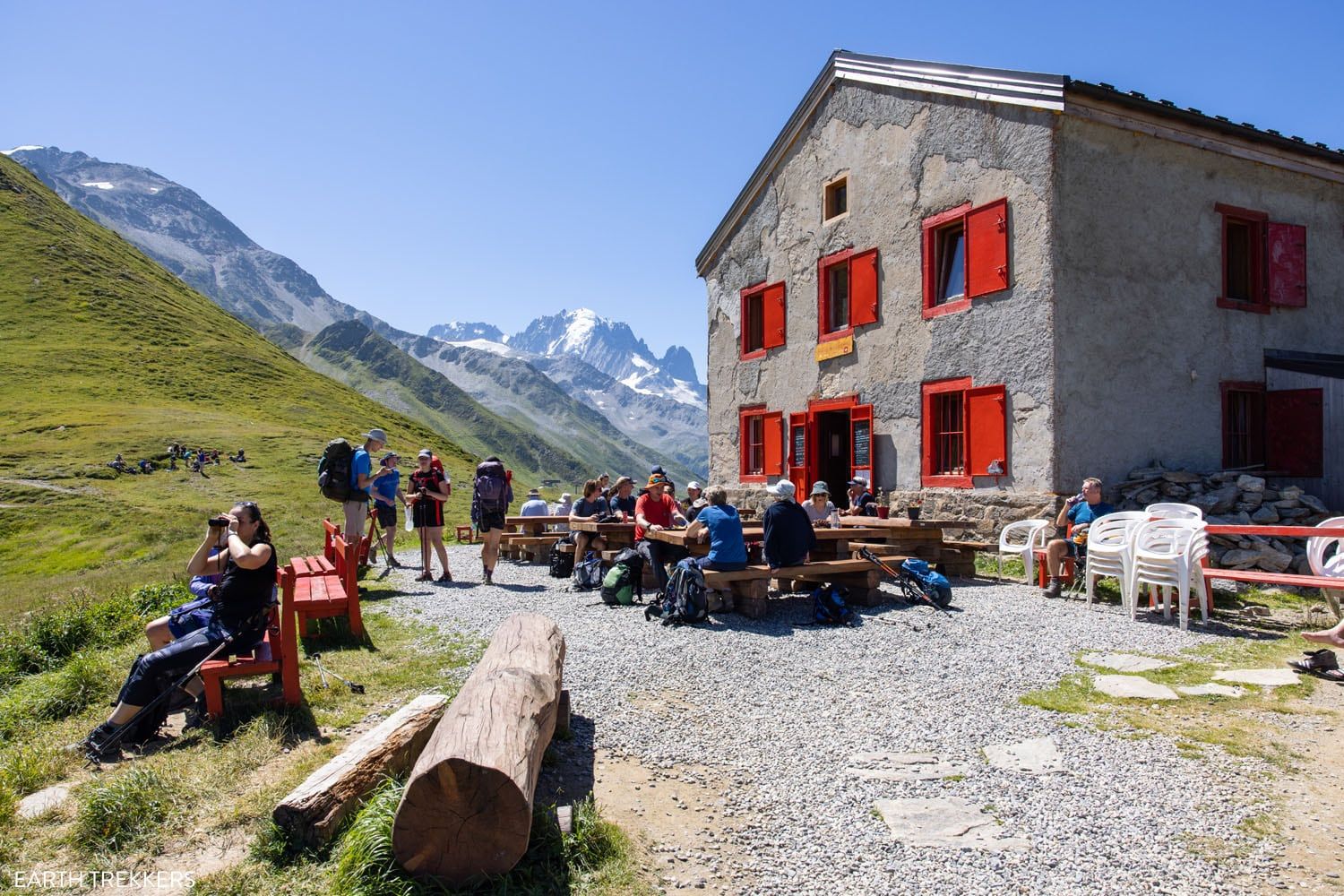 Refuge du Col de Balme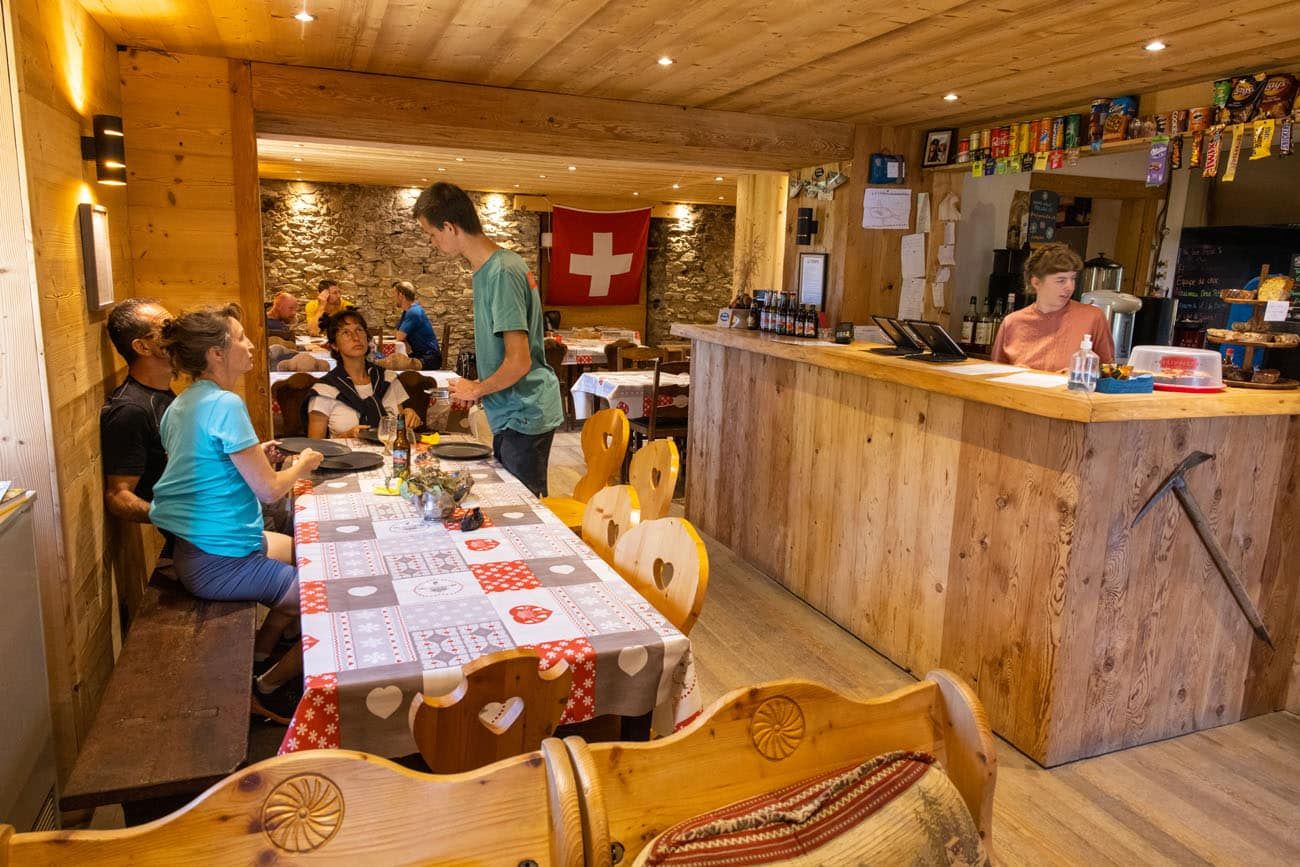 Inside Refuge du Col de Balme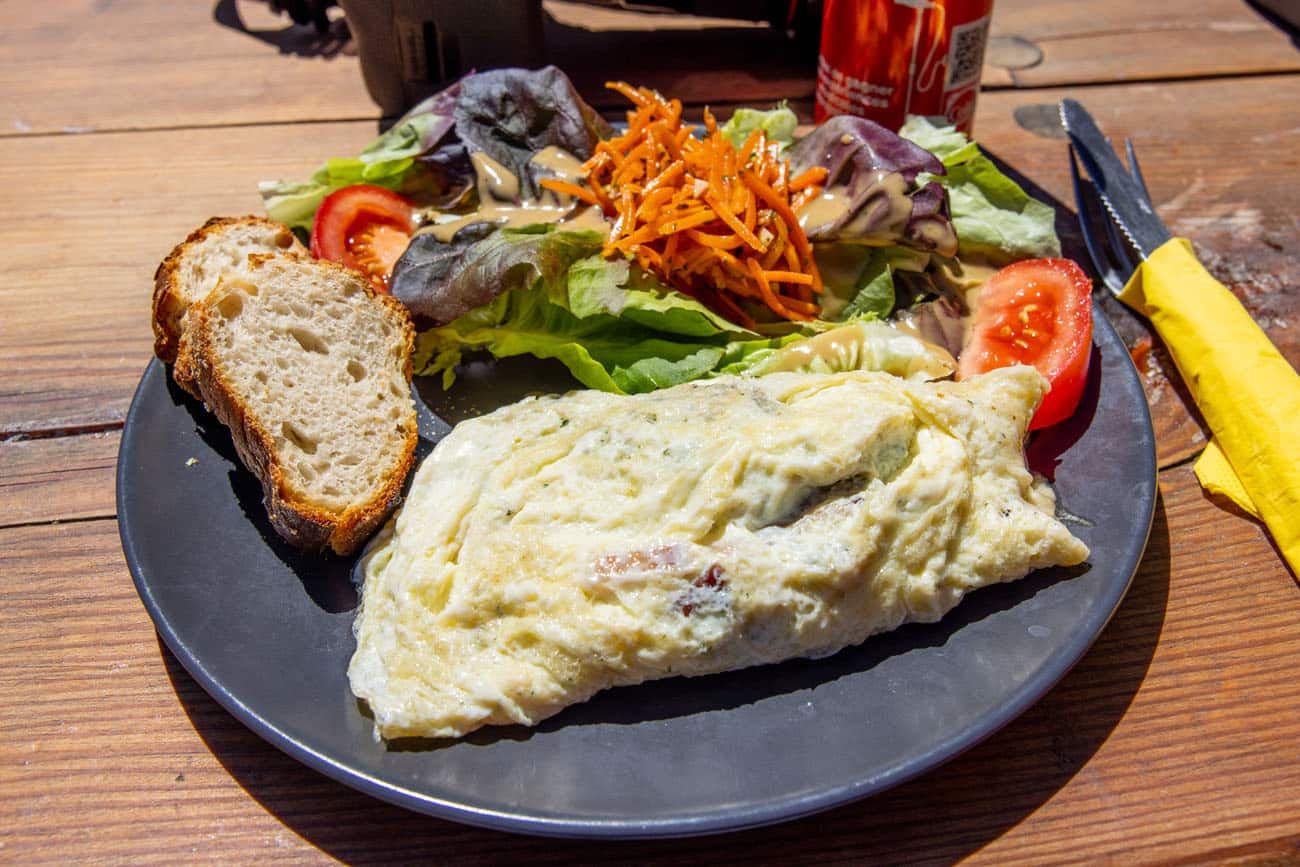 Lunch!
Col de Balme to Trient
The hard part is over. Now it is just a steep descent into Trient.
There are three different routes to hike from Col de Balme to Trient. We chose the shorter, more direct route, which takes an hour and a half, since we combined two stages into one today. Plus, it was also a very warm day (the high temperature in Chamonix was 31°C/88°F), so we wanted to get to Trient as soon as possible.
Note: The Walkers Haute Route book lays out the three hiking options to Trient. If you still have lots of energy, the more scenic 2-hour route is one to consider.
The first part of the hike to Trient is fully exposed to the sun and the gradient is steep, but it's about to get harder. Once you enter the forest, the trail makes a much steeper descent with lots of switchbacks. At times, it feels as if they will never end. The trail here is very rocky and it's easy to trip or slip, which we did several times, so take your time here.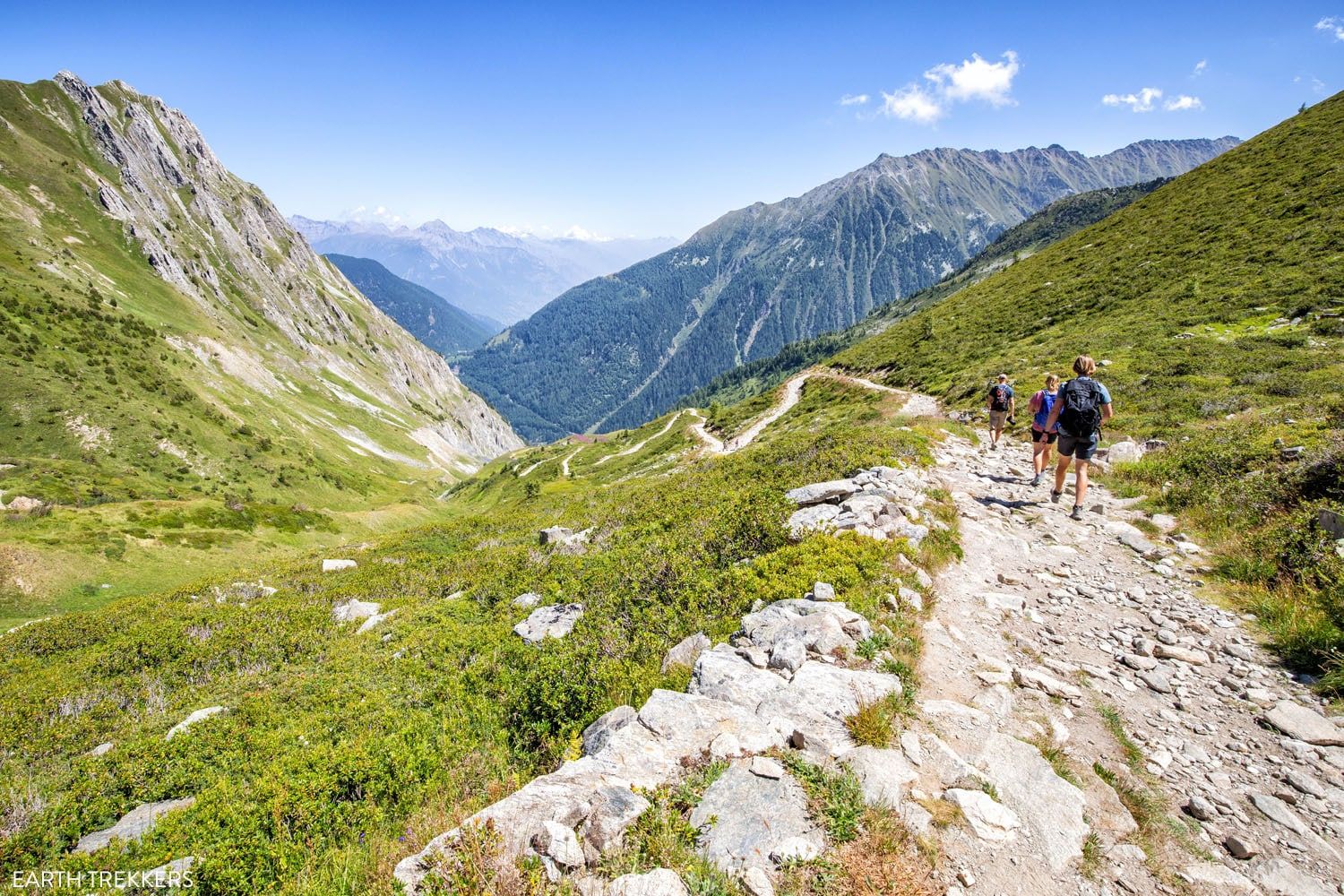 Starting the descent to Trient.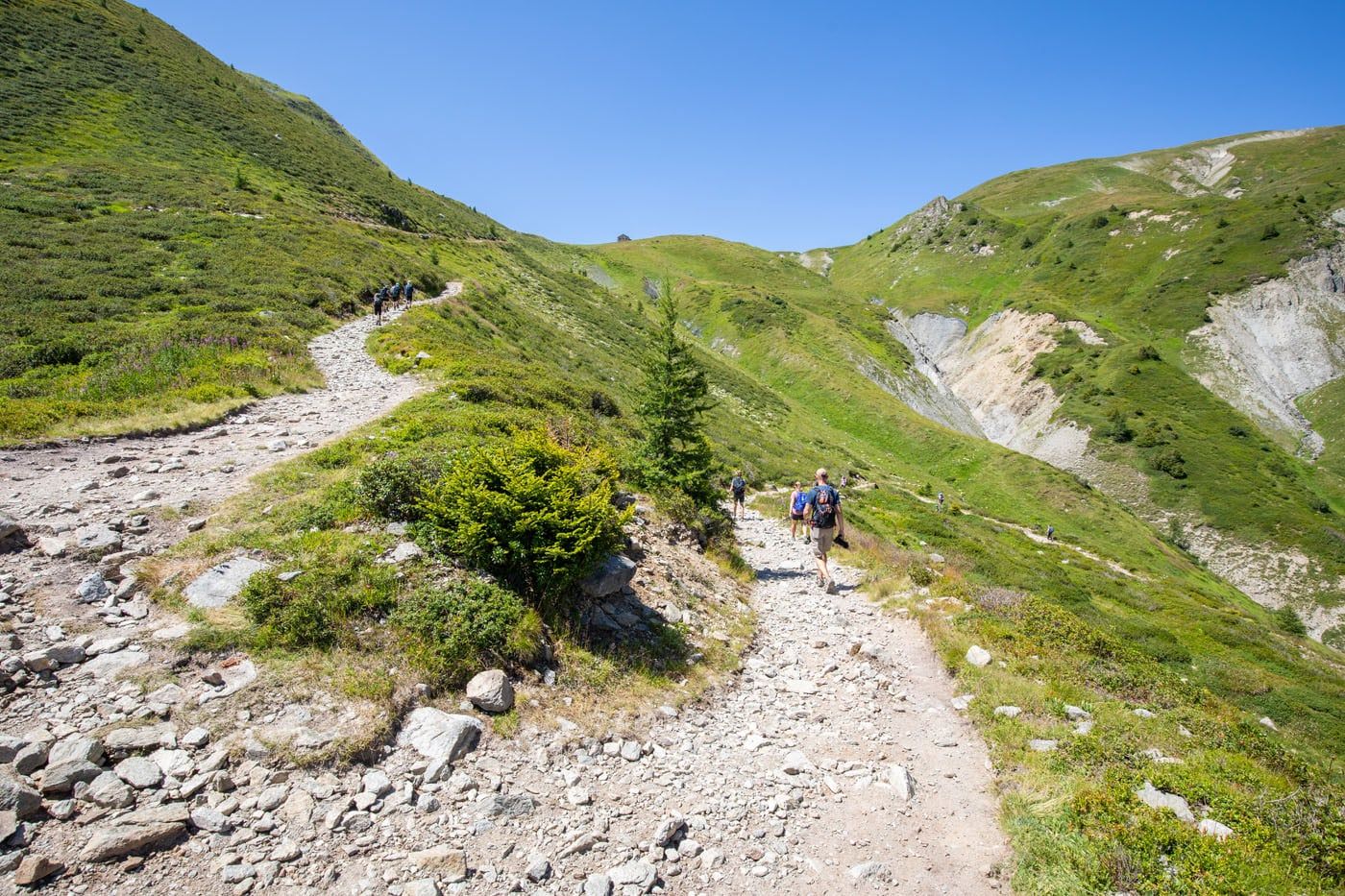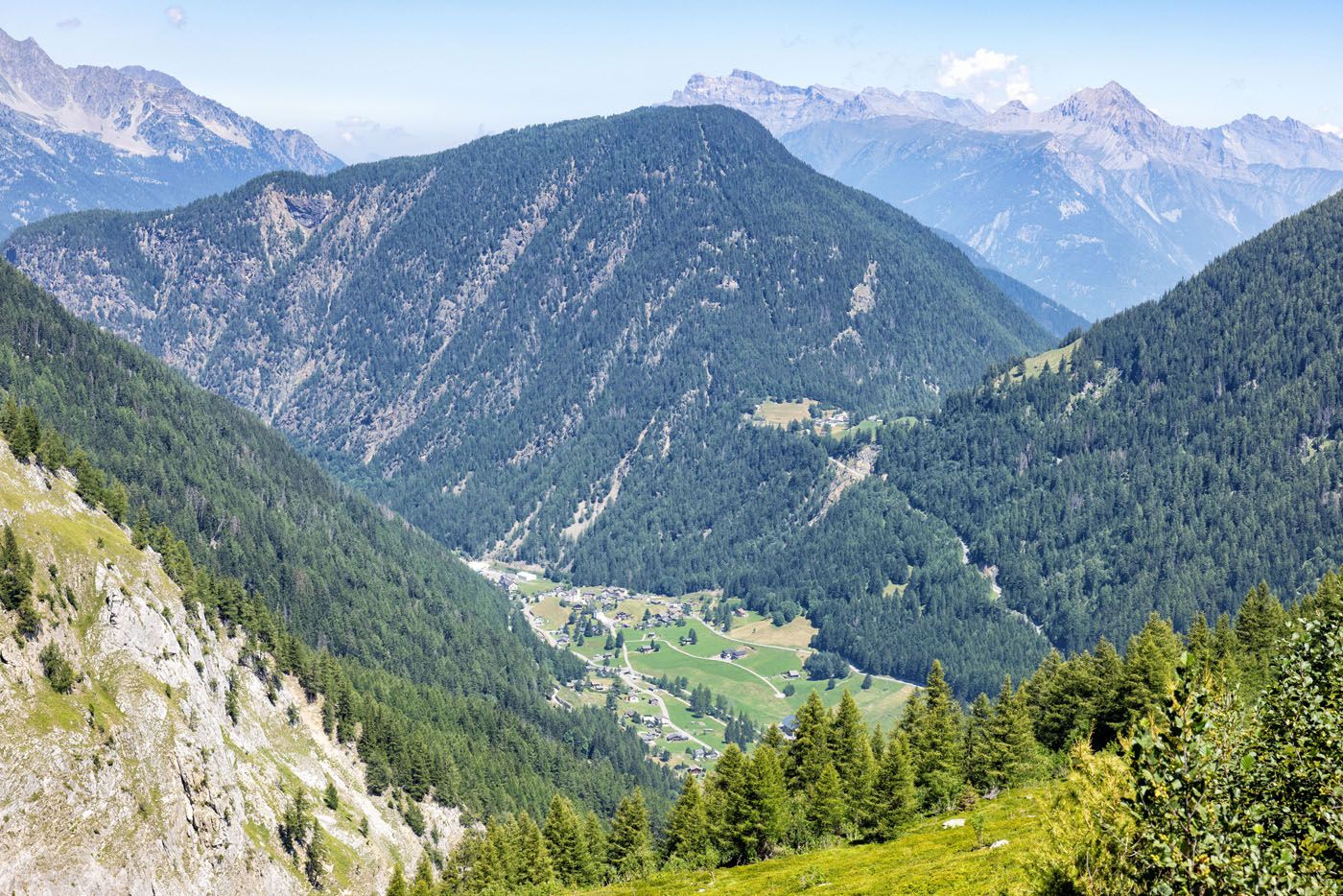 Trient comes into view.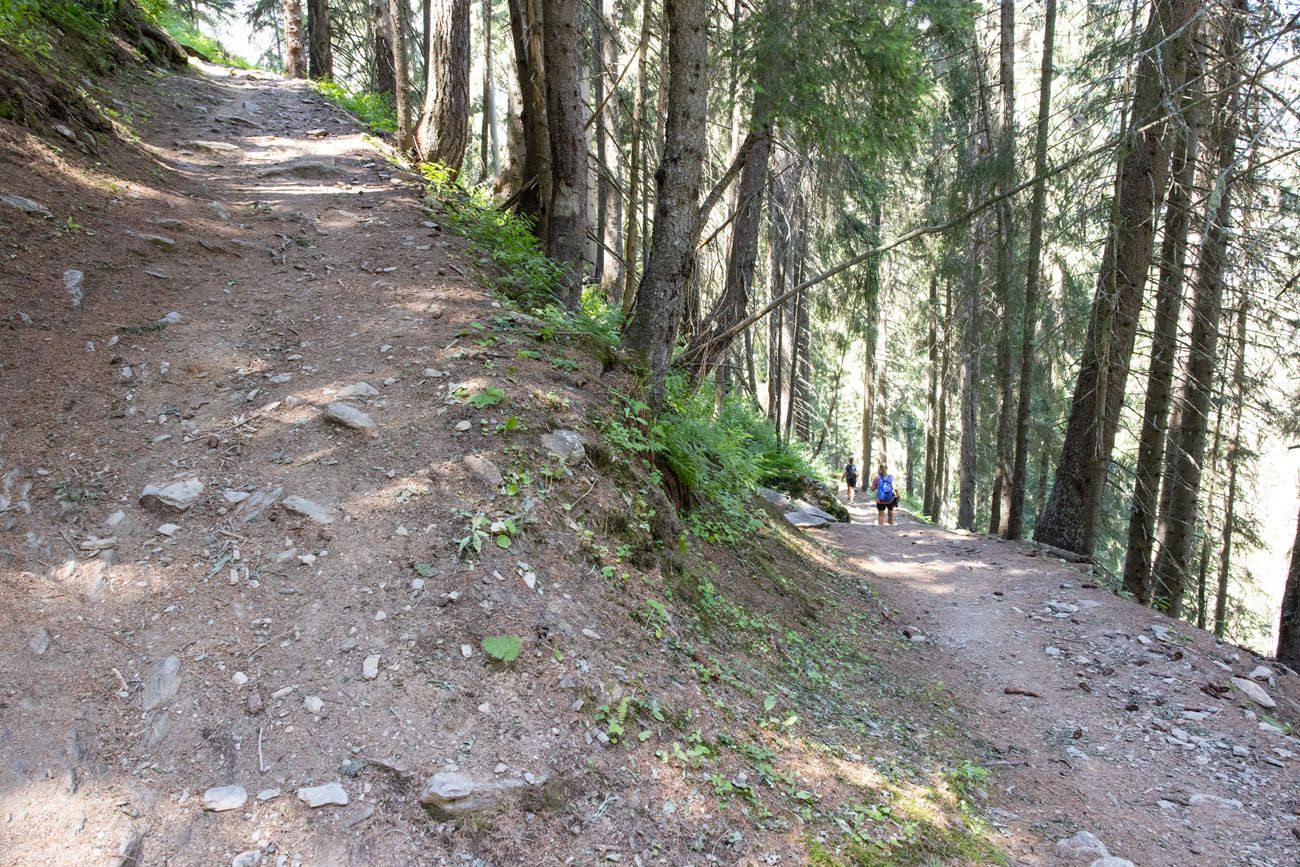 And then you enter the forest. This is the steepest part of the descent.
Once you emerge from the trees and cross a small stream, it's an easy, almost flat walk into Trient. You will first pass through Le Peuty before entering Trient.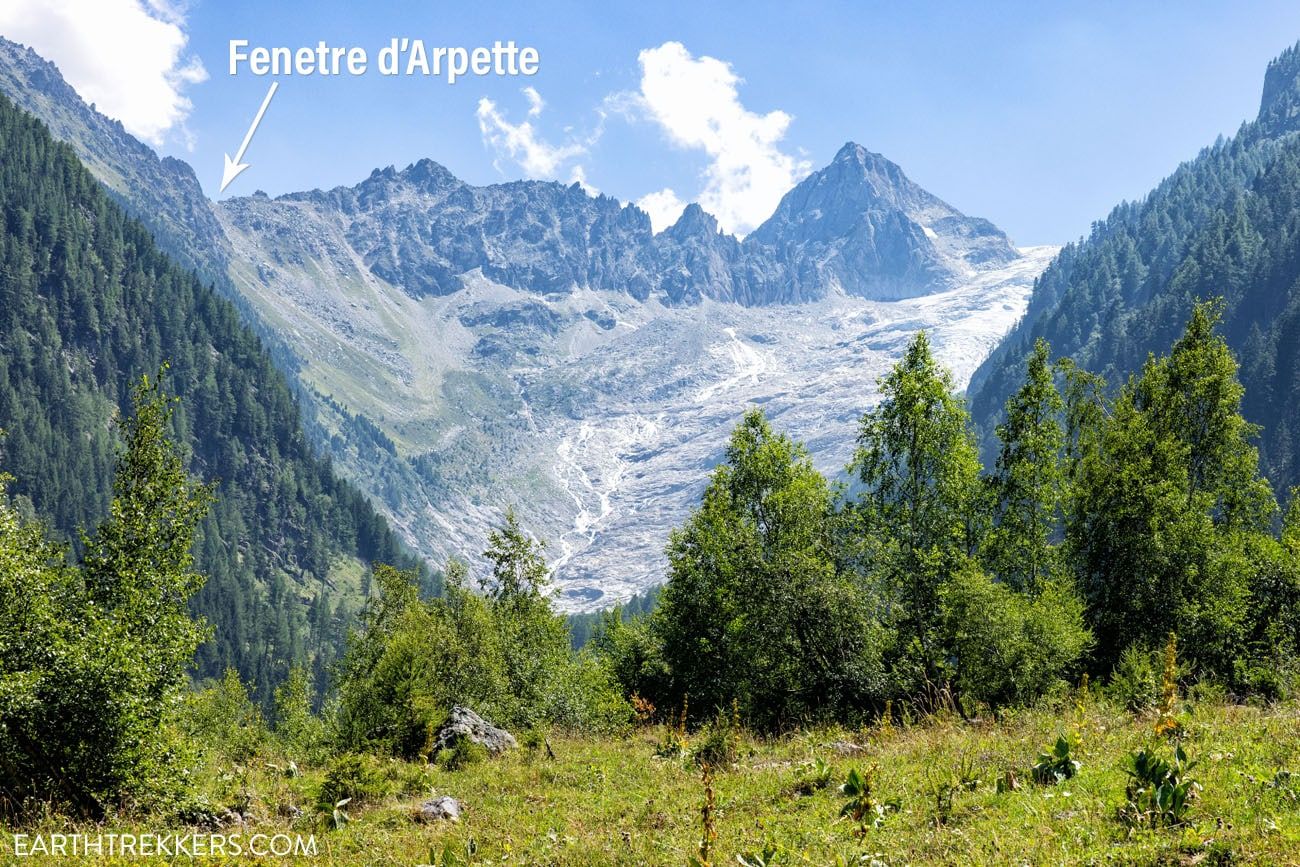 From this part of the trail, you get a view of the Trient glacier. You also get a view of tomorrow's stage. There are two ways to hike stage 3. The more challenging and scenic route takes you up and over Fenêtre d'Arpette. It's a tough climb and descent (we think stage 3 is one of the toughest of the Haute Route) but the views are outstanding! I labeled the location of the mountain pass in the photo above.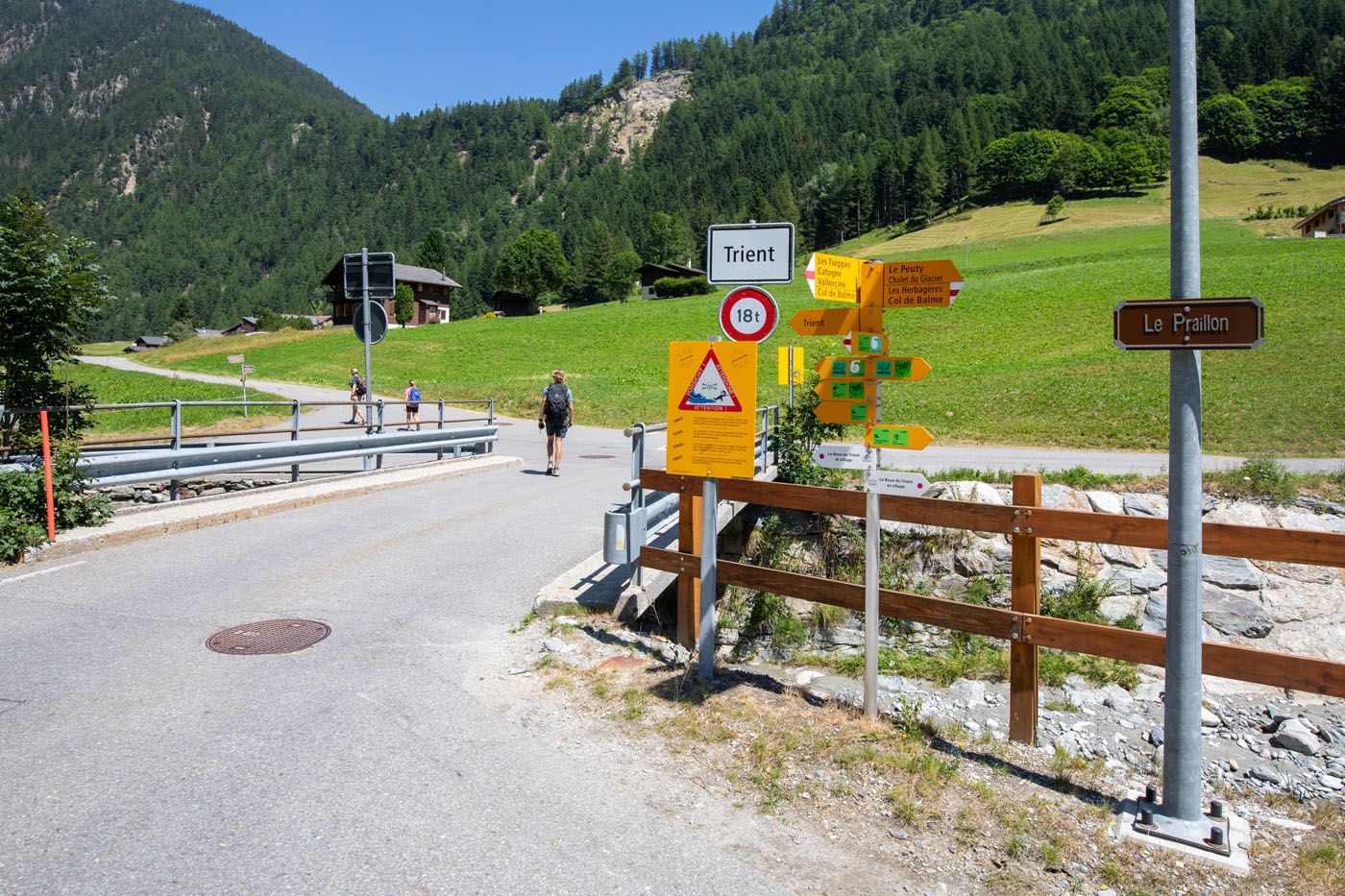 Stage 2 ends by the pink church (Èglise Rose) in the town center and from here you can make your way to your accommodations.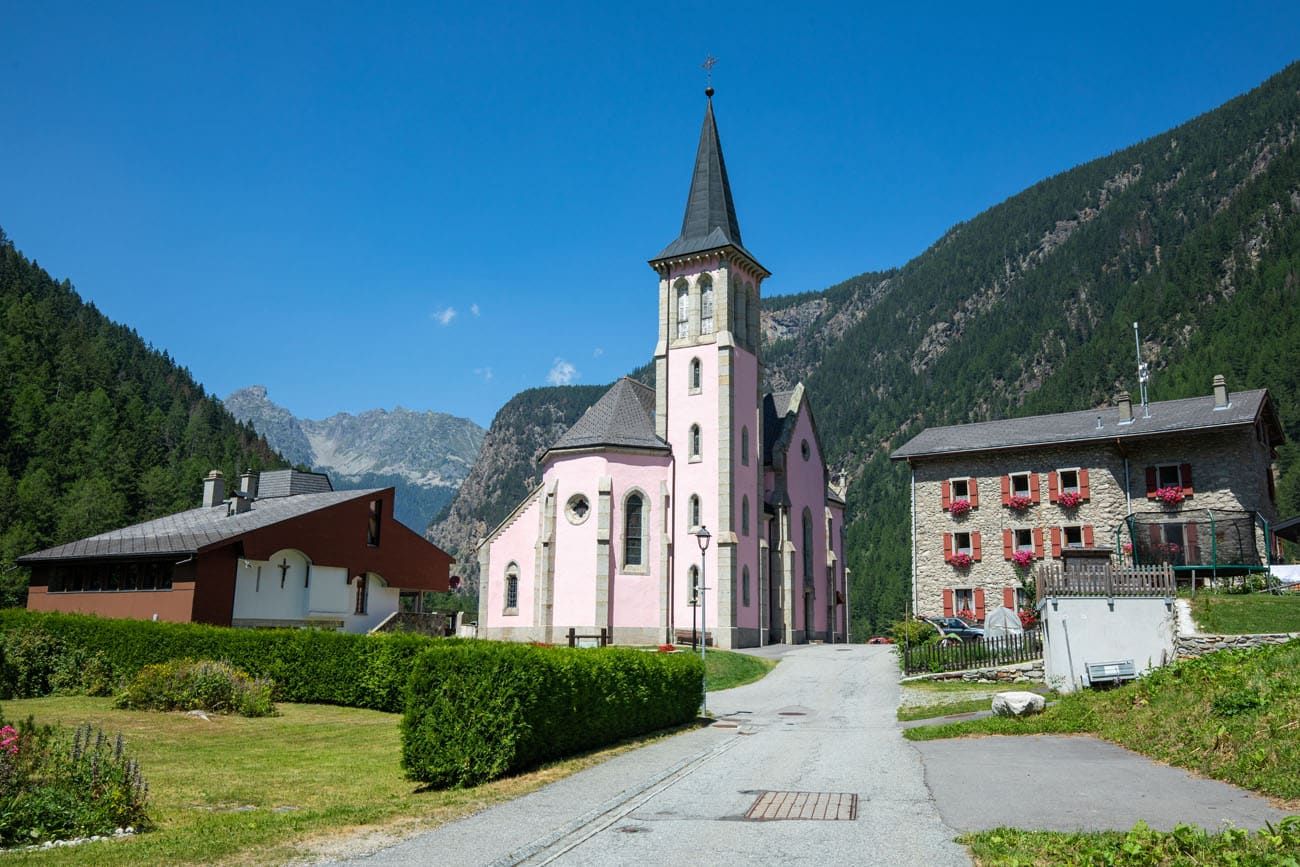 The pink church.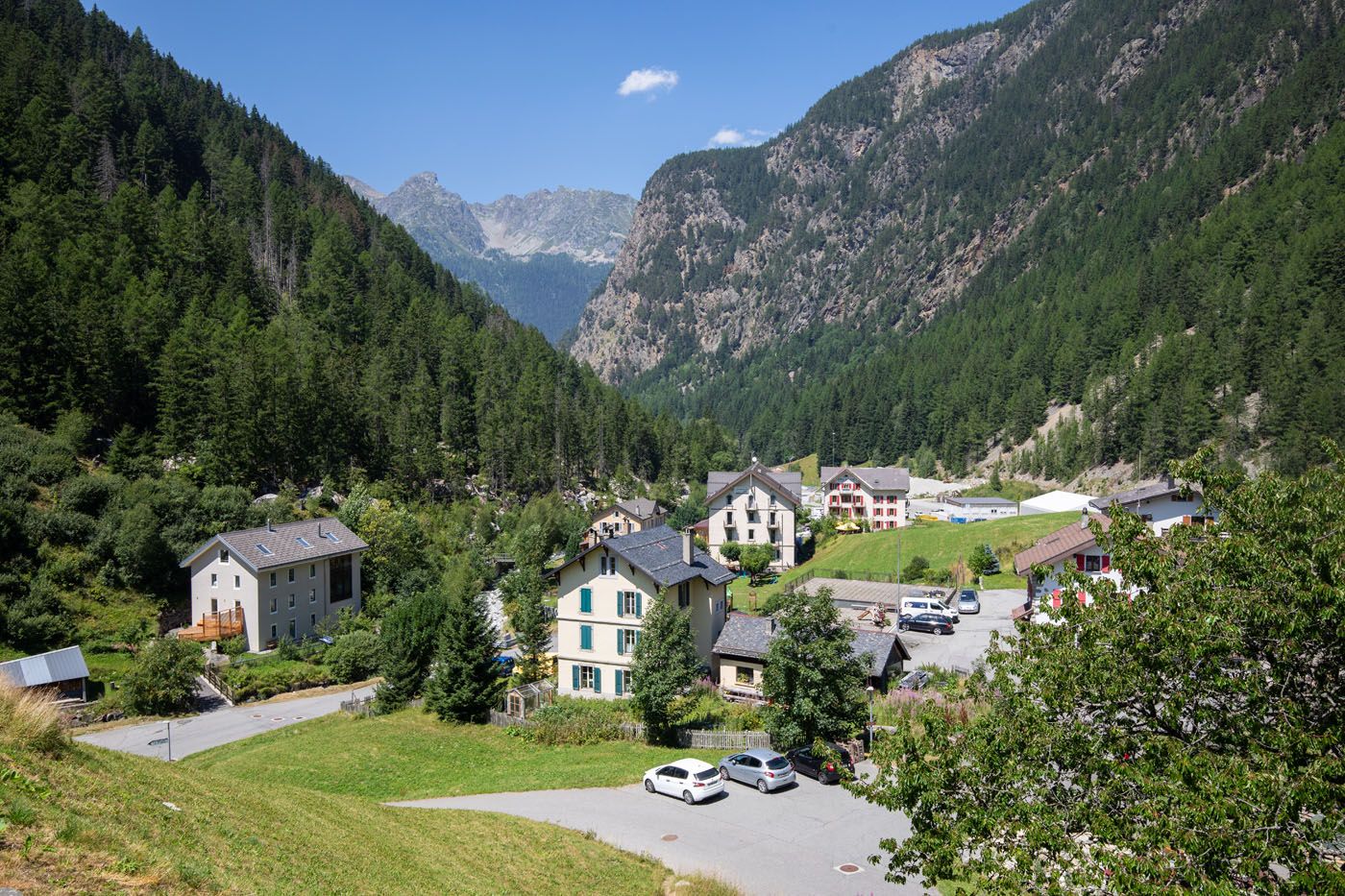 Trient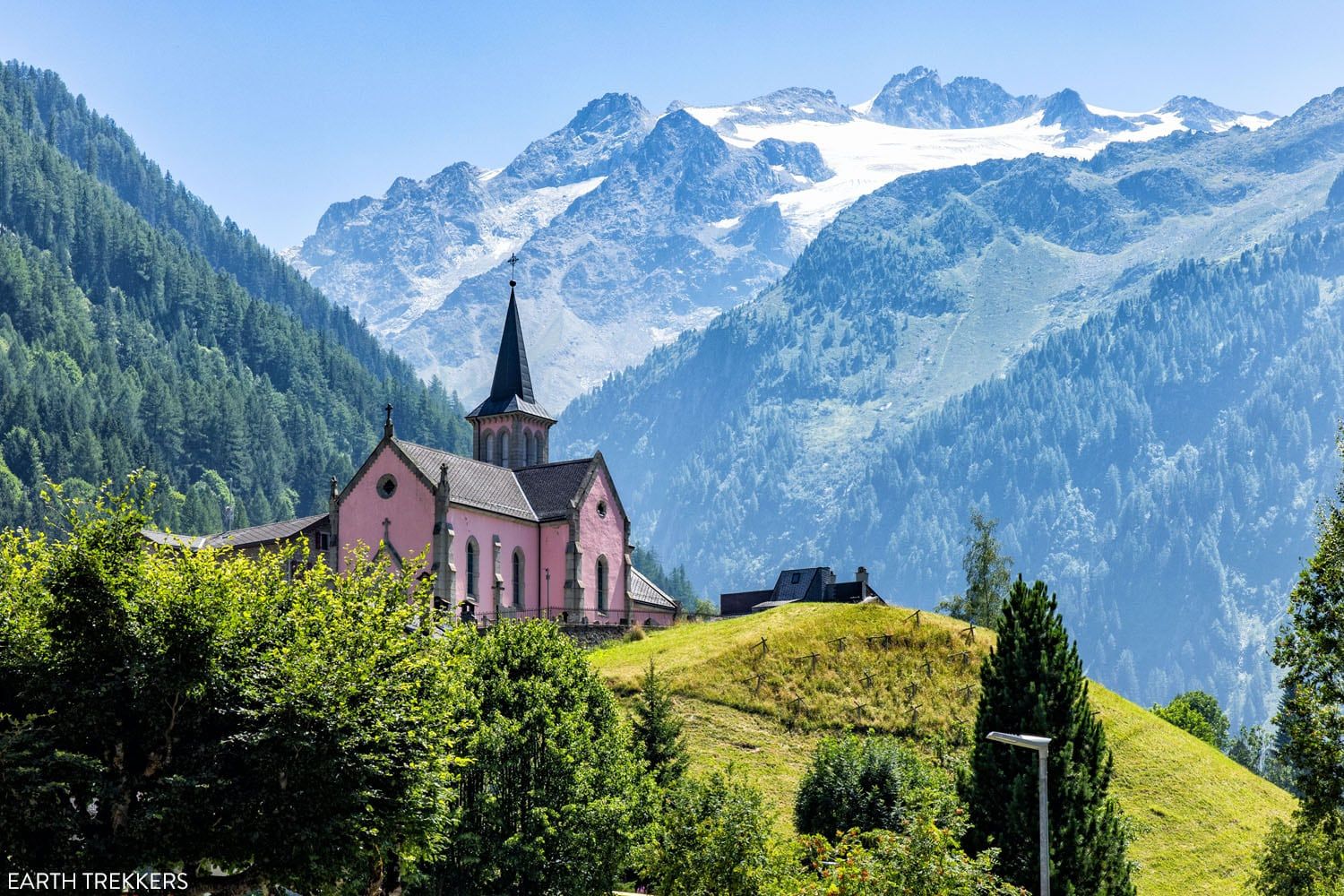 Èglise Rose from lower in town.
Where to Stay in Trient
There are not many options in Trient (there are about three from our research).
L'Auberge du Mont Blanc
We stayed in L'Auberge du Mont Blanc, which was Tim's 3rd choice when making our hotel reservations. This auberge (dormitory-style rooms with half-board) gets mediocre reviews.
L'Auberge du Mont Blanc
Rooms range from private 2 person and 4-person rooms to 6-person and 8-person dormitories. All rooms share a common bath so there are no private bathrooms.
We had a 6-person dorm room. The room was very small and the beds are military style: 3 narrow mattresses pushed together into one large bed. There are cubbies to put a few things. We got one of the smaller dorm rooms with no extra floor space so ended up keeping our luggage downstairs.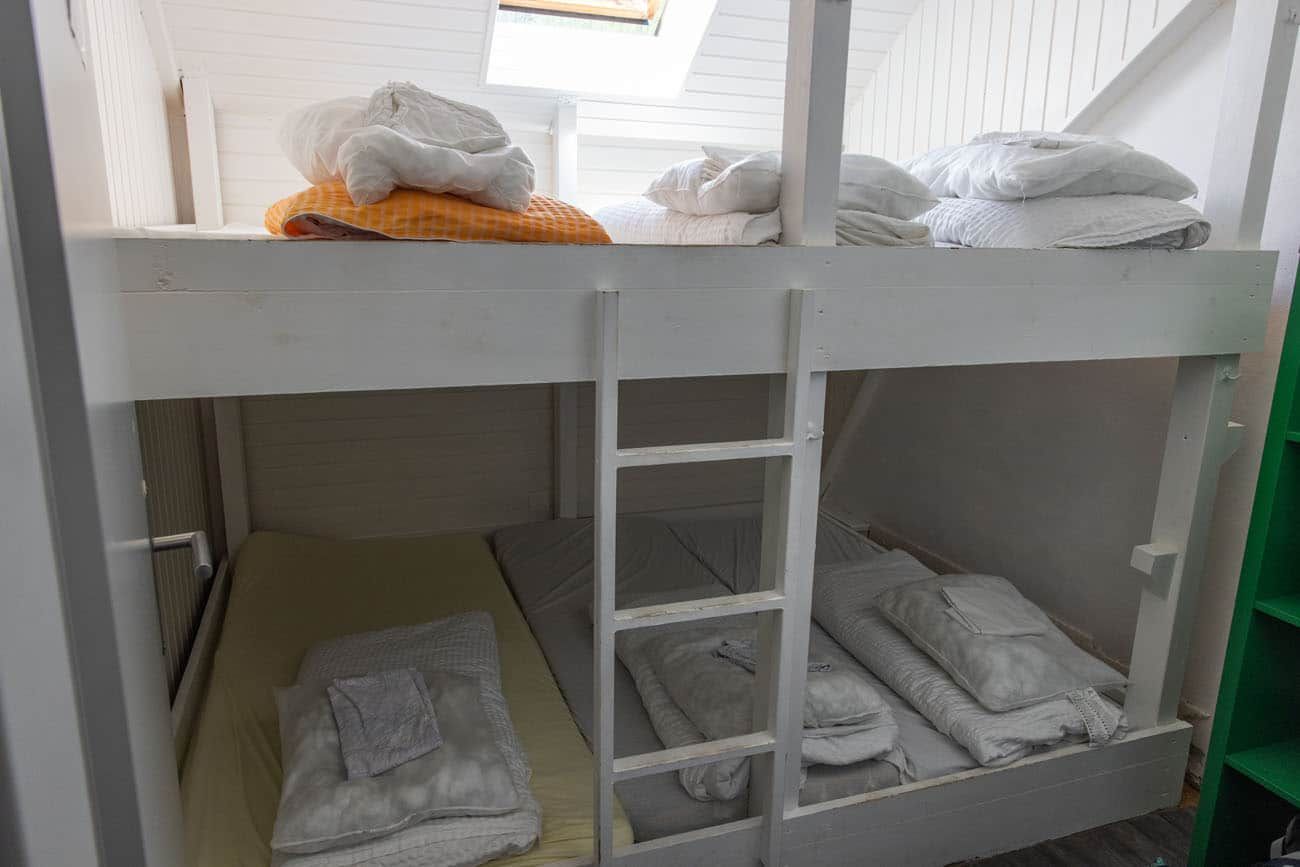 Our room
Tyler, Kara, and I took the top three beds. Tim slept on the bottom with two other men. It's a small space for three people to sleep, particularly three men who just met.
PRO TRAVEL TIP: Bring ear plugs just in case you end up sleeping in a room with someone who snores.
This place could work on cleanliness. Our beds had hairs of all sorts from prior guests. The bathrooms were clean (we were the first ones here so we were able to shower before other hikers arrived) but in a major need of updating.
Note: If you stay here, towels are not provided so bring your own. The pillow is basically a small ball of fluff that does nothing. You are provided with a comforter. We slept in sleeping bag liners because that was cleaner than lying on the less-than-clean sheets.
You will have to remove your shoes when you enter the building and store them in a shoe closet. Crocs are provided but you can walk around in socks or bring a pair of flip-flops (a lot of people brought their own flip-flops).
Provided with our stay was dinner and breakfast. We also added on a packed lunch provided by the hotel. The food was decent and you are served a three course meal for dinner (soup, salad and main dish). During our stay, the choices for dinner were fondue or rice with pork and mushrooms.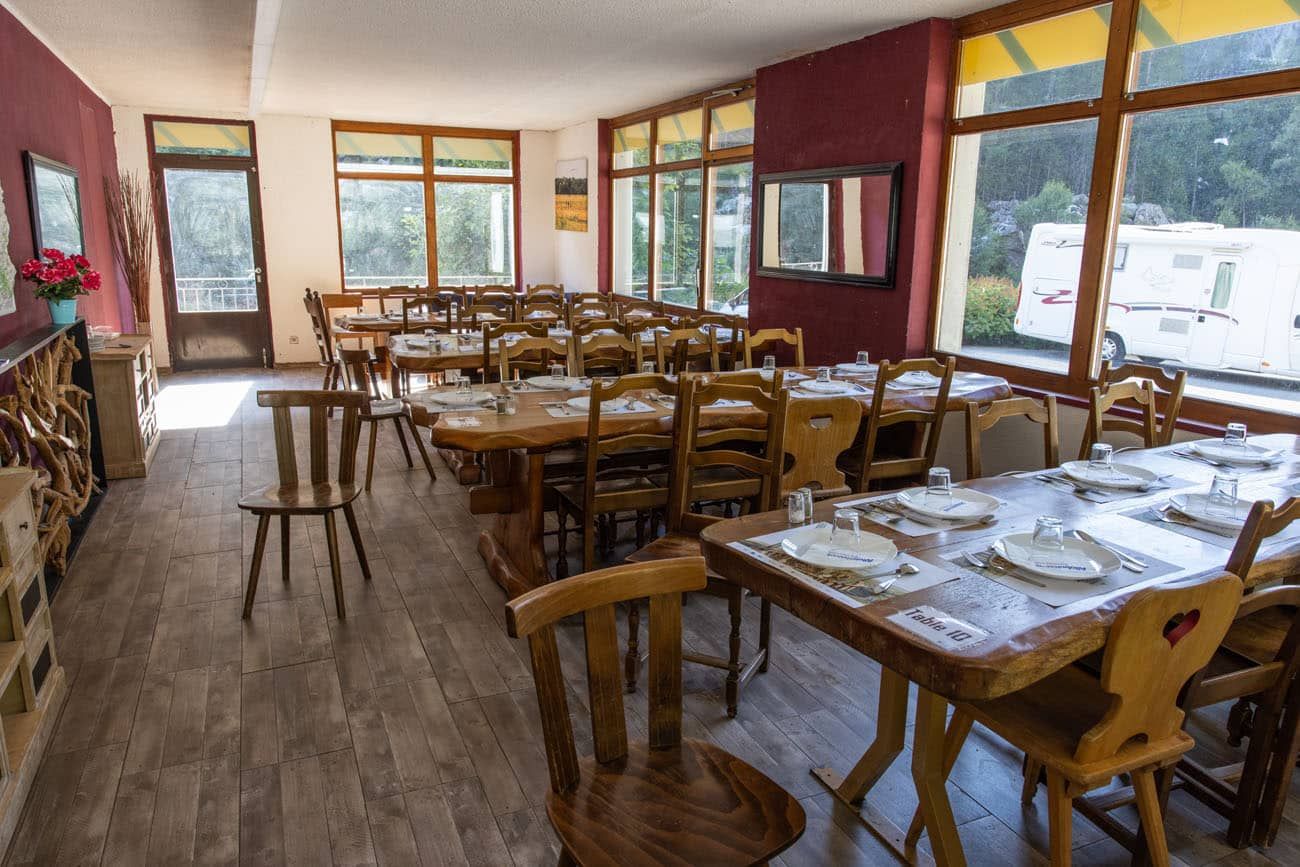 One of four dining rooms in the hotel.
More Options in Trient
Next door to L'Auberge du Mont Blanc is Le Grand Ourse, which was Tim's first pick in Trient. This hotel only gets slightly better reviews so it could be a toss-up as to which one is better. Another option is Hotel du Col de la Forclaz. Note that this hotel sits on a hill above Trient and therefore requires a little extra hiking to reach.
Haute Route Stage 2: Clarifications for the Walkers Haute Route book
We were able to follow the Walker's Haute Book by Kev Reynolds (the sixth edition from 2019; there is now an updated version) without any issues, meaning we never had to backtrack. But there were a few times during this stage we felt a little more clarification would have helped so we are providing that clarification here:
l'Arve: Shortly after crossing the river l'Arve there is a water tap/trough on the right.
Chemin de la Moraine: The book refers to a "junction of streets". You come to a point in the road where there is a building directly in front of you. On that building is a sign for Chemin de la Moraine. Bear right.
Mont Blanc Express Railway: The book refers to a chalet on the right after you cross underneath the railway tracks. It is important to note that Chalet is immediately after you cross underneath the railway tracks. As you continue you will then see the chalets on the left the book refers to.
Petit Balcon Nord: Simply keep following the signs to Le Tour.
Steam draining the Glacier du Tour: Once you cross this stream look for another sign pointing to Le Tour and follow it. You will then reach a wide parking lot area and follow the road on the opposite side until you reach Chalet Alpin Du Tour where the road splits like a "Y". Go to the right and follow this until it dead ends. Along the way you will see a water tap/trough on the left. At the dead end, turn right and you will see a restaurant (called Le Passon) on your right and the gondola station (Telecabine Le Tour Col de Balme) up ahead.
Telecabine Le Tour Col de Balme: As you pass along the right-hand side of the gondola lift station you will be on a wide road. Follow that up along the tall gondola poles for roughly 10 minutes until you see a sign post with a hiker symbol on it. This is a thinner trail for hiking that you should follow up the mountain in the direction of the tall gondola poles. In this area you will see hiking trails that head off to the right, ignore those. You want to follow the hiking trail that runs near the tall gondola poles and with the wide road on your left. Eventually this trail will zig-zag underneath the large gondola poles.
Charamillon Gondola Station: Walk completely past the Charamillon gondola station. With the gondola station, Le Tour, and Mont Blanc at your back, follow the wide road a short distance and look for a sign post pointing to Col de Balme. Follow that narrow path up the hill. Below are photos to help make it clearer (there are a lot of trails in this area and it can be confusing).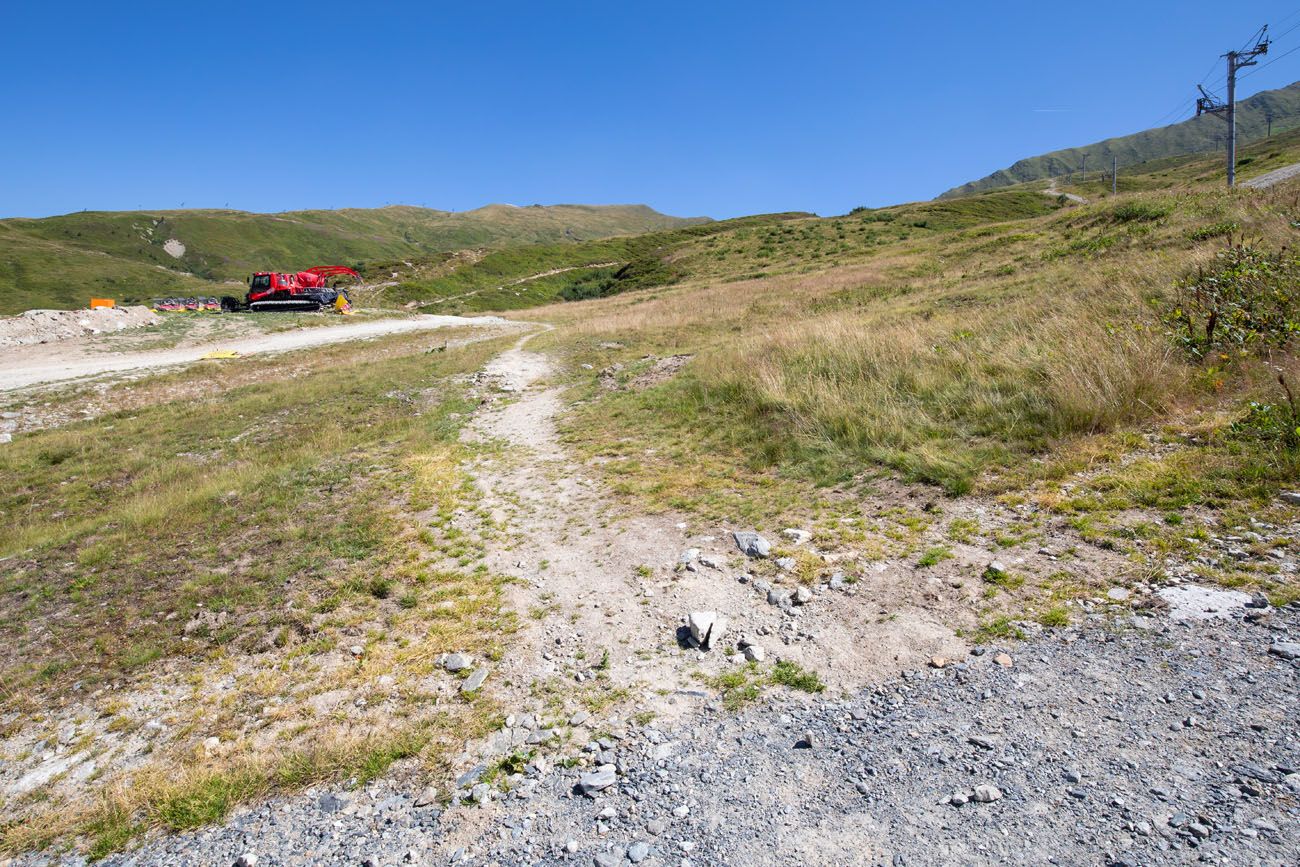 With your back to the Charamillon station, look uphill towards Col de Balme. Follow this thin trail to the left of the gondola poles. Once you get near the red tractors, there will be a trail that leads to the right (those tractors may not be there when you do this hike).
This photo was taken near the red tractors. There is a clearer trail here with a sign directing you towards Col de Balme.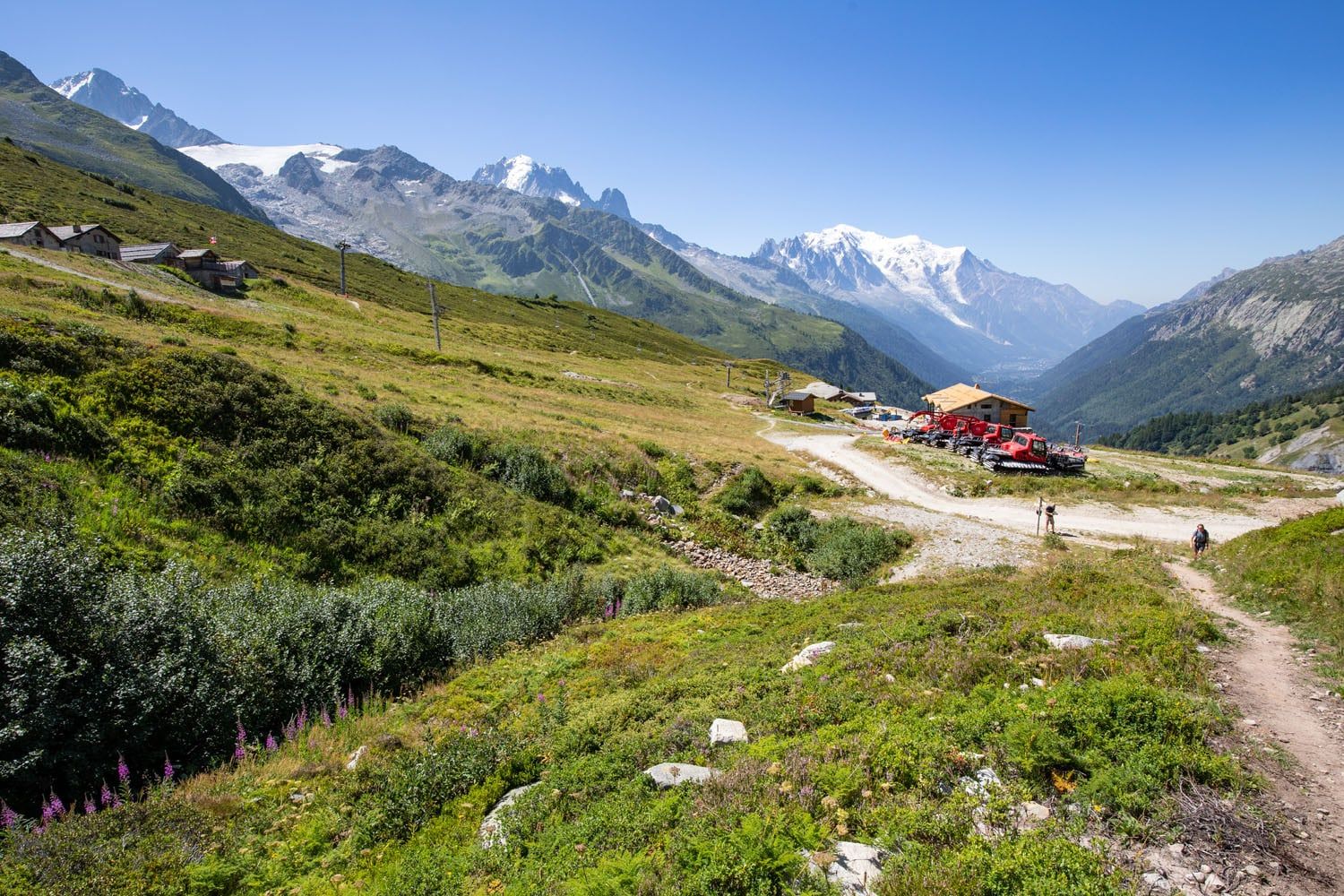 This photo was taken a short distance up the trail. This is looking back towards the gondola station, the tractors, and the junctions.
More Information about the Haute Route
In our Walker's Haute Route Planning Guide, we have links to all of our articles about the Walker's Haute Route, including information about each stage, how to plan your trek, what to expect, and more.
For an overview of all 14 stages of the Walker's Haute Route, with overall hiking stats, map, elevation profile, and lists of the most difficult stages, easiest stages, and our personal favorites, check out our Guide to the Walker's Haute Route Stages.
Stages of the Haute Route: Below are our guides to each stage of the Haute Route.
---
If you have any questions about how to hike the Haute Route Stage 2, or if you want to share your experience, let us know in the comment section below.
Note: This post contains affiliate links. When you make a purchase using one of these affiliate links, we get paid a small commission at no extra cost to you.
All rights reserved © Earth Trekkers. Republishing this article and/or any of its contents (text, photography, etc.), in whole or in part, is strictly prohibited.