From bridges, caves, hamlets, and impressive views of the finish line, the final stage of the Walker's Haute Route has it all. Every step brings you closer to the end goal of Zermatt, a beautiful town that's renowned for its skiing and hiking. Enjoy the views along the way, as they only get better the further you go.
The Haute Route really saves the best for last, as this was one of our favorite stages of the entire trek. Early in the day, the Matterhorn comes into view, and wow, it's thrilling to finally see it in all of its majesty.
This final stage is fun to hike, not overly difficult (although it is one of the longest stages in terms of distance), and the views truly are some of the best of the entire Haute Route.
Savor this final day, take tons of photos, and enjoy those spectacular views of the Matterhorn and Zermatt.
Walker's Haute Route Stage 14 Hiking Stats
Distance: 20.7 km (12.8 miles)
Difficulty: Moderate to strenuous
Total Ascent: 915 m (3,000 feet)
Total Descent: 1,525 m (5,000 feet)
Lowest Elevation: 1,640 m (5,380 feet)
Highest Elevation: 2,340 m (7,680 feet)
Elevation at Europahütte: 2,275 m (7,465 feet)
Elevation in Zermatt: 1,640 m (5,380 feet)
Average Time: 7 hours; our time: 6 hours 15 minutes (including stops)

Haute Route Stage 14 Europahütte to Zermatt Elevation Profile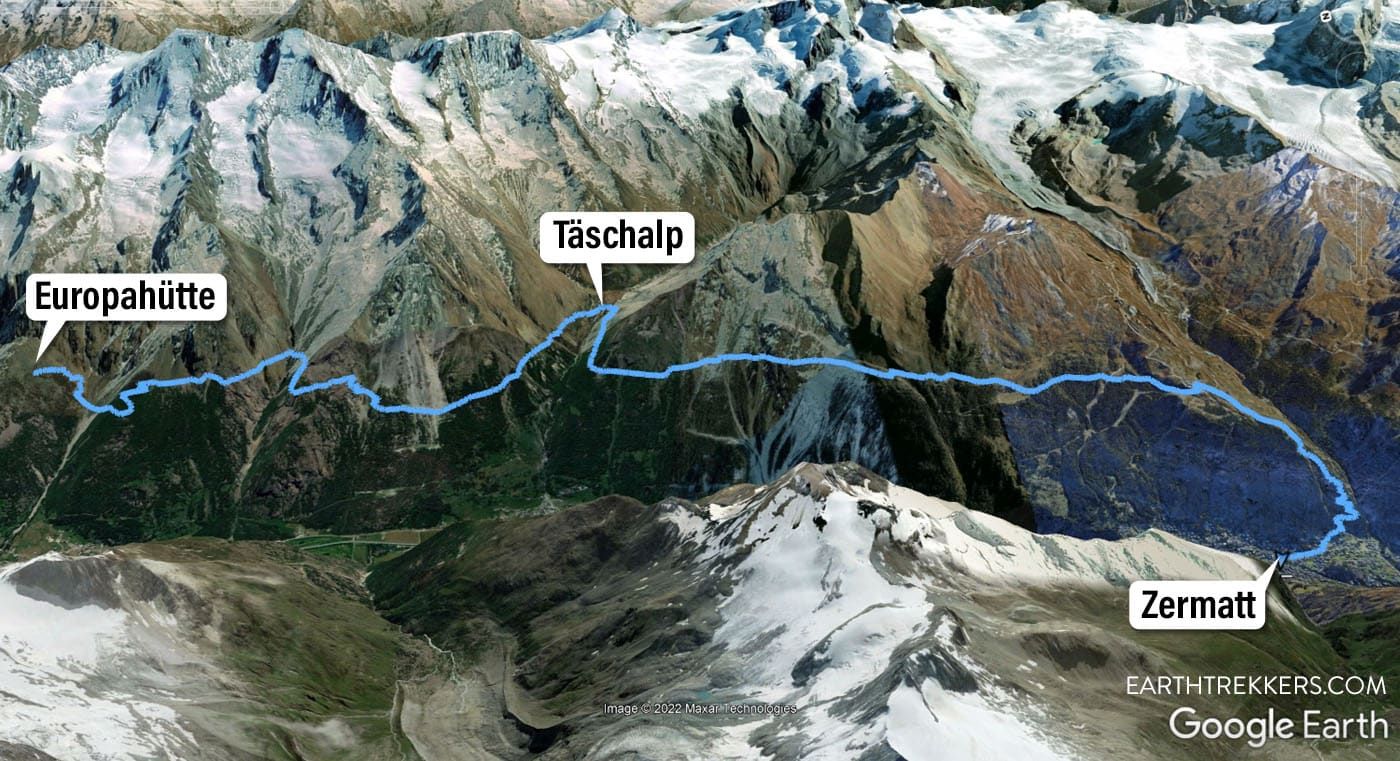 Walker's Haute Route Stage 14 Map
Please practice the seven principles of Leave No Trace: plan ahead, stay on the trail, pack out what you bring to the hiking trail, properly dispose of waste, leave areas as you found them, minimize campfire impacts, be considerate of other hikers, and do not approach or feed wildlife.
Walker's Haute Route Stage 14 Trail Overview
To hike the Haute Route, we highly recommend following the trail descriptions in the book Trekking Chamonix to Zermatt, The Classic Walker's Haute Route by Kev Reynolds. Below we list an overview of the day, so you know what to expect along the way. We also provide advice on where to eat and where to stay. Later in this guide, we list a few tips and trail clarifications to be used with the Trekking Chamonix to Zermatt book.
Europahütte to Täschalp
Departing from Europahütte, you'll follow a short but steep rocky trail that descends to the Charles Kuonen Suspension Bridge.
You may have noticed this bridge while at Europahütte, as it is hard to miss. As you approach the bridge, on a clear day you'll even get your first view of the peak of Matterhorn (but it only lasts a moment and you will have to hike several more kilometers until it comes into view again).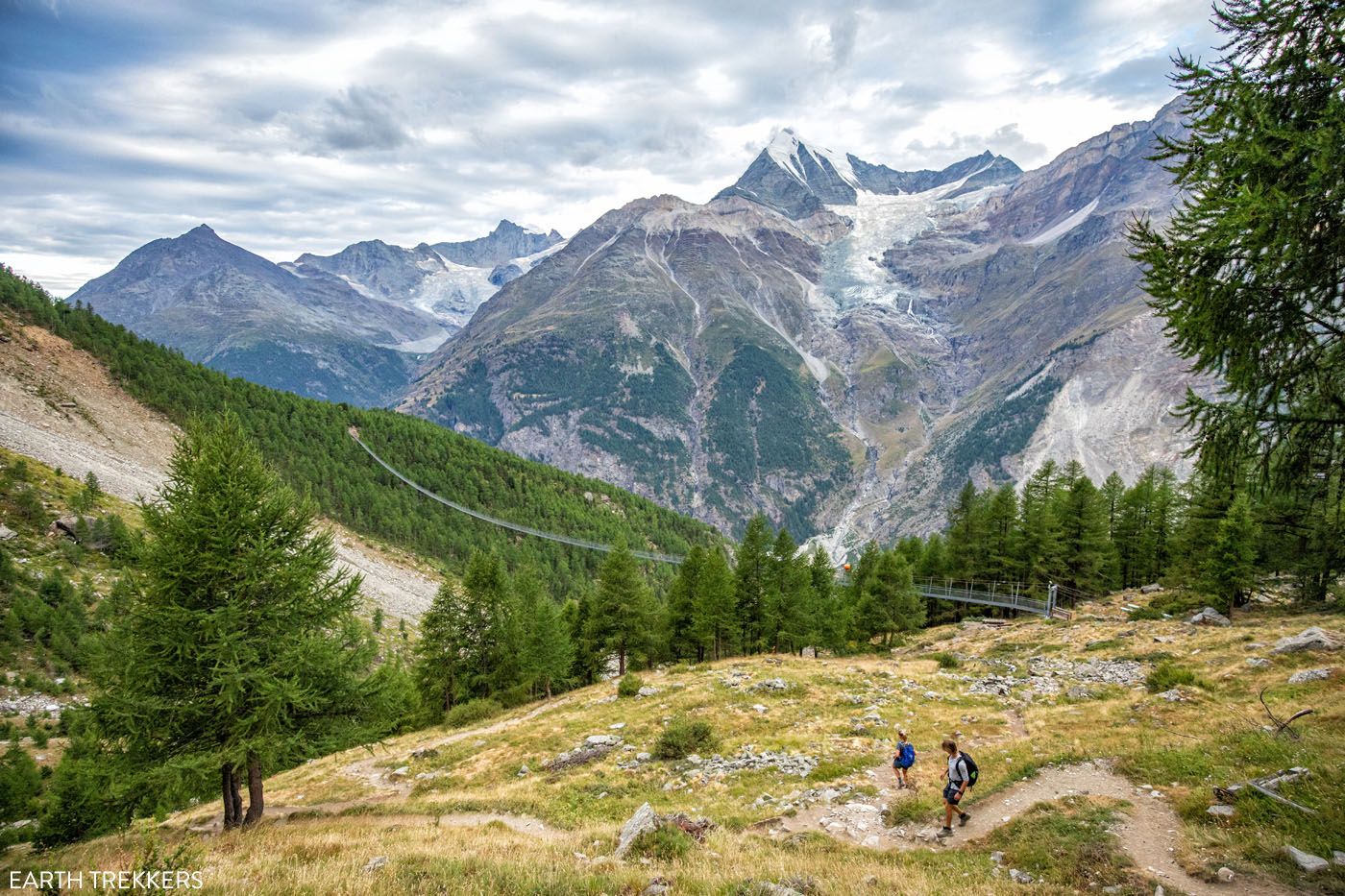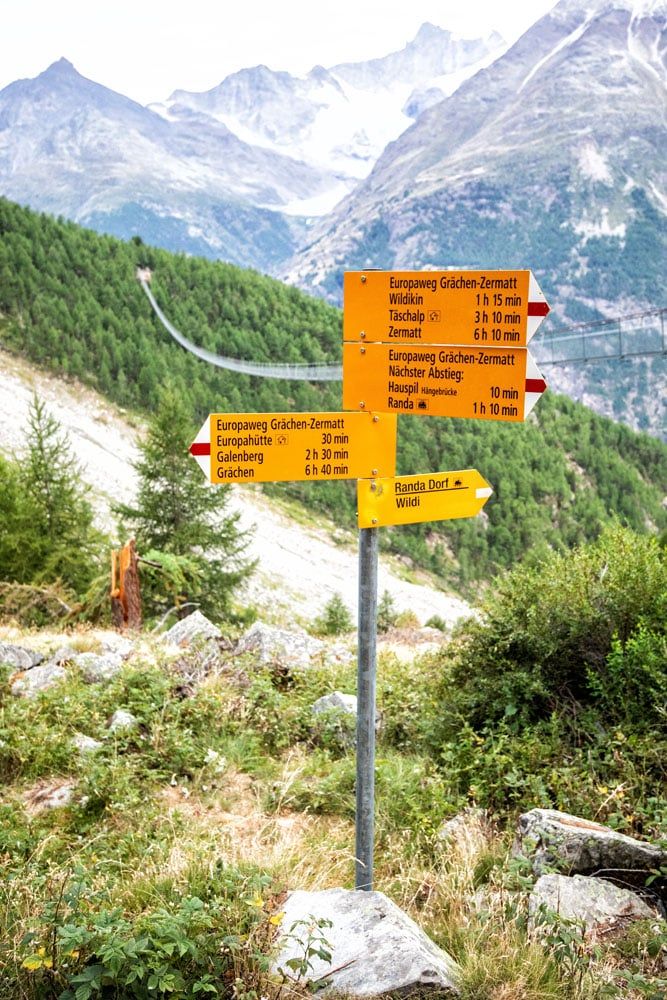 You'll reach the suspension bridge 30 minutes into today's stage. When it was built in 2017, this was the longest suspension footbridge in the world. Since that time, it has been surpassed by other suspension bridges, such as the Sky Bridge 721 in 2022. However, the Charles Kuonen Suspension Bridge remains the longest suspension bridge in the Alps (as of 2023).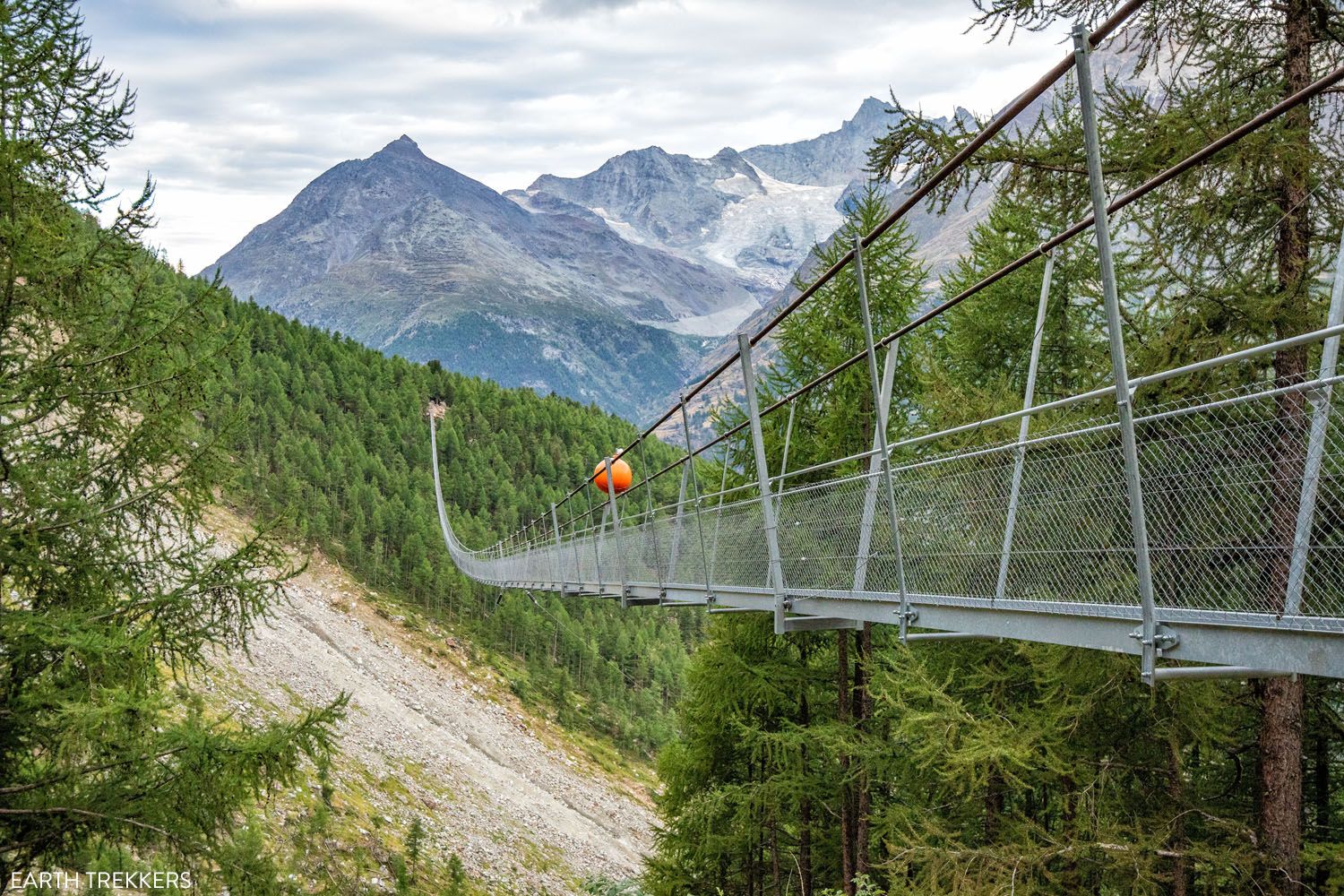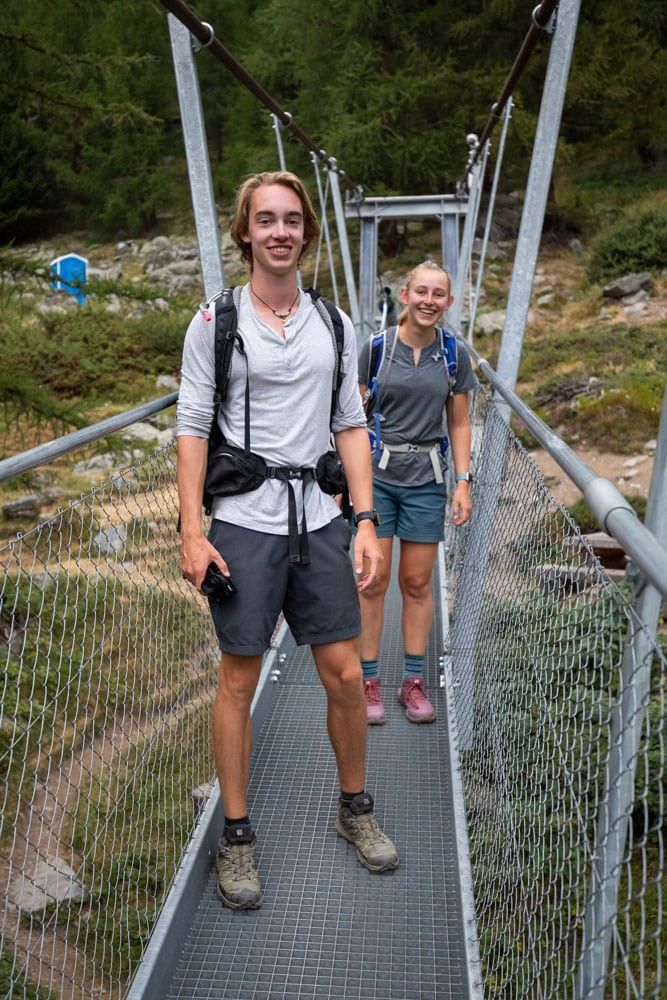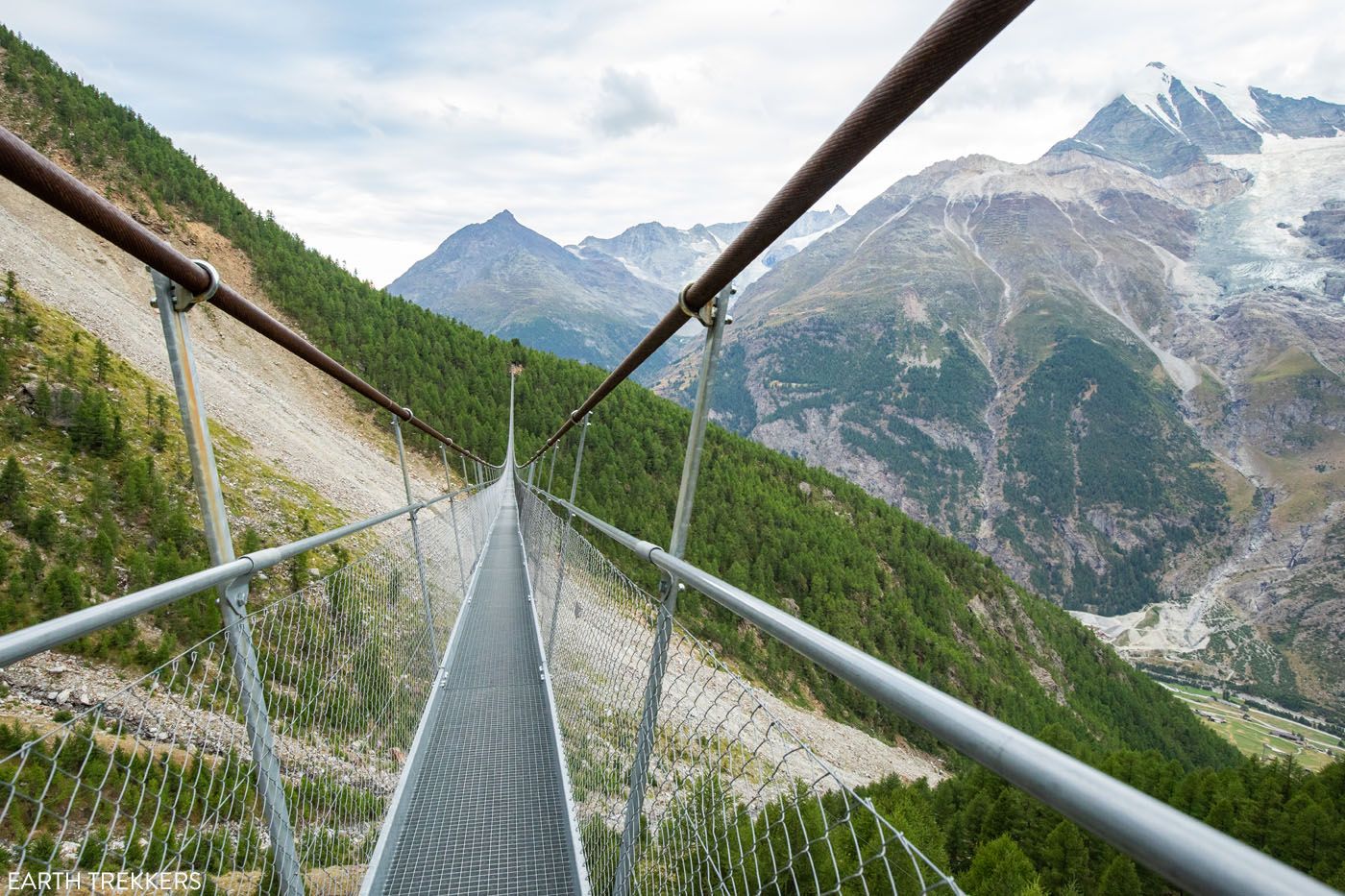 If you get an early start, you could have the bridge all to yourself.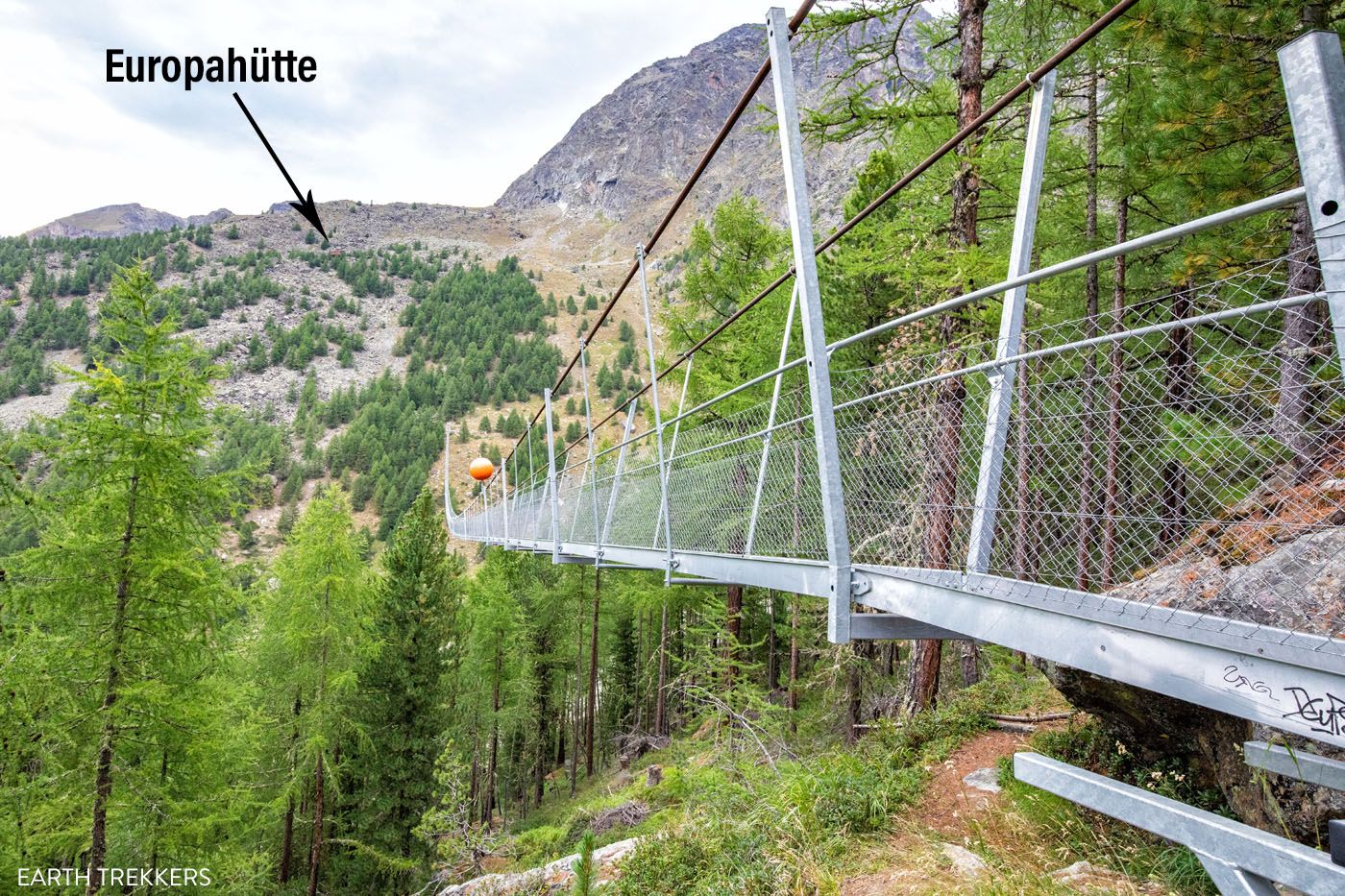 This is the view from the opposite end of the bridge so you can see the location of the Europahütte.
After crossing the bridge, the trail will climb gradually through the woods. From here on out, follow trail signs for Zermatt!
Once you exit the woods, you'll be able to see the tip of the Matterhorn. As you near Zermatt, the views will only get better and you will be able to see more of this iconic mountain (given that it's a clear day).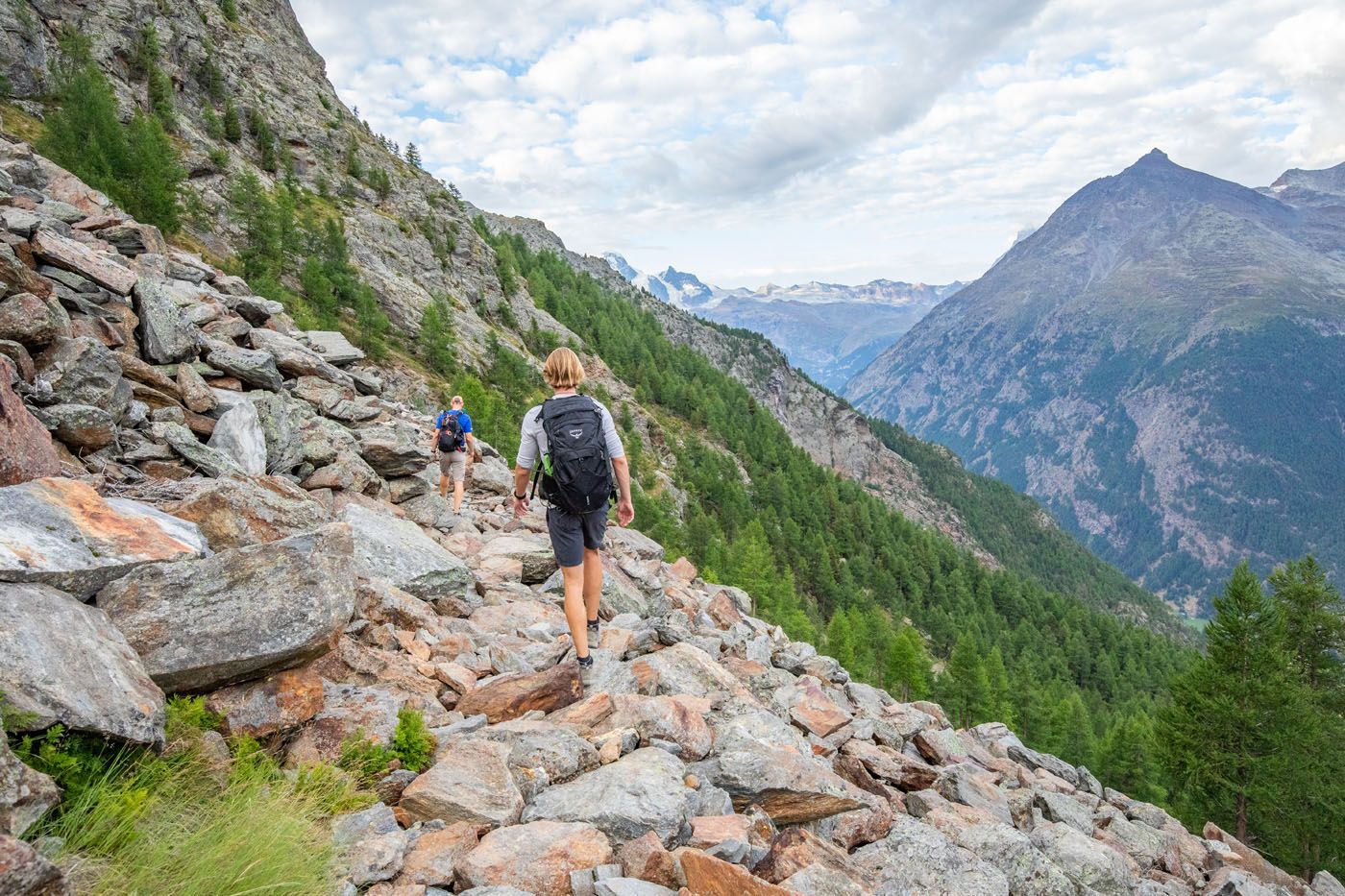 It's hard to see, but you can see a sliver of the Matterhorn in the distance.
You'll follow a rocky trail for a while that loops around the mountainside. There will be some steep sections with rope to help yourself up, but these are short and otherwise the trail stays pretty much flat. This part of the trail is a lot of fun to hike.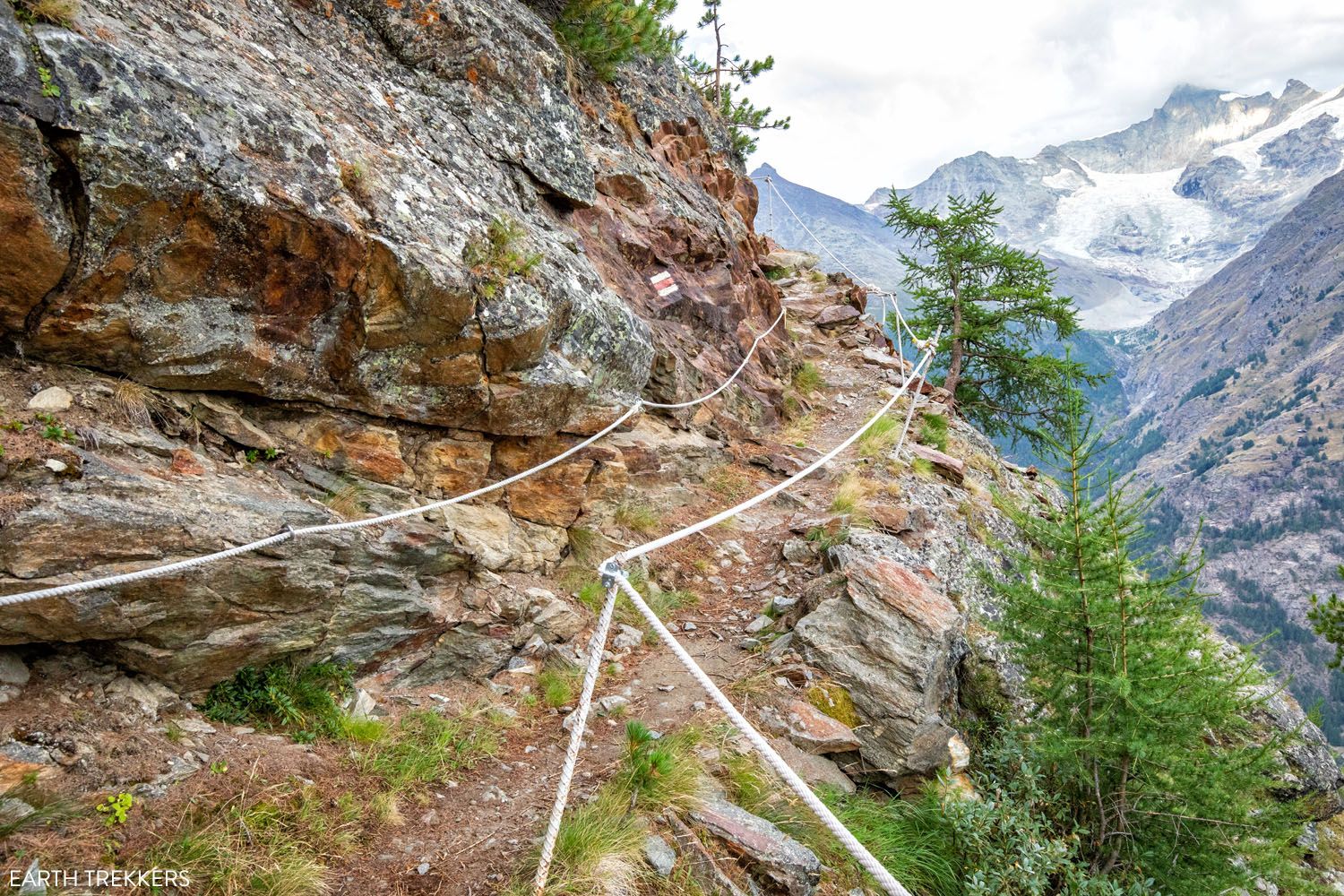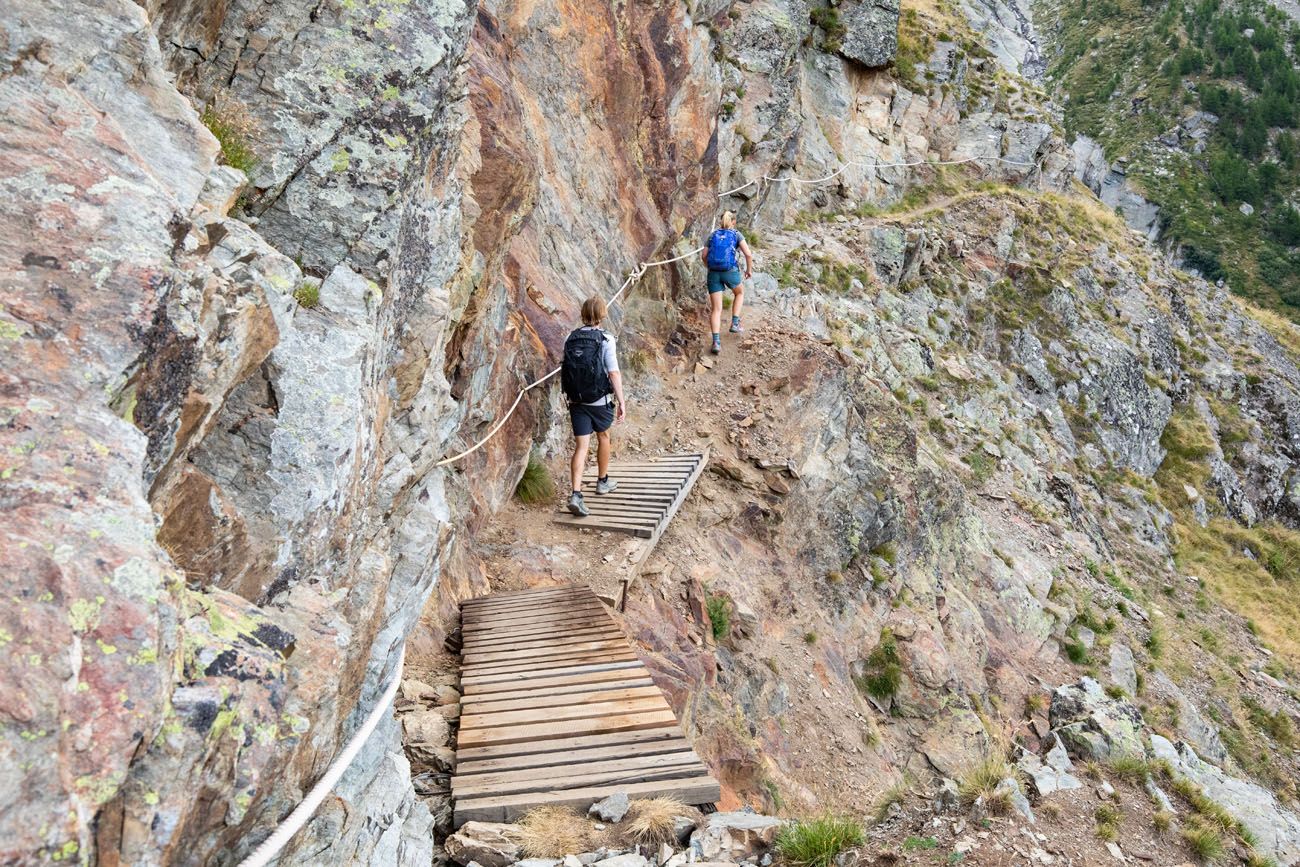 The trail will even lead you through a cave.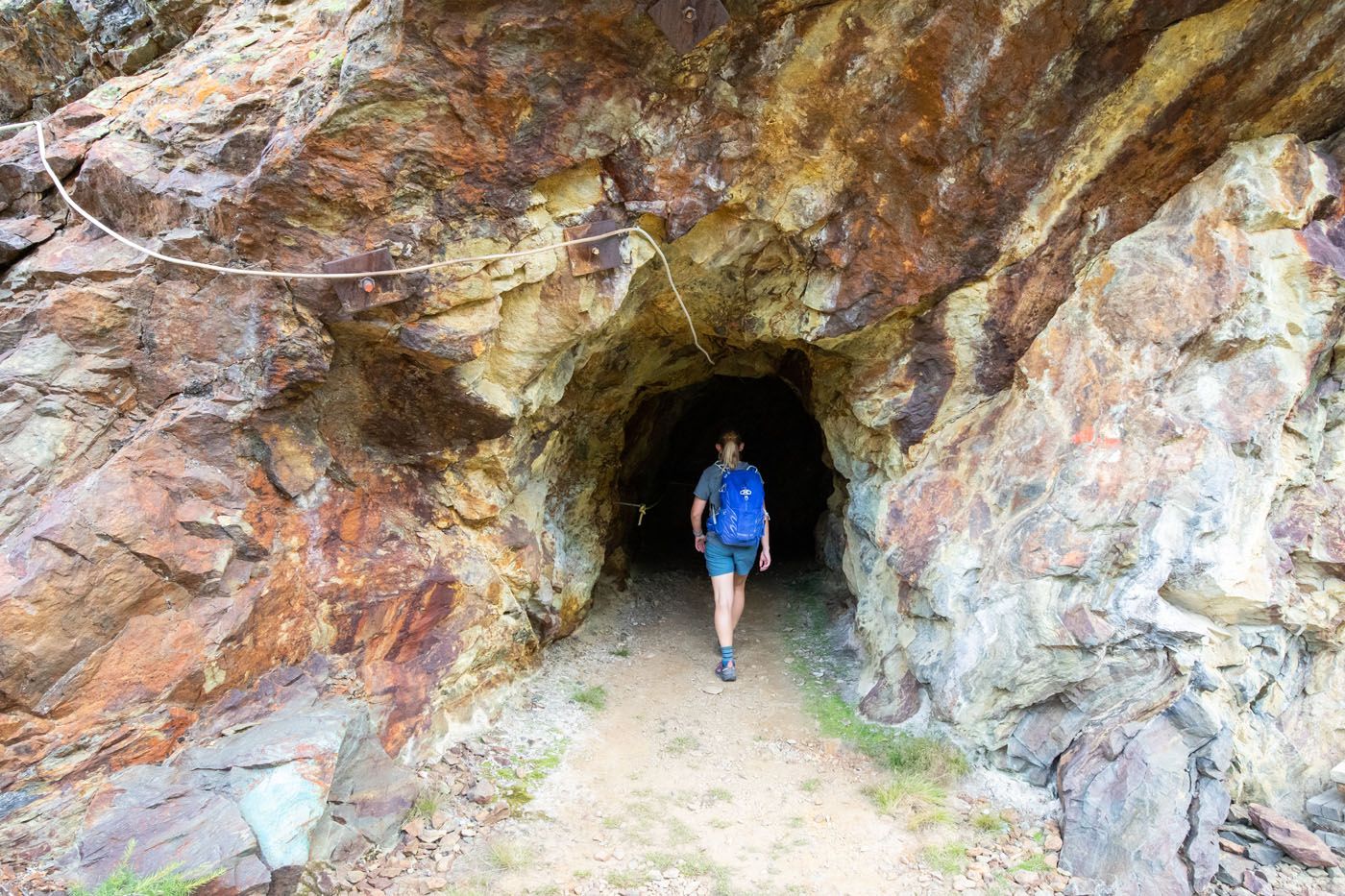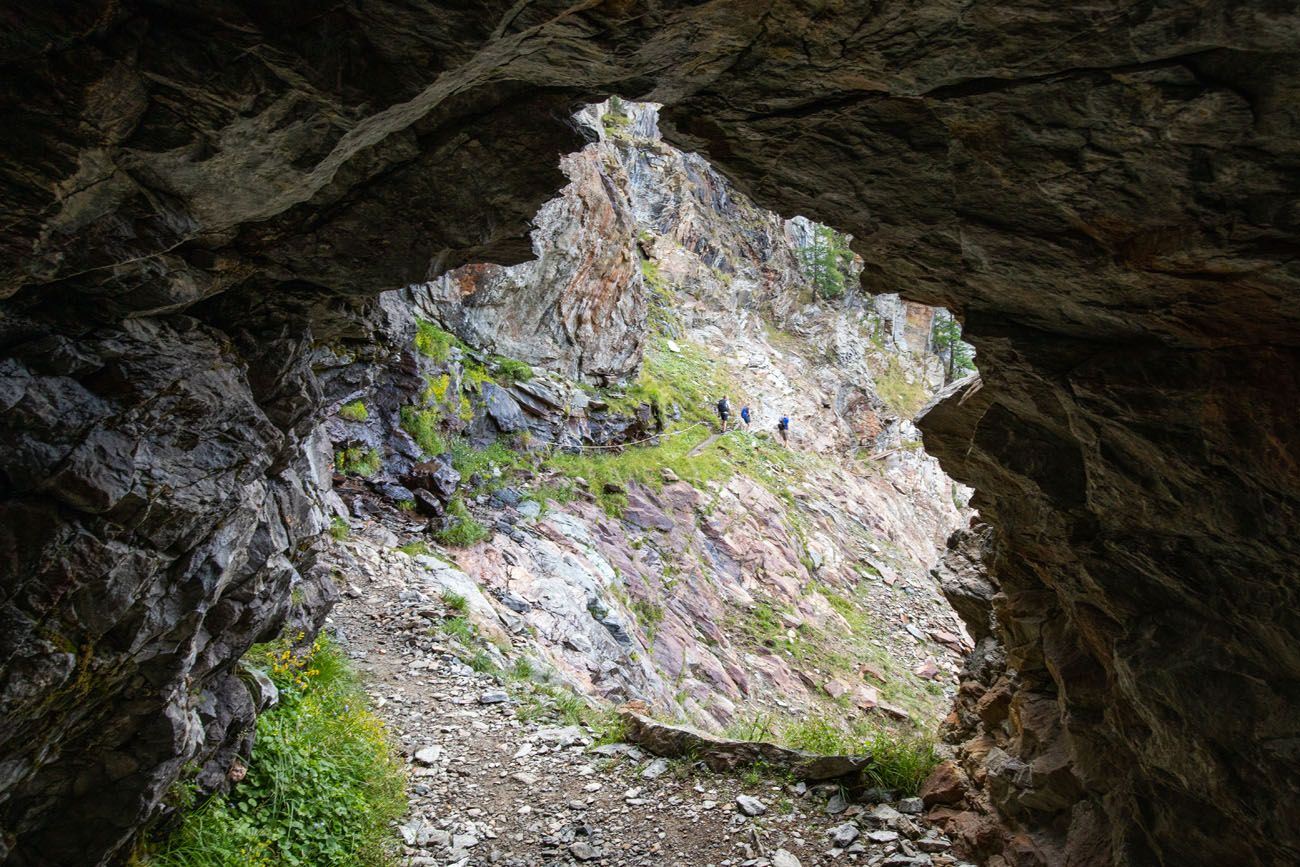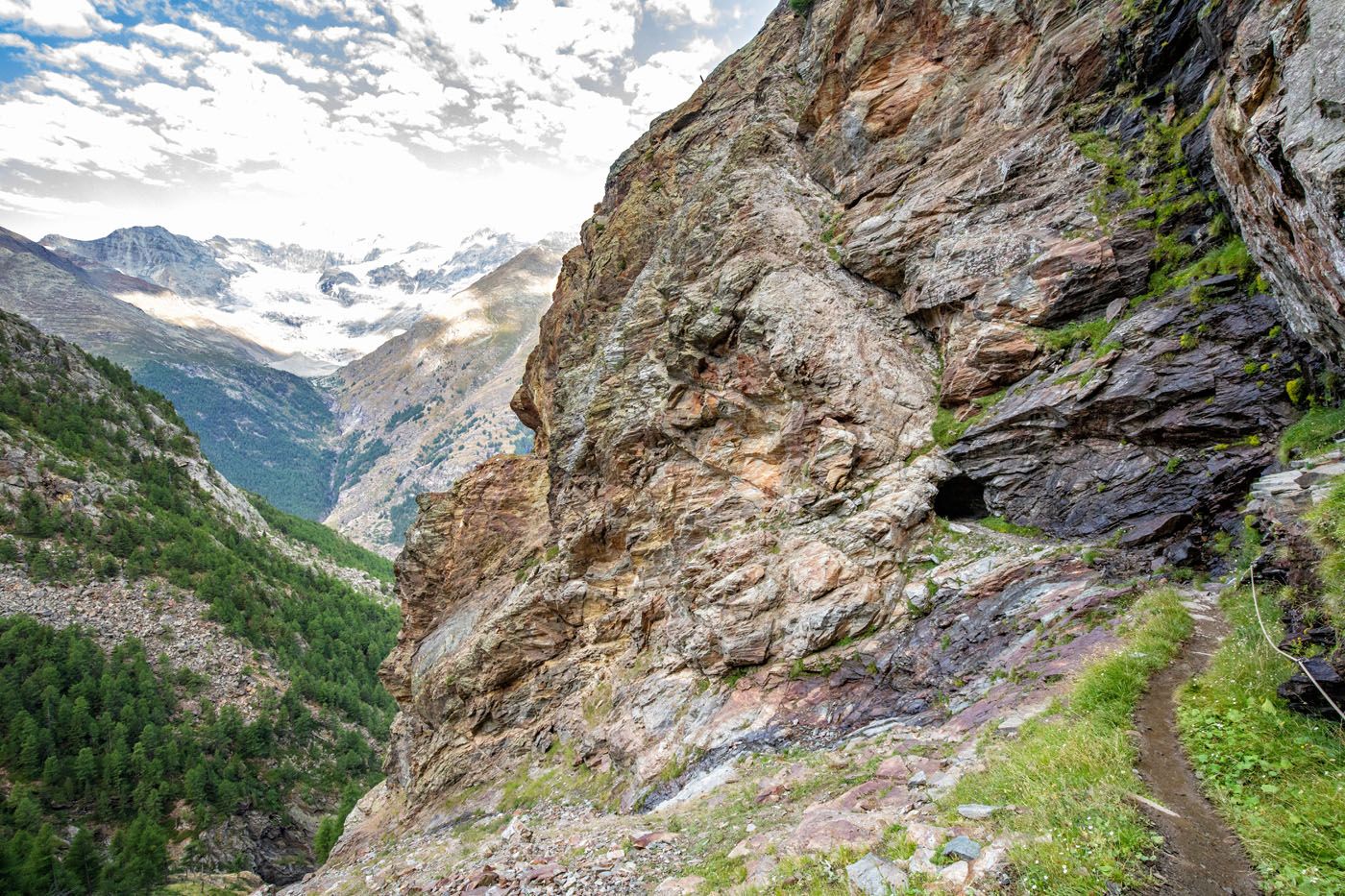 Looking back at the tunnel.
A little over 5 km (3 miles) into Stage 14, views will really open up. From here you can see most of Matterhorn, Zermatt, and most of the surrounding mountains. The views here are incredible!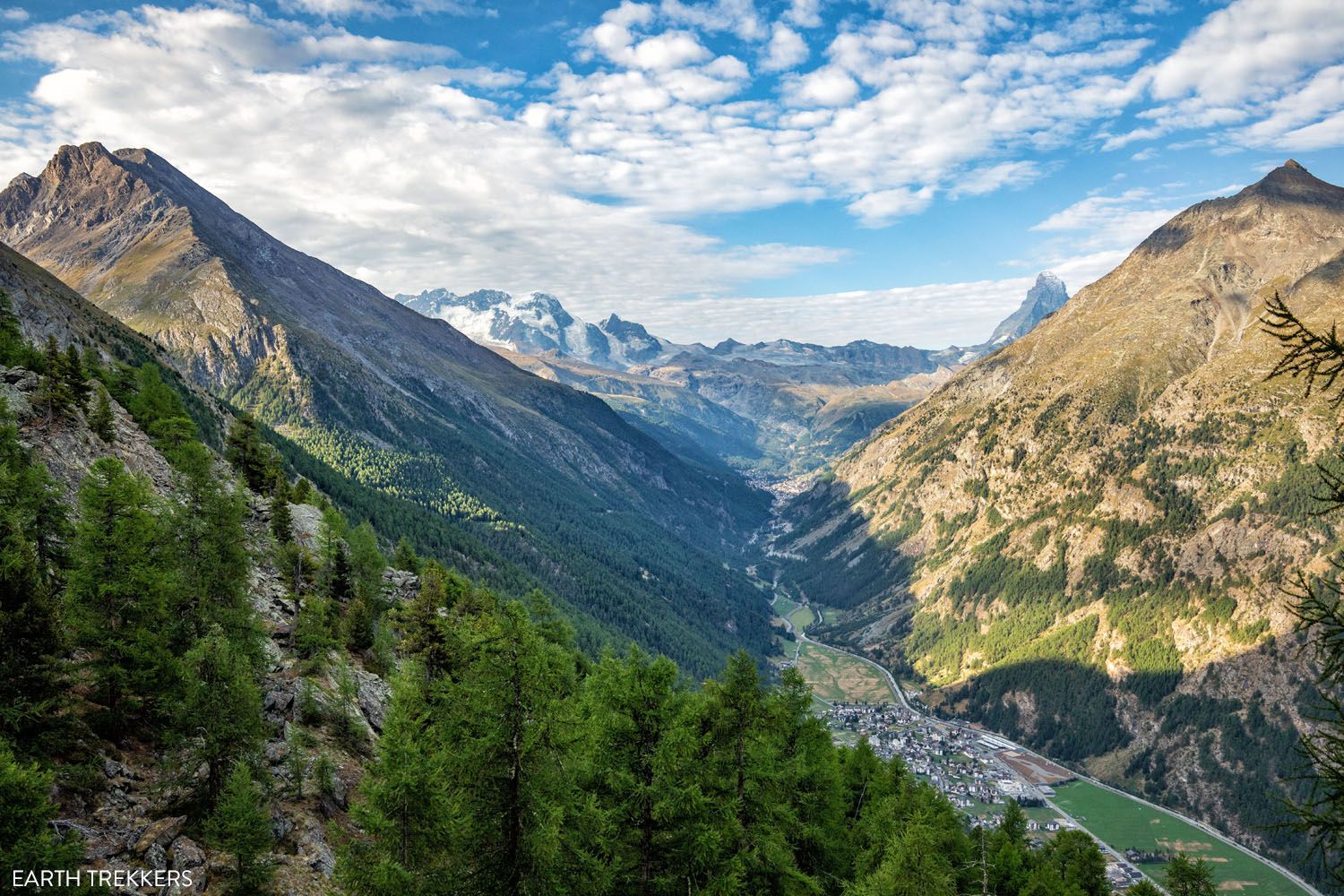 Following another steep descent, the trail features some pretty serious rockfall protection. A concrete overhang runs above for roughly 800 meters, although at points this barrier looked pretty sketchy. The concrete is damaged in some spots and you can see huge chunks that have broken free and look like they could fall on you at any moment. You'll also walk through a few more tunnels.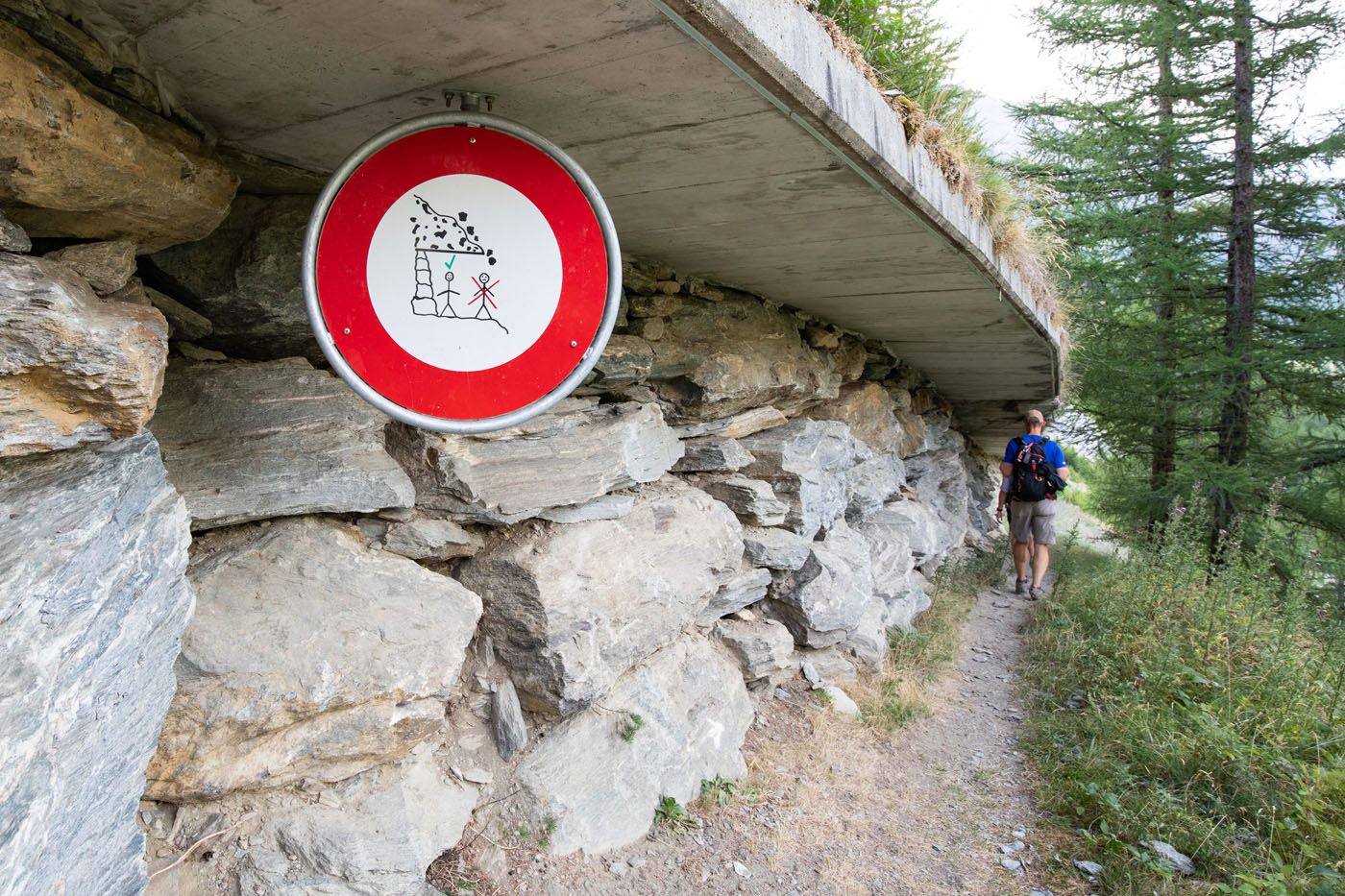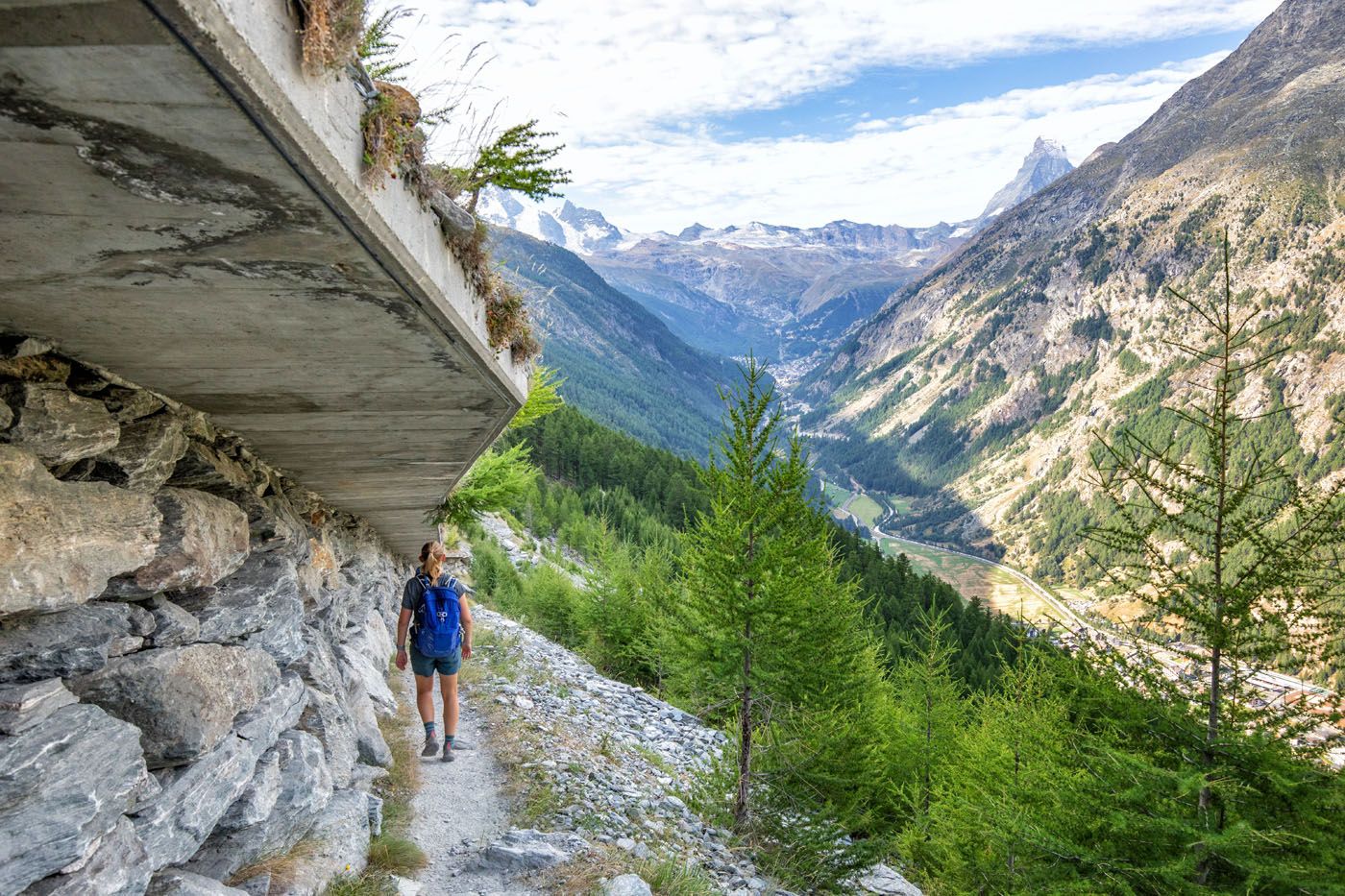 You'll climb back up another steep trail composed of dirt and loose rock before flattening out again. Fortunately, the trail stays flat for a while, which we were so happy to encounter. After 12 days of crossing over mountain passes, our bodies were exhausted. We knew we could use the long section of flat trail to get our speed up. Even with the incredible views, we were anxious to keep moving since we knew we were only hours away from Zermatt (and thunderstorms were in the forecast).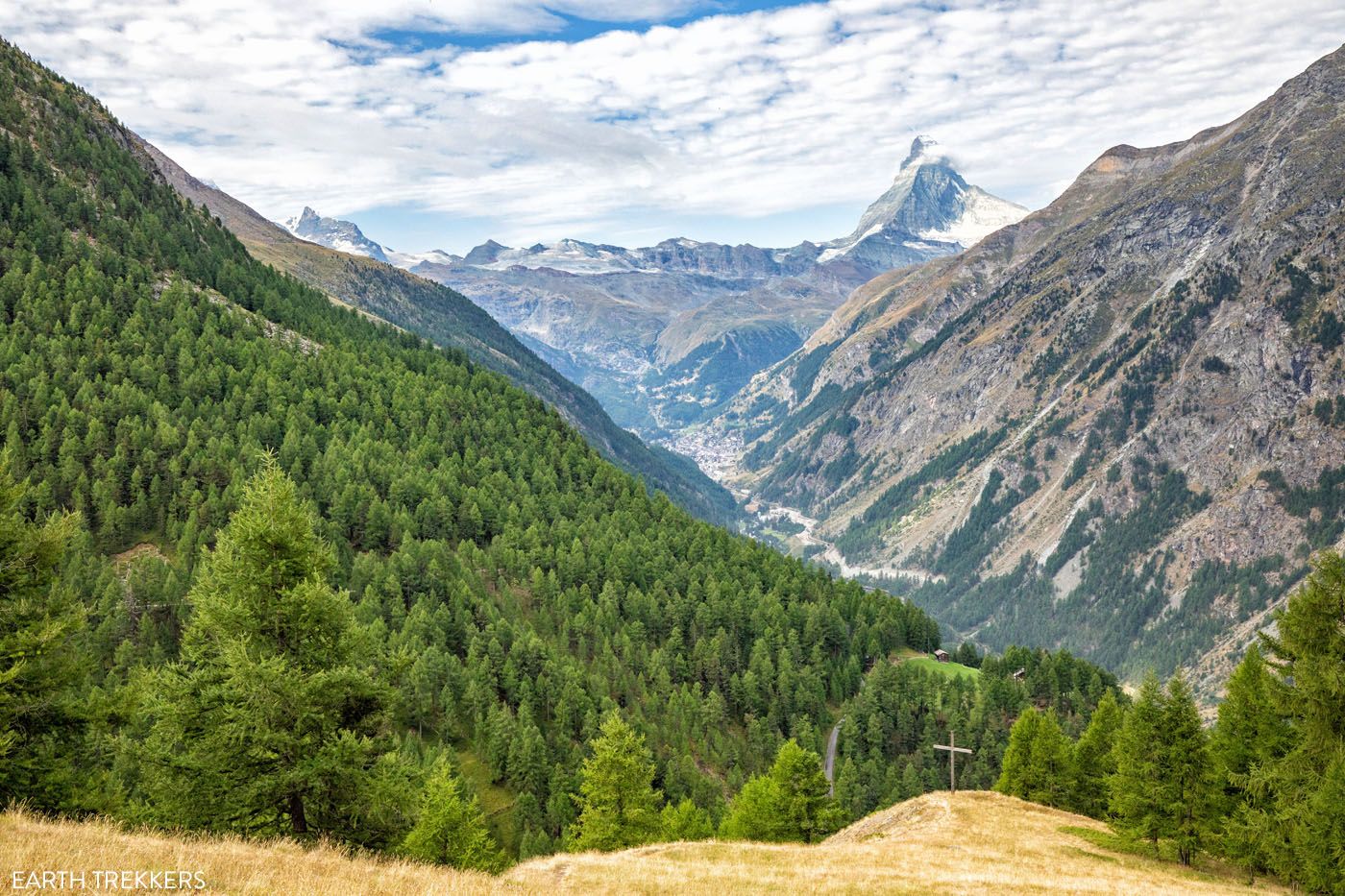 View of Zermatt and the Matterhorn before making the turn to Täschalp.
A little under 6 miles (10km) into the hike you'll pass through Täschalp, a small, picturesque hamlet. Here you can stop for food if you need to refuel or use the bathroom at Restaurant Täschalp.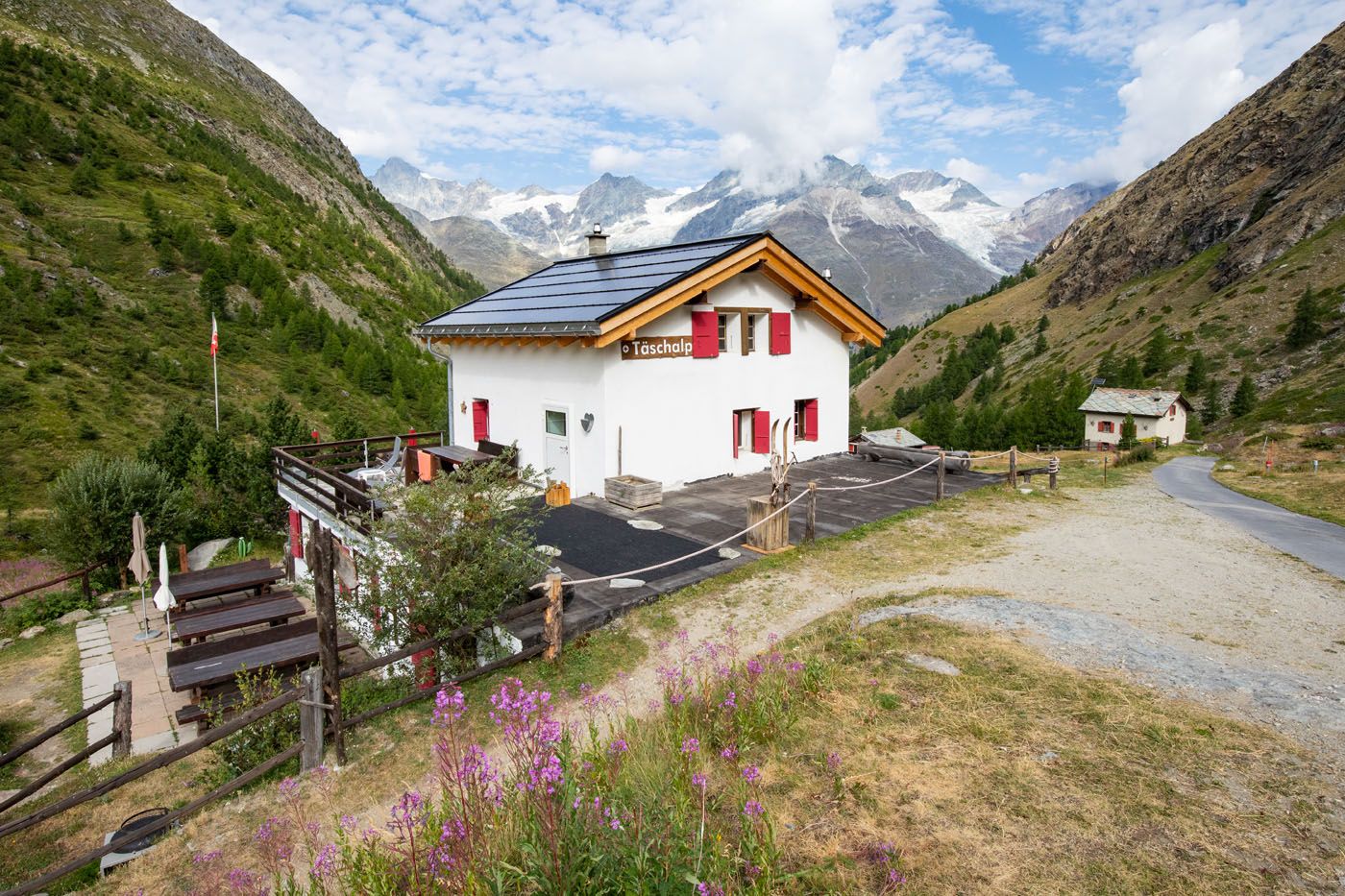 Täschalp to Tufteren
As we hiked above the hamlet we got stuck behind a herd of cattle blocking the trail. Fortunately, Julie busted out some unknown cattle herding skills as she was able to clear the trail in no time.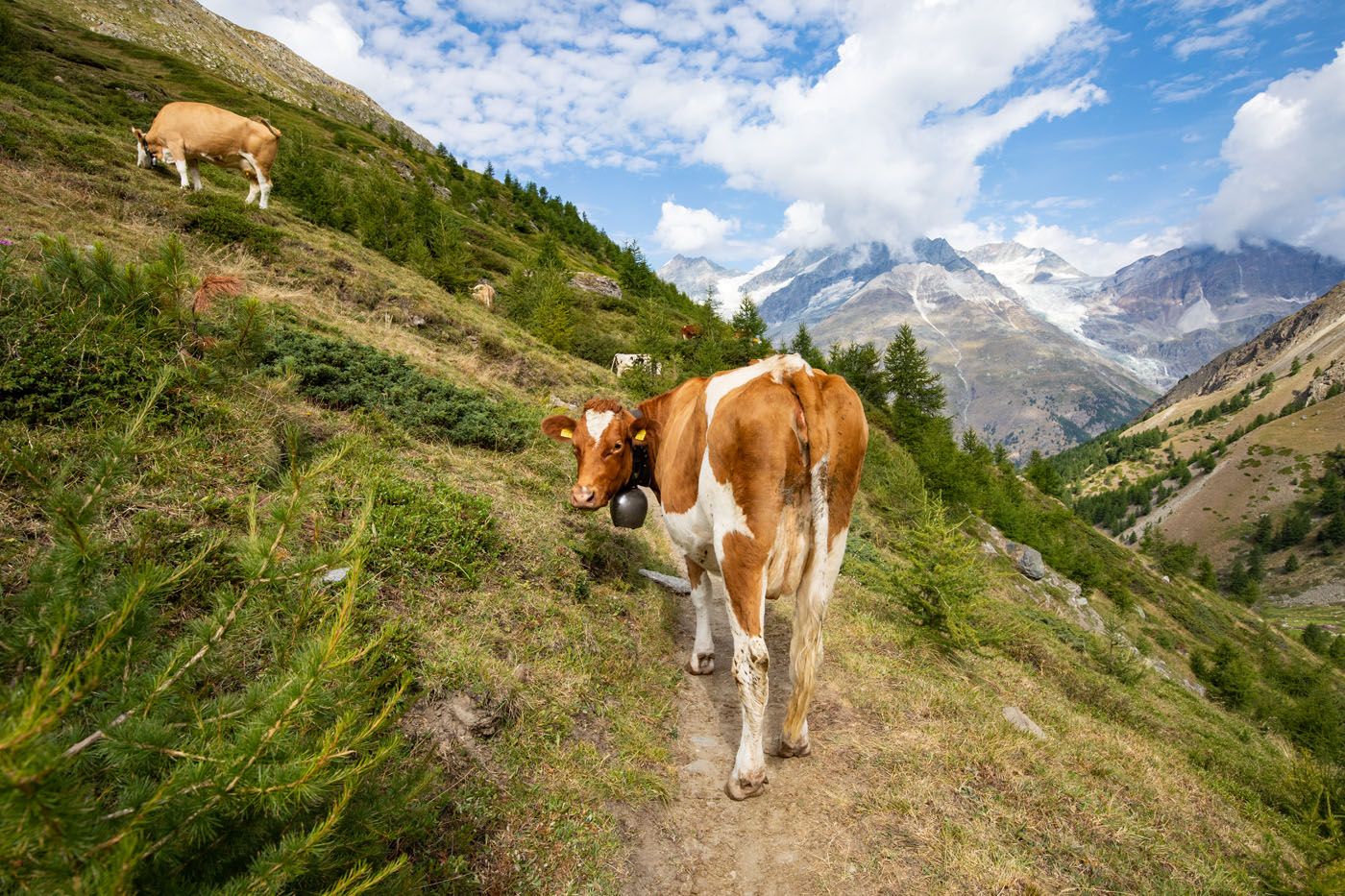 About 30 minutes after leaving the hamlet, the trail will slowly start to climb up a few hundred feet as you approach Zermatt. As you ascend higher, more of the valley opens up for some spectacular photo opportunities. This is our favorite part of Stage 14.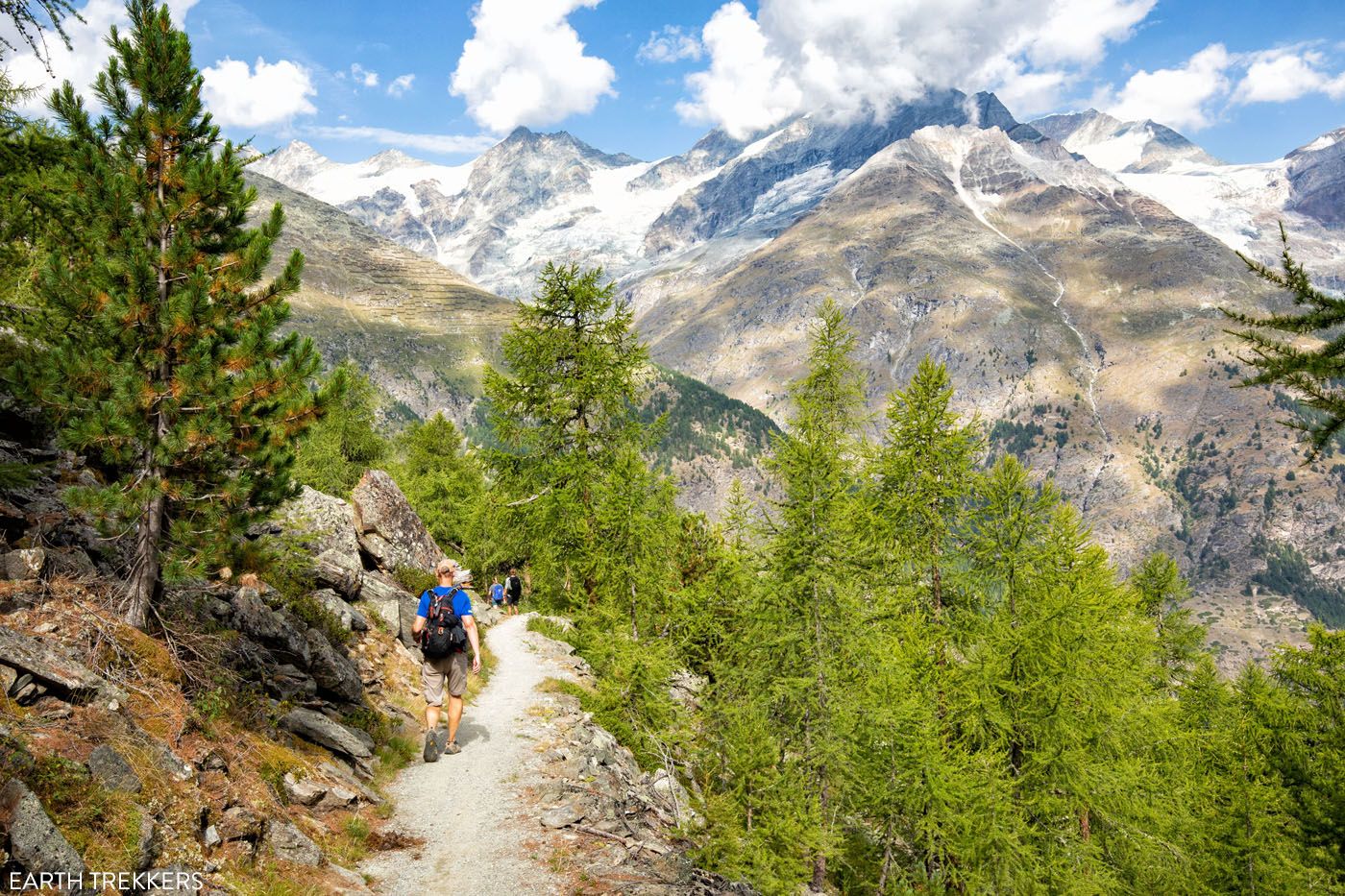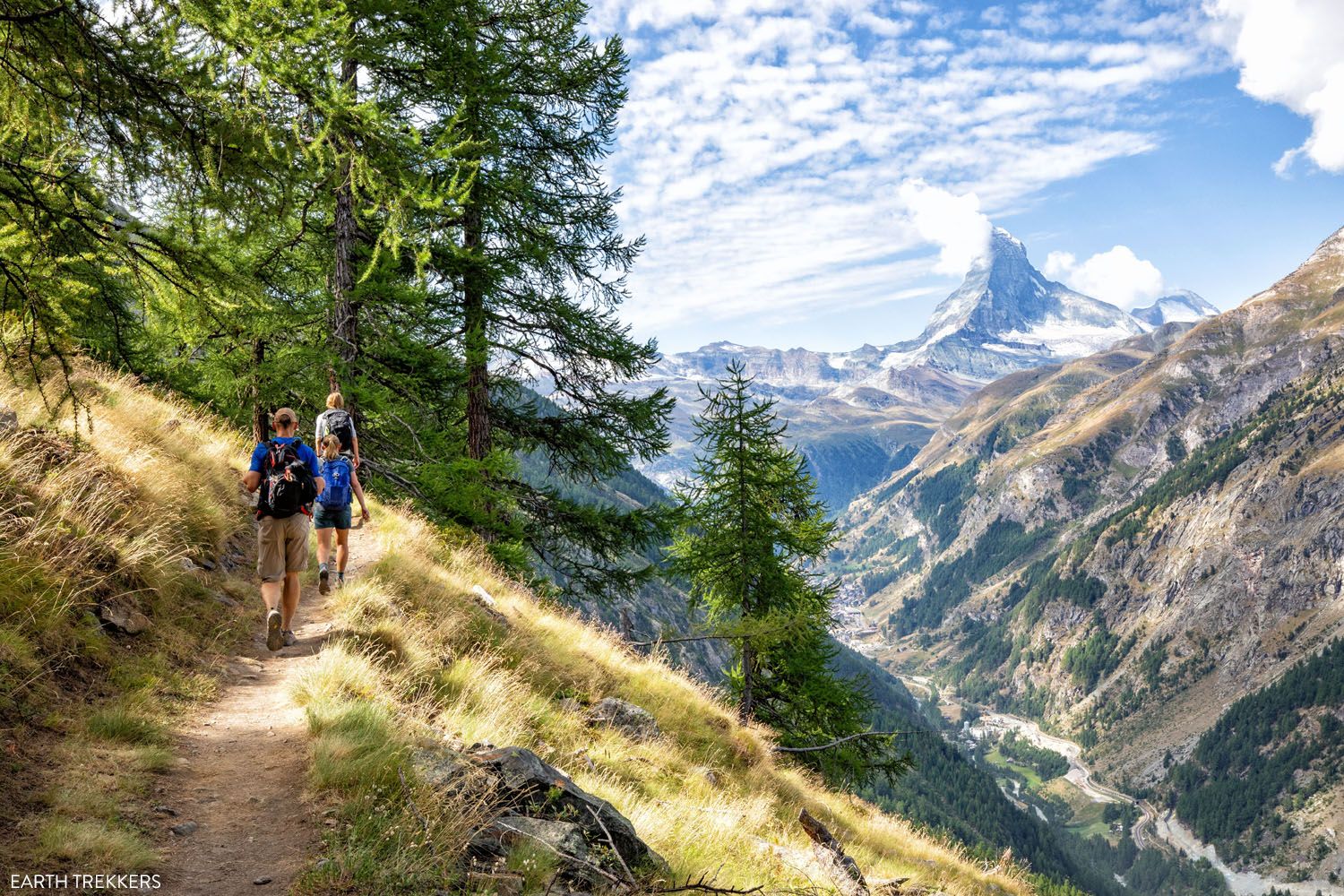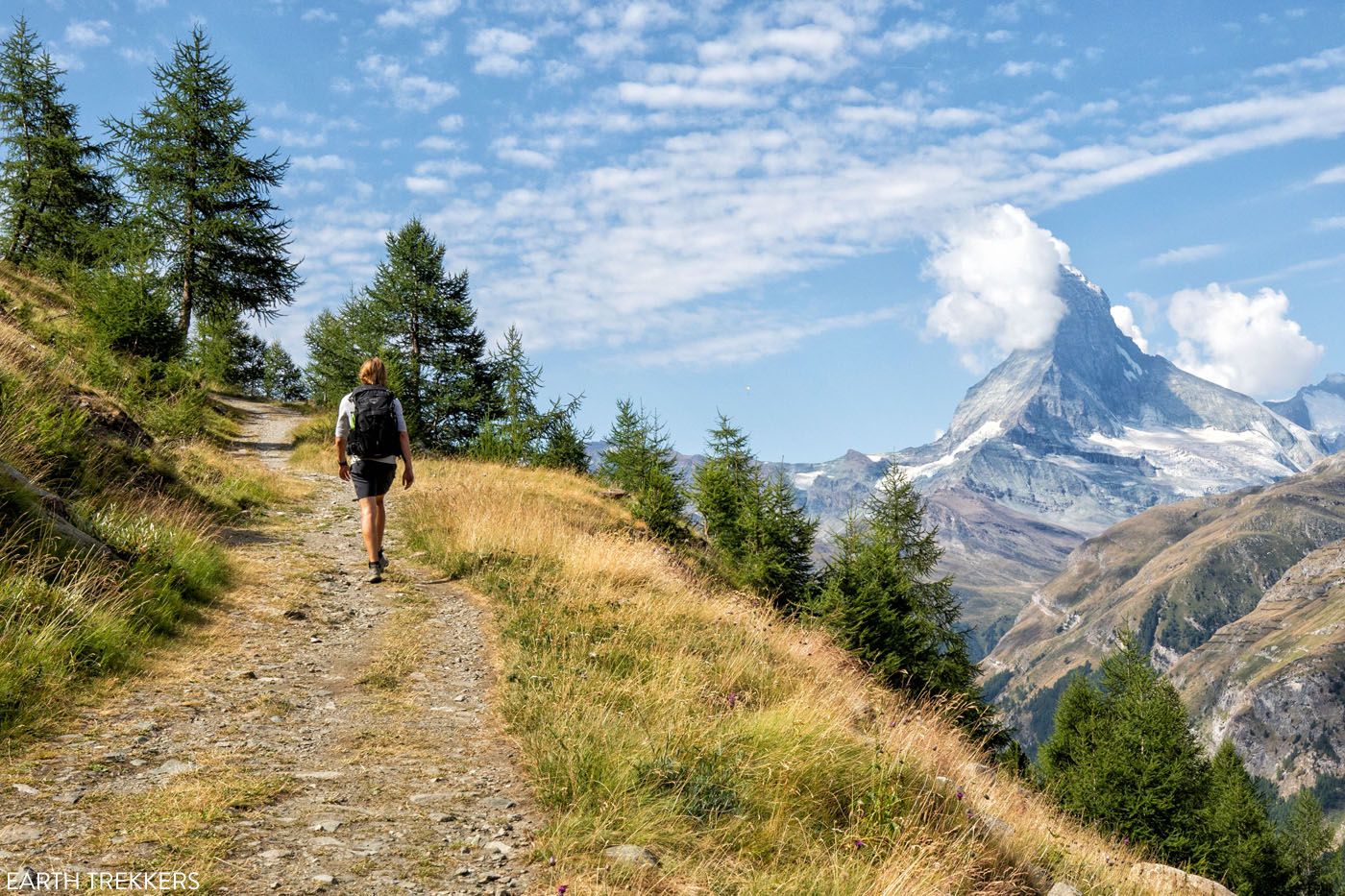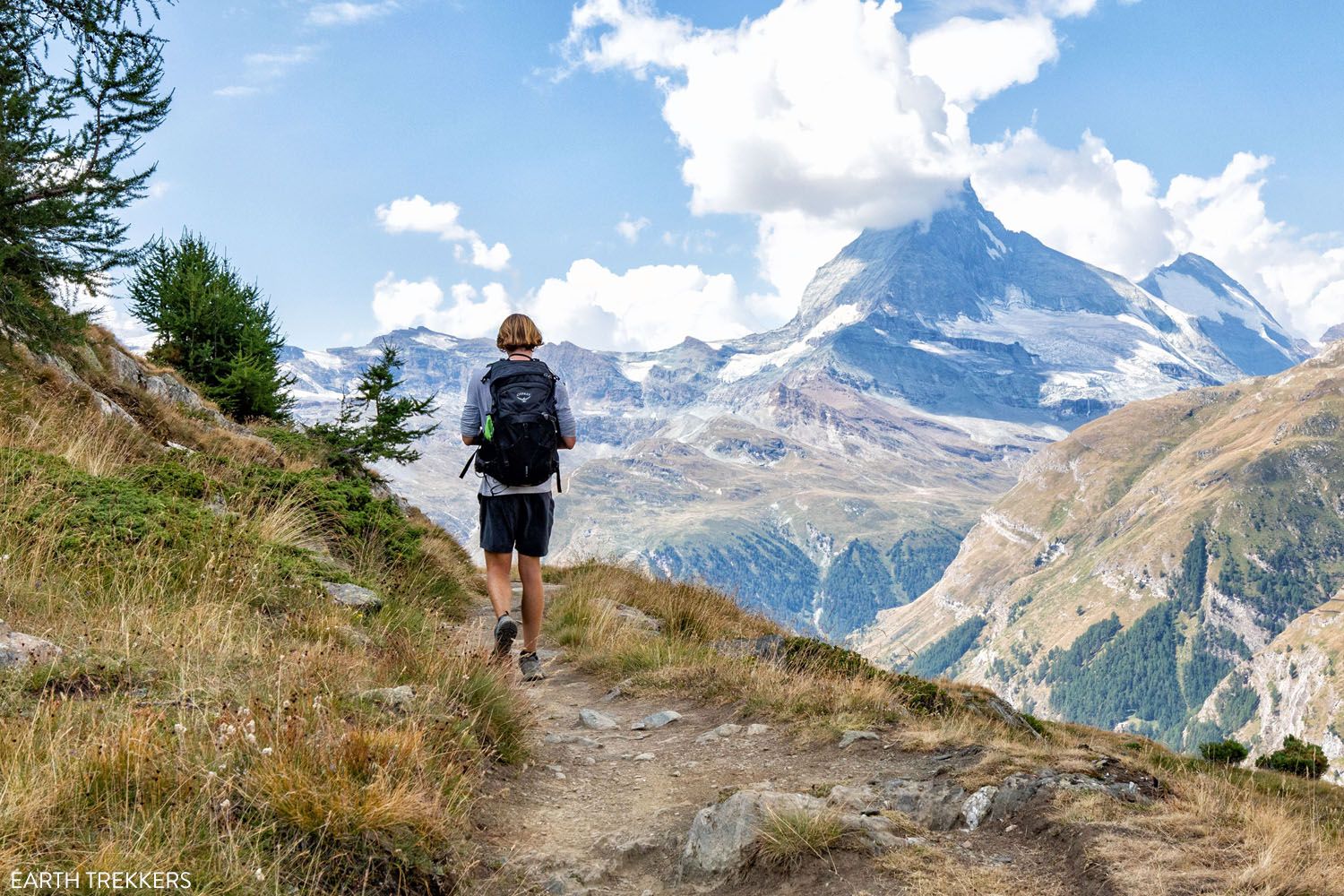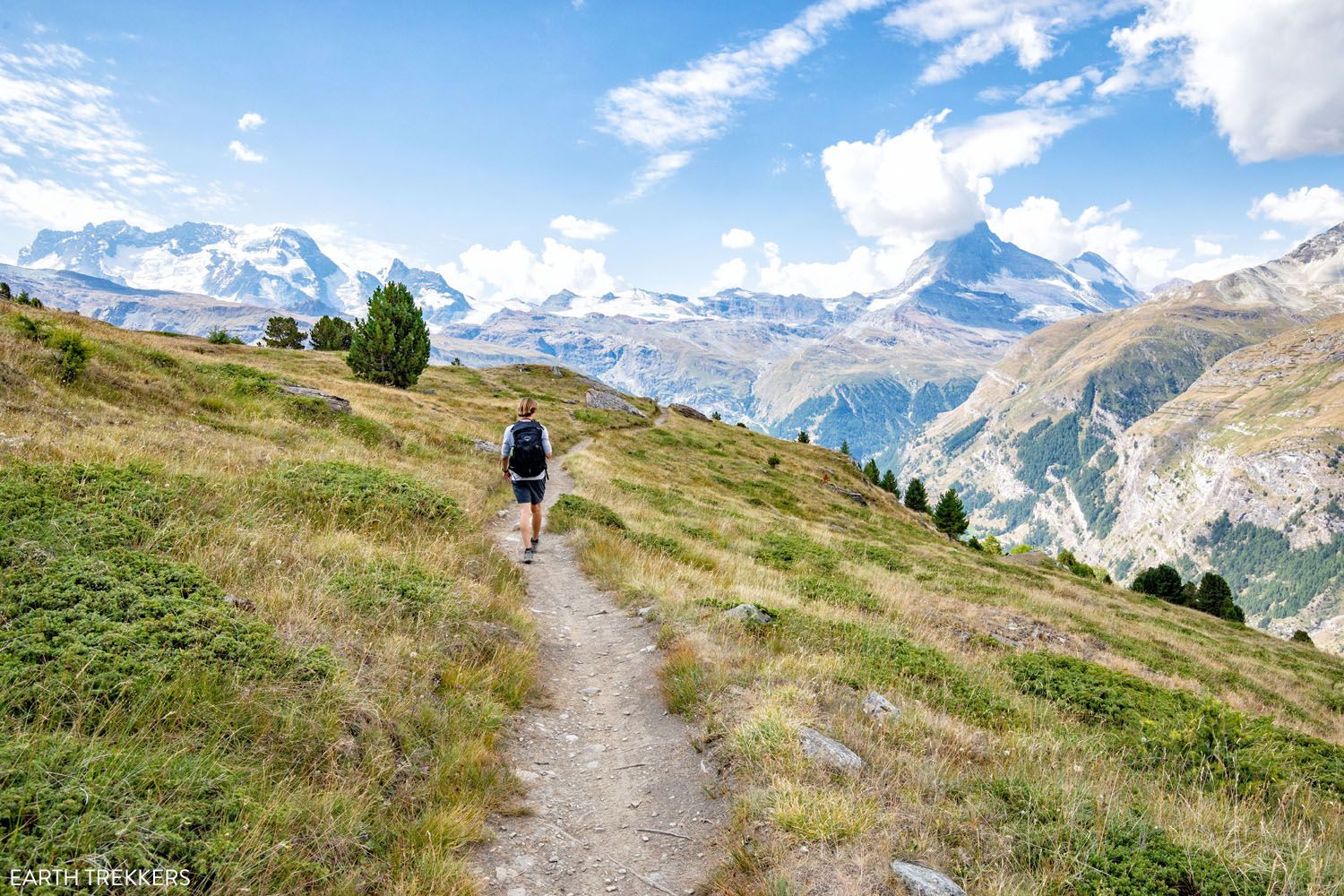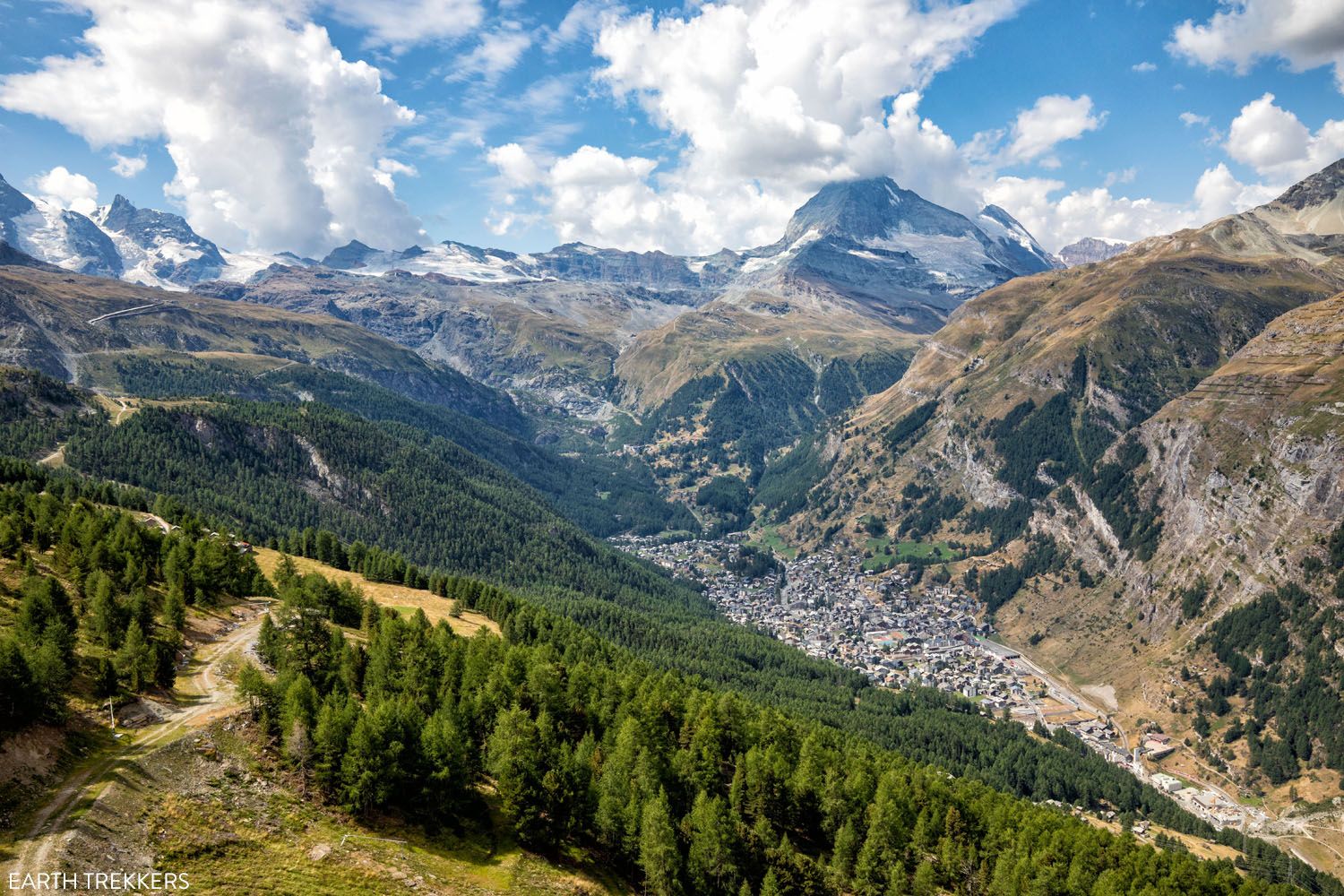 Zermatt
VIEWS OF THE MATTERHORN: Based on our experiences visiting Zermatt, the best time to see the Matterhorn is in the early morning. Starting as early as 9 am, clouds can begin to cover the peak and sometimes by noon, it's completely covered. This doesn't happen everyday, but from what we saw, it happens almost every day. We left the Europahütte at 6:50 am by the time we reached Tufteren, it was 11:40 am. By this point, most of the Matterhorn was covered by clouds.
About 10 miles (16 km) from Europahütte you'll reach another hamlet, Tufteren, where you can also get food if you need it.
From Tufteren, you have two options. You can follow signs for Zermatt and descend through the hamlet on a more direct route into town (about 1 hour 15 minutes into Zermatt). The alternative is to follow signs for Sunnegga (this route takes between 2 and 2.5 hours to get to Zermatt), which is a longer walk but you get more big views of the Matterhorn.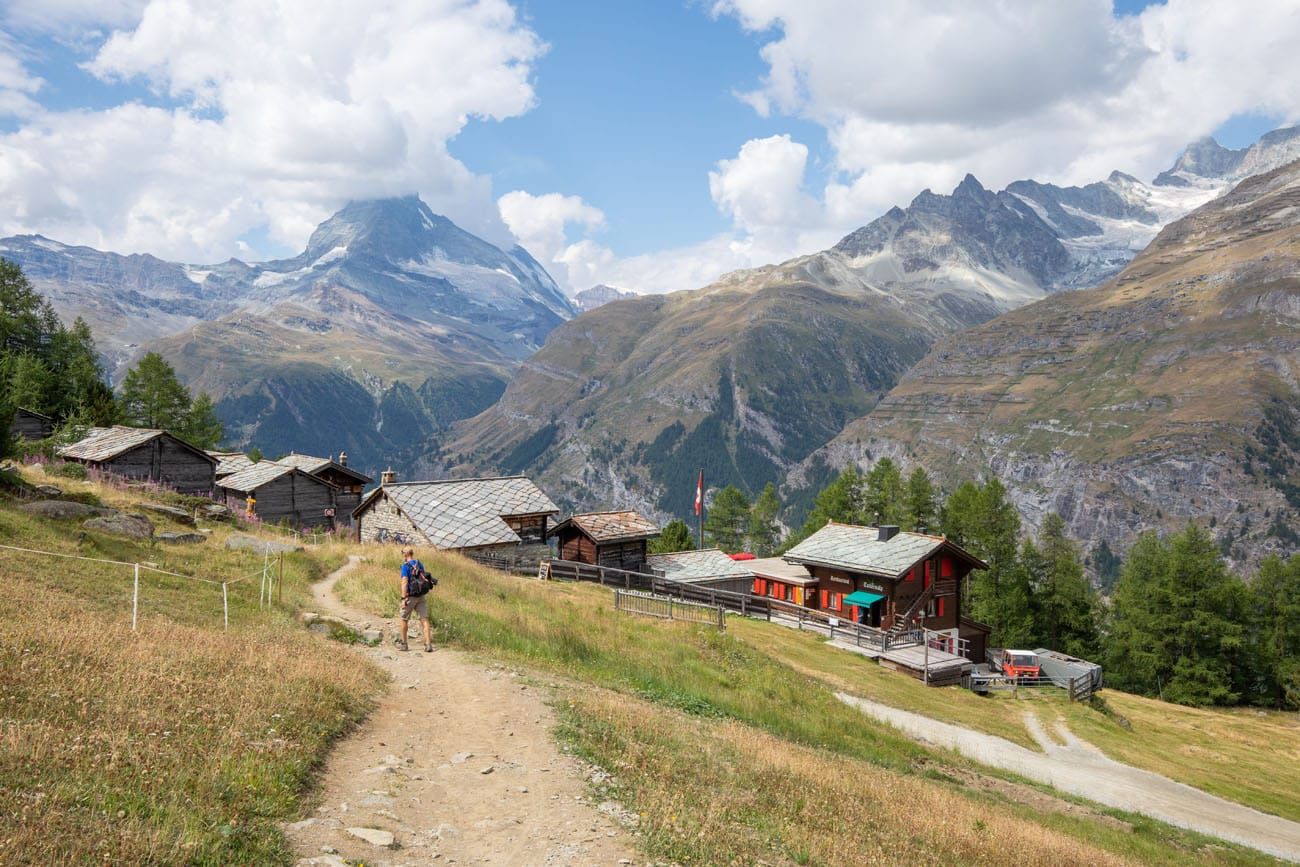 Tufteren
Tufteren to Sunnegga to Zermatt
Although we were tired and anxious to reach Zermatt, we elected to hike towards Sunnegga. We hiked along a gravel road in the trees for 30 minutes, which itself was boring. However, upon reaching Sunnegga, we realized our decision was worth it.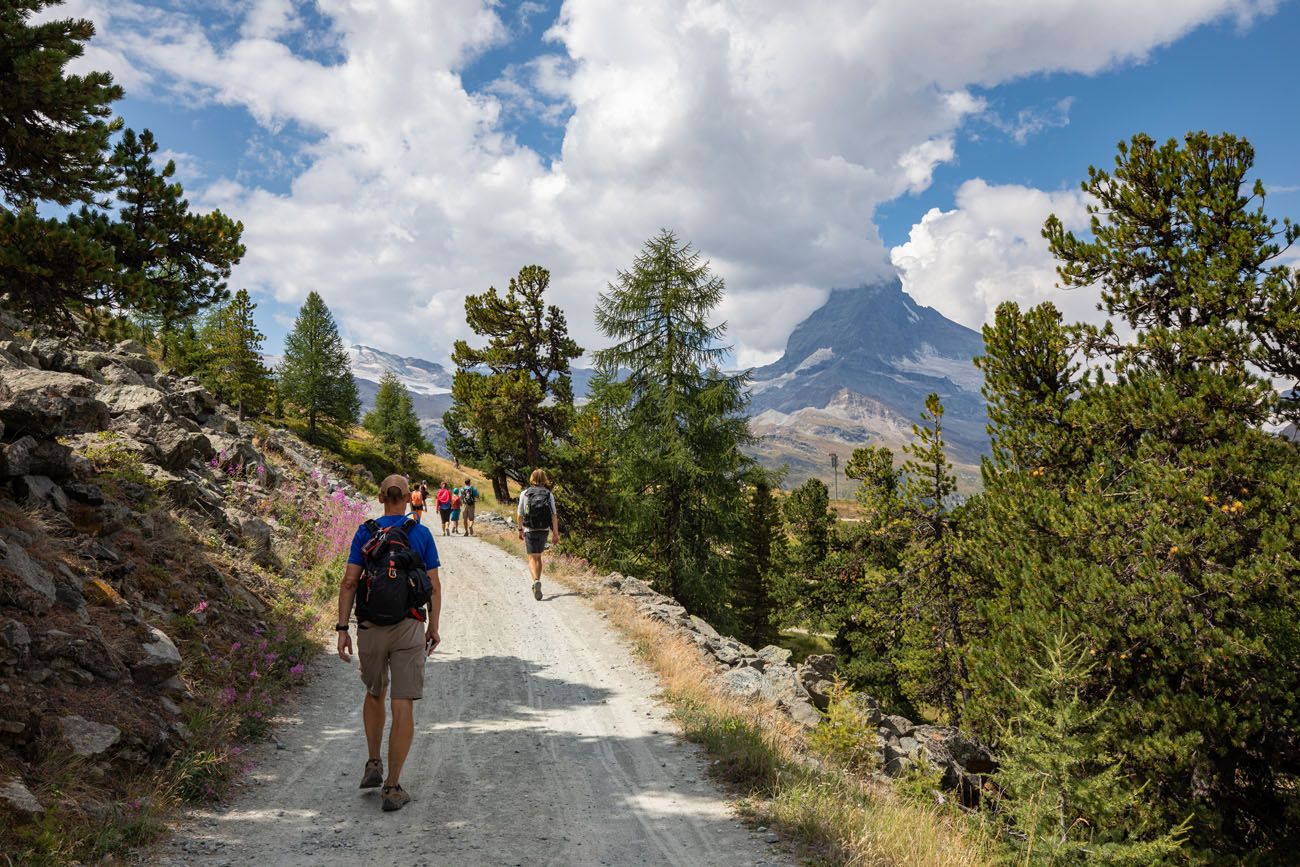 Along the road between Tufteren and Sunnegga.
Looking out at Zermatt and Matterhorn was once again jaw-dropping.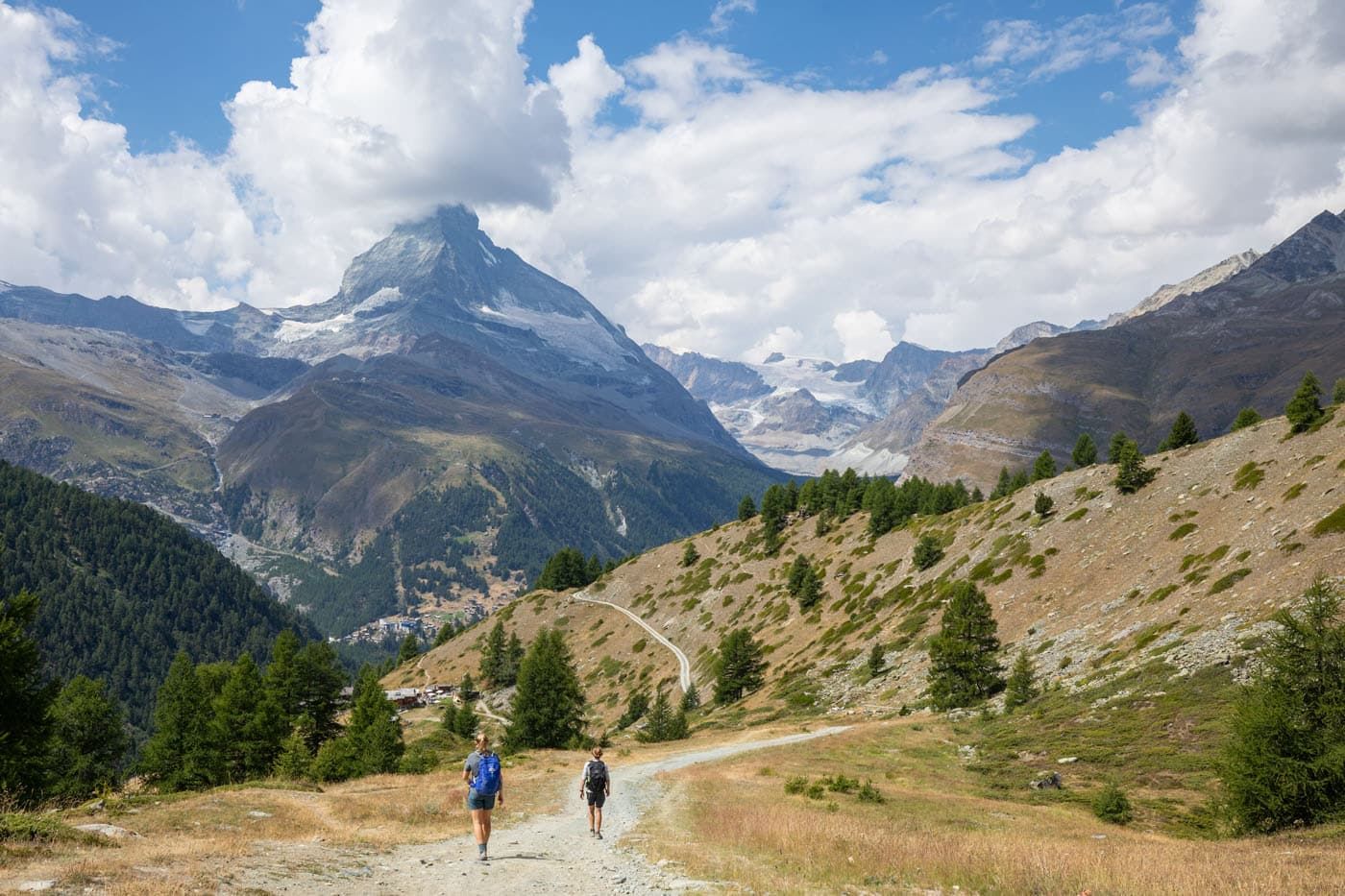 The trail from Sunnegga to Zermatt.
From Sunnegga, it is a downhill walk the remainder of the way to Zermatt. This trail goes through a cluster of very highly rated restaurants (Adler Hitta, Chez Vrony, Restaurant Enzian, and Findlerhof), which is also called the "Gourmet Trail." If you are in no rush and want a good meal before entering Zermatt, you can make a pitstop at one of these restaurants.
In our experience, thunderstorms were beginning to roll in so we didn't have time to sit and eat.
PRO HIKING TIP: If you feel like you're totally exhausted and can't continue into Zermatt by foot, or thunderstorms are moving into the area, you can ride the funicular from Sunnegga that will take you right into town. Or choose to take the shorter route to Zermatt through Tufteren.
From Sunnegga, signs will tell you that it's a 2 hour walk downhill into Zermatt. We quickly learned that the time the sign gave was extremely generous, and we hiked from Sunnegga to Zermatt in a little under one hour. The trail descends steeply through the woods and opens up to a wider path about halfway down the mountain.
Before entering Zermatt, you will cross over train tracks for the Gornergratbahn, the train that connects Zermatt and Gornergrat. A quick 10-minute walk through town and you'll reach the center of Zermatt where you will have finally finished the Haute Route. Congratulations!
We took a selfie on Kirchbrücke (a popular photo spot in Zermatt of the Matterhorn, but by this point, because of the rainy weather, the Matterhorn was covered in clouds) and then had lunch at Old Zermatt.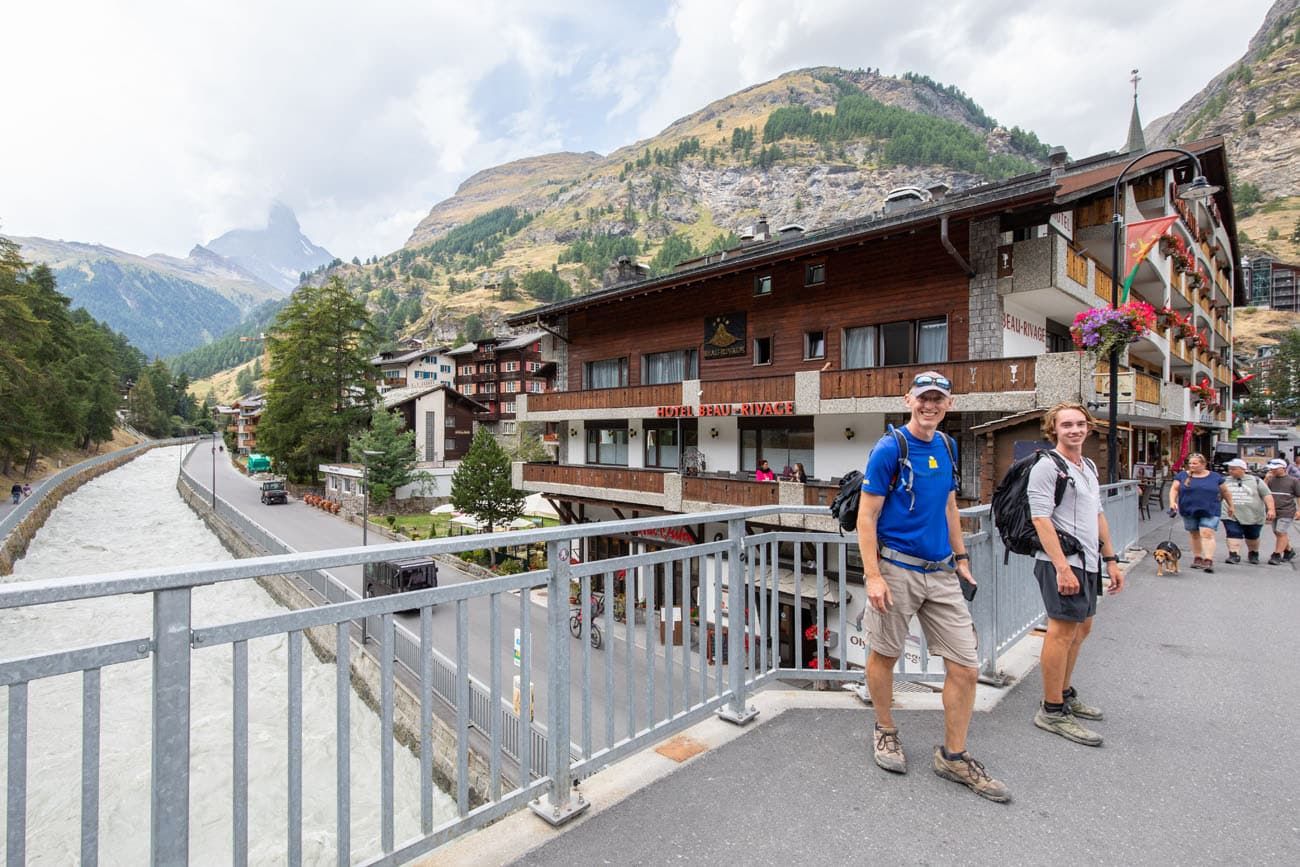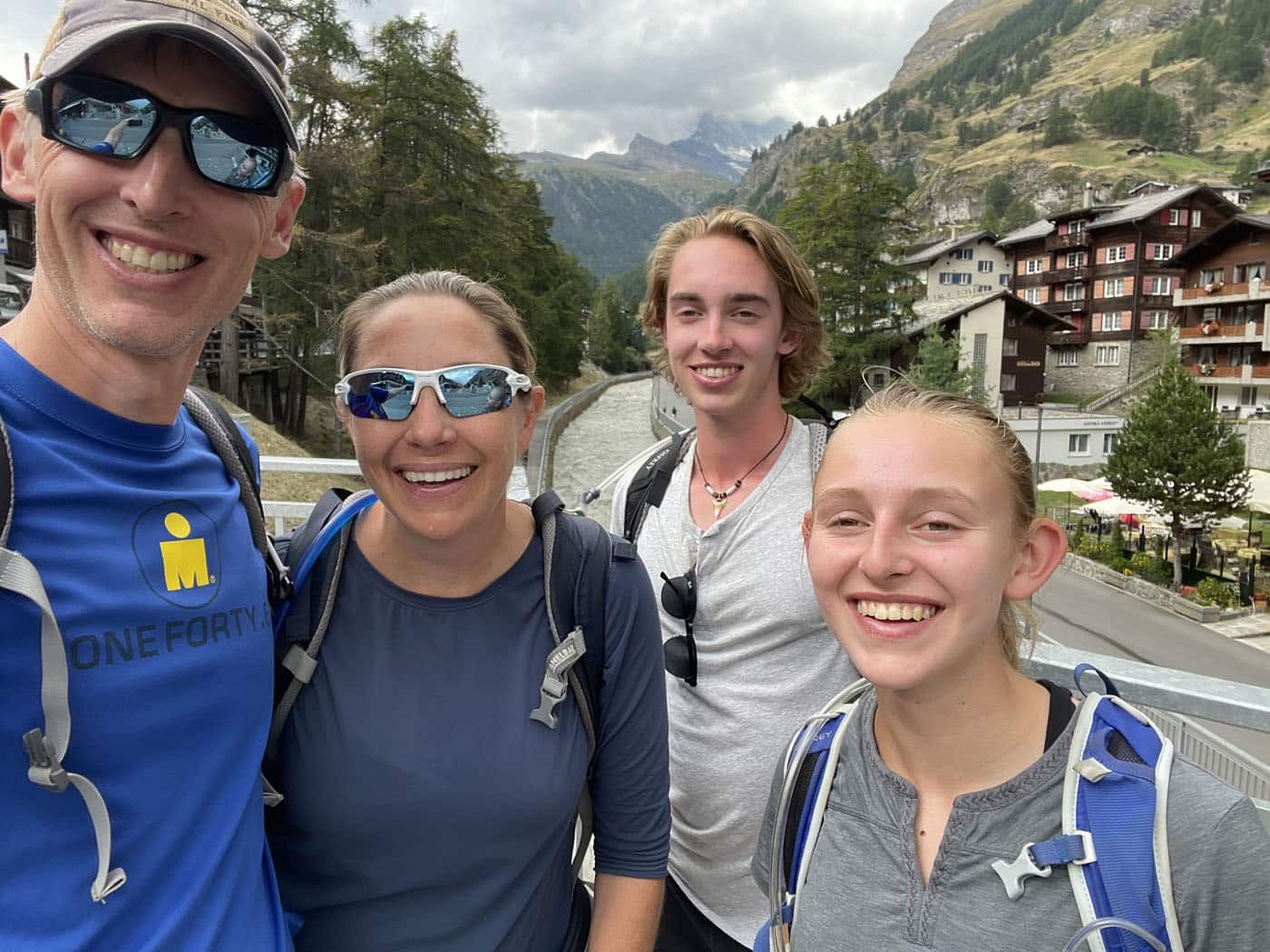 Where we Stayed
In Zermatt we spent 4 nights at the Hotel Matterhorn Lodge, where we booked a three-bedroom apartment. This was our favorite accommodation of our entire five week trip through Europe. The apartment was massive and the plethora of space allowed us all to spread out and enjoy a sense of privacy. It is centrally located in Zermatt and from our balcony, we had views of the St. Mauritius Parish Church and the Matterhorn. We would definitely recommend staying here. You can get more recommendations on where to stay in our article Best Things to Do in Zermatt.
Things to Do in Zermatt
Now that you made it to Zermatt, you can relax, go shopping and go out to dinner, ride the cable cars and trains to outstanding viewpoints of the area, or keep right on hiking.
If you still have time in your schedule, we recommend spending a few days in Zermatt. Your first day should be a low-key day, as your body will need some recovery time (ours did!), but there are some great hikes that we recommend.
For more information, read our articles Best Things to Do in Zermatt and 12 Epic Hikes in Zermatt. But the top experiences that we recommend are riding the train to Gornergrat and doing the very easy hike to Riffelsee and Riffelberg, riding the cable car to Rothorn for more spectacular views, and visiting Matterhorn Glacier Paradise. The hike to Hornlihütte is one of our favorites and takes you to the hut used by climbers on their way to the peak of the Matterhorn. And finally, if you want to add on one more epic experience, climb to the summit of the Breithorn, one of the easiest 4000+ meter peaks in the Alps.
Clarifications for the Walkers Haute Route Book
We have no clarifications for Stage 14. The Europaweg is very well signed and easy to follow.
More Information about the Haute Route
In our Walker's Haute Route Planning Guide, we have links to all of our articles about the Walker's Haute Route, including information about each stage, how to plan your trek, what to expect, and more.
For an overview of all 14 stages of the Walker's Haute Route, with overall hiking stats, map, elevation profile, and lists of the most difficult stages, easiest stages, and our personal favorites, check out our Guide to the Walker's Haute Route Stages.
Journey through all 14 stages of the Walker's Haute Route in photos.
Stages of the Haute Route: Below are our guides to each stage of the Haute Route.
---
If you have any questions about how to hike the Haute Route Stage 14, or if you want to share your experience, let us know in the comment section below.
More Information about Switzerland & Hiking in Europe
MORE GREAT HIKES IN SWITZERLAND: The Bernese Oberland is one of Switzerland's top hiking destinations. Hike the short, incredibly scenic trail from Männlichen to Kleine Scheidegg, walk the Northface Trail from Mürren, or hike from Schynige Platte to Faulhorn, a longer, more challenging, but awesome hike in this region. We also recommend hiking the Hörnlihütte Trail and Gornergrat to Riffelberg in Zermatt and hiking the Gastlosen Tour near Gruyères.
JUNGFRAUJOCH: Jungfraujoch is one of the top experiences in Switzerland. Learn more in our article about How to Visit Jungfraujoch. For an epic day in the Jungfrau region, learn how to combine Jungfraujoch with the Eiger Trail.
MORE GREAT HIKES IN EUROPE: From thrilling trails in the Alps to easy walks along the coast, read our article 20 Best Hikes in Europe for some beautiful hiking trails to put on your travel wish list.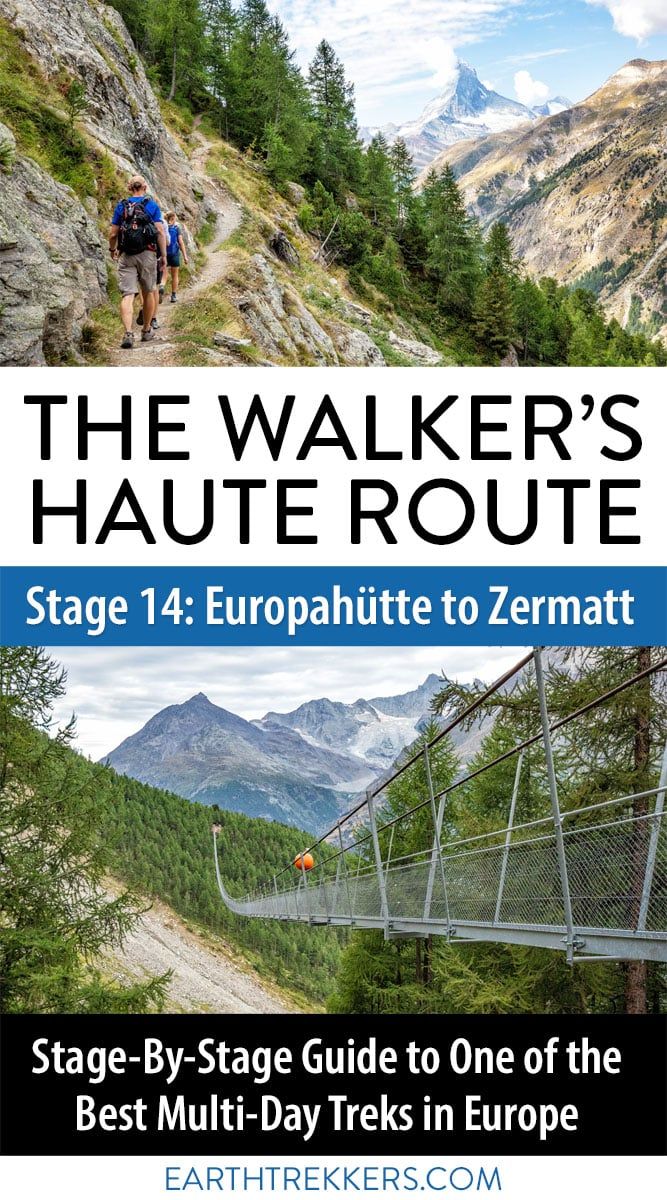 Note: This post contains affiliate links. When you make a purchase using one of these affiliate links, we get paid a small commission at no extra cost to you.
All rights reserved © Earth Trekkers. Republishing this article and/or any of its contents (text, photography, etc.), in whole or in part, is strictly prohibited.