Today's stage marks the beginning of the end of the Walker's Haute Route. With only three stages to go, things once again ramp up in both alpine views and physical challenge in terms of the trail.
Opening up to Mattertal valley and passing through a large hamlet, Stage 12 has little shortage in excellent views. However, with its long ascent and a totally grueling descent, today is one of the hardest stages you'll complete along the entire Haute Route.
Walker's Haute Route Stage 12 Hiking Stats
Distance: 16.9 km (10.5 miles)
Difficulty: Moderate
Total Ascent: 1,135 m (3,725 feet)
Total Descent: 1,830 m (6,000 feet)
Lowest Elevation: 1,160 m (3,800 feet)
Highest Elevation: 2,900 m (9,500 feet)
Elevation in Gruben: 1,855 m (6,085 feet)
Elevation in St Niklaus: 1,160 m (3,800 feet)
Average Time: 7 hours; Our time 6 hours 15 minutes (including stops)

Haute Route Stage 12 Elevation Profile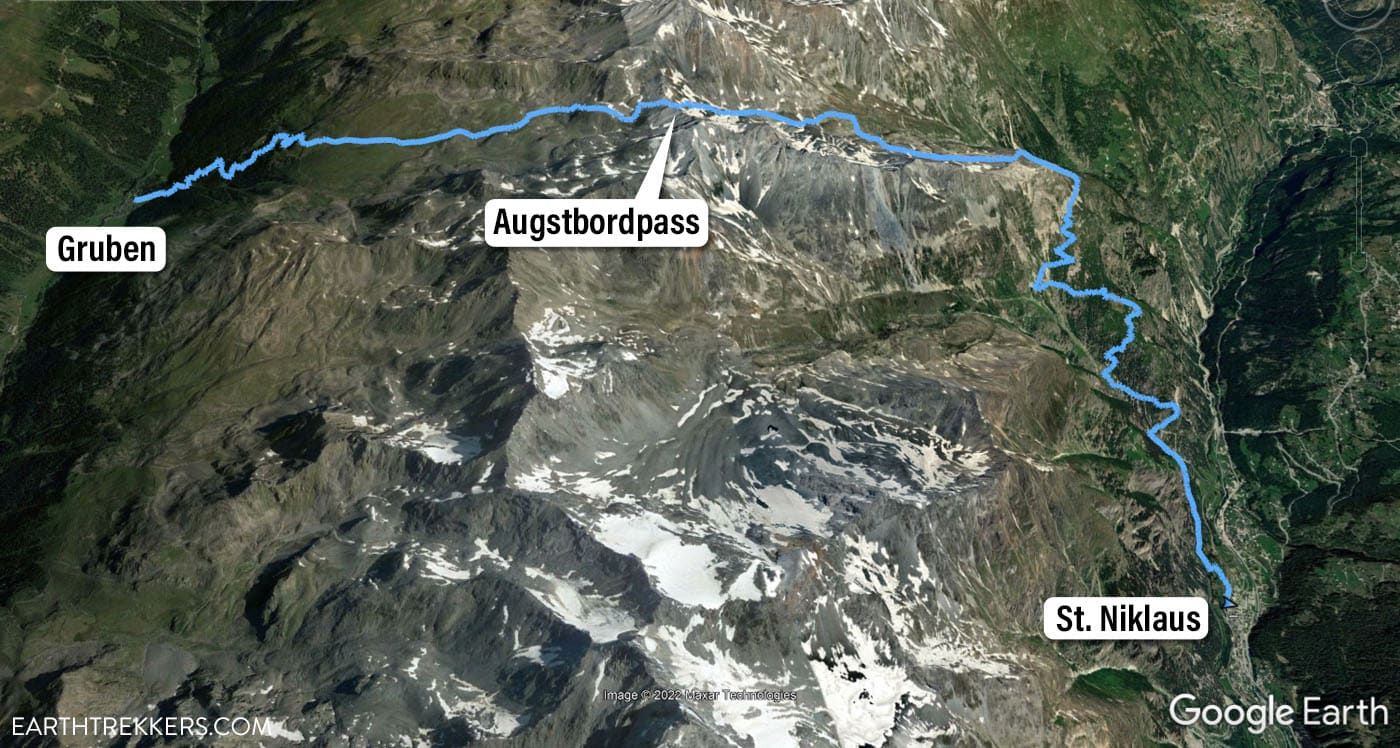 Haute Route Stage 12 map
Please practice the seven principles of Leave No Trace: plan ahead, stay on the trail, pack out what you bring to the hiking trail, properly dispose of waste, leave areas as you found them, minimize campfire impacts, be considerate of other hikers, and do not approach or feed wildlife.
Walker's Haute Route Stage 12 Trail Overview
To hike the Haute Route, we highly recommend following the trail descriptions in the book Trekking Chamonix to Zermatt, The Classic Walker's Haute Route by Kev Reynolds. Below we list an overview of the day, so you know what to expect along the way. We also provide advice on where to eat and where to stay. Later in this guide, we list a few tips and trail clarifications to be used with the Trekking Chamonix to Zermatt book.
Gruben to the Augstbordpass
Today's trail gets right down to business as it throws a steep climb at you as soon as you take your first few steps. You'll hike on a dirt path that travels up through the woods in switchbacks that are guaranteed to leave you breathless. You won't have any great views out during this section, but thankfully this is only a small portion of today's stage. We climbed above the treeline about an hour into the stage. The hardest part of today's climb is now finished.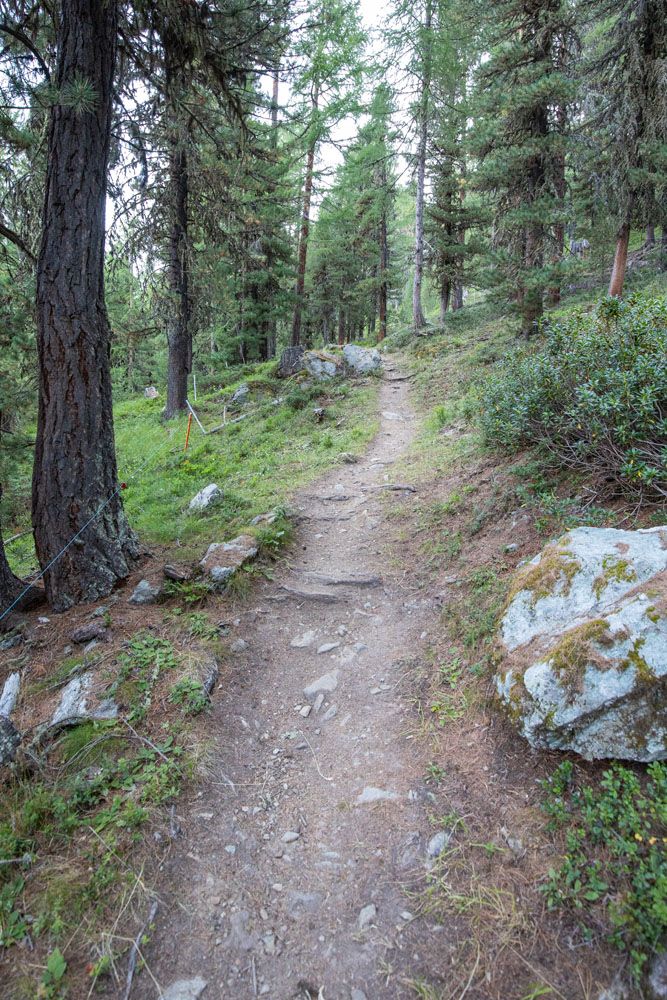 Once you leave the forest behind, the trail becomes a lot easier to manage. The climb is now pretty steady but not steep, and you'll have great views of the valley in which you started today's stage. You may even pass a few cows along the trail.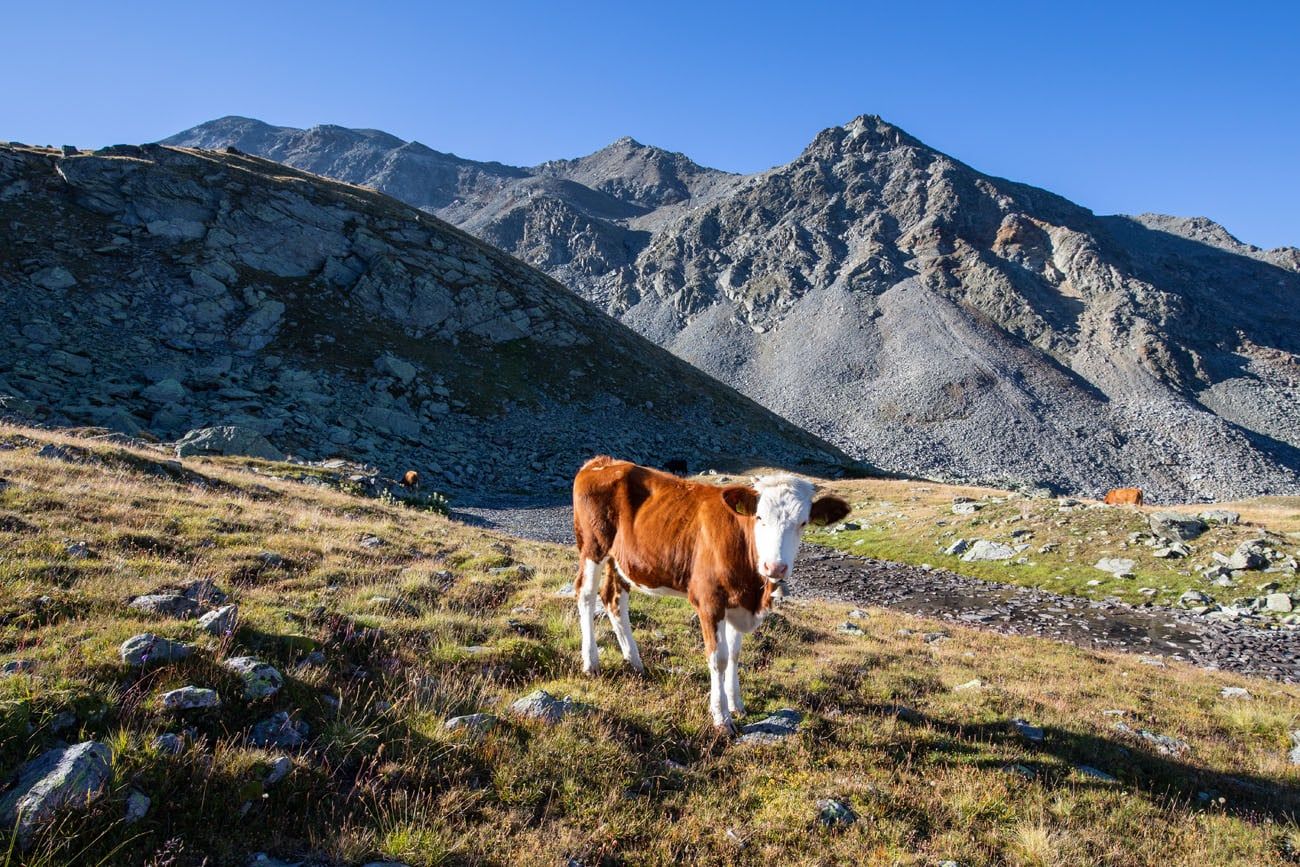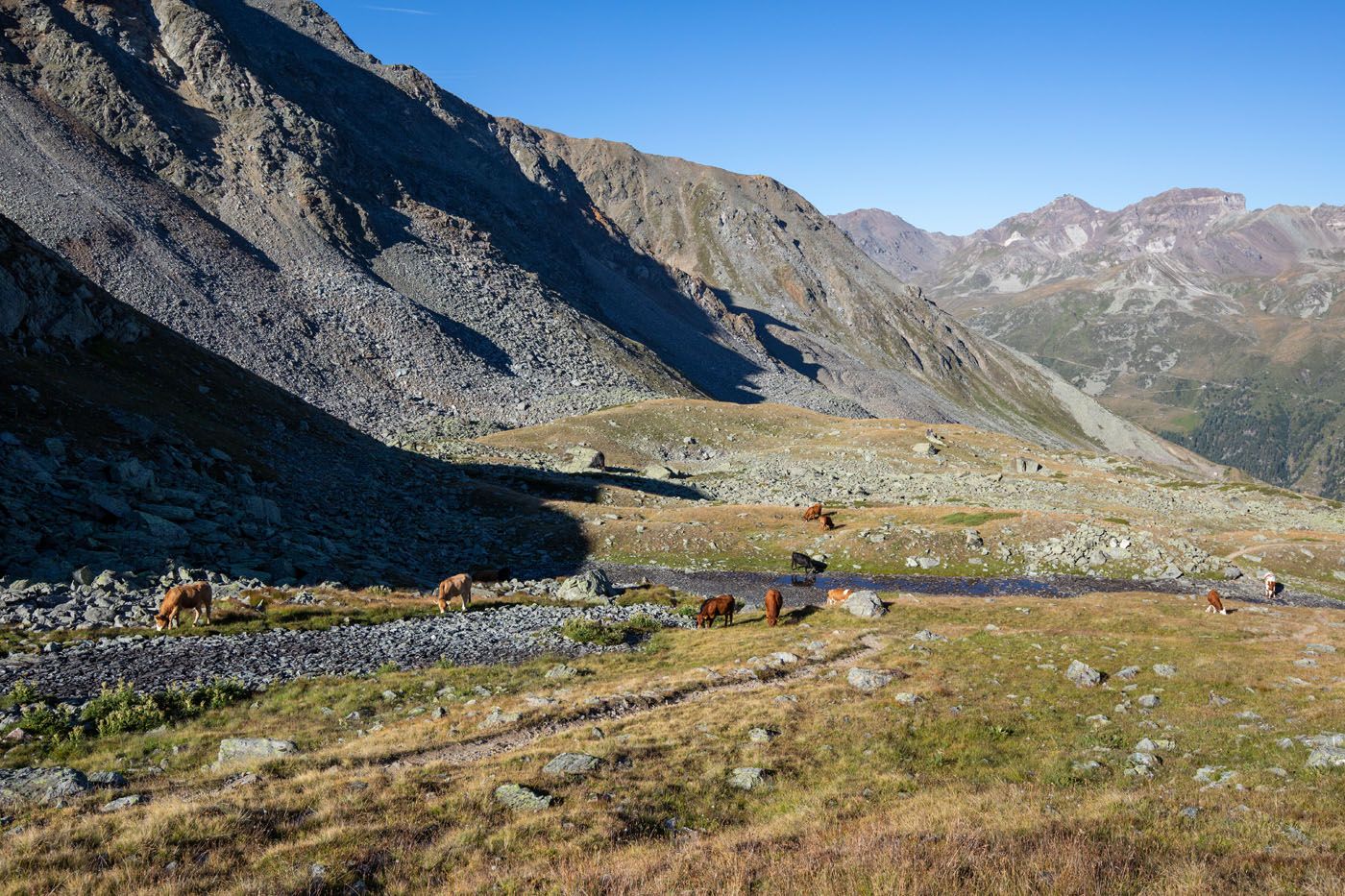 The trail continues on, and you'll notice a few peaks in front of you. Between them lies a mountain pass, the Augstbordpass, which you'll soon be standing on top of. Don't fear if the climb up to the pass seems daunting, as the climb is easier than it looks. The trail will flatten out and be occasionally broken up by some short climbs over rocky hills. As you approach the base of the pass, the mountains above will loom higher and higher above you, yet the climb is shorter than it looks.
You'll follow a rocky path that winds up the mountain. There are sections of the trail that are not well defined, so keep an eye out for the red and white trail markers placed on nearby rocks. The final climb takes roughly 30 minutes, beginning at the base of the mountain pass.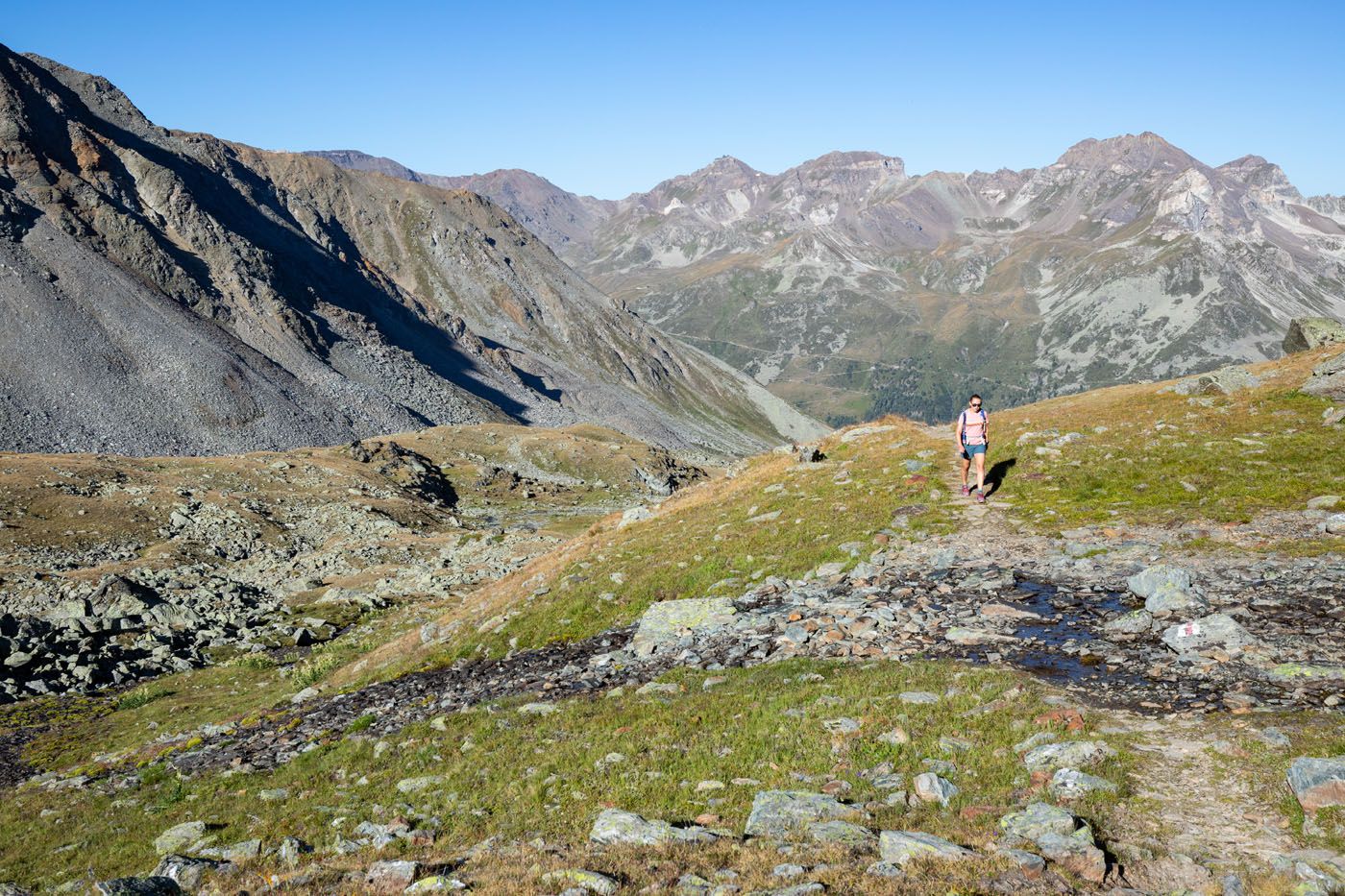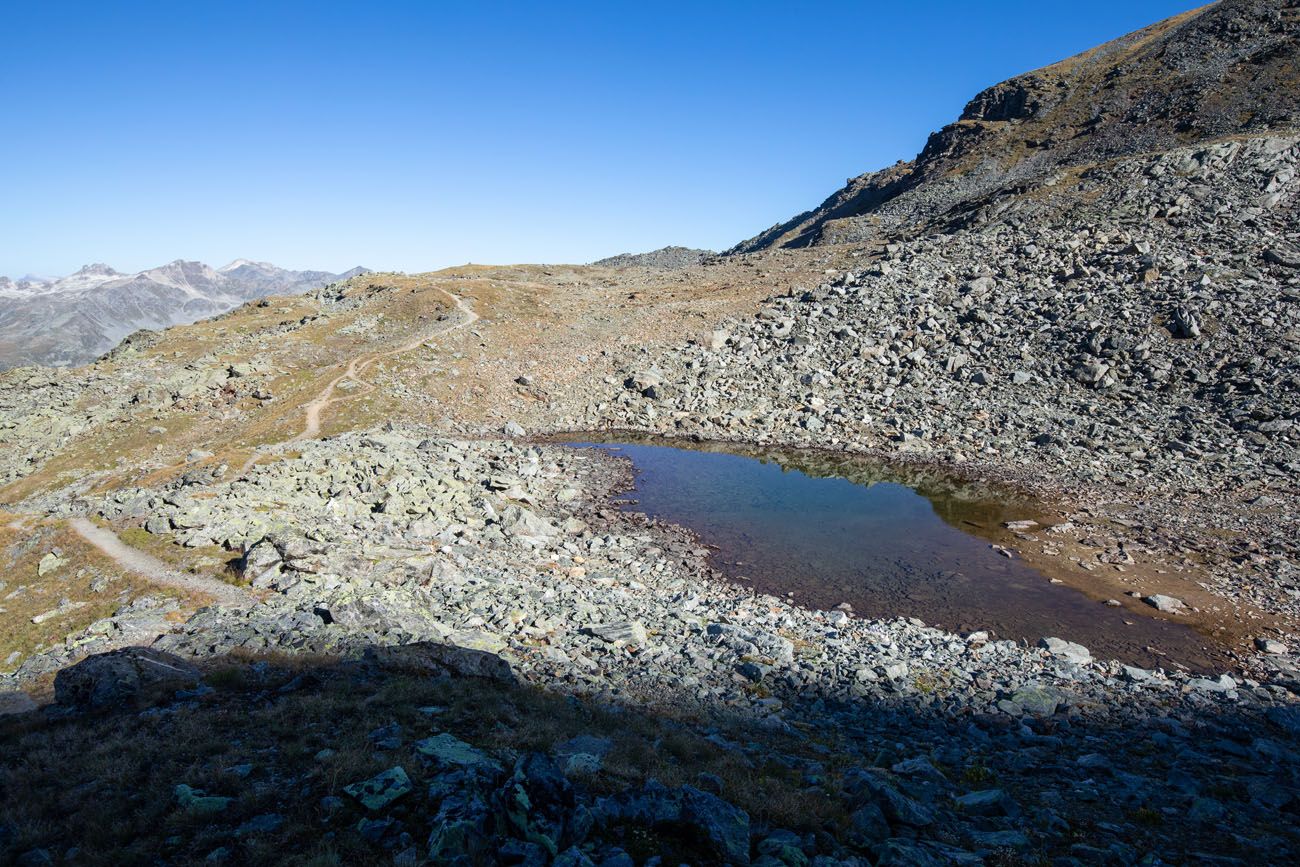 Small lake along the trail.
Once you've made it to the top, enjoy the spectacular views it has to offer! The Augstbordpass is located at 2,894 meters (9,500 feet). From here, it is roughly a 3 hour walk to St. Niklaus.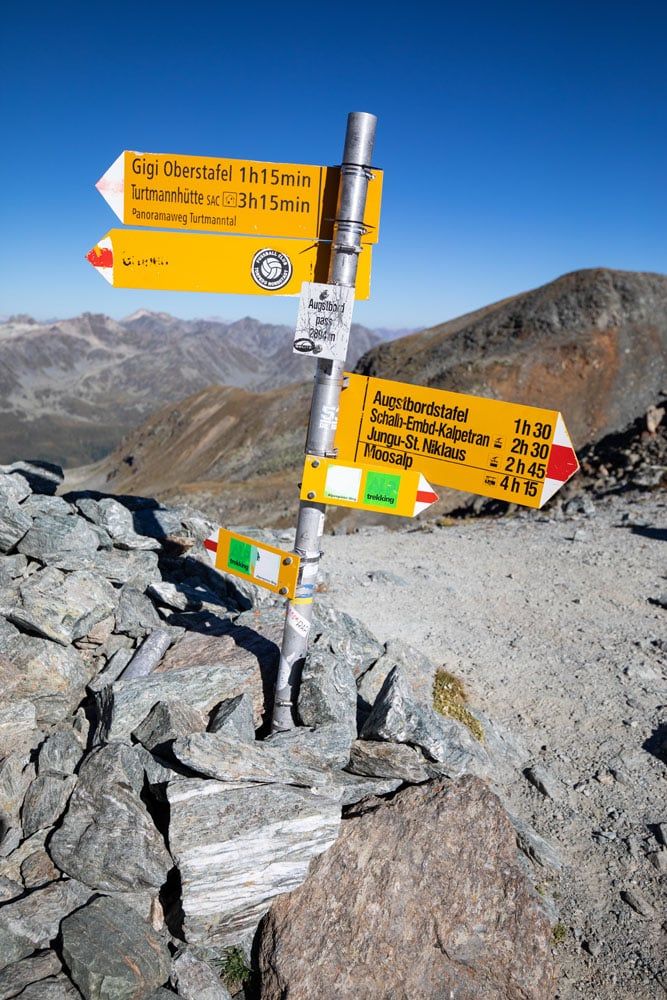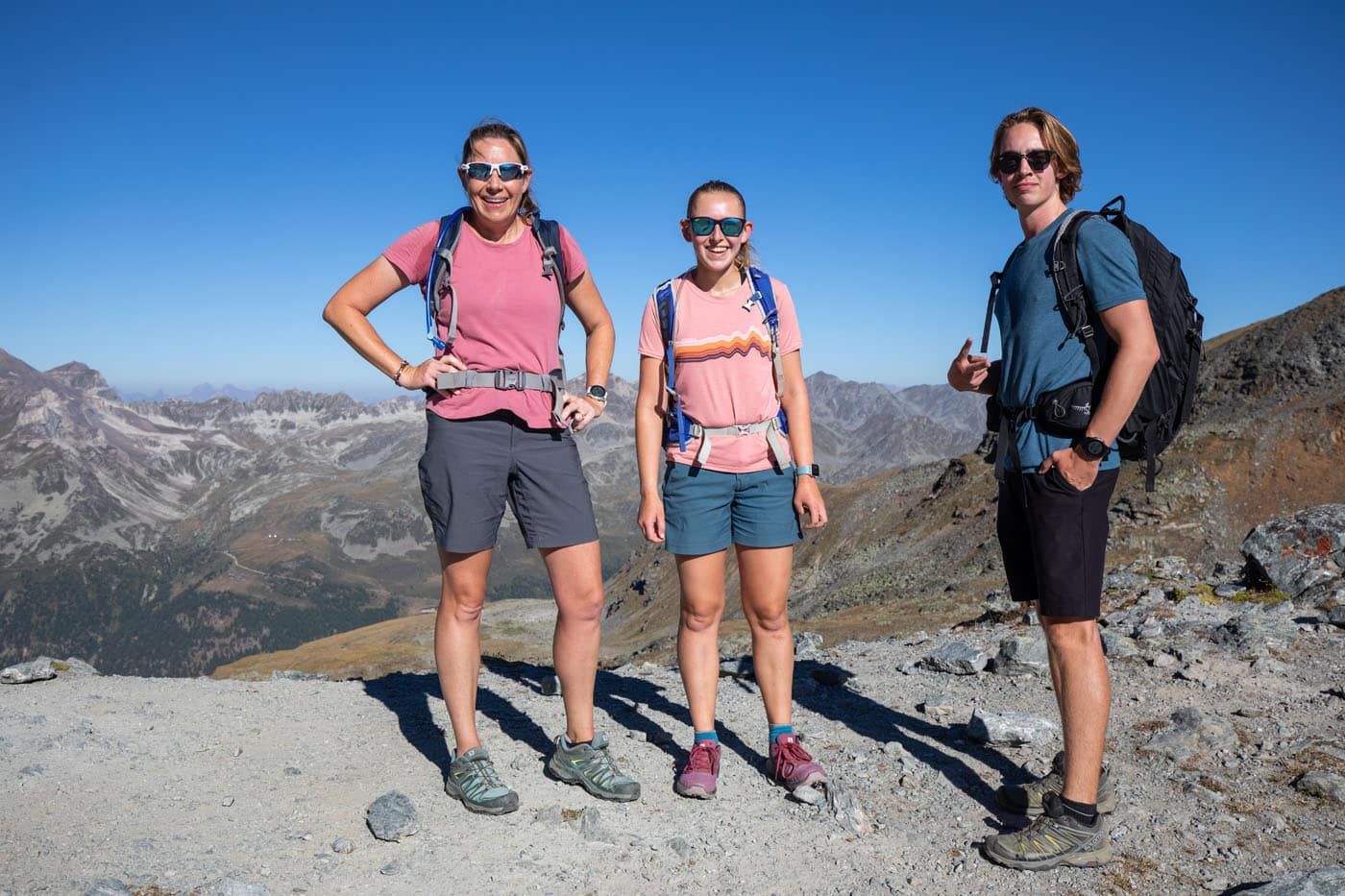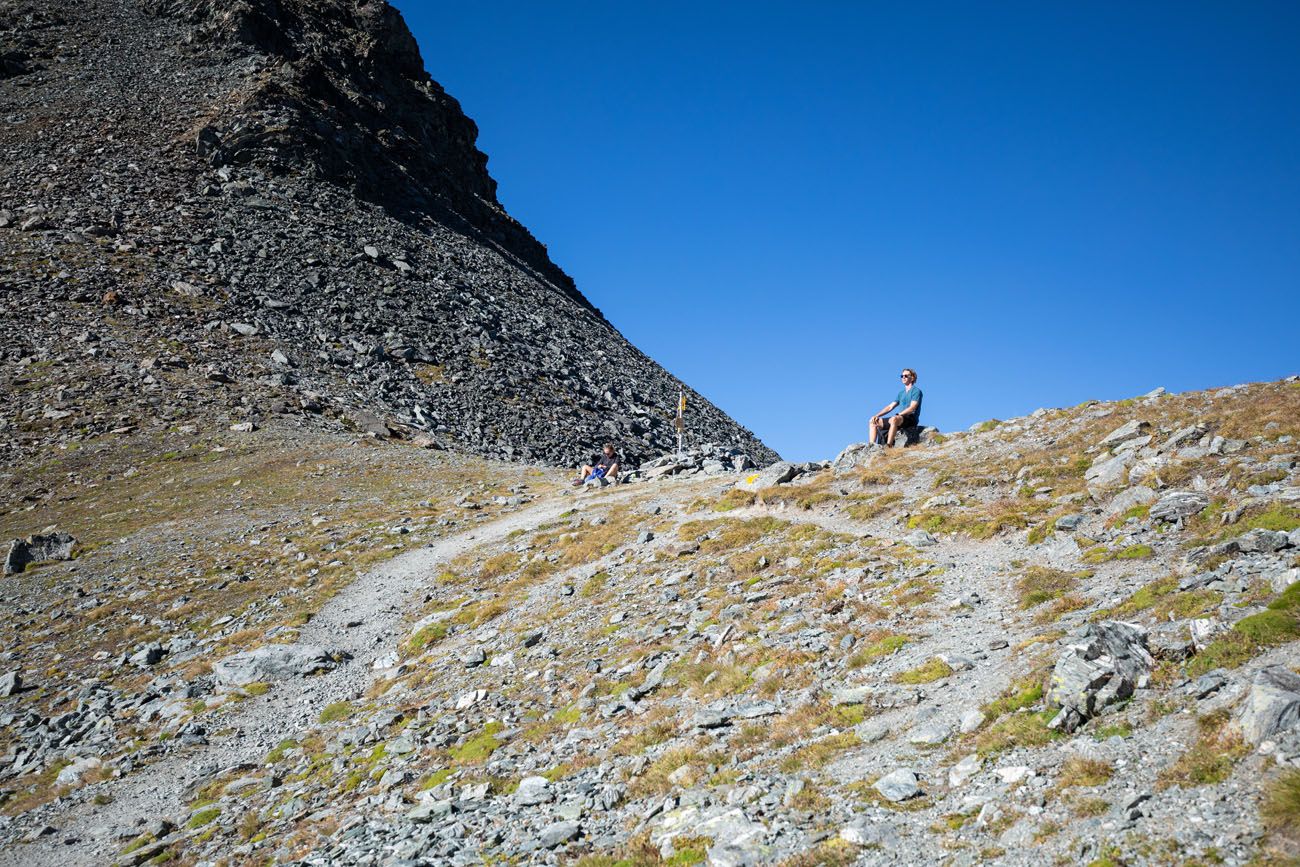 Augstbordpass
Augstbordpass to Jungen
Your descent down to St. Niklaus will be broken up into different, diverse sections. From the Augstbordpass, you will walk along a high mountain plateau. Here the trail occasionally descends pretty steeply along a rocky path. About 2.5 kilometers from the pass, the trail will lead you through a long boulder field (it never seems to end). Watch your footing here as it's difficult to tell if there are any loose rocks.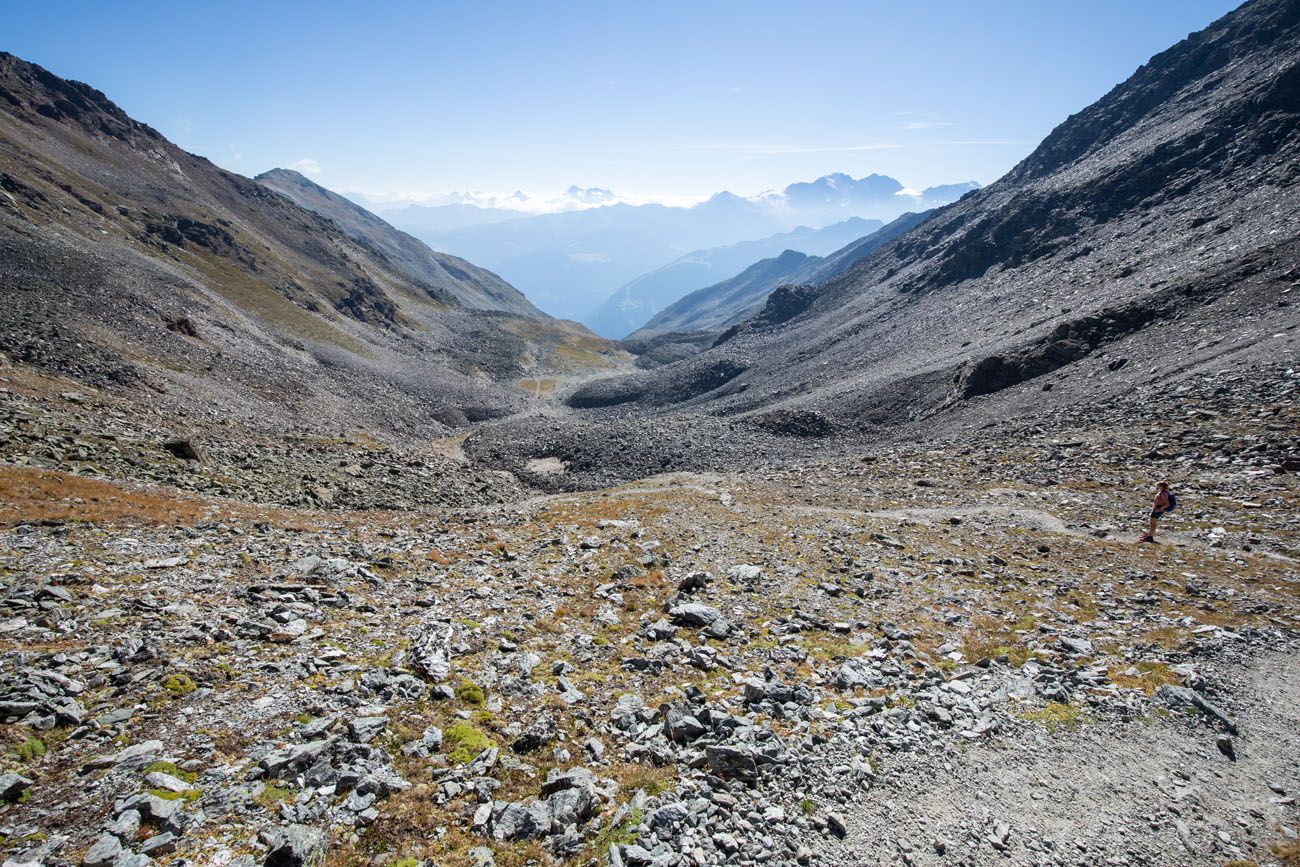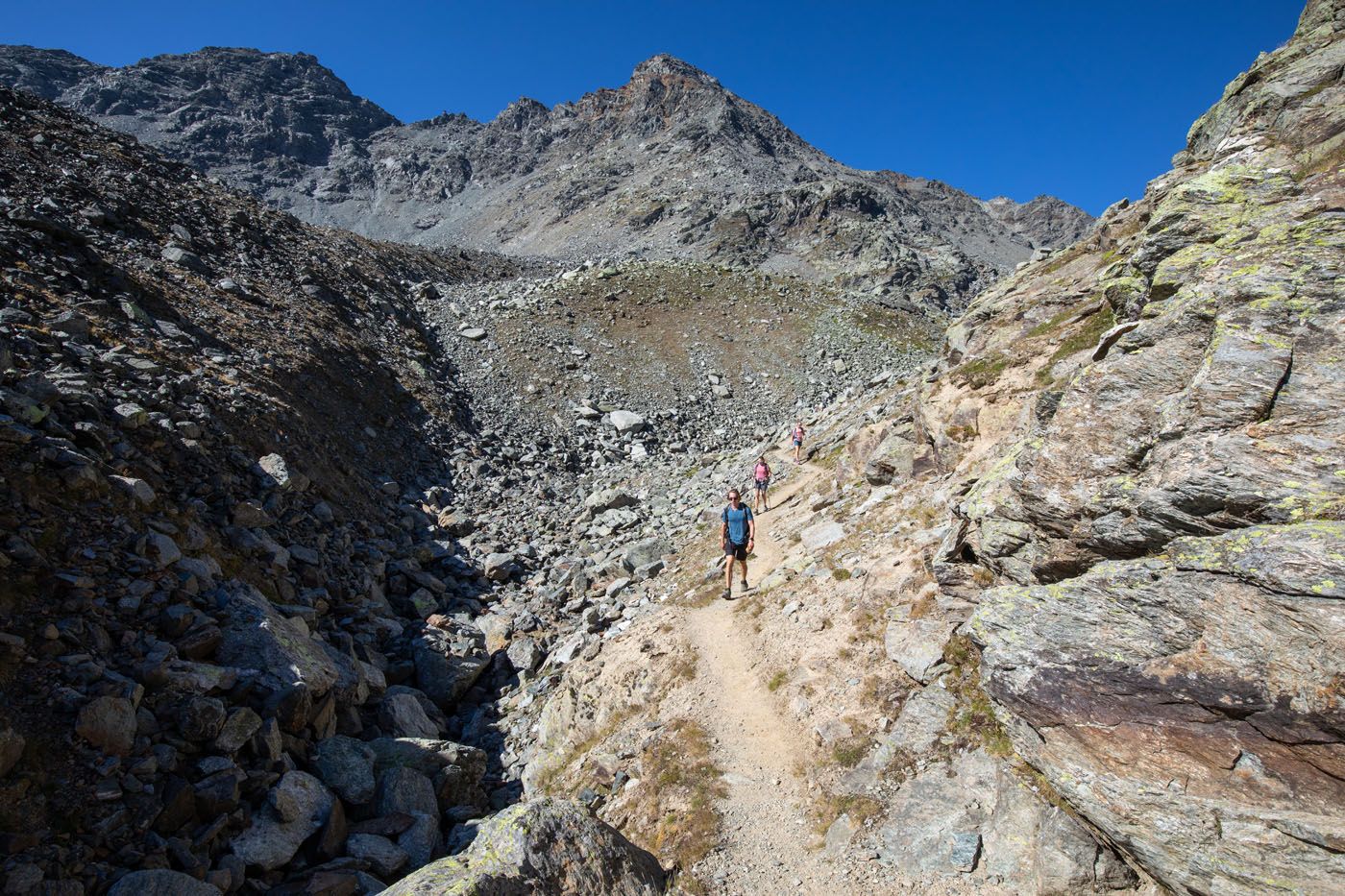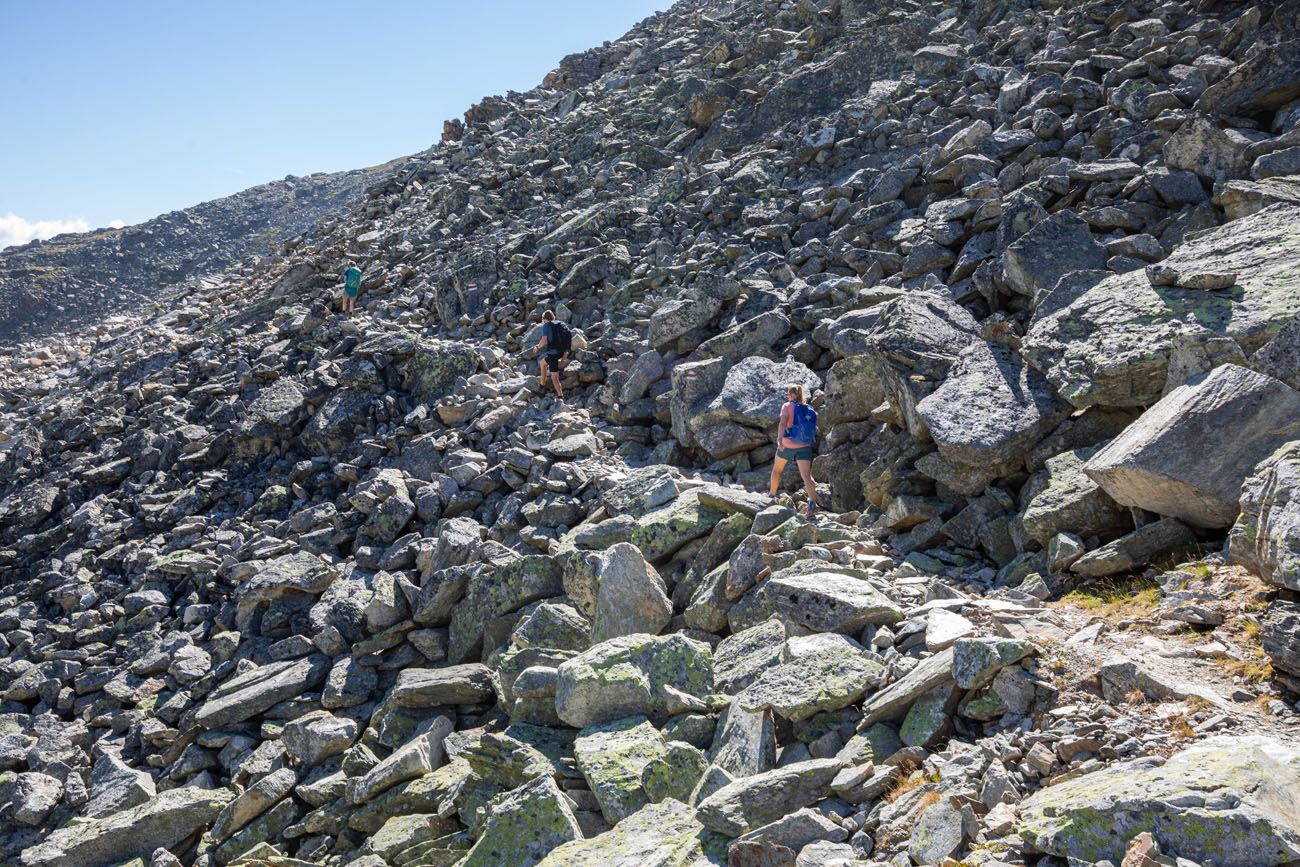 The boulder field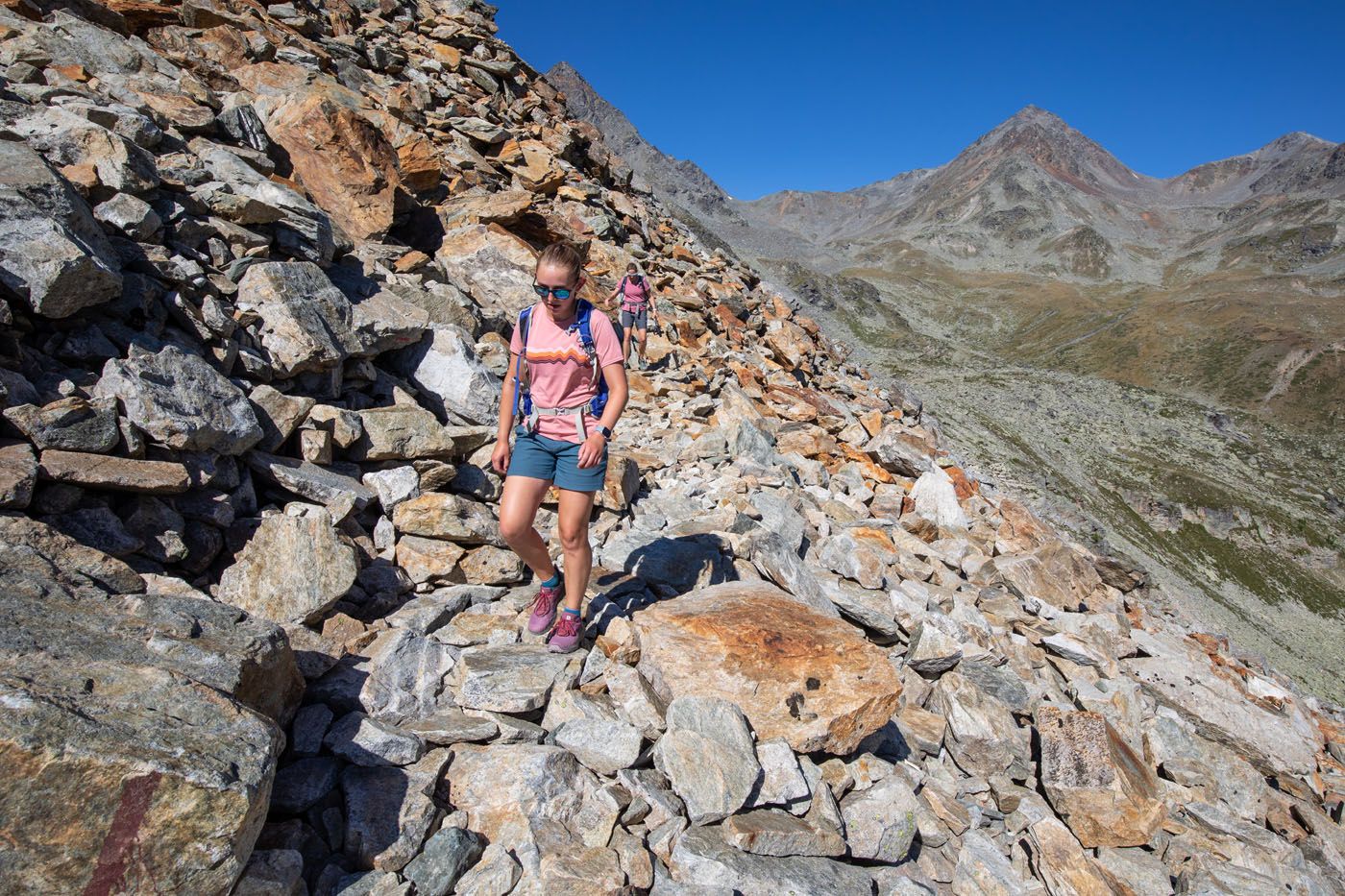 Another view of the boulder field and the Augstbordpass in the distance.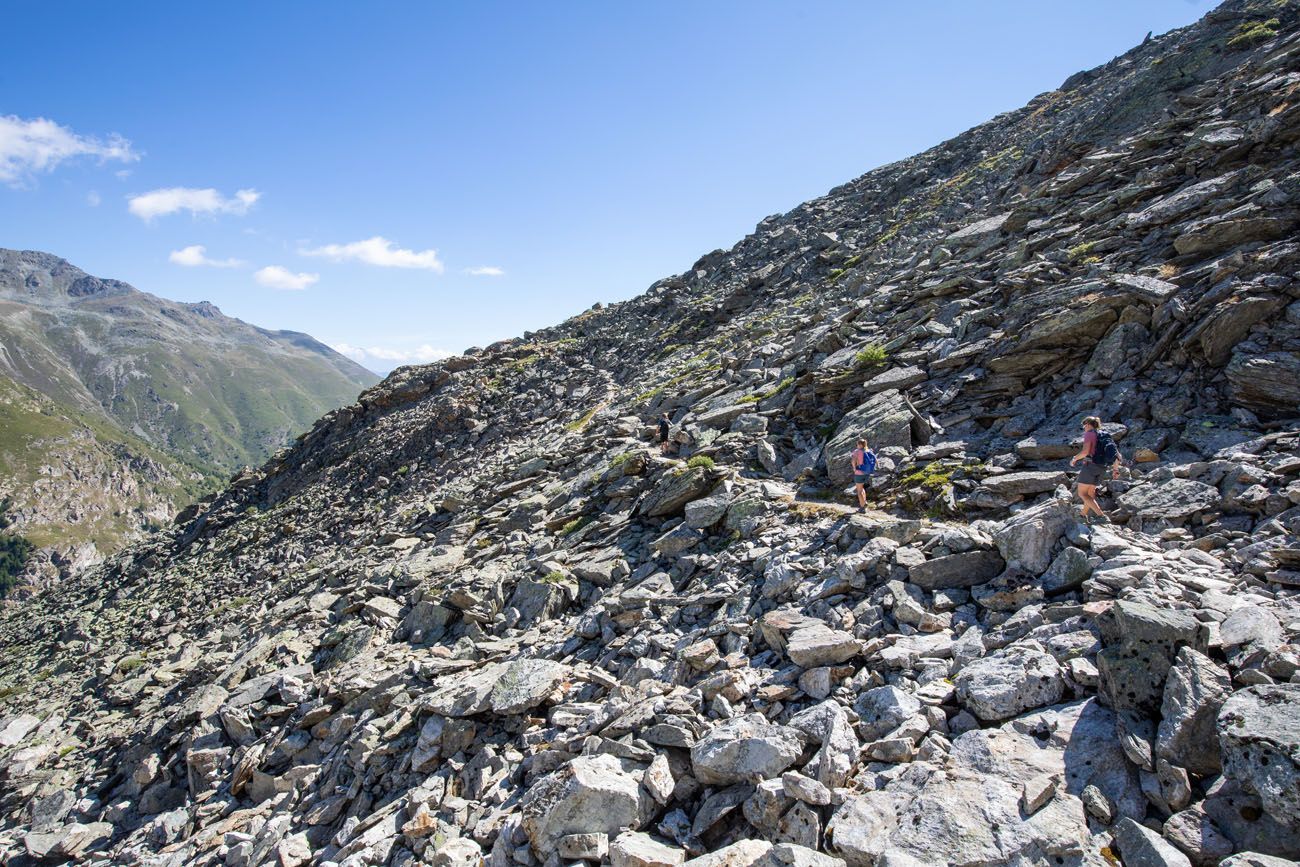 It just keeps going.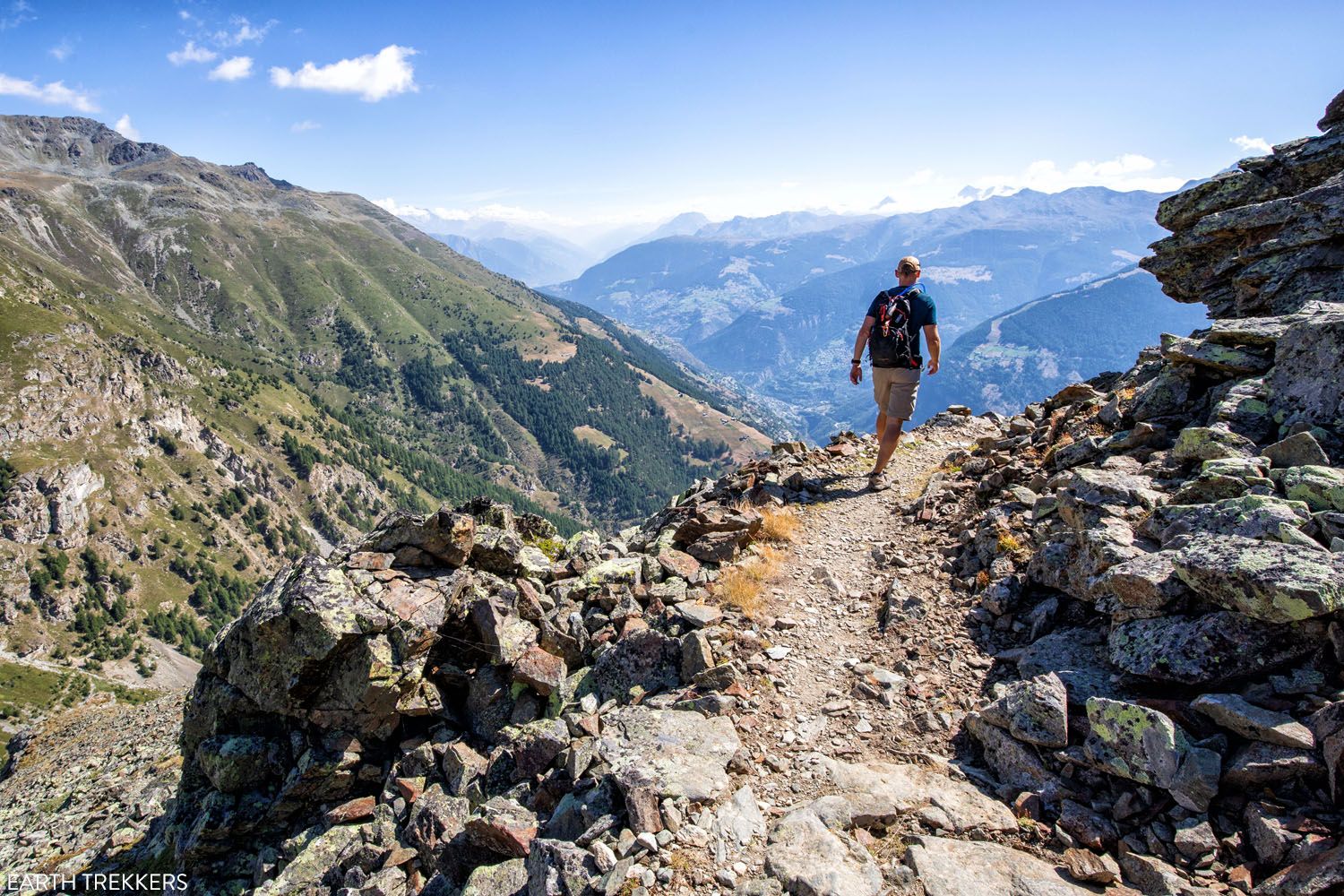 Roughly an hour and a half after departing the col, the trail will wind around the mountainside and open up to views of the Mattertal Valley and surrounding mountains.
We thought this was the best part of Stage 12. These were some of the most impressive views we had on the Haute Route. This is also the same valley where Zermatt is located, although you cannot see Zermatt just yet.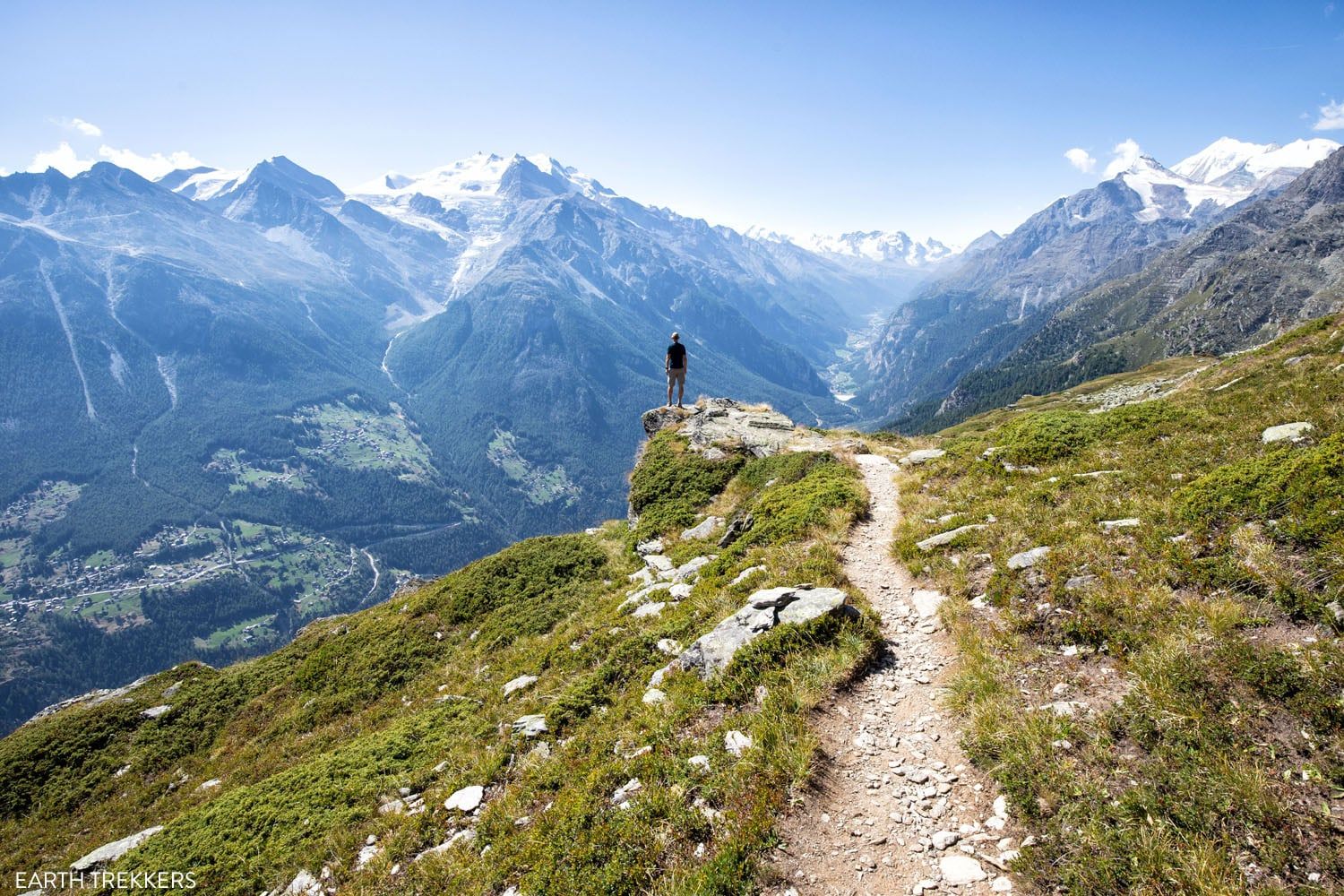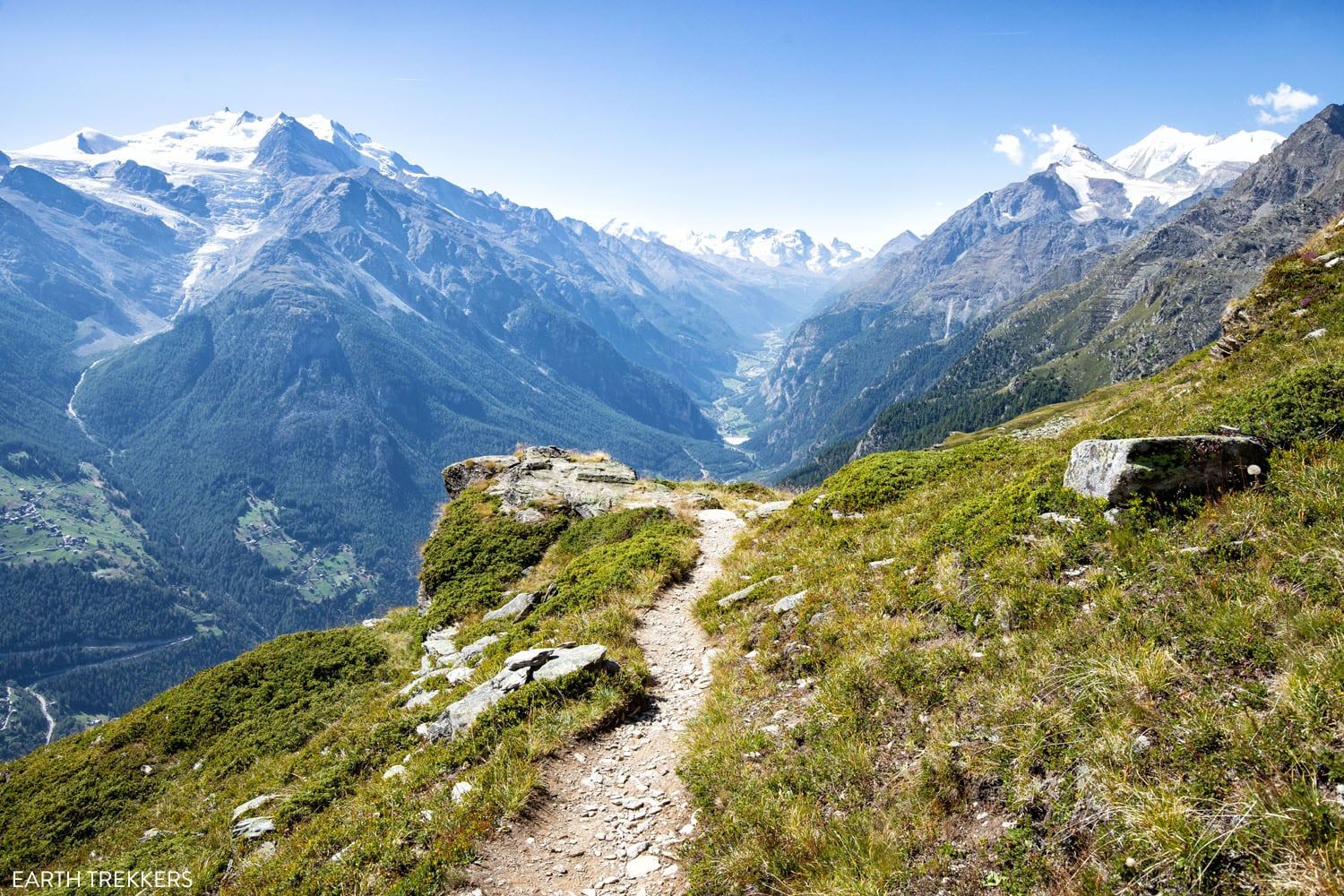 The viewpoint at Twära.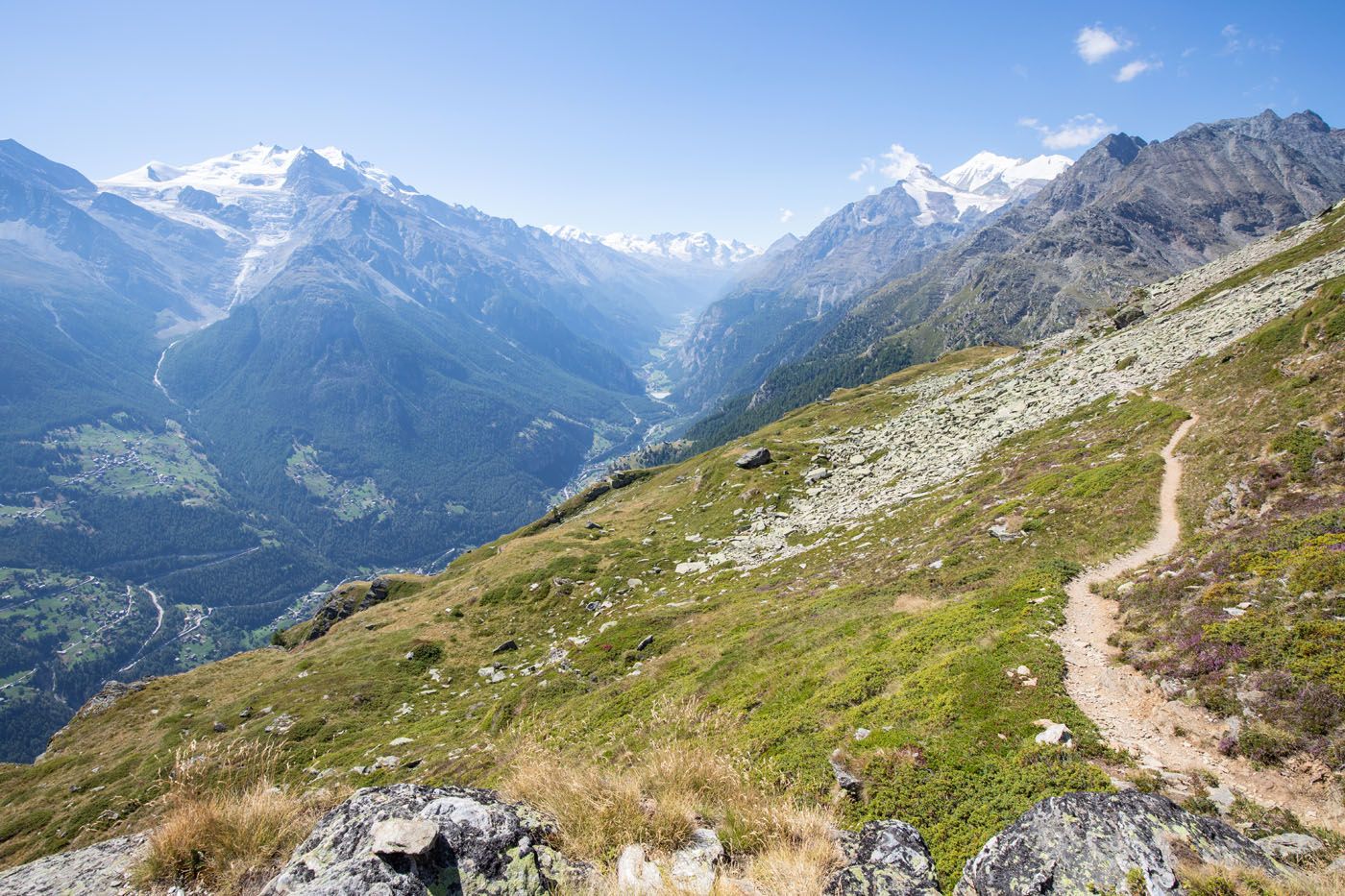 Once the trail turns, you start walking in the direction of the Mattertal Valley.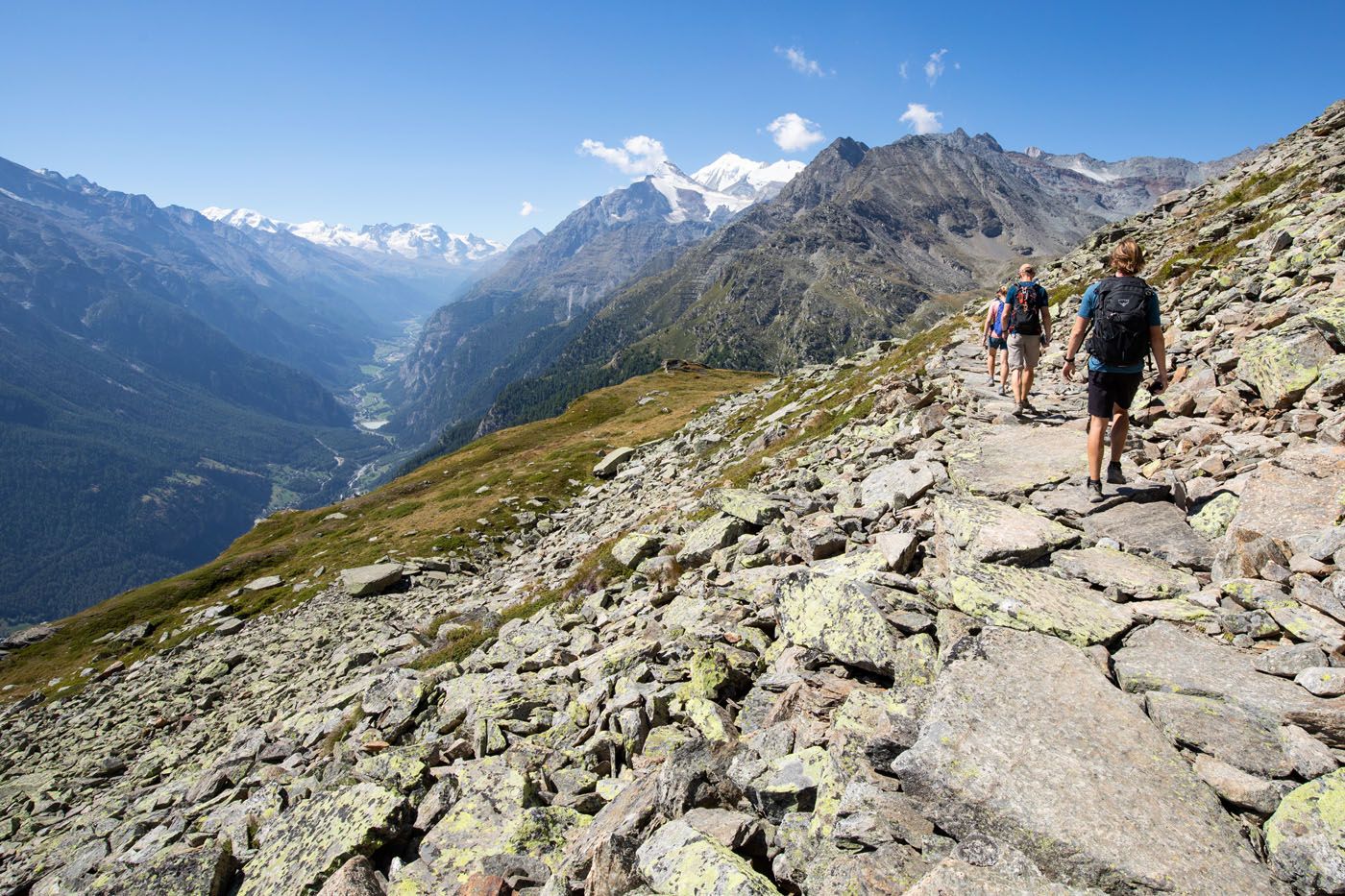 About five minutes after the awesome viewpoint at Twära, the trail will split. Follow signs for Jungen.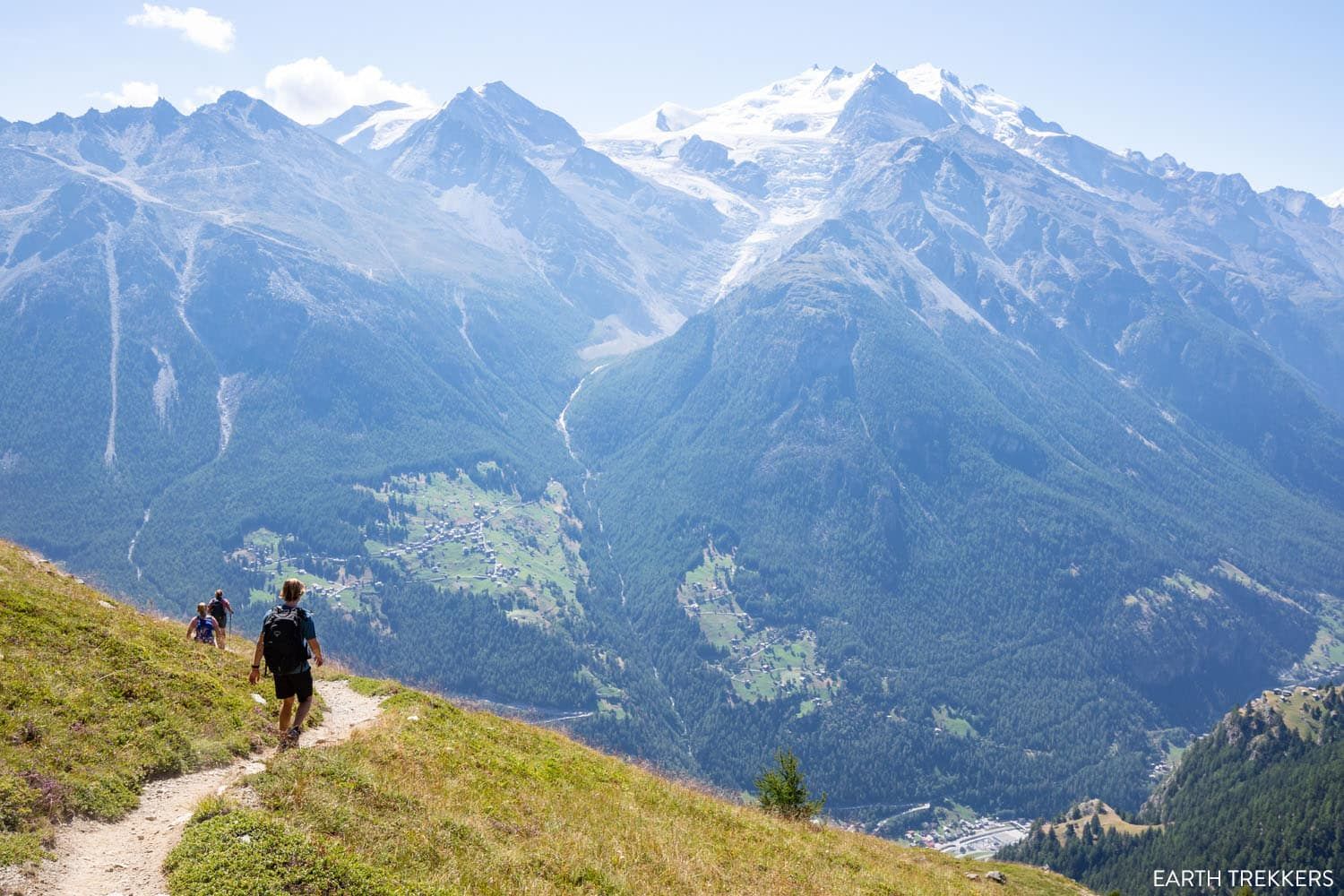 As you hike down to Jungen, the Dom looms over the opposite side of the valley.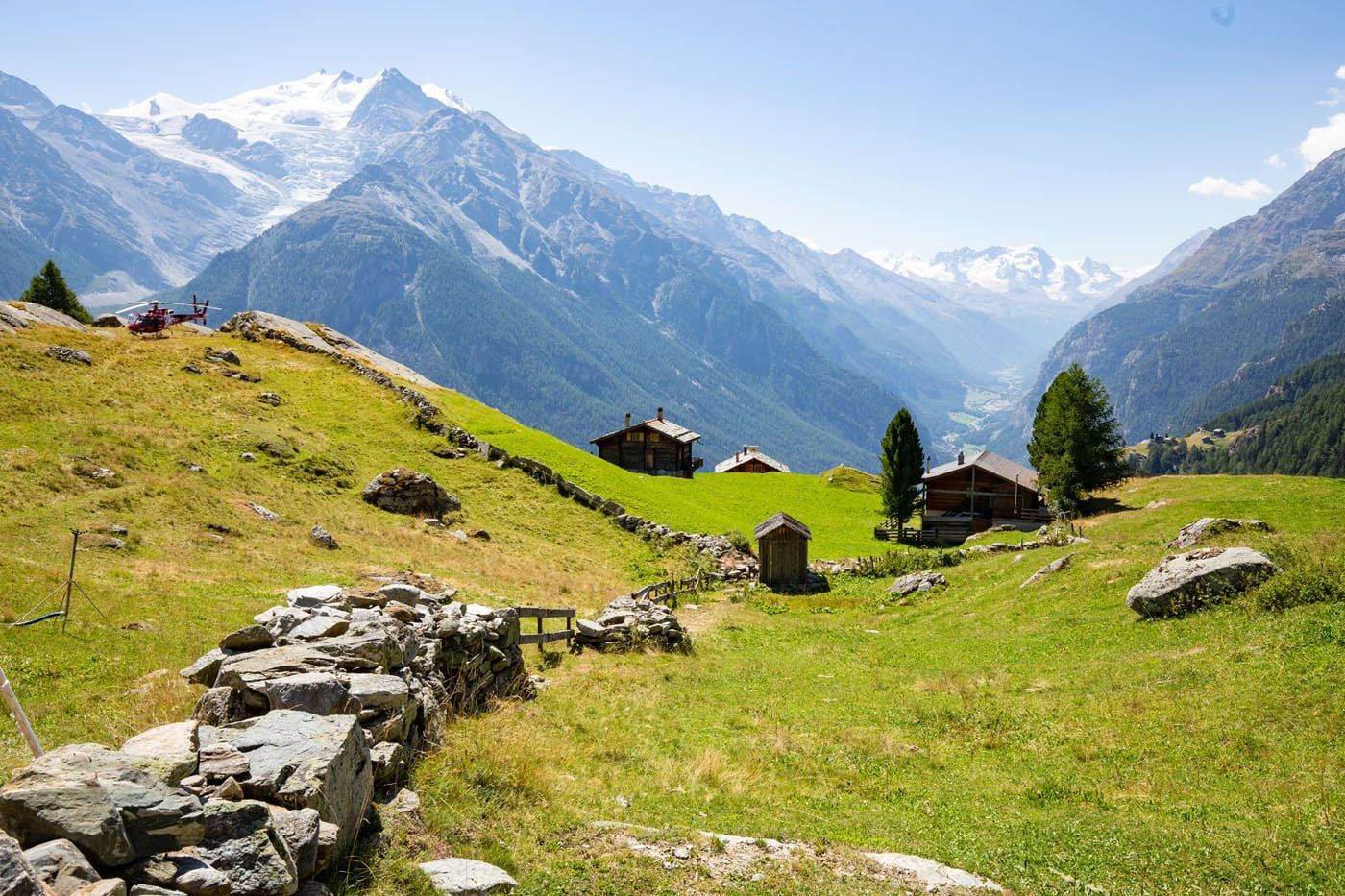 Entering Jungen.
The trail will descend through the trees for about 2.5 kilometers before reaching the hamlet of Jungen. Here you can grab food and enjoy the views of the Mattertal Valley before starting the final section of Stage 12.
As you walk through the hamlet, you may get a good look at life up here. You'll find locals going about their day, working, or maybe even enjoying the views like you.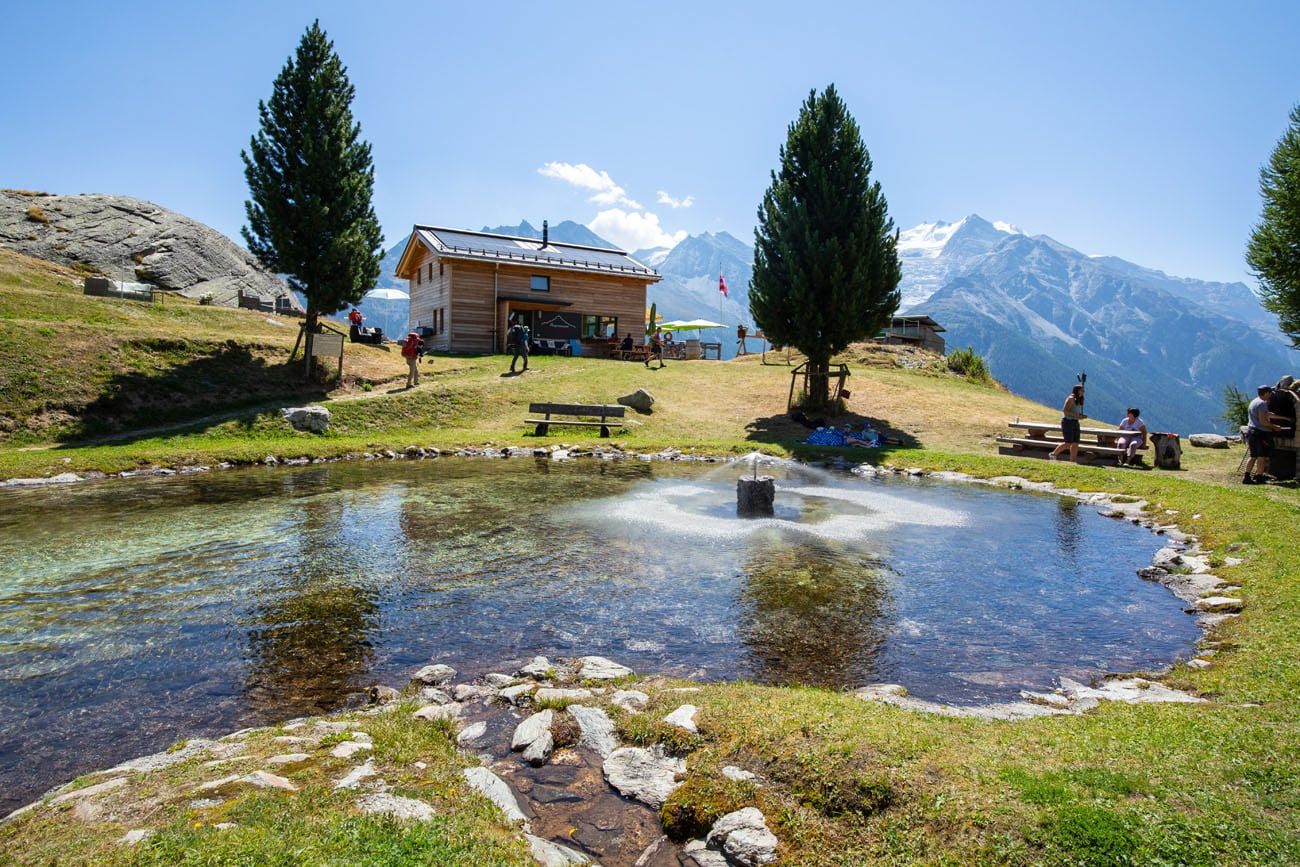 Jungen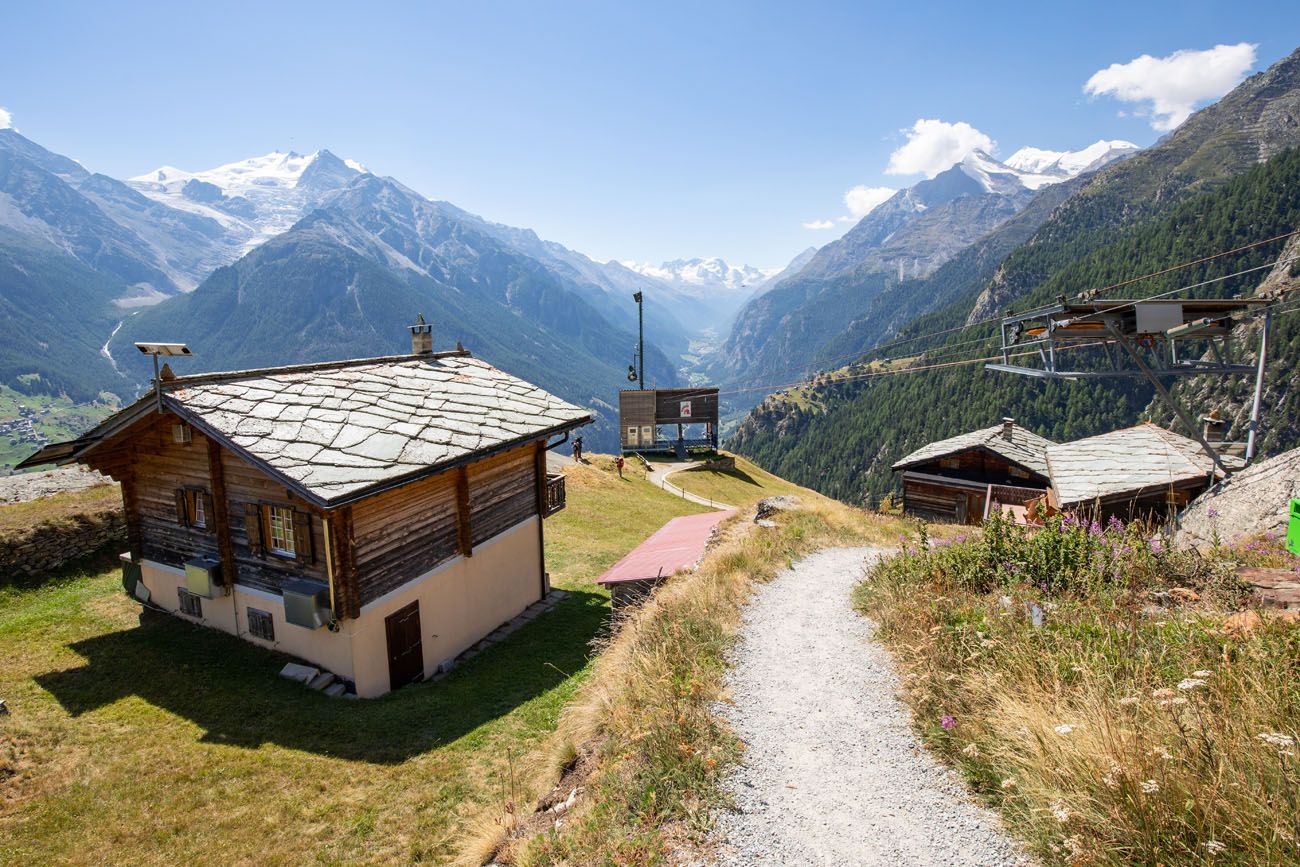 In Jungen there is a cable car that runs to St. Niklaus if you want to skip the massive descent.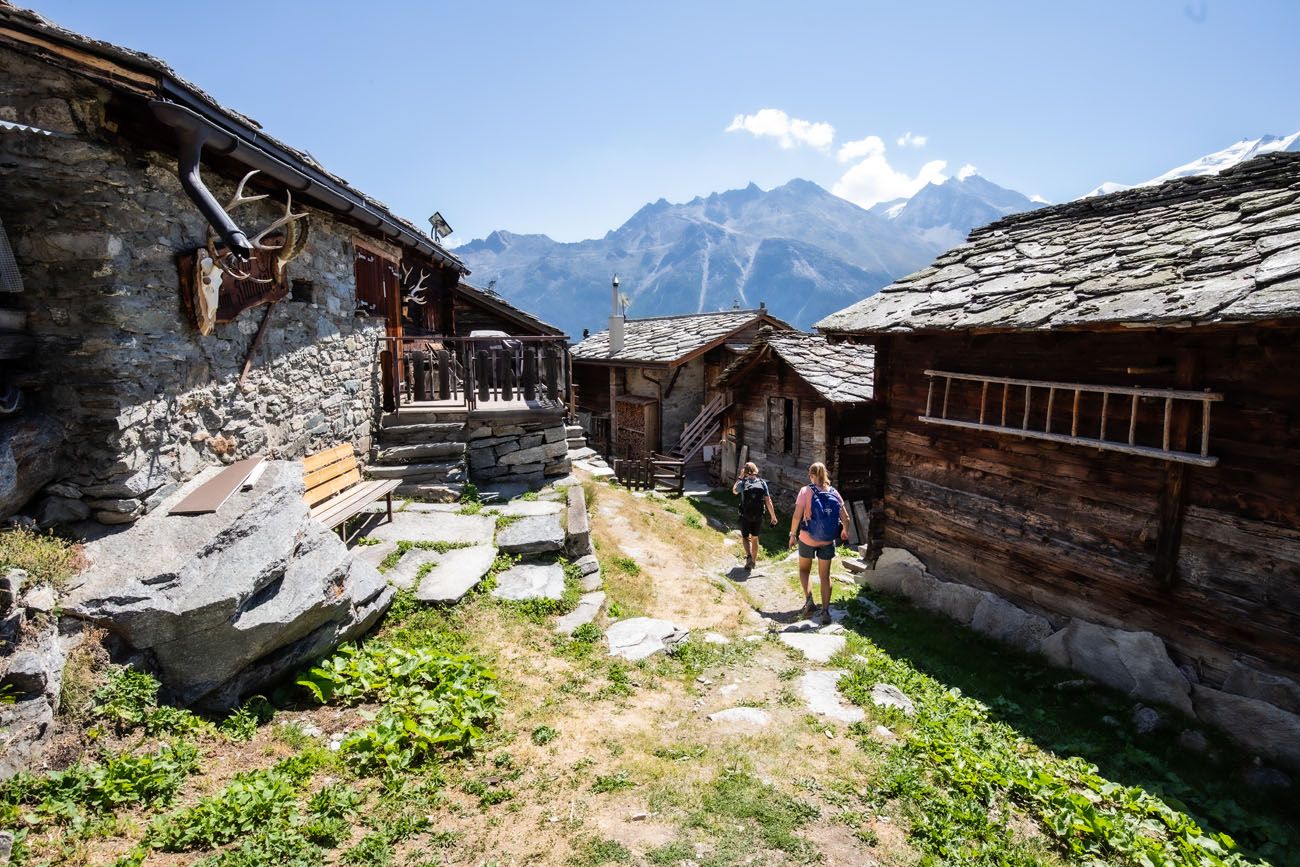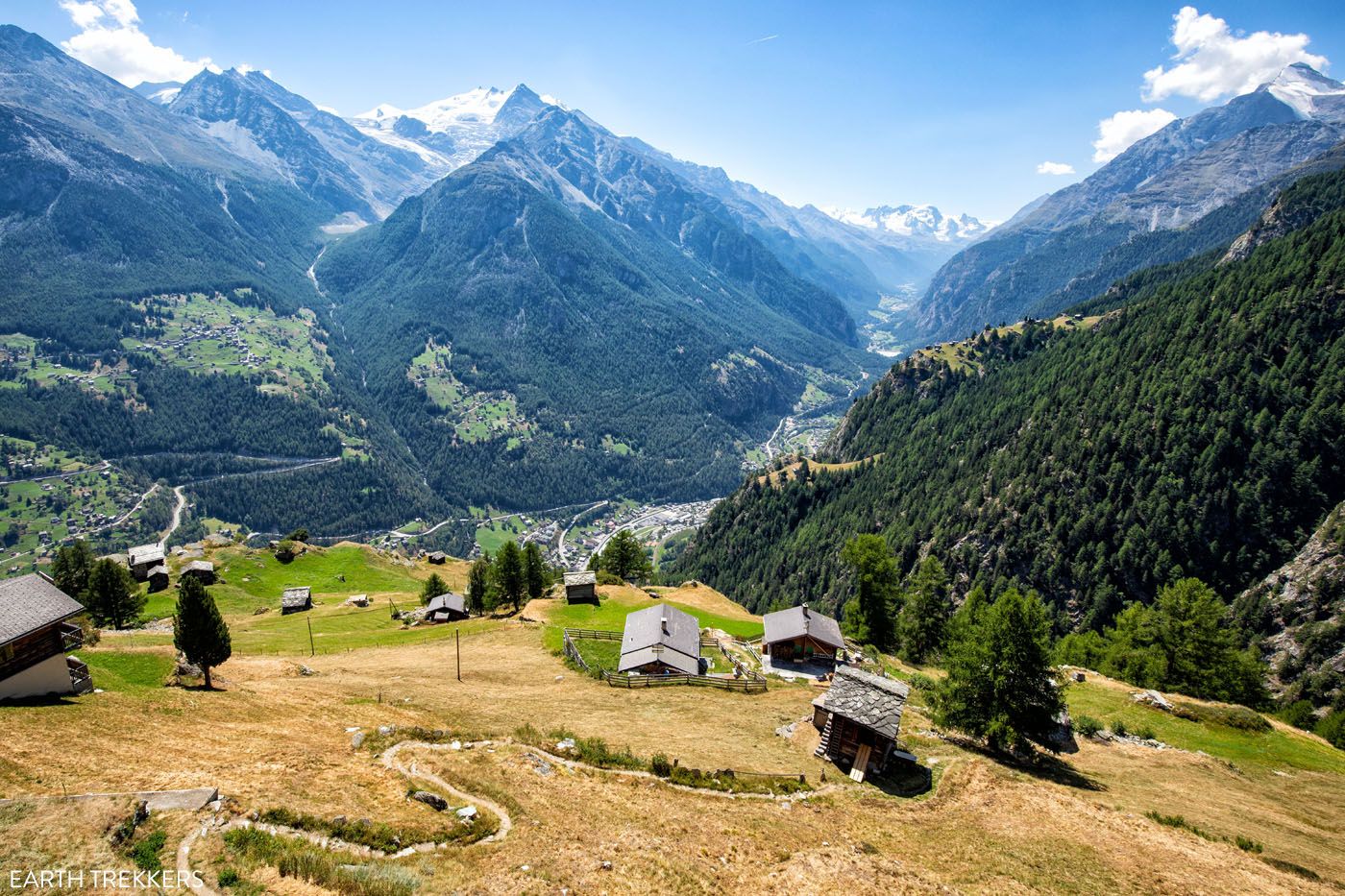 Another photo of Jungen.
Jungen to St. Niklaus
From the base of the hamlet, be prepared for a steep and seemingly never-ending descent down to St. Niklaus. Over the next 4 kilometers you'll descend roughly 800 meters (2,600 feet) on a dirt trail that winds through the forest below. You won't have any impressive views from here but you will come across many small white chapels.
PRO HIKING TIP: At this stage of the Haute Route, long descents like these were adding a lot of strain on our knees. We recommend getting a pair of hiking poles to help reduce the strain and knee pain on steep descents. You can skip this descent by riding the cable car from Jungen to St. Niklaus.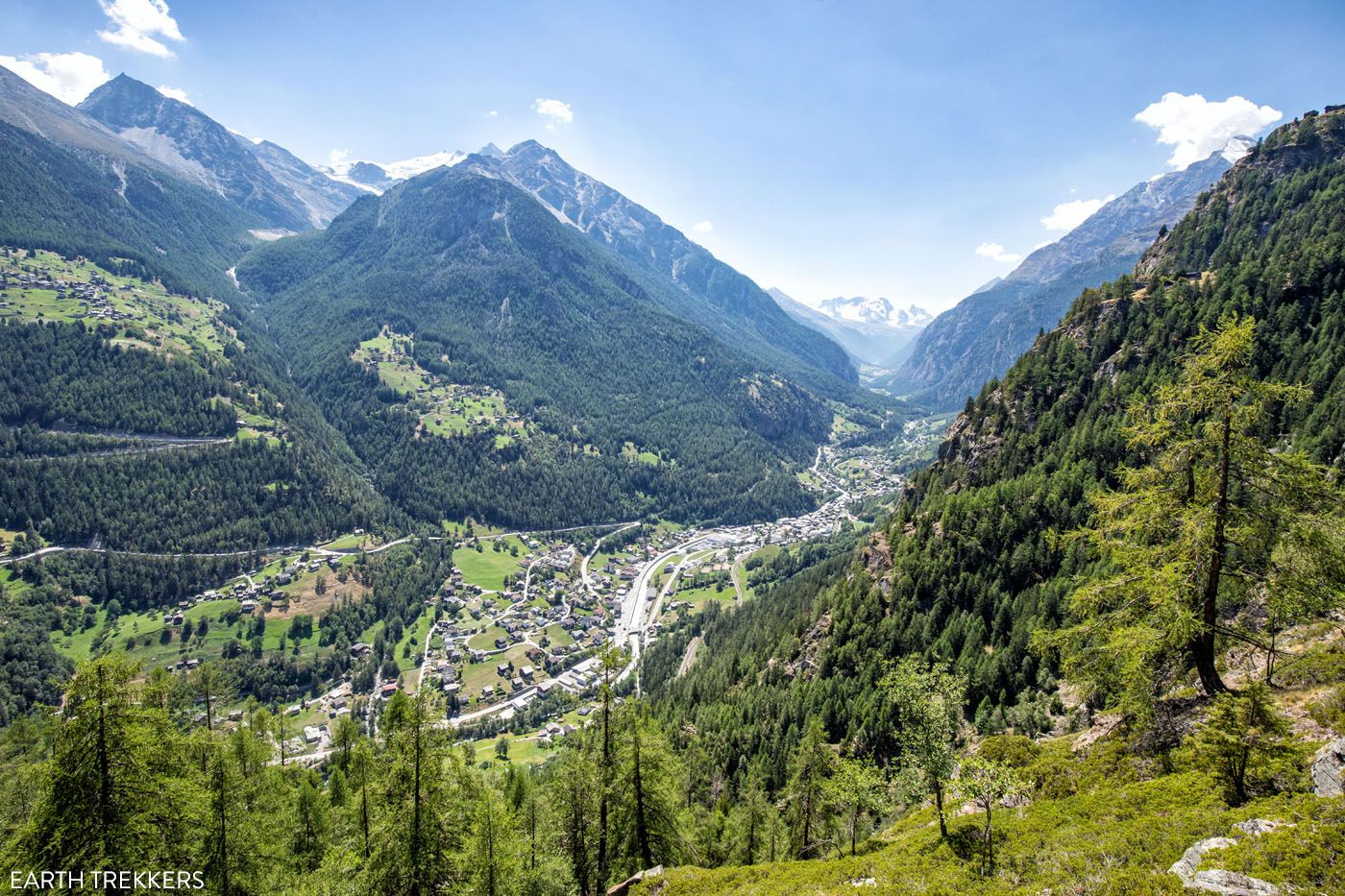 View of St. Niklaus and the valley.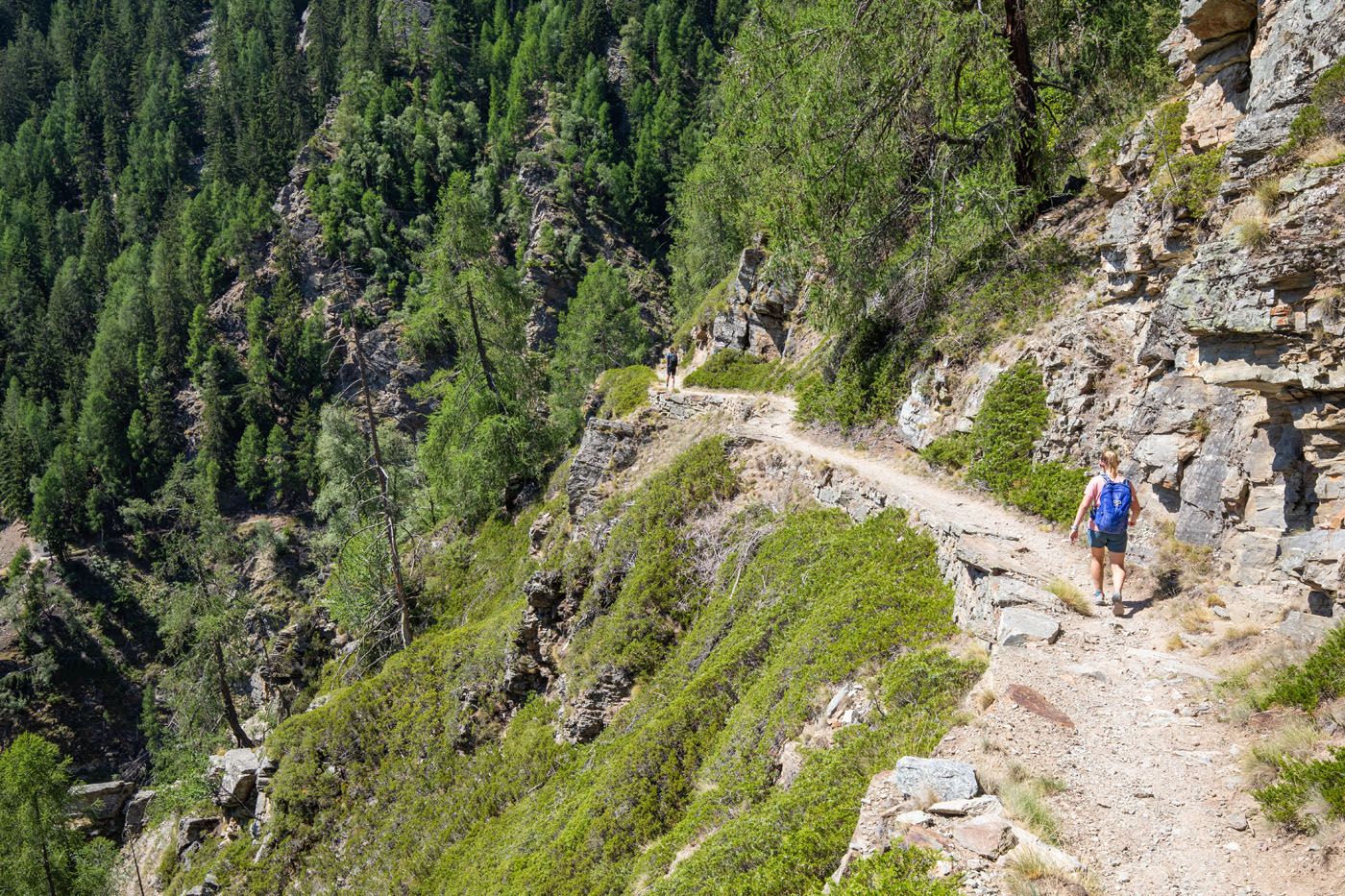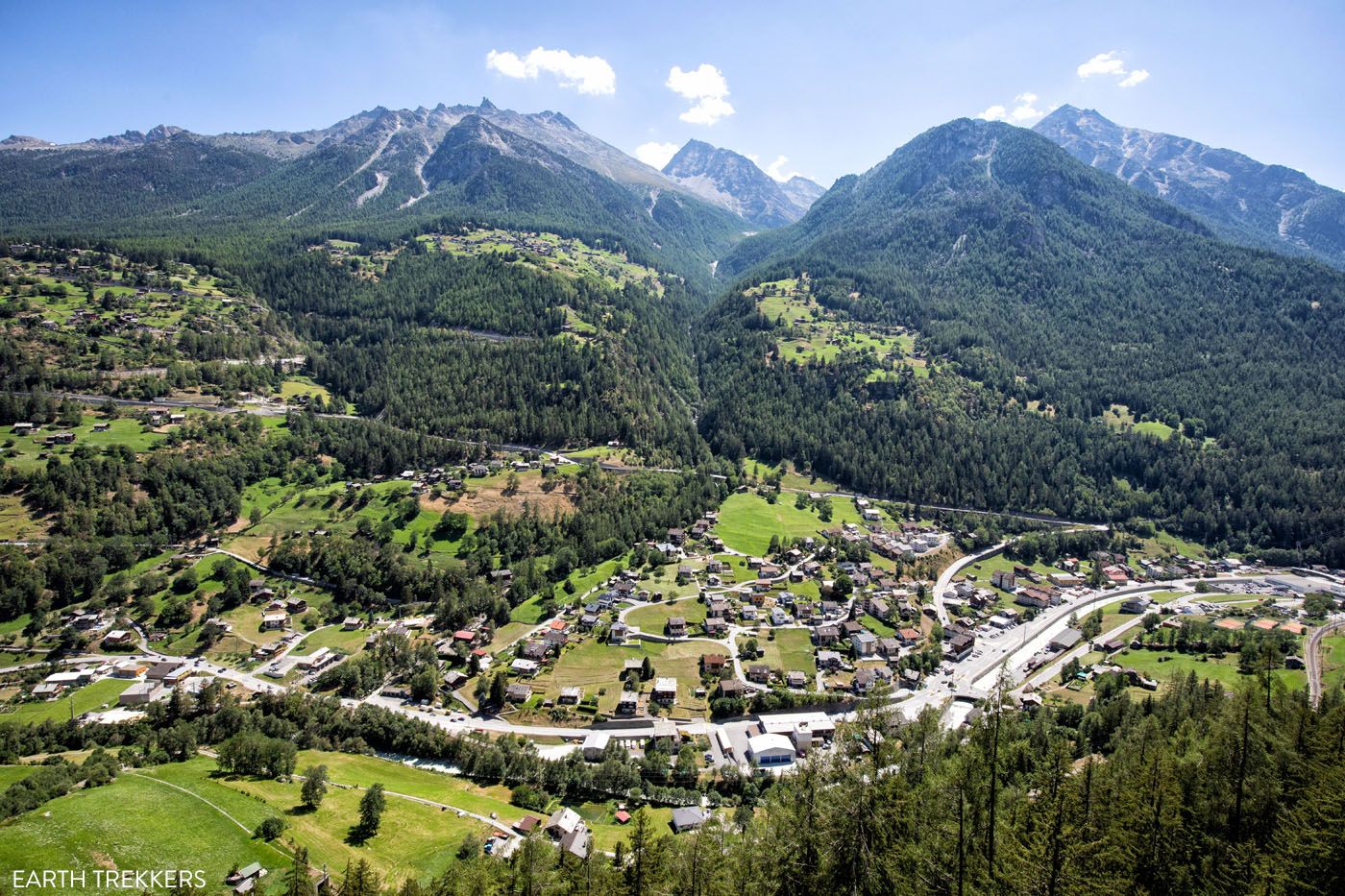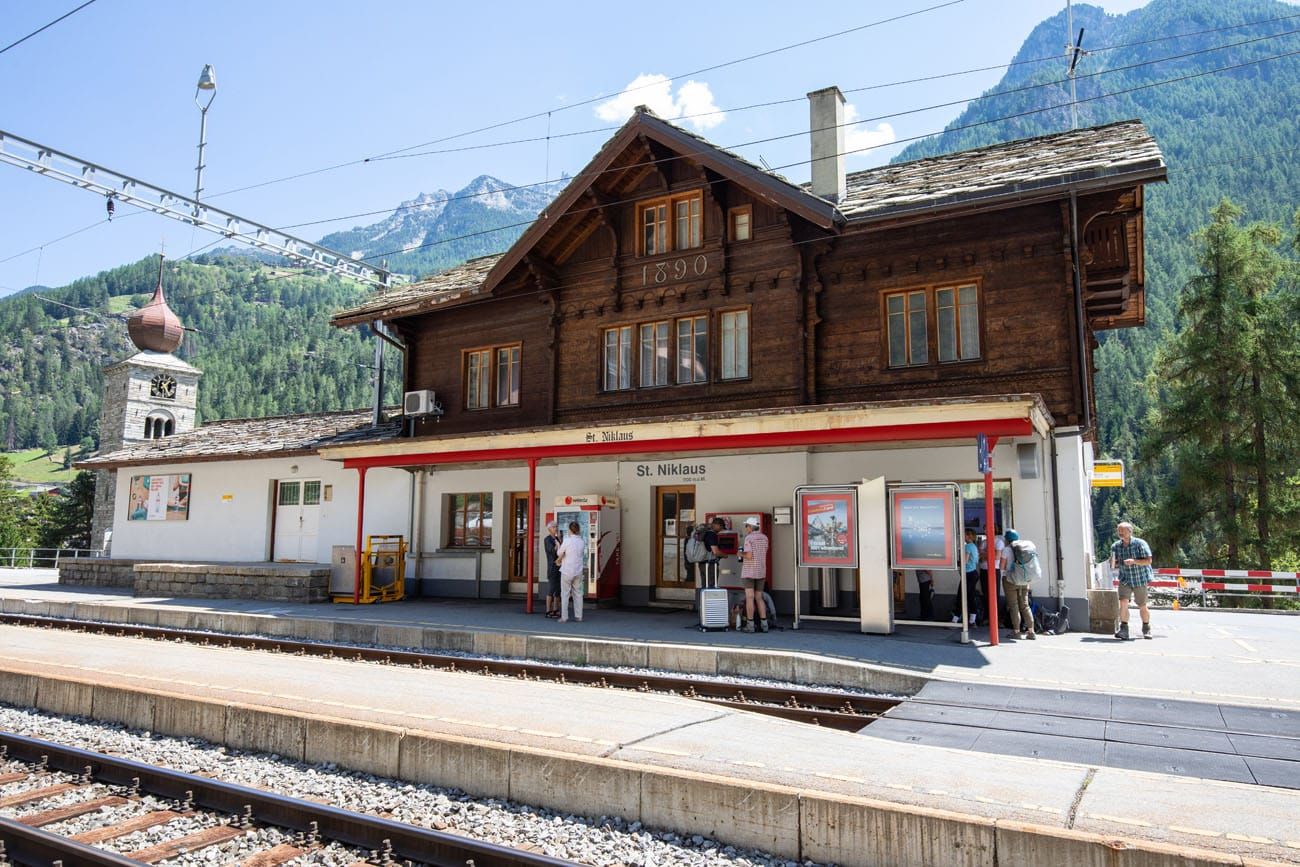 St. Niklaus Train Station
By the time we reached St. Niklaus, we were hot, exhausted, and very hungry. We trudged through town and then we scarfed down plates of rosti at Monte-Rosa.
Where We Stayed
We stayed in Hotel Heimatlodge for the night in St. Niklaus and absolutely loved it. We booked two double rooms and this ended up being one of our favorite stays along the Haute Route. Being both clean and comfortable, we were almost hesitant to leave the following morning.
We aren't sure for what reason, but the town itself felt deserted the day we were there. Most restaurants were closed and hardly anyone was seen walking around town. We were in St. Niklaus on a Wednesday, so maybe there was a holiday or the town is usually like this?
Clarifications for the Walkers Haute Route Book
We were able to follow the Walker's Haute Book by Kev Reynolds (the sixth edition from 2019; there is now an updated version) without ever needing to backtrack. But there were a few times during this stage we felt a little more clarification would have helped so we are providing that clarification here based on our experience. These notes were taken related to following Stage 12: Gruben to Augstbordpass to St Niklaus.
Hotel Schwarzhorn to Ober Gruobu Stafel:
On the way to Gruobualp we passed a Wanderweg sign which we followed since it was pointing up the hill. We then passed a Neue Strasse sign which we ignored and kept going straight. We then passed a water trough. And we finally reached the four-way path junction of Gruobualp. The signpost didn't state Gruobualp or have the elevation (2151m) on it, but it did point to St Niklaus which is the direction to follow.
The book mentions that at Gruobualp the Turtmann Hut is in a different direction than St Niklaus, but the signpost here indicates they are both in the same direction. There is another signpost about 15 minutes later (2270m) where the direction for Turtmann Hut and St Niklaus split. Follow this sign towards St Niklaus.
Gruobtalli: As you walk along the stream you will see a sign pointing to Turtmann Hut. Ignore this and keep going in the same direction you were going.
Huge flat slabs: The book mentions "Beyond the viewpoint the route follows a paved mule-path for a short distance on huge flat slabs, before you descend steeply on a footpath …". After crossing the huge flat slabs, start looking for a signpost pointing to Jungen which you want to follow. This is the steeply descending footpath that the book mentions.
Jungen:
There is a restaurant above the gondola station.
There is a water trough on the path through Jungen between the gondola station and the chapel.
There are signposts throughout Jungen pointing in the direction of St Niklaus, which you want to follow.
More Information about the Haute Route
In our Walker's Haute Route Planning Guide, we have links to all of our articles about the Walker's Haute Route, including information about each stage, how to plan your trek, what to expect, and more.
For an overview of all 14 stages of the Walker's Haute Route, with overall hiking stats, map, elevation profile, and lists of the most difficult stages, easiest stages, and our personal favorites, check out our Guide to the Walker's Haute Route Stages.
Stages of the Haute Route: Below are our guides to each stage of the Haute Route.
---
If you have any questions about how to hike the Haute Route Stage 12, or if you want to share your experience, let us know in the comment section below.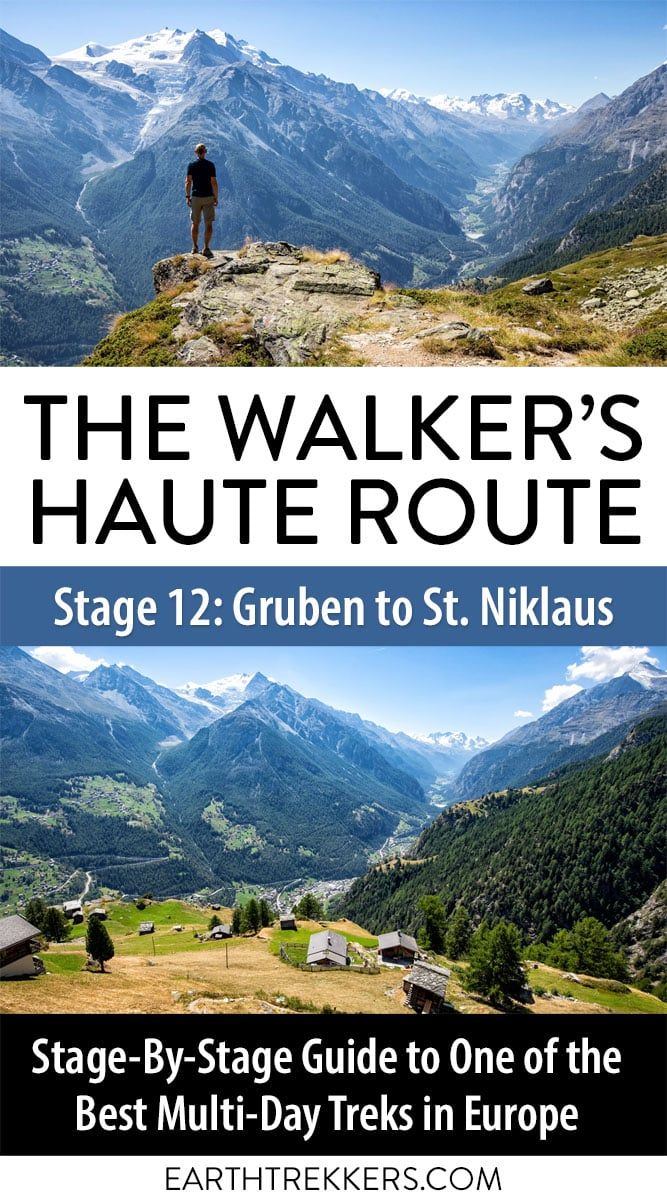 Note: This post contains affiliate links. When you make a purchase using one of these affiliate links, we get paid a small commission at no extra cost to you.
All rights reserved © Earth Trekkers. Republishing this article and/or any of its contents (text, photography, etc.), in whole or in part, is strictly prohibited.