Stage 1 of the Walker's Haute Route is the shortest, easiest day of the entire trek. It's a mostly flat walk between Chamonix and Argentière and for most of this stage, you are either walking through town or through an evergreen forest.
If you spent any time in Chamonix or Argentière prior to starting this trek, as we did, you'll most likely find this stage to be the least exciting of the Haute Route. In fact, some people skip it altogether.
Since this stage is so short, you can do what we did, and combine stage 1 and stage 2 into one big day.
Walker's Haute Route Stage 1 Hiking Stats
Distance: 9 km (5.6 miles)
Difficulty: Easy
Total Ascent: 315 m (1030 feet)
Total Descent: 100 m (325 feet)
Lowest Elevation: 1,040 m (3,415 feet)
Highest Elevation: 1,300 m (4,275 feet)
Elevation in Chamonix: 1,050 m (3,440 feet)
Elevation in Argentiere: 1,275 m (4,180 feet)
Time: 2 to 3 hours


Haute Route Stage 1 Elevation Profile
Please practice the seven principles of Leave No Trace: plan ahead, stay on the trail, pack out what you bring to the hiking trail, properly dispose of waste, leave areas as you found them, minimize campfire impacts, be considerate of other hikers, and do not approach or feed wildlife.
Walker's Haute Route Stage 1 Map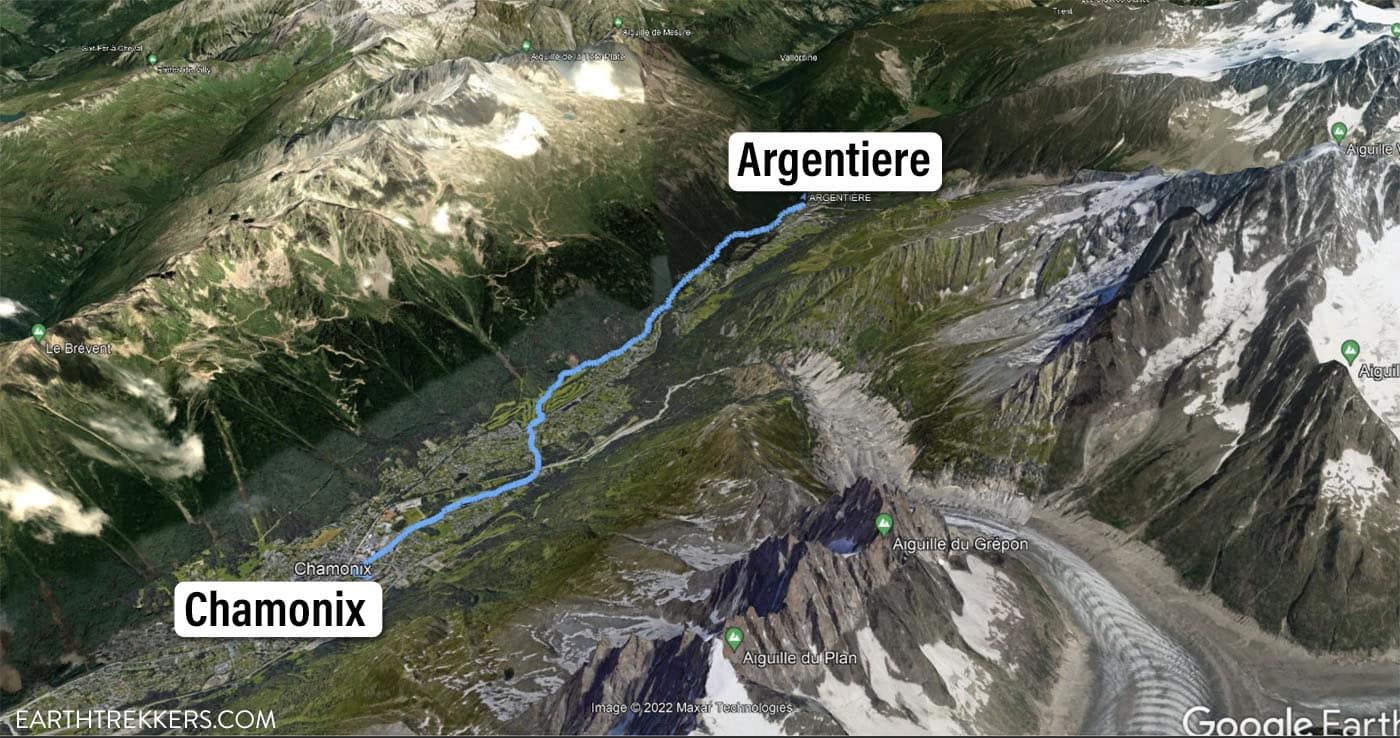 Haute Route Stage 1 Map: Chamonix to Argentière
Walker's Haute Route Stage 1: Overview of the Trail
To hike the Haute Route, we highly recommend following the trail descriptions in the book Trekking Chamonix to Zermatt, The Classic Walker's Haute Route by Kev Reynolds. Below we list an overview of the day, so you know what to expect along the way. We also provide advice on where to eat and where to stay. Later in this guide, we list a few tips and trail clarifications to be used with the Trekking Chamonix to Zermatt book.
Stage 1 of the Haute Route begins at the Chamonix-Mont-Blanc train station. From here, you will walk through Chamonix, then through a small wooded park (Bois de Bouchet) before entering the town of Les Praz.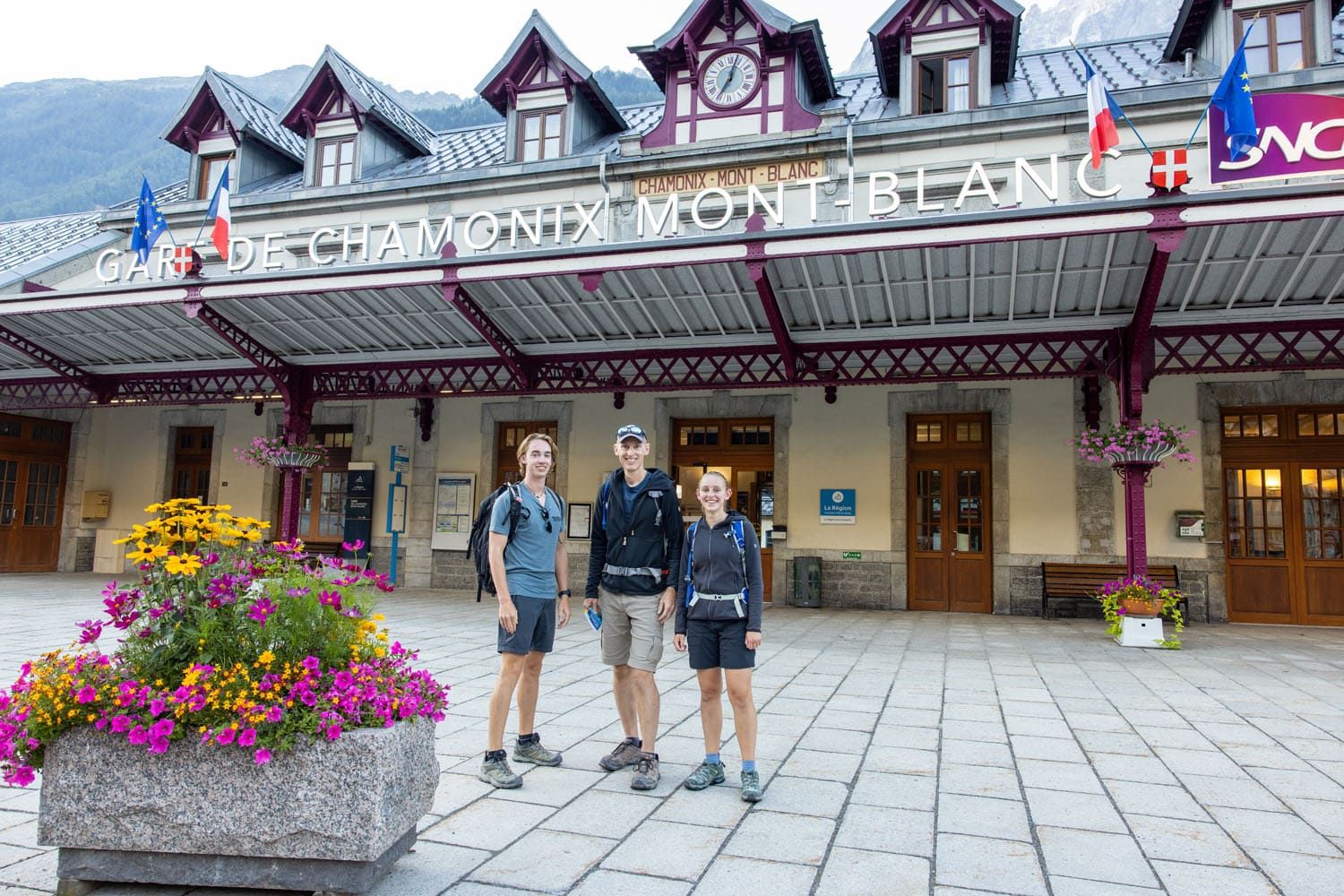 Early morning at the Chamonix-Mont-Blanc train station. We started the stage at 7 am. Here is Tyler, Tim, and Kara, well rested and excited for the adventure that lies ahead.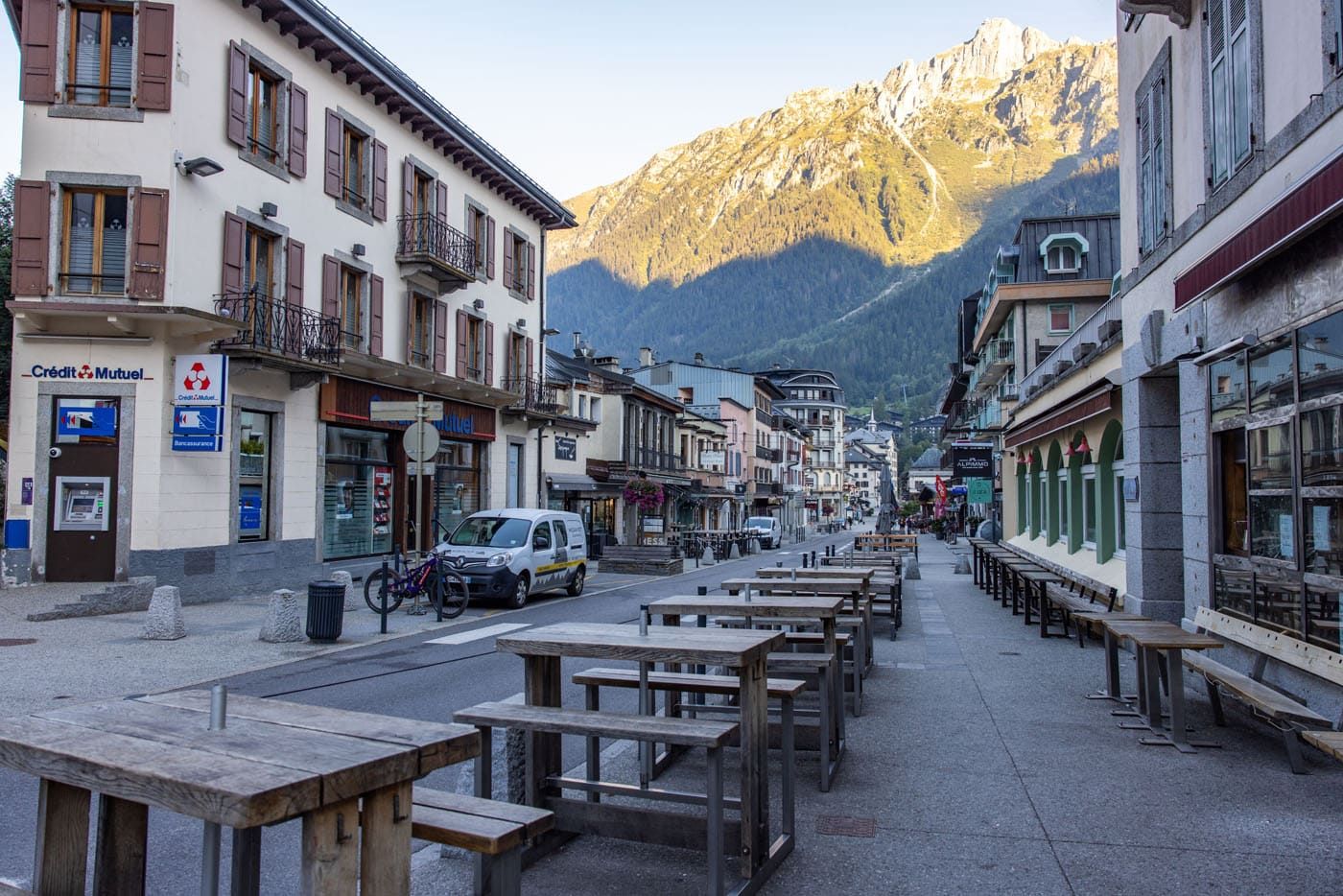 The quiet, shady streets of Chamonix early in the morning.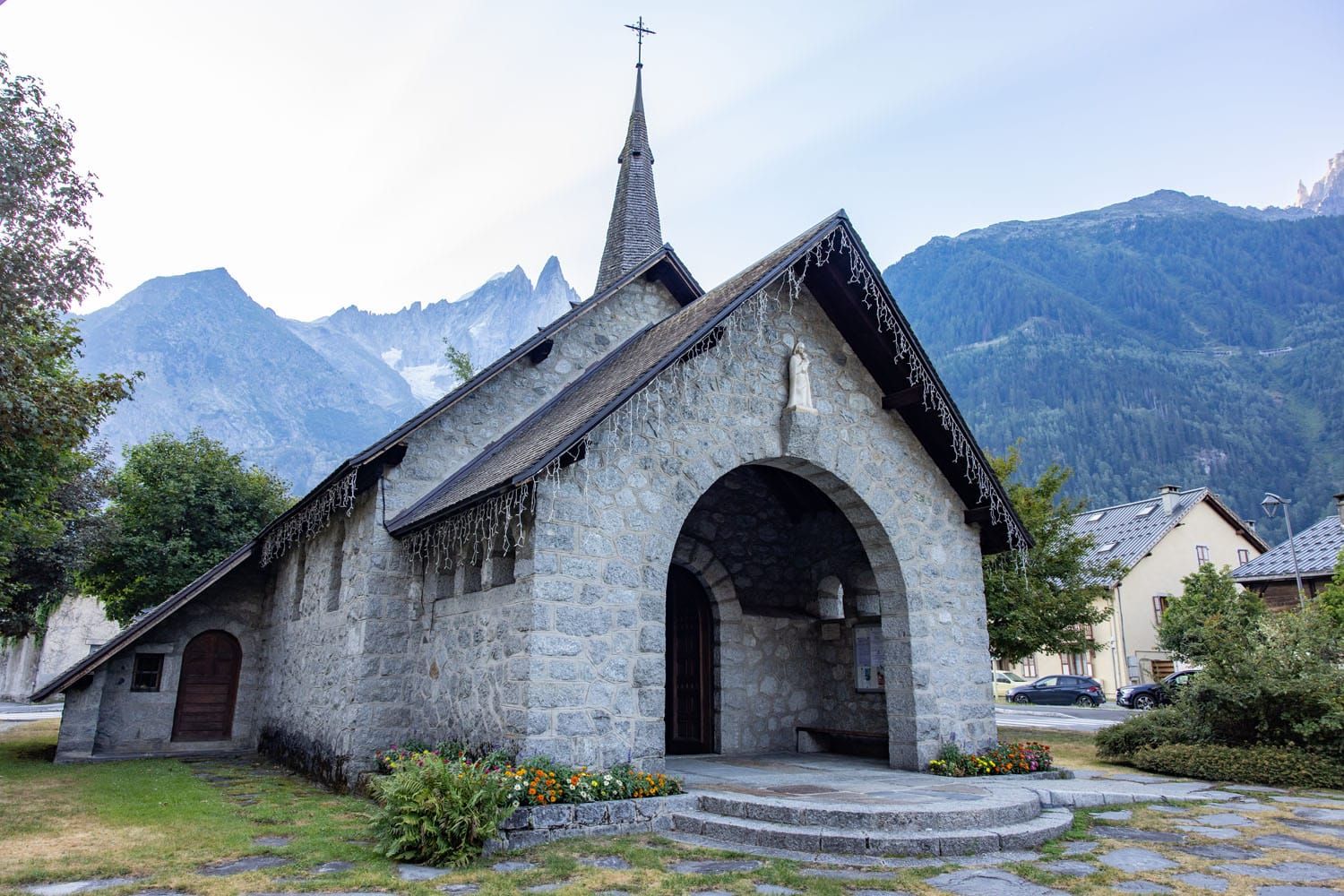 Chapelle des Praz
Beyond Les Praz, you will walk through a golf course and then on a wooded trail through the forest. There will be a short uphill climb followed by a few ups and downs before entering Argentière.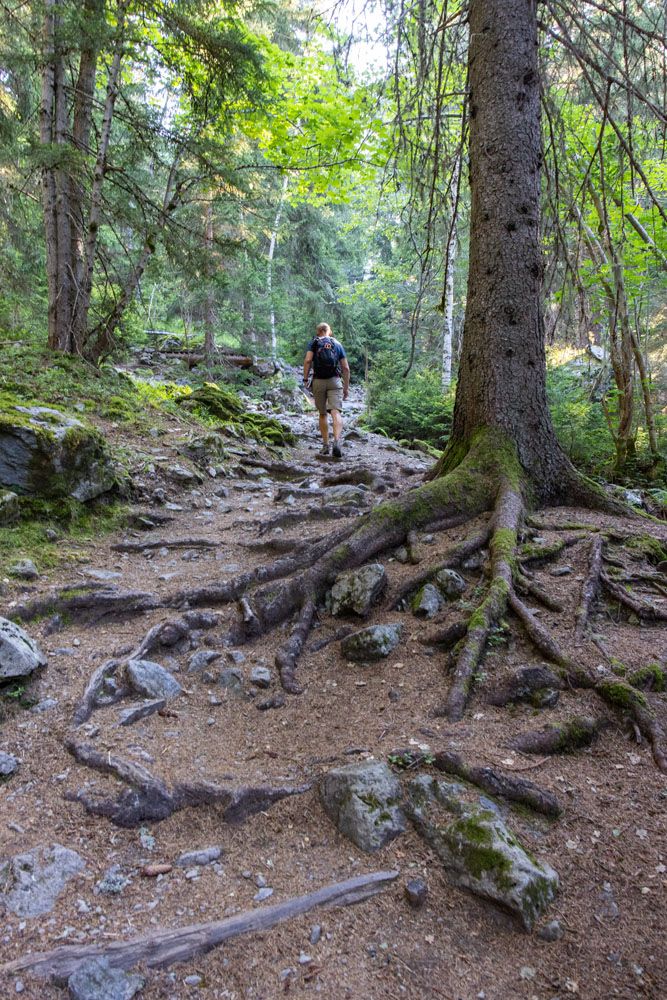 Once in Argentière, walk up the main street to the center of town. This is where stage 1 ends and where stage 2 begins.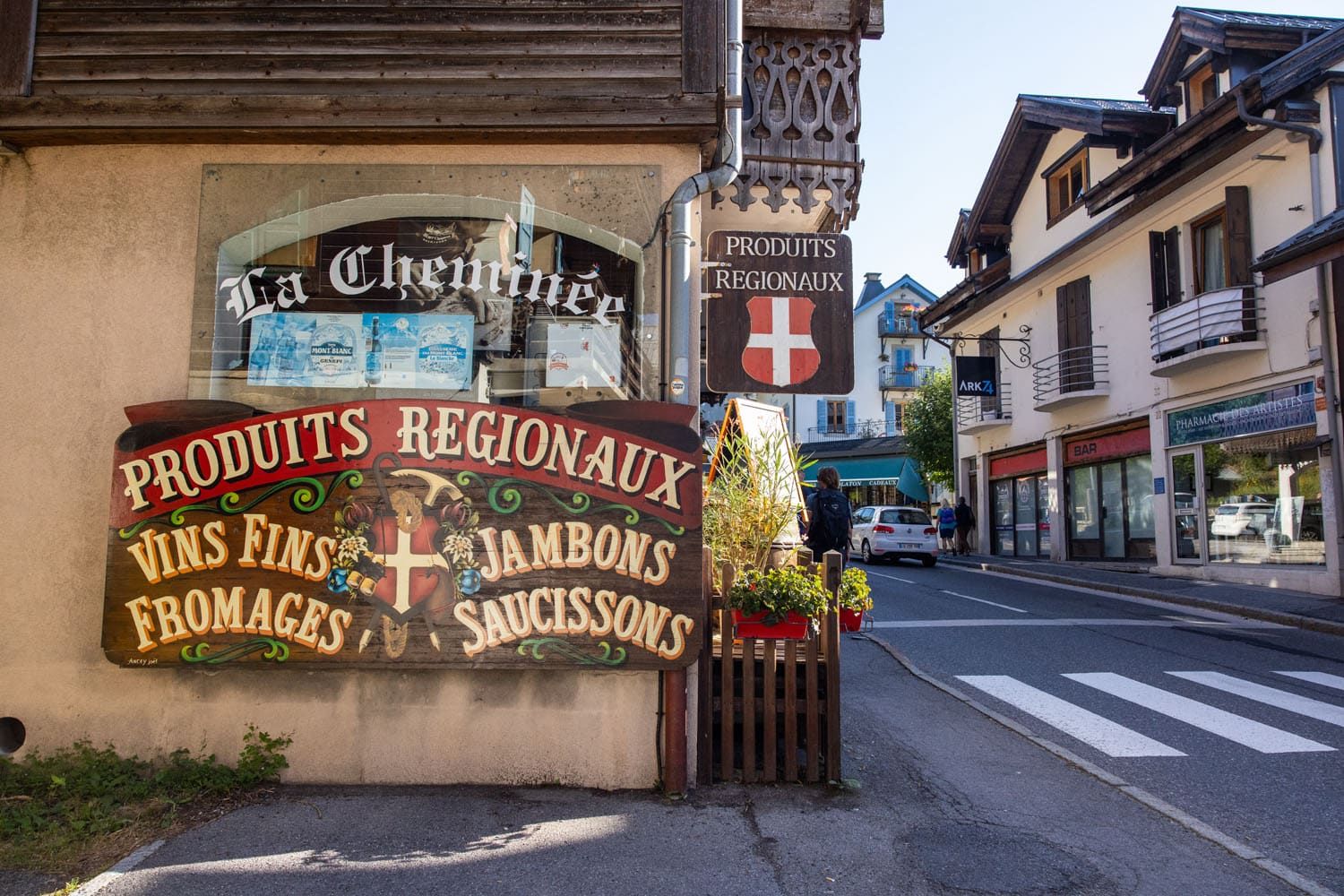 Argentière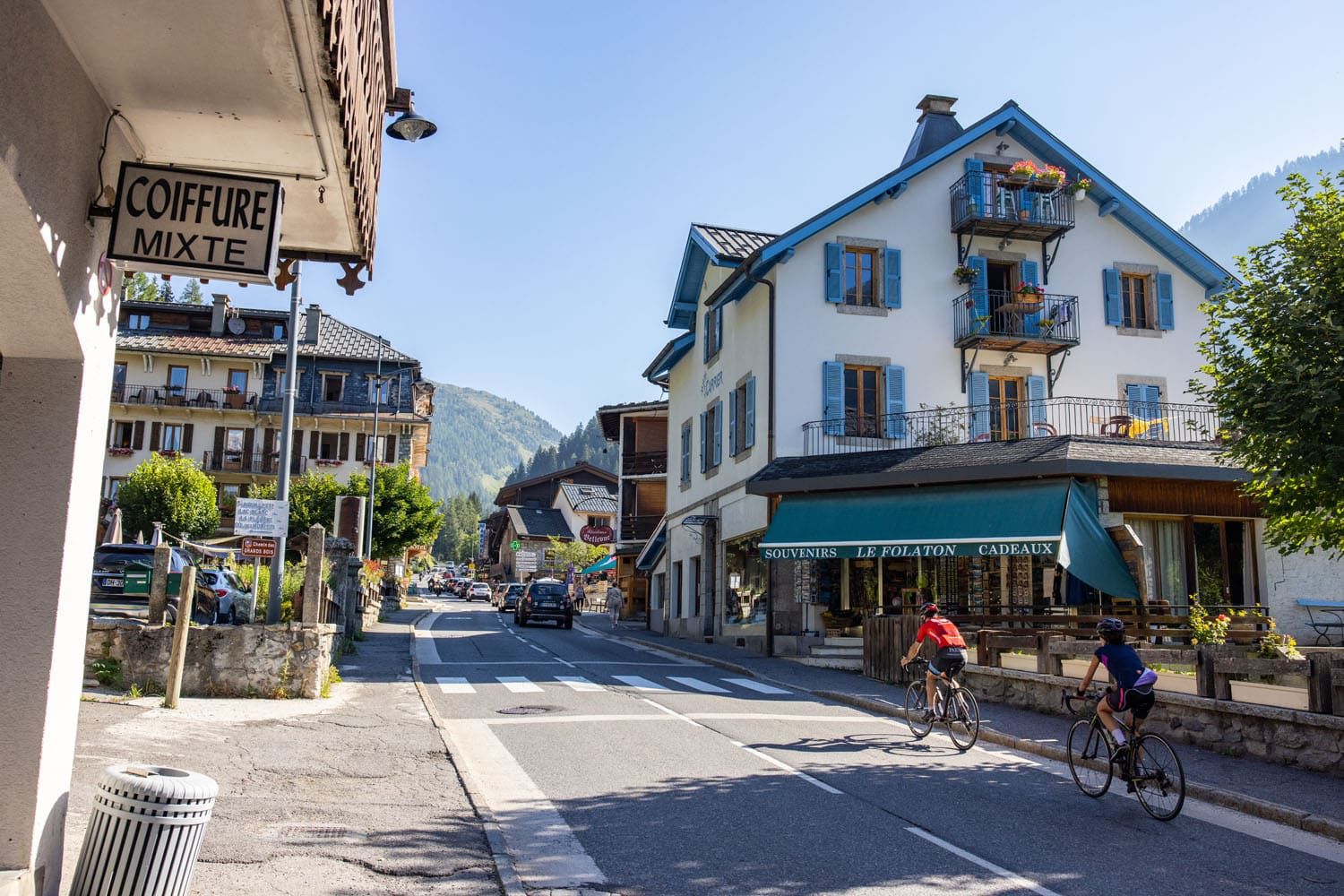 Argentière
Where We Ate in Argentière
We started our hike at 7 am and made it to Argentière at 9 am. In Argentière, we ate our second breakfast of the day. On an almost daily basis while hiking the Haute Route, we would have 5 meals a day. On average, we did 6 to 7 hours of hiking per day, and a lot of that as strenuous climbs and descents, so we were burning calories like crazy.
In Argentière, we bought sandwiches and pastries at Au Peche Mignon, a small patisserie that is located right on the main street in Argentière. This is just what we needed before starting stage 2 of the Haute Route.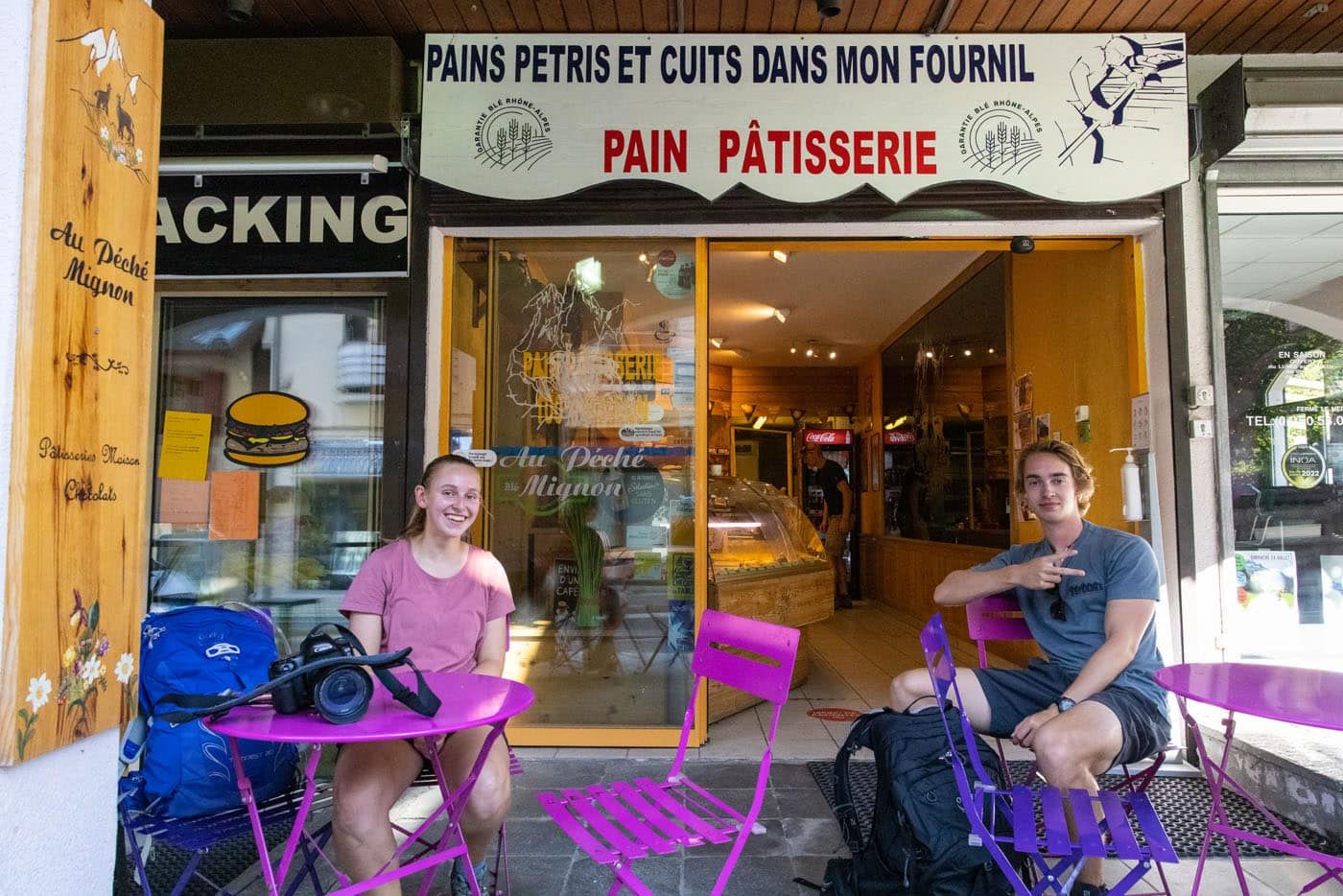 Stage 1 + Stage 2: Chamonix to Trient
From Argentière, we continued onto Stage 2, ending our first day in Trient, Switzerland. If you plan to combine both stages, your total distance for the day becomes 23.2 km (14.4 miles) with 1,295 meters of total ascent (4,245 feet). Continue onto Stage 2 for the elevation profile, map, and lots of photos.
Haute Route Stage 1: Clarifications for the Walkers Haute Route book
We were able to follow the Walker's Haute Book by Kev Reynolds (the sixth edition from 2019; there is now an updated version) without any issues, meaning we never had to backtrack. But there were a few times during this stage we felt a little more clarification would have helped so we are providing that clarification here:
Chamonix-Mont Blanc road sign: Maybe we missed it but we never saw this sign, but not seeing it didn't cause any confusion. Just look for the La Frasse Bus Stop.
Bus Stop: We turned left over a bridge immediately after the Frasse Bus Stop.
Bois du Bouchet: This is a park/forest area. There are multiple paths in this area. Follow the path that runs closest to the road. The road will be on your right on the other side of some trees.
Arveyron: This is a river crossing, ignore the building with the same name.
Chalet Hotel Le Castel: After passing this hotel follow the main road in the direction of Argentiere. You will be walking alongside a golf course which will be on your left. Continue toward Argentiere (golf course on your left) until you can turn left onto a road that leads into the golf course complex. Once you make that left you will see Hotel Le Labrador up ahead.
Hotel Le Labrador: Follow the road past Hotel Le Labrador and then follow the gravel path just beyond it. Cross the river Arve (on your left) when you reach the driving range (on your right).
Narrow metalled lane: It will fork in three directions (left, straight, and right). Go straight and it will not take long until you see cafe Le Paradis des Praz.
Where to Stay in Argentière
We didn't stay in Argentière ourselves since we combined Stages 1 and 2 together into a single day of hiking. But here is a listing of places to consider if you are planning to stay in Argentière.
Where To Stay In Chamonix
Argentière and Chamonix are well connected via frequent train service and the Haute Route goes right past the Argentière train station. So, if you would prefer to stay in Chamonix then it is easy to go back there to sleep and then return to Argentière the following day to continue your trek.
In Chamonix we stayed at Le Cristal de Jade, which was conveniently located next to L'Aiguille du Midi cable car station and only a short walk to the heart of Chamonix with its restaurants, shops, and train station. There are numerous places to stay, so here is a list of places to consider in Chamonix.
Is it Worth Hiking Stage 1 of the Haute Route?
Because this stage is so short and a less-than-exciting walk from one town to another, some people wonder if it is worth it. This is a stage that many people skip.
In our opinion, yes, it is worth hiking stage 1 of the Haute Route.
Even though it is the least exciting stage it is still part of the official route.
For those who want to say they hiked the entire Haute Route, you'll have to hike stage 1 (or you'll have to say you hiked from Argentière to Zermatt…and that doesn't sound nearly as thrilling). Plus, it's a nice warm up for the rest of the trail.
But if you are short on time (for example, you are trying to do the route in 10 days), stage 1 is the best stage to skip.
More Information about the Walker's Haute Route
In our Walker's Haute Route Planning Guide, we have links to all of our articles about the Walker's Haute Route, including information about each stage, how to plan your trek, what to expect, and more.
For an overview of all 14 stages of the Walker's Haute Route, with overall hiking stats, map, elevation profile, and lists of the most difficult stages, easiest stages, and our personal favorites, check out our Guide to the Walker's Haute Route Stages.
Journey through all 14 stages of the Walker's Haute Route in photos.
Stages of the Haute Route: Below are our guides to each stage of the Haute Route.
---
If you have any questions about how to hike the Haute Route Stage 1, or if you want to share your experience, let us know in the comment section below.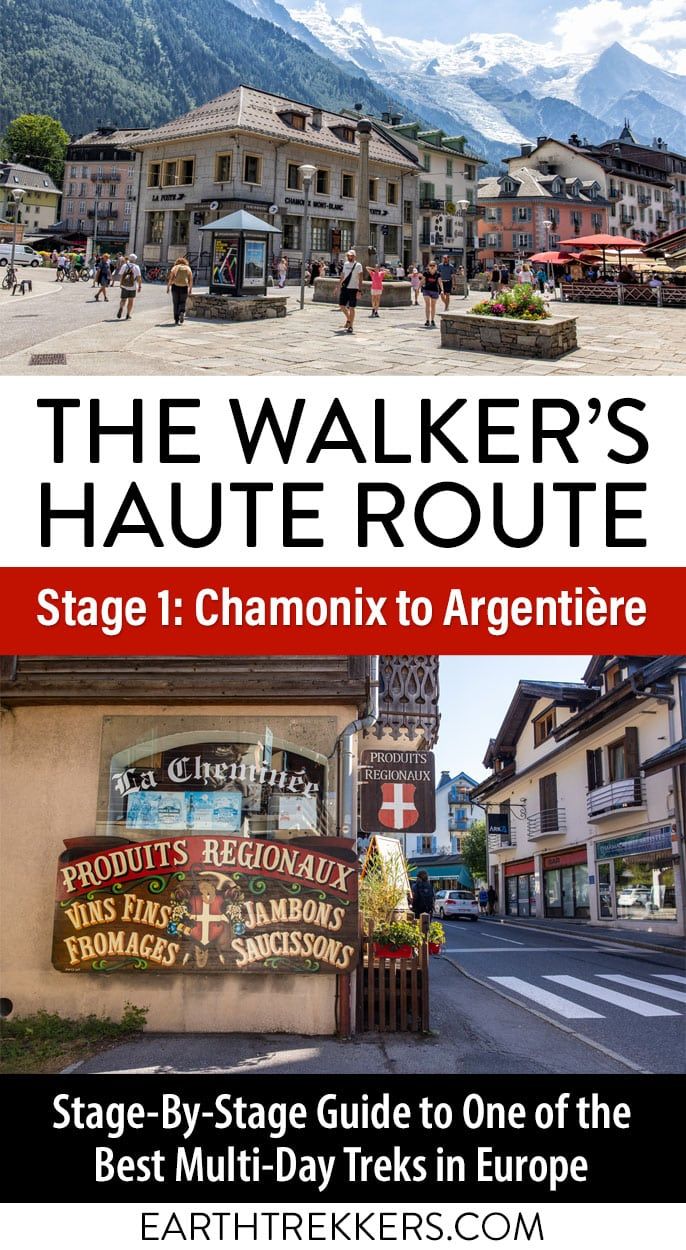 Note: This post contains affiliate links. When you make a purchase using one of these affiliate links, we get paid a small commission at no extra cost to you.
All rights reserved © Earth Trekkers. Republishing this article and/or any of its contents (text, photography, etc.), in whole or in part, is strictly prohibited.