Stage 7 is one of our favorite stages of the Walker's Haute Route. This is a beautiful walk from start to finish. Today's trail covers a wide variety of landscapes, from glacier-covered mountains, a lovely milky-blue lake, forested hills, and wide open grasslands.
In terms of difficulty, today's stage is relatively easy. You will have one long climb, but for the majority of the stage you will be heading downhill. One of the best parts of Stage 7 is hiking a flat section along a beautiful lake (flat sections of trail are a rare occurrence on the Haute Route).
Today's stage starts at a high elevation and all around is barren terrain marked with glaciers and snowy peaks. Wildlife sightings are a possibility up here, so keep an eye out for ibex wandering the rocky ground.
After descending to Lac des Dix, it's a fast and flat walk around the lake. Then it's one more ascent, this time featuring a series of metal ladders. From here, it is all downhill to Arolla.
Once you reach Arolla you will still feel far from civilization, for Arolla is made up of just a few buildings and it is set in a mountainous valley.
Walker's Haute Route Stage 7 Hiking Stats
Distance: 17.4 km (10.8 miles)
Difficulty: Moderate
Total Ascent: 745 m (2,445 feet)
Total Descent: 1,385 m (4,545 feet)
Lowest Elevation (Arolla): 2,035 m (6,675 feet)
Highest Elevation (Col des Roux): 2,860 m (9,380 feet)
Elevation at Cabane de Prafleuri: 2,620 m (8,600 feet)
Elevation in Arolla: 2,035 m (6,675 feet)
Average Time: 6 hours; our time: 5 hours 15 minutes (including stops)

Haute Route Stage 7 Elevation Profile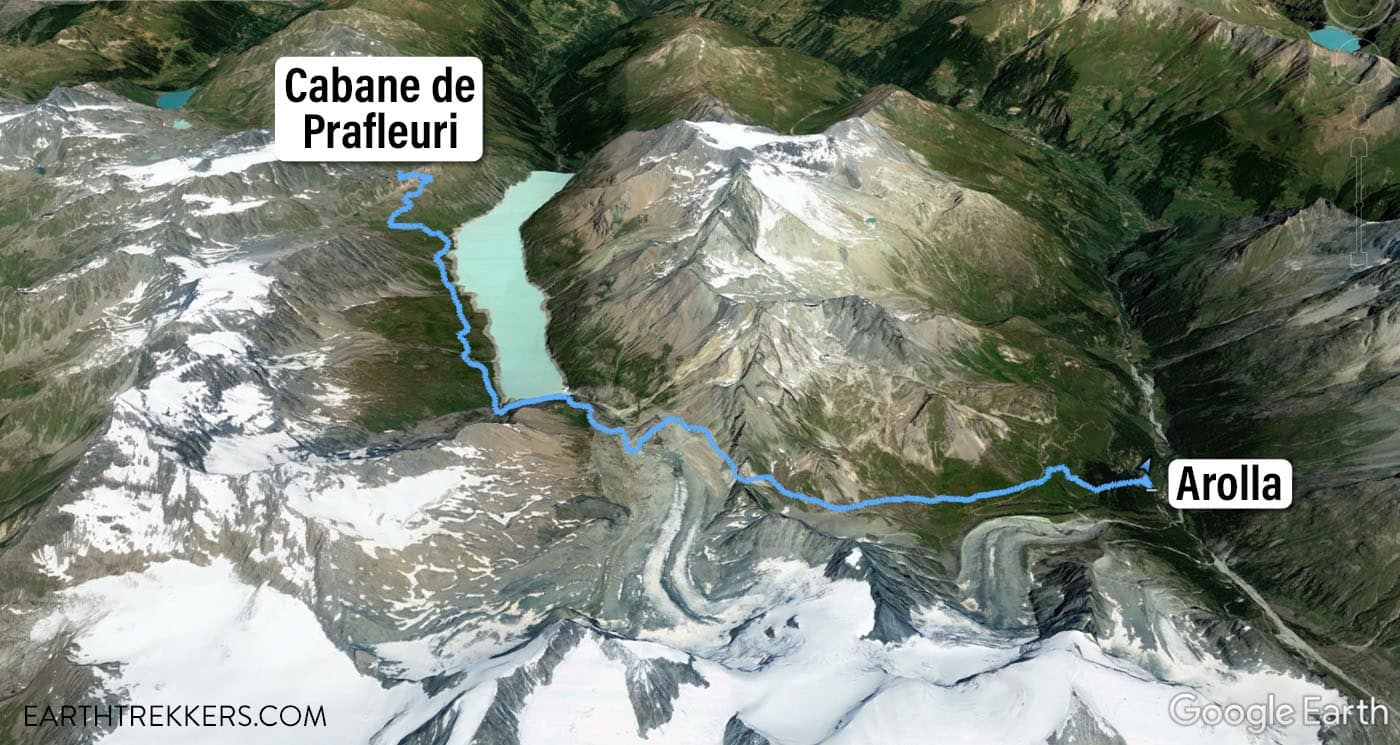 Haute Route Stage 7 Map
Please practice the seven principles of Leave No Trace: plan ahead, stay on the trail, pack out what you bring to the hiking trail, properly dispose of waste, leave areas as you found them, minimize campfire impacts, be considerate of other hikers, and do not approach or feed wildlife.
Walker's Haute Route Stage 7: Overview of the Trail
To hike the Haute Route, we highly recommend following the trail descriptions in the book Trekking Chamonix to Zermatt, The Classic Walker's Haute Route by Kev Reynolds. Below we list an overview of the day, so you know what to expect along the way. We also provide advice on where to eat and where to stay. Later in this guide, we list a few tips and trail clarifications to be used with the Trekking Chamonix to Zermatt book.
Cabane de Prafleuri to Lac des Dix
As you say goodbye to the cabin Prafleuri, you will head up a steep and rocky hill. It looks intimidating and the way up is steep, however it is a fairly quick climb (20 to 30 minutes).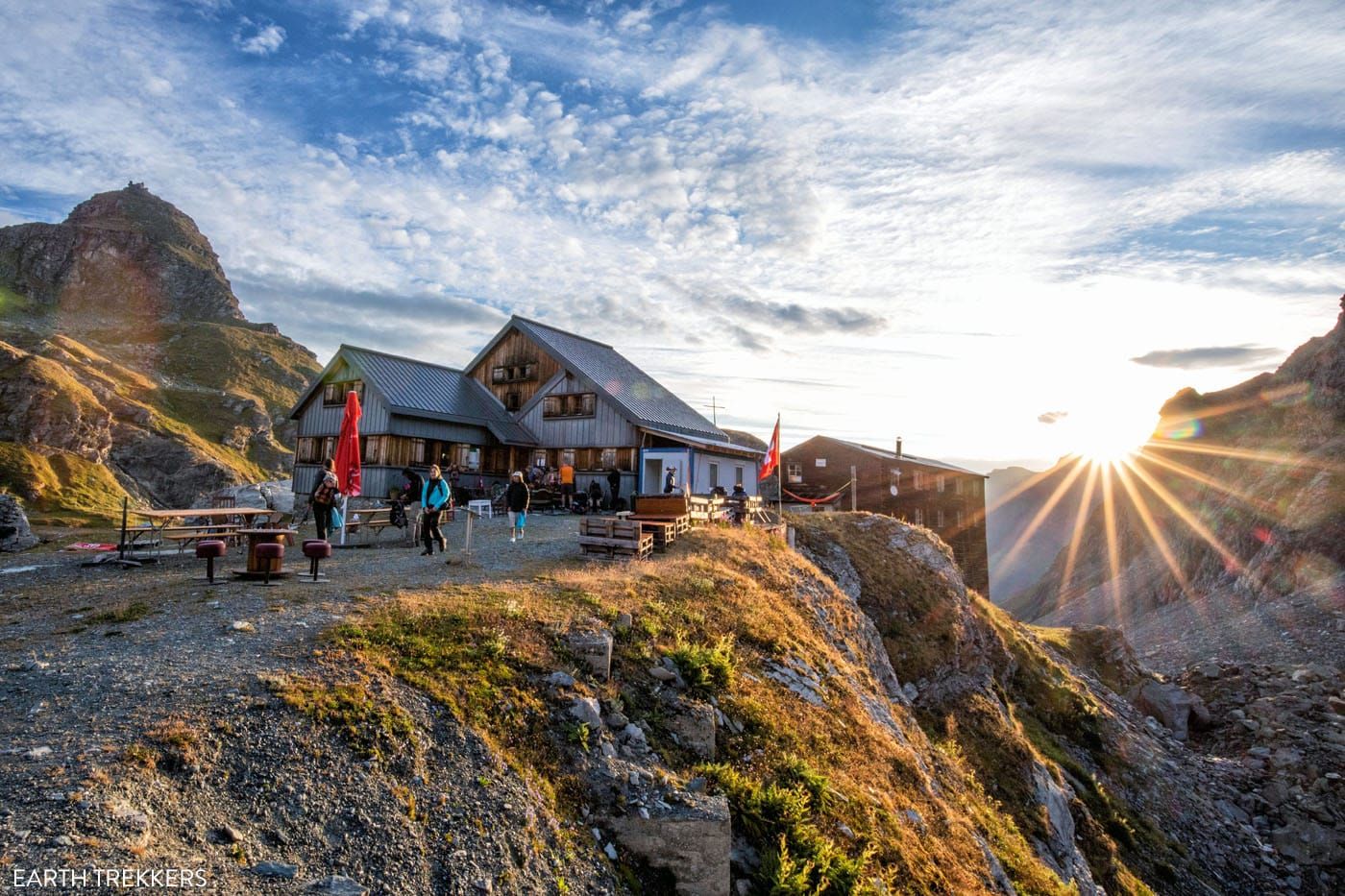 Cabane de Prafleuri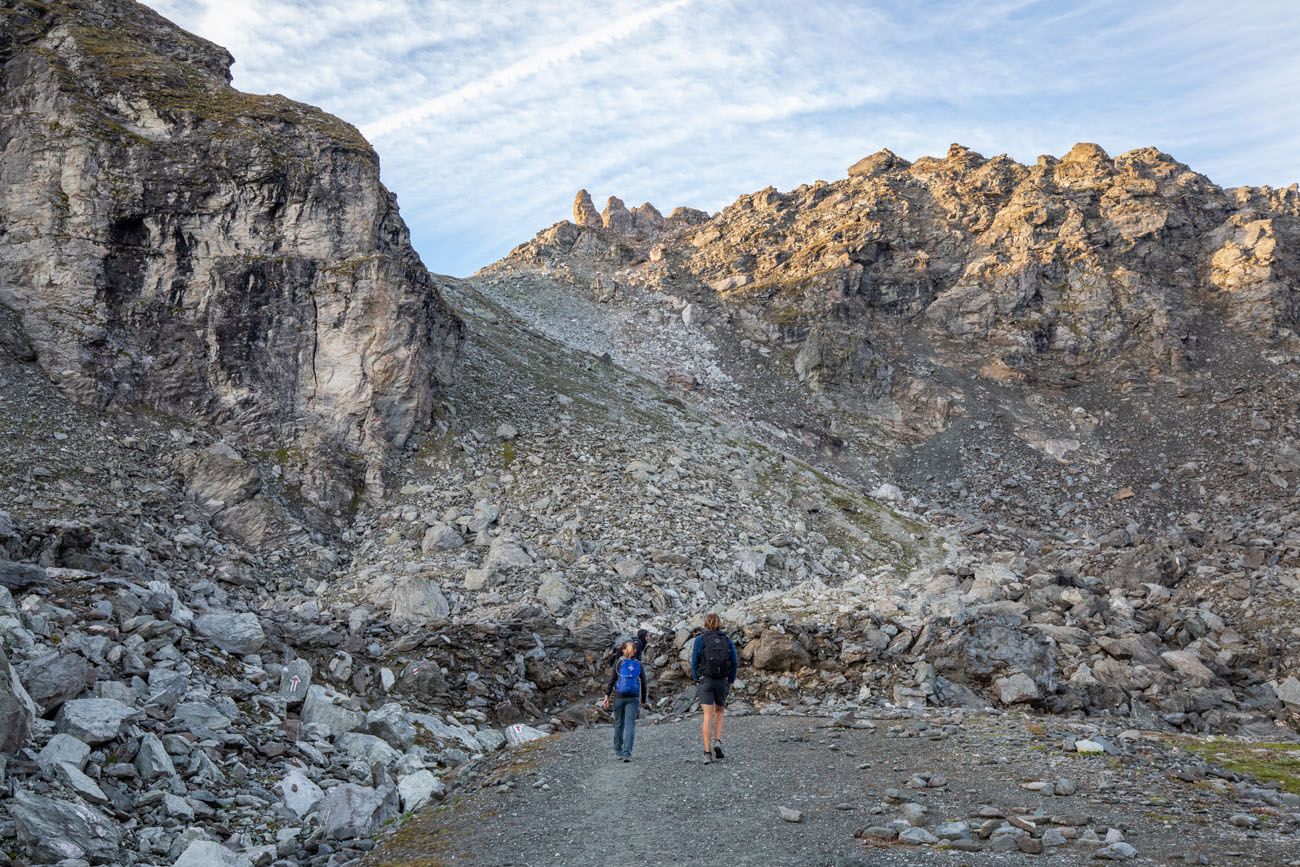 The rocky slope is the climb up to Col des Roux.
Once at the top, you are standing at Col des Roux (2,804 meters, 9,200 feet). From the top you will see Lac des Dix far below surrounded by tall mountains.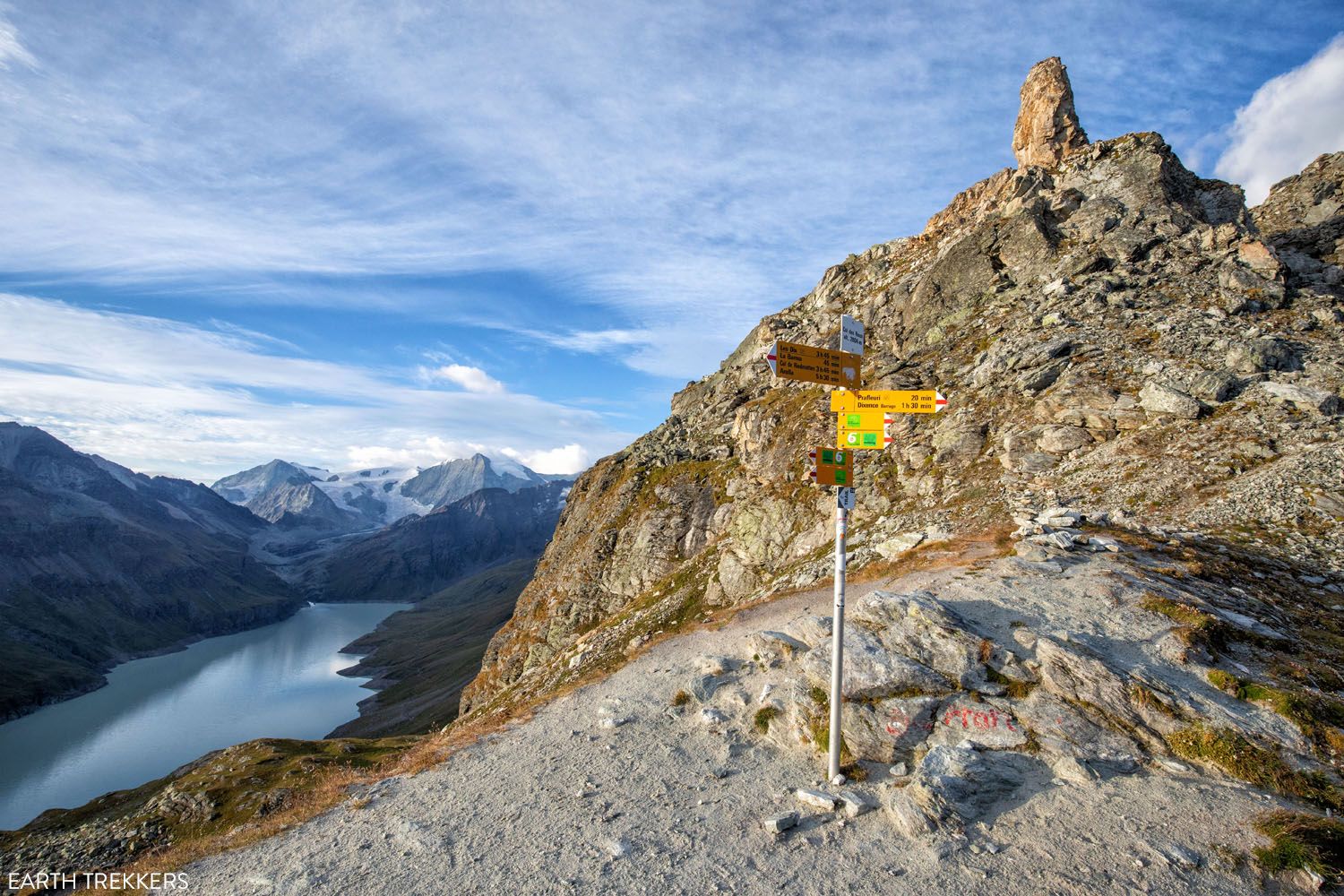 Col des Roux
Follow the trail down towards the lake. The trail down is gradual, so if you enjoy hiking quicky it is easy to do so here. Or, if you prefer, enjoy the beautiful view as you head down.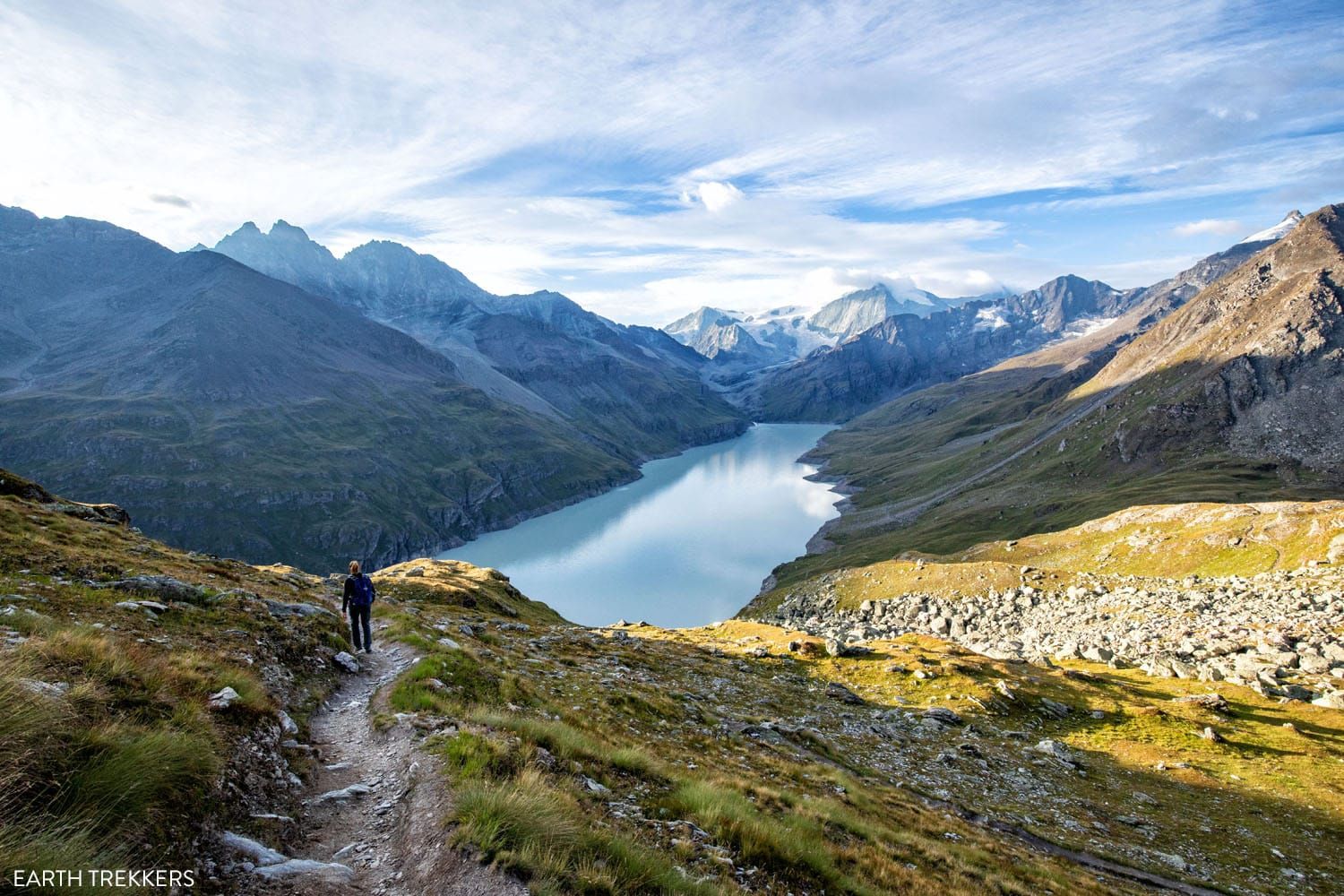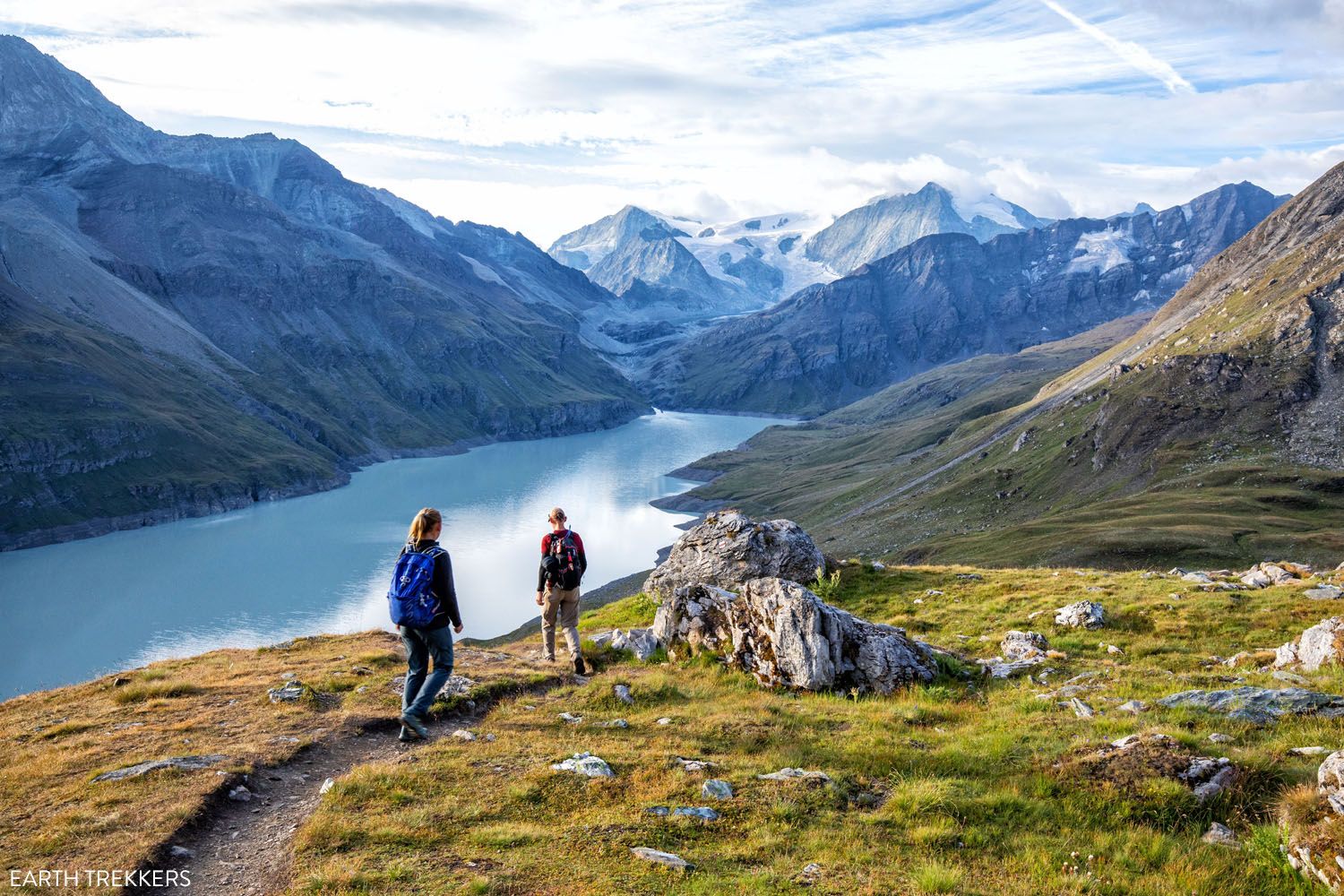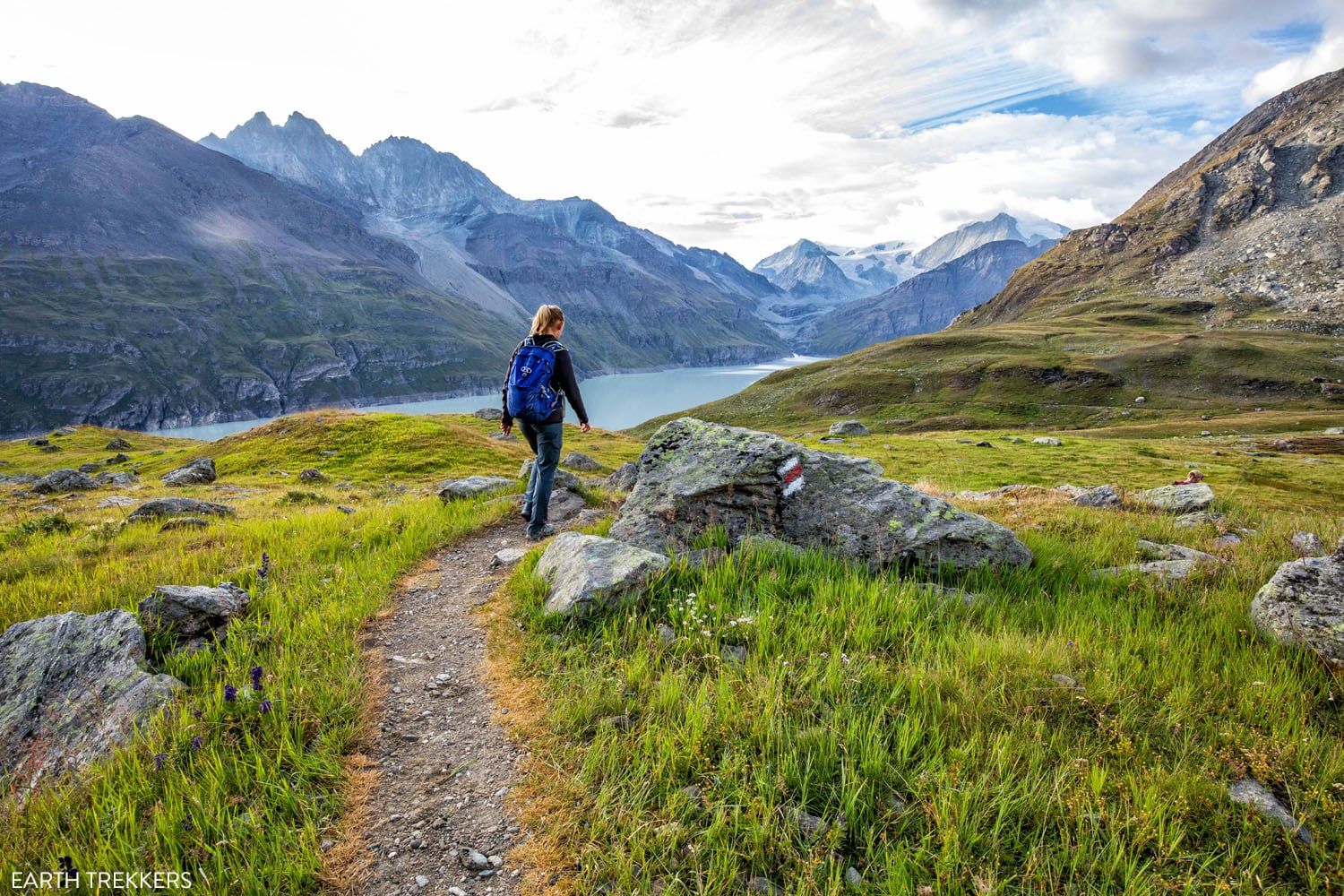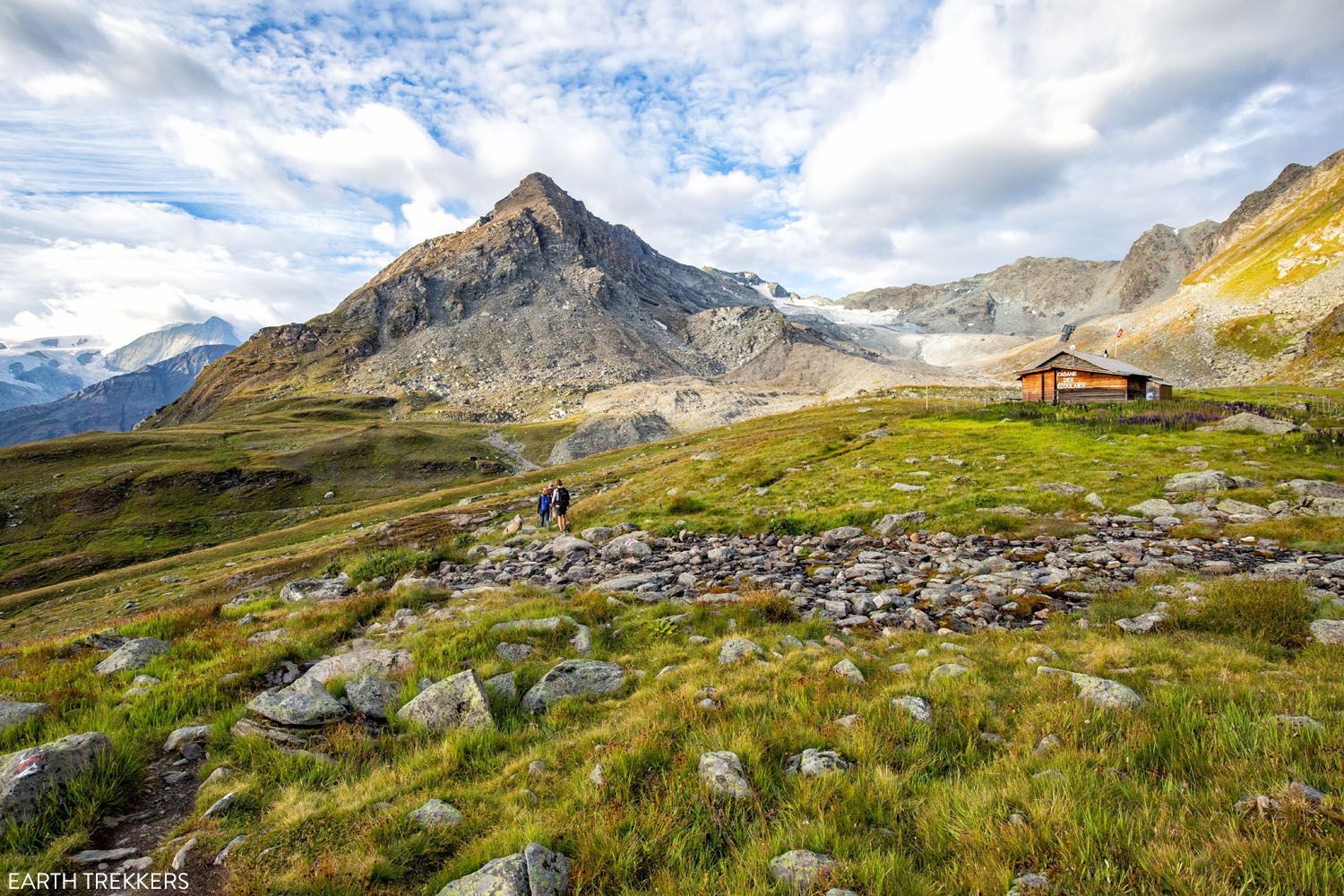 Cabane des Ecoulaies
Lac des Dix to Pas du Chat
Lac des Dix (Lake of Ten) is a large reservoir. You will hike from one end to the other.
The hike next to the lake is an enjoyable and flat 3 miles. After days of mostly hiking either up or down, it's nice to have an easy, flat section. Plus, the views are beautiful along the way.
Herds of cows wander the hills here and occasionally they like to plop right on the trail to block your way. But it is safe to go carefully by them.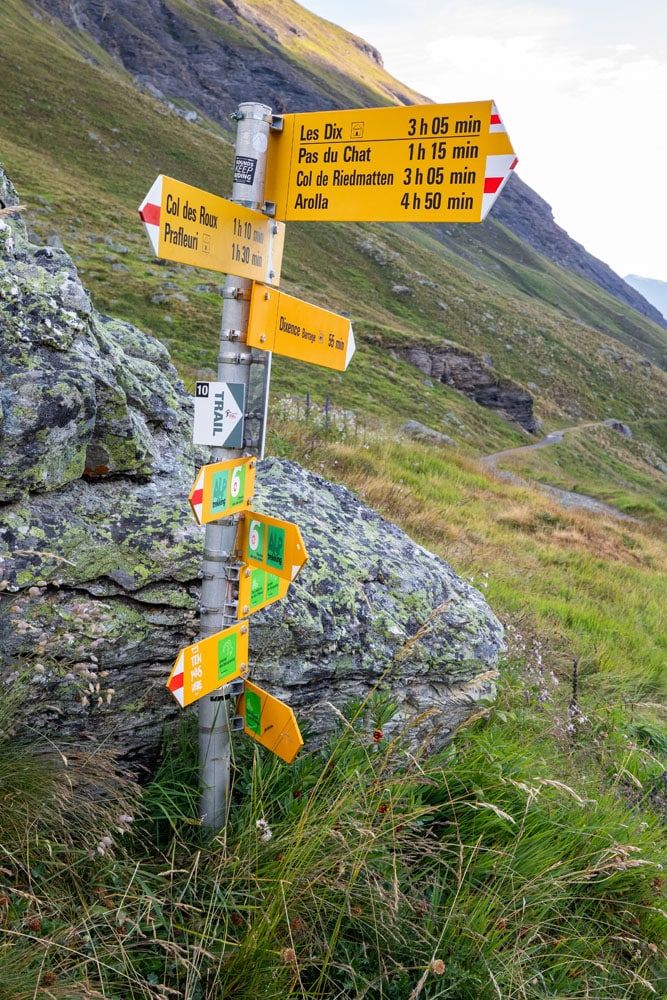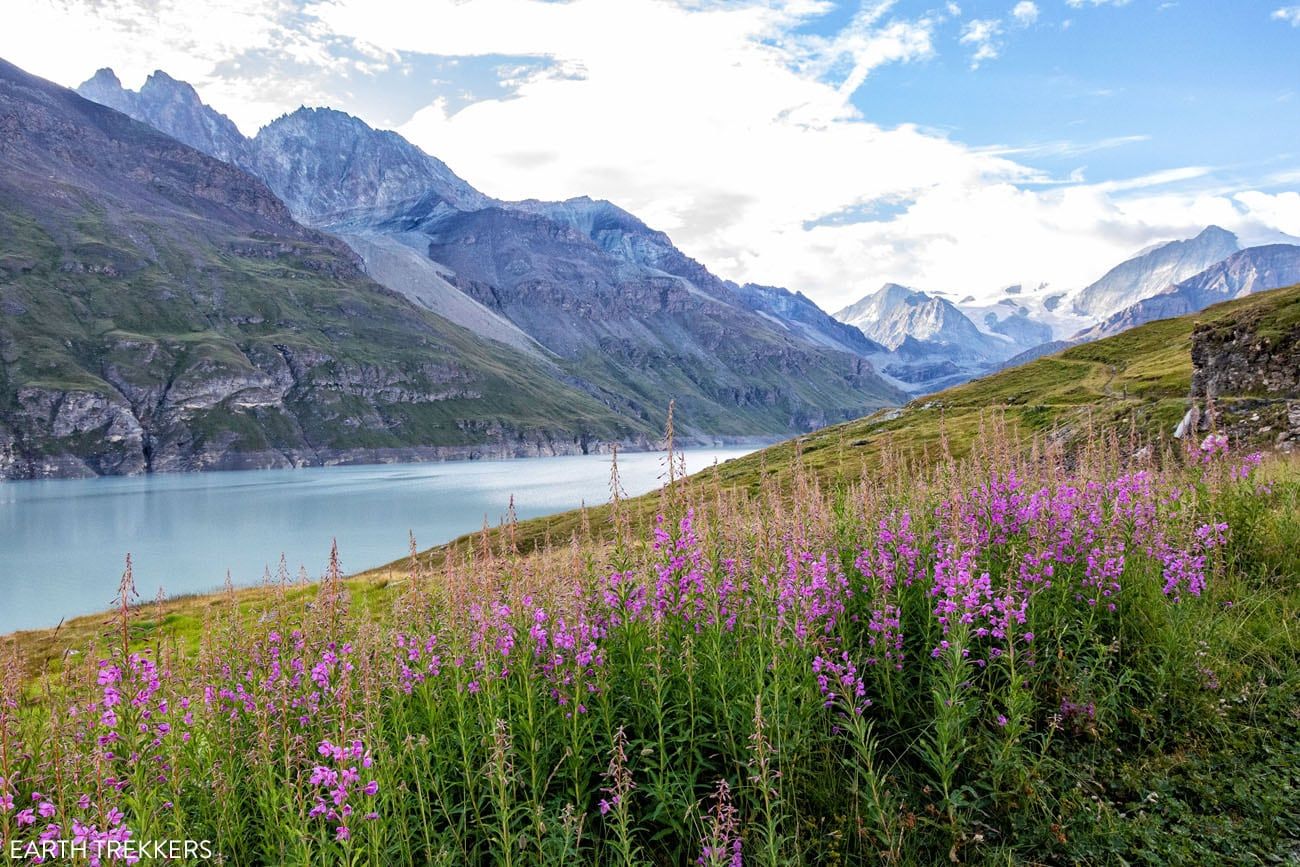 Fireweed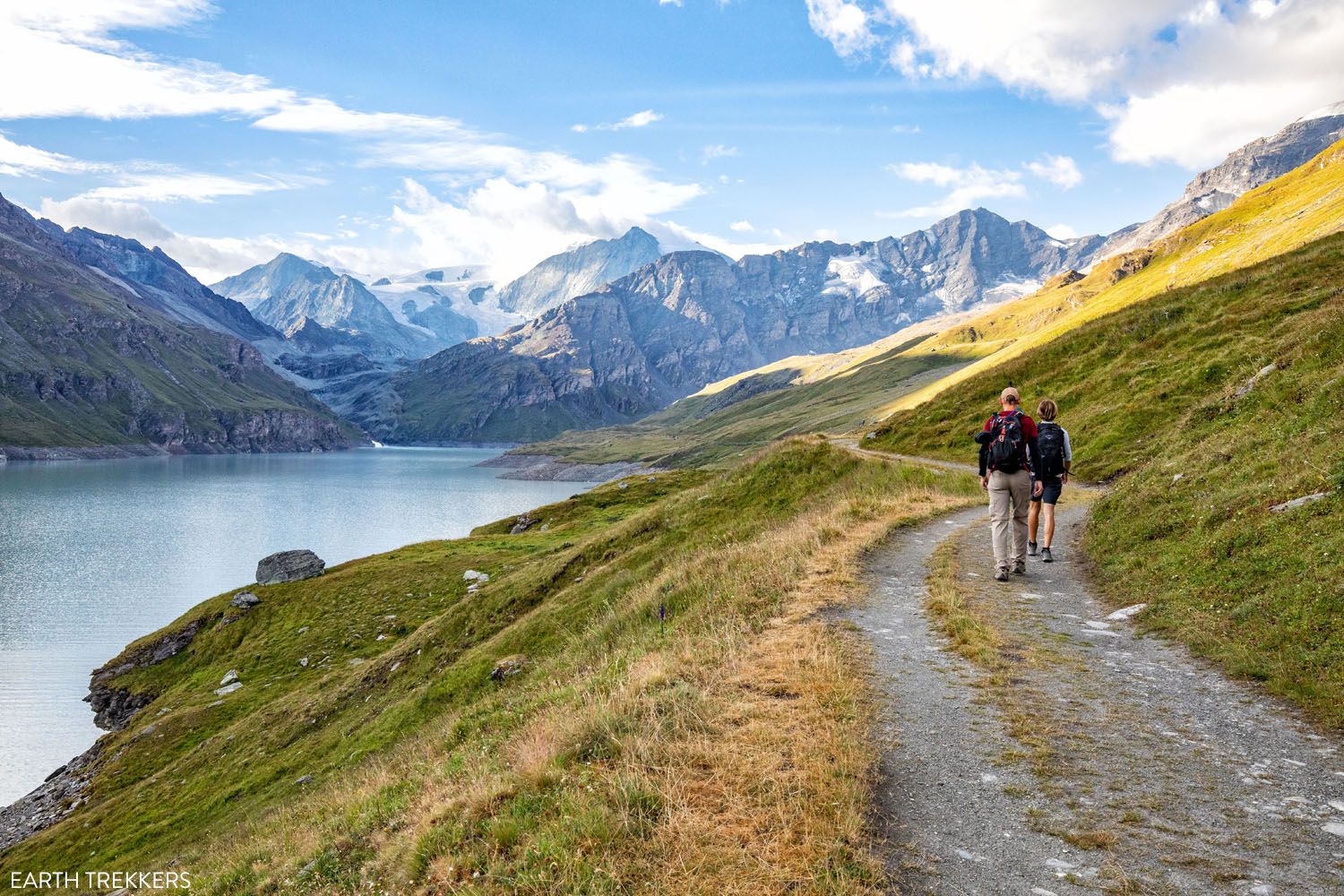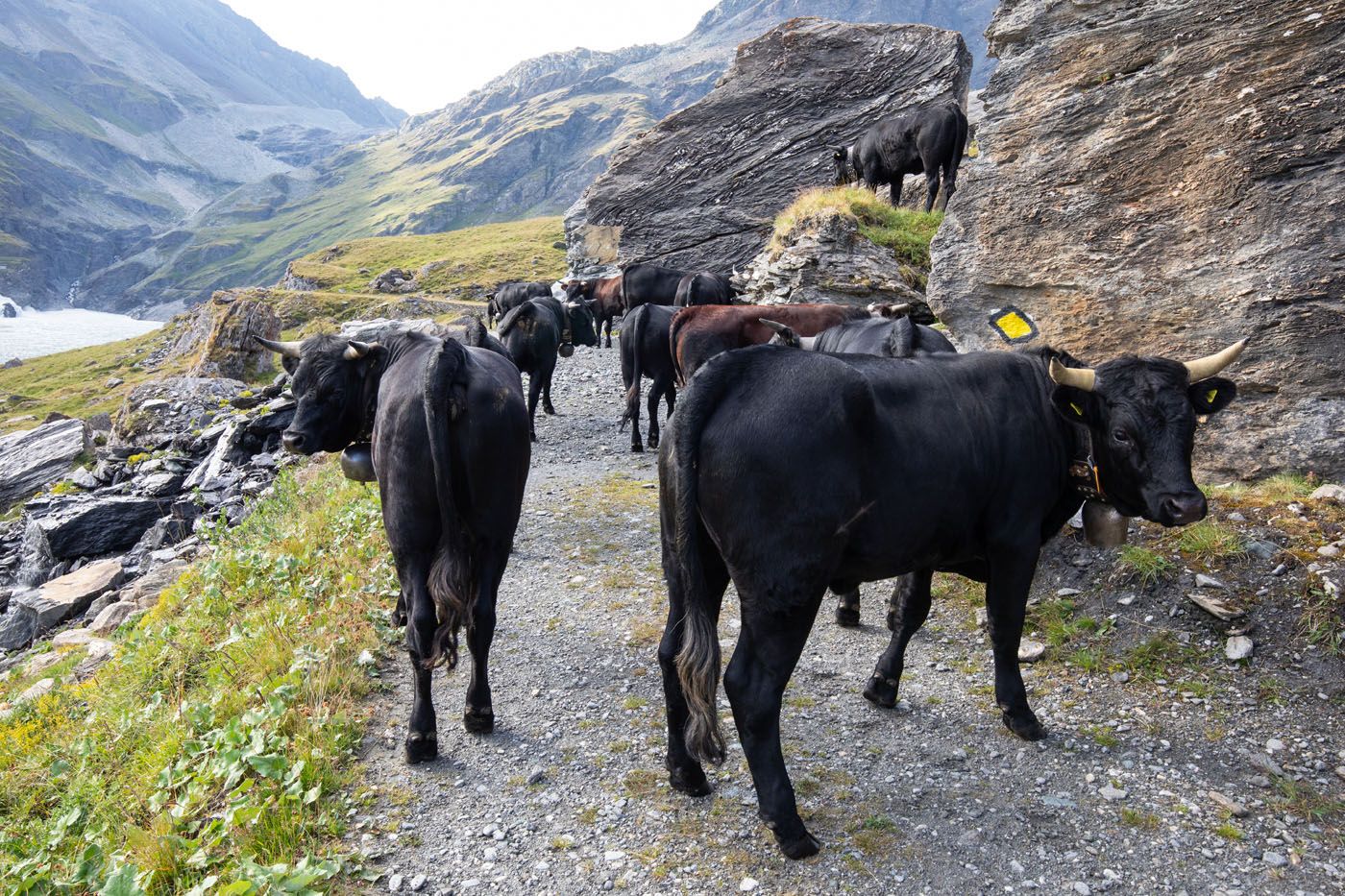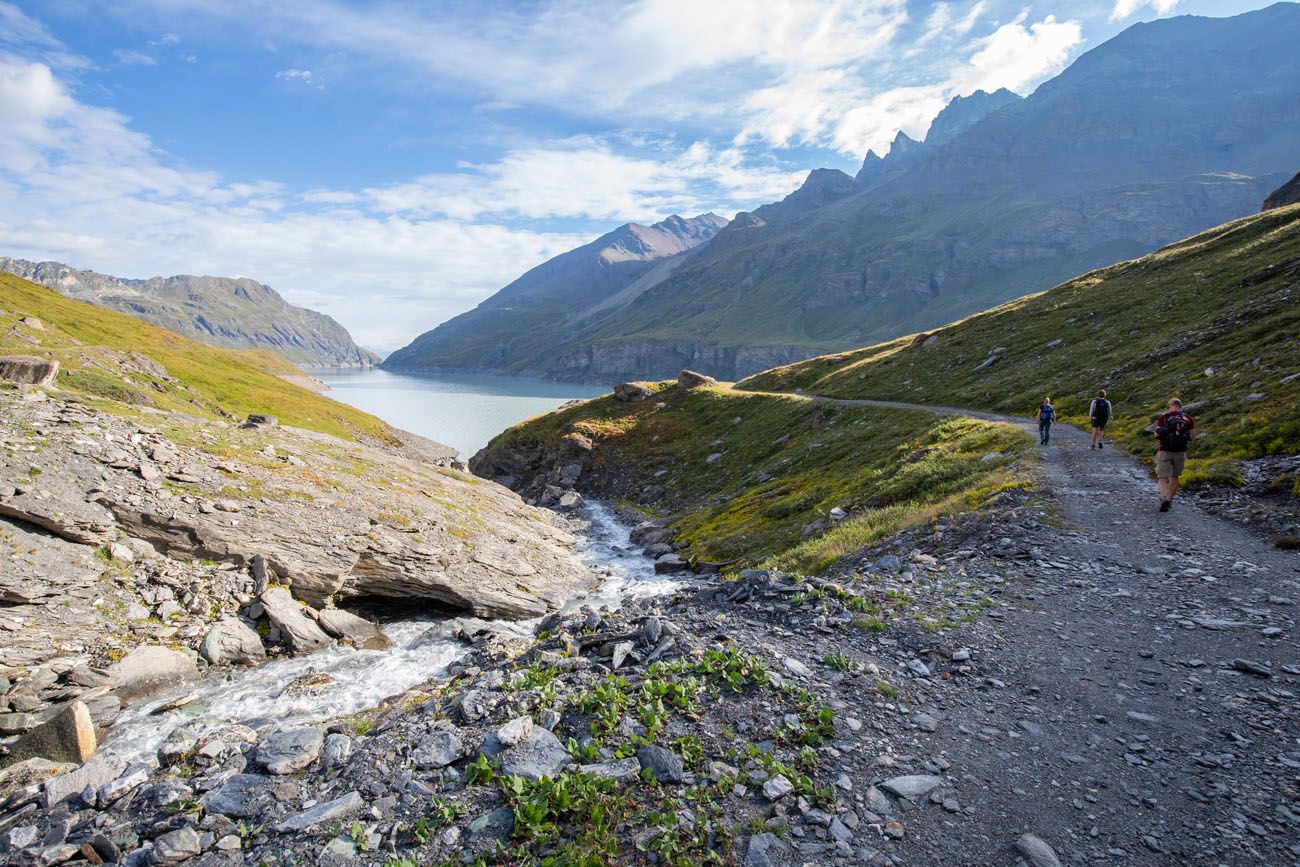 Pas du Chat to Pas de Chèvres
This stage's climb is moderate: not as hard as prior stages, however there is still a good distance to go up.
From the lake you will head up a grassy hill on the far side of the lake from Col des Doux. This climb, where you ascend up Pas du Chat, is the toughest part of the climb.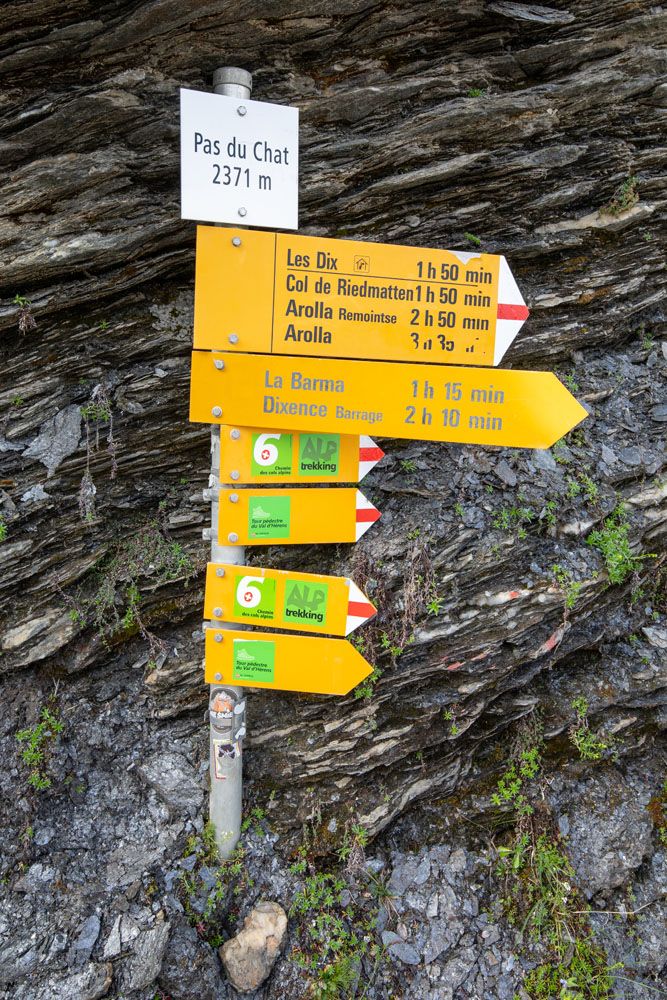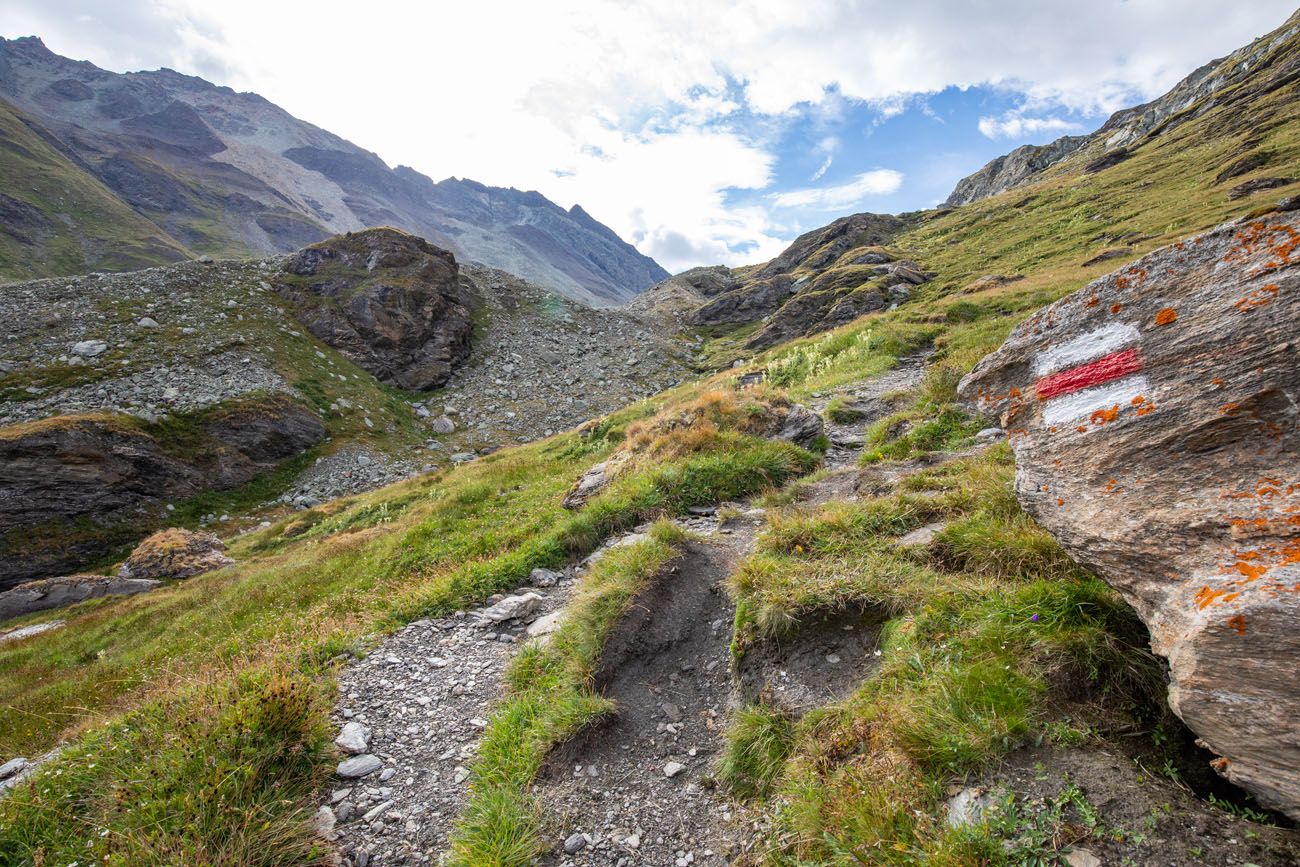 At the top of Pas du Chat, you will head into rocky terrain. Here, the trail becomes easier and the ascent will become more gradual with only a few steep spots. To me, the hike up as a whole felt tiring but it was not overly challenging.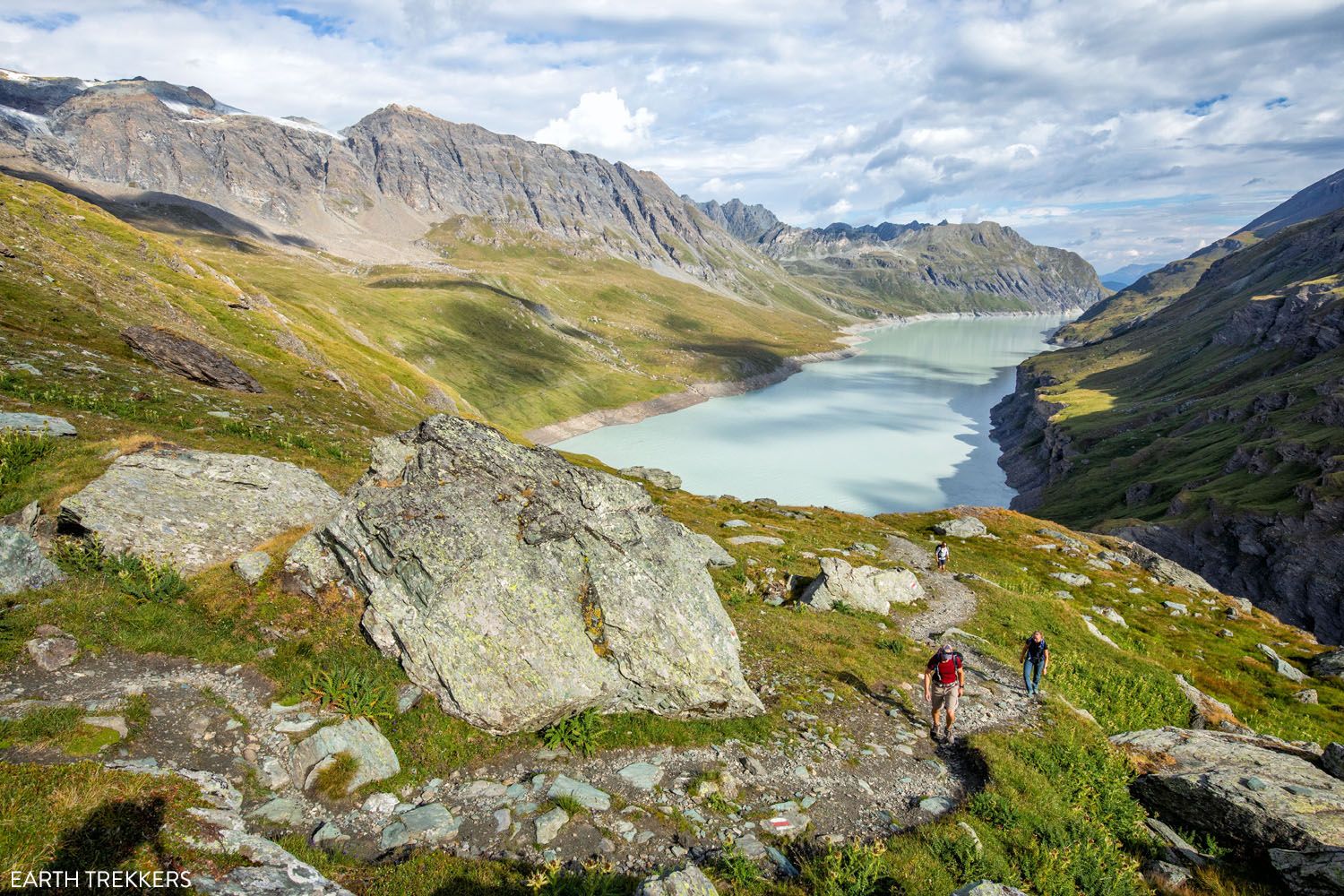 Looking back at Lac des Dix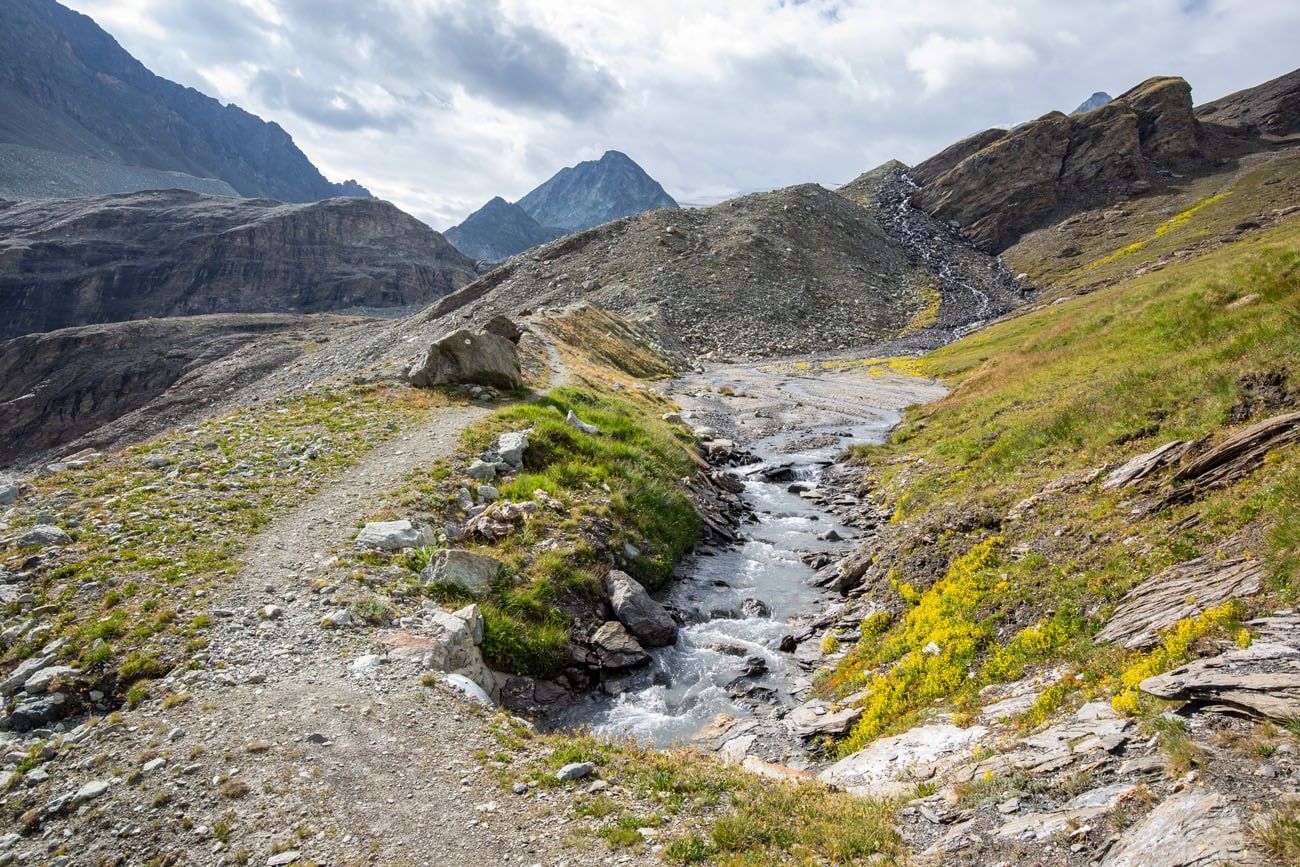 As you hike higher, the landscape becomes more barren.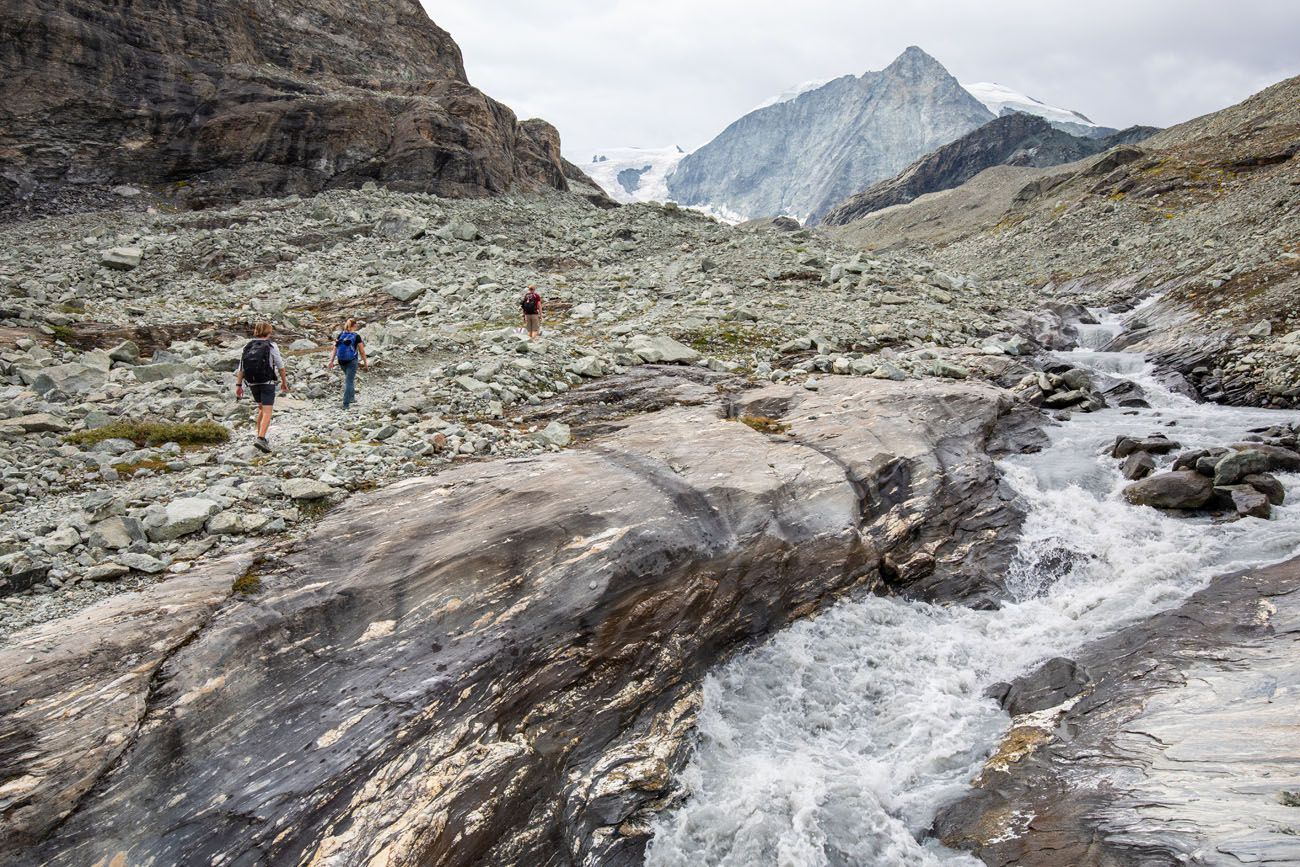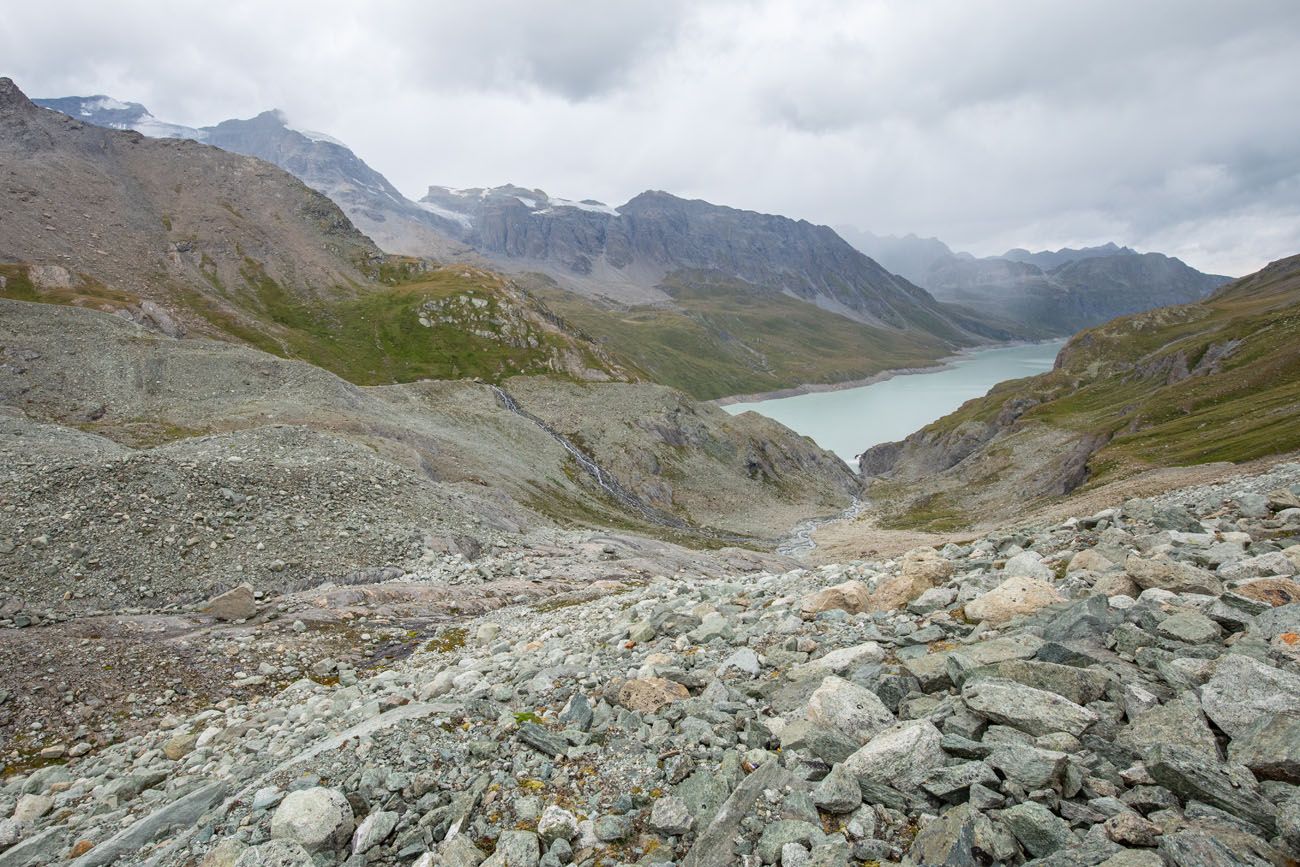 Looking back at Lac des Dix. Rain was in our forecast and it went from bright and sunny to rainy and cold in an amazingly short period of time.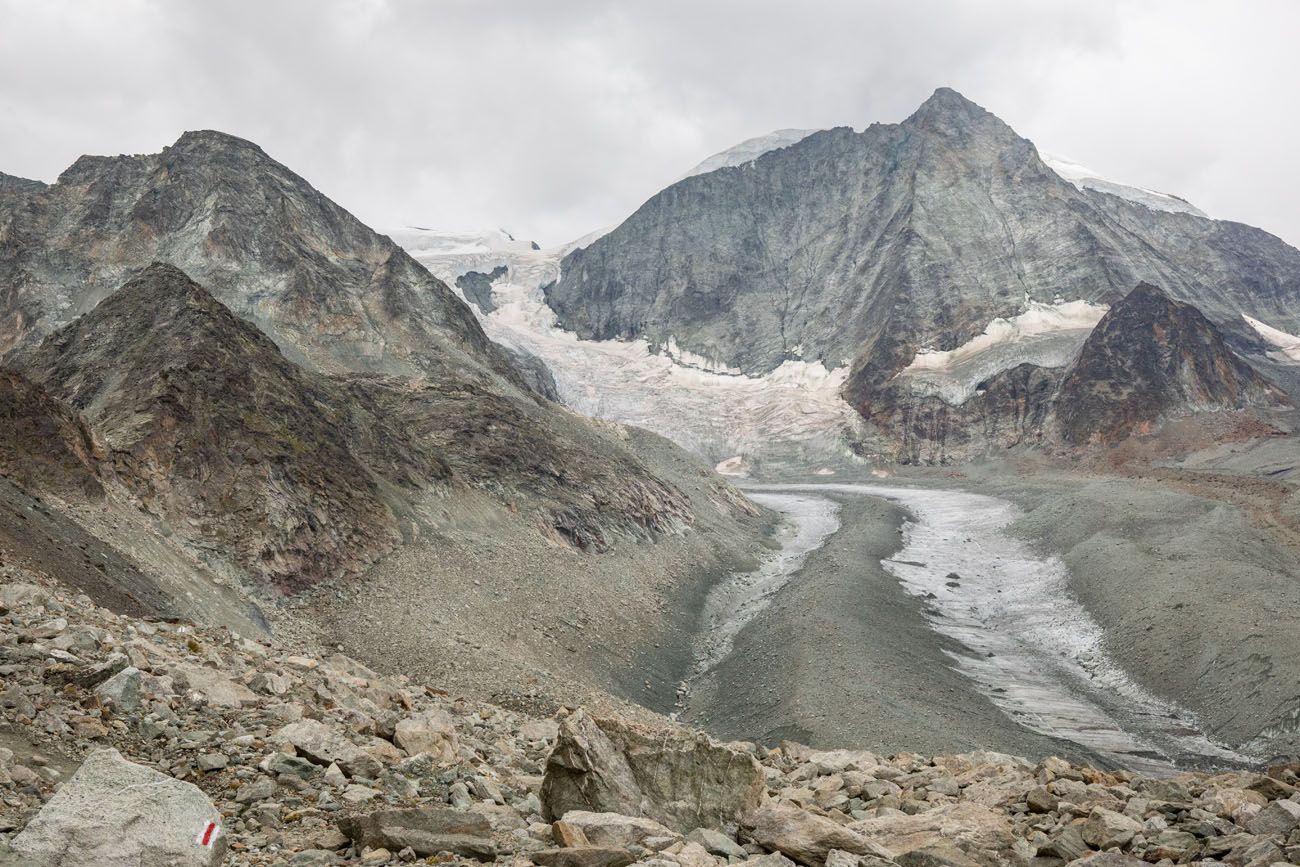 Cheilon Glacier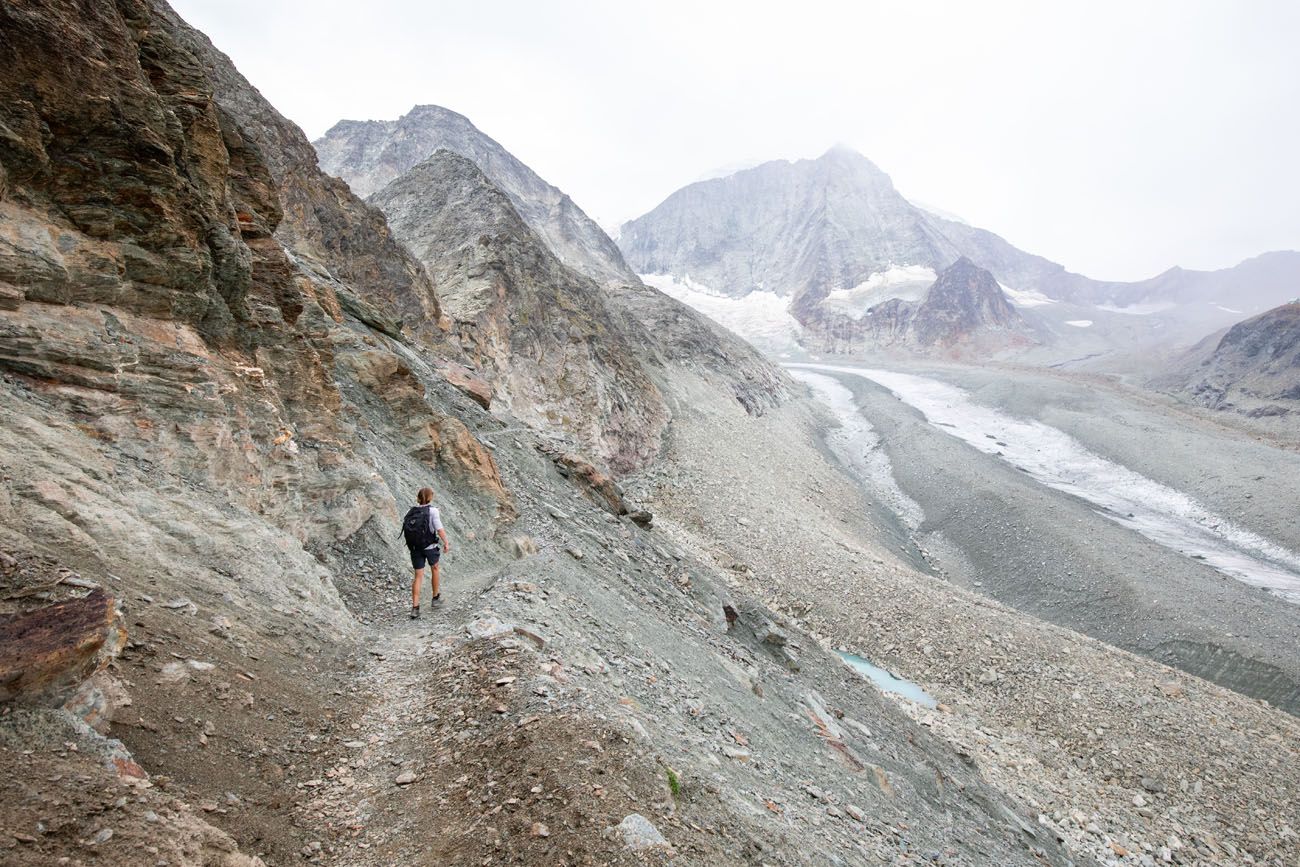 Eventually a series of ladders leading up to Pas de Chèvres will come into view. The top of the ladders marks the end of the day's ascent.
The ladders are a lot of fun to climb up. There are series of several ladders and platforms which make the final ascent rather quick and easy. The metal can be cold, especially if it is a cloudy day. For us, it was drizzling and cloudy when we went up the ladders, so they were a little slippery. But we all made it up just fine.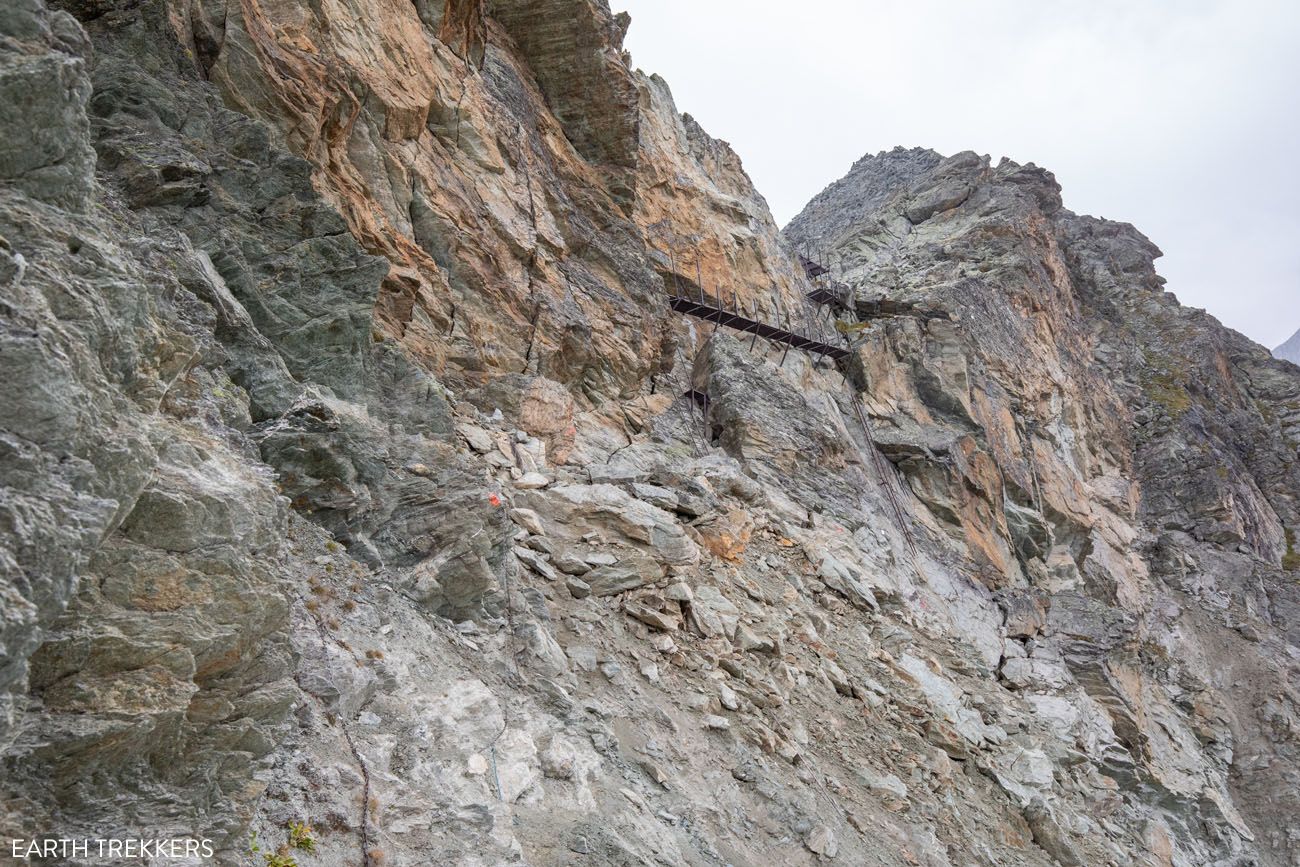 Ladders to Pas de Chèvres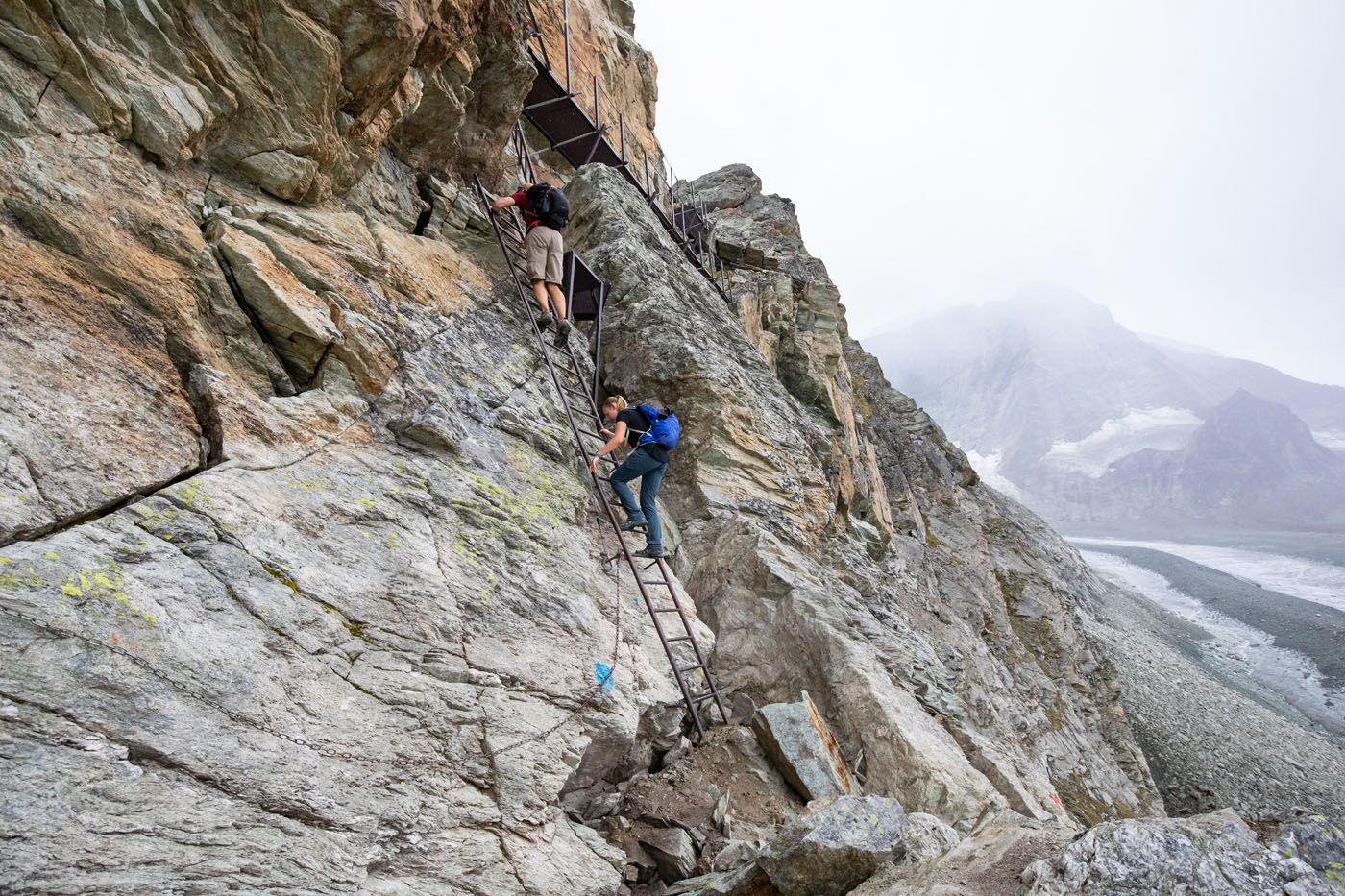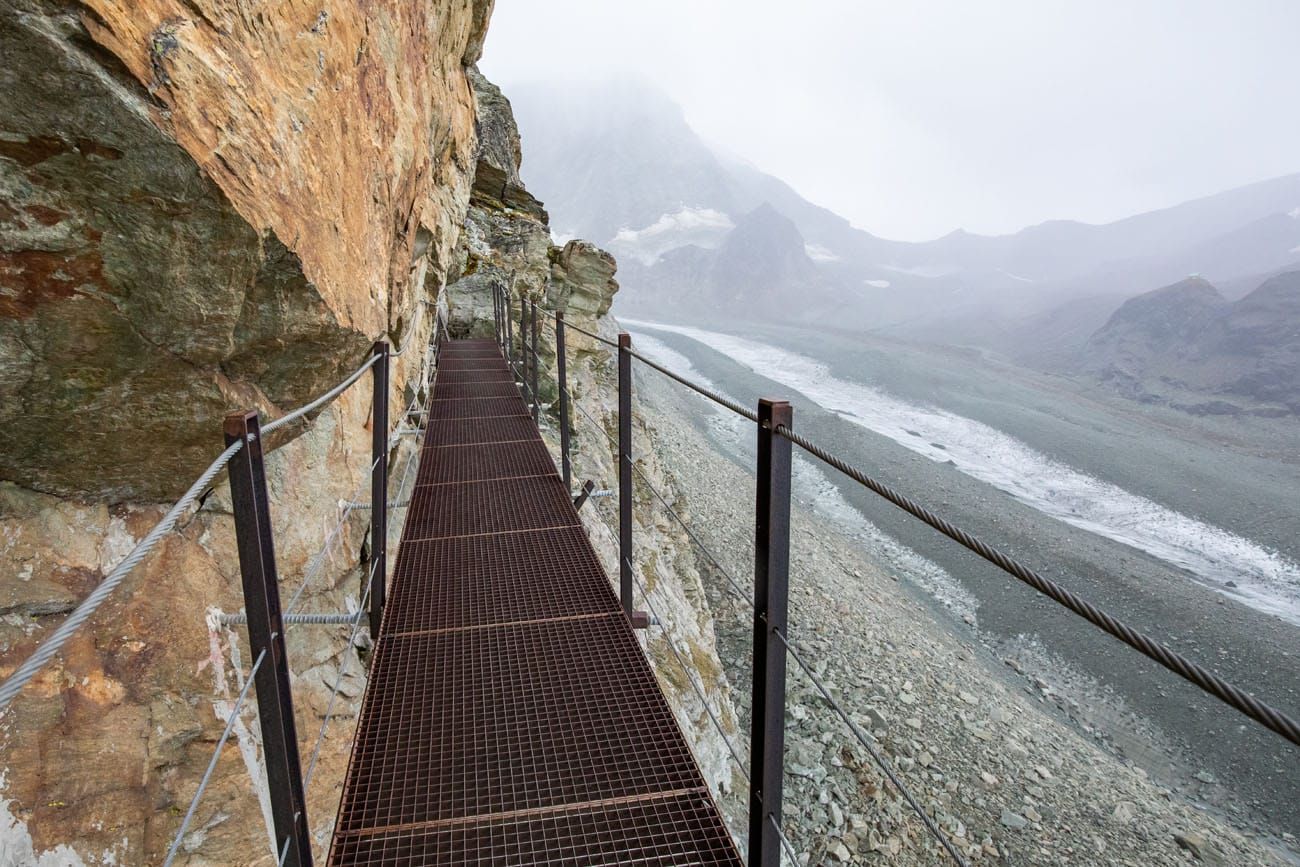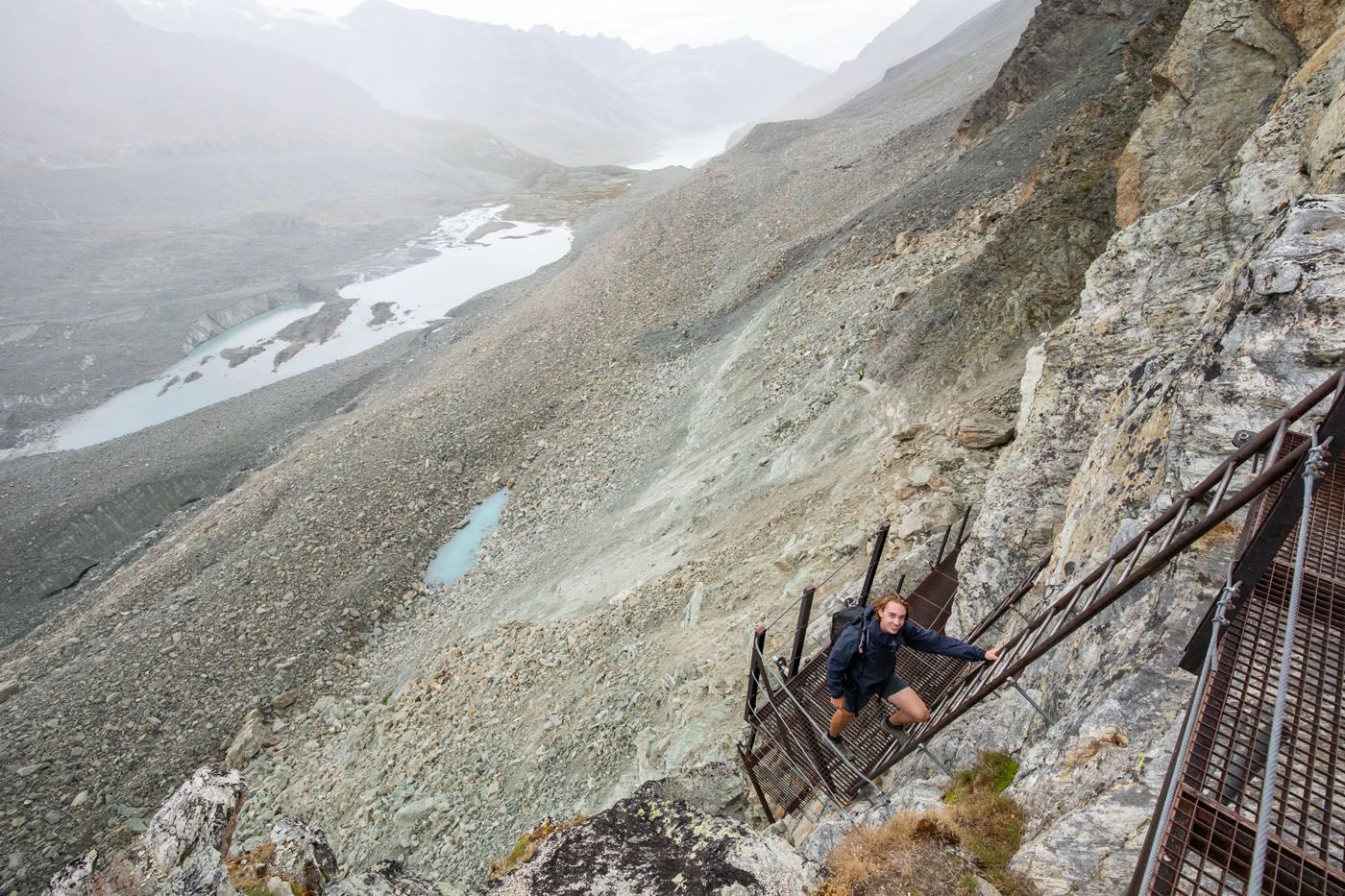 Once you reach the top of the ladders, the ascent for this stage is finished. From this point, if skies are clear, you can get your first view of Matterhorn in the distance. We weren't so lucky, with the rain and low-lying clouds.
Hiking Tip: The hike through the boulder field and the climb up the ladders can be treacherous in wet weather. If rain is in the forecast for today, get an early start and do your best to get here before the rain begins to fall. There is also an alternative route to bypass the ladders (by hiking to Col de Riedmatten) which is described in the guide by Kev Reynolds. In our case, rain was forecasted to begin mid-morning. We started hiking at 6:45 am made it to the ladders at 10:20 am, just as the first raindrops began to fall.
Pas de Chèvres to Arolla
Now you will head down the other side of the mountain to Arolla. It is a long descent, however most of the way is gradual so it is easy to move quickly once again. Far up ahead is a valley and this is where you are going. Beyond the valley are glacier covered mountains that soar into the sky.
As you hike down you will see Tsijiore Nouve glacier to your right.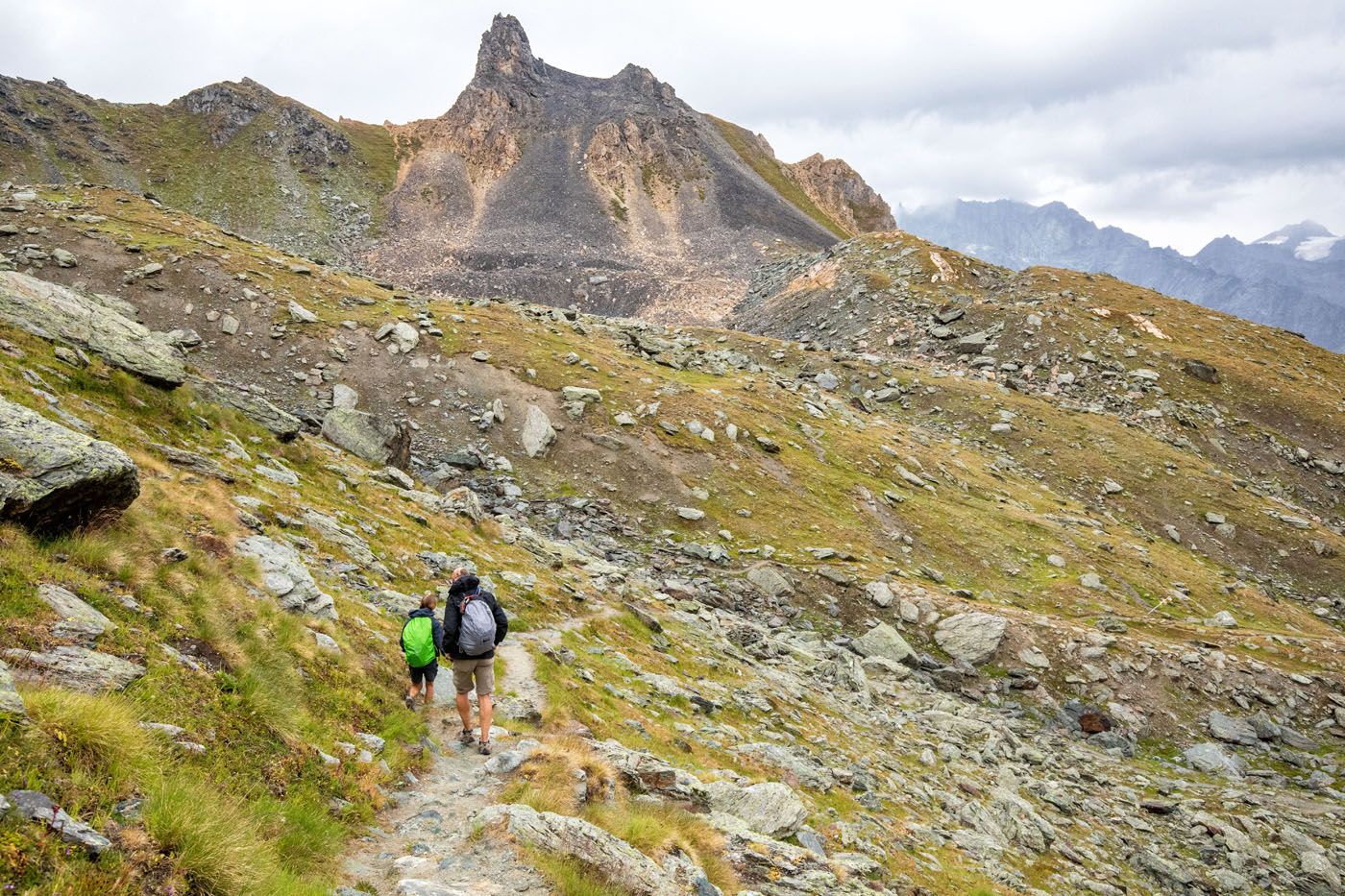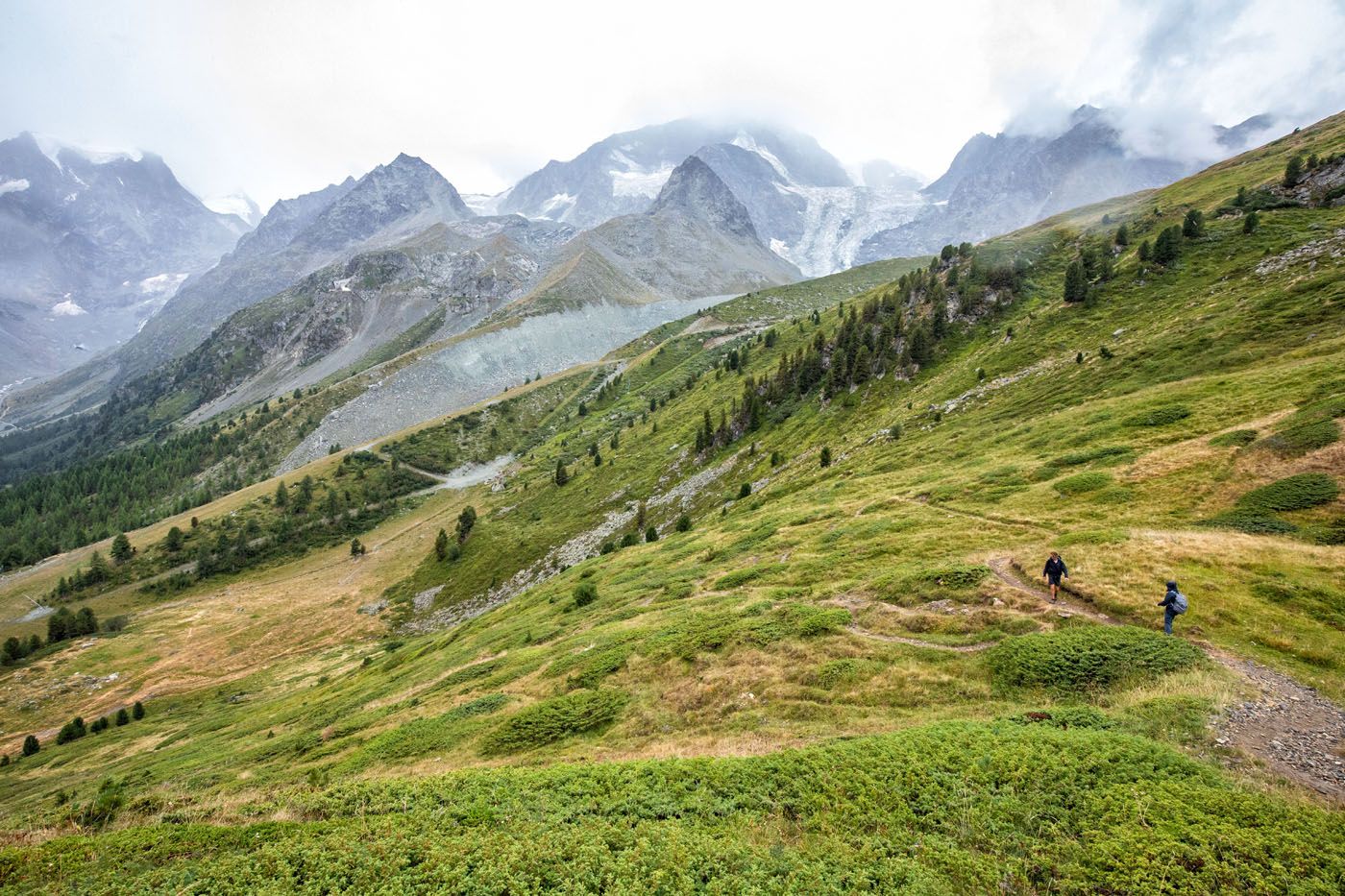 As you reach the valley, some buildings will come into view below. The main town of Arolla is just past these few buildings.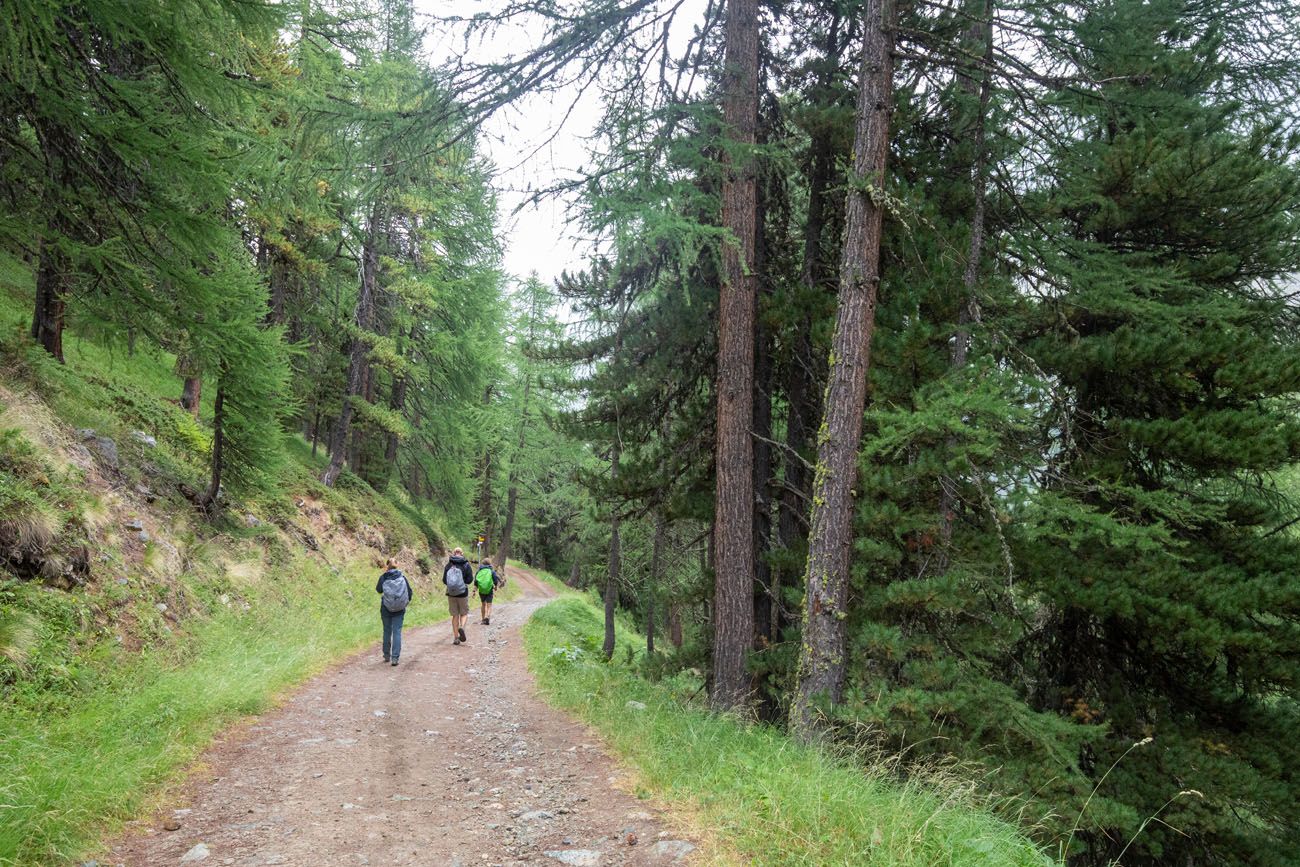 The trail will begin to switchback through the forest and then into town. You will pass a small café, then the Grand Hotel & Kurhaus, and from there you only have 10 minutes until you are in Arolla.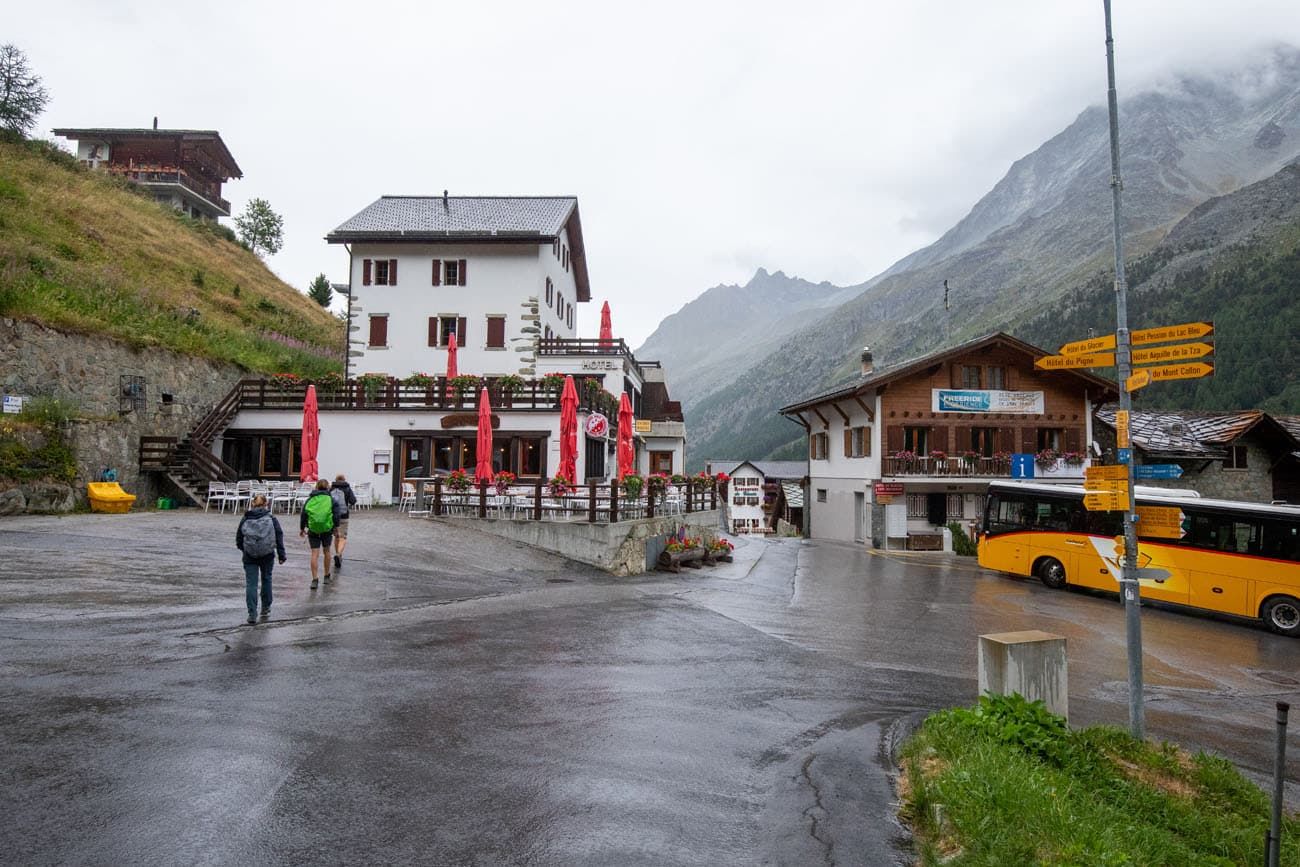 Important Note: Along today's hike, there are no facilities. There are a few mountain huts along the way but they do not have restaurants (it is my understanding that these only have rooms in which to spend the night and they might not have staff 7 days a week). It's best to order a picnic lunch from Cabane de Prafleuri or bring your own stash of food to get you to Arolla.
Where to Stay in Arolla
We stayed in Hotel – Restaurant du Pigne d'Arolla. This is a standard hotel and we had two rooms which each had two beds, a private bathroom, desk, couch, and balcony. The rooms are basic but it has everything you need. There is a restaurant on the ground floor where we had tasty burgers after the day's hike. The hotel also serves breakfast and dinner. We enjoyed our stay here and recommend it.
There is a grocery store and a few restaurants in the town as well.
Alternative hotels are Grand Hotel & Kurhaus and Hotel – Restaurant du Glacier.
Clarifications for the Walkers Haute Route book
We were able to follow the Walker's Haute Book by Kev Reynolds (the sixth edition from 2019; there is now an updated version) without ever needing to backtrack. But there were a few times during this stage we felt a little more clarification would have helped so we are providing that clarification here based on our experience. These notes were taken related to following the main route described under Stage 7.
Descending Pas de Chevres to Arolla: As we descended, the trail eventually joined a wider track. But you don't stay on this wider track for very long as there is a yellow sign pointing you back onto a narrower track on the left.
A bit further the trail crosses another wider track next to an old structure with a slate roof. Go straight across here.
Then we reached a junction where a trail with yellow & black way markers painted on rocks broke off to the right of the trail we were following. Turn right at this junction to follow what at times seemed like a jumble of interweaving trails down the steep hillside.
After a bit of zig zagging down the hillside we reached a shack offering food. From here follow the rocky road downhill until you come to a yellow signpost pointing you to a trail on the right, which you take.
When you reach Grand Hôtel & Kurhaus follow the yellow sign pointing to Arolla. Shortly thereafter follow the Trail 10 way markers the rest of the way to Arolla.
More Information about the Haute Route
In our Walker's Haute Route Planning Guide, we have links to all of our articles about the Walker's Haute Route, including information about each stage, how to plan your trek, what to expect, and more.
For an overview of all 14 stages of the Walker's Haute Route, with overall hiking stats, map, elevation profile, and lists of the most difficult stages, easiest stages, and our personal favorites, check out our Guide to the Walker's Haute Route Stages.
Stages of the Haute Route: Below are our guides to each stage of the Haute Route.
---
If you have any questions about how to hike Stage 7 of the Haute Route let us know in the comment section below.
Note: This post contains affiliate links. When you make a purchase using one of these affiliate links, we get paid a small commission at no extra cost to you.
All rights reserved © Earth Trekkers. Republishing this article and/or any of its contents (text, photography, etc.), in whole or in part, is strictly prohibited.