Stage 8 is both the easiest and shortest of the 14 stages that make up the Walker's Haute Route and it is a great chance to catch your breath and rest your legs before heading into the final stretches of the Haute Route.
Beginning in Arolla, you will hike up and over hillsides, passing through several quaint hamlets and around a turquoise lake. Our day ended in Les Haudères, where we had booked our accommodations for the night. Les Haudères is a small town that sits in the valley below La Sage. Some sources list La Sage as the endpoint of stage 8 and it is just a short walk beyond Les Haudères to get here.
Walker's Haute Route Stage 8 Hiking Stats
Distance: 8.9 km (5.5 miles)
Difficulty: Easy
Total Ascent: 350 m (1,150 feet)
Total Descent: 885 m (2,900 feet)
Lowest Elevation: 1,450 m (4,760 feet)
Highest Elevation: 2,145 m (7,035 feet)
Elevation in Arolla: 2,035 m (6,675 feet)
Elevation in Les Haudères: 1,470 m (4,825 feet)
Average Time: 3.5 hours; Our Time: 2 hours 45 minutes (including stops)

Haute Route Stage 8 Elevation Profile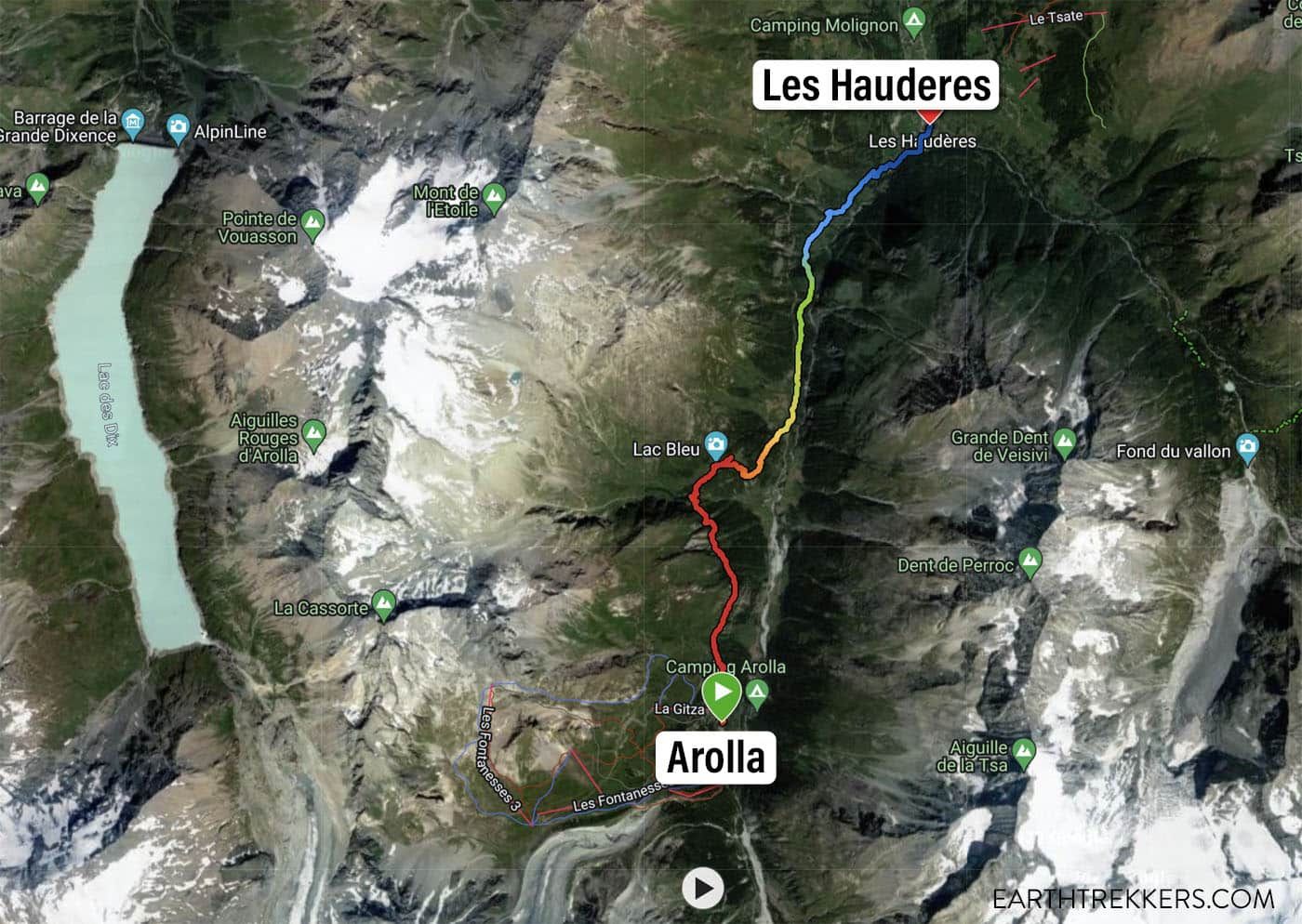 Haute Route Stage 8 Map (map generated from Julie's Garmin Fenix watch). The red color indicates the highest elevation along the trail and the blue color is the lowest elevation along the trail.
Please practice the seven principles of Leave No Trace: plan ahead, stay on the trail, pack out what you bring to the hiking trail, properly dispose of waste, leave areas as you found them, minimize campfire impacts, be considerate of other hikers, and do not approach or feed wildlife.
Walker's Haute Route Stage 6: Overview of the Trail
To hike the Haute Route, we highly recommend following the trail descriptions in the book Trekking Chamonix to Zermatt, The Classic Walker's Haute Route by Kev Reynolds. Below we list an overview of the day, so you know what to expect along the way. We also provide advice on where to eat and where to stay. Later in this guide, we list a few tips and trail clarifications to be used with the Trekking Chamonix to Zermatt book.
Arolla to Lac Bleu
Your day begins in the center of Arolla. A narrow, very easy to miss dirt path, which starts next to the Centre Alpin building, marks the start of Stage 8. Follow this trail as it wraps behind several buildings and instantly throws at you a short but steep climb.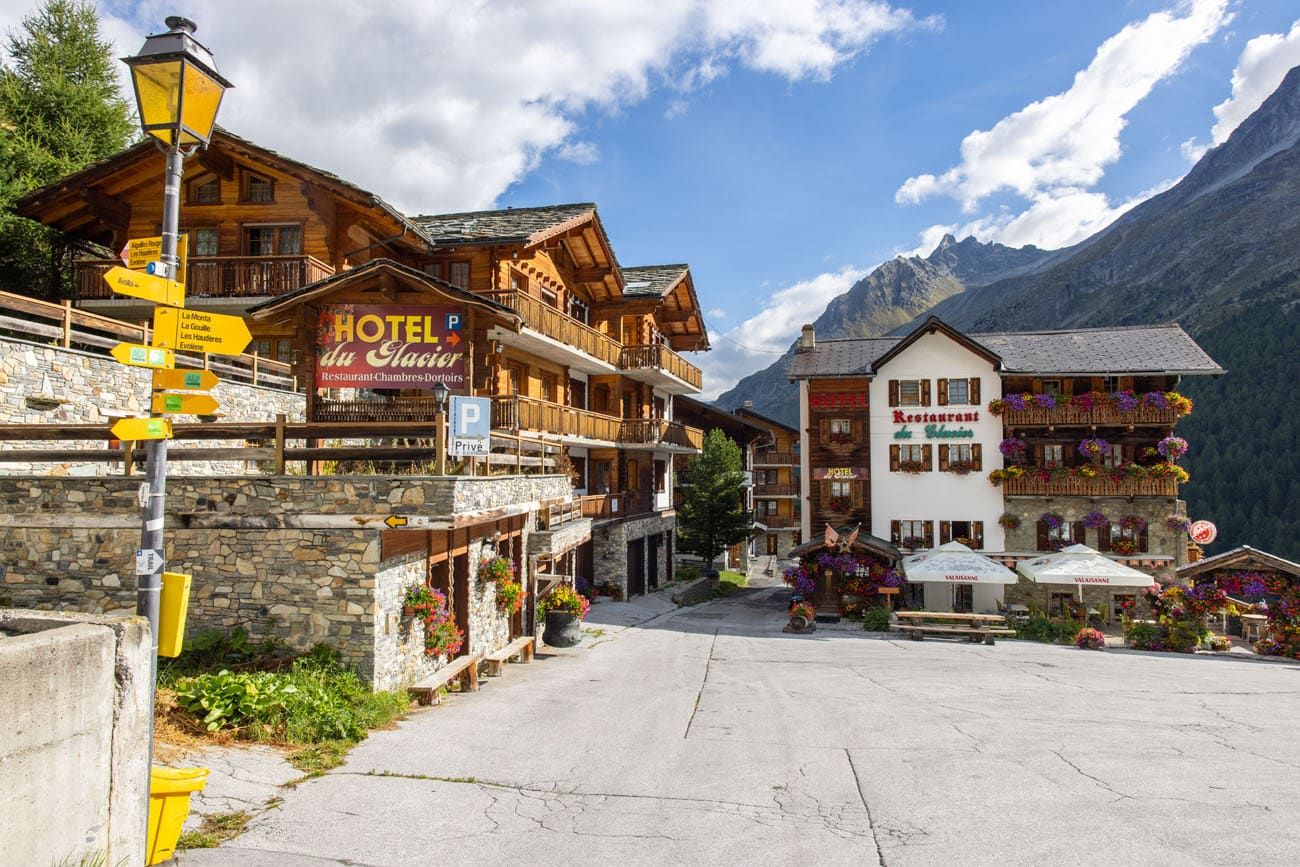 Arolla
You'll soon enter the treeline after departing Arolla. Once here, follow signs for Lac Bleu. The trail will climb up steeply through the woods for a bit, where the path can be cluttered with rocks and roots. On a wet day you'll be very prone to slipping, so watch your step.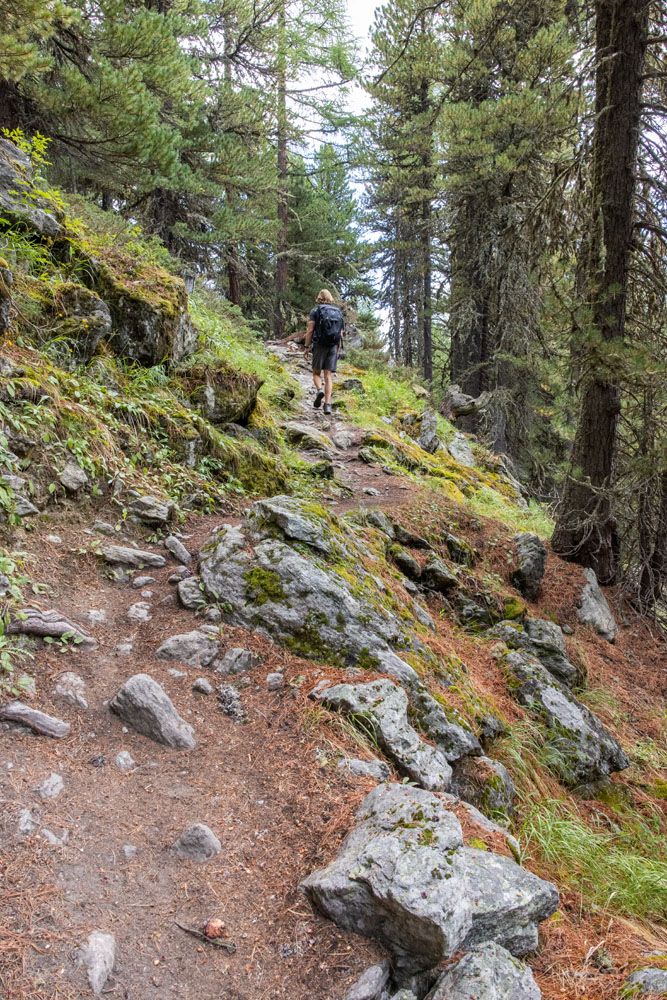 After a short but challenging climb, the trail will flatten out and continue on through the woods. There will be some sections where the trail opens up and then runs along the edge of a cliff.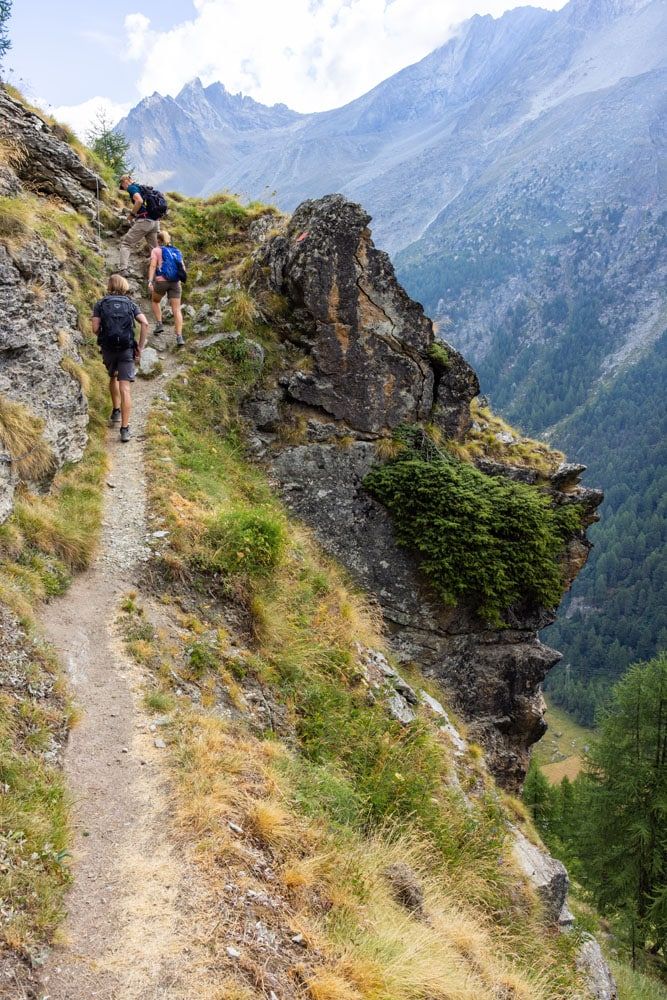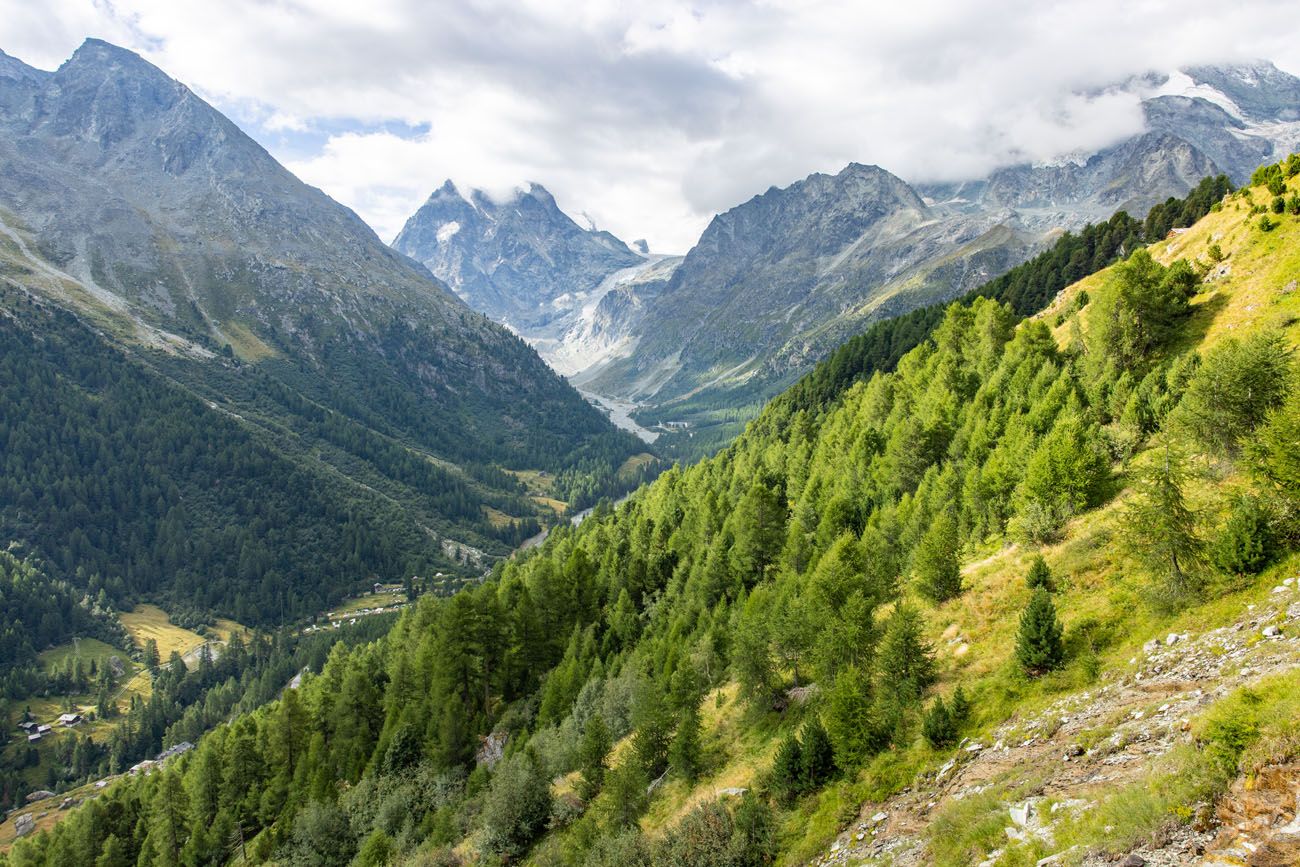 Looking back to Arolla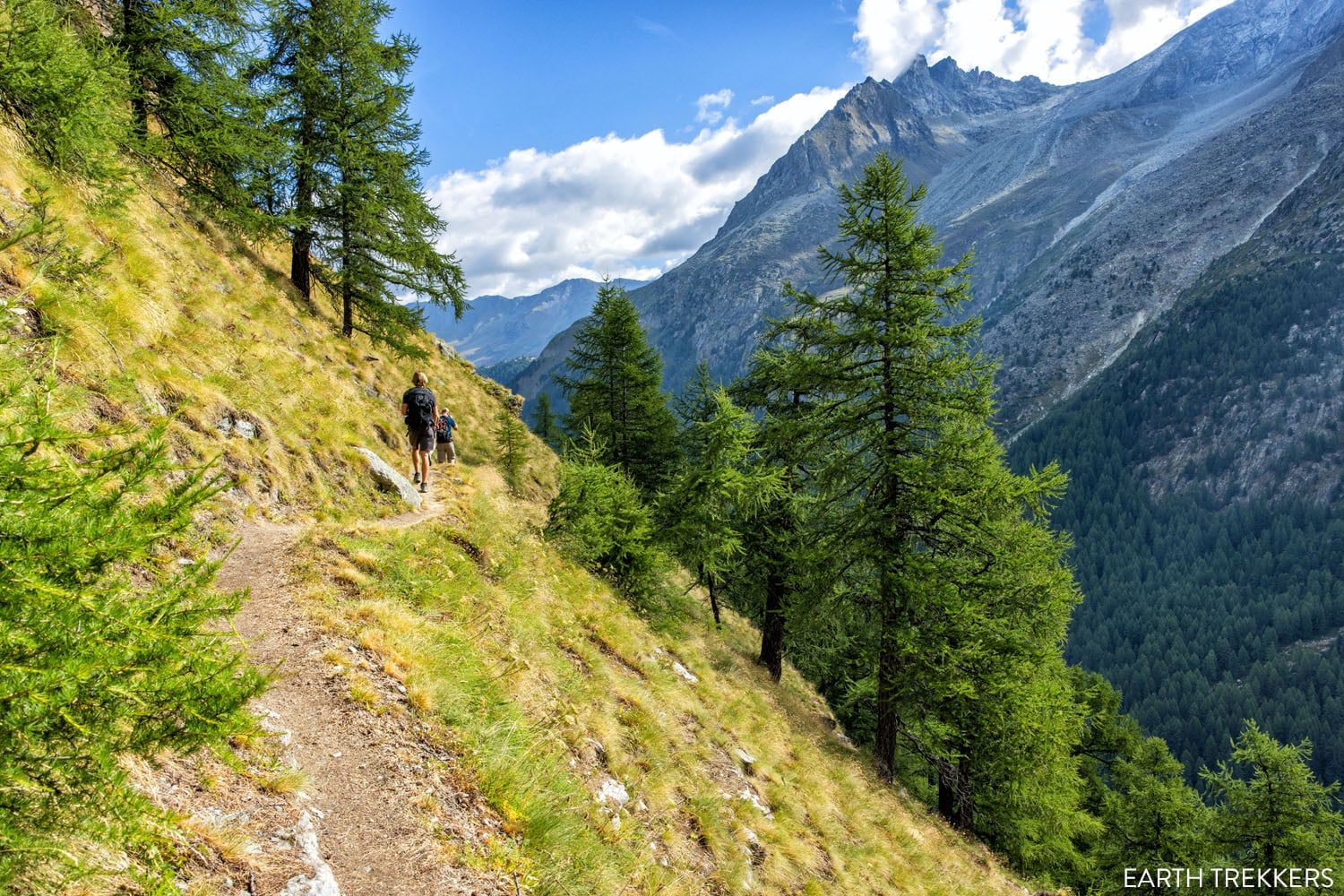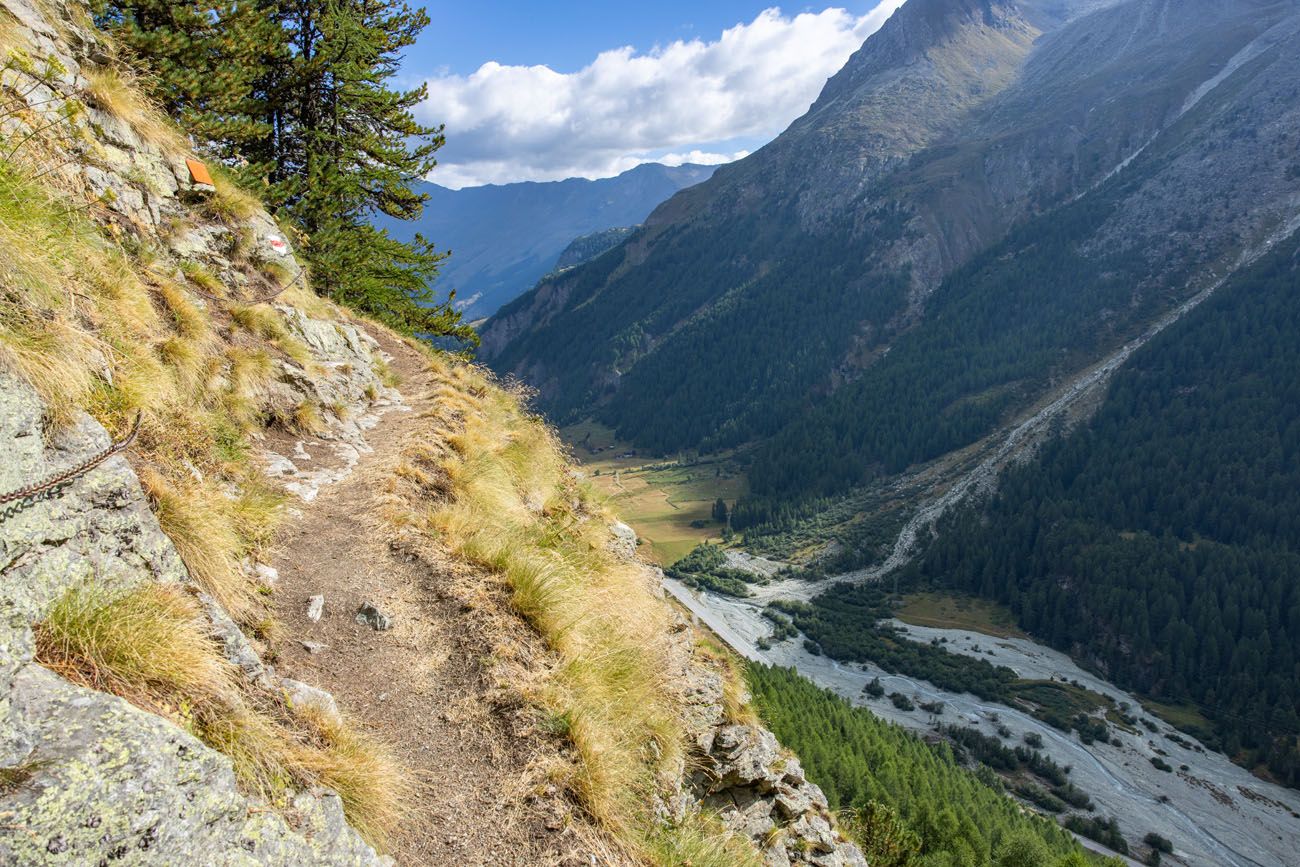 About 40 minutes into the hike, you'll reach a few small wooden bridges that cross over tiny waterfalls. It's here where the trail will bounce between steep, rocky descents and short climbs, which will persist until you leave the woods about 3 km (2 miles) into your hike.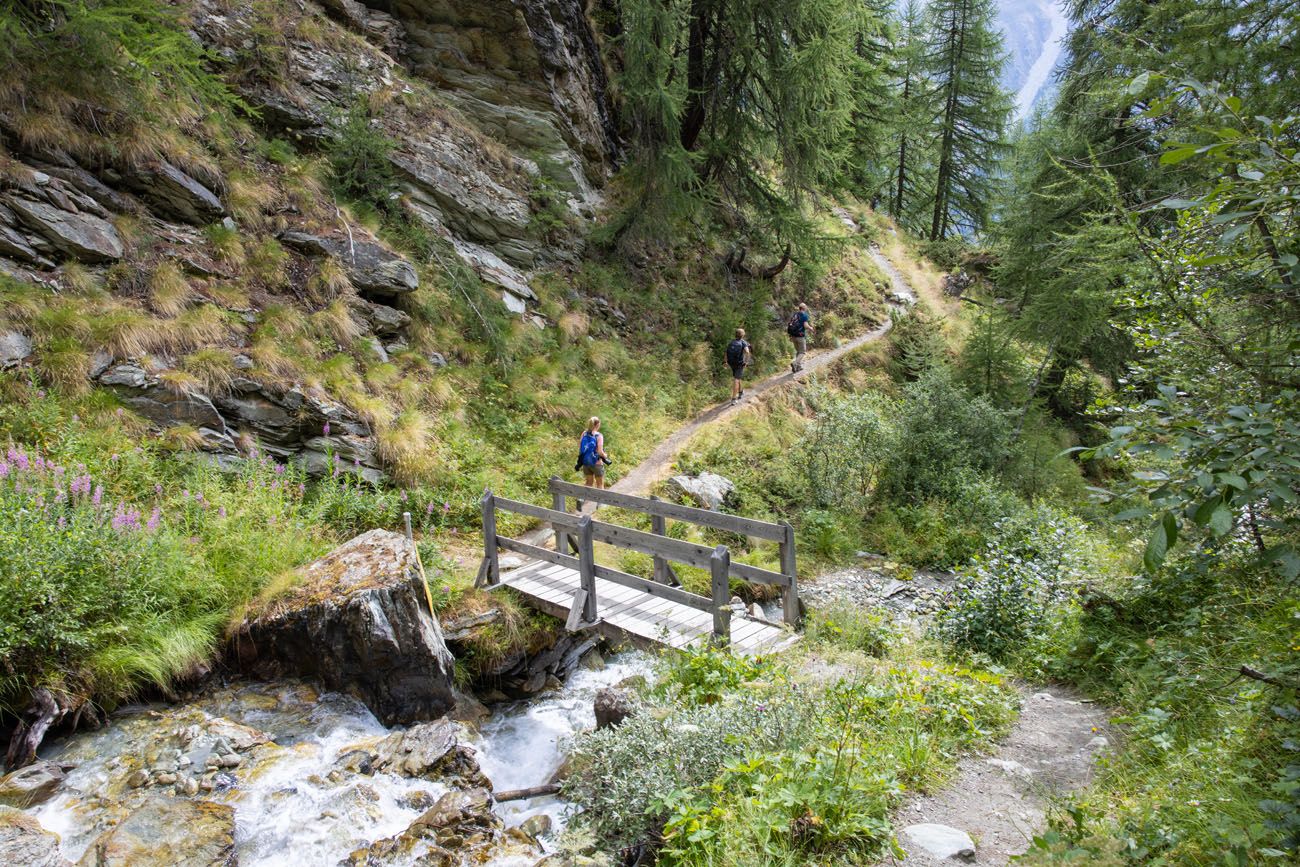 Soon after you will reach Lac Bleu, a tiny turquoise lake that honestly seems underwhelming compared to other lakes we've seen along the Haute Route. However, it's a very calming spot to relax and take in the views. There is also a short path that circles the lake.
Lac Bleu
Lac Bleu to Les Haudères
Continuing onwards, follow signs for La Gouille. Only a few minutes after leaving the lake you'll come to Louché, a small Swiss hamlet. Check out this view.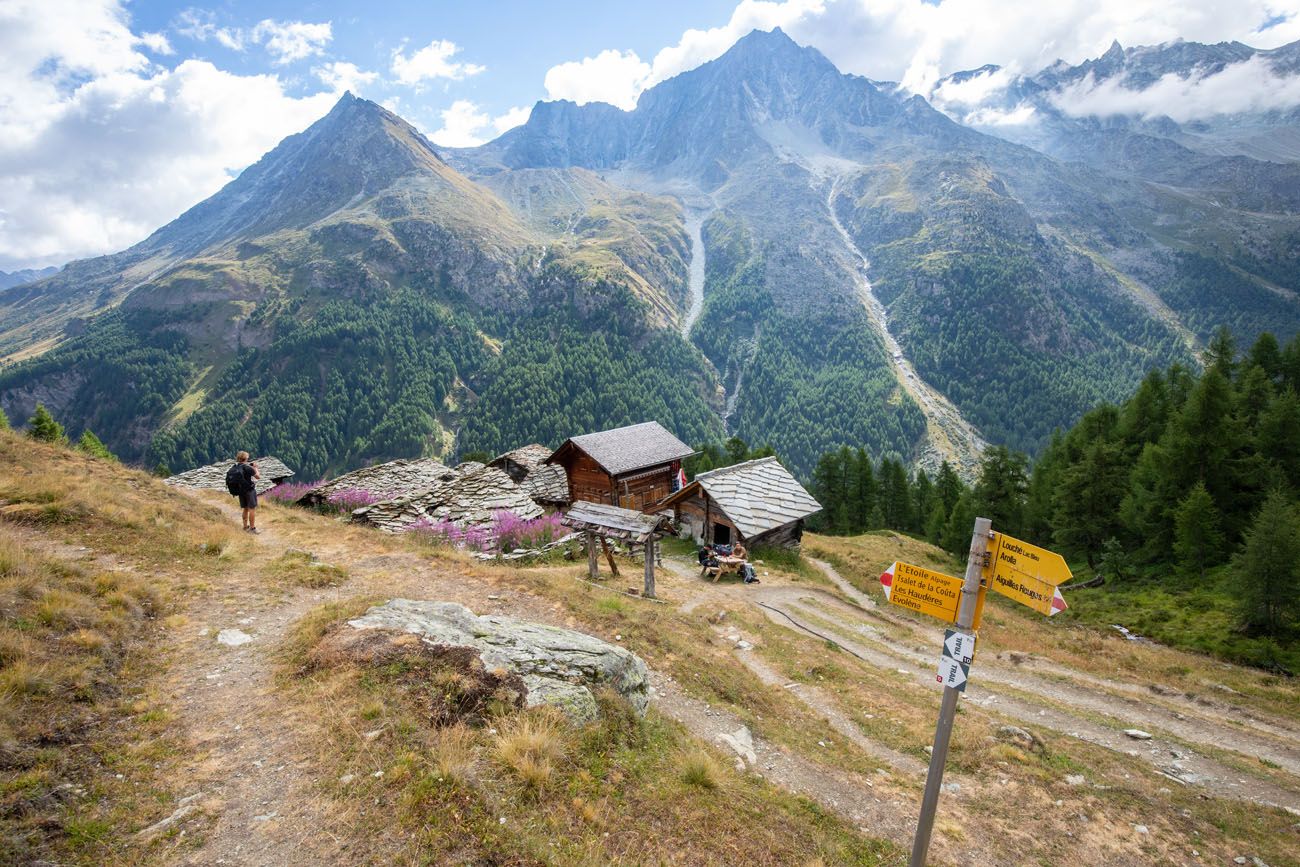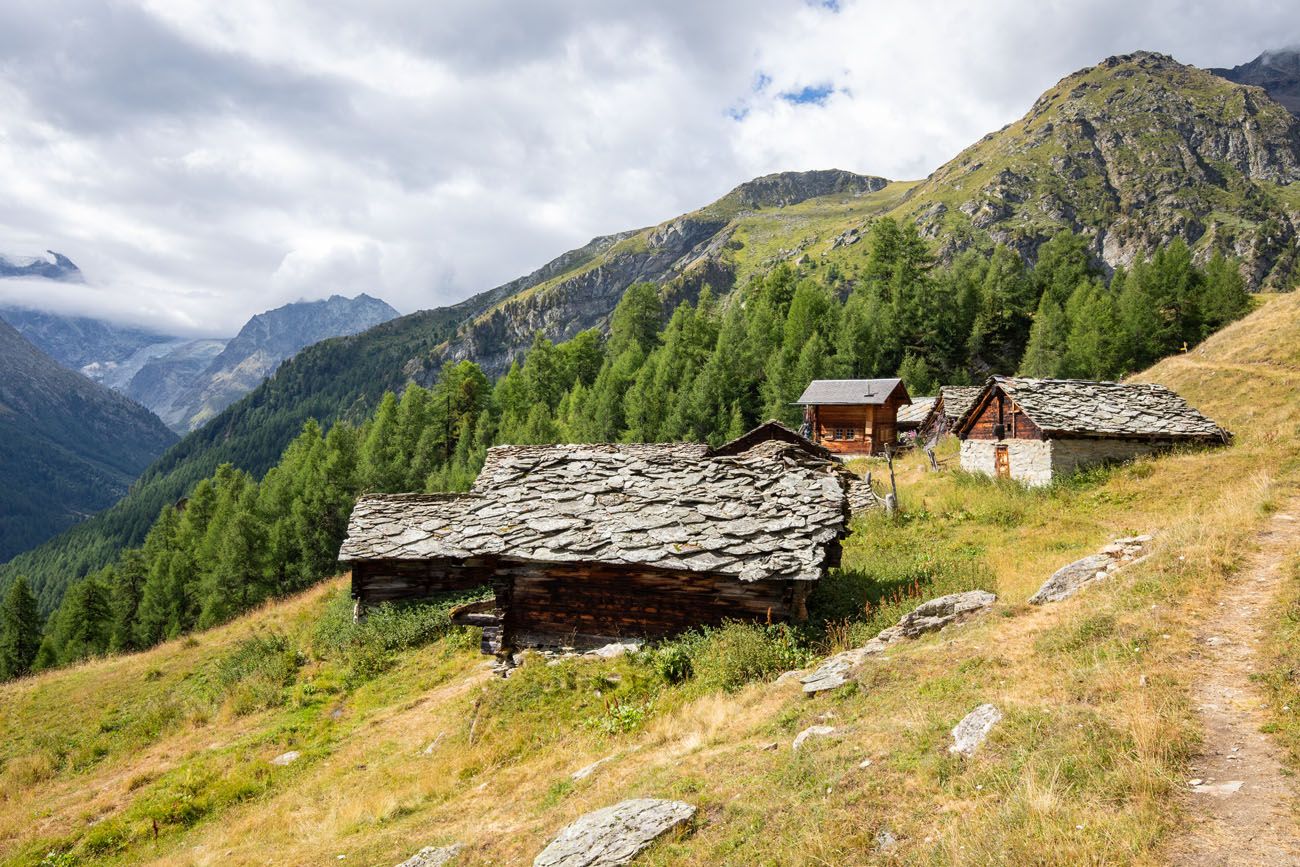 The trail leads below these cabins and will soon take you down a steady descent through the trees.
Once you emerge from the trees you will be in the small village of La Gouille. We noticed a lot of day hikers starting their hike to Lac Bleu from here.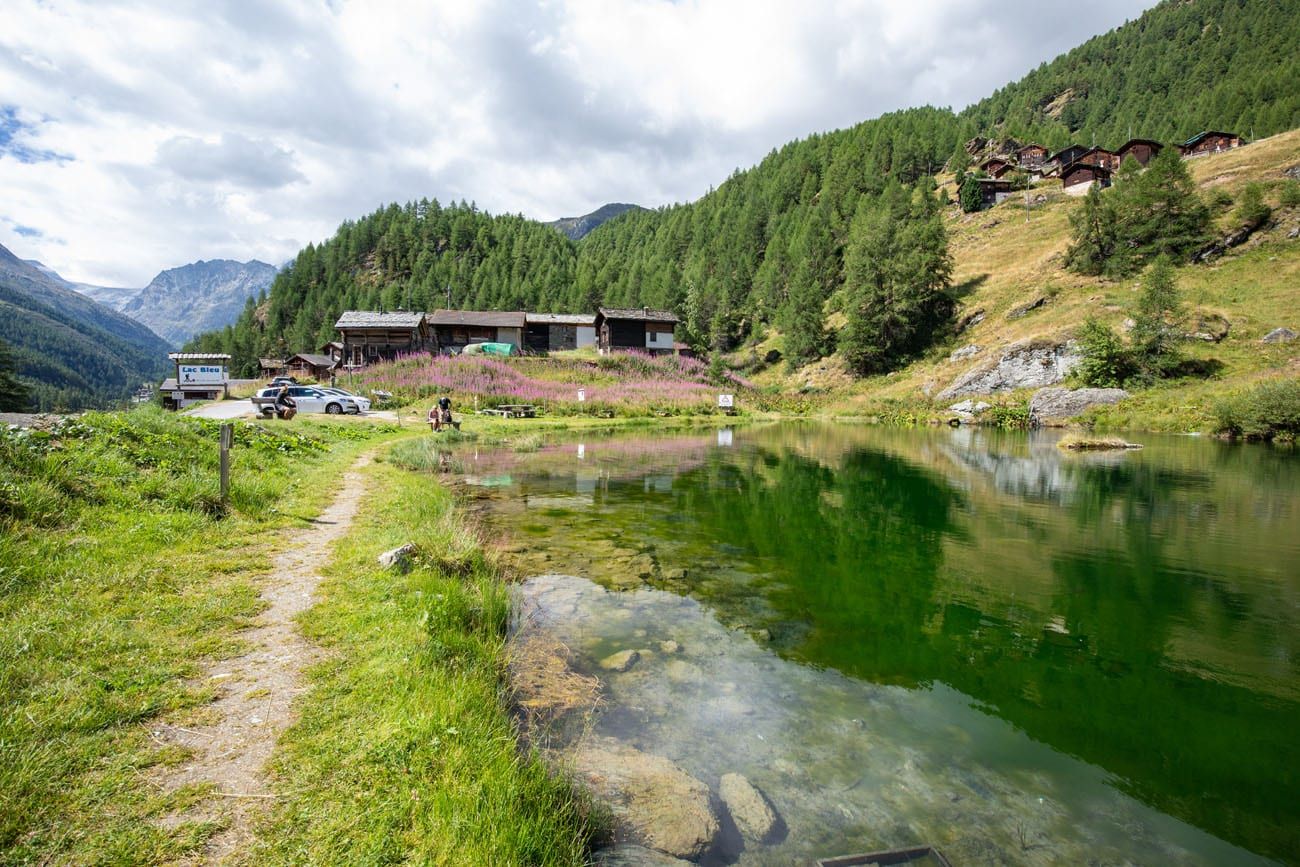 La Gouille
To continue on the trail, follow the road north for roughly 200 meters and then take a grass path downwards into the woods. From here you will gradually descend through the trees all the way down into Les Haudères. The grass path will turn into a gravel road early on.
Unfortunately, the path down to Les Haudères is very monotonous and you only get occasional views of the valley below, but the gradual descent lets you really pick up speed with ease.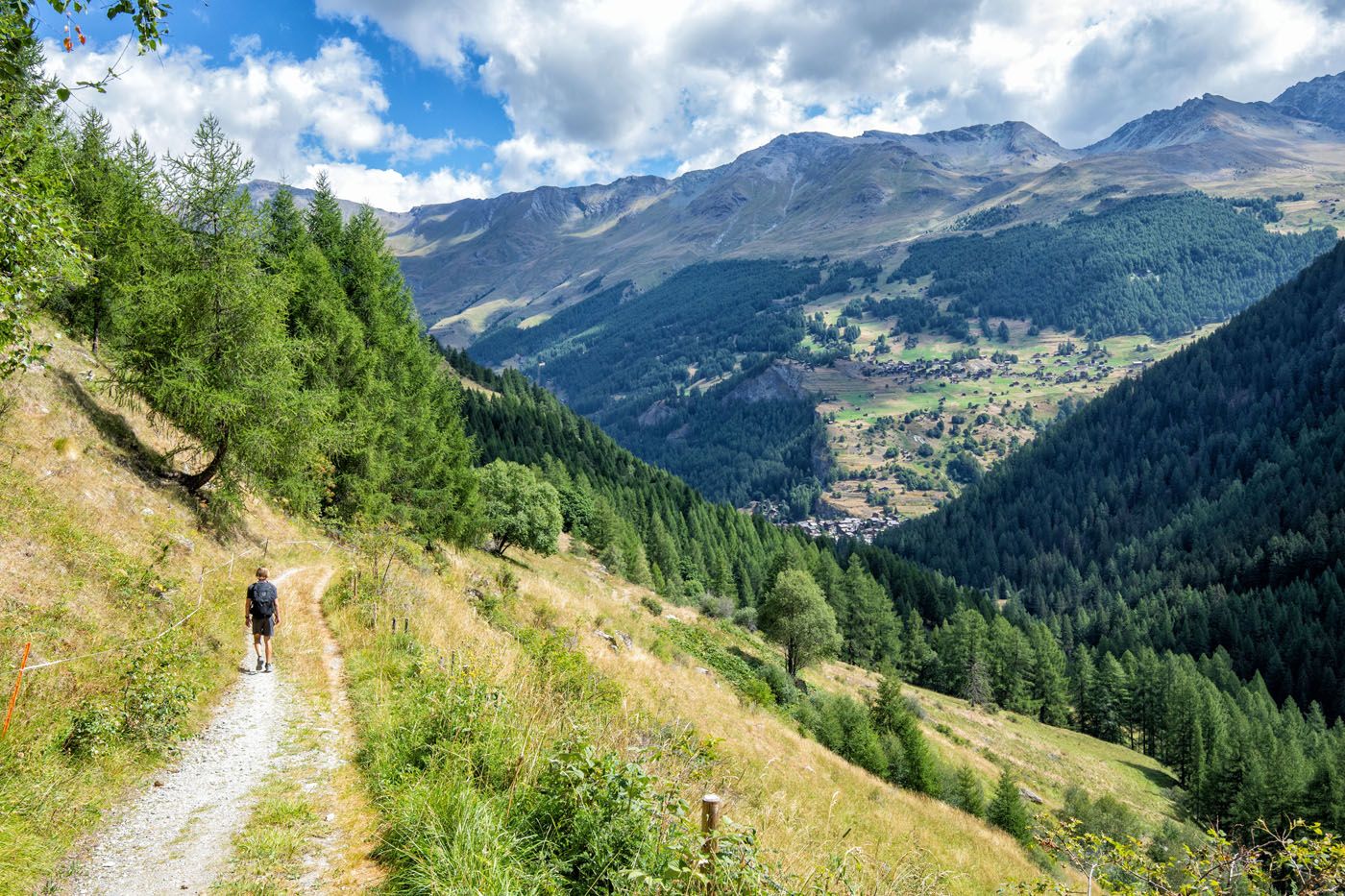 Before you know it, the gravel road will open up as it joins with a paved road at the outskirts of Les Haudères. Simply follow the road into town as you walk past old, wooden houses.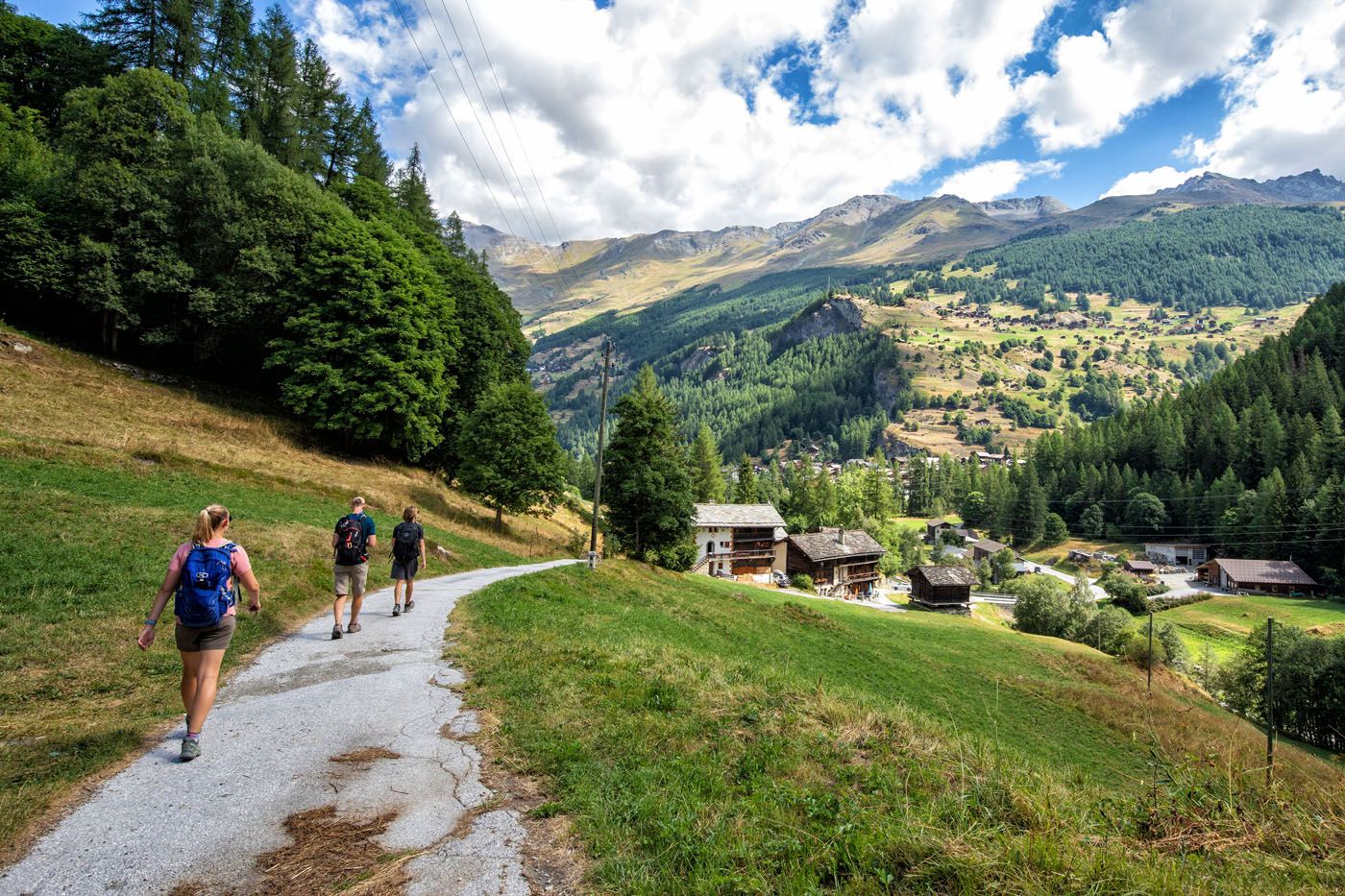 Entering Les Haudères
Officially Stage 8 ends in La Sage, a town above Les Haudères. However, in our case, we spent the night in Les Haudères since we found better accommodations here. All this means is we will have to tack on an extra few kilometers to tomorrow's hike.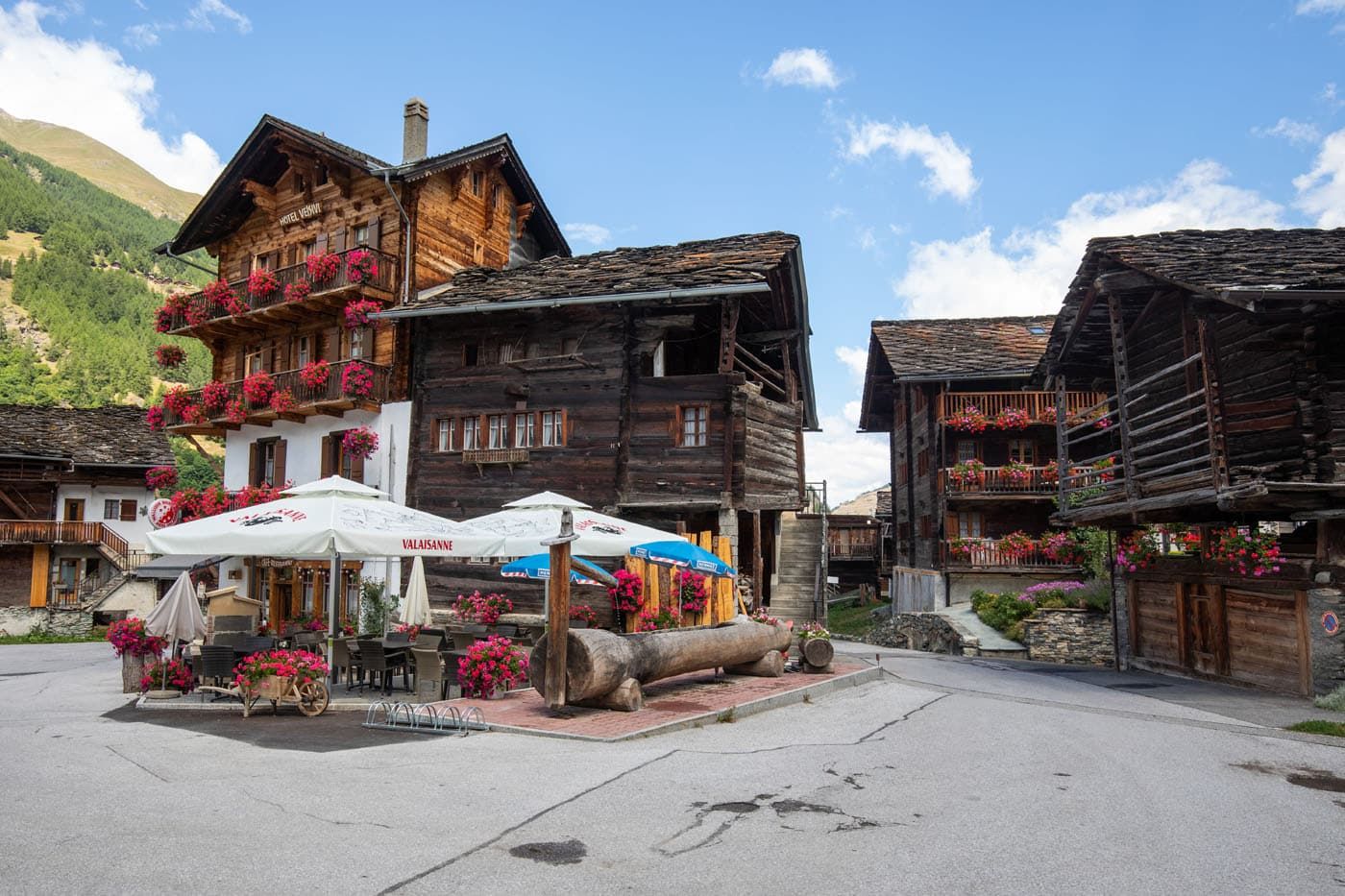 Les Haudères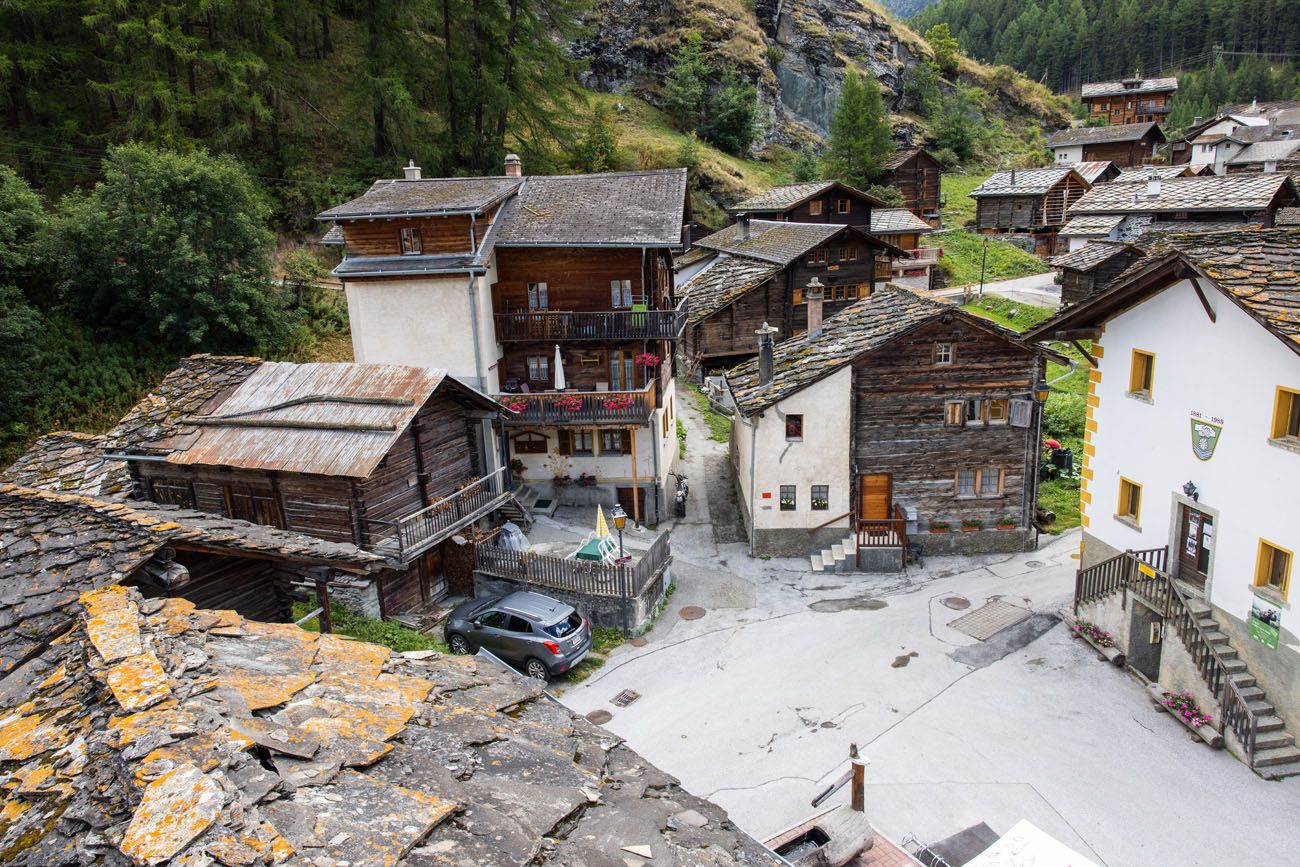 The view of Les Haudères from our hotel room.
Les Haudères to La Sage
Distance: 2.1 km (1.3 miles)
Total Ascent: 212 m (700 feet)
Total Descent: 15 m (50 feet)
Our Time: 30 minutes (including stops)
Stage 9 is a big day that starts off with a very long climb. If you stay in La Sage, you will lessen the amount of uphill walking you will do on stage 9, so this is something to consider when you make your hotel reservations. We chose Les Haudères because Hotel Dents de Veisivi got great reviews (and we recommend it if you don't mind a longer, more challenging stage 9).
Where We Stayed
We stayed at Hotel Dents de Veisivi in Les Haudères. The town itself was unique compared to others we've stayed in on our trek, and Les Haudères definitely has a certain charm to it. Its bundles of old wooden buildings, outfitted with mossy stone roofs in a picturesque valley gave way to a very photogenic place to stay.
We grabbed both lunch and dinner at our hotel, and both meals were fantastic. The cozy atmosphere of the rooms fit well with the overall feel of Les Haudères, and we greatly enjoyed our time here as we rested up for the later stages of the Haute Route.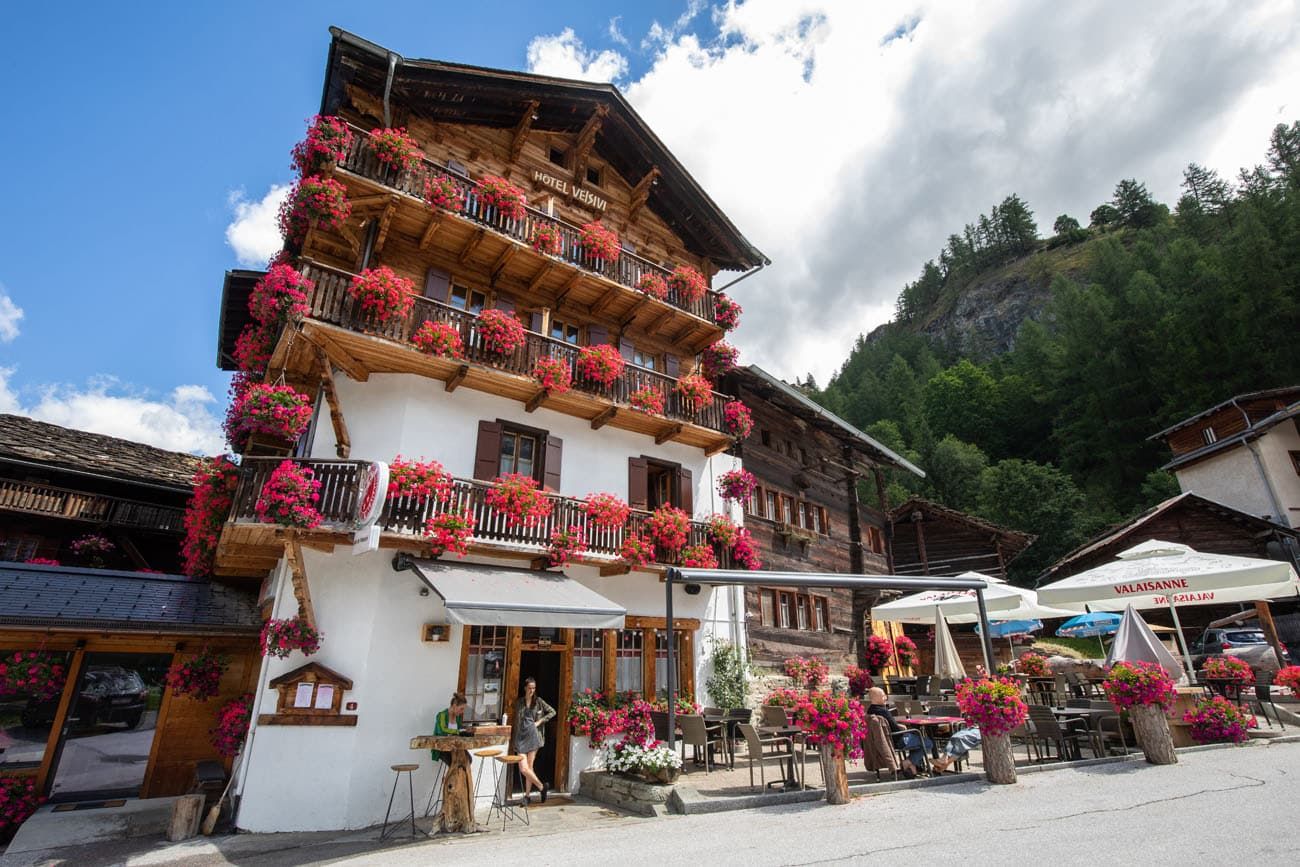 Hotel Dents de Veisivi
Alternative hotels are Hotel Les Mélèzes in Les Haudères and Hotel de la Sage in La Sage.
Clarifications for the Walkers Haute Route Book
We were able to follow the Walker's Haute Book by Kev Reynolds (the sixth edition from 2019; there is now an updated version) without ever needing to backtrack. But there were a few times during this stage we felt a little more clarification would have helped so we are providing that clarification here based on our experience. These notes were taken related to following the main route described under Stage 8.
Centre Alpin: The book mentions going between the buildings at Centre Alpin but the yellow & black waymarkers now direct you to stay in front of the buildings. A yellow & black waymarker is painted on the side of one of the buildings. After you go past that building the gravel track you are on will swing around to the left and then the trail you want to take (signed as Trail 10) will split off to the right. This takes you into the woods. Now that you are in the woods look for the signed junction mentioned in the book where you take the upper path (Chemin difficile – direction Louche, Lac Bleu and La Gouille).
Lac Bleu: When leaving Lac Bleu along the lake's outflow, walk in front of the hamlet you see in front of you. This is Louche and you will see a buvette sign pointing to one of the houses. You will be at the hamlet level. If you are above the hamlet then you are following the wrong trail.
La Gouille: There is a water trough where the track through La Gouille meets the main road.
St Barthelemy: As you approach St Barthelemy the trail you are on will reach a gravel road at a hairpin bend. The white chapel with no steeple is visible in front of you. Follow the gravel road in front of the chapel and downhill. Beyond this is the fork mentioned in the book.
Les Haudères: Just before reaching Les Haudères, there is a water trough located between the "group of handsome old timber houses" and "main road" referenced in the book.
There is a water trough located by Hôtel des Haudères and another by Restaurant Dents de Veisivi. Google Maps can be helpful to find these.
As we explored the old centre of Les Haudères we found a signpost pointing to La Sage at an intersection of old centre streets that connected Hôtel des Haudères and Restaurant Dents de Veisivi with Route du Vieux Village. After following this we immediately turned left at another sign pointing to La Sage. This began the climb to La Sage referenced in the book.
More Information about the Haute Route
In our Walker's Haute Route Planning Guide, we have links to all of our articles about the Walker's Haute Route, including information about each stage, how to plan your trek, what to expect, and more.
For an overview of all 14 stages of the Walker's Haute Route, with overall hiking stats, map, elevation profile, and lists of the most difficult stages, easiest stages, and our personal favorites, check out our Guide to the Walker's Haute Route Stages.
Stages of the Haute Route: Below are our guides to each stage of the Haute Route.
---
If you have any questions about how to hike the Haute Route Stage 8, or if you want to share your experience, let us know in the comment section below.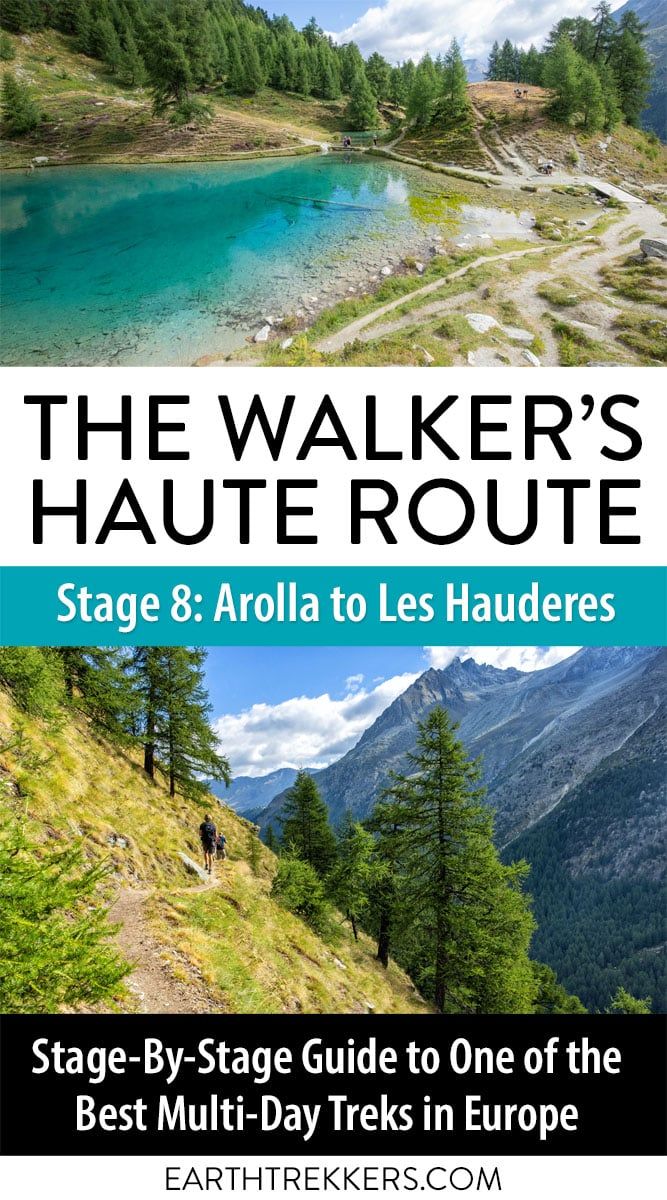 Note: This post contains affiliate links. When you make a purchase using one of these affiliate links, we get paid a small commission at no extra cost to you.
All rights reserved © Earth Trekkers. Republishing this article and/or any of its contents (text, photography, etc.), in whole or in part, is strictly prohibited.