Trolltunga is one of Norway's most popular hikes for good reason. It is an incredibly scenic hike, ending at the Troll's tongue, a thin sliver of rock perfect for creative photographs. This is definitely a hike to add to your bucket list.
For us, the hike to Trolltunga was our third of four hikes in Norway. Kjeragbolten was our favorite, but this hike was not far behind. The scenery along the hike is phenomenal with views out over lakes and snow capped mountains, and posing on Trolltunga for photos is a blast.
Note: This post was updated August 2017.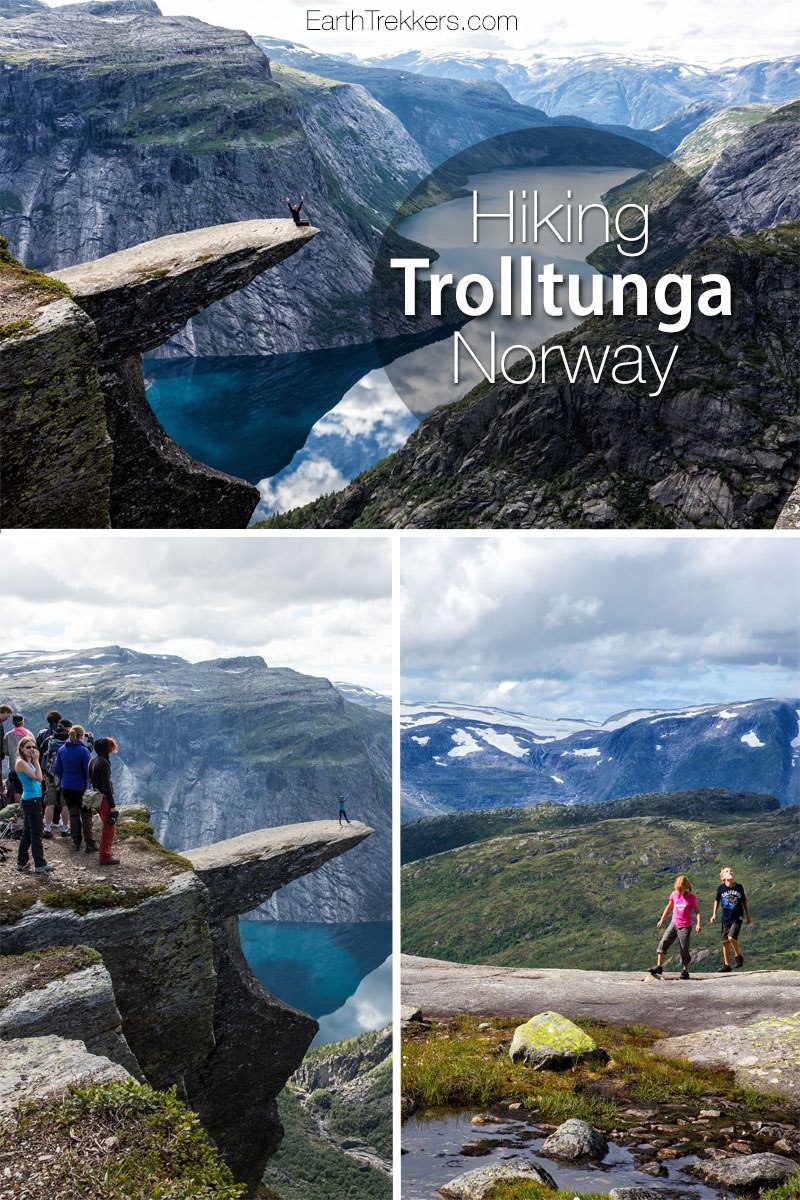 Facts About the Hike
Distance: 22 km (13.6 miles) out and back
Elevation Gain: 900 meters (2,950 feet)
Difficulty: Strenuous
Length of time: 10 – 12 hours
When to go: June 15 to September 15 (without a guide). At all other times of the year you must hike with a guide. For more information, visit the Visit Norway website.
Getting to Trolltunga
From Tyssedal, drive 7 km on Skjeggedalsvegen to the car park at the start of the hike. This is where the trailhead is located.  There is a small parking lot here with toilets. Parking costs NOK300.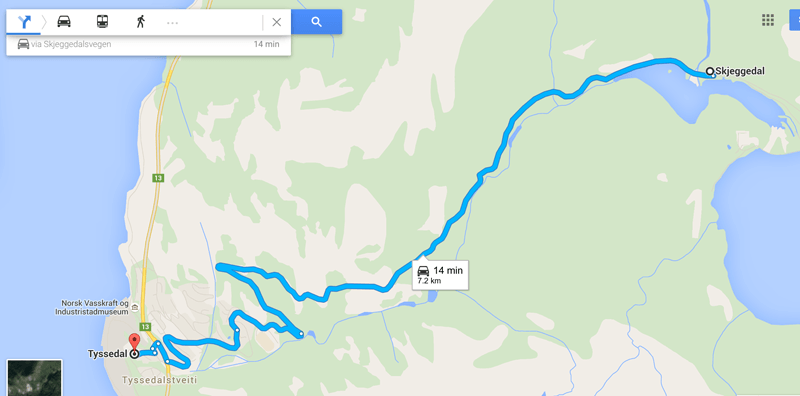 About Our Experience
We did this hike in August 2013 when the funicular tracks were still open. At the time we did this hike, Tyler was 10 and Kara was 8 years old.
Hiking to Trolltunga
The first ascent of the hike is the most strenuous. It is 1 km of constant, steep climbing on stone steps before the trail levels out.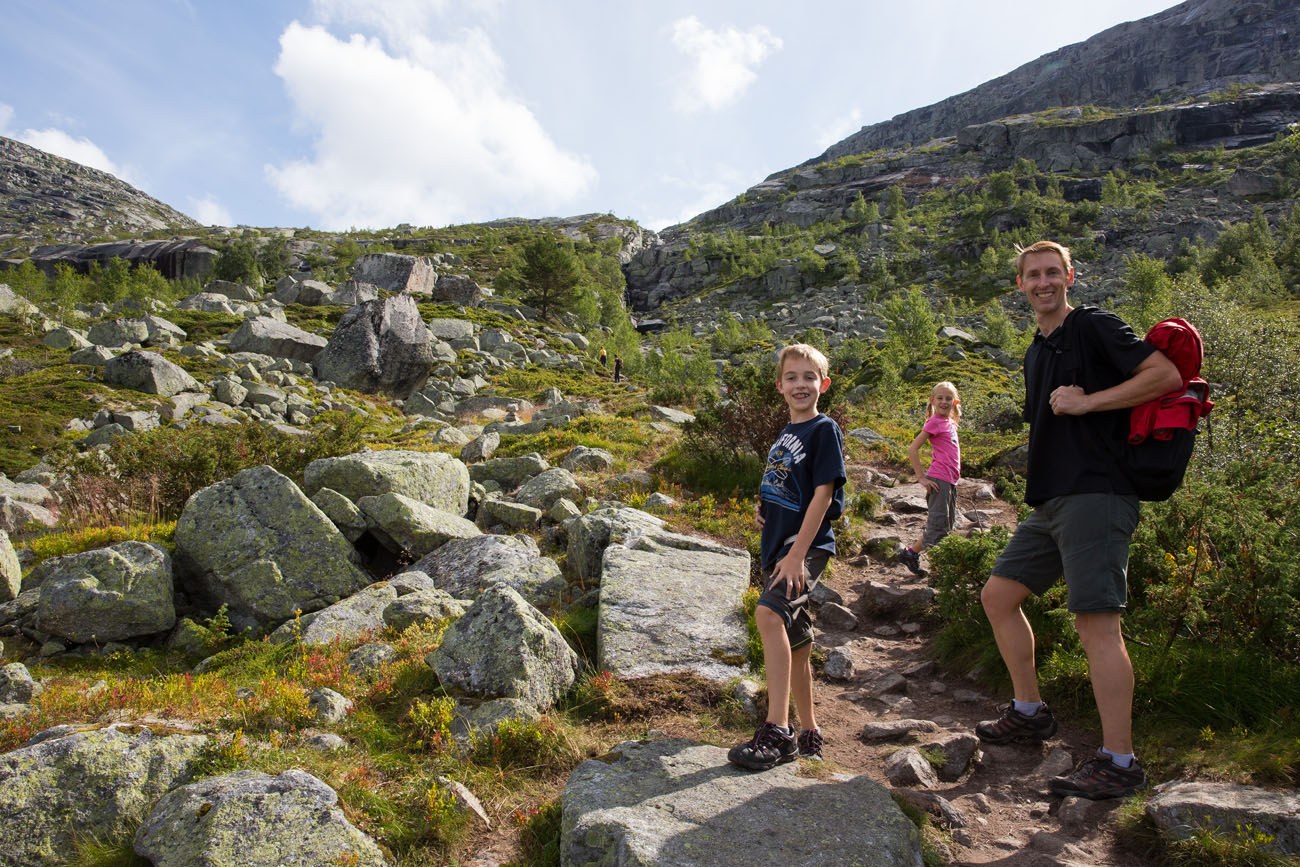 Over the next 10 km, there are several smaller climbs, but the higher you go, the better the view.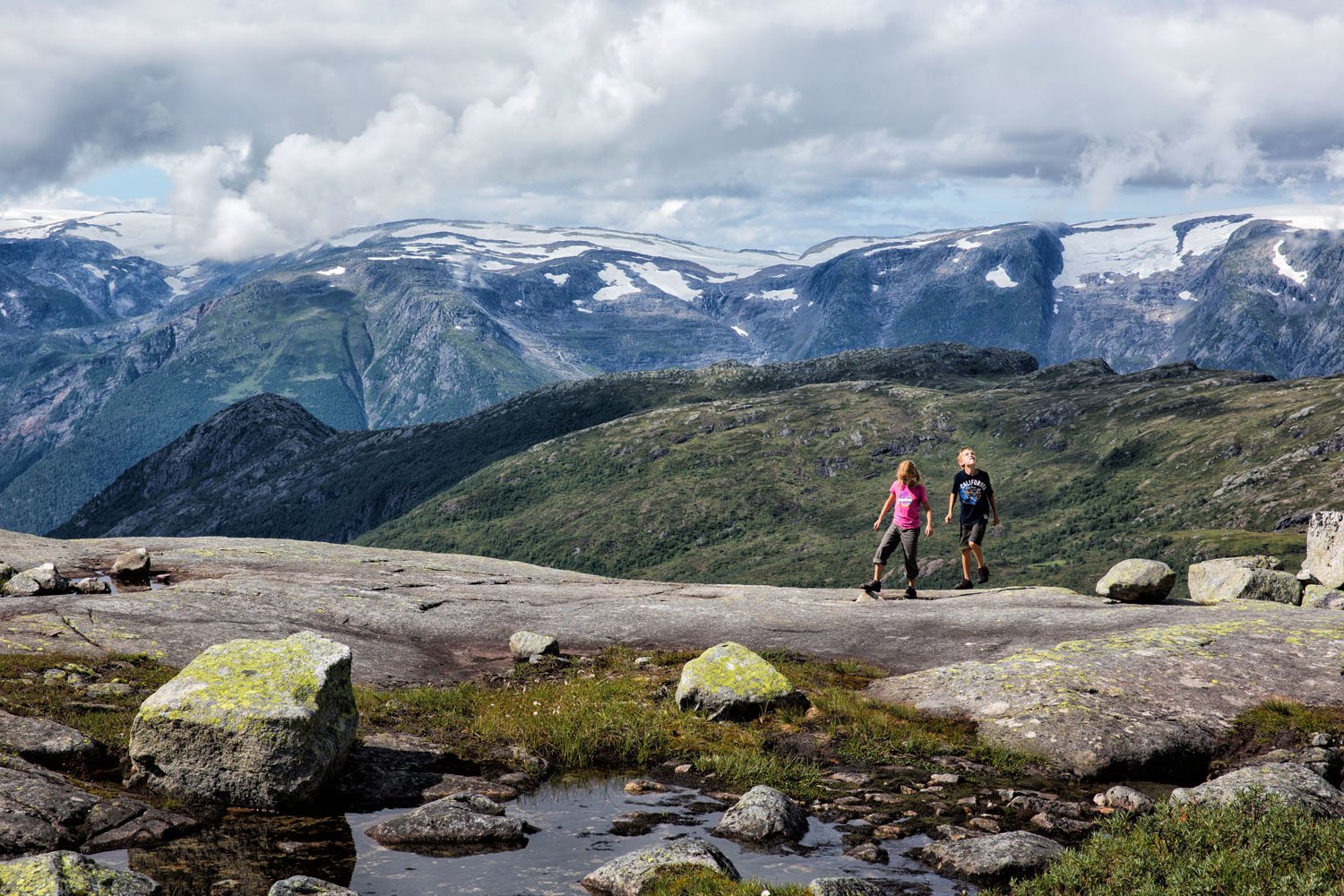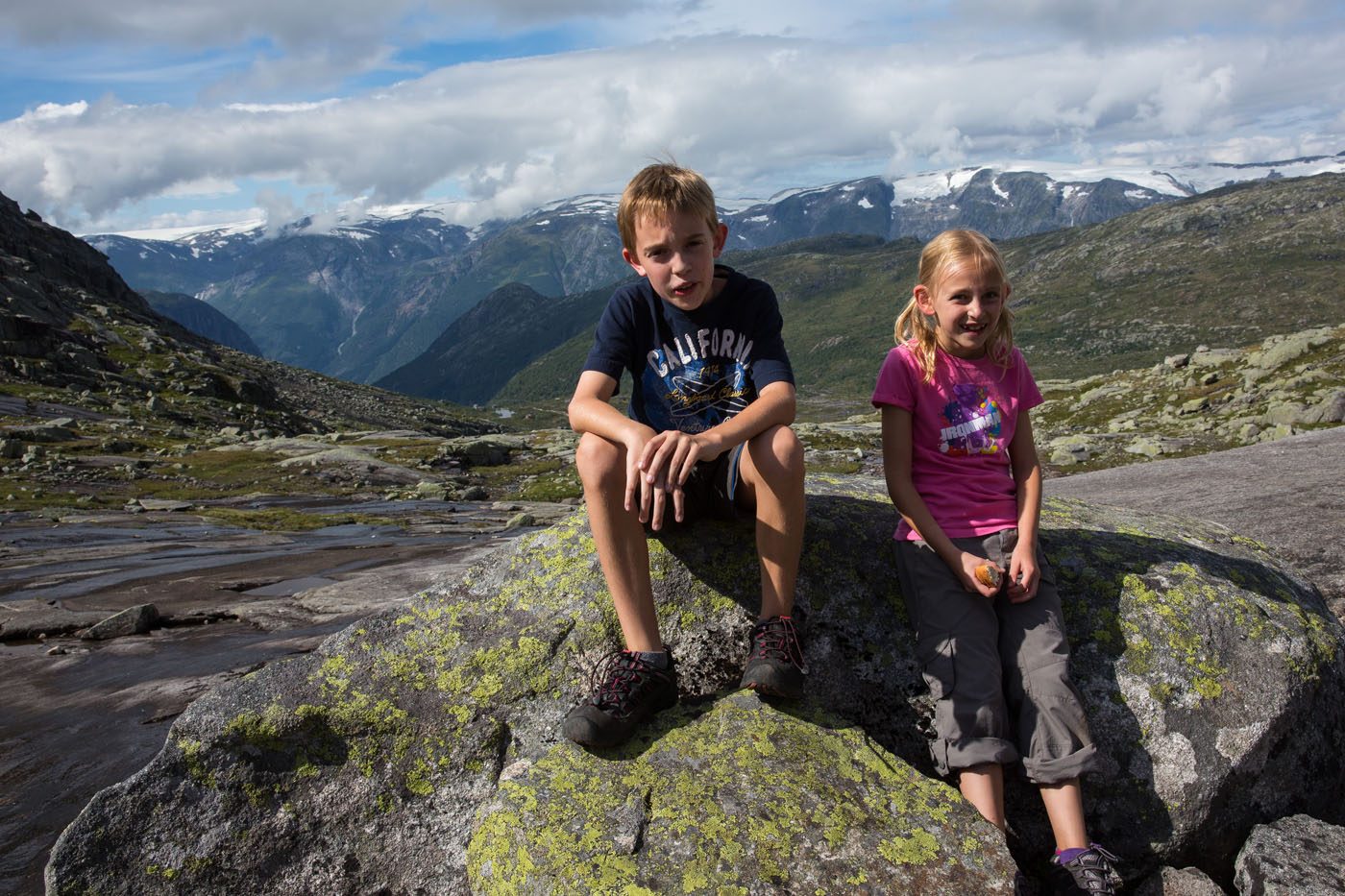 We continued our trek, dodging mud puddles, climbing over boulders, and crossing numerous streams and creeks. It took us just under four hours to reach Trolltunga, including time to stop for snacks, enjoy the ever changing views, and take plenty of goofy family photos. Our photos tell a lot more than I could ever put into words.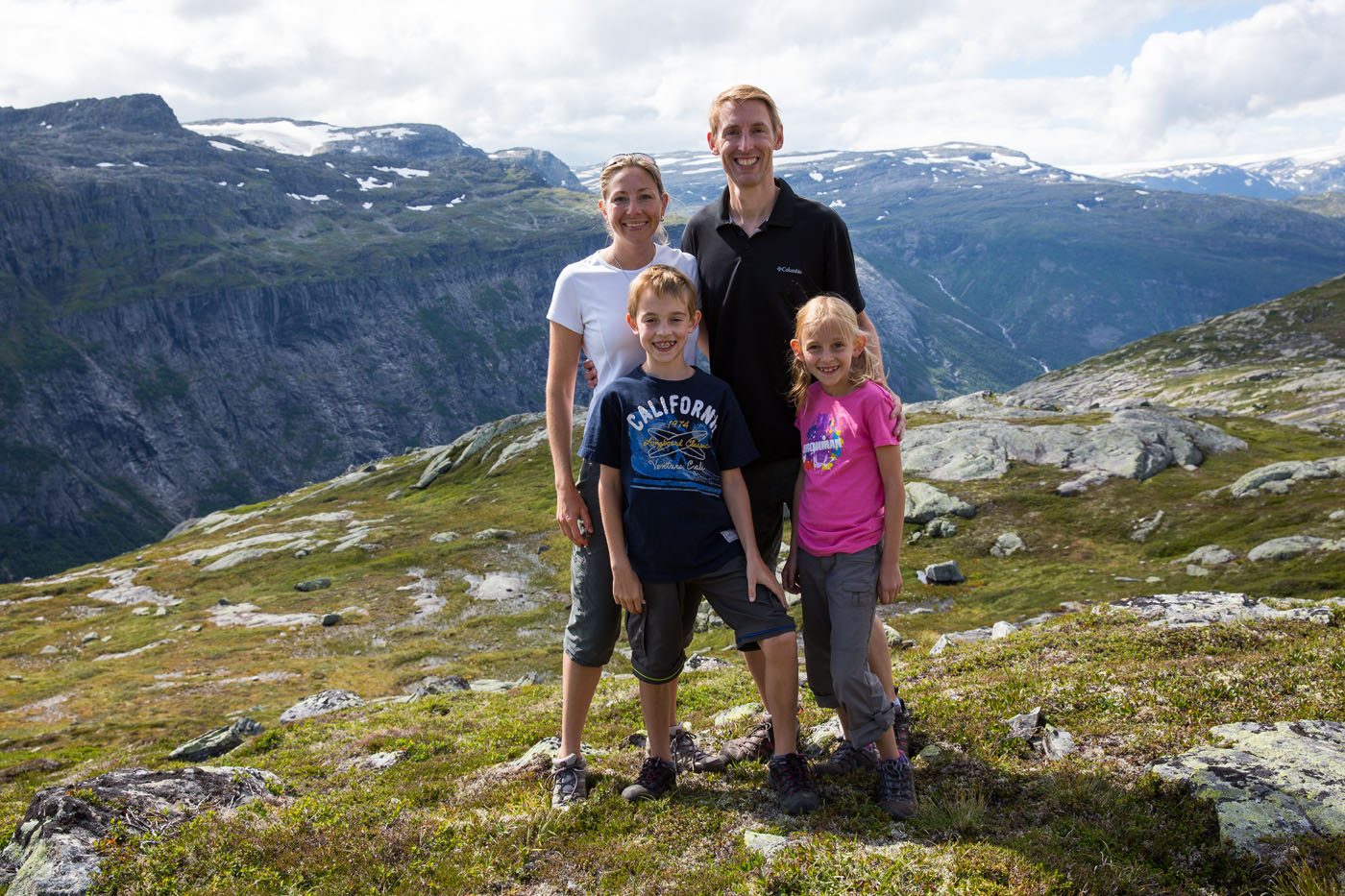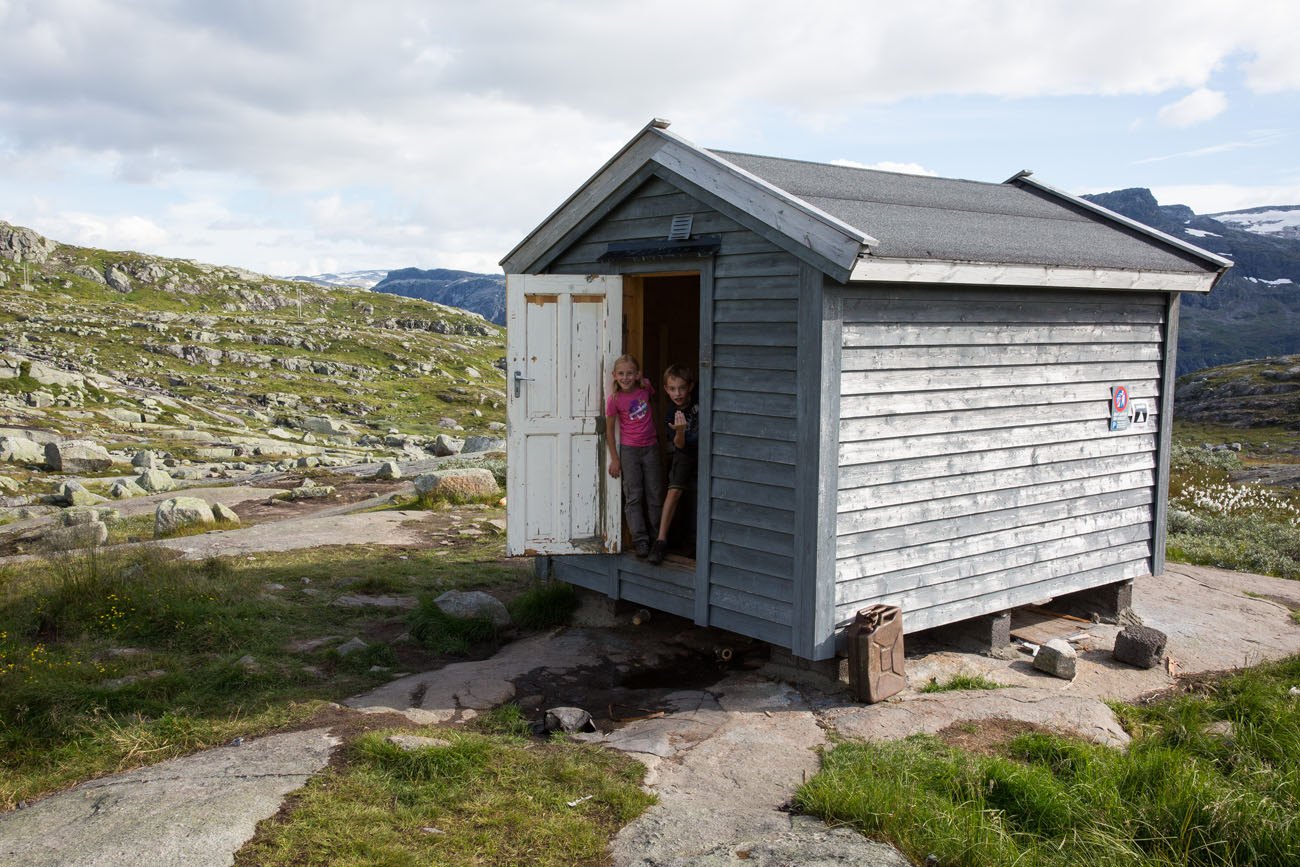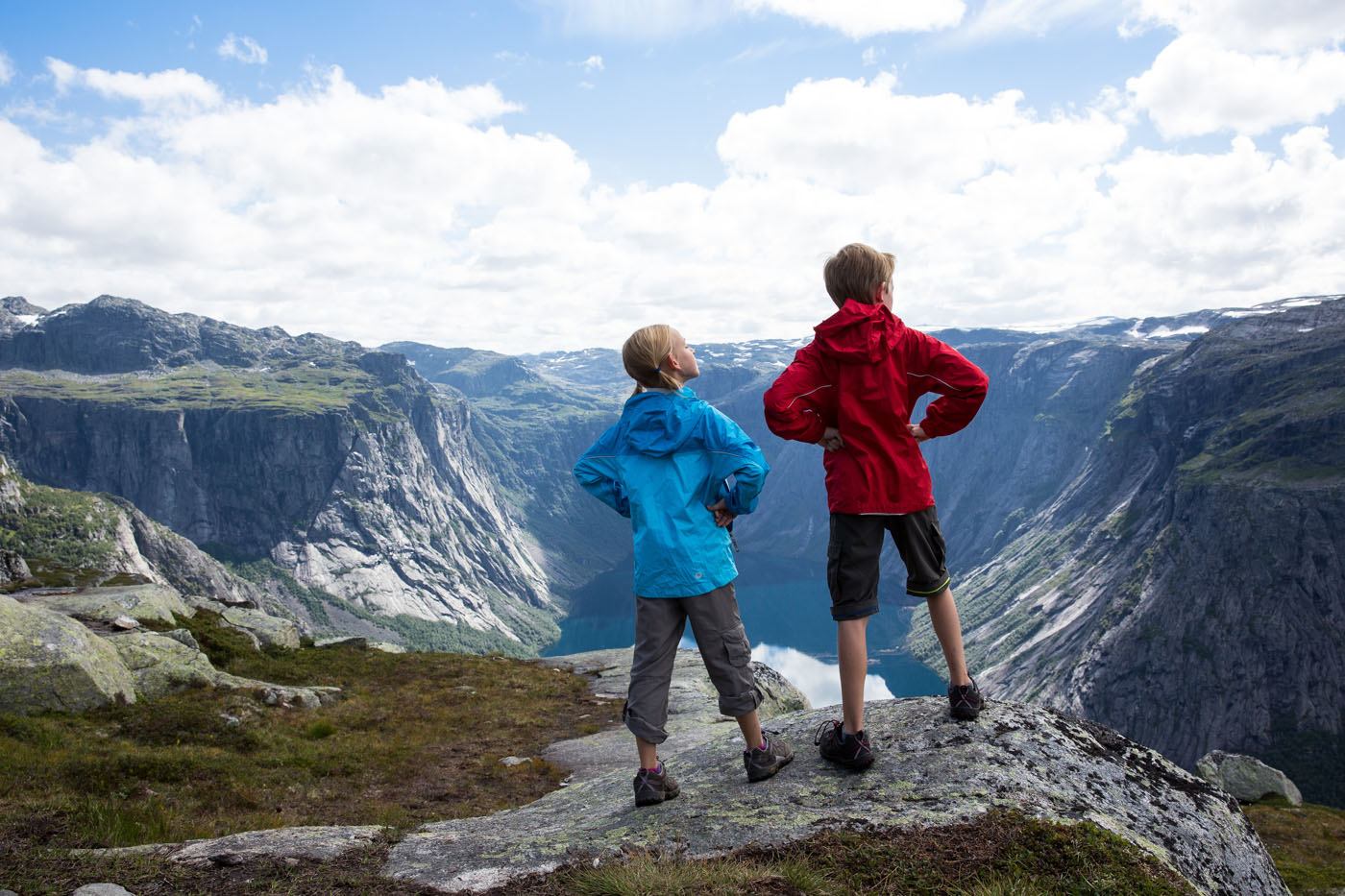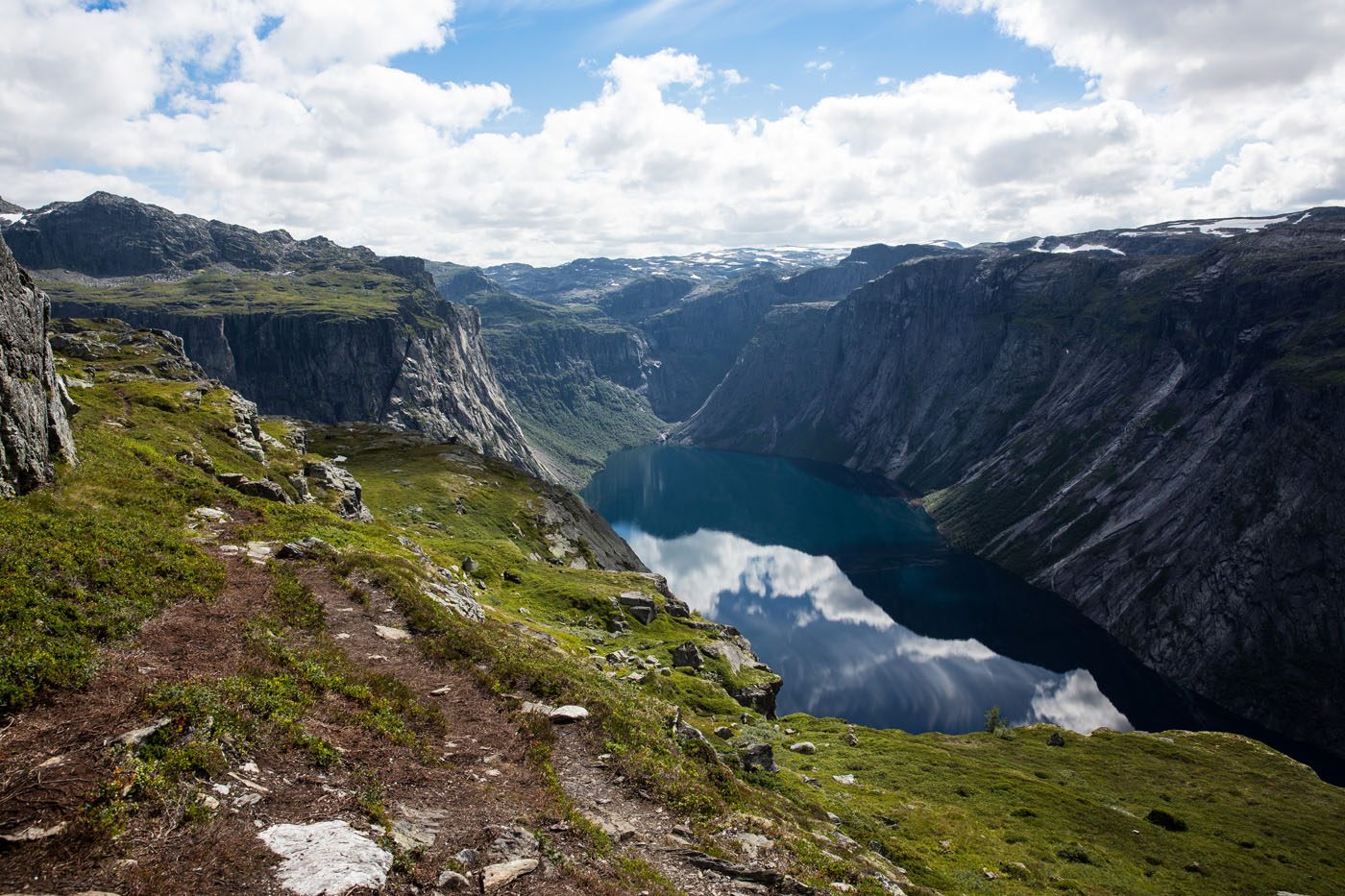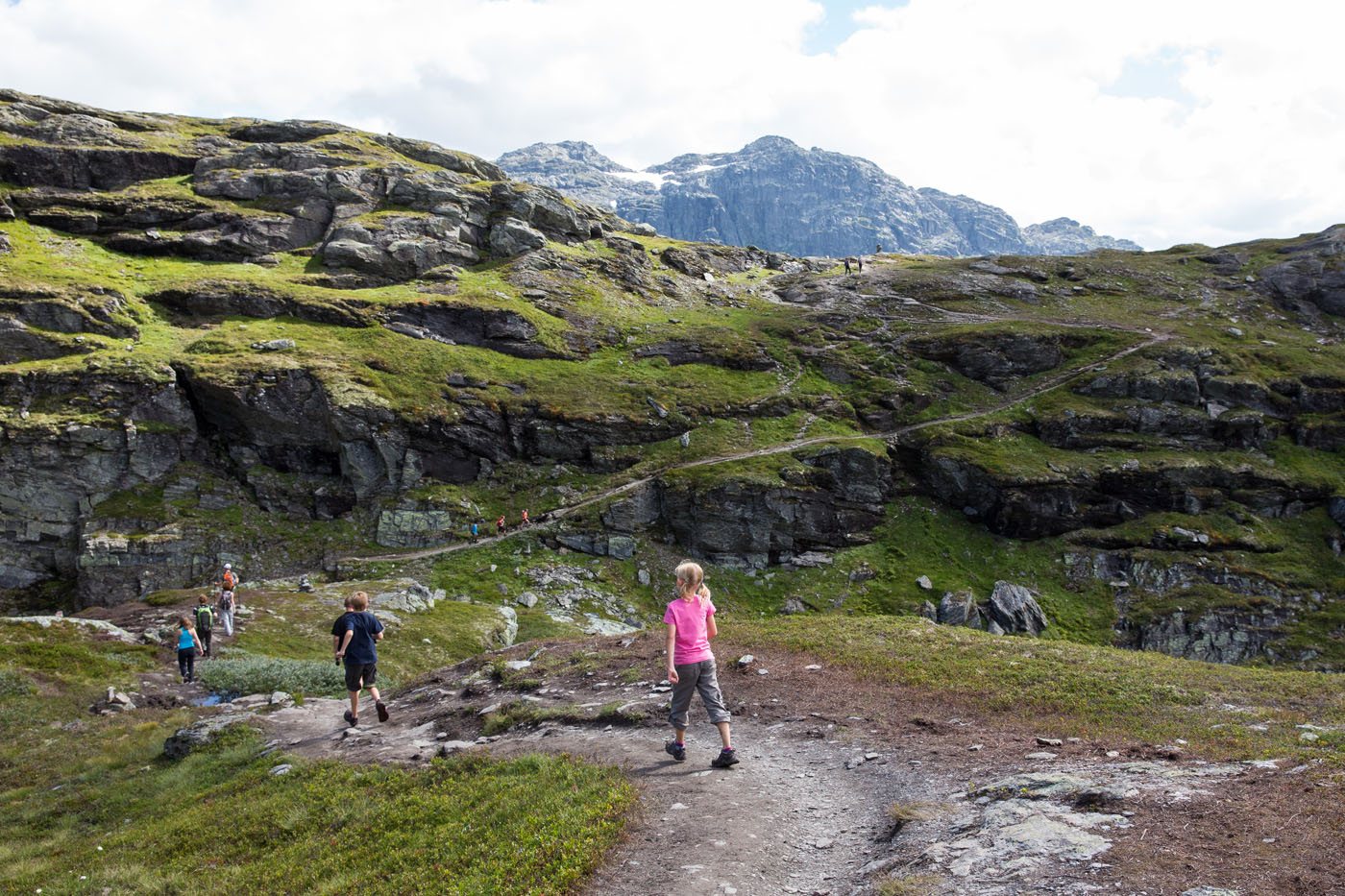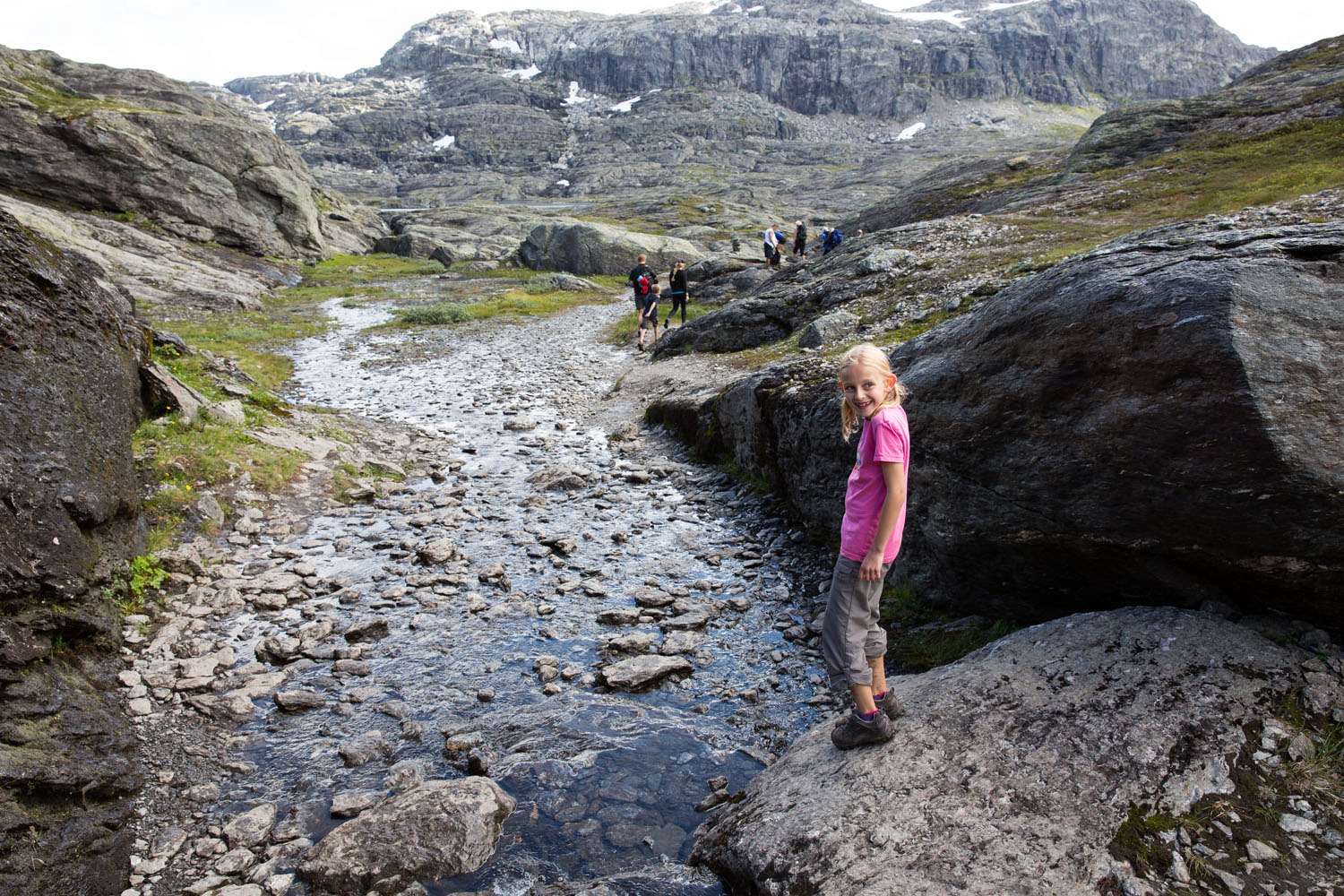 Stepping out onto Trolltunga
The views over Trolltunga and out over the lake were awesome. There were tons of people here, some waiting in line to step out onto the ledge and others were waiting to take their photos. Tyler and Kara were two of the three kids we saw during the entire hike. Go kiddos!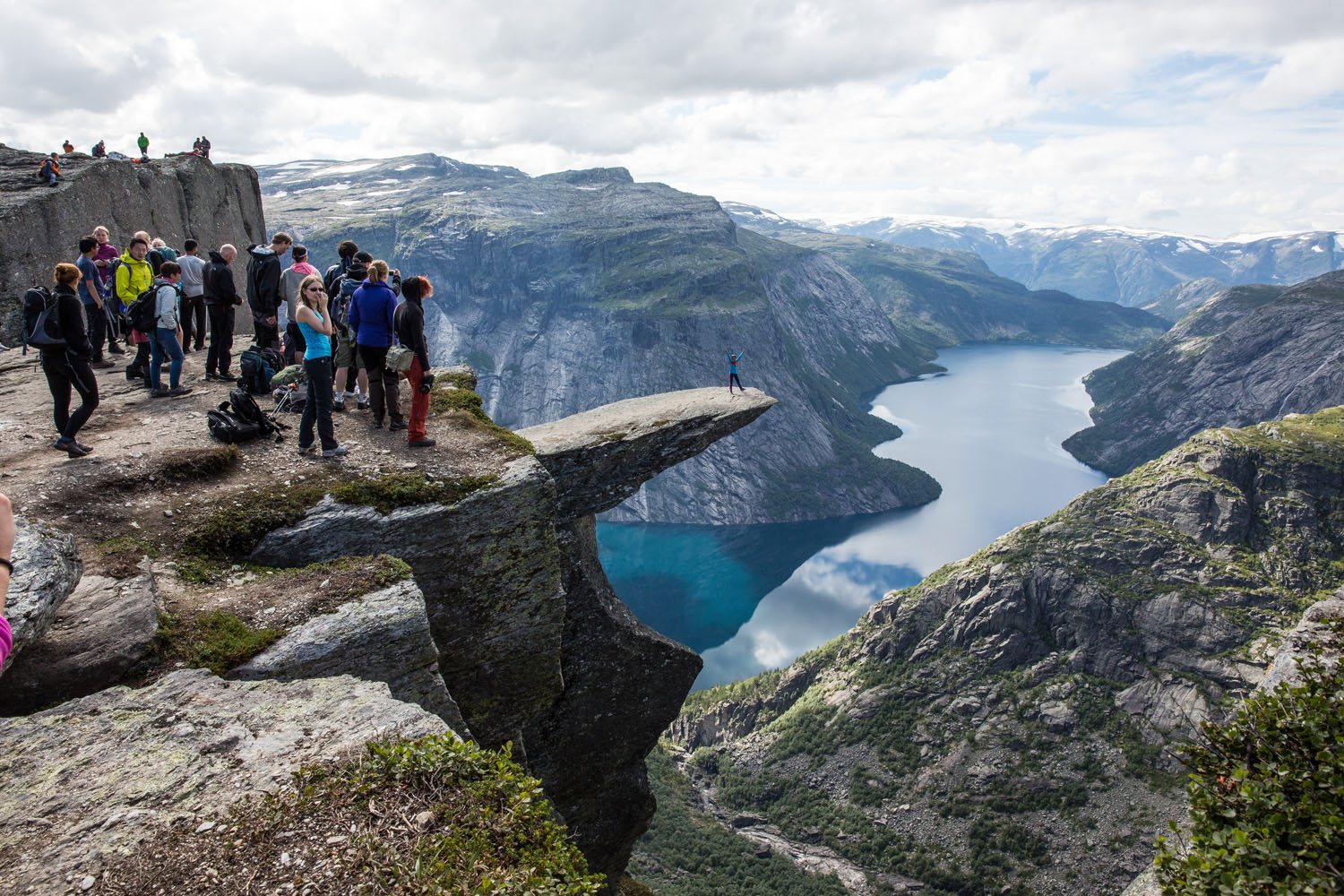 Kara and I went first onto the tongue (after 45 minutes of waiting in line). After stepping out onto Kjeragbolten this did not seem scary at all. Kara and I did a few poses, then I took her back to sit on a rock and wait for me. I went back out to the tip of the tongue to sit with my feet hanging over the side.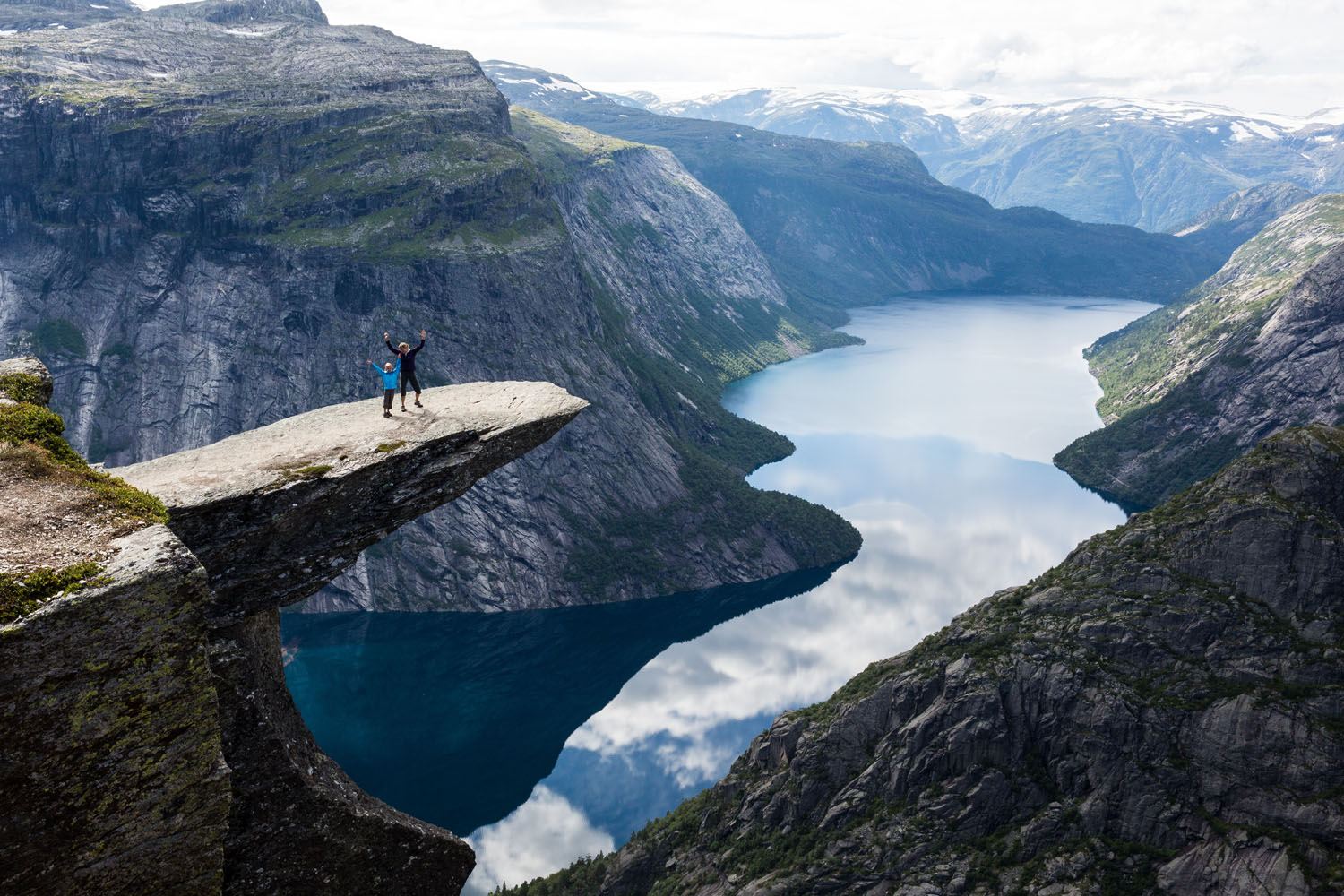 Next it was Tim and Tyler's turn.  By now we were all "shivering cold." Temperatures were in the high 40's (8 – 9°C) and it was early August.
Fortunately, the line was a little shorter for Tim and Tyler. Here they are, posing for the camera.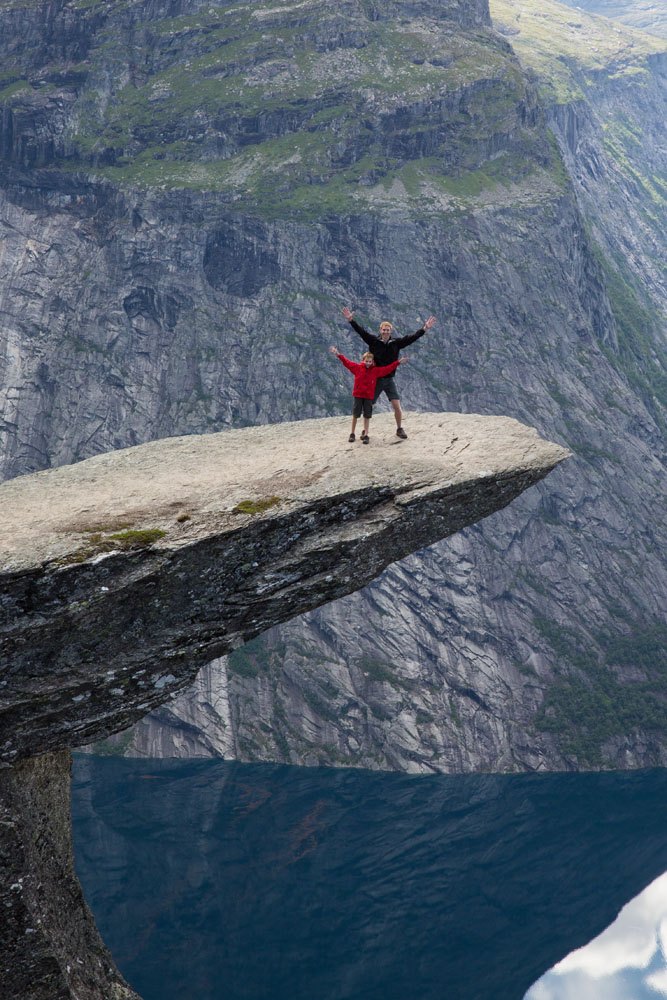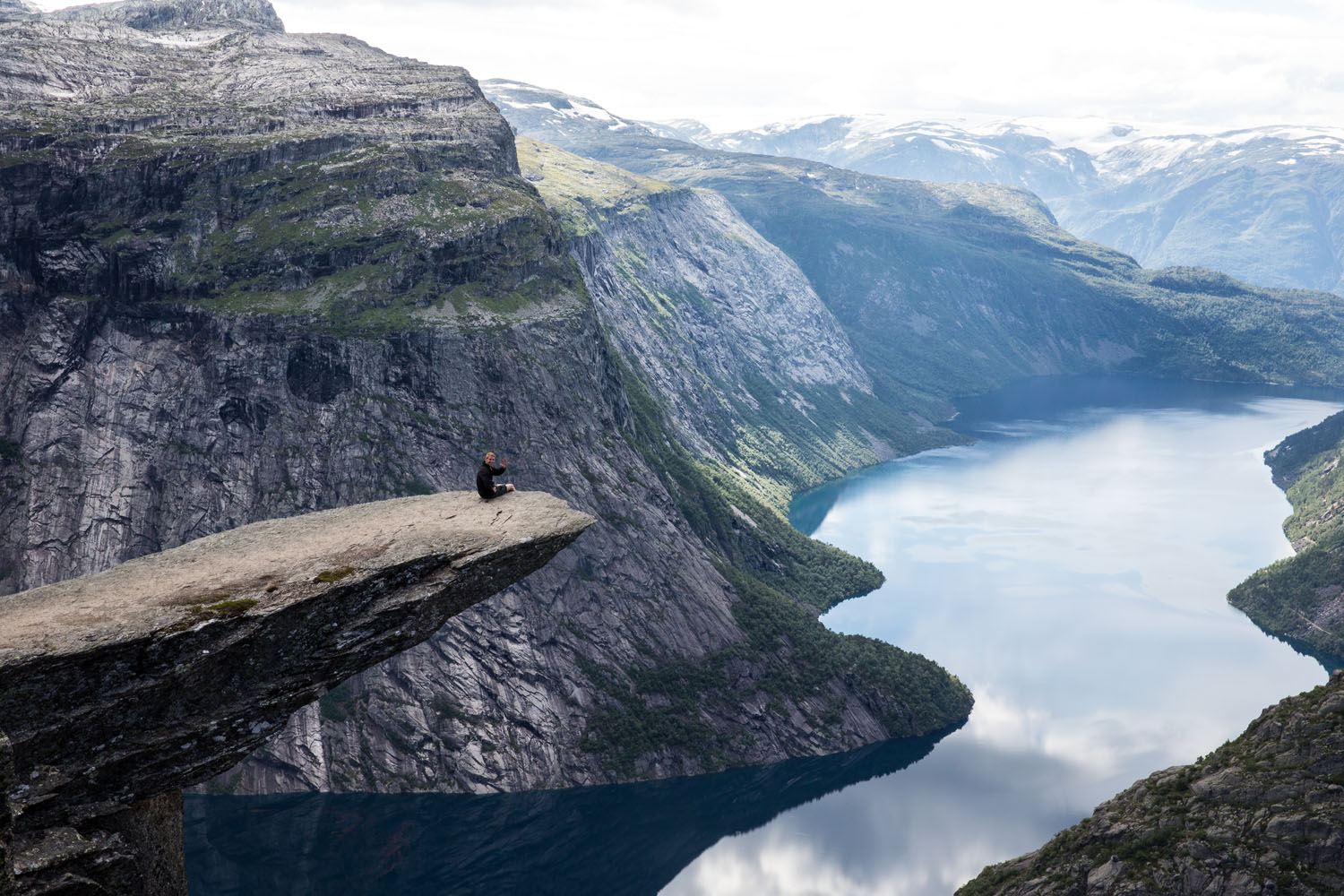 It took an hour and a half for all of us to have our photos taken.  By now we were very chilly and already somewhat tired. All four of us were hoping the walk back to the car would be quicker than the walk out.
The Return Hike
The walk back was faster. We did not need to stop for sunscreen, photos, or much food now. The signs counting down the kilometers kept us going, and we snacked on lots of cookies.
Before we knew it we were back at the funicular track. From here we could take the funicular down or we could walk down a switchback trail through the woods to the parking lot. Both Tyler and Kara adamantly wanted to take the steps. So, the funicular steps it was.
Wonder Why the Funicular Steps are no longer allowed?
Descending the funicular was more dangerous and more scary than standing out on Trolltunga. When we stood at the top of the tracks, they dropped off in front of us like the first hill of a roller coaster. Walking down that steep part was freaky. One slip and we would roll all the way down the tracks, taking out hikers below us.
The funicular line was dangerous, especially as the Trolltunga hike grew in popularity and more and more people were on the trail.
We took the funicular steps down and our legs were shaking by the time we reached the bottom.
Now, the stone steps may not be as thrilling, but they are much safer!
We are very fast hikers, even with kids. The four of us hiked to Trolltunga in 8 hours (3.5 hours to get to Trolltunga, 1.5 hours for photos, and 3 hours to hike back to the car). We were constantly overtaking other people. If you take your time or encounter marshy, snowy terrain, this hike can take as long as 10 to 12 hours.
You Should Bring
Waterproof hiking shoes
Plenty of food and water
Sunscreen
First Aid Kit
Rainjacket and warm clothing (the weather can change rapidly!)
Camera
Alternative Route to Trolltunga
If you do not like the idea of the hike, there is a combination cycle trip and Via Ferrata climb (The Sky Ladder) to get you to Trolltunga. The Via Ferrata was not option when we did the hike so we do not have much information about it. For more information on the Sky Ladder click here.
Where We Stayed
We spent two nights at Vik Pensjonat go Hytter in Eidfjord. We had a two bedroom apartment which Kara described as "epic."  From Eidfjord, it is a gorgeous one hour drive to Tyssedal and the start of the Trolltunga hike.
Hiking to Trolltunga with Kids
At the time we did this hike, Tyler was 10 and Kara was 8 years old. They both did awesome. They were happy and having a good time for almost the entire time (Kara struggled a little with the walk down the funicular line).
We only saw one other child (about 10 years old) on the trail. A very adventurous child, eight years or older with lots of long distance hiking experience, should be able to handle this hike.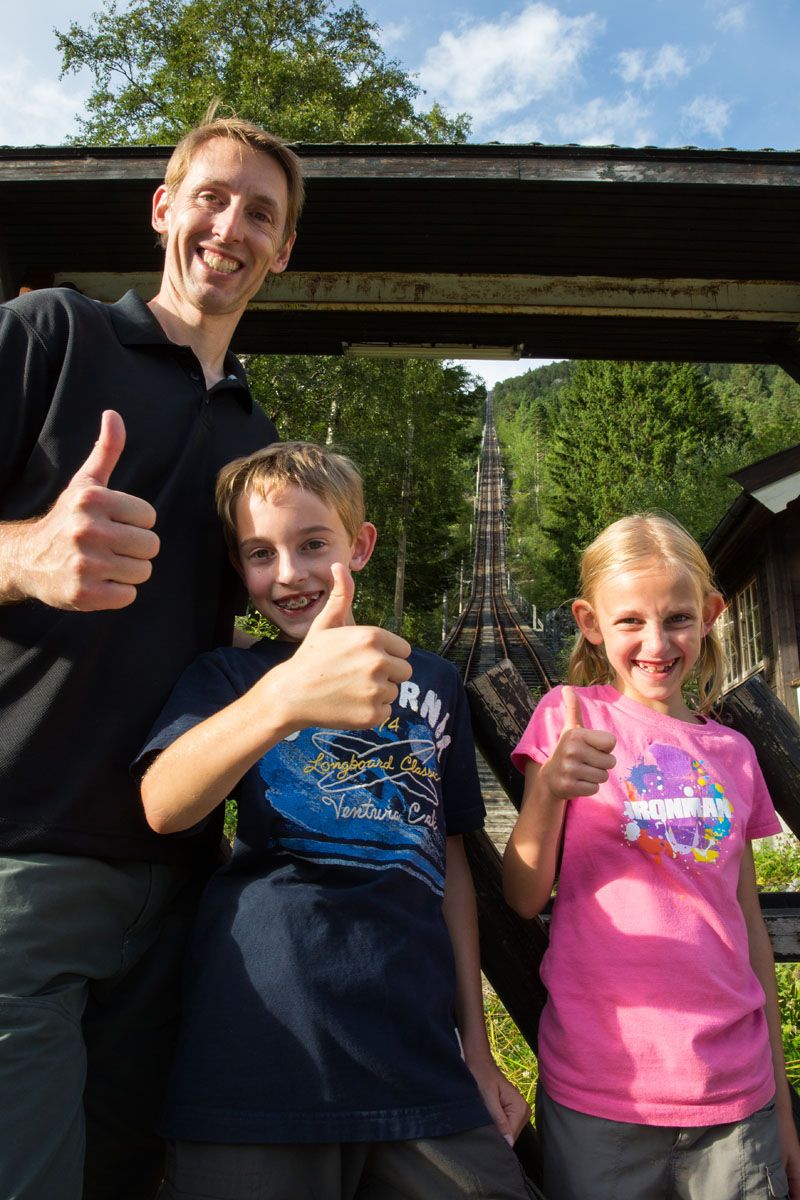 About the Trolltunga Funicular:
It's unfortunate that the funicular is closed, it was one of the most unique parts of the hike. But it is dangerous. One false step and you could be rolling down the hill like a bowling ball, taking out other hikers!
At first it was a shallow incline so it was pretty easy. But it didn't take long until the tracks made a sharp turn upward and real climbing began. Basically, we were ascending a ladder while holding onto a metal wire with our right hands. Along the way we would stop and take breaks and look down at what we had accomplished and then look up at the work we still had to do.
Photos from the Funicular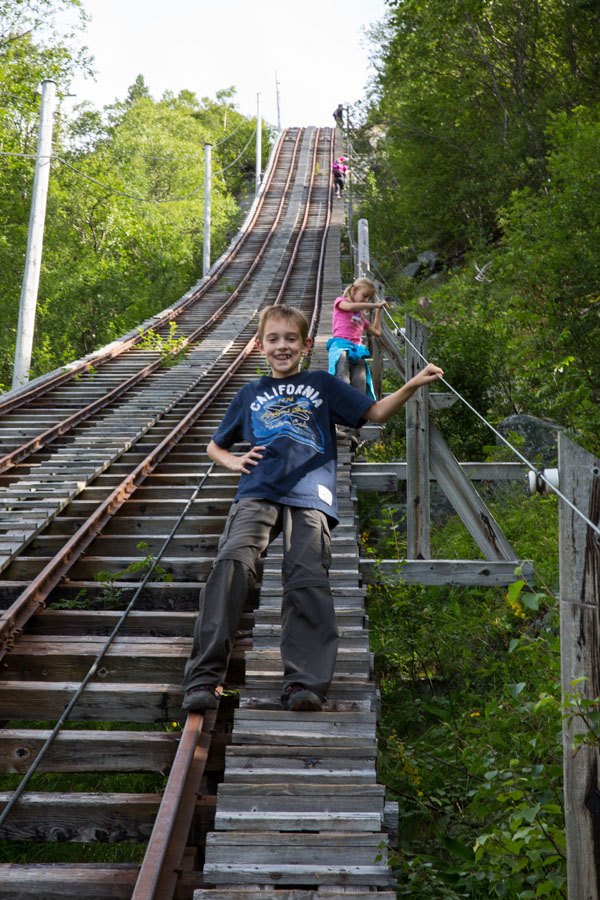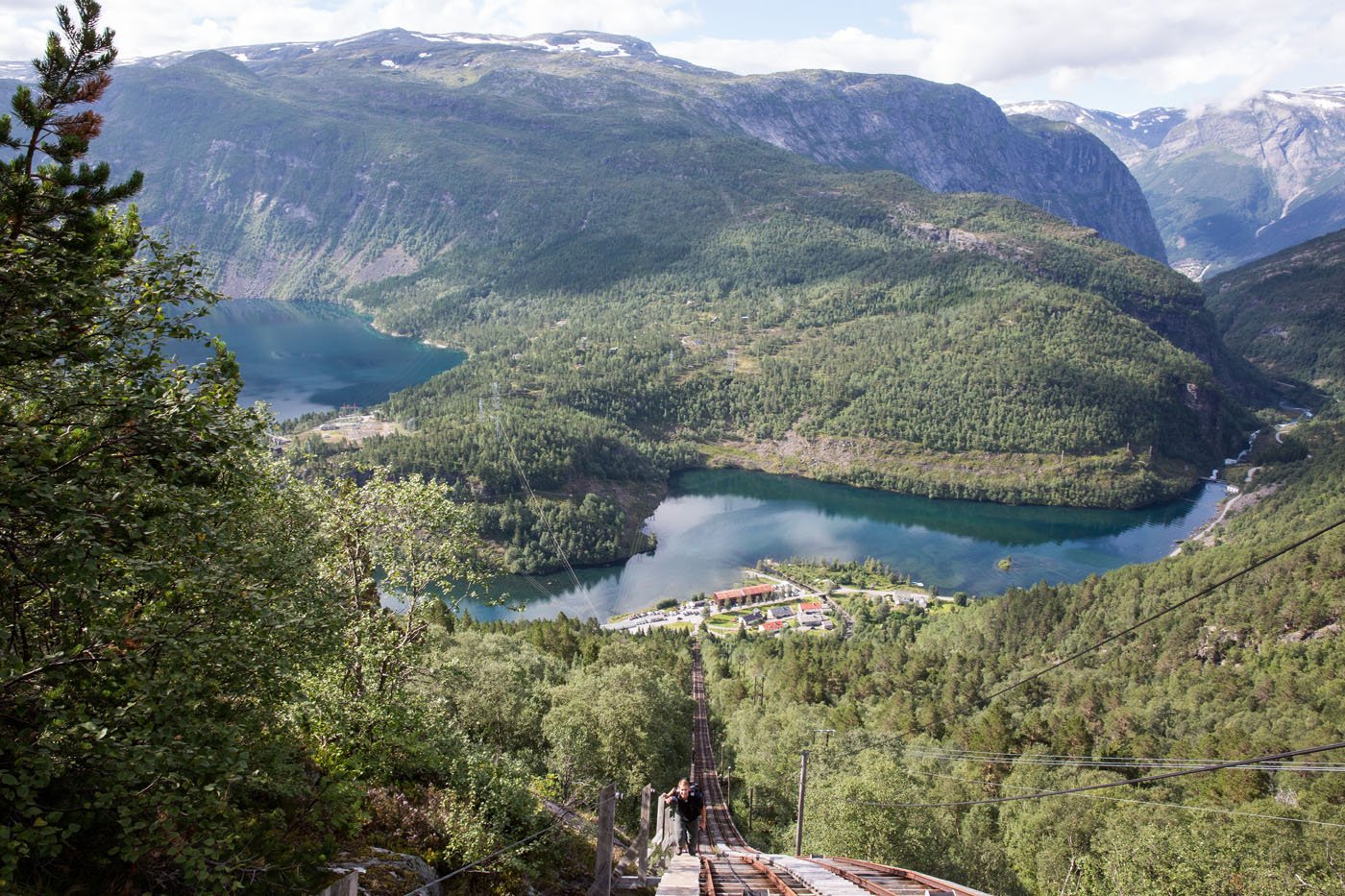 Read Next:
---
Want to learn more about traveling in Norway? Check out our Norway Travel Guide.