With sandstone cliffs, white domes, arches, and slot canyons, Capitol Reef National Park is a rugged, extraordinary place to explore. This park preserves the Waterpocket Fold, a rippling of the Earth's crust that is 100 miles long.
Not a big fan of hiking? One of the things that makes Capitol Reef so easy to visit is that you can see quite a bit of it right from your car. With a highway that runs through the center of the park and a scenic drive that tops the list of the best things to do, you can visit some of the most dramatic spots in Capitol Reef without ever stepping out of your car.
Of course, if you want to go hiking, there are lots of options. From easy, one-mile hikes to all day affairs, there is something here for everyone.
If you have one day or less to spend in Capitol Reef, here are the best things to do with your time. This is just a short list of things to do. For a much more extensive list, click here to learn about how to go deeper into the park for some very unique experiences.
8 Great Things to Do in Capitol Reef
1. Highway 24
Highway 24 is the main road that passes through the park. This road twists and turns along the Fremont River. It's a beautiful drive, with scenic pull-offs and parking lots with access to short hiking trails.
There is no fee to drive on Highway 24, so you can tour part of the park without paying an entrance fee. On this list, you can drive Highway 24, see the petroglyphs, hike to Hickman Bridge, and visit Panorama and Sunset Points without paying the entrance fee.
2. Capitol Reef Scenic Drive
One of the best things to do in the park is to drive the Capitol Reef Scenic Drive. This paved road is 7.9 miles long (one way) and takes you past some of the most stunning scenery in the park.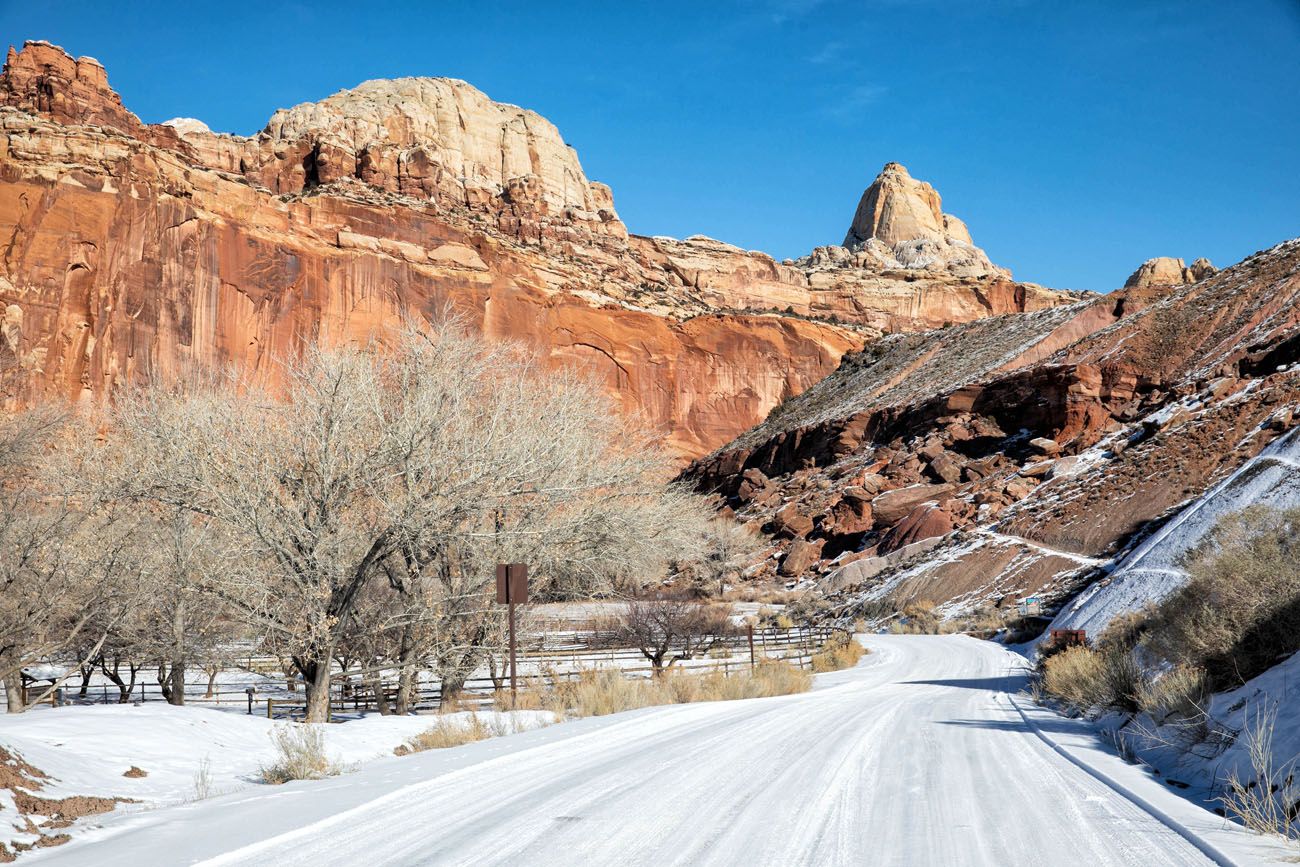 To drive the Scenic Drive, you will have to pay a $20 fee. You will pay this at a self-pay station just past the Fruita Campground. The pass is valid for 7 days.
3. Grand Wash Trail and Cassidy Arch
While driving down Scenic Drive, you have the option to take the Grand Wash Spur (1.2 miles one way), a gravel road that travels through a long canyon. From the car park at the end of the road, you can hike to Cassidy Arch or hike the Grand Wash Trail.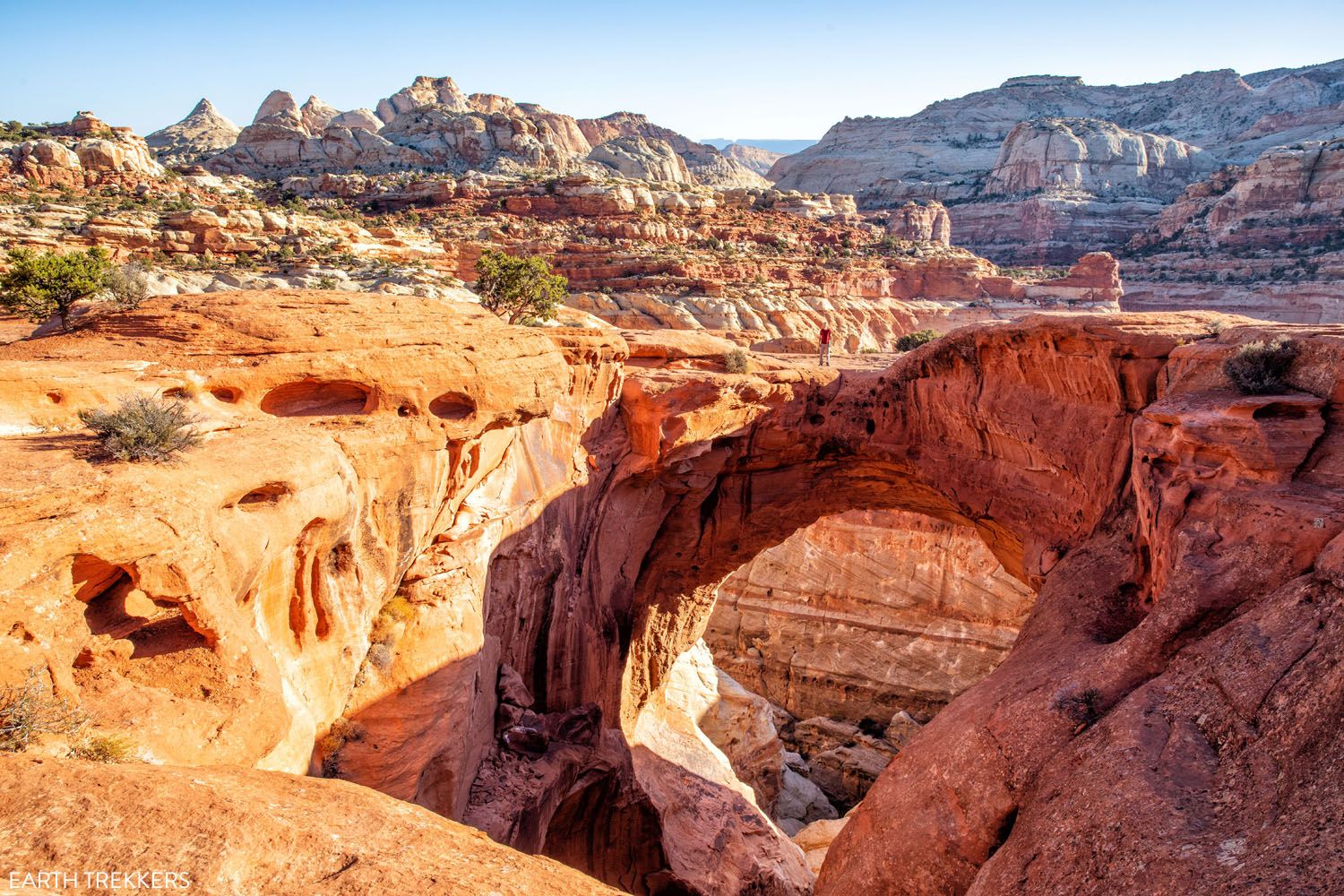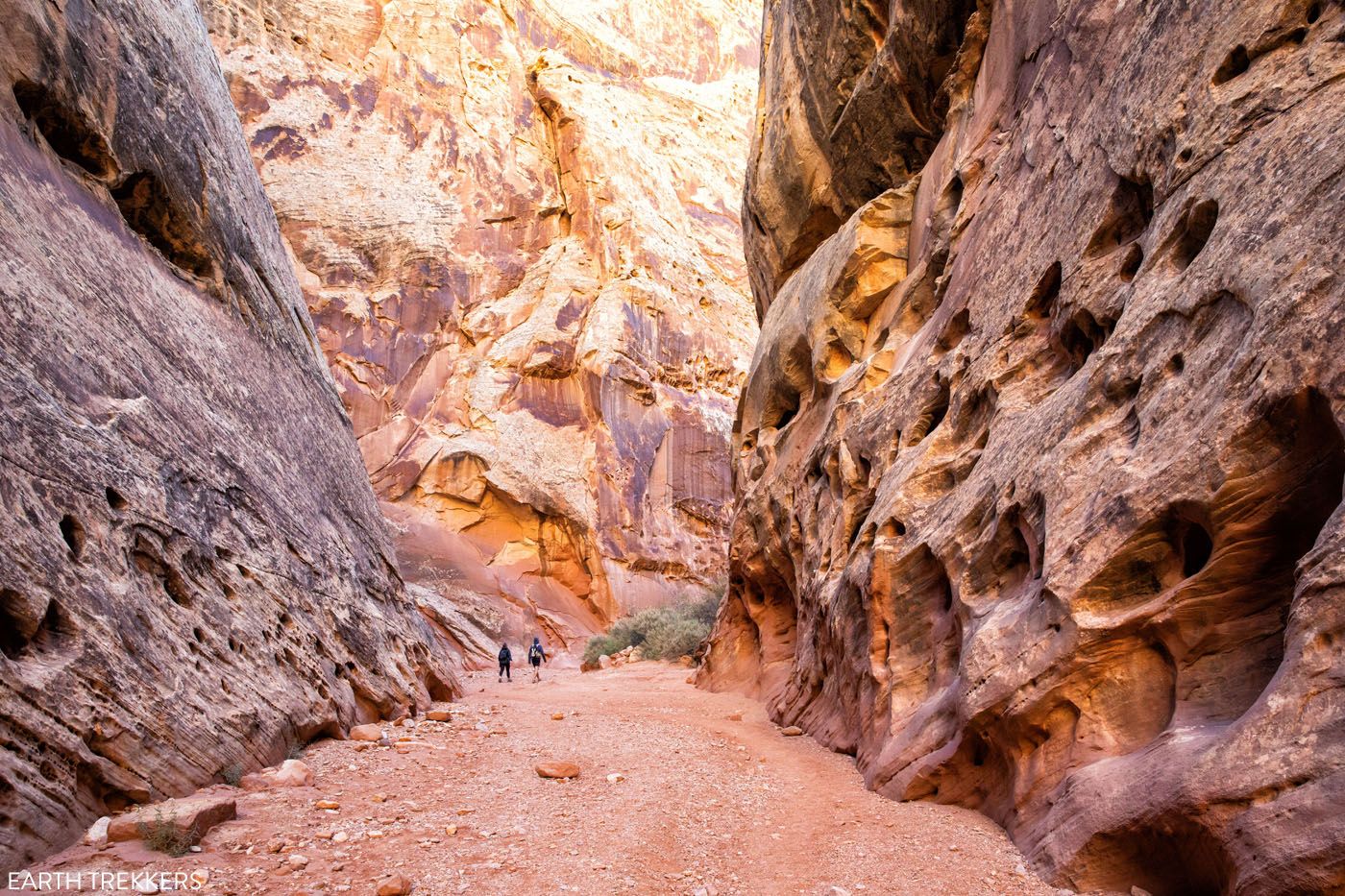 4. Capitol Gorge Road and the Pioneer Register
The Scenic Drive dead-ends at Capitol Gorge Road. Capitol Gorge Road is a gravel road that travels 2.2 miles (one way) past enormous canyon walls and is one of the most stunning drives in the park.
Capitol Gorge Road ends at the trailhead for the Capitol Gorge Trail. This 2-mile trail (round-trip) is an easy hike through a narrow gorge. Carved onto the canyon walls is the Pioneer Register, the names of settlers and miners who traveled through this area in the late 1800's.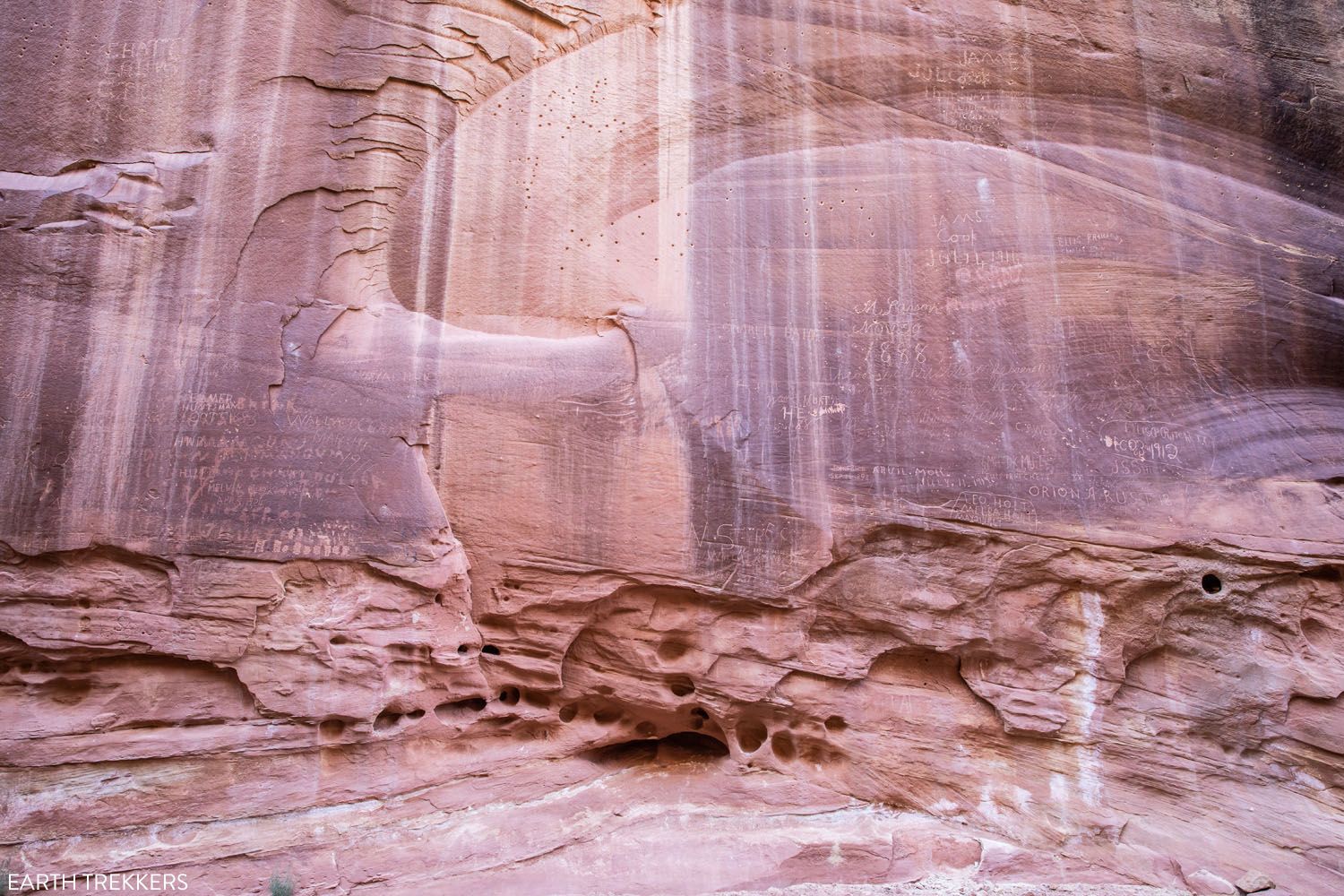 5. Hickman Bridge
This is one of the best short hikes to do in Capitol Reef. Walk along the Fremont River and then hike up to a spectacular viewpoint where you can look out over Highway 24 and Cohab Canyon. Before reaching Hickman Bridge, you descend down into a canyon and get to see a much smaller arch named Nels Johnson Natural Bridge. The trail ends at Hickman Bridge, a large, natural arch that is tucked away near the back of the canyon.
This hike is 1.8 miles round trip, is slightly strenuous, and takes about one hour. Park in the parking lot located on Highway 24. You can do this hike without paying the entrance fee.
6. See the Petroglyphs
You can see rock art figures (petroglyphs) created by ancient Native Americans on the drive along Highway 24. Park in the small parking lot on Highway 24 located between the Hickman Bridge trailhead and Fruita. It's a very short walk to a viewpoint where you can see these figures carved onto the rock wall.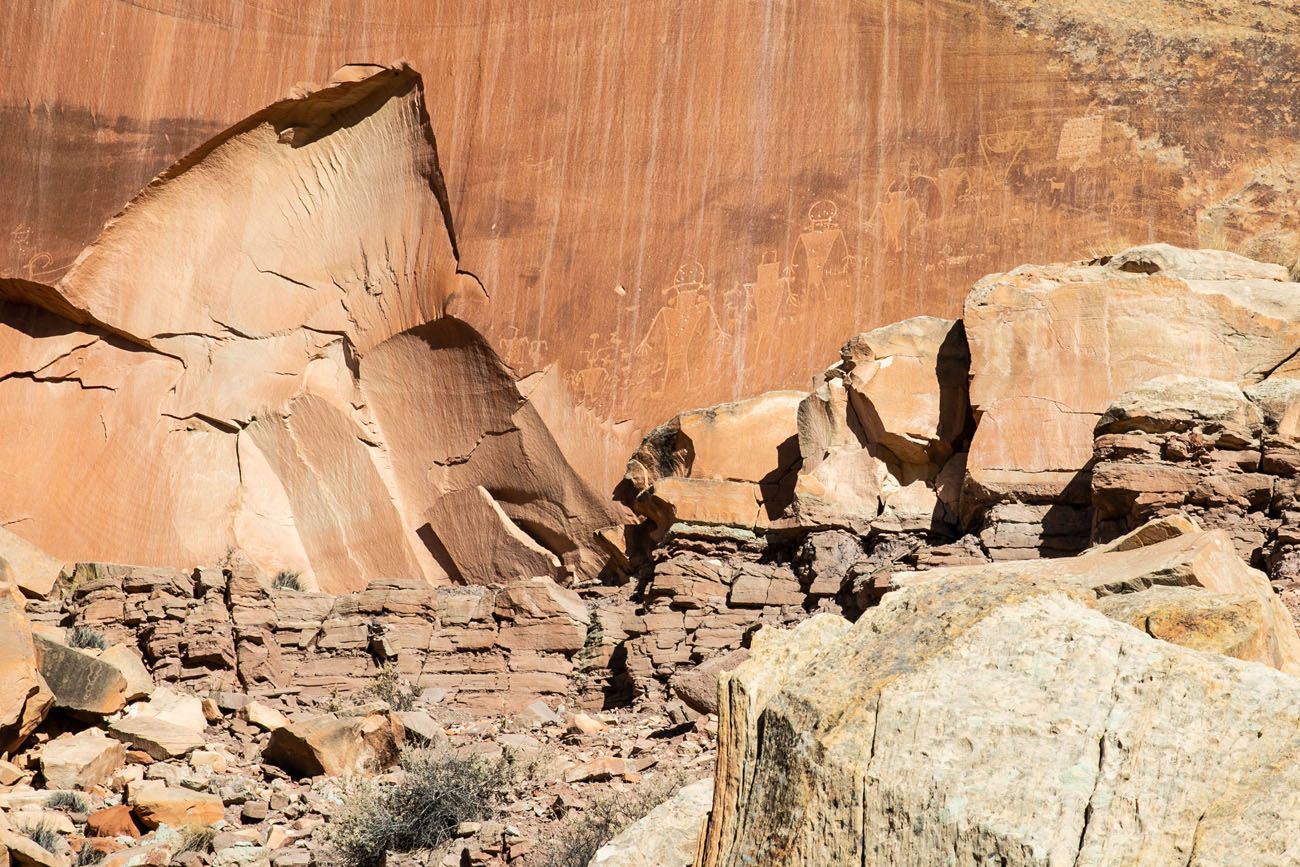 7. Panorama Point
Panorama Point offers beautiful views over Highway 24 as it cuts its way through the park. This viewpoint is located just off Highway 24 and it is a quick, easy way to get a spectacular view of Capitol Reef Park.
8. Sunset Point and Goosenecks Overlook
From Panorama Point, continue down the gravel access road until it dead-ends at the parking lot for Goosenecks Overlook.
From the parking lot, it is just a short uphill walk to a viewpoint over the Goosenecks. This is where the Sulphur Creek carved out a canyon, its curving path resembling that of a gooseneck.
Walk back to the parking lot and then take the trail to Sunset Point. This is a short, fun trail to a gorgeous overlook in Capitol Reef (we liked Sunset Point more than the Gooseneck Overlook, but both are worth it).
This trail is 0.8 miles round trip and takes about a half an hour. Sunset Point gets its name because it is one of the best spots in Capitol Reef to watch the sunset.
How to Plan Your Time
Here is a sample itinerary if you have plans for a quick visit to Capitol Reef National Park. This works well if you are driving through the park on a road trip, for example, if you plan to visit Capitol Reef while driving from Bryce Canyon to Moab or Salt Lake City (or vice versa).
If you are coming from Bryce Canyon, Grand Staircase-Escalante, or Salt Lake City, you will enter Capitol Reef from the west.
Drive into the park, turn right onto Scenic Drive, pay your park fee, and spend the next few hours on this scenic drive. Along the way, you have the option to drive Grand Wash Road and hike Cassidy Arch and/or the Grand Wash or drive Capitol Gorge Road and hike out to the Pioneer Register. Once back on Highway 24, hike to Hickman Bridge and see the petroglyphs. End with sunset views from Panorama Point and Sunset Point. If your next destination is Moab (Arches and Canyonlands National Parks), you will head east out of Capitol Reef.
If you enter Capitol Reef from the east, hike Hickman Bridge, see the petroglyphs, drive Scenic Drive, hike to Cassidy Arch, and end with Panorama and Sunset Point.
Driving Distances from Nearby Destinations
Here are the driving distances and times for nearby destinations in Utah.
Moab:

144 miles, 2.5 hours

Bryce Canyon National Park:

120 miles, 1.25 hours

Zion National Park:

182 miles, 3.25 hours

Goblin Valley State Park:

68 miles, 1.5 hours

Salt Lake City:

225 miles, 3.5 hours

Escalante:

75 miles, 1.75 hours
Know Before You Go
Best Time to Go to Capitol Reef: The spring and fall months are the best times to visit. Weather conditions are pleasant and you can avoid the larger crowds that arrive in the summer. During the summer months, expect soaring temperatures and large crowds (although Capitol Reef does not get the legendary crowds like Bryce Canyon, Arches, and Zion). During the winter months, the park is less crowded, but temperatures get below freezing and snow is likely. Snow can close the roads and make hiking more difficult. Check the status of the roads on the official National Park Service website.
Entrance Fees: It costs $20 per vehicle to drive the Scenic Drive and this is good for seven days. You can also purchase an annual National Parks pass (called the America the Beautiful Pass) for $80. With this pass you can visit over 2,000 federal recreation sites. This is worth it if you also plan to visit more of Utah's Mighty 5, including Arches, Canyonlands, Zion, Bryce Canyon, or any other US National Park or National Monument within the year.
Where to Stay near Capitol Reef
Capitol Reef Resort. Located in Torrey, very close to the west entrance of Capitol Reef, this property offers a wide variety of rooms. You can sleep in a standard hotel room or even sleep in a teepee or a Conestoga Wagon. We spent five nights here and had a great experience. The rooms were clean and quiet. The convenient onsite restaurant, The Pioneer Kitchen, serves decent food and staff are very friendly.
Skyview Hotel. On our next visit to Capitol Reef National Park, this is where we would stay. This 3-star hotel offers standard hotel rooms with amazing views as well as different style tents. Check out the premium tent with skylight…this is one of most unique and highly rated properties in Torrey.
SkyRidge Inn. Located in Torrey, this beautiful property offers standard hotel rooms as well as deluxe suites and even a 3 bedroom villa that is perfect for families or small groups.
Canyon Country Lodge. This highly rated property offers large rooms that can accommodate up to four people. This lodge is located in Escalante, so this property works well if you are looking for a place to stay on the drive between Capitol Reef and Bryce Canyon or Grand Staircase-Escalante.
About Our Visit
Our first visit to Capitol Reef National Park was at the very end of December 2018 during the government shutdown. The park was open, however, a recent snowstorm closed Scenic Drive, cutting our visit short.
We returned to Capitol Reef in November 2020, spending four wonderful days here. The longer we were here, the more we wondered why this park is so overlooked. The scenic drives, the hiking trails, and the backcountry experiences are amazing.
Since our second visit, I wrote a more in-depth article about Capitol Reef. Click here for a bigger list of things to do, with more ideas on how to plan your time.
Where to Go Next
Here are links to more of Utah's Mighty 5, plus, links to Grand Staircase-Escalante National Monument, which is located very close to Capitol Reef National Park.
UTAH: To read all of our articles about Utah, check out our Utah Travel Guide.
UTAH'S MIGHTY 5: Utah's Mighty 5 is a collection of five national parks in Utah. Learn more about the parks and how to plan your visit in our Guide to Utah's Mighty 5.
ARCHES AND CANYONLANDS: If you have limited time, learn how to visit Arches and Canyonlands National Parks in one day.
ZION NATIONAL PARK: Check out our Zion National Park Travel Guide for important travel planning tips, sample itineraries, advice on when to go, where to stay, and more.
ZION SHUTTLE: If you are in Zion for a quick visit, or you don't want to be bothered with the shuttle, here are 11 things to do without riding the Zion shuttle.
Note: This post contains affiliate links. When you make a purchase using one of these affiliate links, we get paid a small commission at no extra cost to you.
All rights reserved © Earth Trekkers. Republishing this article and/or any of its contents (text, photography, etc.), in whole or in part, is strictly prohibited.