We spent five days in Tuscany, staying in the town of Siena. We picked Siena as our home base because it is well connected by bus to the other hill towns in Tuscany and easy to get to from Florence. It was a good pick because we loved it here. We stayed in an apartment in the heart of Siena, so seeing the main piazza, Il Campo, or getting to the train and bus stations, were just a short walk away.
Note: This article was written in 2014 during our trip around the world. It is a recap of our experiences during this time in Tuscany. In September 2022, Tim and I returned to Tuscany, spending about 10 days here. We plan to write a lot more about Tuscany and the towns listed in this article.
Siena
Siena is considered a hill town in Tuscany, although it really feels like a small city. We loved walking through the narrow cobblestoned streets, which we did most nights to go to Il Campo. Tyler and Kara liked bringing their soccer ball to see if there were any kids interested in playing pick up soccer. They got lucky one night, playing with a family from Poland.
It was much less crowded here than in Florence, so it was a nice break from the hoards of tourists in Italy in July. We had great weather, with temperatures in the very low 80's during the day. Almost every day, around 3 pm, no matter where we were in Tuscany, there would be a thunderstorm that would pass by. It happened so regularly that you could almost set your watch by it. Once the storm passed, the skies would be clear again and we were rain free until the next afternoon.
Overlooking Siena
One afternoon we climbed the tower overlooking Il Campo and Siena. The views of Siena and the surrounding countryside are amazing.
We also visited the Duomo in Siena. This place looked wild on the inside. Tyler and Kara called it the zebra church.

We spent one afternoon visiting Arnie and Linda, friends of mine from Maryland, at the Tuscan villa they were renting. Tyler and Kara were thrilled to go swimming in their pool, and Tim and I loved talking with other adults and enjoying some great Tuscan wine.
San Gimignano
We spent a day touring the hill town of San Gimignano. San Gimignano is one of the most popular hill towns to visit in Tuscany, partly because it is so easily connected to Florence and Siena with the public bus system.
During our final day in Tuscany, we spent a little more money, renting a car for the day. It was wonderful to have the freedom of a car, to go where we wanted to, no longer at the mercy of the unreliable SITA buses. Unfortunately, we learned that Kara gets carsick, throwing up in the parking lot just outside of Montalcino.
Montalcino
Montalcino is a small hill town. This town is packed with shops trying to lure people in to buy their Brunello di Montalcino wine. It was still too early for lunch (restaurants did not open until noon) but shops were open for wine tastings. My favorite part of the day was tasting various wines from the region. We bought one bottle of Montalcino wine to drink once we got to Germany.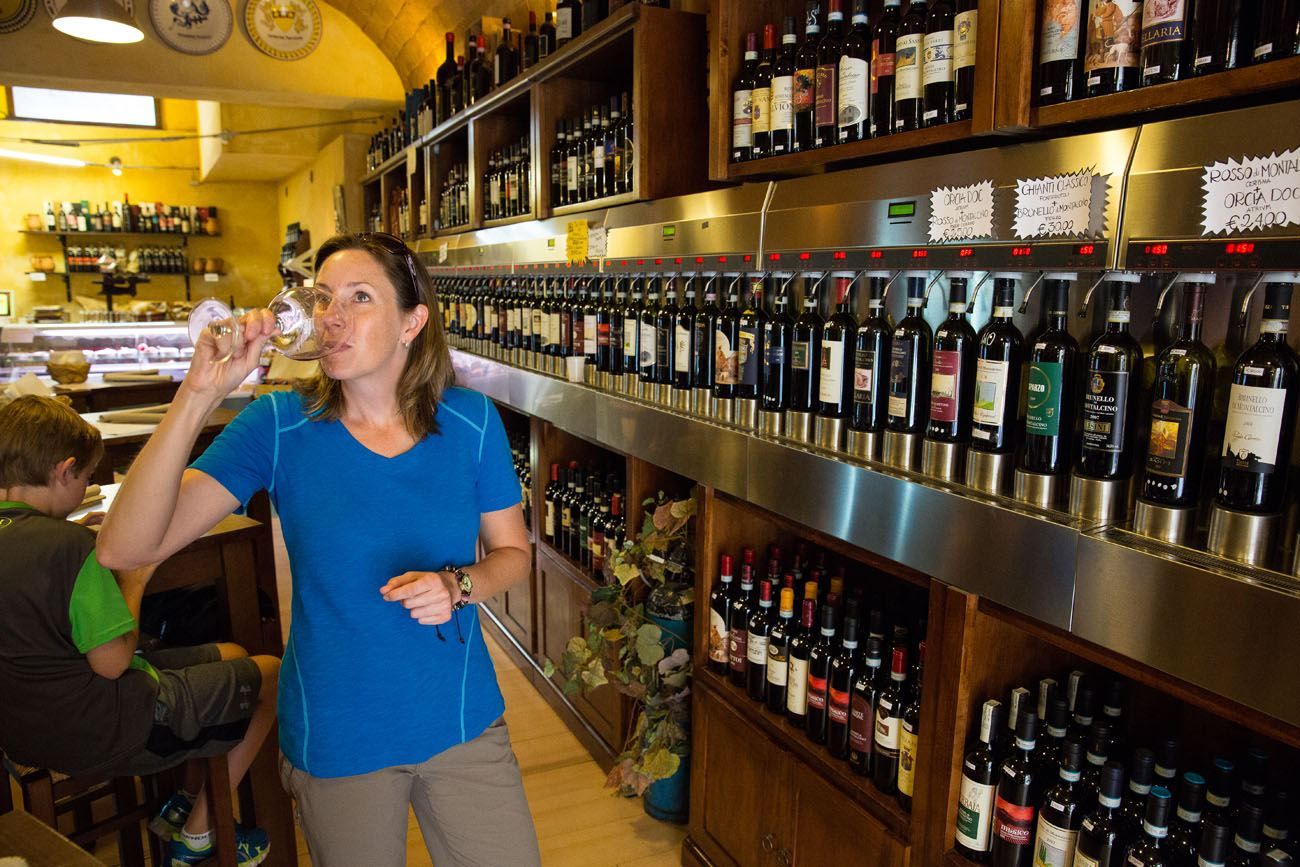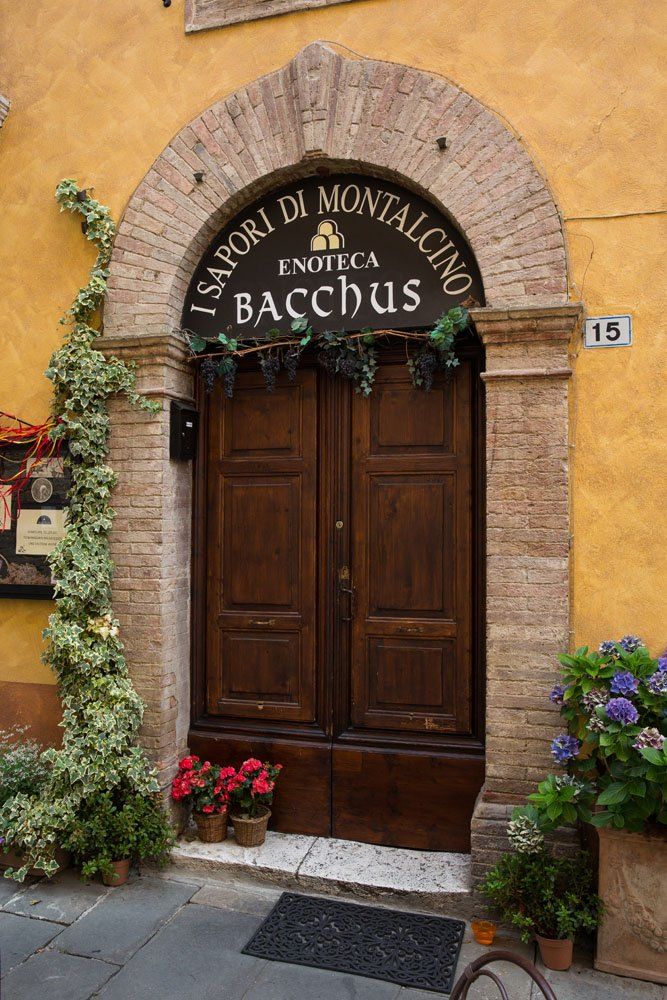 Pienza
A half an hour drive later, and with no tummy troubles from Kara, we made it to the beautiful town of Pienza. This town, which is very small, is a medieval town with all of the buildings built from stone. We walked the pedestrian streets, enjoyed the magnificent views over Tuscany, and did a little window shopping. We visited on a Monday, apparently the day of the week this little town closes up shop, so all restaurants were closed for the day.
Montepulciano
We ended our Tuscan tour at Montepulciano. This town was the biggest of the three we visited today. It sits high on a hilltop, overlooking some of the best scenery of Tuscany. Storm clouds were rolling in and it was getting close to 3 pm, so we only had a little time before rain would be falling.
By now we were starving, so we ate lunch at a great little restaurant, with views out of town and over the countryside. We ate pizza and pasta for lunch, Tim and I had a little wine, and I will never get tired of the food in Italy.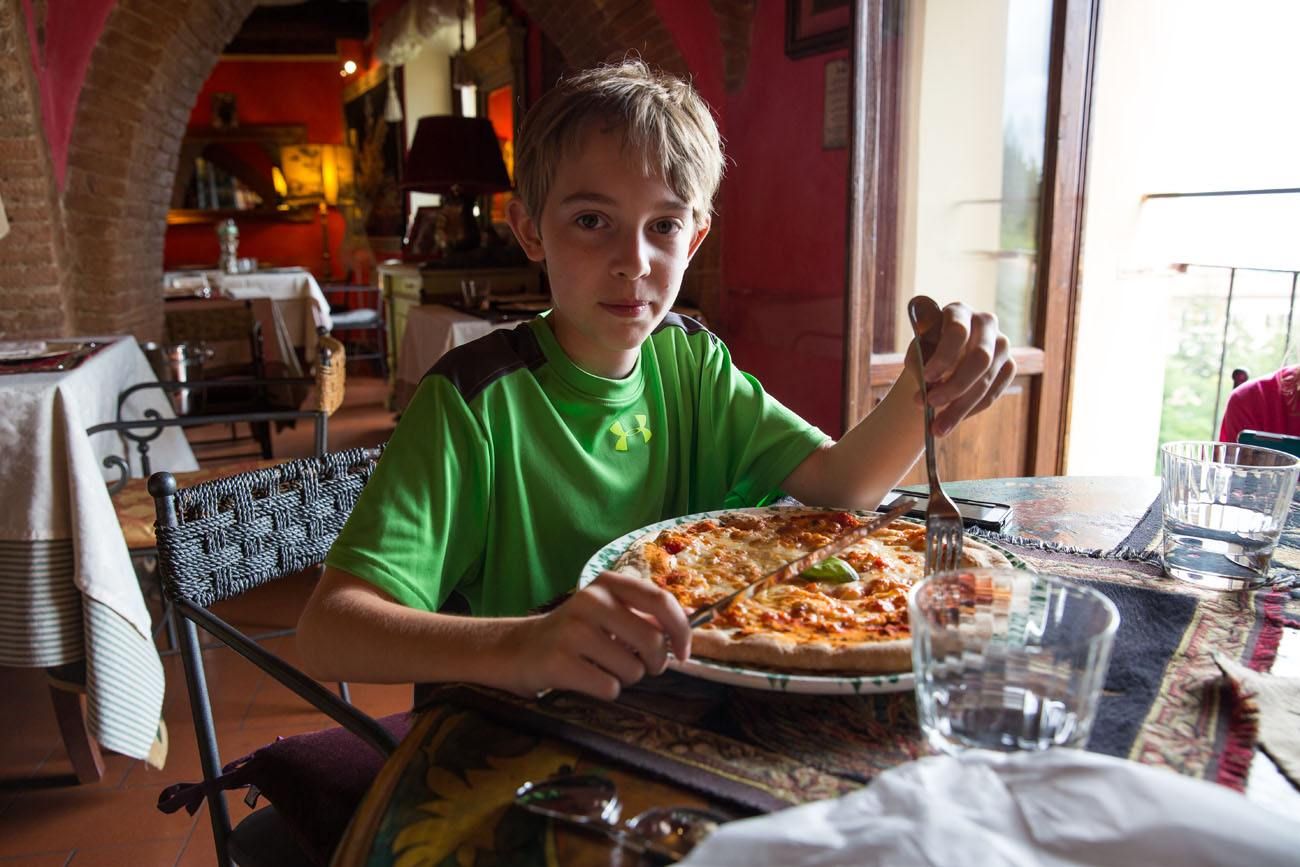 Just as we were about to leave the restaurant, the skies opened up. Instantly the temperature dropped twenty degrees and we were stuck in a downpour. Determined not to let rain ruin our fun, we walked through Montepulciano in a torrential downpour. We took shelter once the thunder and lightning really got going, and waited out the passing storm. These afternoon rainstorms are crazy!!
This ended our day touring Tuscany by rental car. The other days we had left in Siena we spent on homeschooling, much to the delight of Tyler and Kara.
Tips on Touring the Hill Towns
Tuscany is amazing. It's worth at least a few days on any itinerary to Italy. The hill towns are all linked by the SITA bus system, but in order to see Tuscany this way you have to have a lot of patience. On more than one occasion, the buses would show up 45 minutes late, or fail to show up at all. It was incredibly frustrating. I would recommend either renting a car or hiring a driver.
There are many other hill towns to visit and you would need at least a week in Tuscany to try to see all of them. Honestly, by the time we reached Montepulciano, they were all beginning to look the same.
My favorite part of Tuscany was driving through the countryside, past fields of sunflowers, vineyards, and farmland. Tuscany is beautiful, the wine is delicious, and this is a place we would like to return to again someday.
Update from 2022: Without a doubt, renting a car is the best way to tour Tuscany. If you don't feel comfortable renting a car, then consider hiring a driver or taking a tour, since this will include your transportation and an experienced guide.
Tours of Tuscany
Make your travel planning easy and join one of these tours of Tuscany.
---
More Information for Your Trip to Italy
TUSCAN HILL TOWNS: Check out our detailed guides to Montepulciano, Pienza, Montalcino, San Gimignano, Lucca, Volterra, Arezzo, and Cortona. We also have a One Day Siena Itinerary.
FLORENCE: If you are planning your first visit to Florence, don't miss our guide to the 10 Best Things to Do in Florence. We also have a guide about how to visit the Florence Cathedral and related sites, the best rooftop bars in Florence and the best viewpoints in Florence.
ITALY ITINERARIES: If you are just beginning to plan your Italy itinerary, take a look at our 10 Days in Italy Itinerary for four different ways to spend 10 days in Italy. We also have a detailed 10 day itinerary that includes Rome, Florence, the Cinque Terre, and Venice. For those with more time, check out our 14 day Italy itinerary, which covers the highlights of Italy.
BEST OF ITALY: In our guide to the Best Places to Visit in Italy, we list 20 beautiful destinations to consider for your next trip to Italy.
ROME: For a list of the top experiences in Rome, read our article Best Things to Do in Rome. Learn how to put these together in our 2 Day Rome Itinerary, where to eat in our Rome Restaurant Guide, how to visit the Colosseum, and where to stay in our Rome Hotel Guide. And don't miss our guide to the Best Rooftop Bars in Rome.
We have TONS more information about Italy in our Italy Travel Guide, including Rome, Florence, Venice, Tuscany, the Dolomites, the Amalfi Coast, the Cinque Terre, and Puglia.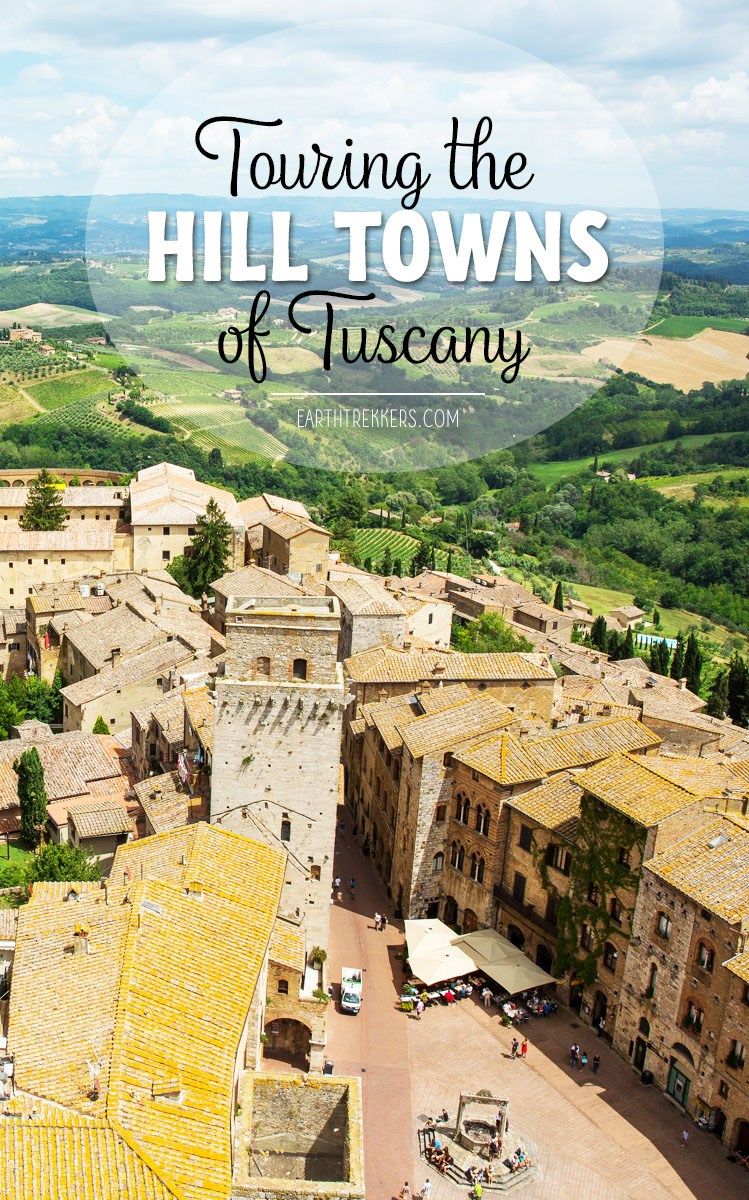 Note: This post contains affiliate links. When you make a purchase using one of these affiliate links, we get paid a small commission at no extra cost to you.
All rights reserved © Earth Trekkers. Republishing this article and/or any of its contents (text, photography, etc.), in whole or in part, is strictly prohibited.