In 2013, on our first trip to Norway, we spent twelve days touring the country, visiting Oslo, Bergen, Stavanger, and Alesund. Hiking was our favorite activity here. Norway is an amazing (and very expensive!!) country to visit, and the perfect place to rent a car for sightseeing.
Our tour of Norway started in Stavanger. We stayed here for several nights in order to hike to Pulpit Rock and Kjeragbolten. Stavanger is a charming, coastal town located on the southwestern tip of Norway.
From Stavanger it is just a combination ferry and bus ride to the famous Pulpit Rock hike. This is Norway's most popular hike and it was extremely crowded on the day we hiked here. The views of the fjords were beautiful but as a family we all enjoyed the other three hikes we did in Norway much more.
The hike to Kjeragbolten was Tyler and Kara's favorite. It is a fairly challenging hike involving rock scrambling and the use of chains to ascend the mountains. Tim and I both stood on the boulder (yikes!).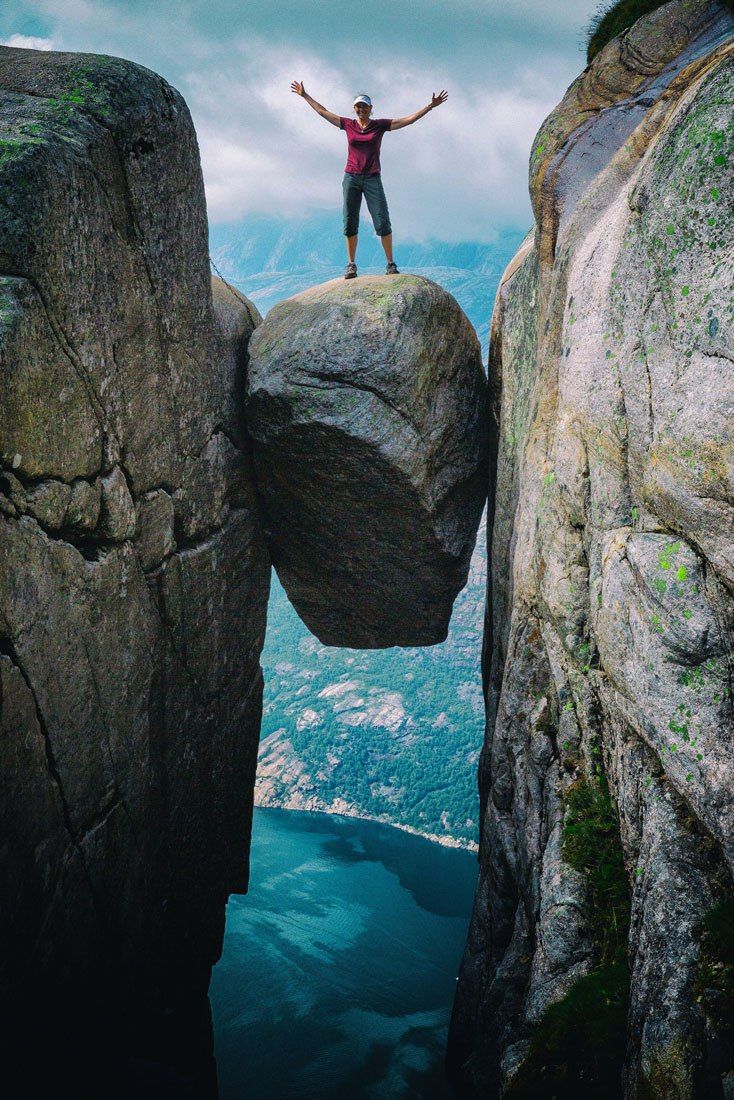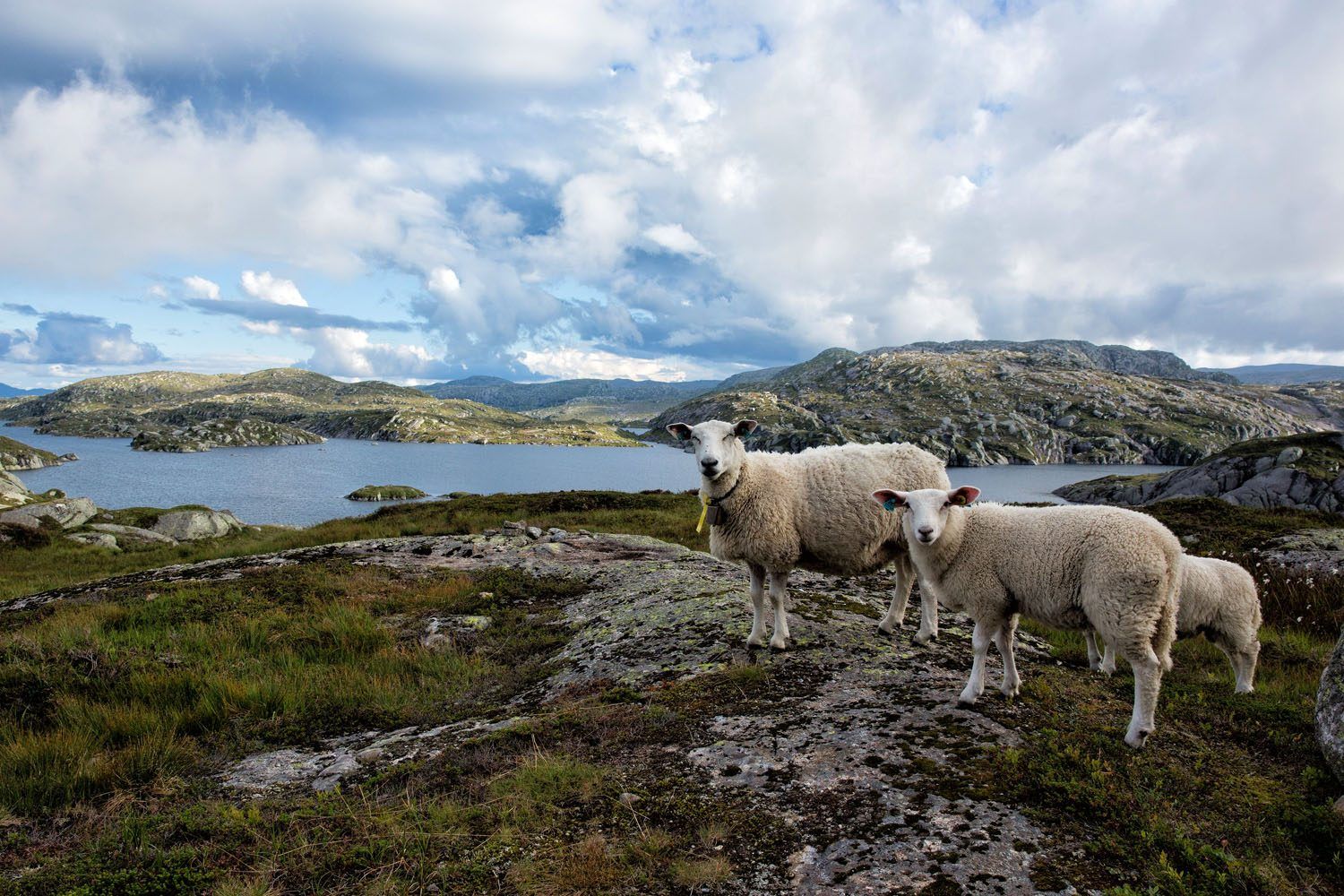 Driving back to Stavanger from the hike to Kjeragbolten these sheep posed perfectly for the camera.
As we drove through Norway we saw all kinds of livestock…
Goats!
Cows!
Strange street signs…
But we never saw any elk or reindeer…or any trolls, for that matter. But I did find some ferocious Vikings in Bergen!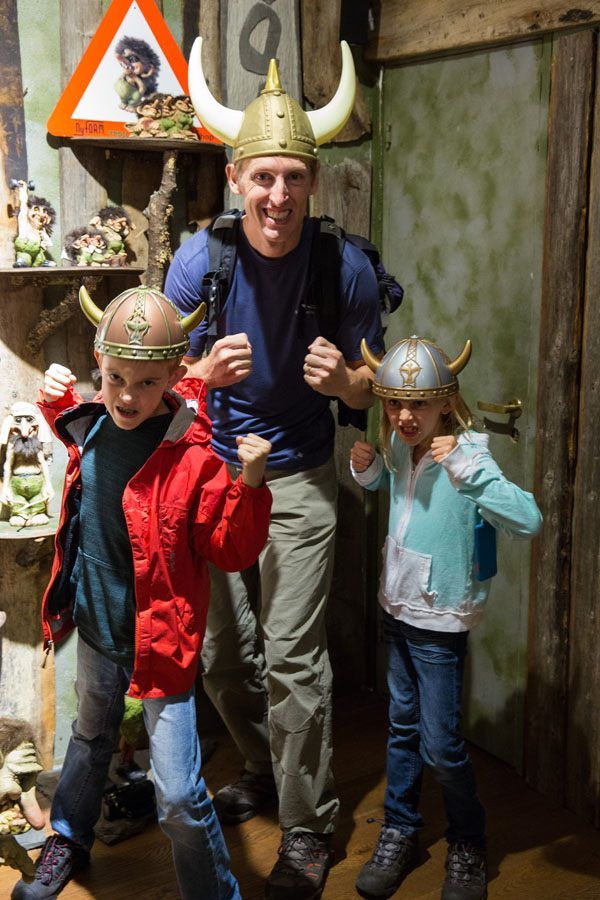 From Stavanger we took a super quick flight north to the wonderful town of Bergen. Bergen is one of Norway's rainiest cities but luck was on our side…we had a picture perfect day.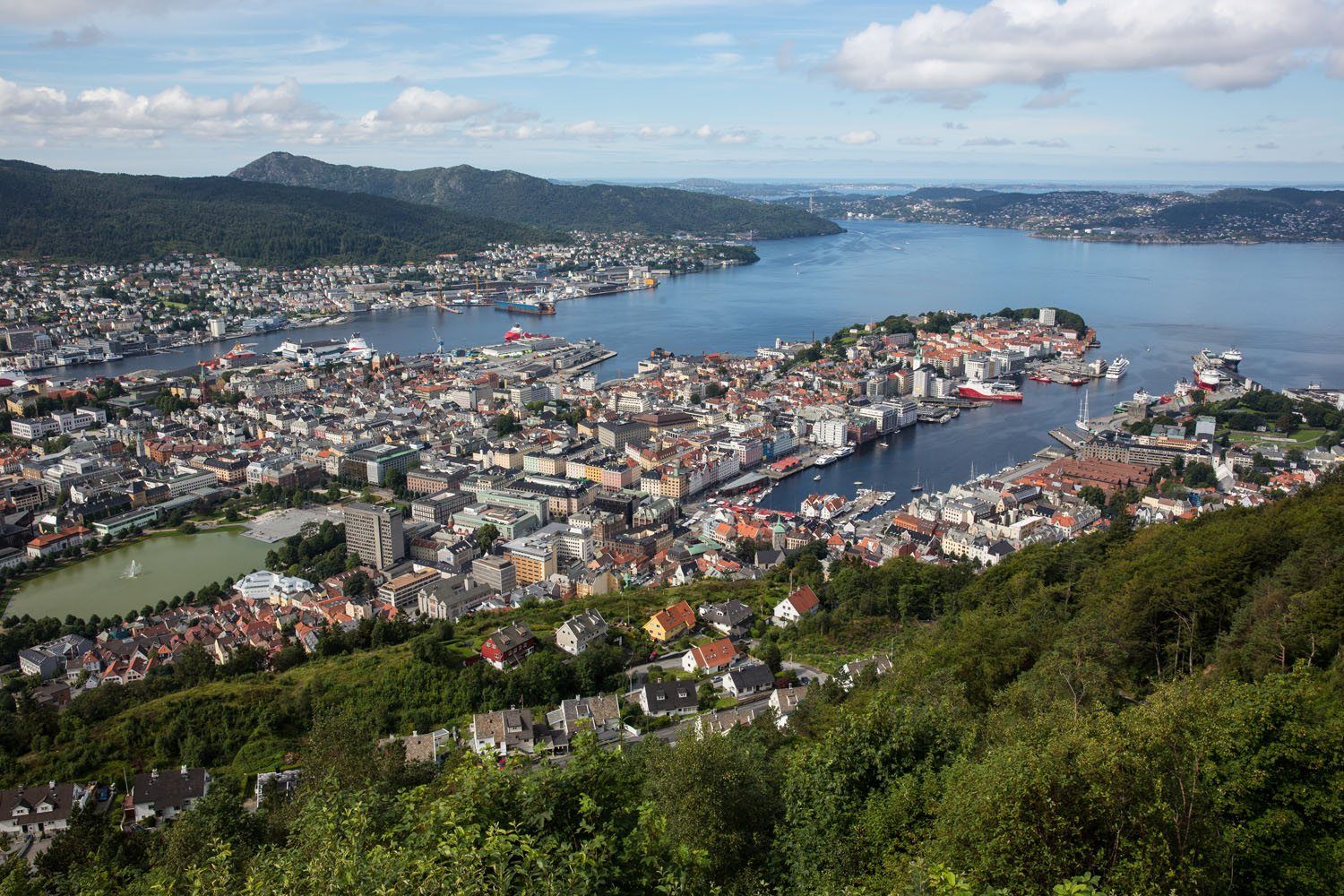 This is Bryggen, a row of Hanseatic houses in the harbor of Bergen. This was a German port used for the export of cod to the rest of Europe.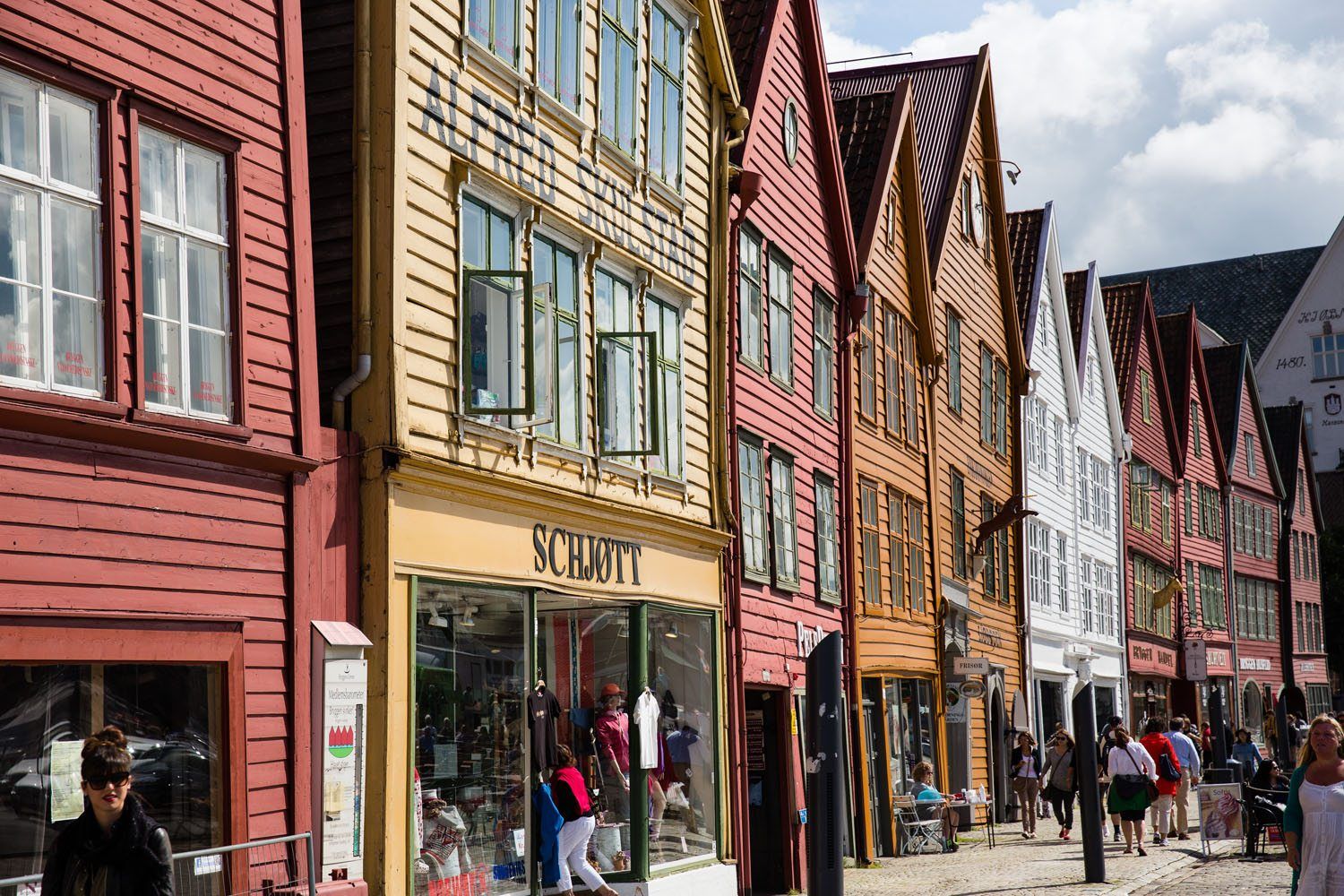 In Bergen we rented our second car (we rented a car for one day in Stavanger to drive to the Kjeragbolten hike). From here we would take a one week trip winding through the fjords of Norway, ending at Alesund. Driving these roads were a highlight of our time in Norway. For the most part all of the roads are one lane roads with frequent pull-offs for passing cars. If the road was too narrow for two cars to pass, one car would have to reverse until they reached one of these pull-offs, allowing the other car to go by.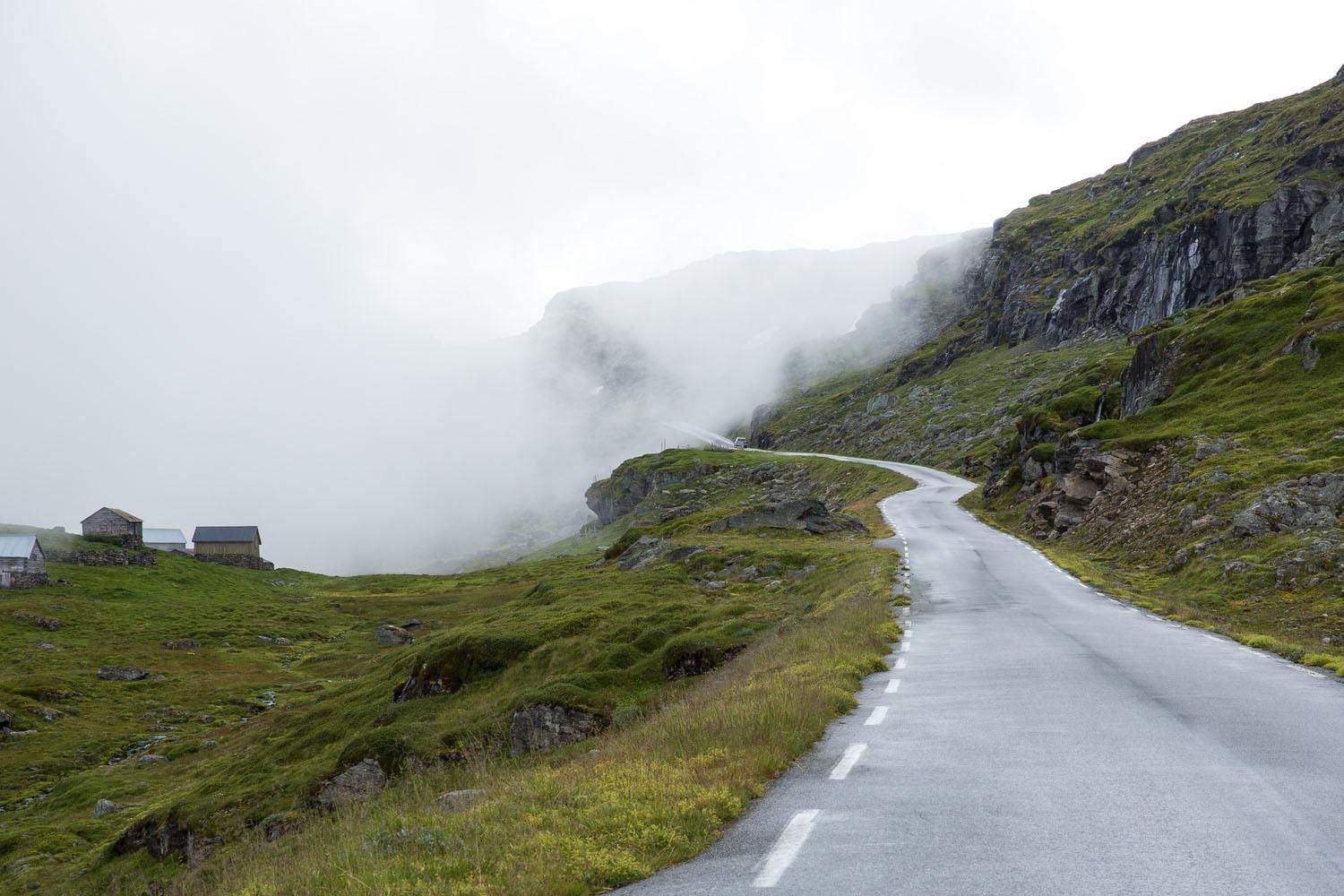 We frequently made use of the car ferries to cross the fjords, sometimes using as many as 3 or 4 ferries a day. There were also numerous tunnels cut through the mountains, and we drove through the longest tunnel in world, measuring 15 miles long.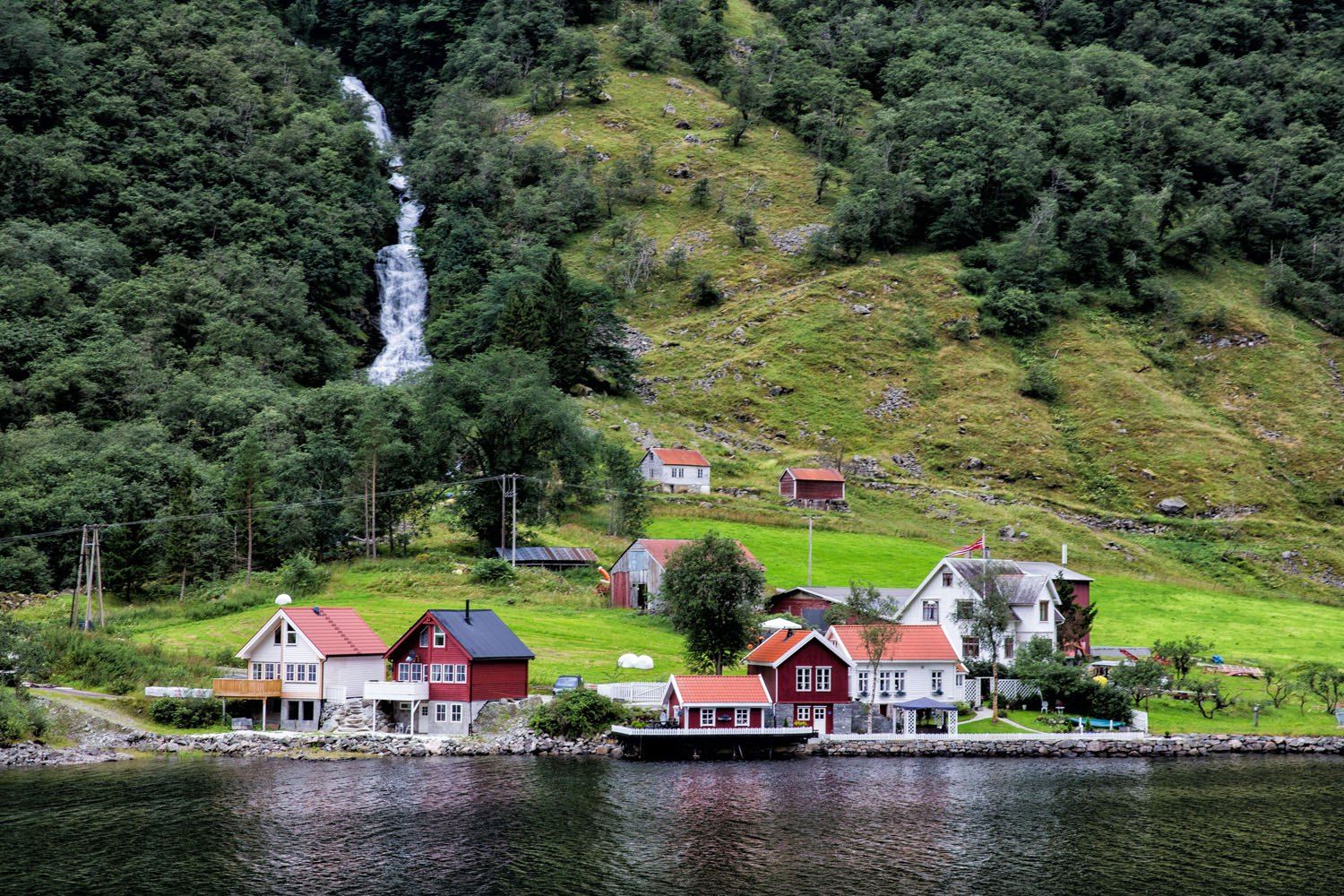 We spent the night in Eidfjord, and then had a amazingly scenic hour ride south to the hike to Trolltunga.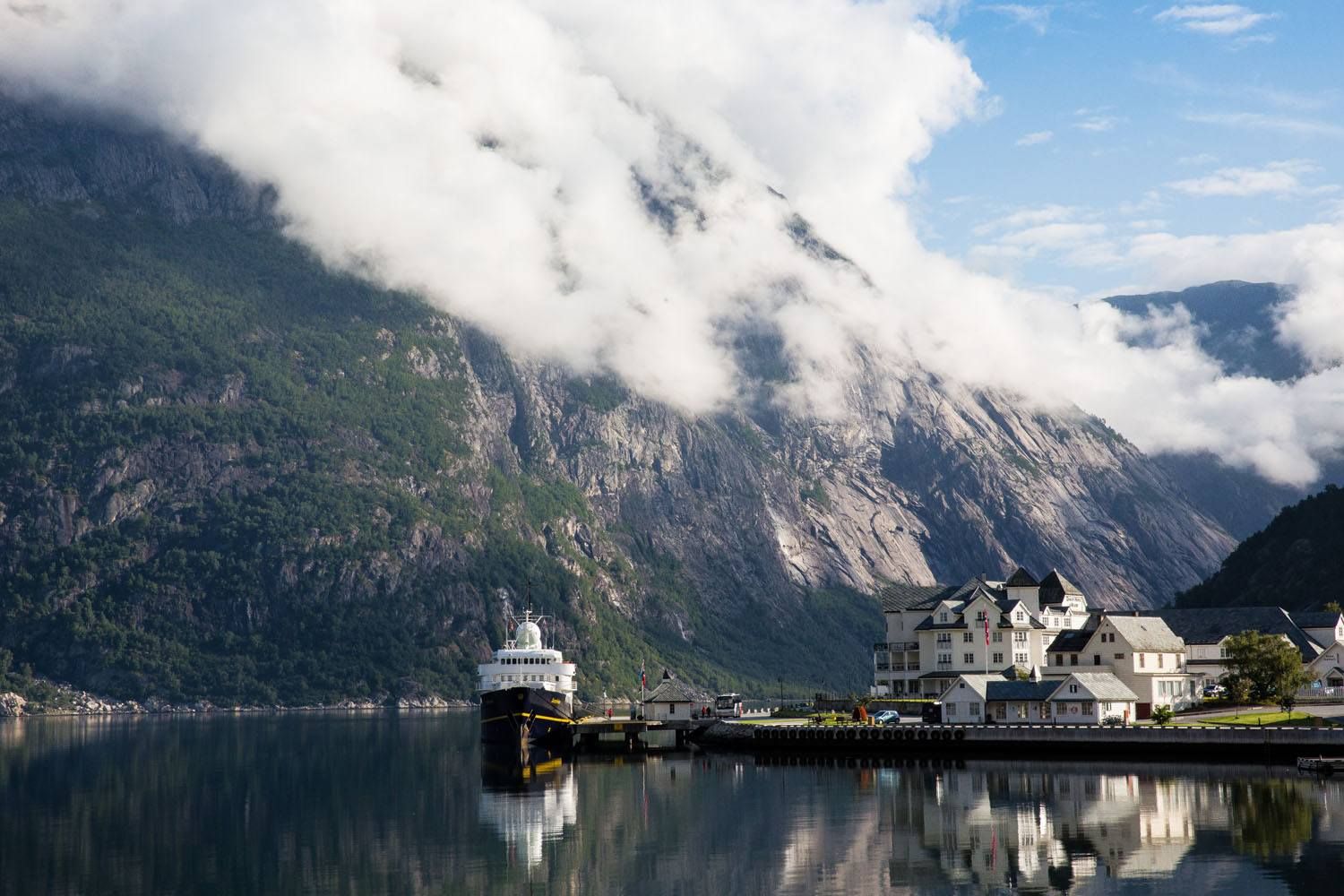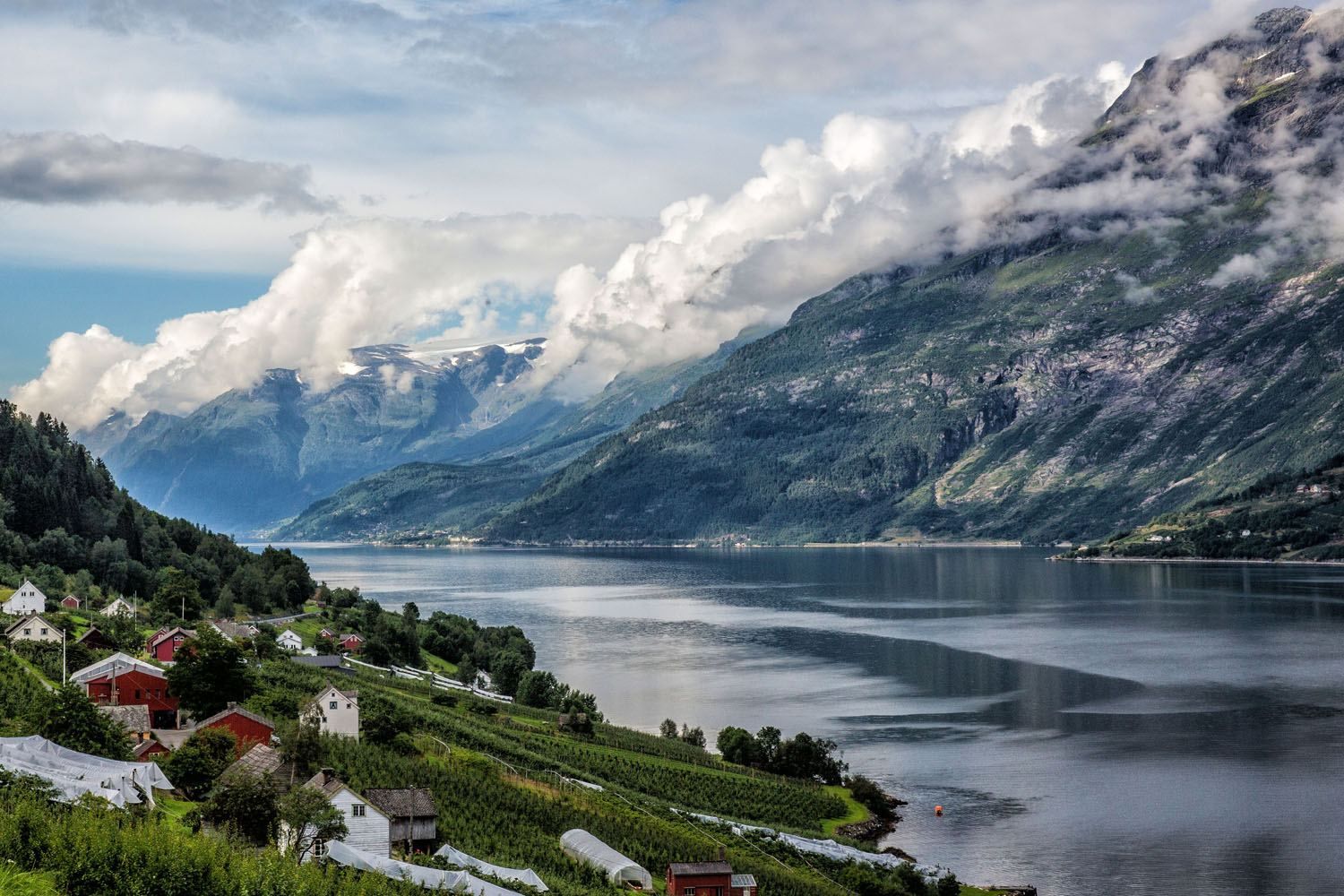 Seeing Norway by car is great, but hiking Norway is awesome. We had our best views of Norway on the hike to Trolltunga.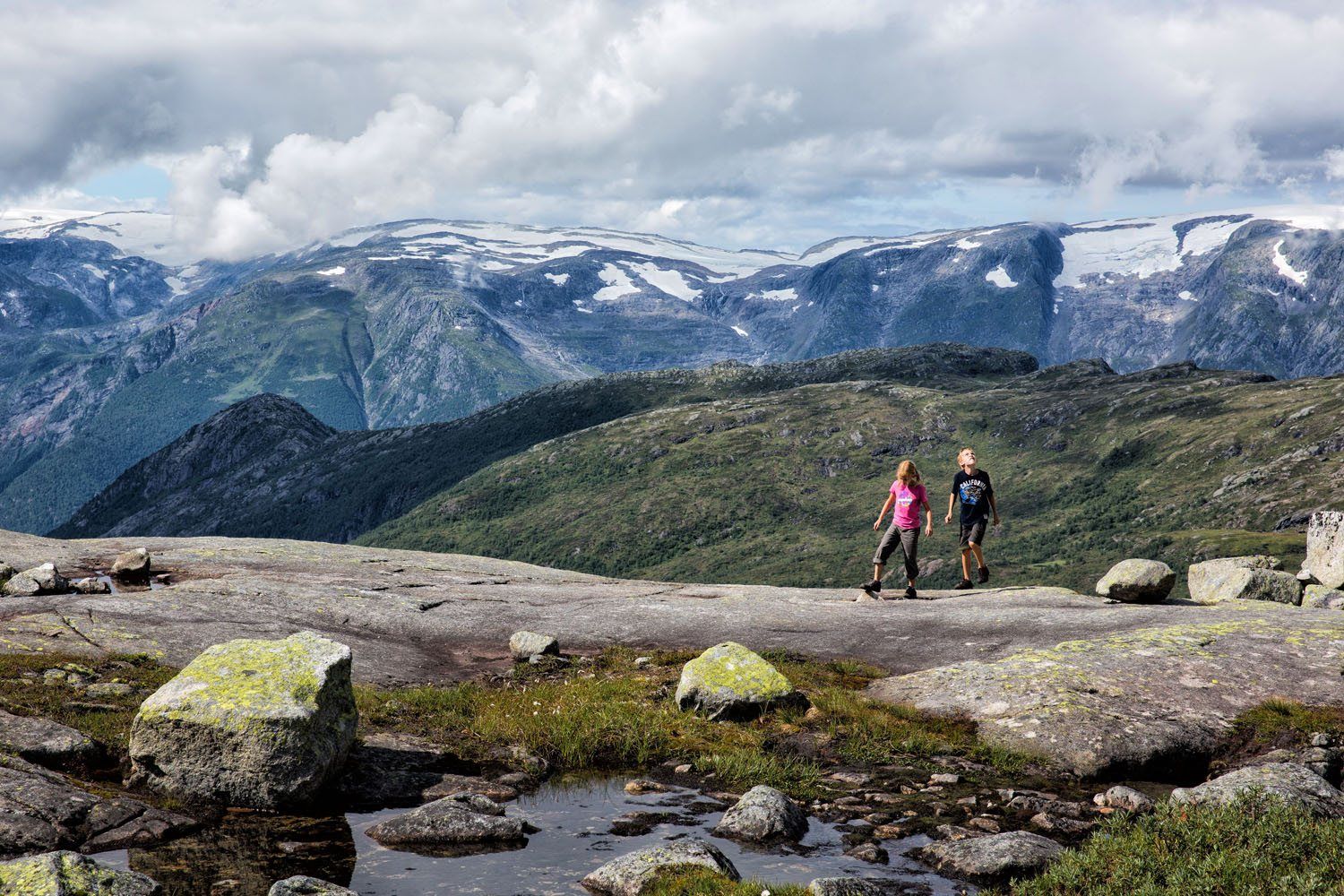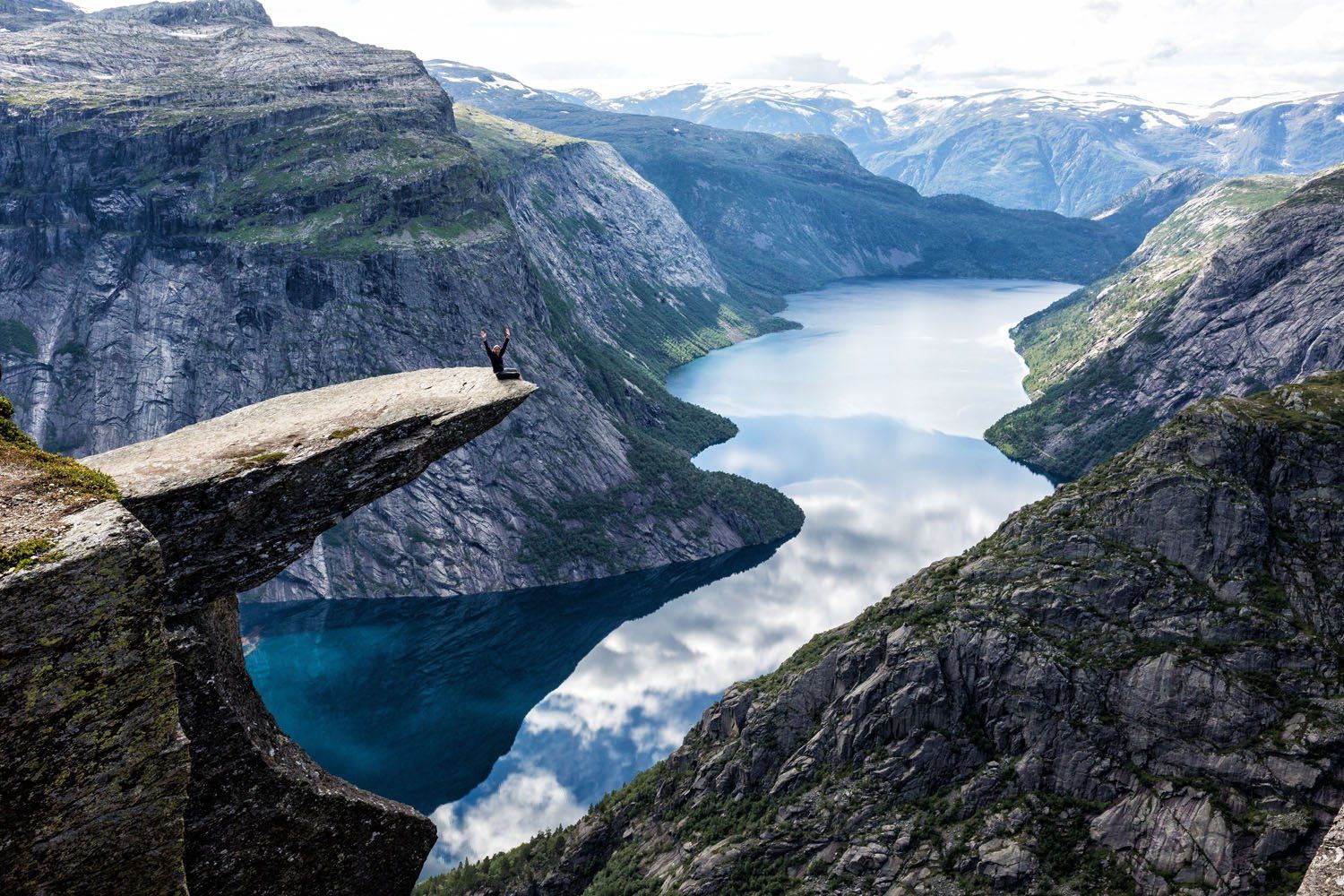 Eventually our good weather luck had to come to an end. As we drove north from Eidfjord clouds and rain moved in and would not clear up until more than three days later.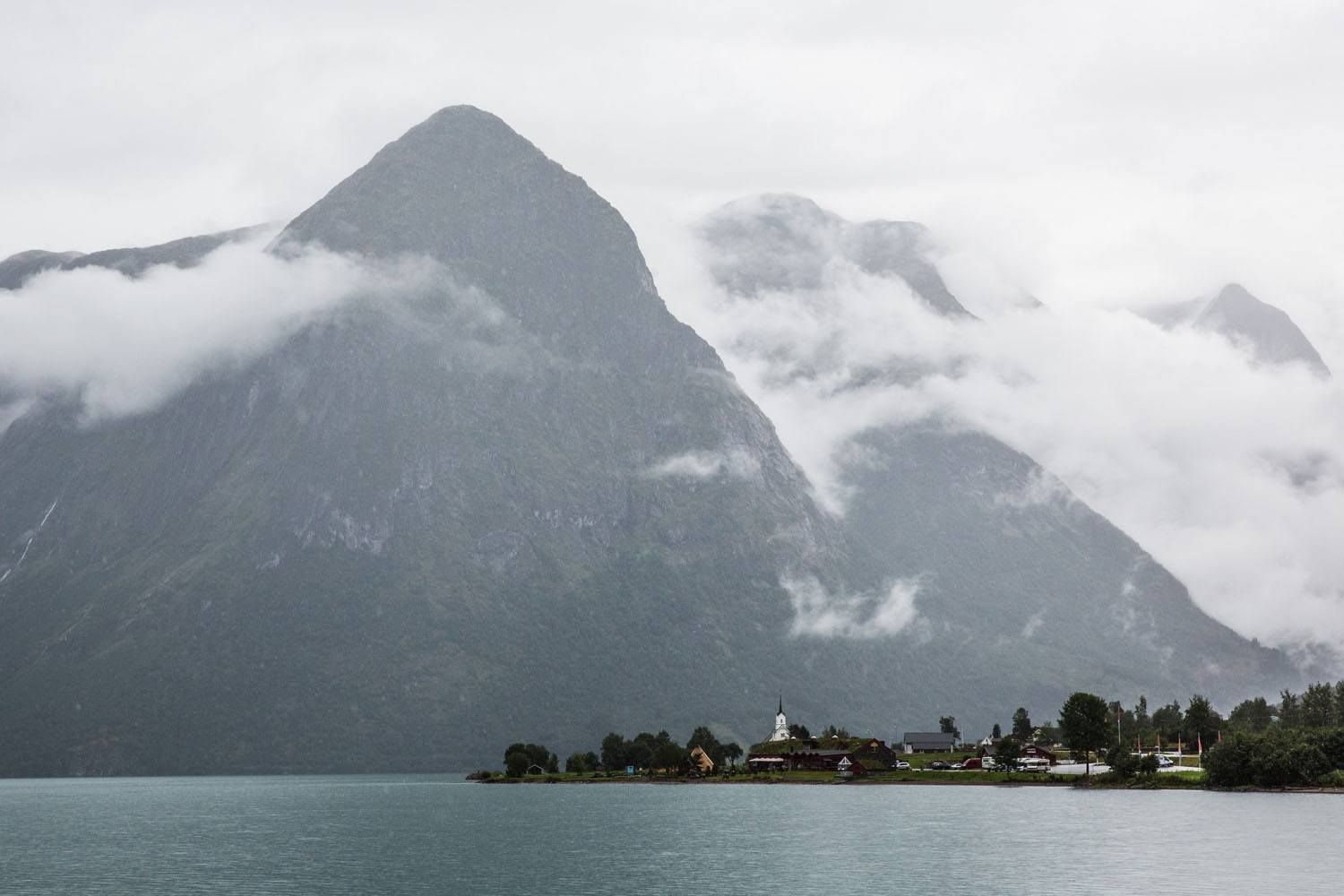 There is a popular tour in Norway called "Norway in a Nutshell." This is a one day tour that takes tourists on a ferry ride through one of Norway's most beautiful fjords, Naeroyfjord, and then on a train from Flam through spectacular mountain scenery. Since it was raining our views did not live up to all of the hype we read about while planning the trip.
And this is what happens when you take two kids on a "long, boring ferry ride" in the rain:
We never did the iconic Flam railway because of the rainy weather. None of us were terribly disappointed. How could it beat what we saw so far?
We spent another day driving north through the rain and fog, arriving at Geirangerfjord. This fjord is a UNESCO World Heritage site and is supposed to be one of Norway's most spectacular fjords. When we arrived it was so foggy we couldn't even see it. Tim had paid extra for a hotel room with views of the fjord. So much for our good views.
The next day the weather cleared up a tiny bit.
We took advantage of a break in the rain to go kayaking which turned out to be a lot of fun.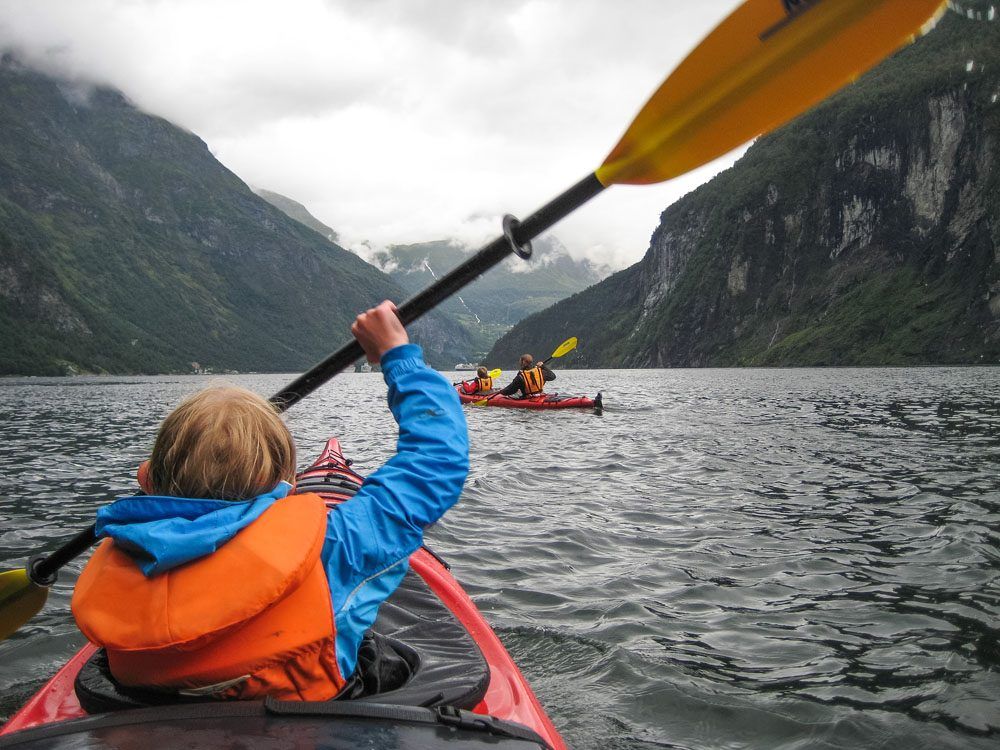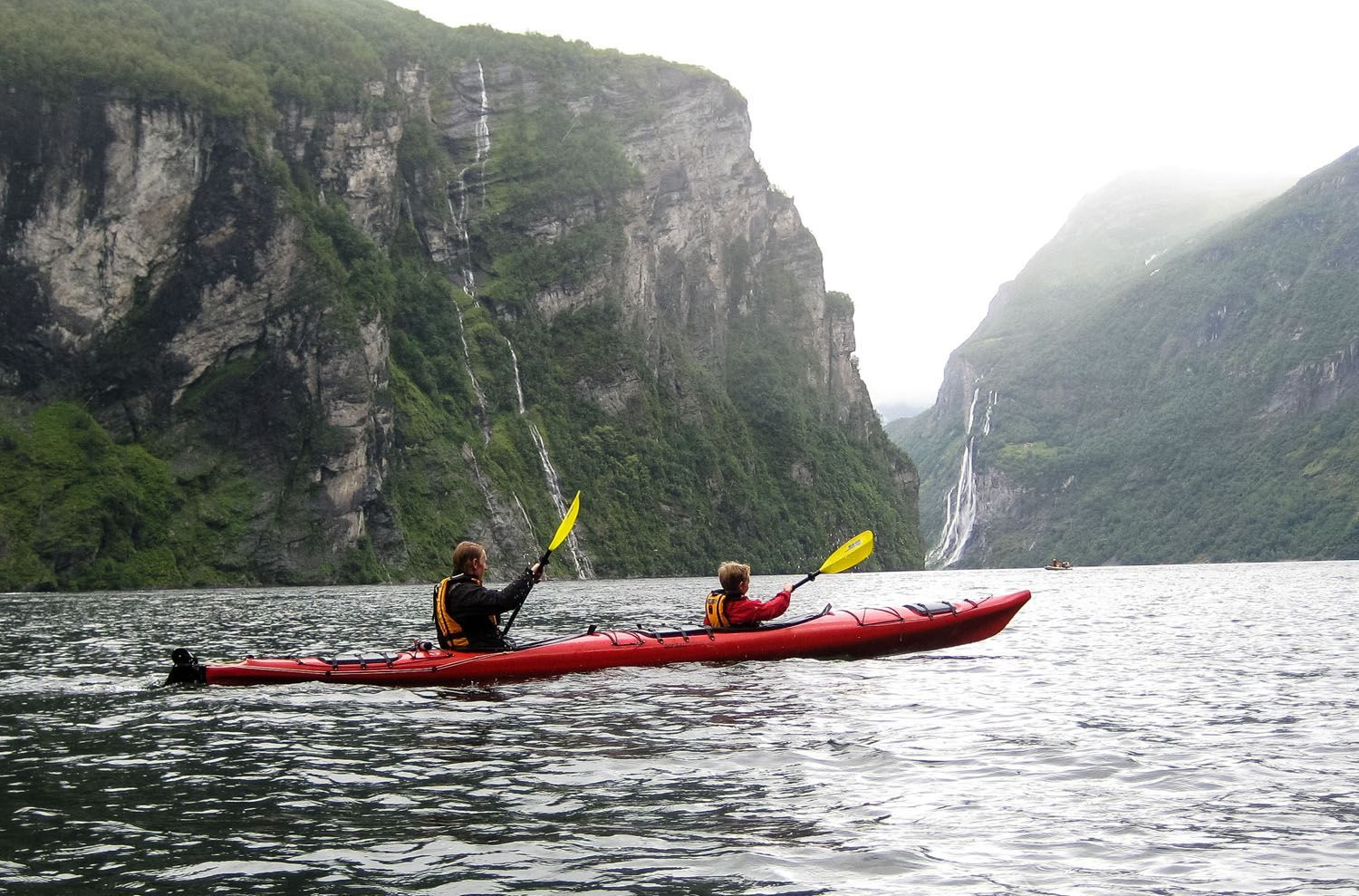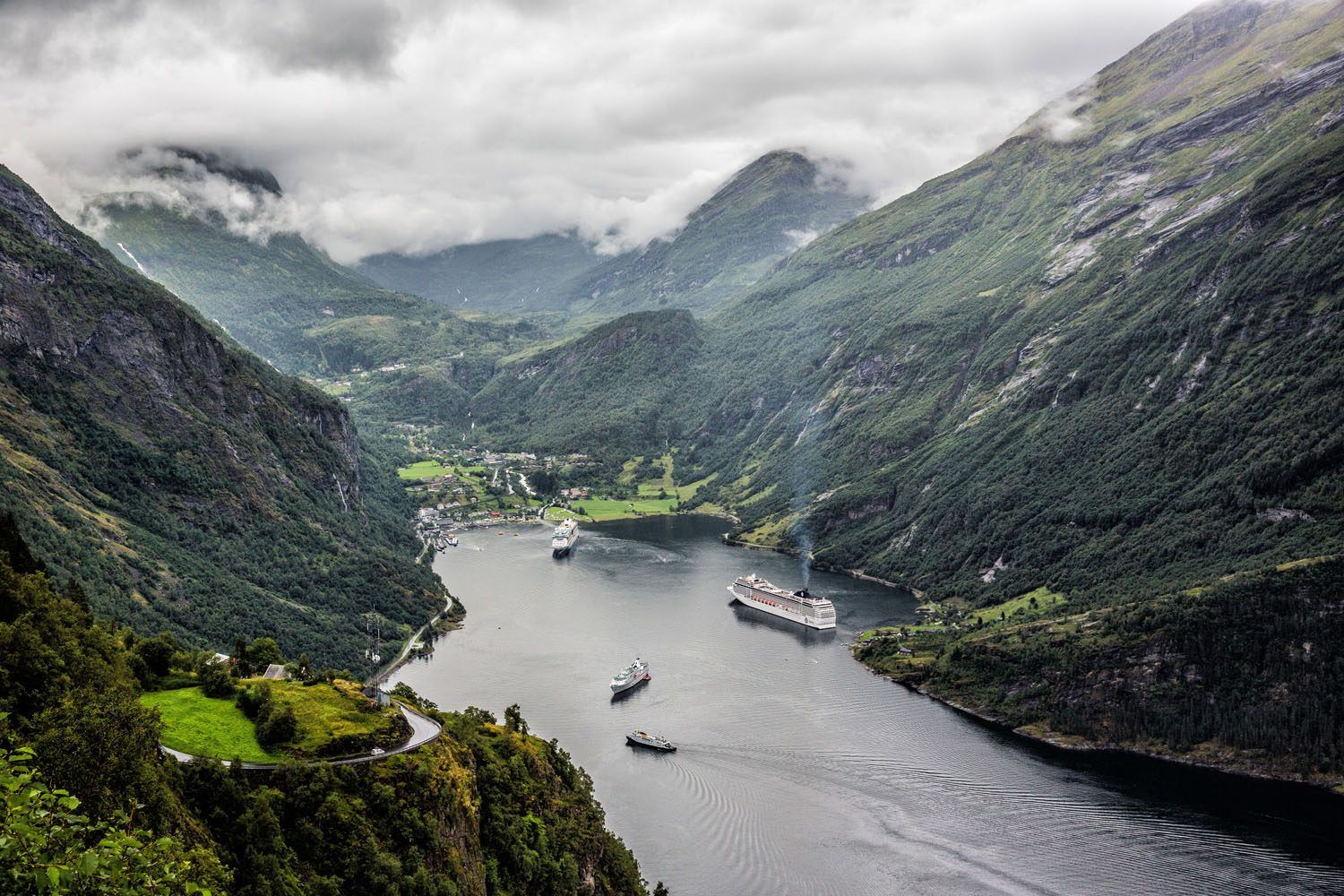 From Geiranger we drove north to Andalsnes. Here we hiked Romsdalseggen, and still the weather was drizzly and foggy. But by the end of the day conditions began to clear up.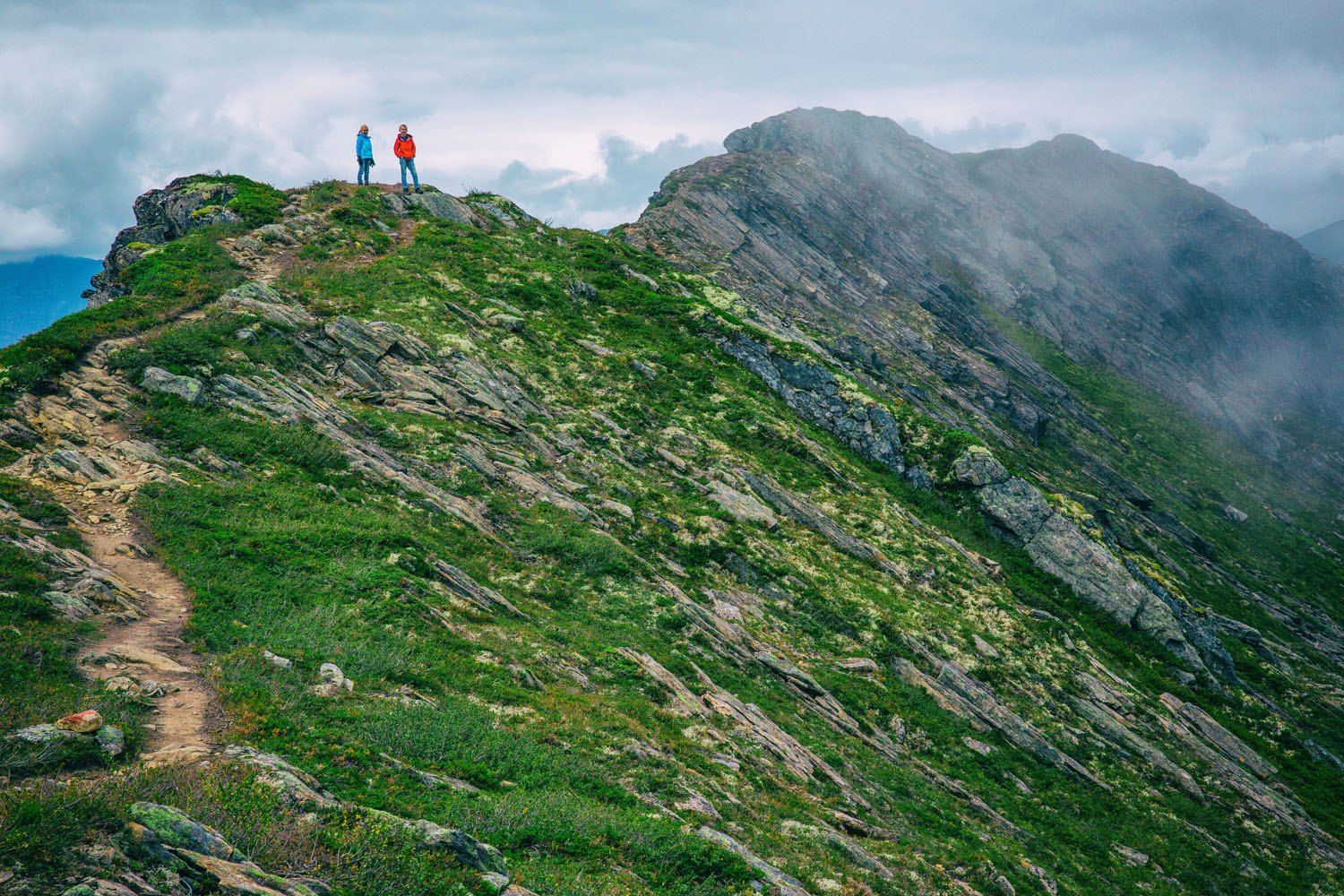 In fact, as we drove the famous Trollstigen road, sunlight was just beginning to peak through the clouds.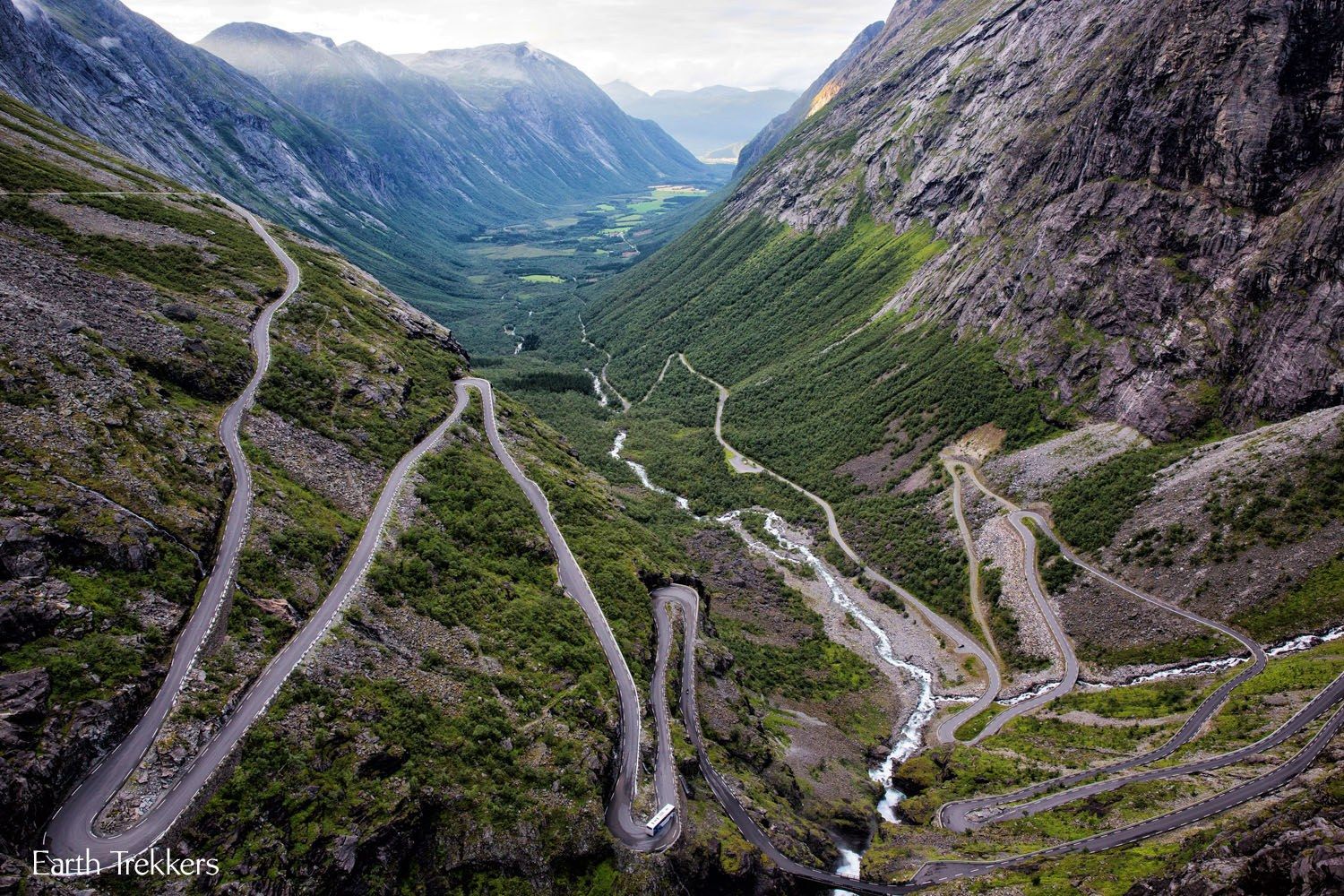 We had one more day of driving out to the coastal town of Alesund. We spent a few hours wandering here before flying to Oslo.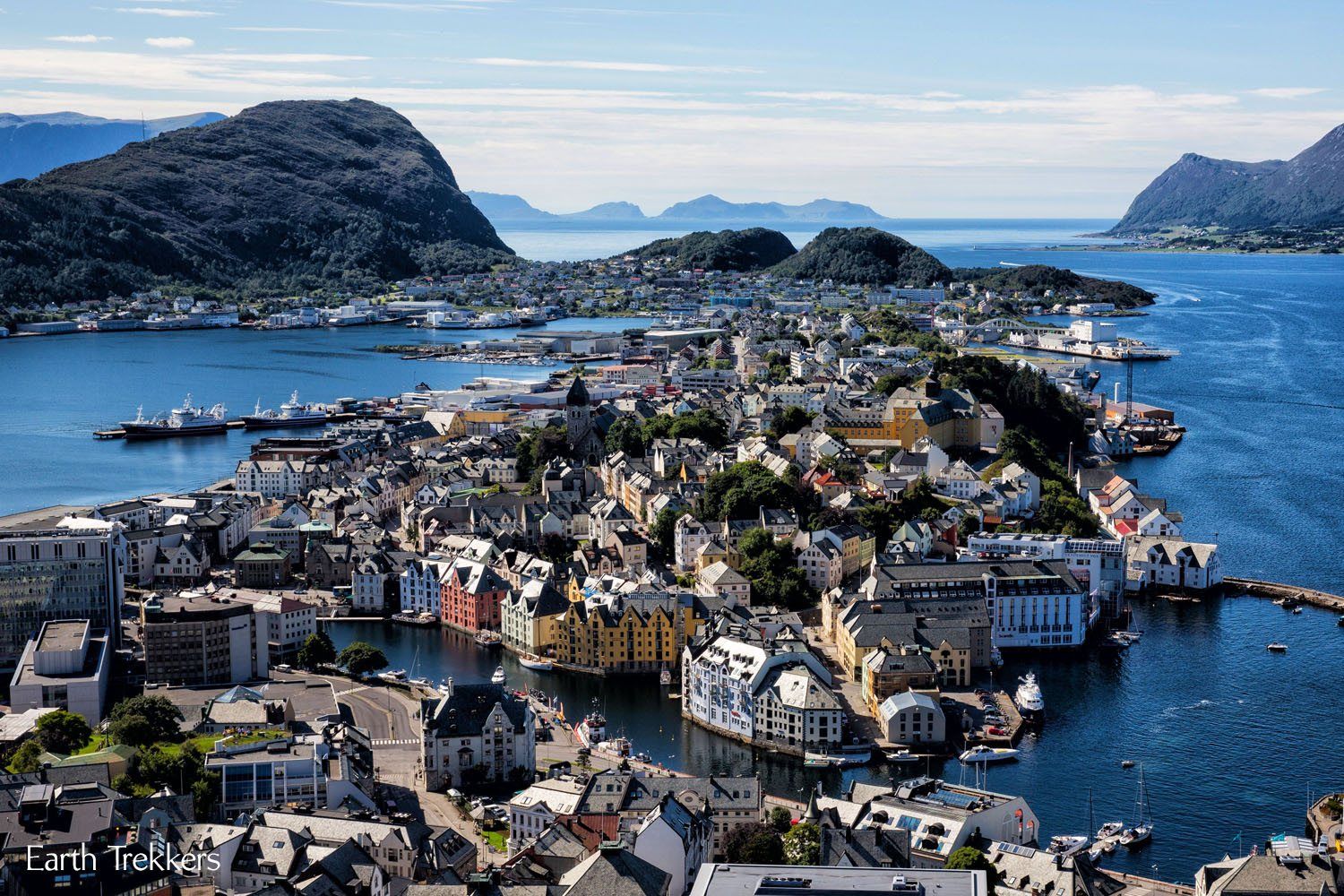 We had one day to tour Oslo…in the rain. We heard the views from the Holmenkollen Ski Jump out to Oslo are supposed to be phenomenal but we will just have to take their word for it…we couldn't see ten feet in front of us while we were there. We did go to the Viking Museum, and since everything was indoors, it was a pleasant experience. Walking around the old viking ships was pretty cool but Tyler and Kara were getting tired of sightseeing at this point.
From Oslo we flew home, ending our tour of Norway.
We hope you enjoyed our best Norway photos!
Note: This article was written after our trip to Norway in 2013.
---
More Information for Your Trip to Norway:
10 DAYS IN THE FJORD REGION: On this 10 day itinerary through the fjord region,visit southern Norway: Bergen, Geirangerfjord, and Stavanger and hike Trolltunga, Pulpit Rock and Kjeragbolten.
NORWAY IN PHOTOS: For more beautiful photos of Norway, check out our article Northern Norway in Photos.
PLACES TO GO IN NORWAY: For a list of top experiences in Norway, don't miss our Norway Bucket List. If you are a hiker, we also have a hiking guide with 14 epic day hikes to do in Norway.
BEST OF THE LOFOTEN ISLANDS: For an overview of the best things to do, read our Lofoten Islands Top Ten List. Great hikes in the Lofoten Islands include Ryten, Reinebringen, Festvagtind, and Svolvaer Floya. For a big adventure, climb Svolvaergeita for one of the most unique experiences in the Lofoten Islands.
SVALBARD, NORWAY: Plan the perfect visit to Svalbard with our Svalbard Travel Guide. We also have articles about the best things to do in Longyearbyen, what to pack for Svalbard in the summer, and how much does it cost to visit Svalbard?
All rights reserved © Earth Trekkers. Republishing this article and/or any of its contents (text, photography, etc.), in whole or in part, is strictly prohibited.