Where can you go to find that perfect day hike? The hike that leaves you breathless as you climb the summit of the mountain. The hike with the awe-inspiring views. The hike that is so enjoyable because the terrain and its views are always changing. The hike that has you saying "Wow!" over and over again. The hike that looks great in photos but is even better once you are actually there. The hike that you hope to do again someday.
We've put together 10 of our favorite hikes from around the world. Some are short, some are long, all of them are amazing. And all of these hikes take just a single day of your time.
The 10 Best Day Hikes in the World
#10     Love Valley, Cappadocia, Turkey
This is a very quick hike, ending at these uniquely shaped spires that gives Love Valley its name.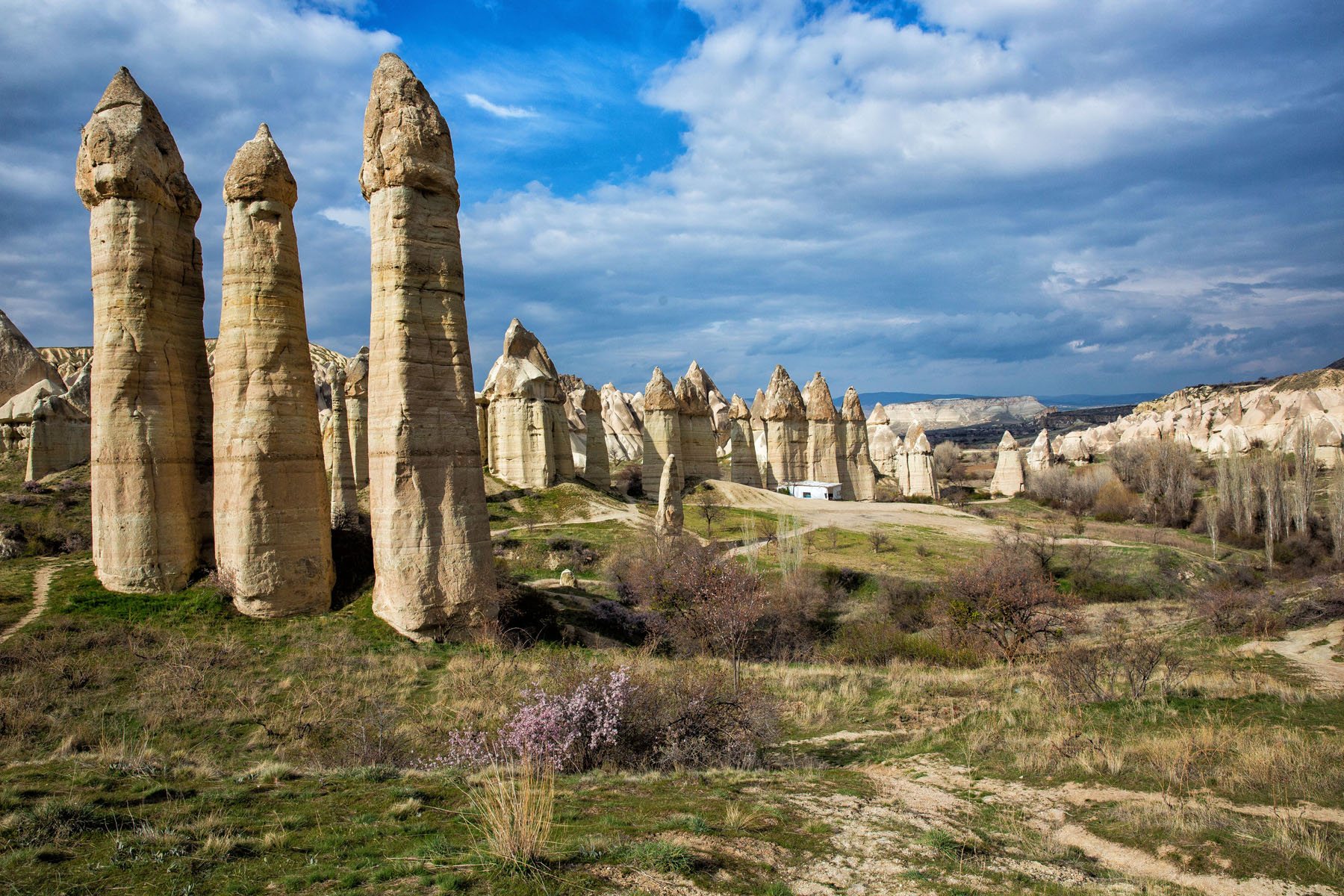 There is more to the Love Valley Hike than the phallic-shaped rock formations at the end. The hike takes you through a very scenic valley with small climbs, caves, and unique vegetation. It is a beautiful hike and will leave you with quite an interesting collection of photographs.
Distance:  2.5 km
Time to Hike:  1-2 hours
For more on the hike, you may be interested in the Best Hikes in Cappadocia with Kids.
#9     Robberg Peninsula, Garden Route, South Africa
For a hike with always changing terrain and views, this one is perfect. For us, this hike was unexpectedly awesome. Located in Plettenberg Bay, South Africa, this is a round trip hike around the Robberg Peninsula. Along the way you will have views over the peninsula, watch (and smell) the seals playing by the water's edge, hike along a rocky coastline, and then walk across a peninsula of sand. Your timing has to be right to walk out across the sand peninsula, since is gets swallowed up for a few hours by high tide.
Distance:   11 km
Time to Hike:   allow at least 4 hours
For more on the hike, read our post Hiking Robberg Peninsula in South Africa.
#8     Tiger's Nest, Bhutan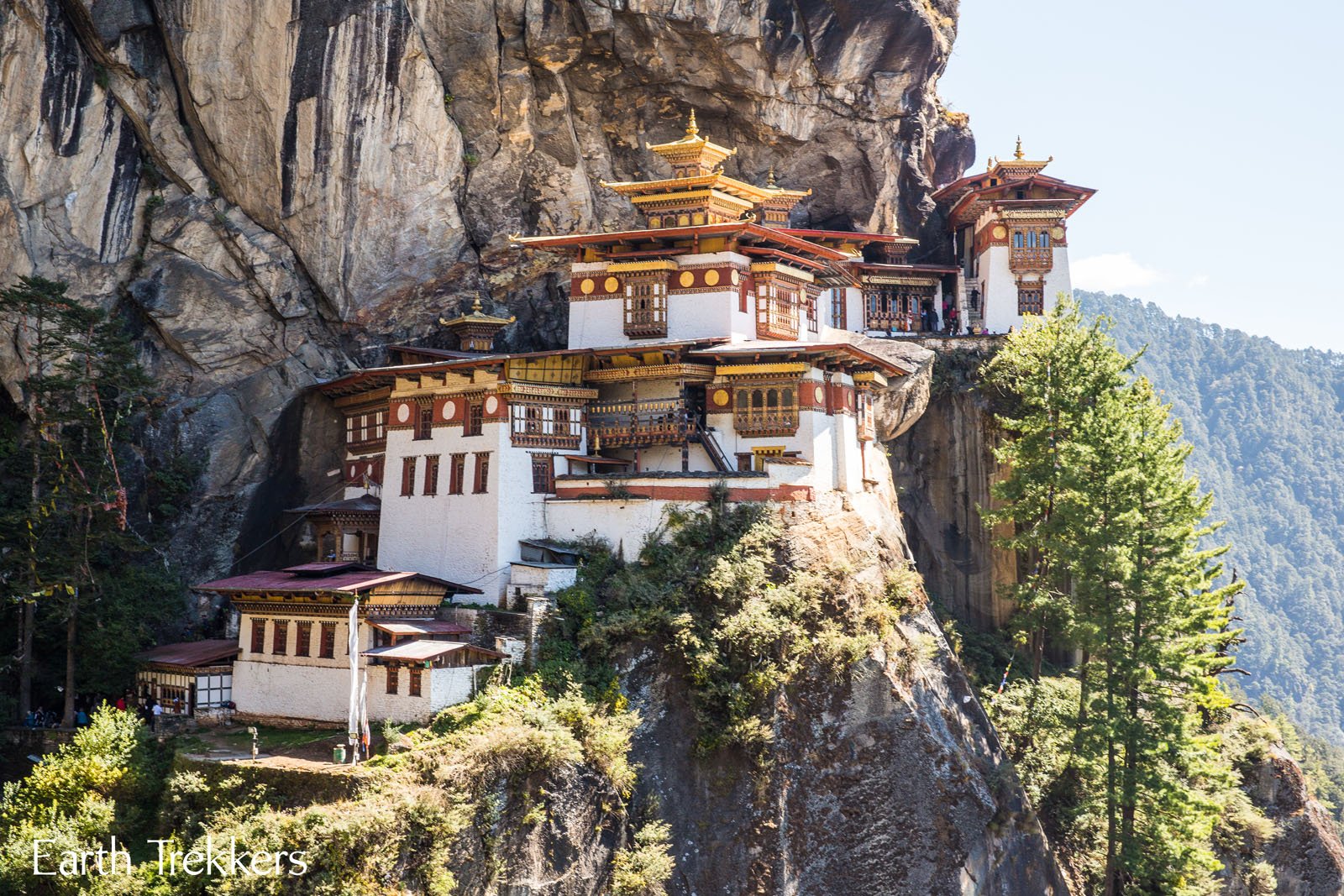 The Tiger's Nest is an icon of Bhutan, like Paris' Eiffel Tower and London's Big Ben. Most people who make the journey to Bhutan also make the pilgrimage to the Tiger's Nest.
The Tiger's Nest is a Buddhist monastery perched on the side of a cliff, 900 meters off of the ground. It is a long climb to get here, but oh, what a view. Such a majestic building in a precarious position. Prayer flags are waving in the air and you can smell the incense and hear the Buddhist monks in prayer. It is a once in a lifetime opportunity.
Distance:   roughly 3.25 km to the top,  6.5 km round trip
Time to hike:   It takes an average of 2 hours to reach the Tiger's Nest, less to get back down. There is a cafeteria near the Tiger's Nest which makes for a good pit stop. Allow at least 5 to 7 hours for the entire visit, including the time to visit the monastery.
For more on the hike, read our post The Ultimate Guide to Hiking to the Tiger's Nest in Bhutan.
#7    King's Canyon Rim Walk, Australia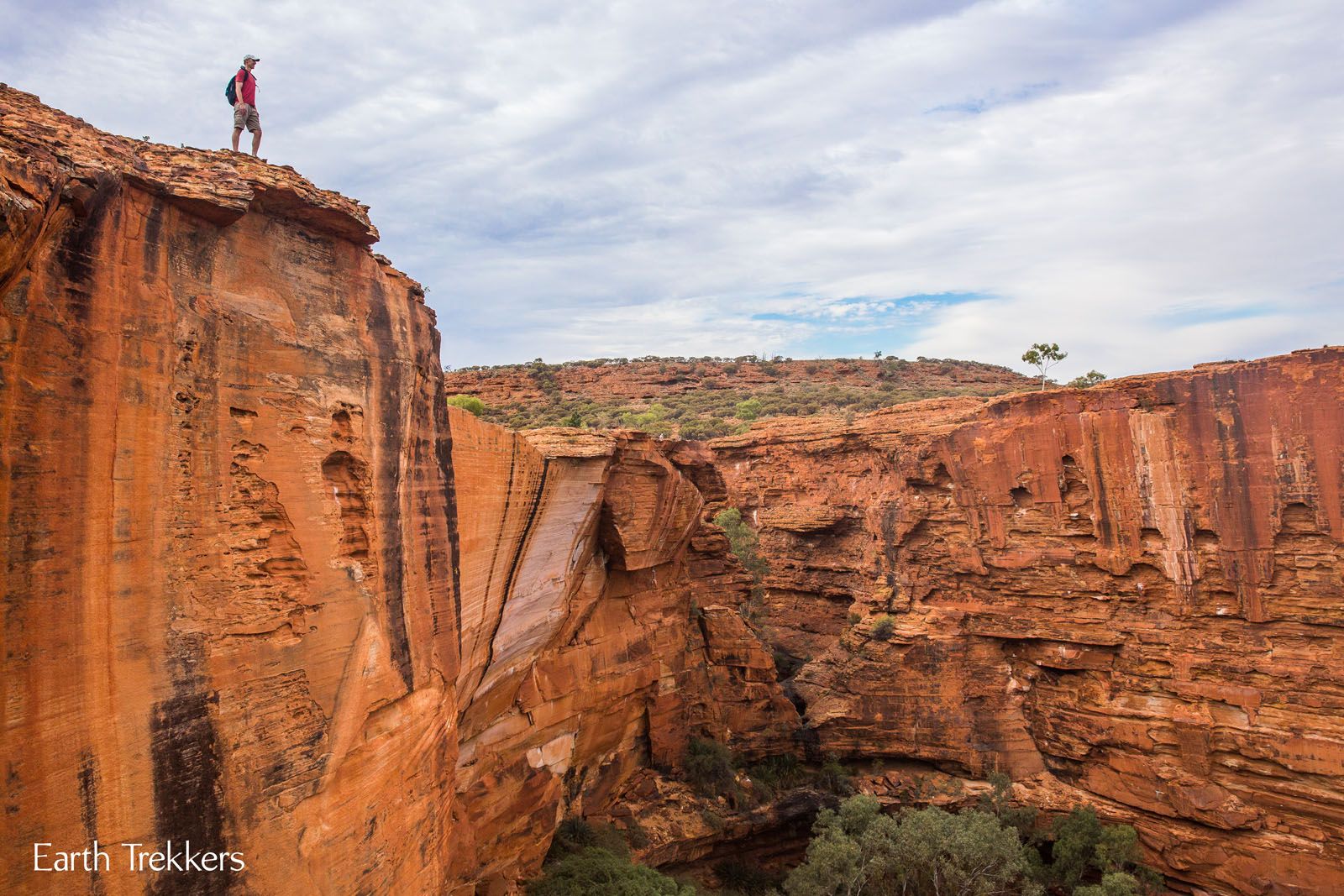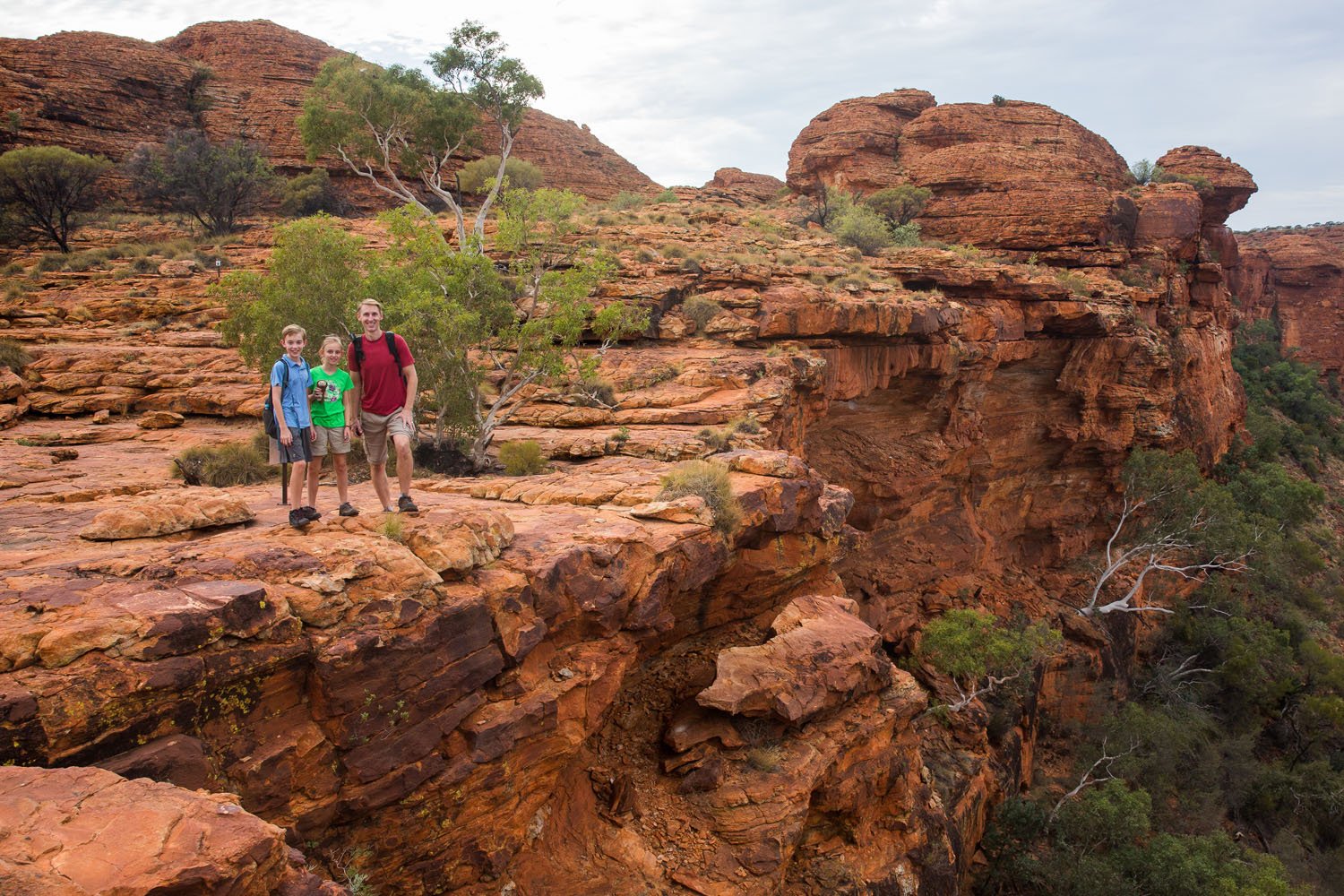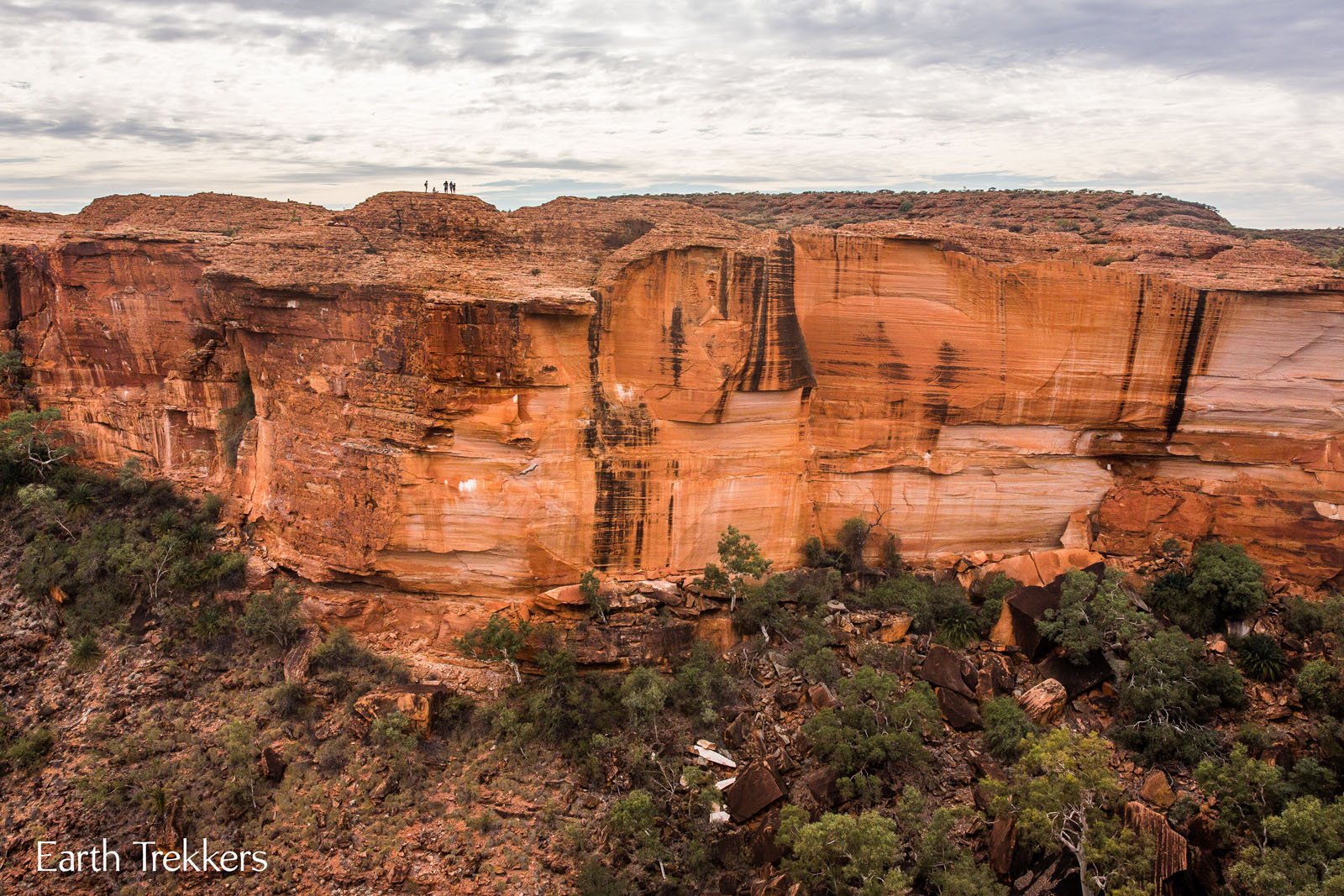 Hiking King's Canyon is another hike that blew away our expectations. People travel to this area of Australia to visit Uluru. What most people are not aware of is that there is a great hike just a few hours away by car. Being a quick, relatively easy hike, King's Canyon gives you the biggest bang for your buck in terms of scenery and fun.
Distance:  6 km
Time to Hike:  2 to 4 hours
For more on the hike, read our post Is Kings Canyon Worth It?
#6     Tongariro Alpine Crossing, New Zealand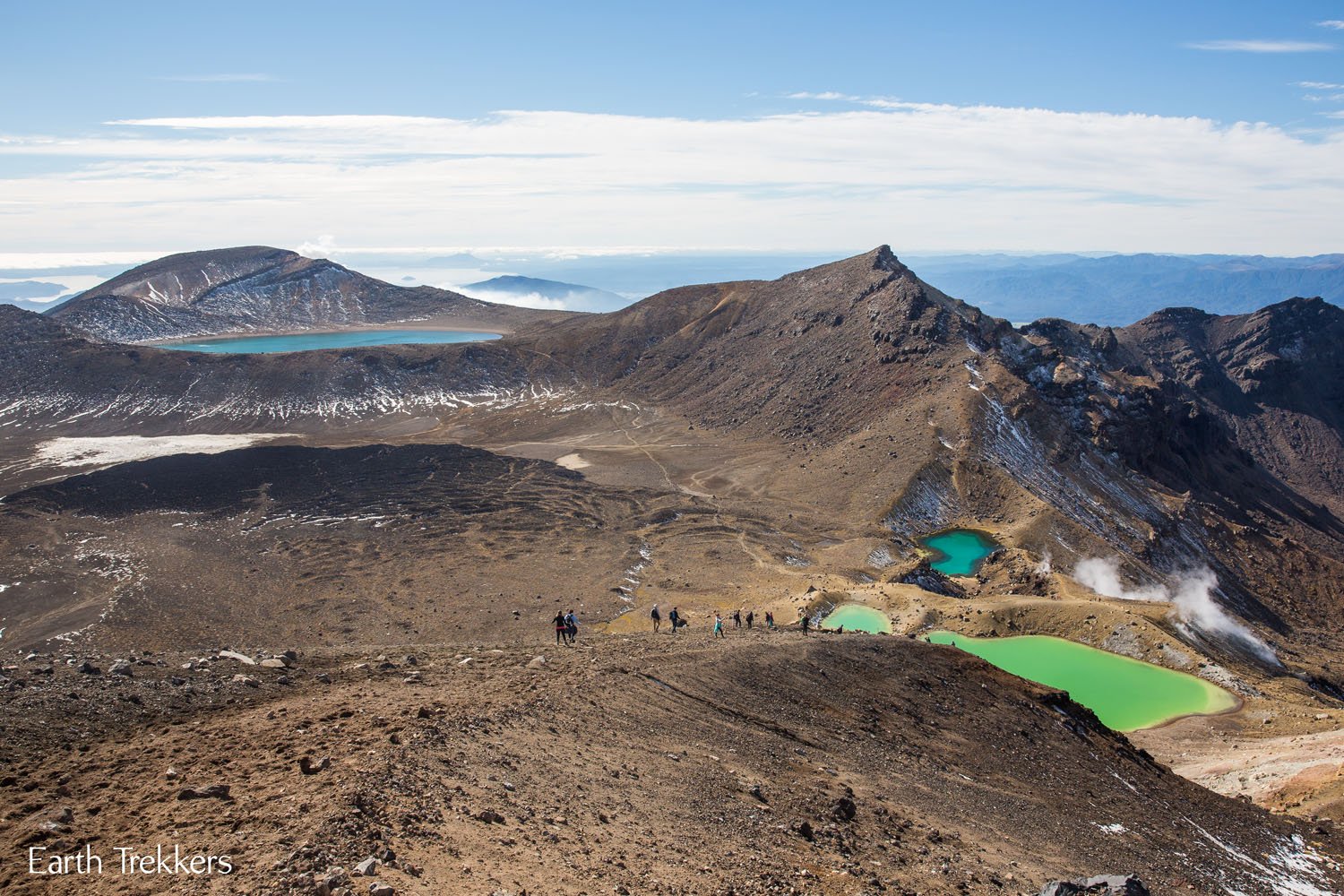 Labeled as the best single day hike in New Zealand, some people even consider this hike to be best single day hike in the world. It's not our favorite (keep reading!) but it is amazing.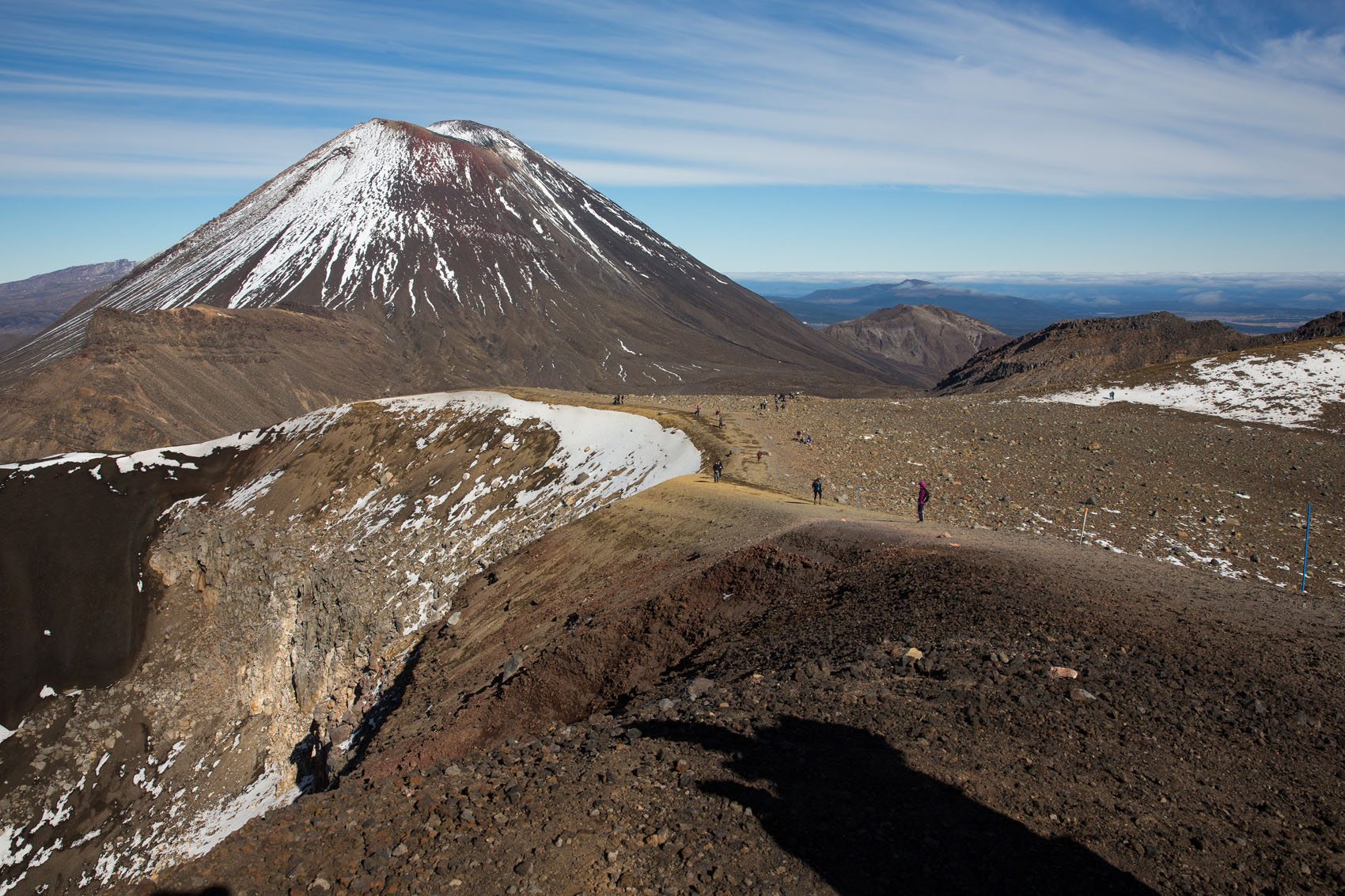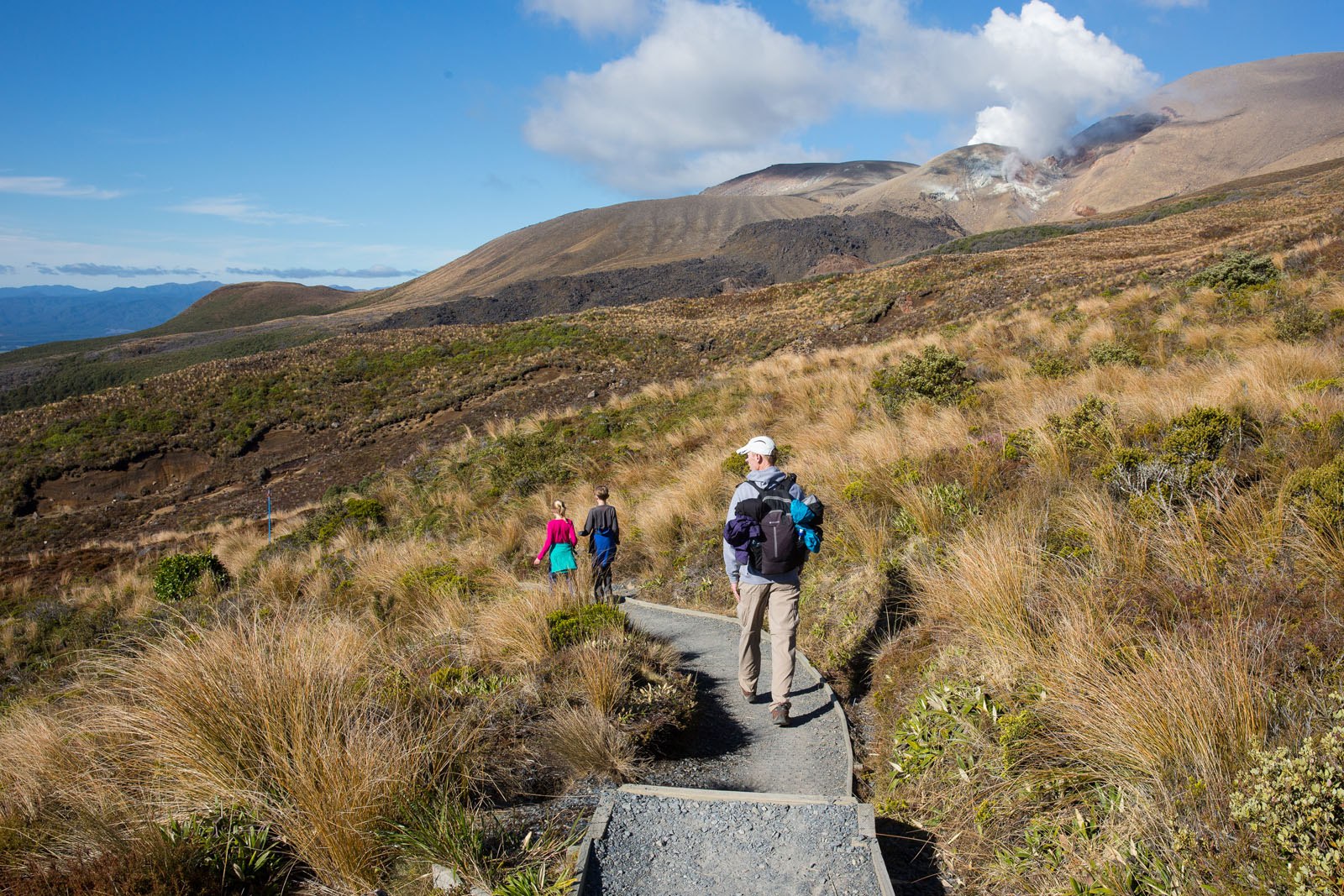 Located on the North Island of New Zealand, the volcanic terrain of Tongariro breaks up the lush, green scenery that is so prevalent in this country. Here is your chance to hike in the shadow of Mt. Doom, walk through an almost lunar landscape, and watch as semi-dormant volcanoes smoke not too far off in the distance. The Tongariro Alpine Crossing is uniquely beautiful and another one of those hikes where the scenery is constantly changing.
Distance:  19.4 km
Time to Hike:  6 to 8 hours
To learn more about this hike, read The Tongariro Alpine Crossing, New Zealand's Best Single Day Hike.
#5     Puez-Odle Altopiano, Dolomites, Italy
The Dolomites, Italy is one of our favorite spots in the world to go hiking. We did three hikes here and all of them were unforgettable experiences. Photos of the Dolomites, even the good ones, still don't show you just how stunningly beautiful this area of the world is.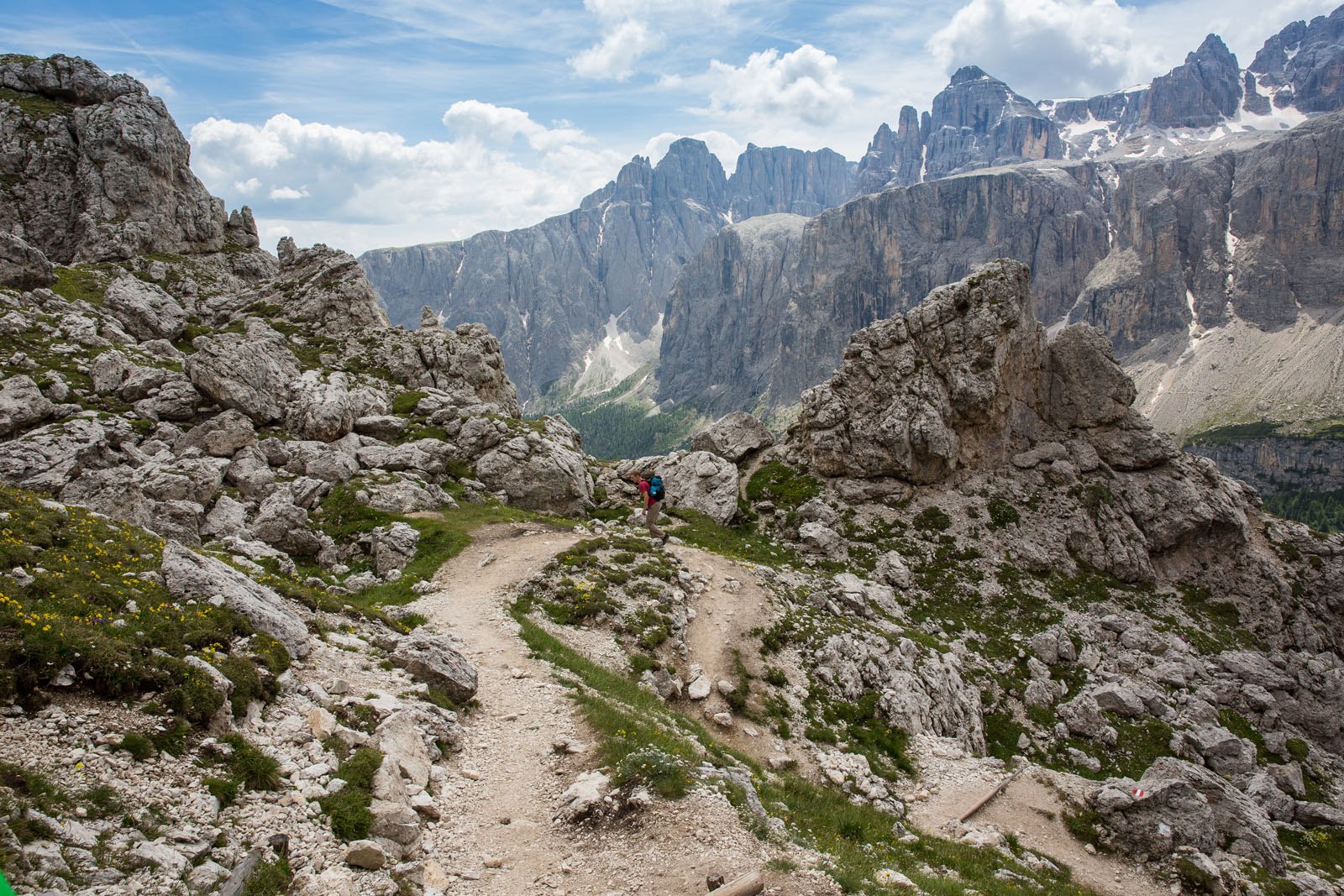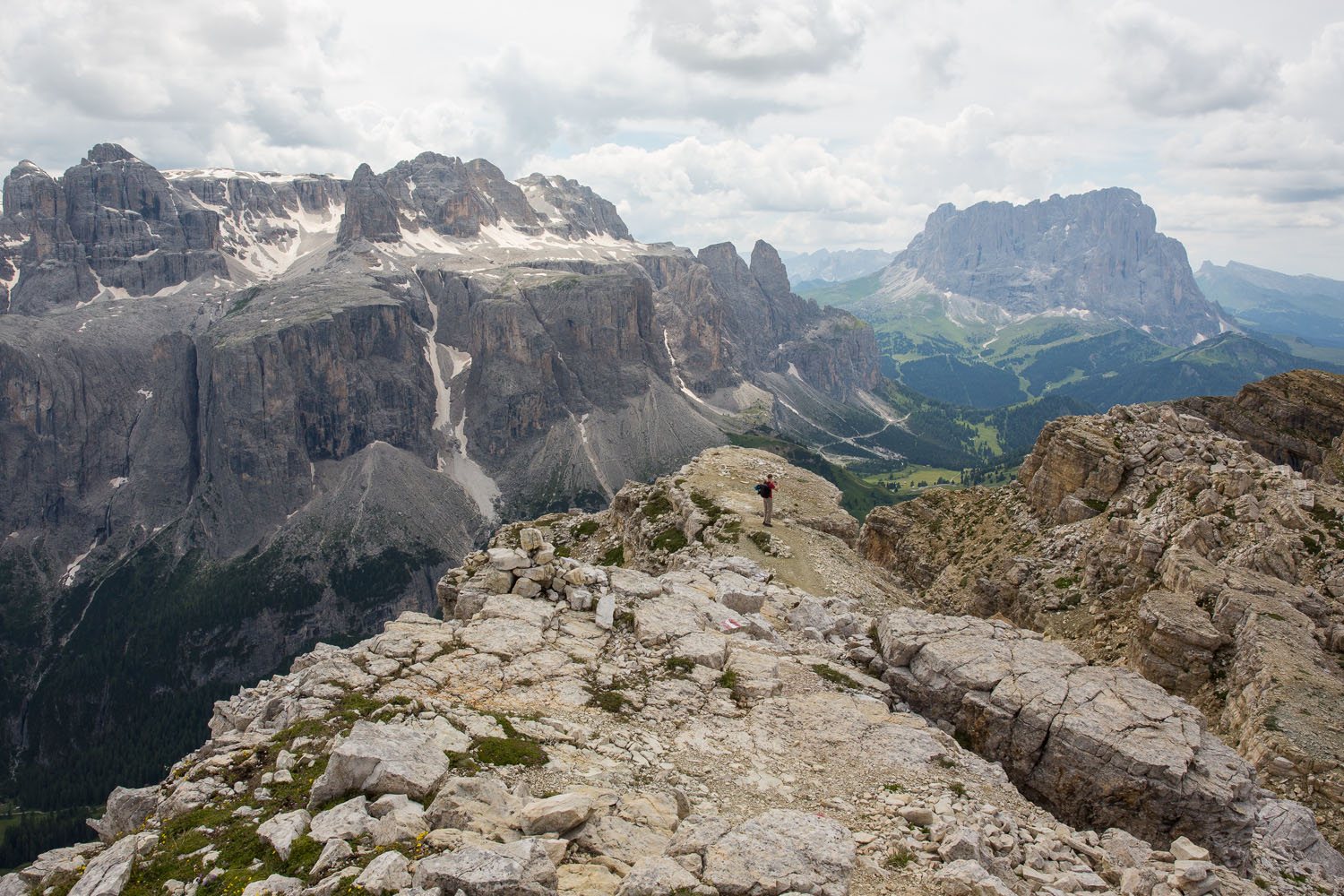 I had to pick just one of our hikes, a tough decision, but hiking the Puez-Odle Altopiano was our favorite. It's long, it involves a lot of climbing, but it is worth the effort. This hike takes you to some of the highest peaks in the area, giving you a bird's eye view of the amazing mountains of the Dolomites. It is worth the effort for these awesome 360° views.
Distance:  20 km
Time to Hike:  6 to 8 hours
For more information on this hike, read Hiking the Puez-Odle Altopiano.
#4    Jiankou to Mutianyu, Great Wall of China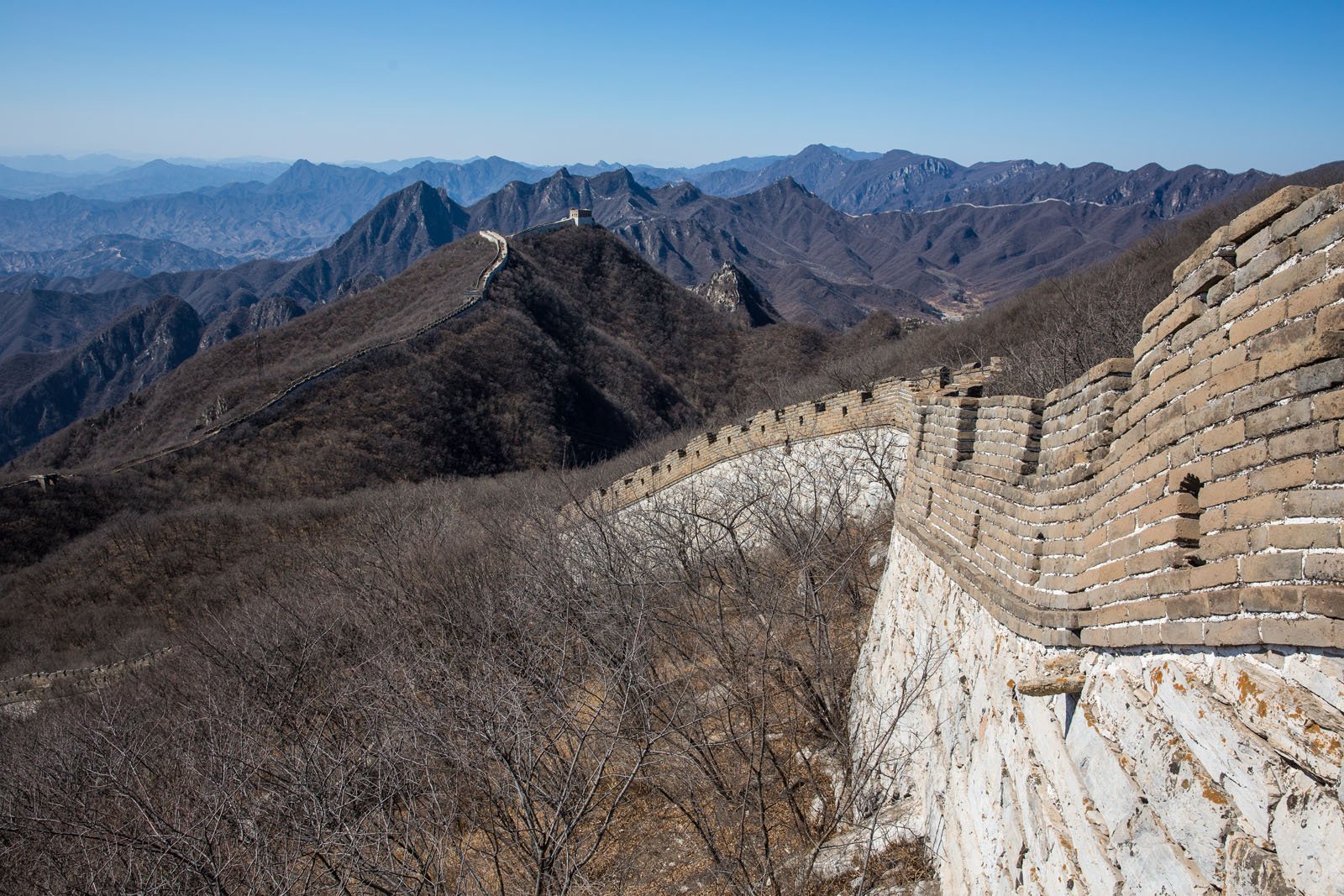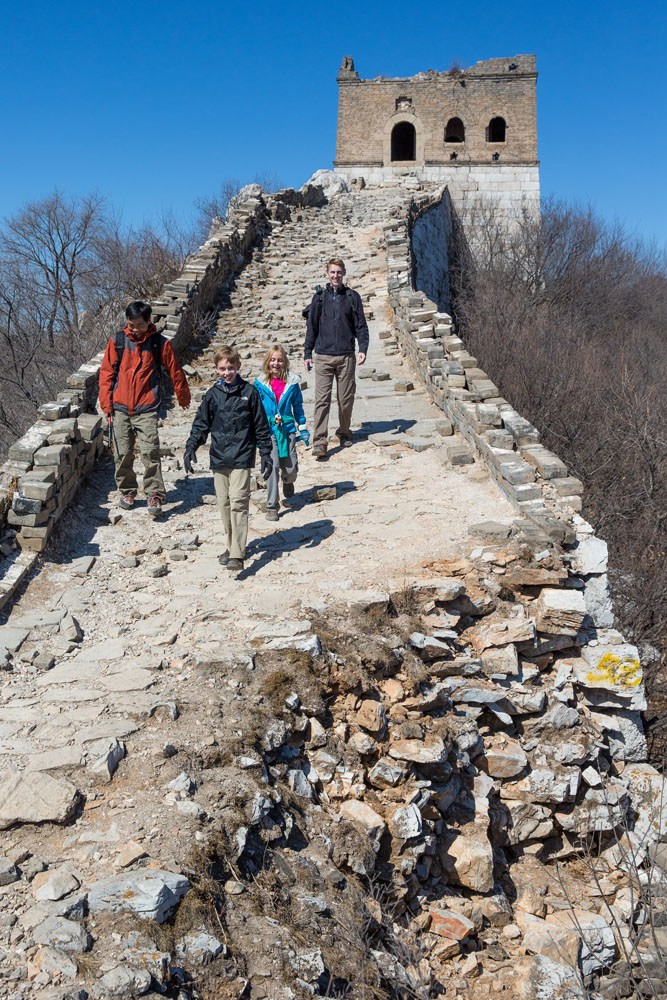 Walking on the Great Wall of China is an amazing experience. Sections of the wall are in perfect condition, having been restored, but there are sections of the wall, now crumbling and in disrepair, that still can be visited. The best part of the Great Wall are these decrepit, neglected sections, now overgrown with vegetation and even small trees, ancient sections of the wall not yet rebuilt or maintained.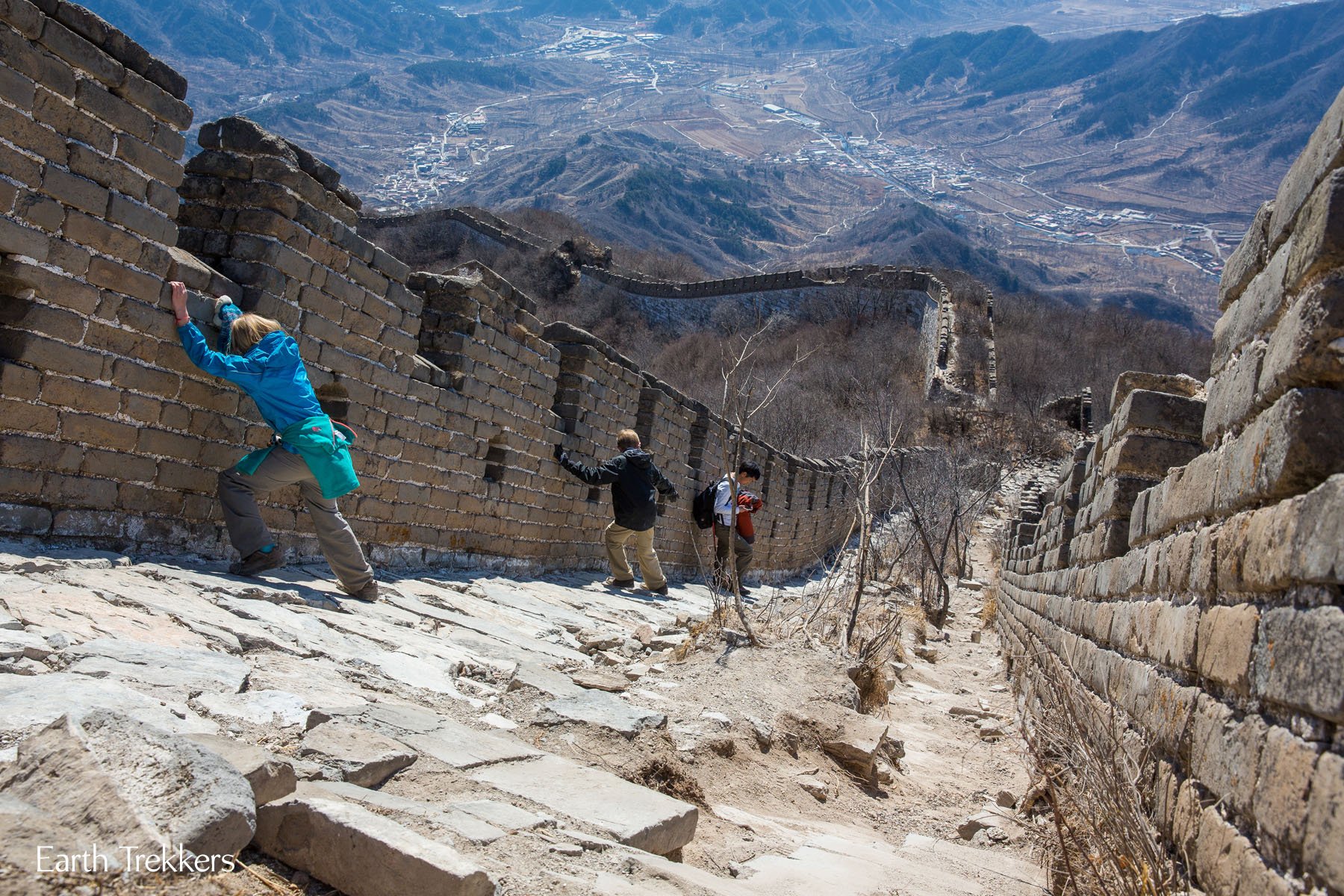 Walking on the unrestored sections is a true adventure. Climb a rickety, wooden ladder to get on the wall, dodge huge potholes and sections crumbling down the mountainside, and look out over China from the watchtowers. The best part was sliding down the steep sections, laughing, falling, all the while being able to enjoy walking on this piece of ancient history.
Distance:  10 km
Time to Hike:  4 to 5 hours for the hike
To learn more about this hike, read Hiking Jiankou to Mutianyu with Kids on the Great Wall of China.
#3     Trolltunga, Norway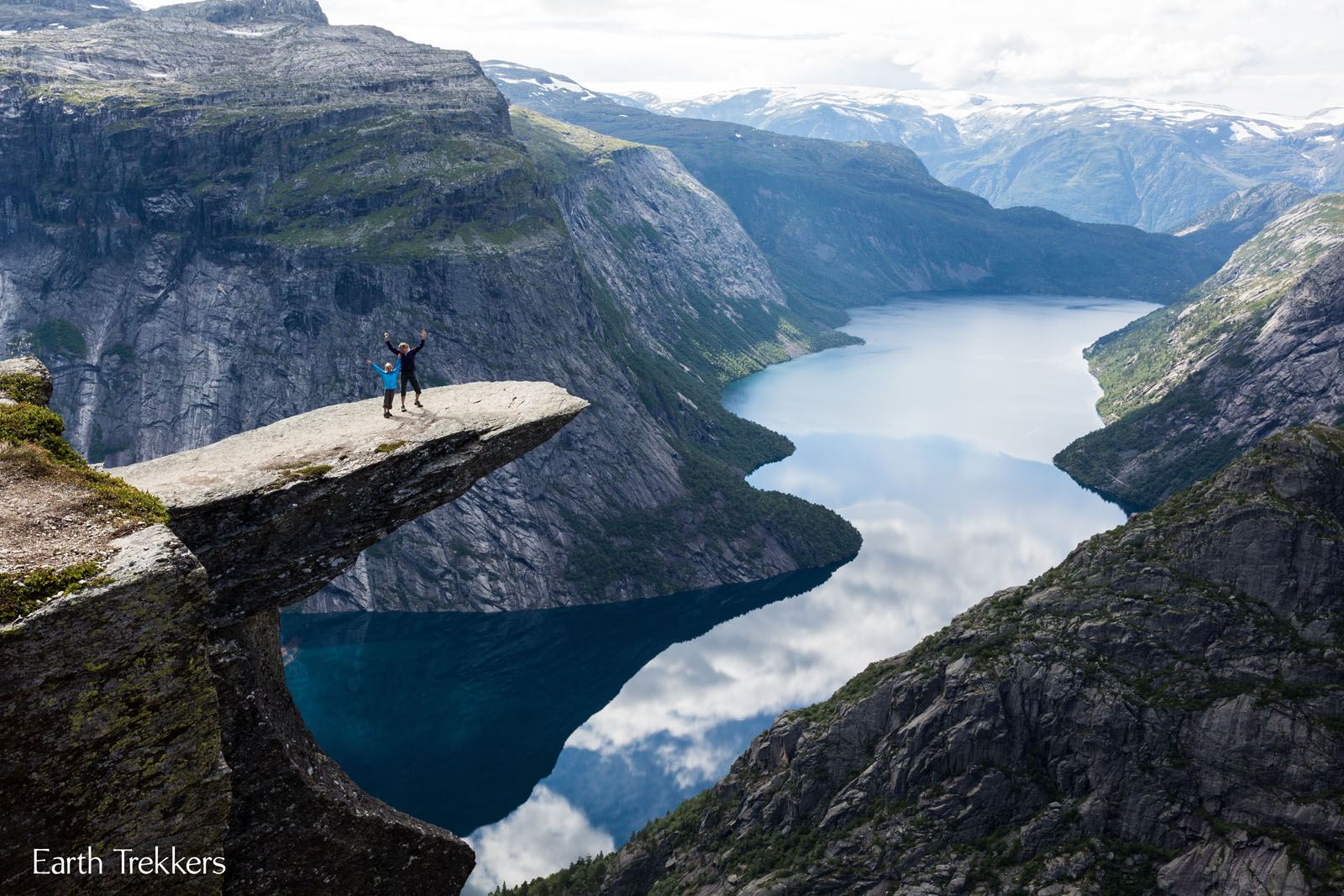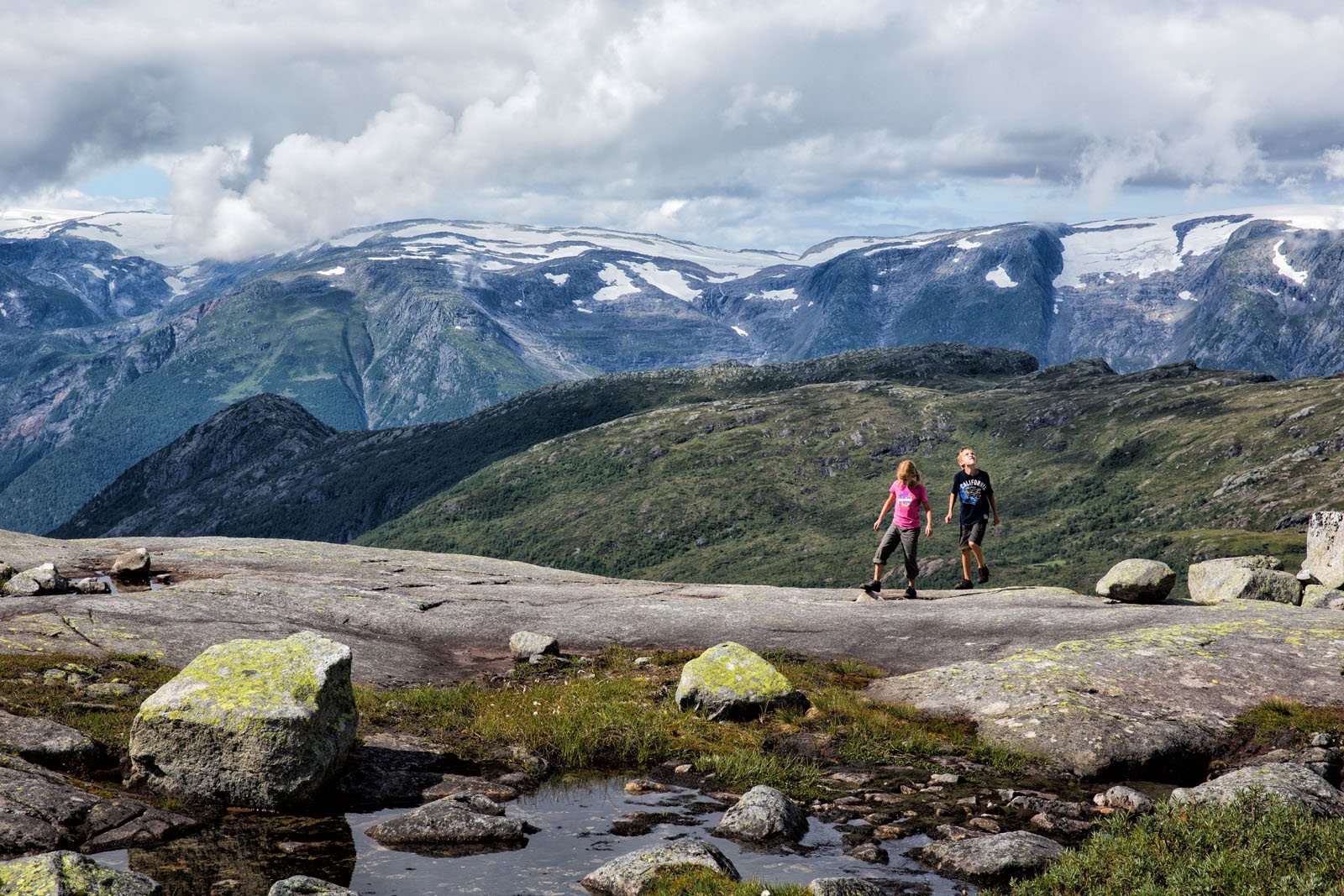 This is a hike that is rapidly growing in popularity. You almost cannot look at a travel website without seeing the characteristic Trolltunga against a backdrop of beautiful Norwegian scenery, with somebody doing a handstand or something else crazy on this small sliver of rock.
When traveling through Norway, getting to Trolltunga is a little out of the way, but if you are looking for an epic hike, this is worth making the drive for. It's one of our absolute favorites. Posing on Trolltunga is a very cool, memorable moment, but the entire hike is stunning. Try to get here if you can…it's so worth it!
Distance: 23 km
Time to Hike: 8 to 10 hours
For more on this hike, read Trolltunga: A Fabulous Hike Packed with Incredible Scenery.
#2     Inca Trail, Machu Picchu, Peru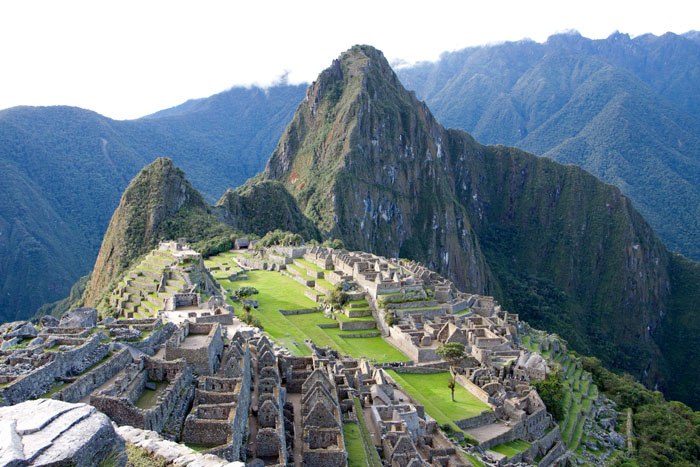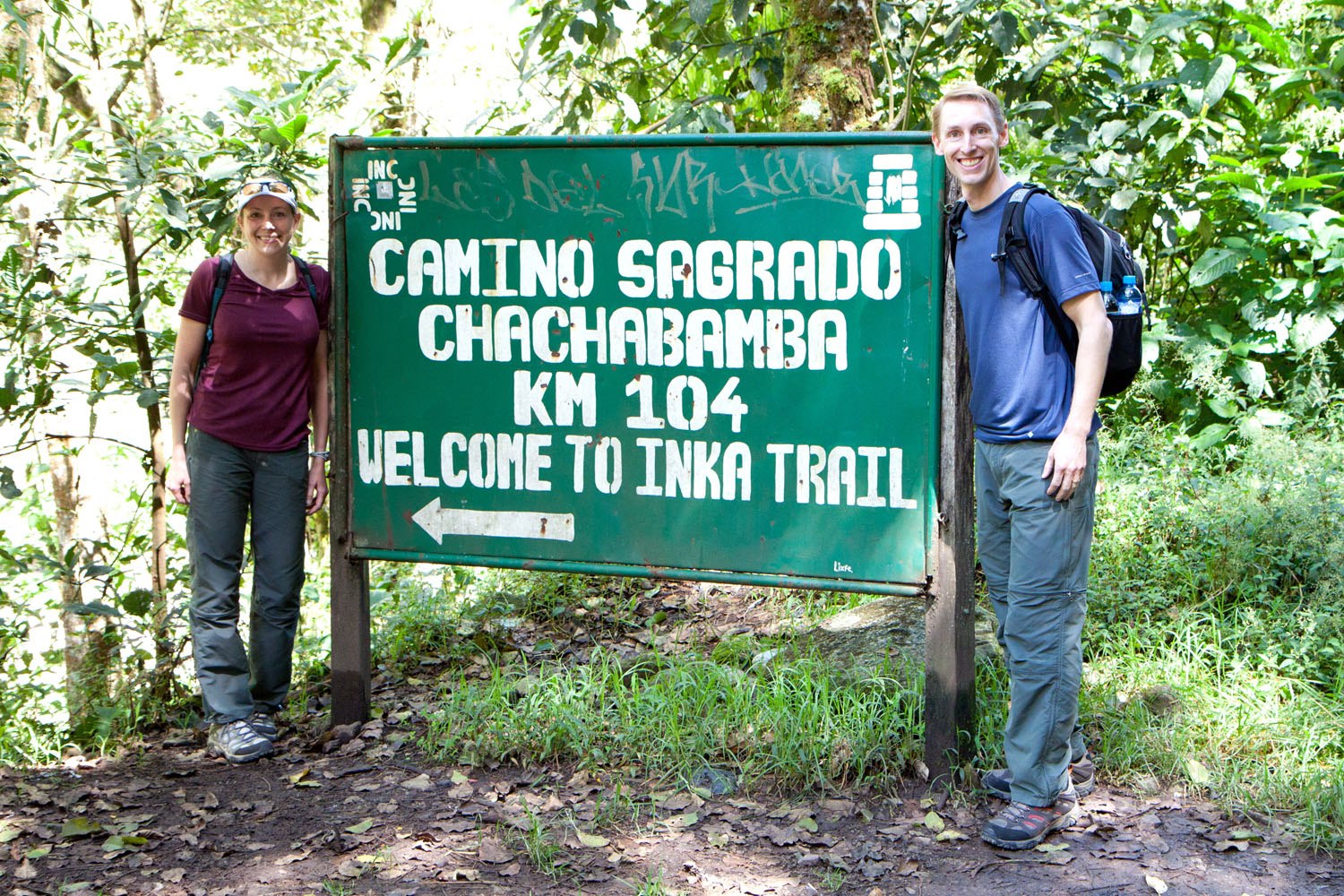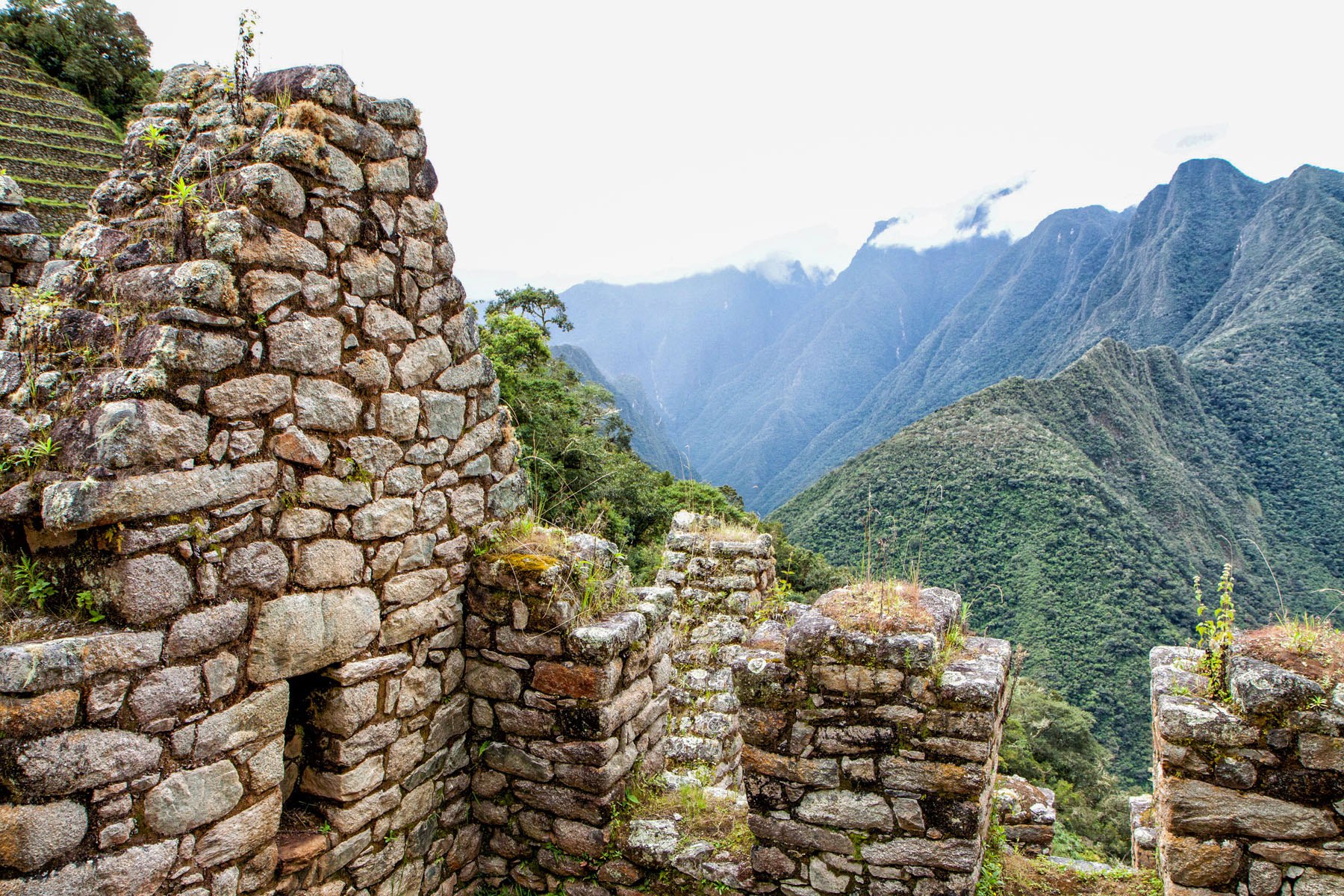 The one day hike to Machu Picchu is an awesome alternative to the very popular four day trek for those who do not have time in their schedule or for those with no desire to do a multi-day hike. A lot of people bash the one day hike, saying it's just not worth it. We totally disagree.
The one day hike allows you to walk the last section of the famous Inca trail, ending at the Sun Gate in the afternoon, for your first views of Machu Picchu. It is so much more rewarding to arrive this way to Machu Picchu than to take the train and bus combo that shuttles you right up to Machu Picchu's main entrance.
We loved this hike. We hiked through the Andes Mountains, visiting Inca ruins along the way, climbed ancient stone steps, walked through a rainforest, and viewed rainbows over the mountains. The hike culminates at the Sun Gate and its amazing view of Machu Picchu. Before heading down to Aguas Calientes for the night, you get to view Machu Picchu from its famous postcard point and still have the entire next day to explore Machu Picchu.
Don't let other online reviews keep you from doing this hike. If you only have one day to spare, the one day Inca trail is an excellent alternative to its four day counterpart.
Distance: 15 km
Time to hike:  All day. A morning train will drop you off at km 104 of the Inca trail and it takes 4 to 5 hours to hike the trail, arriving at the Sun Gate in the afternoon. From the Sun Gate it is a 45 minute hike down to the Machu Picchu overlook. From here, you take a bus down to Aguas Calientes to spend the night.
The following morning, get up before dawn, take the bus back up to Machu Picchu and watch the sunrise. It's spectacular!
To learn more about hiking to Machu Picchu, read Hiking to Machu Picchu Along the Inca Trail.
#1    Kjeragbolten, Norway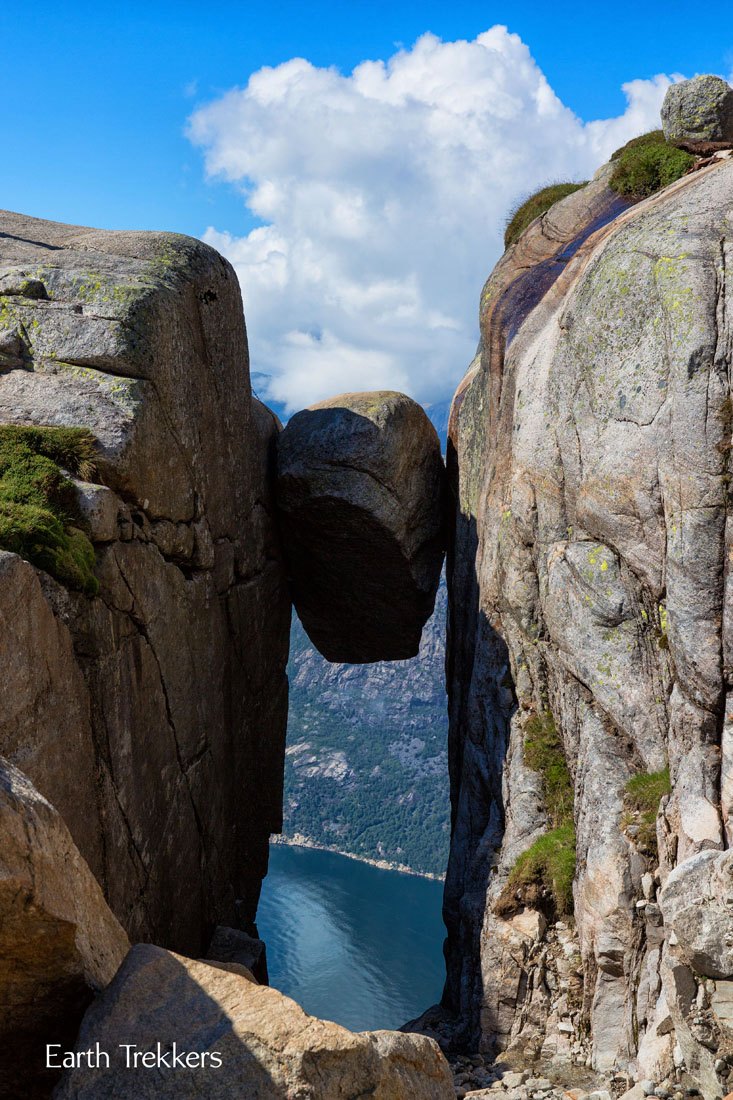 Hiking to Kjeragbolten, this giant boulder wedged between two cliffs, is our favorite hike of all time. Why? It's not just because you get the chance to do something absolutely crazy, stepping out onto the boulder, it's also because this hike is just downright fun. From climbing sheer granite faces with the aids of chains, to descending down into valleys inhabited by sheep and their clanging bells, to views out over some of the most spectacular scenery in Norway, this hike is a pure joy.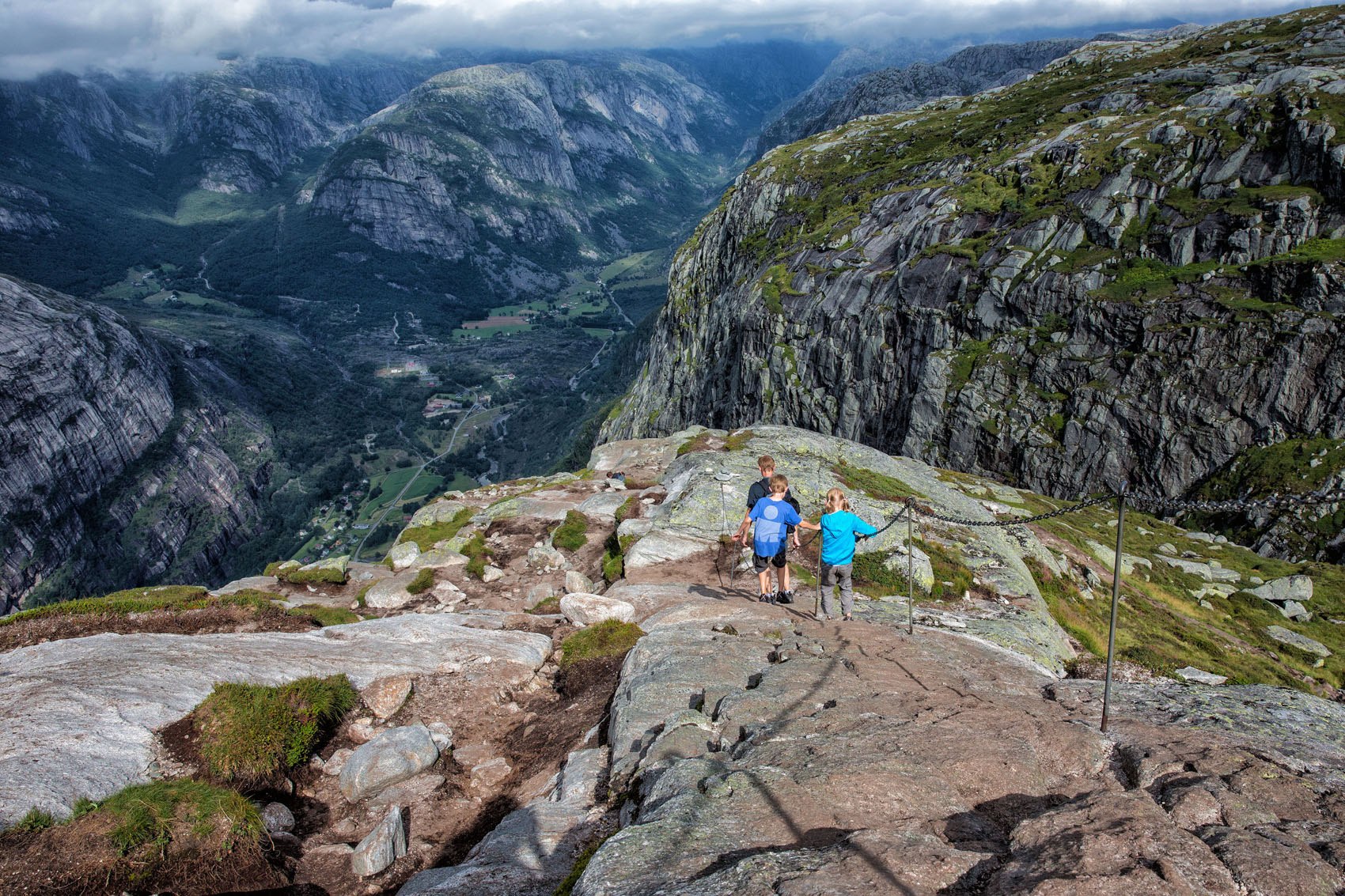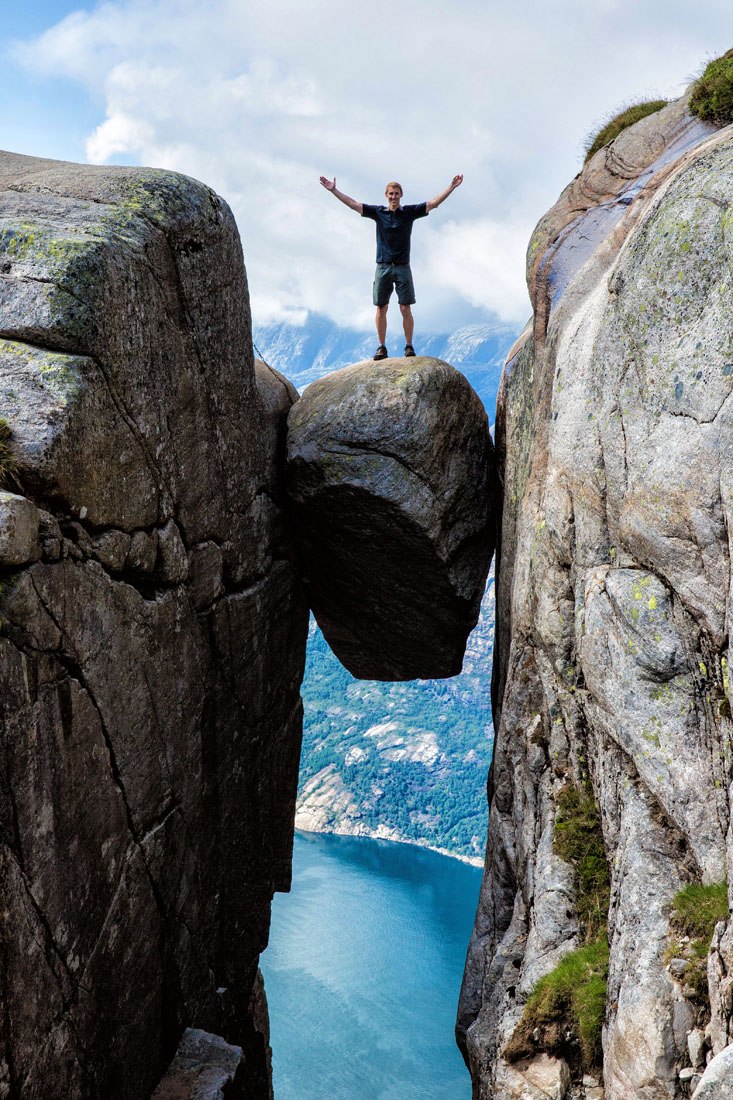 Once at the Kjeragbolten, do you dare step out onto it?
This boulder sits 1000 meters off of the ground. It's a long way down. And what a cool collection of photographs you will have at the end of the day.
Distance: 12 km
Time to hike: 6 to 8 hours
For more on this hike, read our post Kjeragbolten: Our Favorite Hike in Norway and The Kjeragbolten Hike: A Complete Guide.
---
Do you have a favorite hike in the world that you did not see on this list? Leave a comment below and let us know about it!